This refreshing and delicious spinach banana smoothie is a nutritious delight on a hot summer afternoon! Icy cold yet packed with nutrients including fiber it's an excellent and yummy way to add extra vitamins, minerals, and fiber to your diet!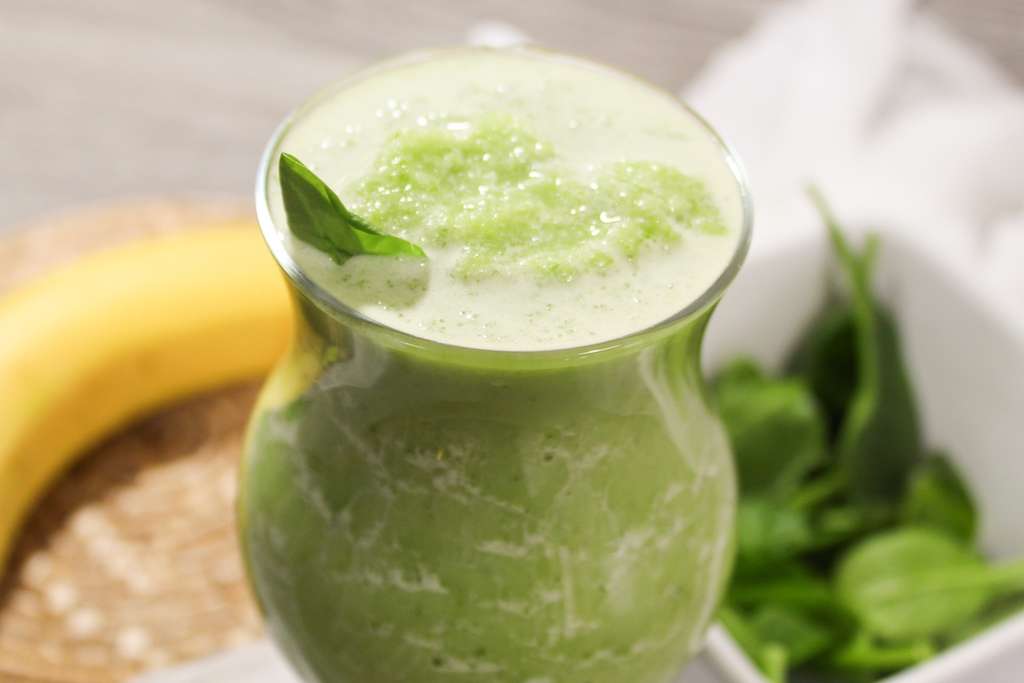 This page contains affiliate links. If you choose to purchase after clicking a link, I may receive a commission at no extra cost to you. For more information please read my full affiliate disclosure.
I love smoothies for breakfast, 2nd breakfast, mid-morning snack, or any time of the day I need a little something to keep me going. This icy spinach banana smoothie not only packs a nutrient-dense punch but is delicious and refreshing! And don't worry it does NOT taste like spinach at all!
Kids also love smoothies and I'm always looking for ways to sneak more veggies into my kids' diets like my kid-friendly green pasta or this Carrot Cake Smoothie! Making a spinach banana smoothie for them is a great way to get those extra veggie servings and therefore vitamins and minerals in!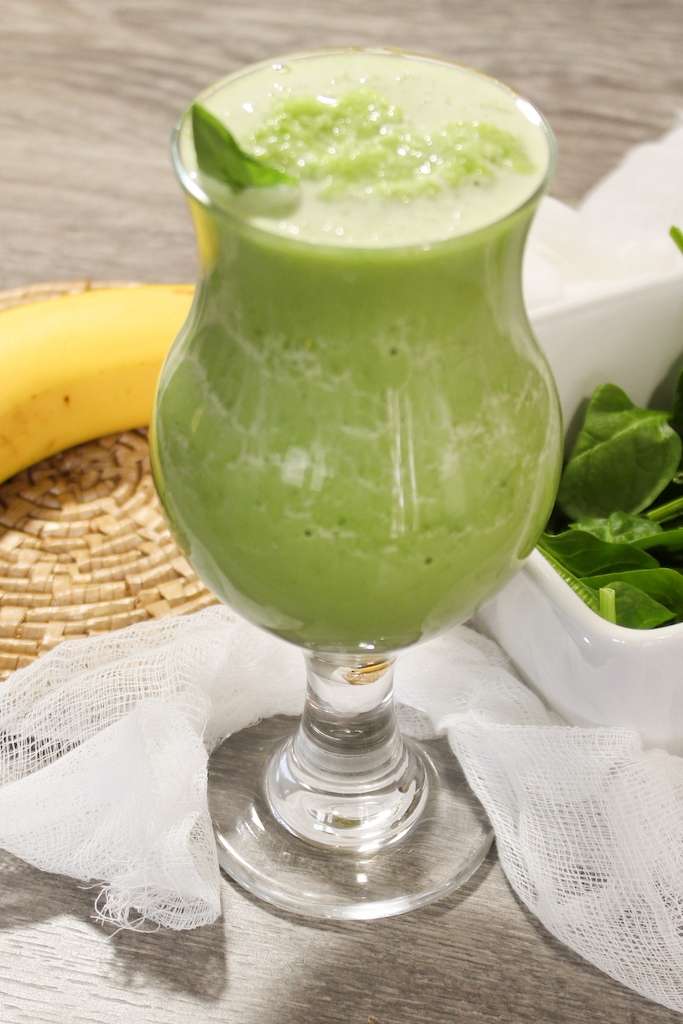 Spinach Banana Smoothie Benefits
Spinach banana smoothies are packed with nutrition! It's a powerhouse of nutrients and vitamins!
Fresh spinach is packed with vitamins and minerals such as Vitamin A, Vitamin C, Vitamin K, magnesium, calcium, iron, potassium, fiber, and antioxidants. Spinach is a powerhouse of a vegetable!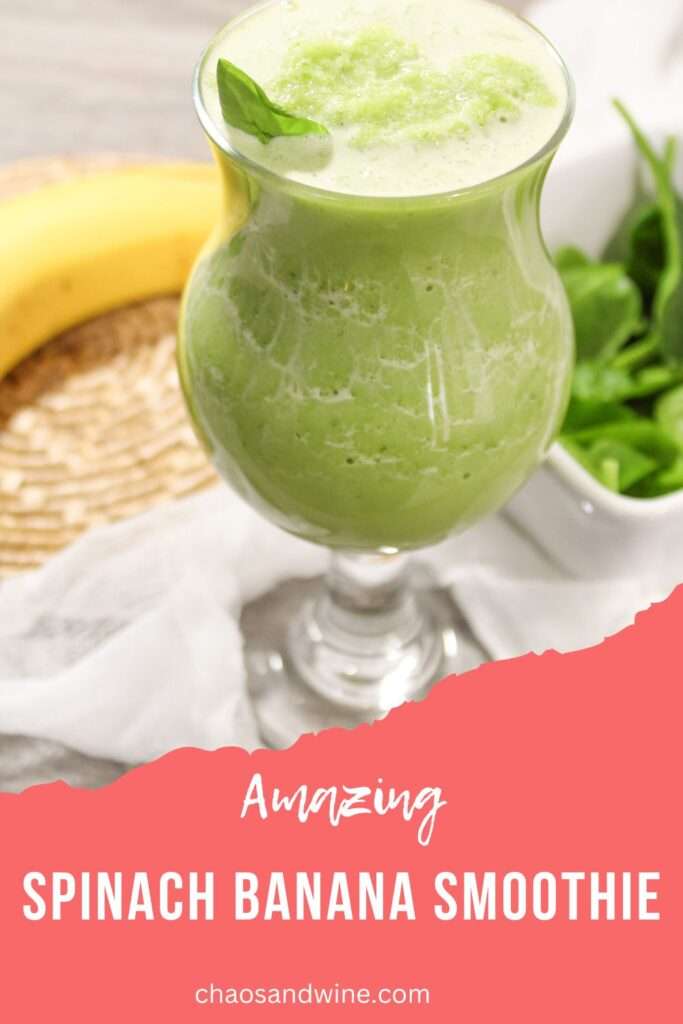 Too busy to make this right now? Pin for later to your favorite Pinterest Board!
Bananas are a great source of fiber, vitamins such as B6 and C, and minerals. Bananas are known to be high in potassium, which helps to regulate blood pressure and keep your heart healthy. They are also rich in antioxidants, which help to protect against free radical damage and reduce inflammation. Additionally, bananas can be a great energy booster, since they contain natural sugars such as fructose and glucose. Check out this list of fun facts about bananas!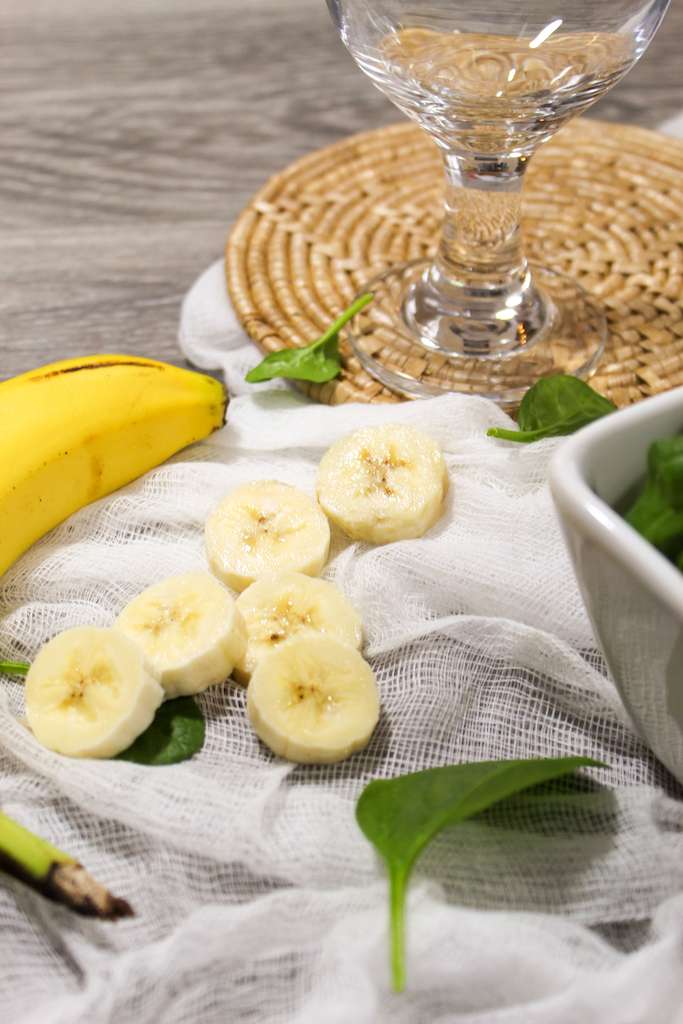 Smoothie Ingredients
There are so many nutrients in this smoothie despite the very few ingredients!
Fresh Spinach – This adds a bright green color to the spinach banana smoothie and a ton of nutrients. Be sure you use uncooked fresh spinach for the best spinach banana smoothie!
Milk – You can use any type of milk you prefer – almond, soy, low-fat, skim, etc. I've made it with a variety of different types of milk and it turns out great either way!
Banana – If you use a frozen banana you may not need as much ice and you will have a creamier consistency. A fresh preferably slightly over-ripe banana will produce a sweeter smoothie.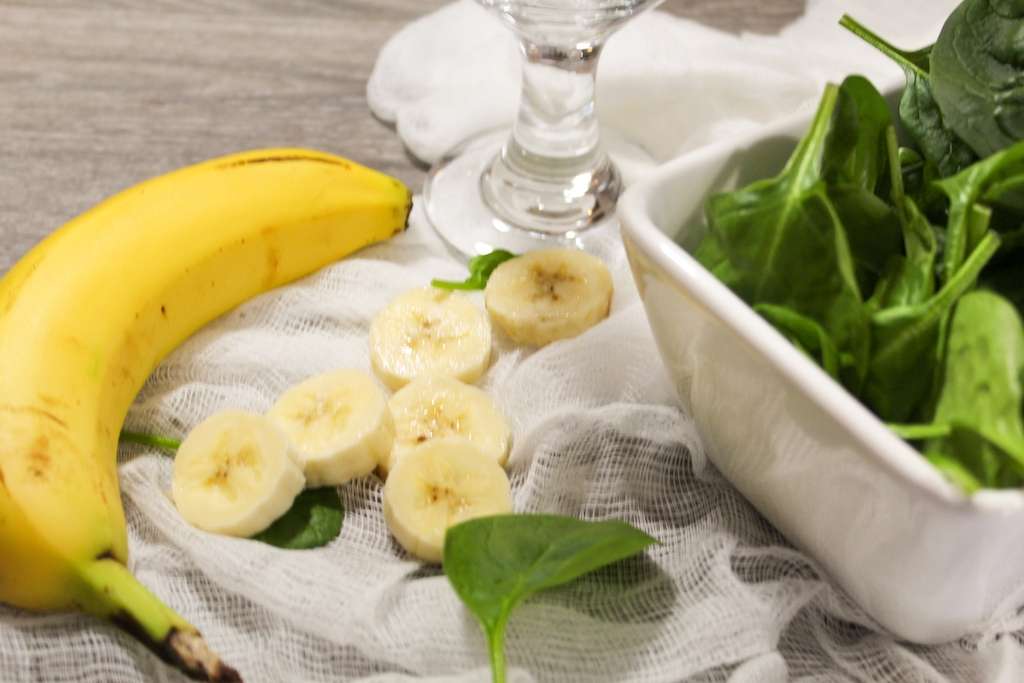 Ice – to create that frosty smoothie consistency we all love so much!
Sweeteners – The addition of a sweetener is entirely optional. Depending on the sweetness of your banana you may not need one at all – remember the browner the banana the sweeter, which is why I always use brown bananas in my banana bread recipe! However, if you like a sweeter smoothie, which I'll admit my kids certainly do, try adding a few dates or a touch of stevia when blending your spinach-banana smoothie.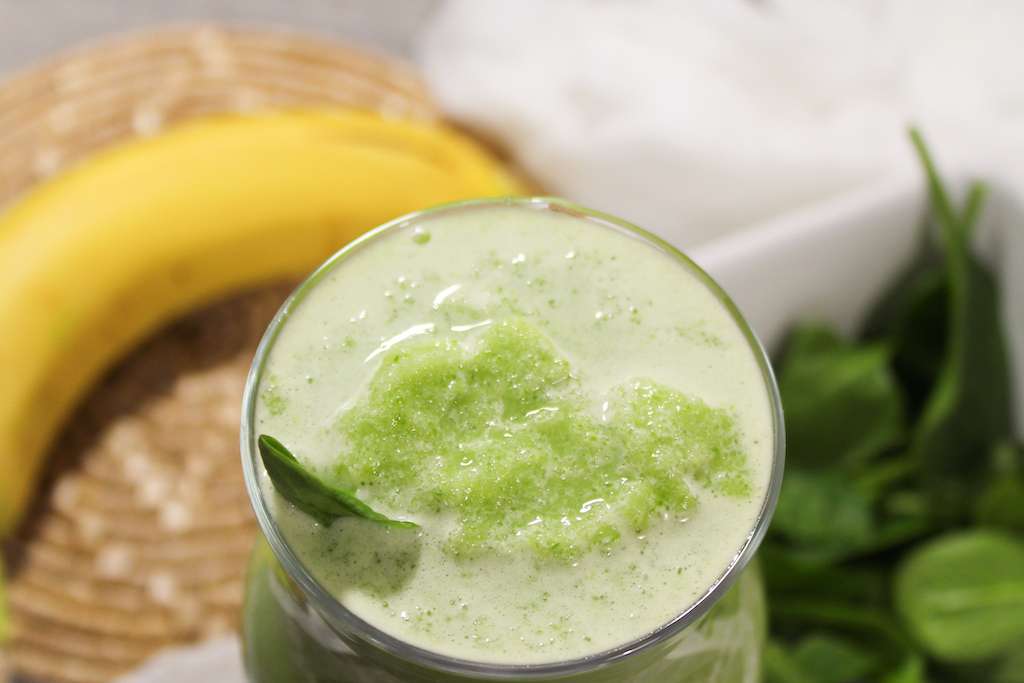 You might also like…
Strawberry Limoncello Lemonade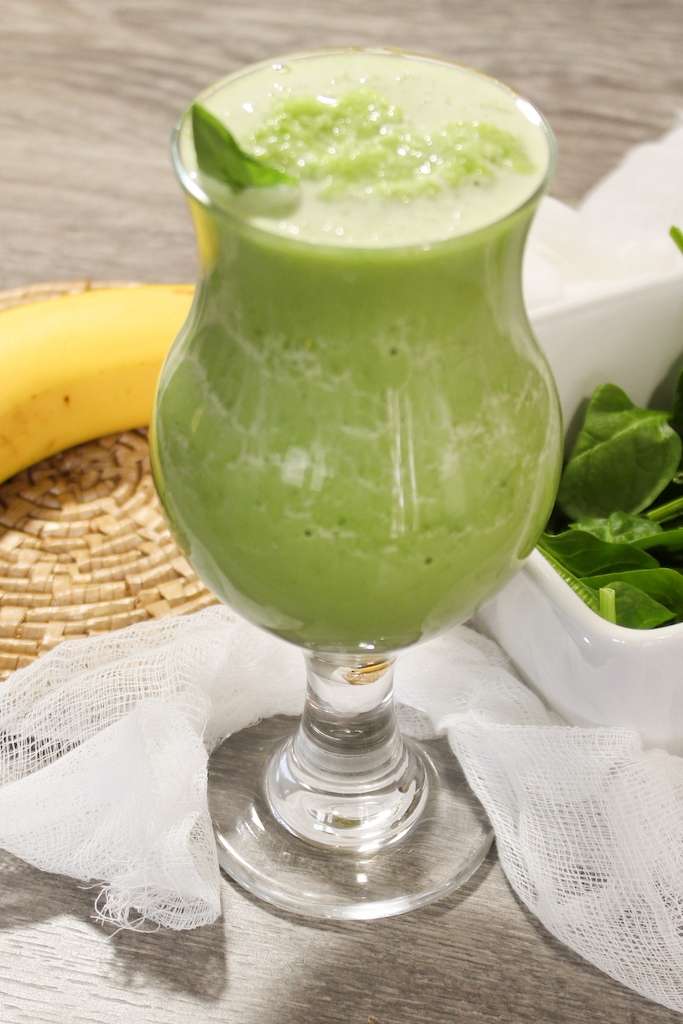 Blending Your Smoothie
Now if you're a smoothie expert you can skip this section but if you're new to smoothies keep on reading!
I highly recommend a high-speed blender for making any kind of smoothie. My favorite blender is my Ninja blender! I swear it can blend anything and everything!
Put all of your ingredients in a high-speed blender and blend on high until you reach your desired consistency.
If it's a bit too thick for your taste add a splash of milk. Not sweet enough, throw in a date or two or a bit of stevia and blend some more!
Pour into a tall glass, garnish with a few cacao nubs or a fresh spinach leaf, and enjoy!
Yield: 2 servings
Spinach Banana Smoothie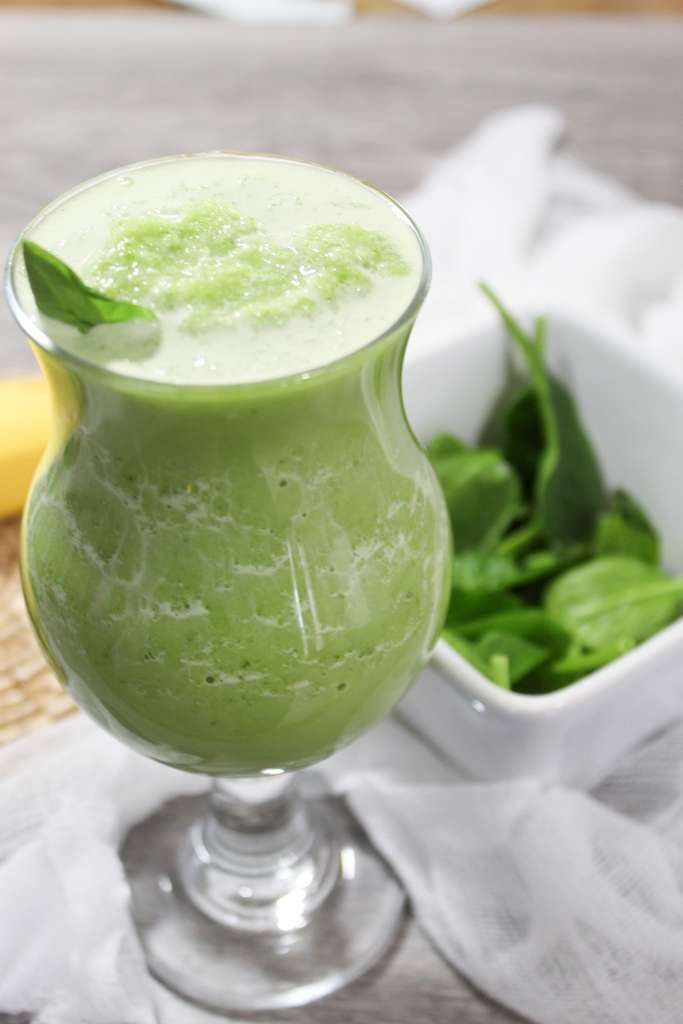 A delicious and nutritious smoothie perfect for a hot summer day!
Ingredients
1 cup fresh spinach leaves
3/4 cup milk of choice
1 banana, fresh or frozen
1 cup ice
Optional: Stevia, dates or other sweetener to taste
Instructions
Place all ingredients in a high-speed blender.
Blend on high to desired consistency.
Recommended Products
As an Amazon Associate and member of other affiliate programs, I earn from qualifying purchases.
Nutrition Information:
Yield:
2
Serving Size:
1
Amount Per Serving:
Calories:

131
Total Fat:

2g
Saturated Fat:

1g
Trans Fat:

0g
Unsaturated Fat:

1g
Cholesterol:

7mg
Sodium:

111mg
Carbohydrates:

26g
Fiber:

4g
Sugar:

15g
Protein:

6g
Chaos and Wine occasionally offers nutritional information for recipes contained on this site. This information is provided as a courtesy and is an estimate only. This Nutrition Disclaimer notifies that under no circumstances will Chaos & Wine or its owners be responsible for any loss, damage, or adverse reactions resulting from your reliance on nutritional information given by this site. By using Chaos & Wine and its content, you agree to these terms.
FAQ's
Can I add additional fruits to this smoothie recipe?
Absolutely, add any additional fruit you'd like to the smoothie! Turn this into a banana strawberry spinach smoothie by adding a few strawberries. Here are a few more ideas:
Mango Spinach Banana Smoothie
Orange Banana Spinach Smoothie
Spinach Blueberry Banana Smoothie
Can I add anything to boost the nutrition?
Yes, here are a few ideas to increase the nutrition of a banana spinach smoothie:
Peanut Butter – Create a Peanut Butter Banana Spinach Smoothie and up the protein by adding a tablespoon of peanut butter or any of your favorite nut butter such as almond butter or cashew butter.
Green Powder – I love adding a scoop of Earthley Wellness Greens Powder to my smoothies and especially to my kid's smoothies because you know they aren't eating enough green vegetables!
Cacao Nubs – add a few cacao Nubs for a little chocolate kick!
Chia Seeds or Flax Seed – Boost the nutrition further by adding chia or flax seeds to your spinach smoothie with banana. These tiny seeds pack a powerhouse of nutrients such as Omegas.
Can I refrigerate a smoothie?
Yes, you can make your smoothie ahead of time and refrigerate it! Simply store it in an airtight container in the fridge for 1-2 days. If it separates a little as it sits, give it a good stir before drinking. As always please remember to follow the USDA recommendations for storing leftovers.
Can I make this banana spinach smoothie without milk?
Yes, you can definitely make this banana spinach smoothie without milk! Try using fruit juice, coconut milk, or water but the smoothie may not be as creamy. You can also use dairy-free milk such as almond milk or oat milk for a creamy smoothie.
Is a spinach and banana smoothie good for you?
Yes, a spinach and banana smoothie is packed with vitamins and minerals making it a healthy breakfast or snack option and delicious!
Can you put uncooked spinach in a smoothie?
Yes, you can put uncooked spinach in a smoothie. In fact, I highly recommend using fresh uncooked spinach in this spinach smoothie recipe!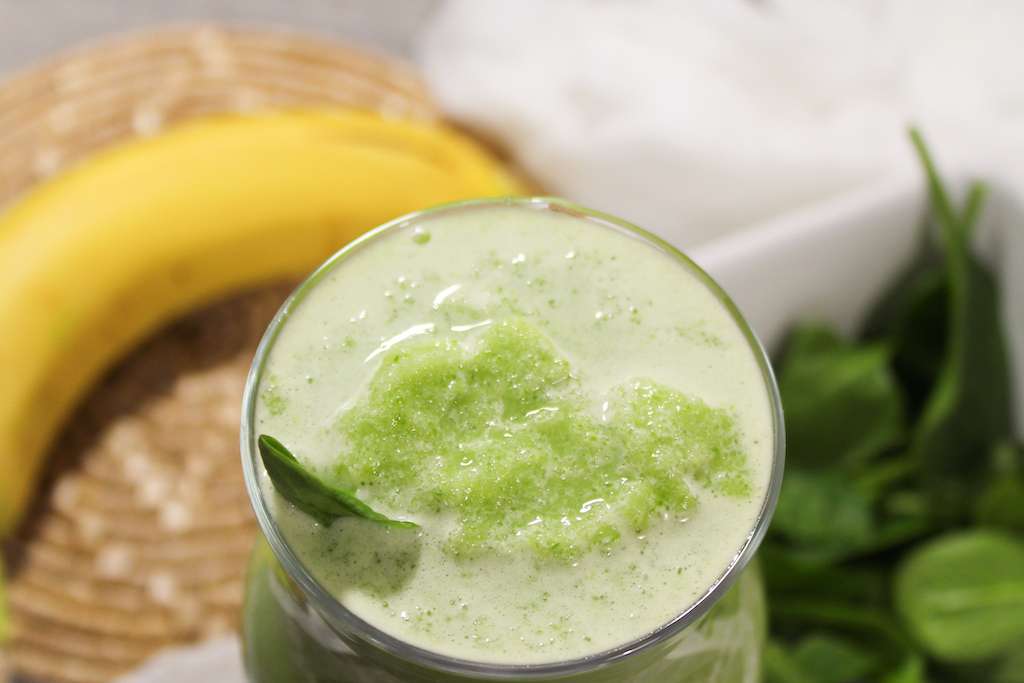 Final Thoughts
A spinach banana smoothie is a tasty and healthy way to start your day or any time of day. With just a few simple ingredients, you can whip up this refreshing smoothie in no time. Not only does it taste great, but the combination of spinach and banana provides plenty of nutrients to keep you energized throughout the day. So next time you're looking for a quick and easy breakfast or snack, give this spinach banana smoothie a try! Your taste buds – and your body – will thank you!