Chicken Fideo soup is a light and delicious chicken soup recipe named for its particular pasta shape. You'll love this bright and light version of a chicken soup paired with a garden salad and a crusty roll for lunch or dinner.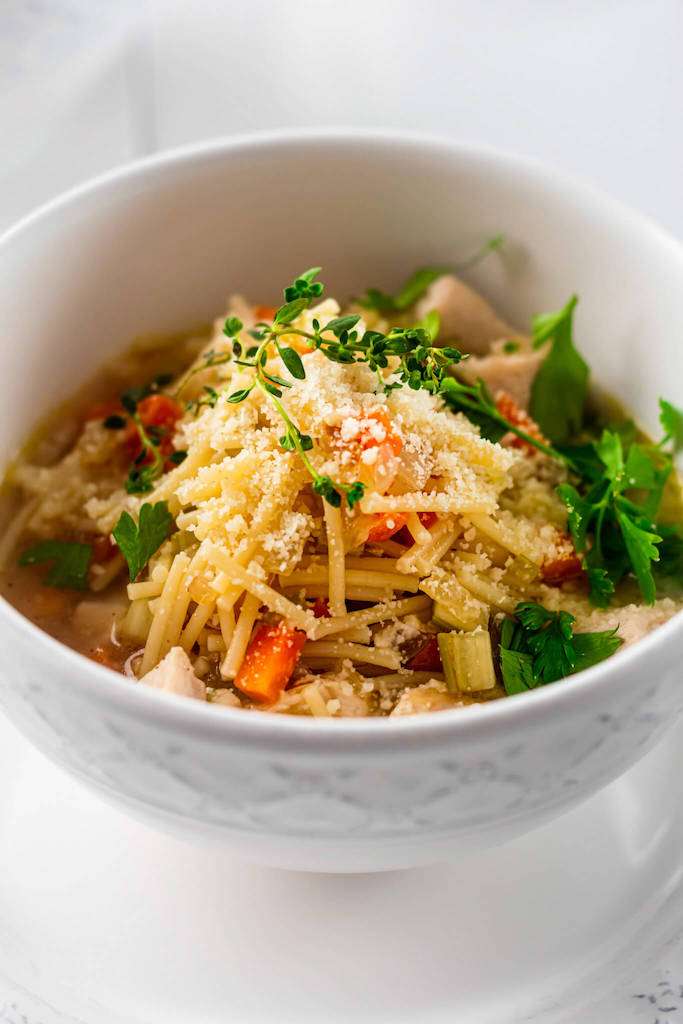 This page contains affiliate links. If you choose to purchase after clicking a link, I may receive a commission at no extra cost to you. For more information please read my full affiliate disclosure.
What is Fideo Soup?
Fideo soup is a traditional Mexican soup made with thin, vermicelli-style pasta called Fideo or Mexican spaghetti that is fried and then simmered in a tomato-based broth with various vegetables and seasonings. It's traditionally a lighter soup and can be served as a side dish or a light lunch or dinner. This recipe does not call for tomatoes but still has the bright flavors of traditional chicken fideo soup and of course the special fideo!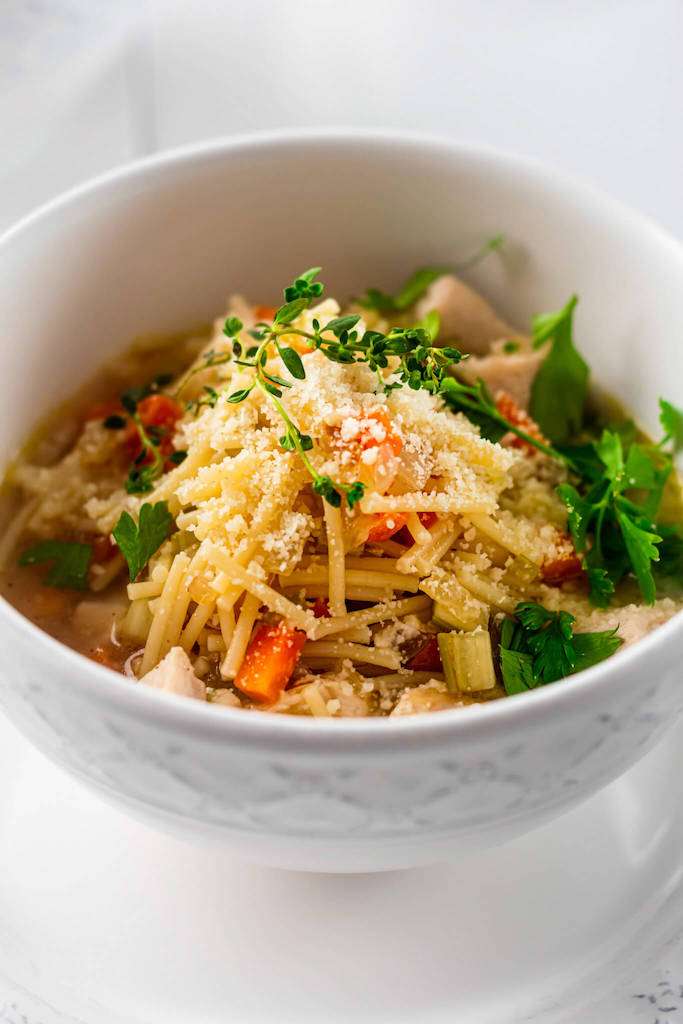 Ingredients for Chicken Fideo Soup
Olive Oil – We'll use a little olive oil for sautéing our veggies.
Onion – I like to use yellow onions as I almost always have them on hand but use any onion you have handy.
Carrots & Celery – Both traditional veggies found in any chicken soup recipe!
Fresh Thyme – Thyme has a nice lemony flavor that adds a bright flavor to the soup! If you don't have fresh, which is always best, you can use dried.
Boneless Skinless Chicken Breasts – To add a little heartiness to the soup, we'll add some diced chicken. Note you can use boneless skinless chicken thighs as well just be sure to trim and remove the extra fat before cooking.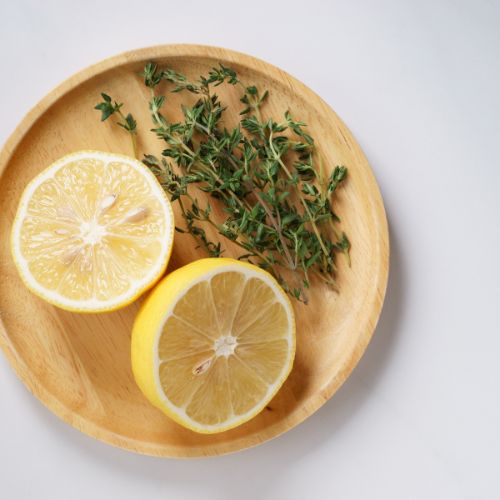 Chicken Stock – Either homemade or store-bought chicken stock will work.
Fideo Noodles – These Mexican spaghetti noodles may be difficult to find in your local grocery store. You can find fideo noodles online here. Otherwise, you can use vermicelli broken into 1-inch pieces as a substitute.
Fresh Lemon Zest and Juice – Again these will add brightness to the soup that you don't find in traditional chicken noodle soup!
Nutmeg – This adds just a touch of earthiness to the soup.
Salt & Pepper – To season to taste.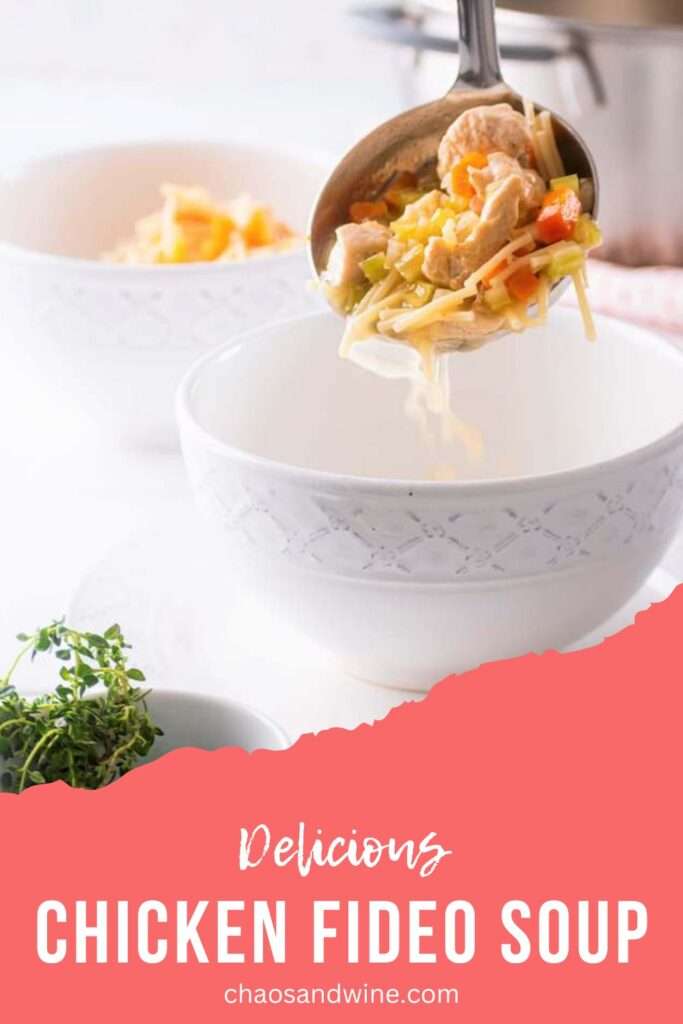 Too busy to make this right now? Pin for later to your favorite Pinterest Board!
How to Make the Fideo Soup with Chicken
This soup takes about an hour or so it's an excellent meal for a not-too-busy weeknight! I love this soup for the summertime because it's lighter than traditional chicken soups!
Start by heating some olive oil in a large stock pot over medium heat. Saute the onions until just beginning to soften. Next, add the carrots, celery, and thyme and saute for an additional 4 minutes.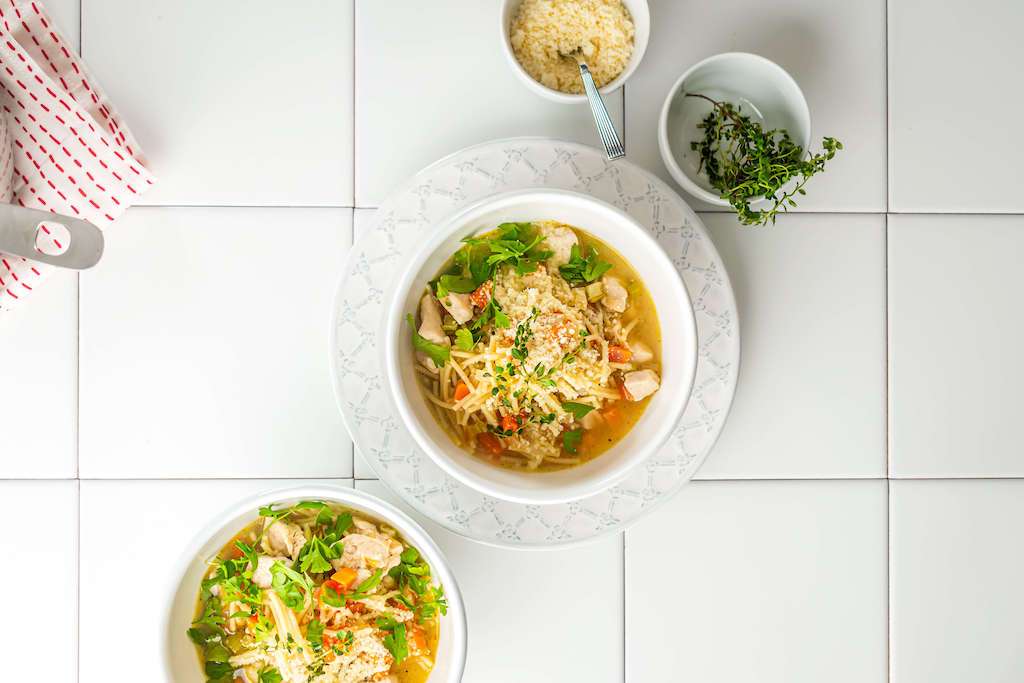 Add your cubed chicken breasts, salt, pepper, and half of the chicken stock to the stockpot. Partially cover and simmer for about 20 minutes or until the chicken is cooked through and the veggies are tender.
While the chicken fideo soup is simmering, cook your Fideo separately according to the package instructions in the remaining chicken stock. Cooking the fideo separately instead of in the same pot as the soup will prevent the release of starch into the soup broth as well as prevent the noodles from becoming mushy and soft. Reserve 2 cups of the pasta water before draining the pasta. Once the pasta is cooked, drain and toss with a little olive oil to prevent sticking. Cover and set aside.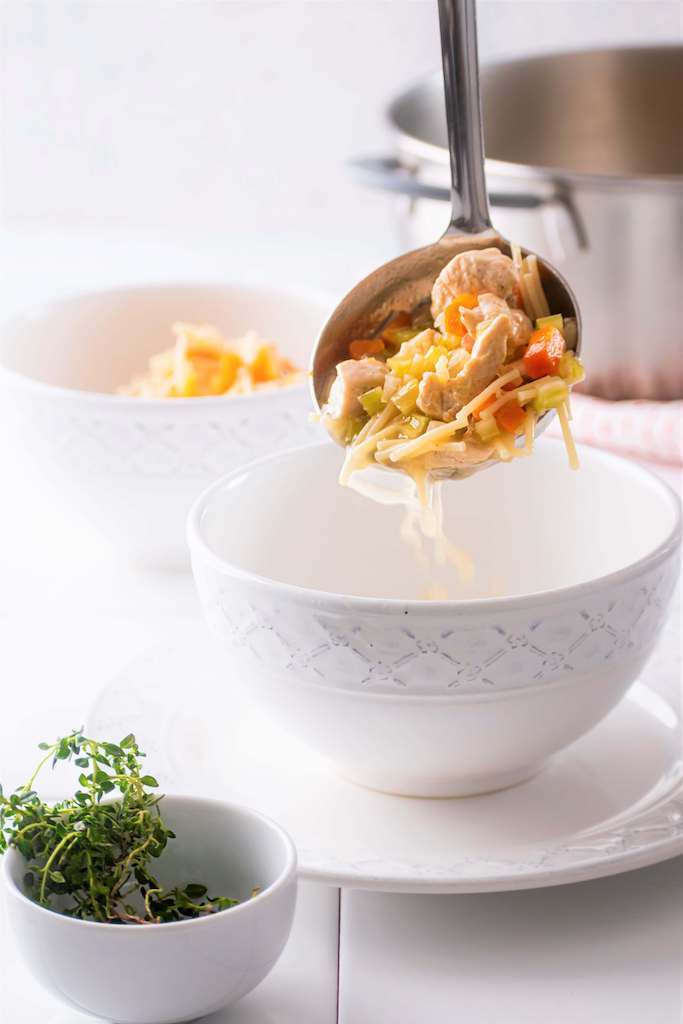 Add the lemon juice and zest as well as the nutmeg to the soup. Give the chicken fideo soup a stir, if it is a bit thicker than you'd like add a little of the reserved pasta water until you reach the desired consistency.
To serve, divide the Fideo noodles among individual serving bowls and ladle the soup over the noodles. Garnish with fresh shredded parmesan cheese and a few fresh thyme leaves. Serve Chicken Fideo Soup with a garden salad and a crusty roll.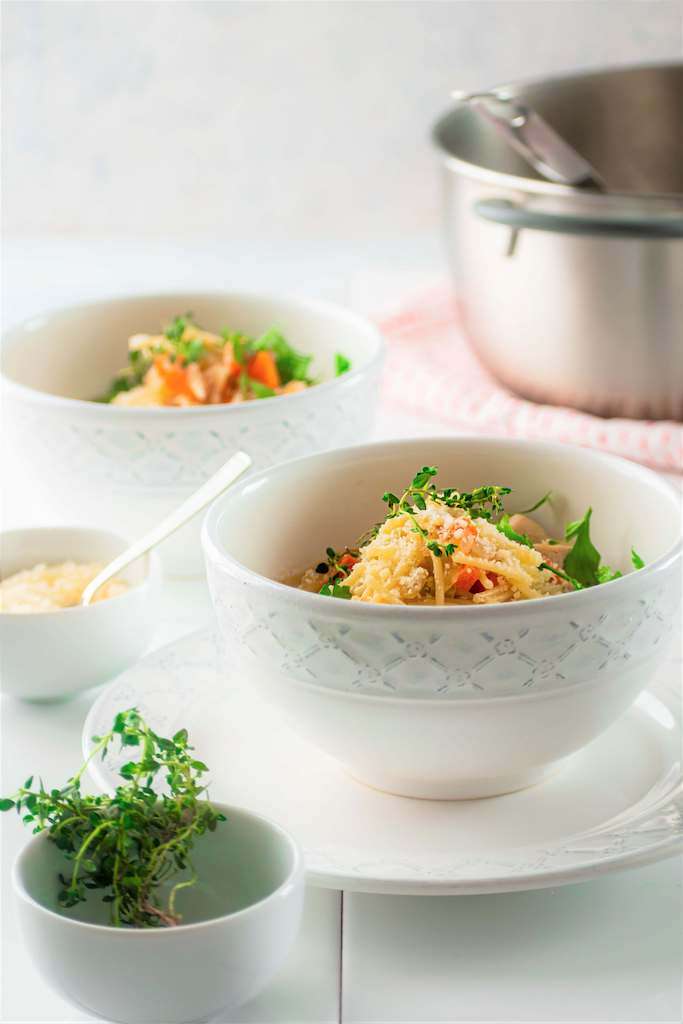 You might also like…
Creamy Chicken and Wild Rice Soup
The Secret to Amazing Chicken Noodle Soup
Yield: 4 servings
Chicken Fideo Soup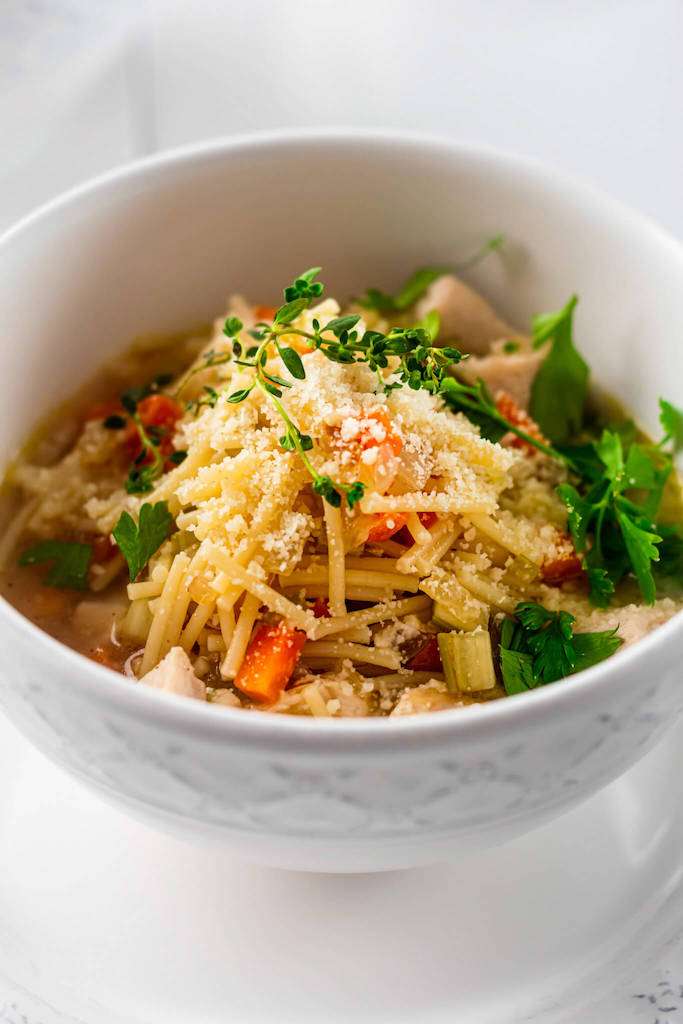 A bright and flavorful chicken soup perfect for lunch or a light dinner.
Ingredients
3 tbls olive oil
1 medium onion, diced
2 medium carrots, peeled and diced
2 celery stalks with leaves, diced
1 Tbls fresh thyme or 3/4 teas dried thyme
1 lb boneless skinless chicken breasts, cut into 1 inch cubes
8 cups chicken stock, divided
1 cup Fideo noodles, cooked and drained
1 Tbls fresh lemon zest
1 Tbls fresh lemon juice
1/4 teas ground or freshly grated nutmeg
Salt & Pepper, to taste
Freshly Shredded Parmesan cheese to garnish
Instructions
Heat 2 tablespoons of olive oil over medium heat in a large stock pot. Add the diced onion and saute until just beginning to soften. Add the carrots, celery including the leaves and thyme. Saute an for about 4 minutes.
Add the chicken, salt, pepper and 4 cups of the chicken stock to the pot. Give it a stir and cover partially. Simmer for 20 minutes or until the chicken is cooked through and vegetables are tender.
While the soup is simmering, cook the fideo noodles in the remaining broth according to the package instructions. Reserve 2 cups of the pasta water. Drain the fideo and toss with remaining olive oil. Cover and set aside.
Add the lemon zest, lemon juice and nutmeg to the soup. Stir and if it is too thick add a little of the reserved pasta water until the desired consistency is reached.
To serve, divide the fideo noodles into individual serving bowls and top with the hot soup. Garnish with a few fresh thyme leaves and freshly shredded parmesan cheese.
Serve with a garden salad and warm crusty rolls.
Recommended Products
As an Amazon Associate and member of other affiliate programs, I earn from qualifying purchases.
Nutrition Information:
Yield:
4
Serving Size:
1
Amount Per Serving:
Calories:

543
Total Fat:

21g
Saturated Fat:

5g
Trans Fat:

0g
Unsaturated Fat:

15g
Cholesterol:

112mg
Sodium:

897mg
Carbohydrates:

36g
Fiber:

3g
Sugar:

12g
Protein:

50g
Chaos and Wine occasionally offers nutritional information for recipes contained on this site. This information is provided as a courtesy and is an estimate only. This Nutrition Disclaimer notifies that under no circumstances will Chaos & Wine or its owners be responsible for any loss, damage, or adverse reactions resulting from your reliance on nutritional information given by this site. By using Chaos & Wine and its content, you agree to these terms.
FAQ's
Can I freeze Chicken Fideo Soup?
Yes, you can freeze the soup and simply make the noodles when you are ready to eat it. I do not recommend freezing the soup with the noodles in it as they will become mushy and too soft.
Can I use boneless skinless chicken thighs?
Yes, chicken thighs are often a more economical option than chicken breasts and they provide a bit more flavor. Just be sure to trim the excess fat from the chicken thighs prior to adding them to the soup.
Conclusion
With it's bright, light flavor this chicken fideo soup recipe is perfect when you're craving chicken soup but want a lighter version. It's perfect for warm weather months.