You know how it goes…you buy a bunch of bananas and they're gone in a day! You buy another bunch and watch them linger and turn brown over the week. One day the kids are eating bananas faster than monkeys, the next they won't touch them with a 10-foot pole. So what do you do with all those brown bananas? You make banana bread!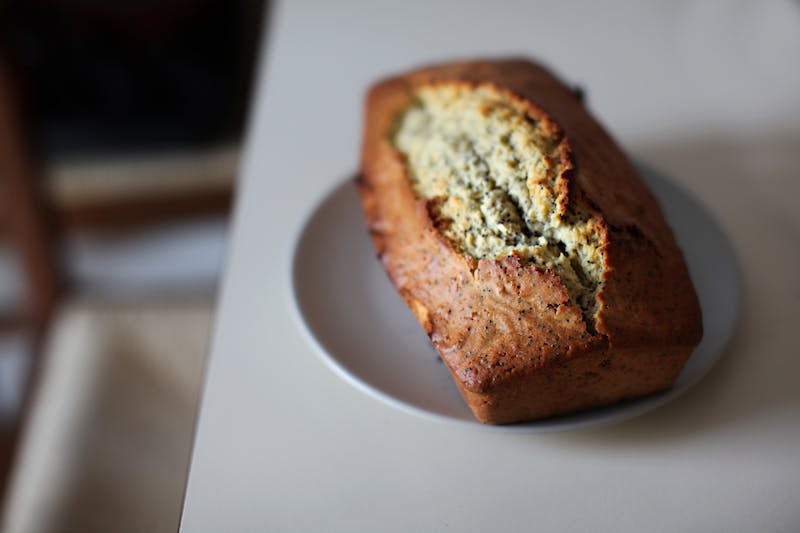 This page contains affiliate links. If you choose to purchase after clicking a link, I may receive a commission at no extra cost to you. For more information please read my full affiliate disclosure.
My Banana Spinch Smoothie is of course always a hit around here and slightly over-ripe bananas can easily be tossed in. However, banana bread is a family favorite. I received this recipe from my mom, who got it from her mom. I've tried other recipes over the years but I always come back to the one from my mom. Friends and family members love my banana bread and I'm always handing out the recipe so it's not exactly a family secret.
History
As banana bread is one of the most popular recipes searched for on the internet, you'd think its popularity would date back hundreds of years. However, it only became popular during the Great Depression as baking soda and baking powder, the main leavening agents used in banana bread, began to be massed produced and readily available at local grocery stores. In addition, families across America were looking for ways to economize their food budgets. Using an unappetizing over-ripe fruit in a delicious dessert was the perfect solution for those brown bananas left on the counter.
Banana bread is so popular National Banana Bread Day is celebrated on February 23rd!
Too busy to make this right now? Pin for later to your favorite Pinterest Board!
Tips for Making Banana Bread
This recipe is easily doubled and can be made into banana bread muffins or mini loaves. I usually double this recipe and freeze a loaf or give one to family. To freeze your loaf wrap it in plastic wrap and then cover it with tin foil. Freeze for up to 1 month.
It also uses pantry-friendly ingredients so you probably already have everything on hand.
You can use a standing mixer to make this recipe extra quick. This is my favorite standing mixer – personally, it's worth the investment as I've had mine for YEARS!
Ingredients for Banana Bread without Butter
This recipe is mostly pantry-friendly staples so it's easy to whip up anytime you've got bananas going brown.
Flour – I use regular all-purpose flour but you can substitute whole wheat or mix half whole wheat and half all-purpose flour.
Eggs – large eggs are your best bet. I have tried it with duck eggs and that worked great as well!
Oil – I use canola oil or coconut oil depending on what I have on hand and what I feel like but either works great! This makes this an excellent banana bread recipe without butter.
Sugar – I usually use white sugar but I have used sugar substitutes like monk fruit with success.
Sour Cream – Sour cream is the secret ingredient in this recipe! It makes adds the perfect moisture to the bread! You can substitute greek yogurt if don't have sour cream though. In fact, I once substituted strawberry yogurt as that's what I had on hand and it was still good! This helps keep our loaf nice and moist since this is a banana bread recipe without butter.
Vanilla Extract – make sure you're using pure vanilla extract and not imitation! It really makes a world of difference!
How to Make Banana Bread
I promised this recipe was super simple! It's also great to cook with kids! Mix all the ingredients in a standing mixer or by hand.
Pour into a greased loaf pan or muffin tin and bake! If using a standard loaf pan, bake at 350º for about 1 hour. Regular muffins will take about 25-30 minutes at the same temperature.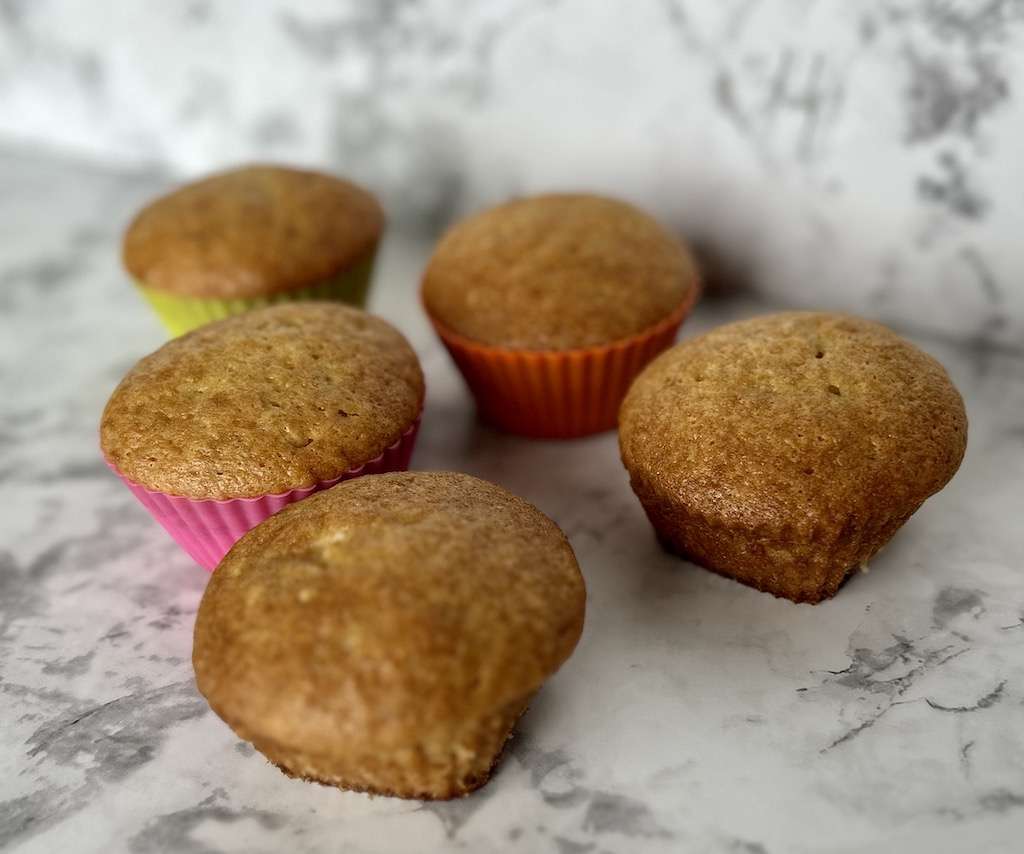 You might also like…
Yield: 1 loaf
My Favorite Banana Bread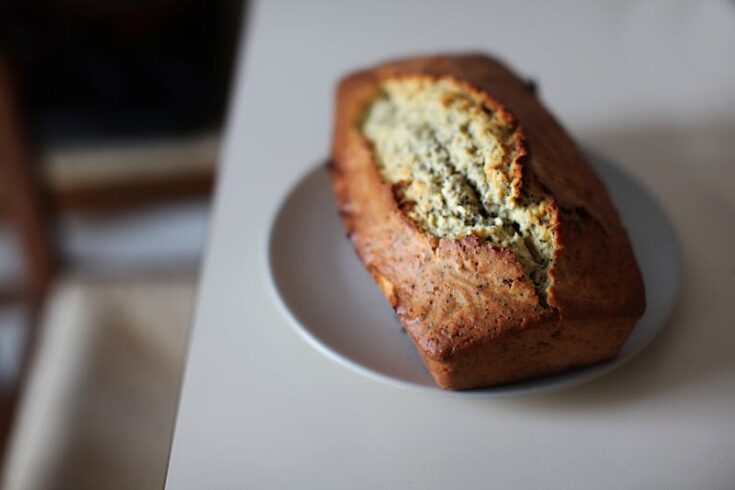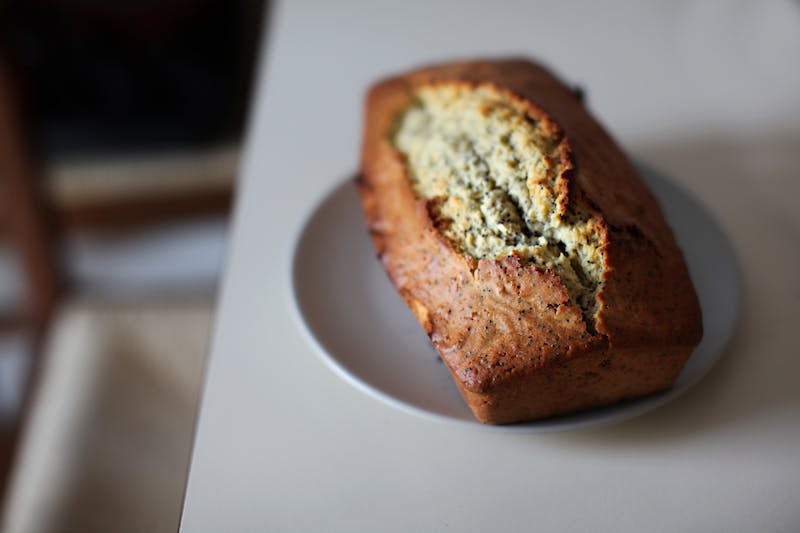 Banana bread is simple and easy to make. This recipe can also be used for muffins.
Total Time
1 hour
20 minutes
Ingredients
1 cup sugar
1/2 cup oil, vegetable, canola or coconut
2 eggs
2 medium bananas
1/2 cup sour cream
1 teas vanilla
1 1/2 cups flour
1 teas baking soda
1/2 teas salt
1/2 cup nuts or chocolate chips, optional: walnuts/pecans or chocolate chips
Instructions
Preheat oven to 350°
Grease and flour loaf pans or line muffin tin with liners.
In large mixing bowl or bowl of standing mixer, mix 1st six ingredients until well blended.
Stir in remaining ingredients.
If adding, nuts or chocolate chips first toss them in a small amount of flour. Then mix into batter.
Pour batter into loaf pan or muffin cups
For a full loaf bake for 50-60 minutes. For muffins back for 25-30 minutes. Test for doneness with a toothpick.
Recommended Products
As an Amazon Associate and member of other affiliate programs, I earn from qualifying purchases.
Nutrition Information:
Yield:
12
Serving Size:
1 grams
Amount Per Serving:
Calories:

360
Total Fat:

19g
Saturated Fat:

6g
Trans Fat:

0g
Unsaturated Fat:

13g
Cholesterol:

37mg
Sodium:

208mg
Carbohydrates:

44g
Fiber:

3g
Sugar:

26g
Protein:

5g
Chaos & Wine occasionally offers nutritional information for recipes contained on this site. This information is provided as a courtesy and is an estimate only. This Nutrition Disclaimer notifies that under no circumstances will Chaos & Wine or its owners be responsible for any loss, damage, or adverse reactions resulting from your reliance on nutritional information given by this site. By using Chaos & Wine and its content, you agree to these terms.
Banana Bread Variations & Add-Ins
There are a lot of different way to change up banana bread!
Some of our favorite add-ins are chocolate chips, walnuts, blueberries, or a complimentary dried fruit. When using these types of add-ins be sure to toss them in a little bit of flour before adding them to the batter so they don't sink to the bottom of the loaf pan.
You can also add cocoa powder and do a chocolate chocolate chip banana bread! Chocolate and bananas go hand in hand!
Conclusion for Banana Bread without Butter
I hope you love this recipe as much as my family does! Try making adding chocolate chips or banana bread muffins! Do you have a favorite quick bread recipe?
Check out these fun facts about bananas too!