I'm always looking for great ways to get more veggies into my kids' diet and these chocolate beet muffins are probably one of their favorite muffins!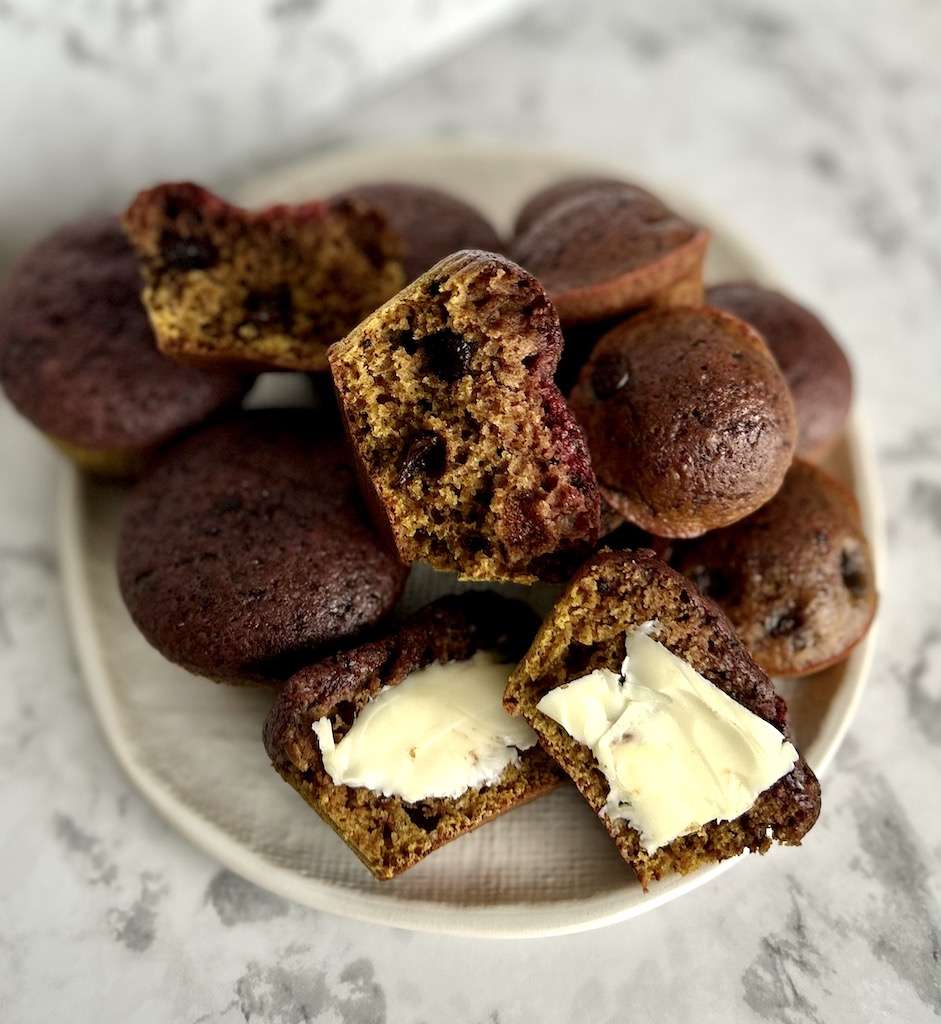 This page contains affiliate links. If you choose to purchase after clicking a link, I may receive a commission at no extra cost to you. For more information please read my full affiliate disclosure.
I started making these chocolate beet muffins after a neighbor with an extensive garden gifted me a large bundle of beets! I tried roasting them but the kids wouldn't touch them. I knew I had to find another way to get them to eat these fantastic beets!
Health Benefits of Beets
Beets are a type of root vegetable that has a sweet, earthy flavor and a reddish-purple color. Per Healthline, they are a great source of vitamins, minerals, and fiber, and are often enjoyed roasted, pickled, and raw. Personally, baked into a chocolate beet muffin is my favorite way to eat them!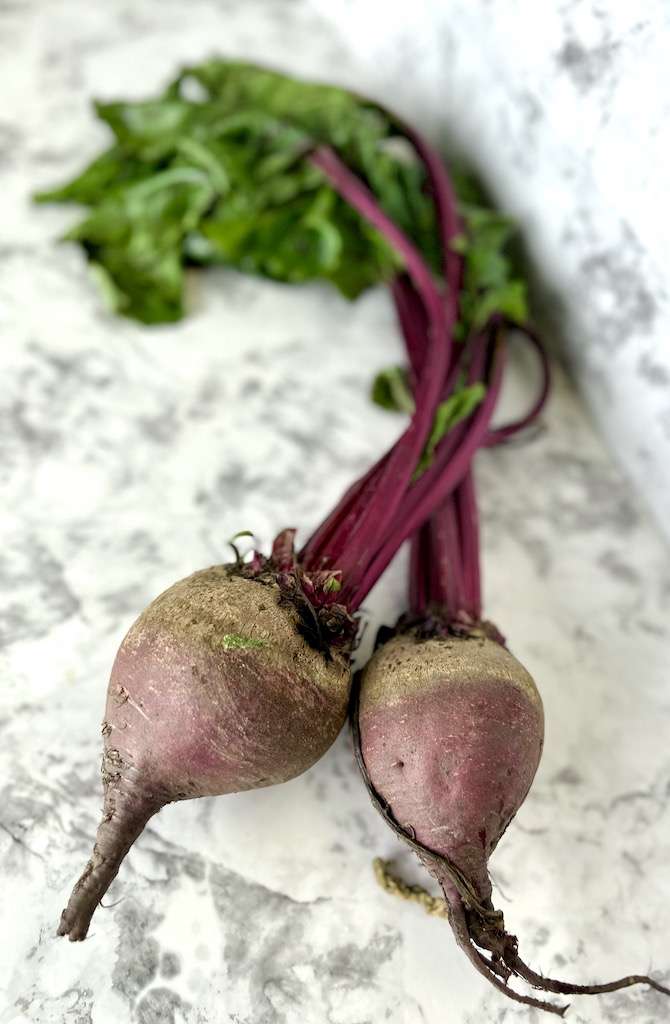 Beets are a nutritional powerhouse that can provide a variety of health benefits. They are a great source of vitamins and minerals, including folate, manganese, potassium, vitamin C, and fiber. Beets also contain a unique type of antioxidant called betalains, which not only give them their bright color but have been linked to anti-inflammatory and detoxifying properties.
Additionally, studies have found that beets can help improve athletic performance, lower blood pressure, and aid with digestion.
Ingredients this Chocolate Beet Muffin Recipe
There are a few ingredients for this chocolate beet muffin recipe but I promise it's well worth the effort and all the ingredients!
Brown Sugar – we'll strictly use brown sugar in this recipe!
Apple Sauce – This is a healthy alternative to baking with oil but if you want to use oil I've made these chocolate beet muffins with canola oil and coconut oil and they were both excellent!
Eggs – There are a total of 6 eggs – 2 whole and 4 egg whites – used in this recipe.
Beet Puree – I puree my own beets and I'll provide instructions below. It's not as difficult as it sounds but can be a bit messy.
Semi-sweet Chocolate Chips – We'll melt some chocolate chips to add to the batter and we'll add some at the end for an extra chocolate flavor.
Buttermilk – This adds a rich flavor to the muffins. If you don't have buttermilk on hand, gently mix 1 cup of milk with 1 tablespoon of vinegar or lemon juice in a small cup and allow to sit for 5 minutes.
Vanilla – You can't bake without using vanilla! Please use real vanilla extract and not imitation!
Flour – I use all-purpose flour!
Baking Soda – To help the muffins rise!
Salt – To improve the taste!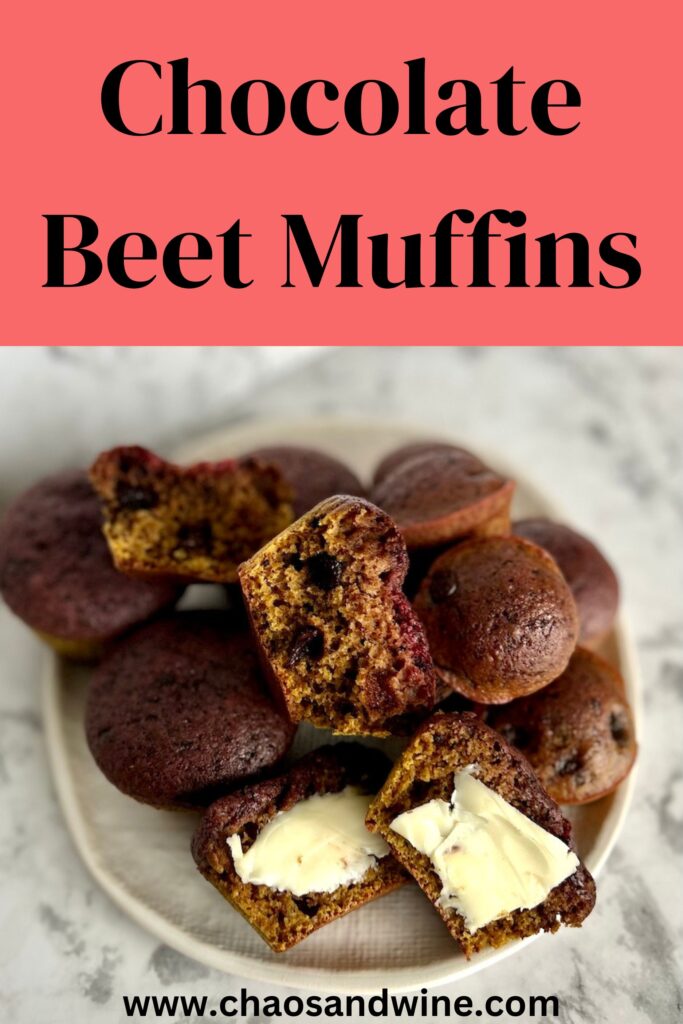 Too busy to make this right now? Pin for later to your favorite Pinterest Board!
How to Puree Beets
Pureeing beets is fairly simple using this method but it can be a bit messy. Beet juice will stain not surfaces as well as your hands so be sure to protect any surfaces you are using.
Trim the tops and bottoms of the beetroot and wash your beetroot gently.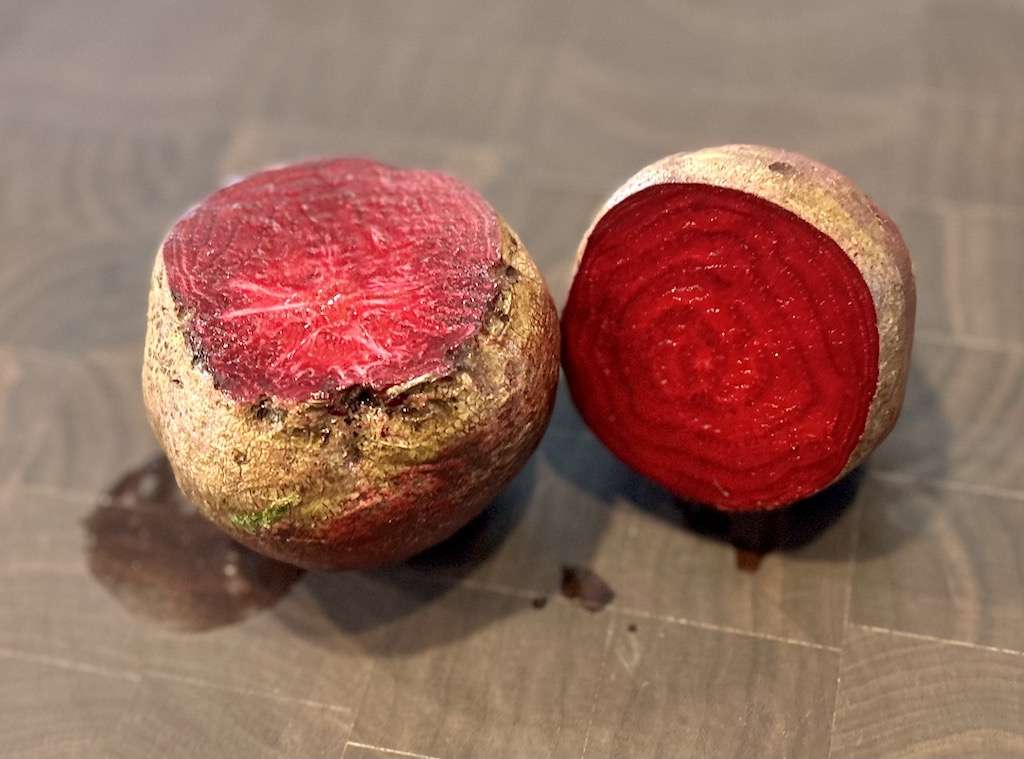 You will need a microwave-safe container with a lid to cook the beets in. I use a corning-ware dish with a glass lid.
Place a damp paper towel on the bottom of your dish. Individually wrap the beetroots in damp paper towels and place them in your dish. Cover (if you need to cut the beets in half to fit the lid on feel free to do so) and microwave for 5 mins.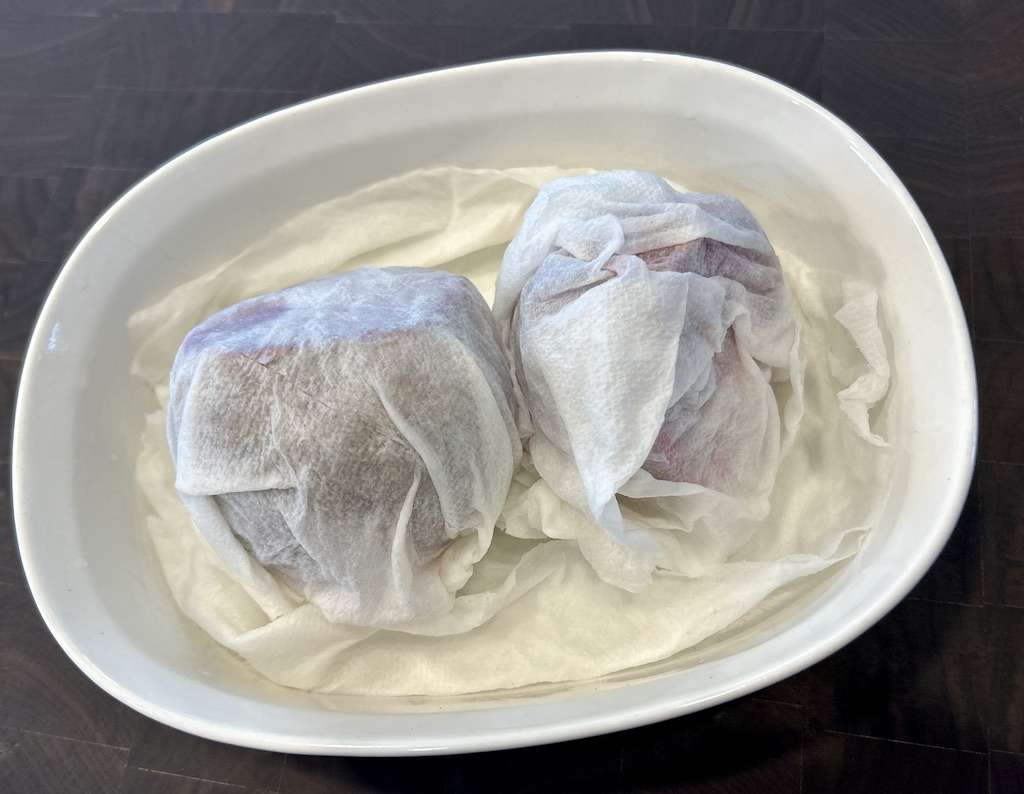 Using a fork, check to see if they are soft. Repeat for 5 minutes and check again. It usually takes about 20 minutes for my beets to be done but it varies based on how big your beetroots are.
Once they are done, remove them from the microwave and uncover them. Allow them to cool a bit until you can handle them safely.
Using the paper towel the beets were wrapped in, gently wipe away the skin from the beet. This is the messy part and will stain your hands!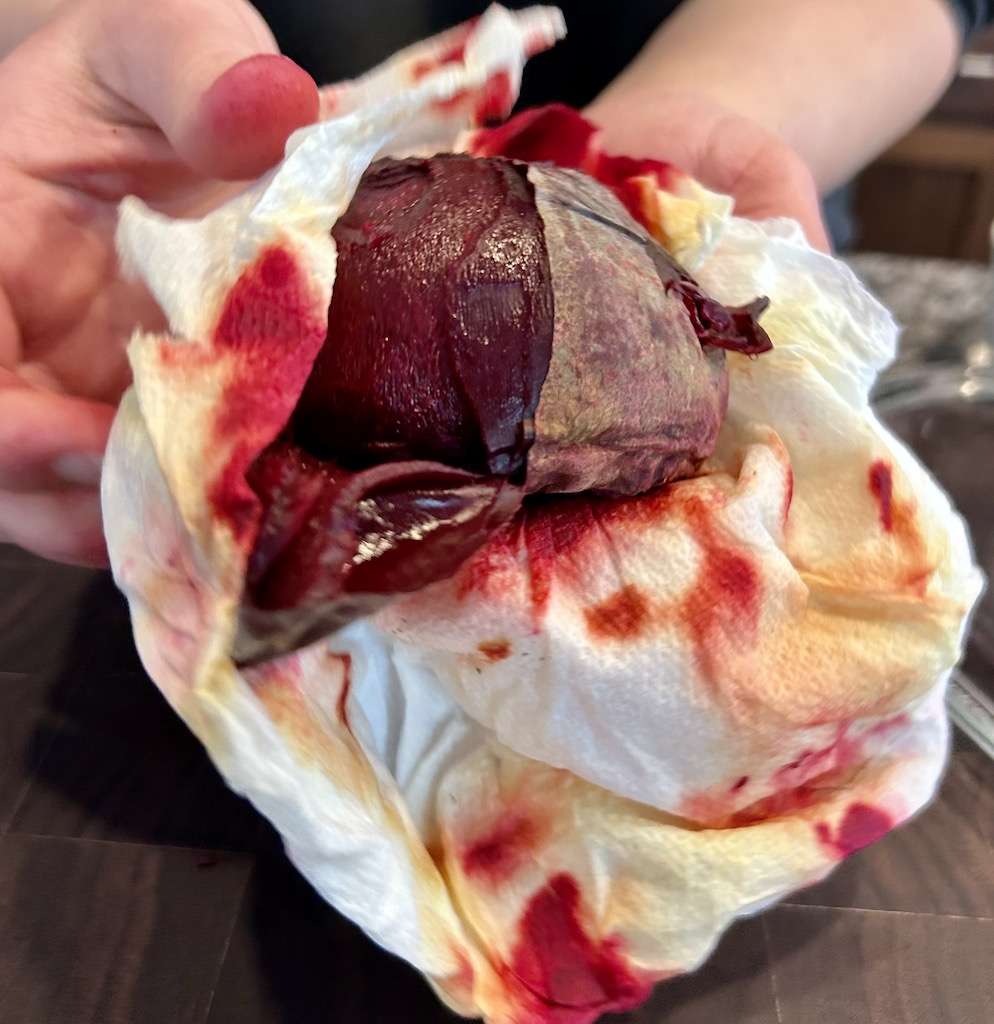 To make the puree, roughly chop the cooked beets and give them a whirl in your food processor or blender!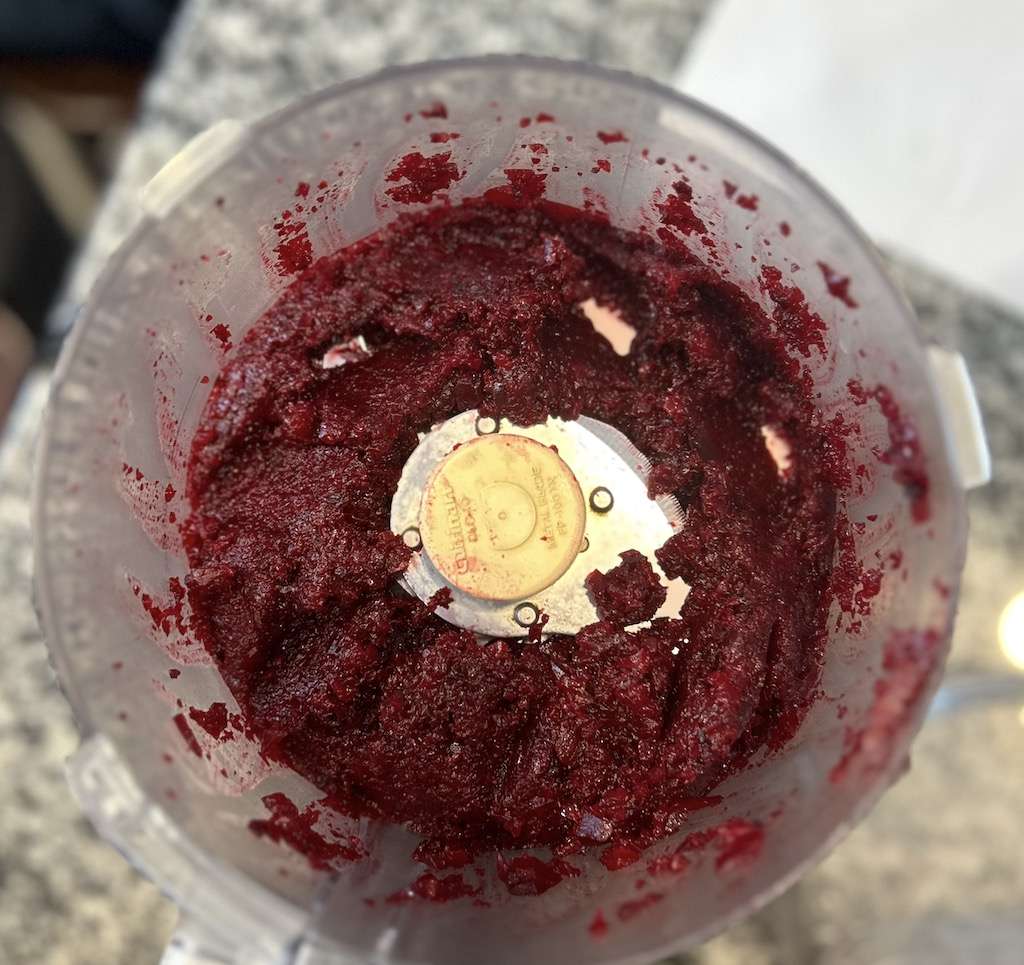 You might also like…
Hot Dog Soup (Sausage and Lentil Soup)
Making Chocolate Beet Muffins
You can make regular-size chocolate beet muffins or mini muffins. I usually make a bit of both – mini chocolate beet muffins for snacking and regular-sized muffins ones for breakfast.
Preheat your oven to 350° and line your muffin tin or spray with non-stick cooking spray. I love my silicon muffin cups and just place them on a regular cookie sheet!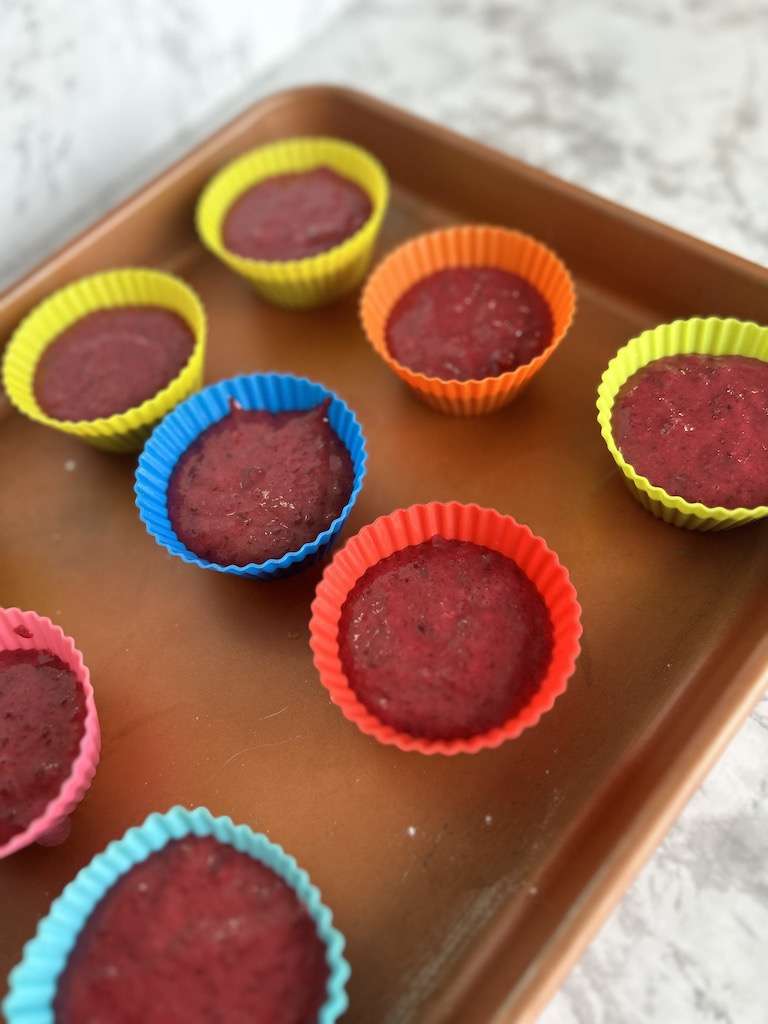 In a large mixing bowl or standing mixer, beat the apple sauce and brown sugar until creamy.
Add the eggs one at a time mixing well between each egg.
Mix in the beet puree, chocolate, buttermilk, and vanilla.
Add the remaining ingredients and mix thoroughly. I love the bright color of the batter but don't worry the muffins won't be bright red!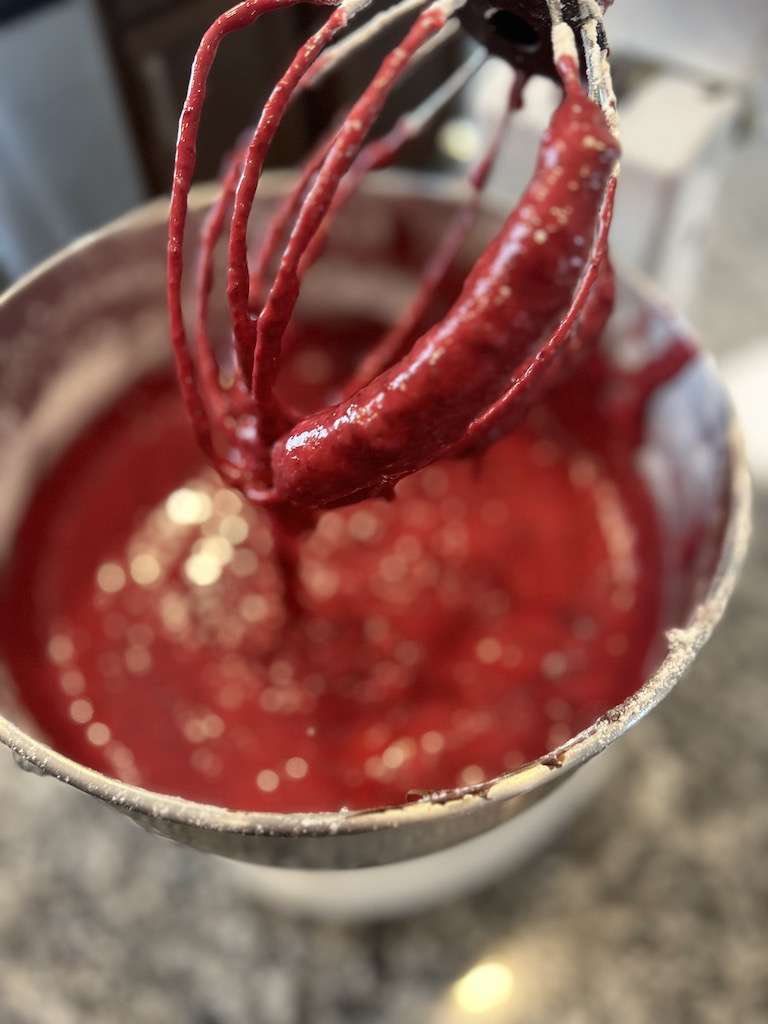 Fill each muffin cup 3/4 of the way full or about 1 tablespoon of batter in the mini muffin cups.
Bake regular muffins for 15-20 minutes at 350° or mini muffins for 12-15 minutes at 350°.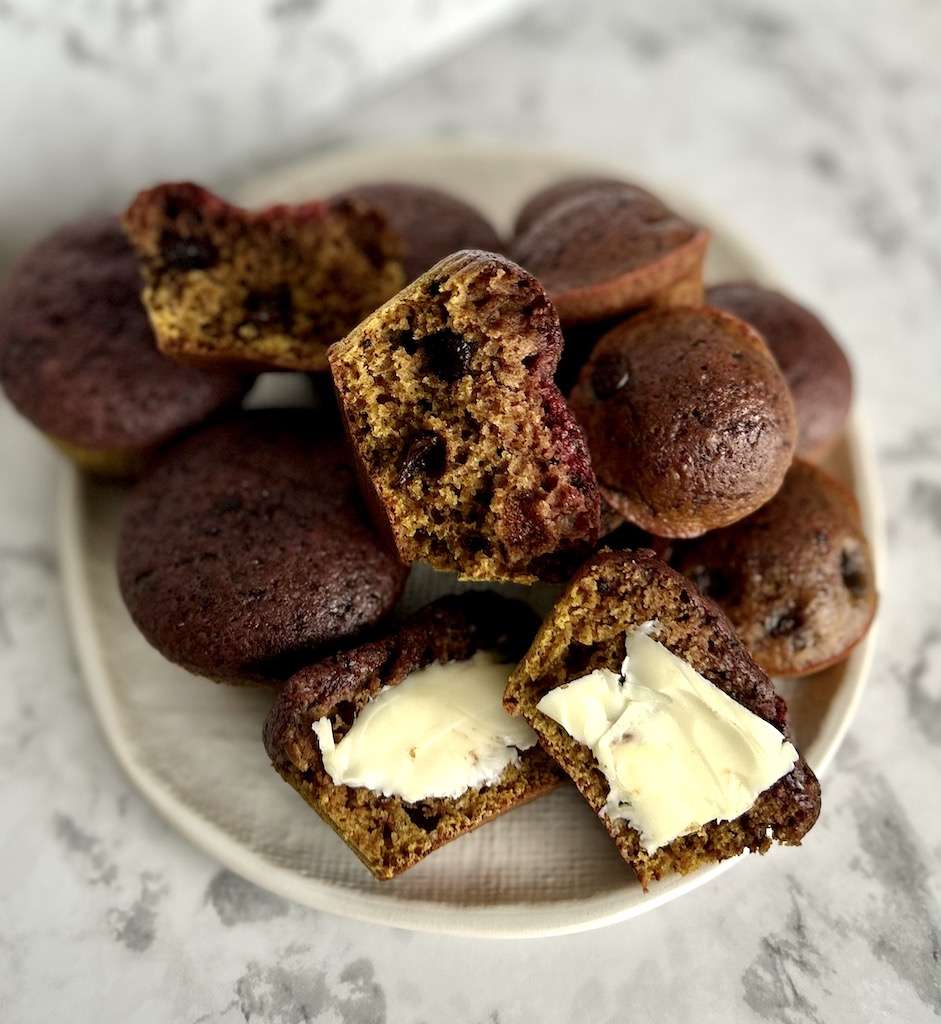 Remove from the muffin tin or cups and cool on a baking rack. Serve warm with butter!
You can store chocolate beet muffins at room temperature in an airtight container for up to 4-5 days. Mine never seem to last that long though!
Yield: 24 muffins
Chocolate Beet Muffins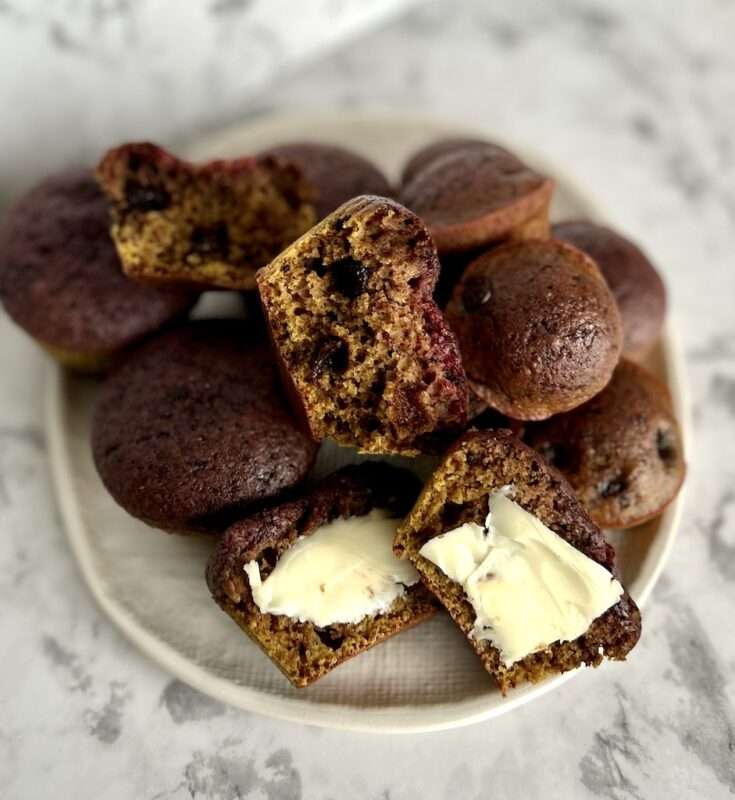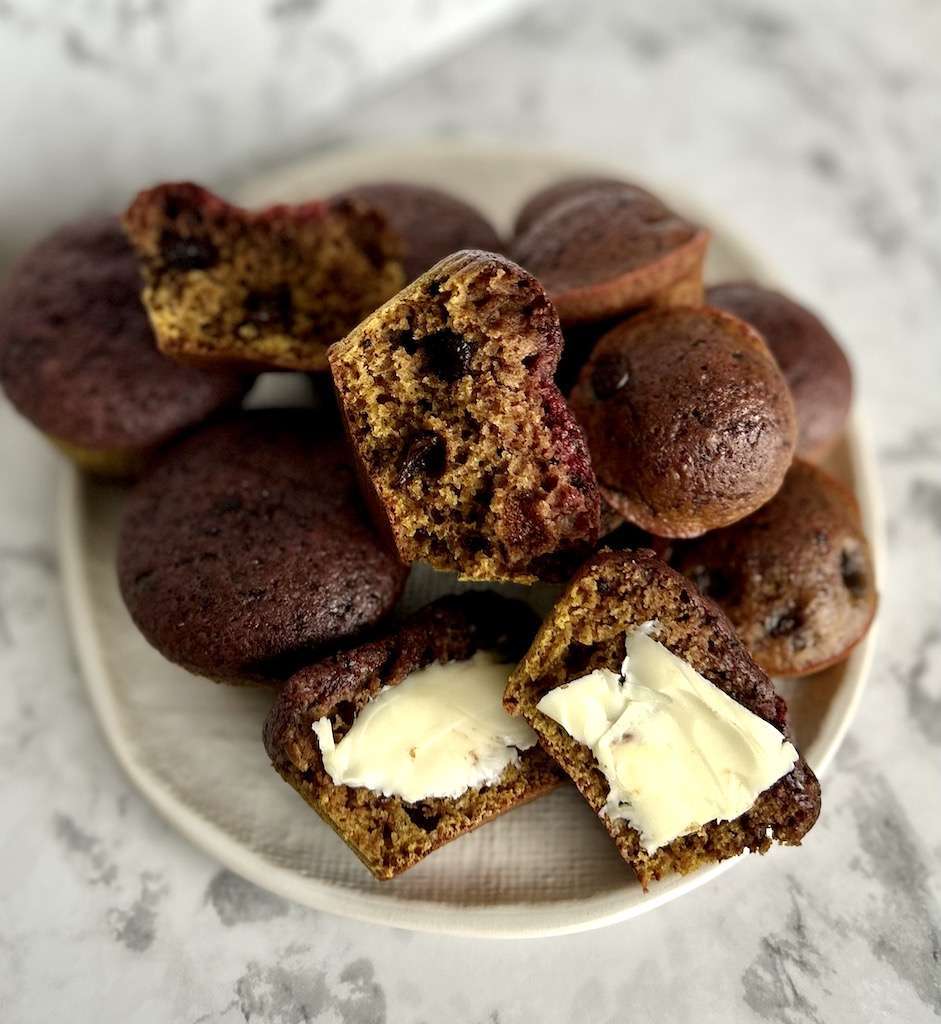 These decadent chocolate beet muffins are an excellent way to hide those veggies from the kids!
Total Time
1 hour
15 minutes
Ingredients
2 cups brown sugar
1/2 cup apple sauce
2 whole eggs
4 egg whites
1 cup beet puree
6 ounces semi-sweet chocolate, melted
1 cup buttermilk
2 tsp vanilla
4 cups flour
2 tsp baking soda
1/2 tsp salt
1 cup semi-sweet chocolate chips
Instructions
Preheat the oven to 350° and line muffin tin with cupcake liners or spray with non-stick cooking spray.
In the bowl of a standing mixer or large mixing bowl, beat the brown sugar and apple sauce until creamy.
Add the eggs one at a time beating well after each addition.
Beat in the beet puree, chocolate, buttermilk and the vanilla.
Add remaining ingredients and beat until smooth.
Add the chocolate chips and mix thoroughly.
Fill muffin cups until 3/4 full.
Bake at 350° for 15-20 minutes for regular muffins or 12-15 minutes for mini-muffins.
Recommended Products
As an Amazon Associate and member of other affiliate programs, I earn from qualifying purchases.
Nutrition Information:
Yield:
24
Serving Size:
1
Amount Per Serving:
Calories:

223
Total Fat:

5g
Saturated Fat:

3g
Trans Fat:

0g
Unsaturated Fat:

2g
Cholesterol:

16mg
Sodium:

200mg
Carbohydrates:

42g
Fiber:

2g
Sugar:

25g
Protein:

4g
Chaos and Wine occasionally offers nutritional information for recipes contained on this site. This information is provided as a courtesy and is an estimate only. This Nutrition Disclaimer notifies that under no circumstances will Chaos & Wine or its owners be responsible for any loss, damage, or adverse reactions resulting from your reliance on nutritional information given by this site. By using Chaos & Wine and its content, you agree to these terms.
FAQ's
Can I freeze chocolate beet muffins?
Yes, this recipe makes 24 muffins which usually lasts a day or two around here. However, I do make extra large batches and freeze them for later! Place the muffins in a large ziplock bag and freeze them for up to 4 months. To defrost, place the muffins on the counter or, if you only need one muffin, microwave for 30 seconds or so to defrost and warm.
Do I have to use apple sauce?
No, if you prefer to use oil that's fine. I suggest canola oil or coconut oil.
What if I don't have buttermilk?
If you don't have buttermilk on hand, mix 1 cup of milk and 1 tablespoon of lemon juice or vinegar in a cup and allow to sit for 5 minutes. Use in replace of the buttermilk.
Can I make these chocolate beet muffins vegan?
Chocolate beet muffins are a great way to hide a vegetable in your children's breakfast or snack. We love not only making these delicious beet chocolate muffins but there's rarely leftovers! Want more beet muffin recipes? Be sure to check out these amazing beet muffin recipes!