This Limoncello Strawberry Lemonade recipe is a refreshing twist on a summertime classic. This limoncello-spiked strawberry lemonade is not only delicious but simple to make!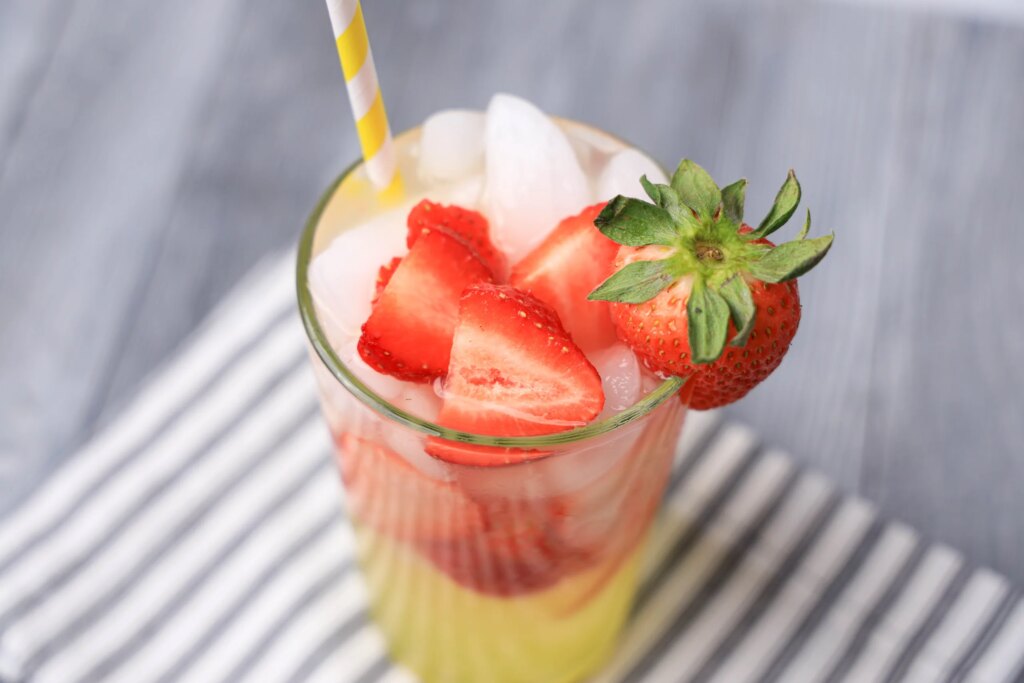 This page contains affiliate links. If you choose to purchase after clicking a link, I may receive a commission at no extra cost to you. For more information please read my full affiliate disclosure.
I love a cool refreshing glass of lemonade on a hot summer afternoon, especially after a long day of yard work or playing outside with the kids. Limoncello strawberry lemonade hits all the right notes with its bright lemon flavor combined with delicious and colorful strawberries!
This strawberry lemon cocktail just hits the spot on a hot summer's day!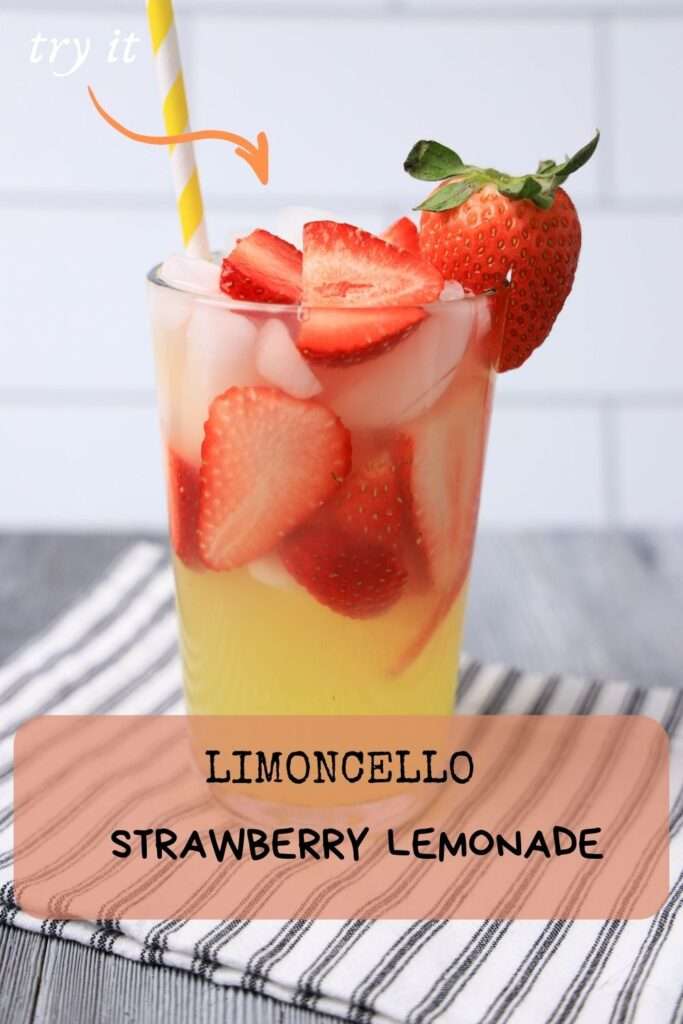 Too busy to make this right now? Pin for later to your favorite Pinterest Board!
What is Limoncello?
I love Limoncello and if you haven't tried it you really should as it's delicious alone! Adding it to this refreshing Limoncello strawberry lemonade just takes it to another level!
An Italian liqueur made from lemon zest, alcohol, sugar, and water, Limoncello is usually served chilled after a meal to aid digestion. Known for its bright yellow color it has a sweet, citrus, tart flavor and a smooth and refreshing taste.
You can find Limoncello in most local liqueur stores.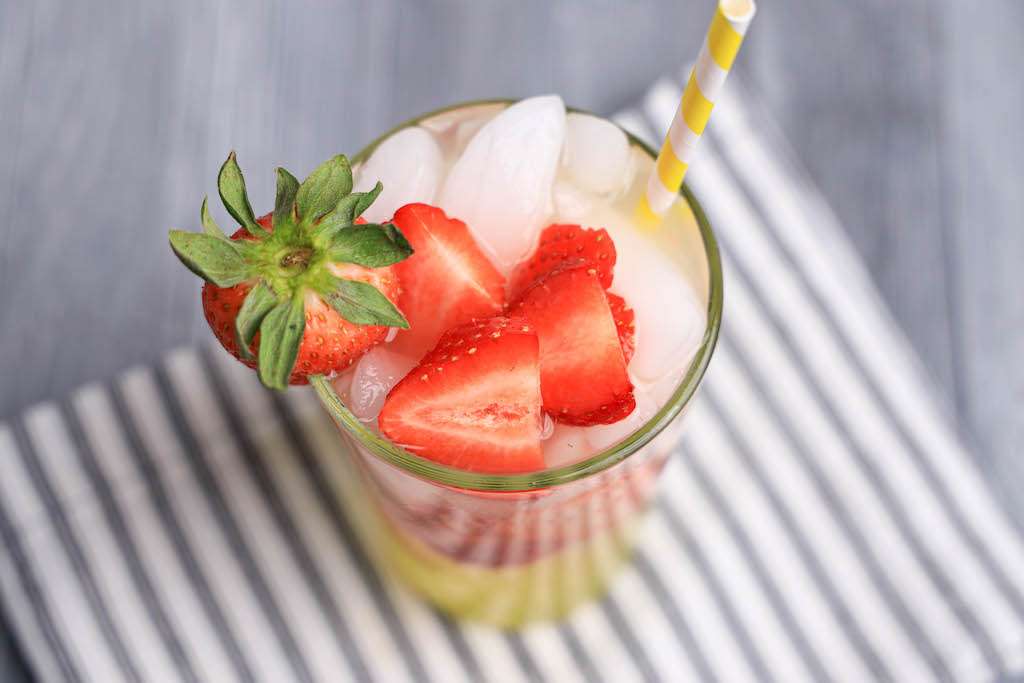 Ingredients for Limoncello Strawberry Lemonade
Only 4 simple ingredients are needed to make this perfect spiked strawberry lemonade!
Lemonade – Grab a bottle of your favorite lemonade from the grocery store or go all out and make your own favorite homemade lemonade! I like to use Simply Lemonade from the store to keep this simple!
Limoncello – You can find bottles of Limoncello at your local liqueur store.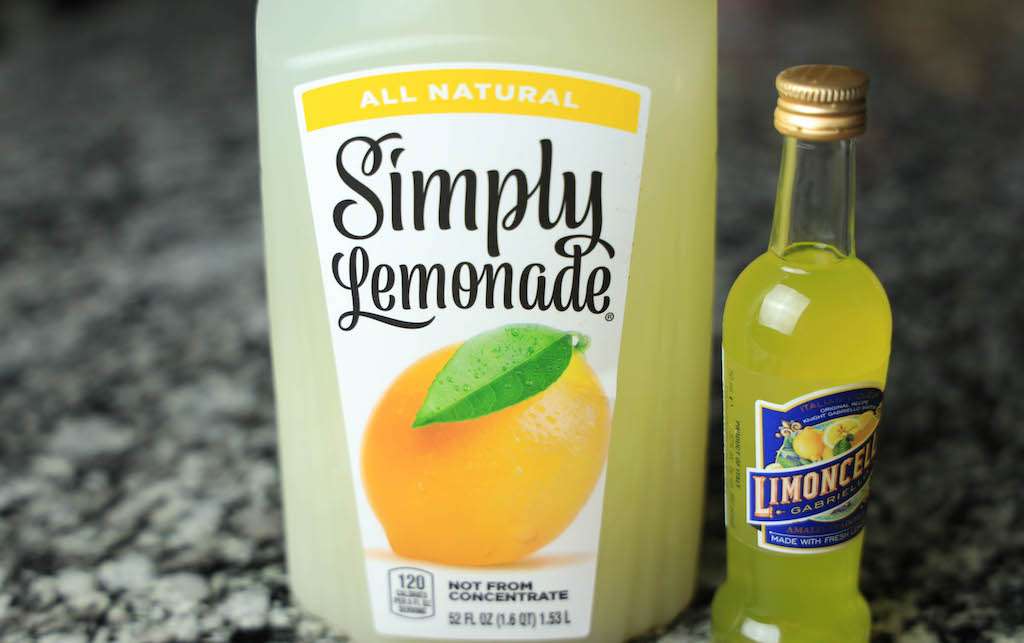 Strawberries – Fresh strawberries are required for this recipe!
Ice – To keep your drink nice and chilled!
How to Make Strawberry Limoncello Lemonade
Slice about 4 fresh strawberries being sure to keep one or two for a garnish!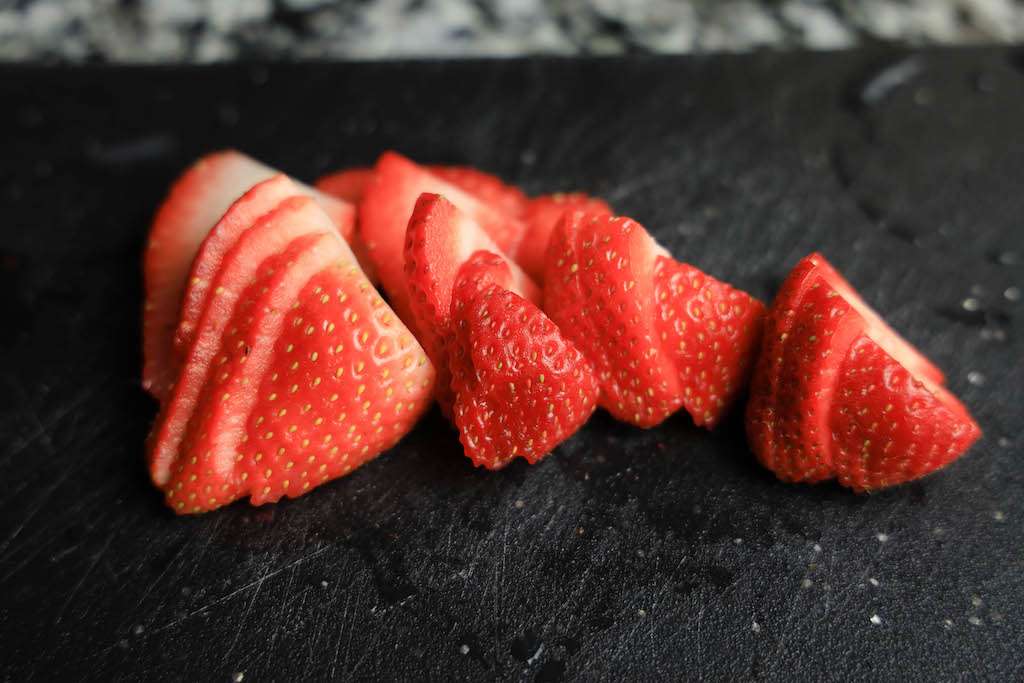 Place your ice and strawberries in a tall glass. I like to muddle my strawberries a bit with a spoon and ice. To muddle the strawberries, lightly press them against the sides of the glass to release some of the strawberry juices.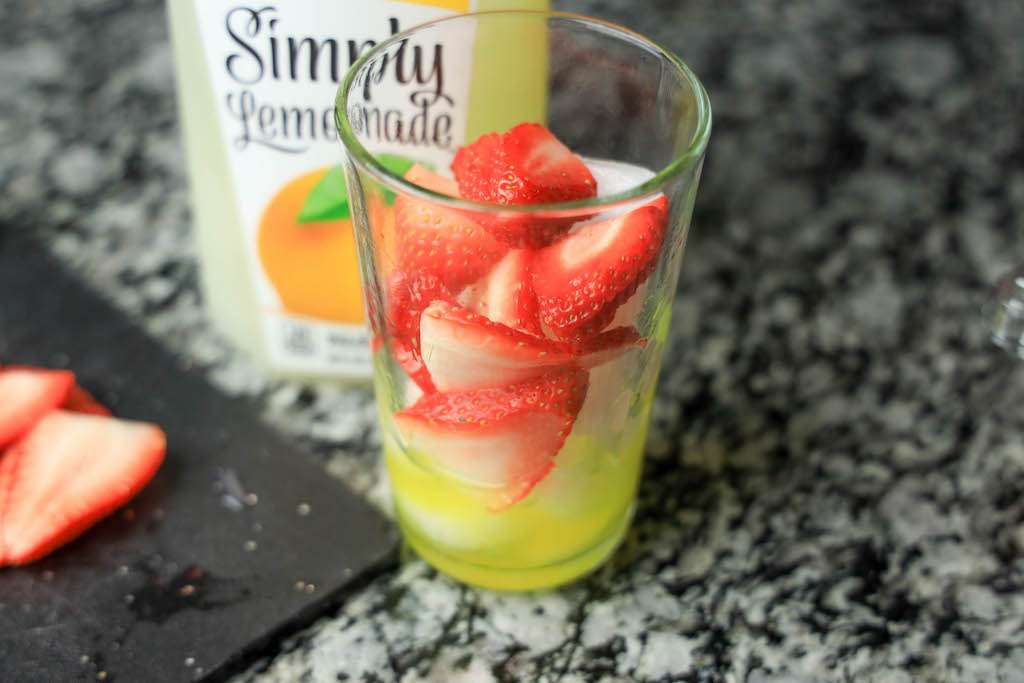 Pour the Limoncello over the strawberries and ice, followed by the lemonade, and stir to combine.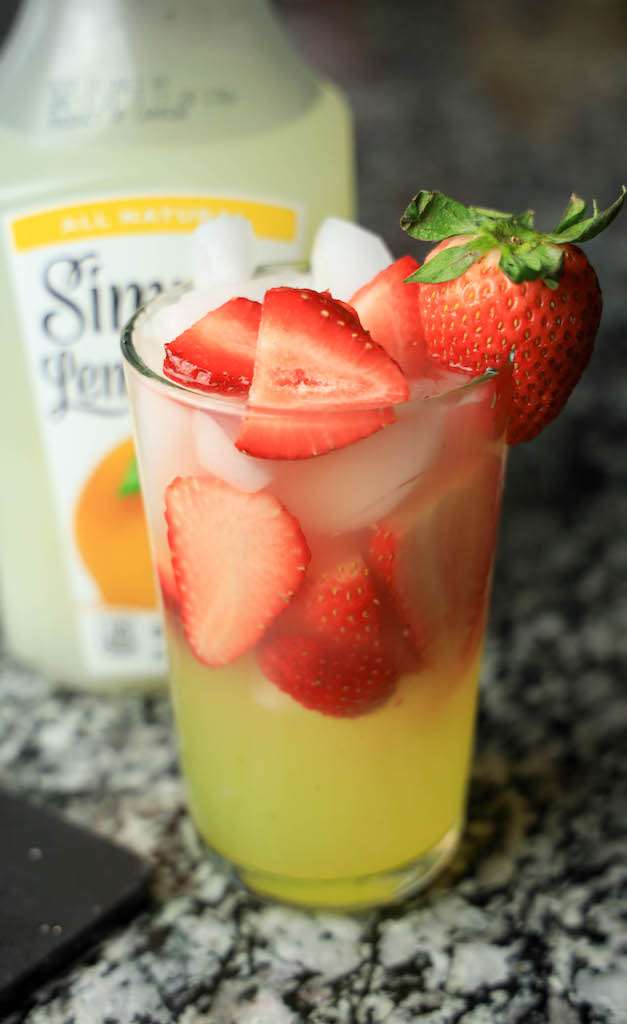 Garnish with a fresh strawberry and add a straw! Enjoy!
You might also like…
Variations
There are a few variations of this recipe you can try!
Limoncello Strawberry Limeade – substitute limeade in place of the lemonade
Limoncello Raspberry Lemonade – Use raspberries instead of strawberries
Strawberry Basil Limoncello Lemonade – Add a few fresh basil leaves to create a delicious twist
Pink Limoncello Strawberry Lemonade – Want a pink-colored drink? See if you can find some pink Limoncello and use pink lemonade as well!
Yield: 1 serving
Limoncello Strawberry Lemonade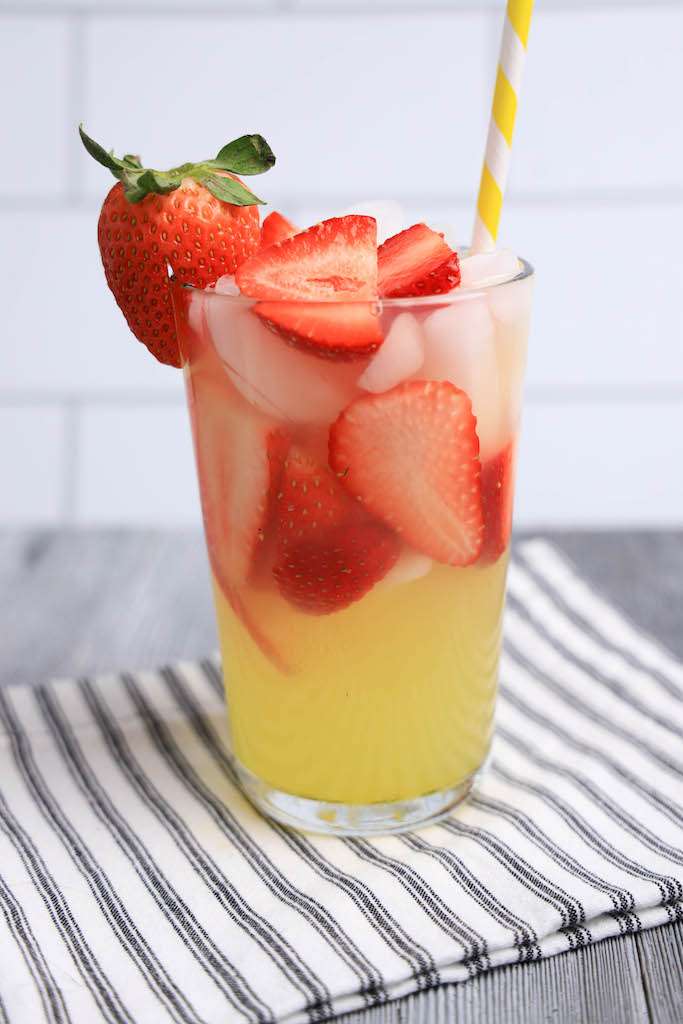 This Limoncello Strawberry Lemonade recipe is a refreshing twist on a summertime classic. This limoncello-spiked strawberry lemonade is not only delicious but simple to make!
Ingredients
2 cups lemonade
1 oz Limoncello
5 Strawberries
Ice
Instructions
Slice the strawberries reserving one strawberry for garnishing.
Place the ice and the sliced strawberries into a tall glass. Muddle the strawberries a bit, if desired.
Pour in limoncello followed by lemonade. Stir.
Garnish with a fresh strawberry and add a straw! Enjoy!
Recommended Products
As an Amazon Associate and member of other affiliate programs, I earn from qualifying purchases.
Nutrition Information:
Yield:
1
Serving Size:
1
Amount Per Serving:
Calories:

329
Total Fat:

0g
Saturated Fat:

0g
Trans Fat:

0g
Unsaturated Fat:

0g
Cholesterol:

0mg
Sodium:

22mg
Carbohydrates:

72g
Fiber:

2g
Sugar:

67g
Protein:

1g
Chaos and Wine occasionally offers nutritional information for recipes contained on this site. This information is provided as a courtesy and is an estimate only. This Nutrition Disclaimer notifies that under no circumstances will Chaos & Wine or its owners be responsible for any loss, damage, or adverse reactions resulting from your reliance on nutritional information given by this site. By using Chaos & Wine and its content, you agree to these terms.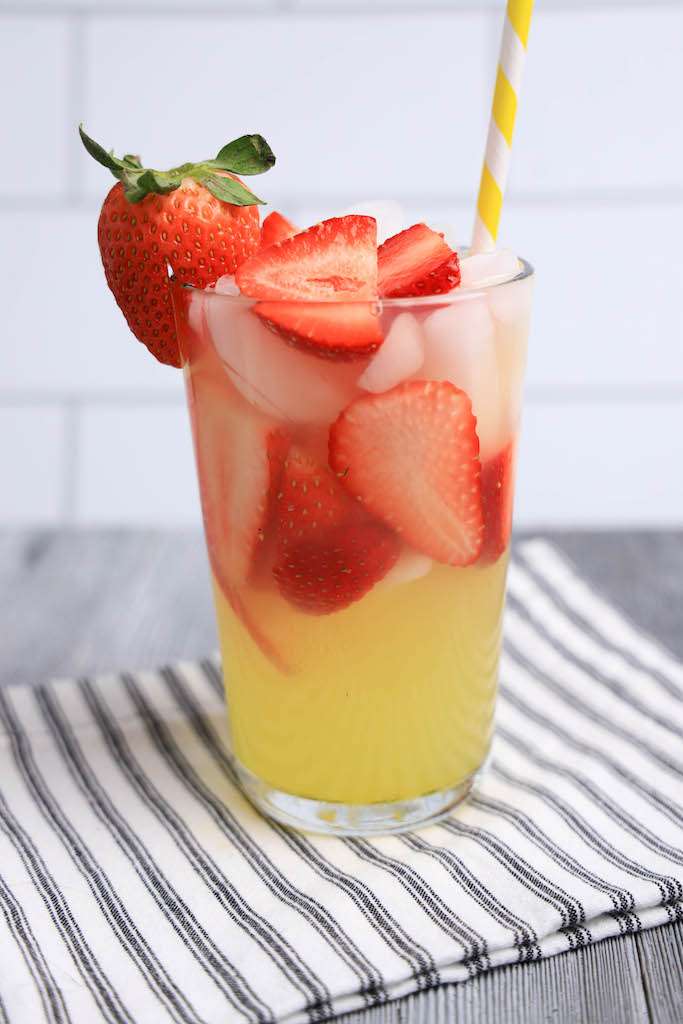 FAQs
Can I double this recipe?
Absolutely, double or triple this recipe to make as many servings as you need! It's an excellent addition to a summer barbecue!
Can I make a frozen Limoncello strawberry lemonade?
Yes, this makes a great Limoncello strawberry lemonade slush! Add all ingredients to a high-speed blender and blend until fully combined! You may need to adjust the ice to get the right consistency so start with a little bit and add as you go.
Can I make this ahead of time?
I love recipes you can make ahead of time so whip this up in the morning before heading out for the day and come home to a refreshing drink! Alternatively, it's excellent for summer parties so make a pitcher and keep it in the fridge for your guests!
How do I make homemade lemonade?
Homemade lemonade is the best way to go obviously! Here's a quick recipe – 1 cup of freshly squeezed lemon juice, 1 cup of sugar, 6 cups of water, and ice. Mix the sugar and fresh lemon juice in a large pitcher until the sugar is completely dissolved. Add the water and mix well. Add the ice and keep chilled!
If you love spiked drinks such as this spiked strawberry lemonade, try my sangria recipes or check out my collection of wine cocktails! On the other hand, if you're looking for a refreshing mocktail try this Strawberry Mojito Mocktail!