Mango cherry popsicles offer a delightful and refreshing frozen treat.
These frozen delights are perfect for hot summer days. The combination of sweet mango and tart cherry creates a burst of flavors that will tantalize your taste buds.
This page contains affiliate links. If you choose to purchase after clicking a link, I may receive a commission at no extra cost to you. For more information please read my full affiliate disclosure.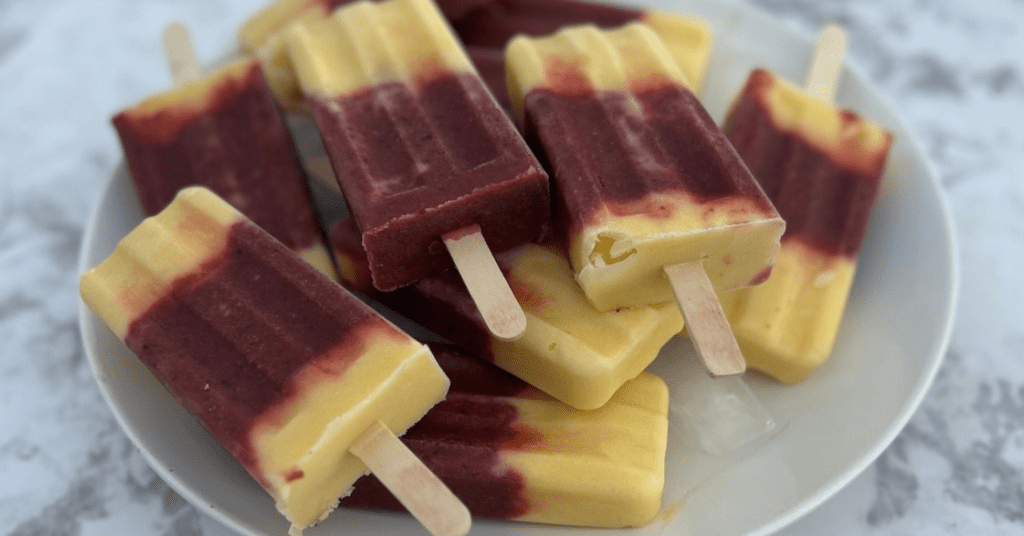 Enjoy the cool sensation as the popsicle melts in your mouth, leaving you feeling refreshed and satisfied. Whether you're lounging by the pool or taking a break from work, mango cherry popsicles are the perfect way to beat the heat and enjoy a little moment of indulgence.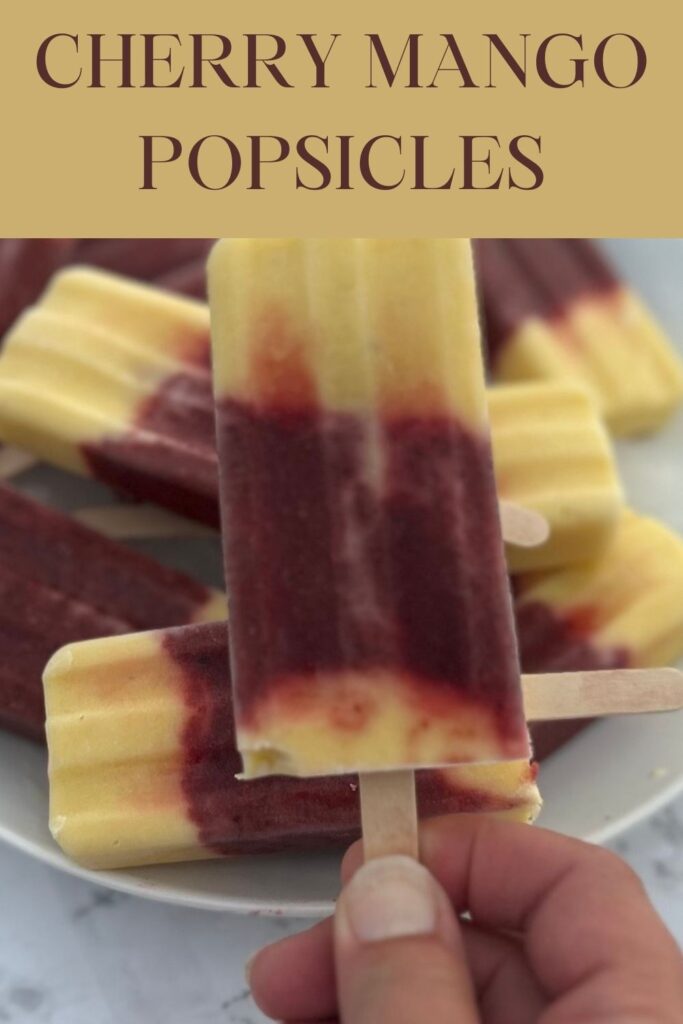 Too busy to make this right now? Pin for later to your favorite Pinterest Board!
Why You'll Love This Recipe
These delicious mango cherry popsicles are bursting with flavor.
The combination of tart cherry and sweet mango offer a delicious flavor combination.
By layering the mango and cherry flavors, these cherry mango popsicles make an eye catching and beautiful frozen treat!
As a mom, I love that these popsicles are naturally sugar free as well as dye free.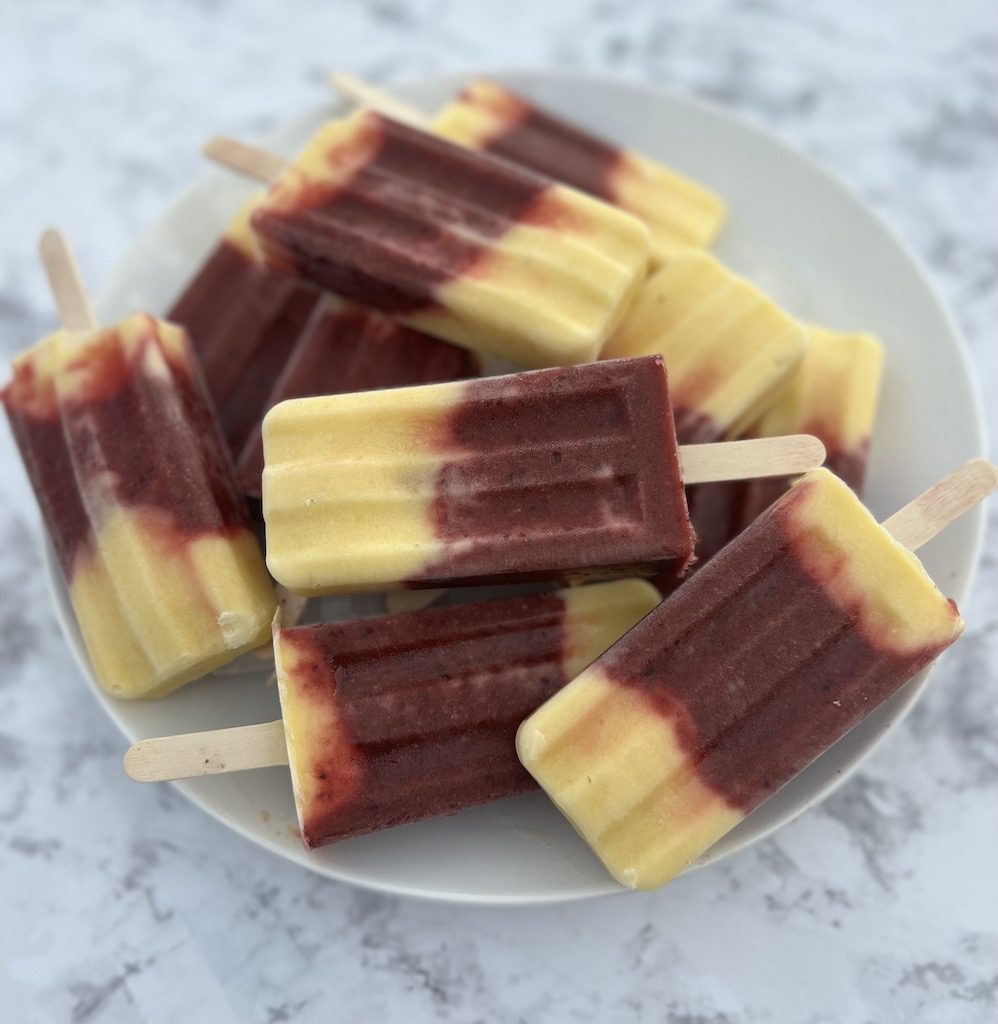 Cherry Mango Popsicle Ingredients
I love that these mango cherry popsicles only require a few ingredients to put together. The hardest part is waiting for them to freeze to eat them!
Frozen Mango – Using frozen mango instead of fresh mango not only makes a creamier consistency for your popsicles but makes this a pantry-friendly recipe. The mango also adds sweetness to the popsicles. I usually have frozen mango on hand as my kids also love my Mango Coconut Lime Popsicles!
Frozen Cherries – I love using frozen cherries in smoothies and popsicles as it's much easier than removing the stems and pits from fresh cherries but if you want feel free to use fresh cherries!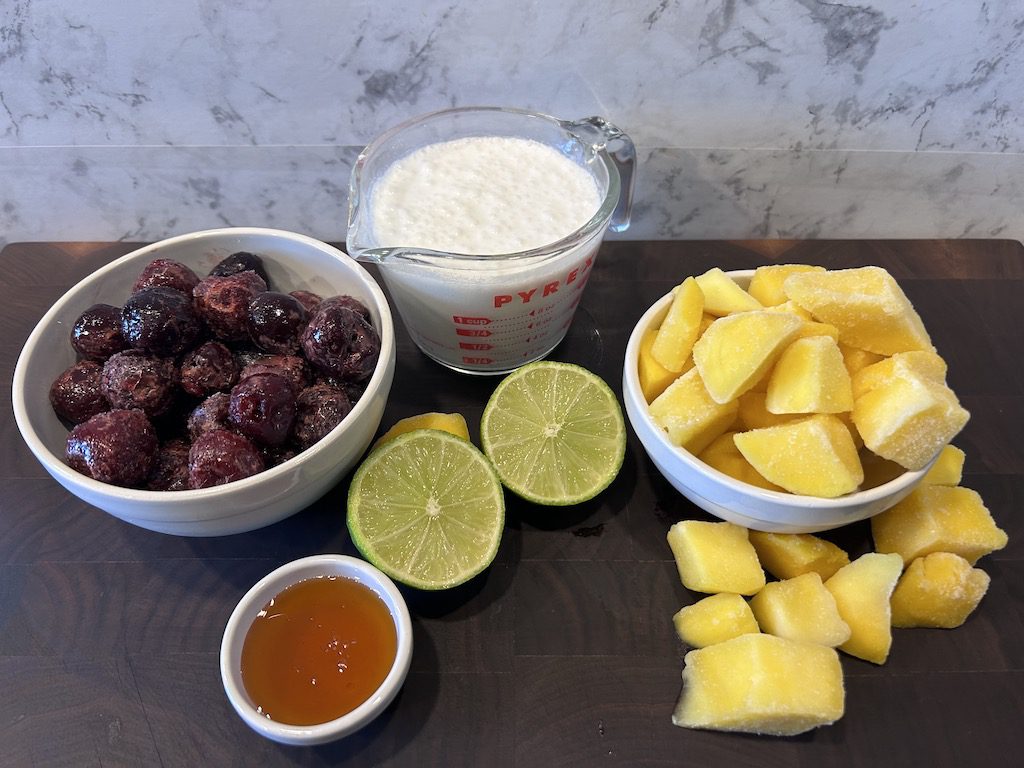 Coconut Milk – I like to use coconut milk in my popsicles to create a lovely creamy texture without adding additional dairy. Coconut milk also adds a slightly tropical flavor and compliments the both the tart sweet flavor of the cherries as well as the sweetness of the mango. Canned full-fat coconut milk works best for this recipe.
Limes – I bit of fresh lime juice as a touch of tartness that helps balance the sweetness of the mango! I always recommend using fresh lime juice whenever possible.
Honey – I love using honey instead of sugar as a natural sweetener in my popsicles. You could also use agave syrup or your favorite liquid sweetener as a substitution or go ahead and skip the sweetener, if you prefer!
How to Make Mango Cherry Popsicles
These cherry mango popsicles are fun and easy to make and a great way to get your kids to help in the kitchen!
You will need to make two separate mixtures to achieve the layered look for these popsicles. However, feel free to make a single color popsicle as well – it'll be just as delicious!
Step 1
For the mango layer, combine the frozen mango chunks, half of the coconut milk, half of the lime of juice, and half of the honey in a blender on high speed until well combined.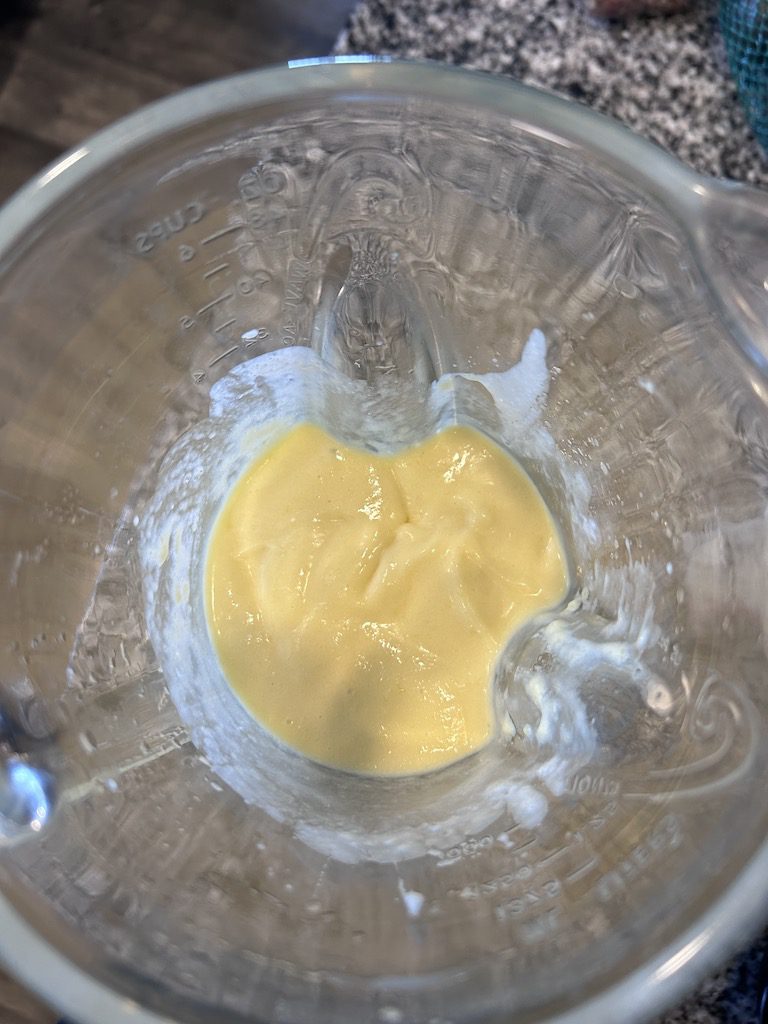 Since I only have one blender, I pour my mango mixture into a large measuring cup and clean out the blender before starting the cherry layer! However, if you're lucky and have two blenders you can skip this step!
Step 2
For the cherry layer, add the frozen cherries and the remaining coconut milk, lime juice, and honey to a blender and blend on high speed until well combined.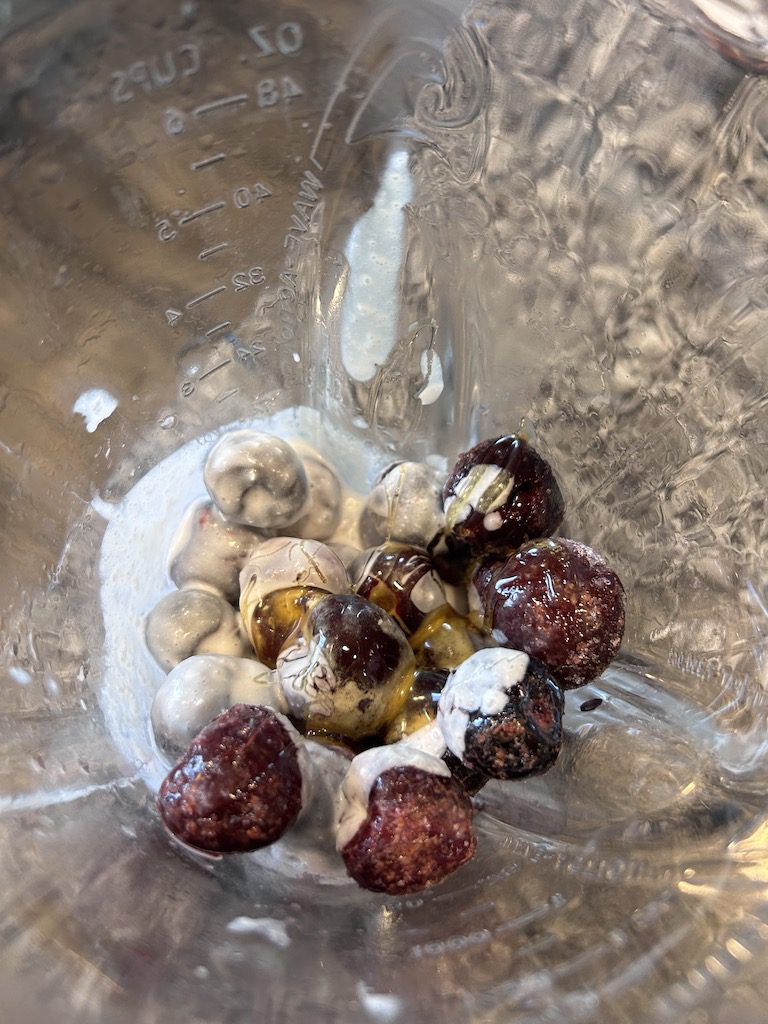 Step 3
Grab your popsicle mold and alternate layering in an inch or so of the mango then the cherry mixture to create a layered mango cherry popsicle.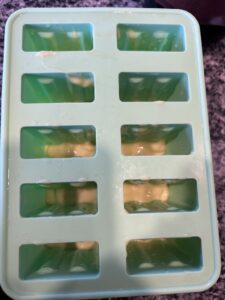 Step 4
Place the top on your popsicle mold and add the sticks, if necessary. Freeze for at least 4 hours or preferably overnight.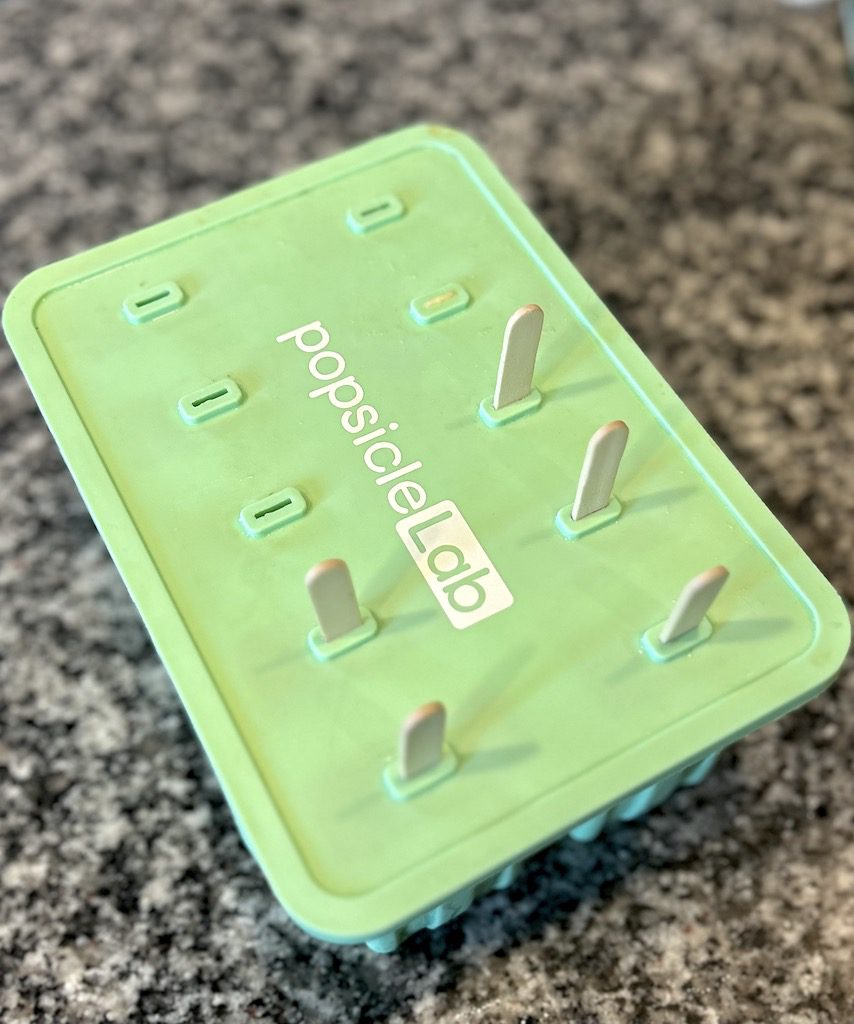 Once fully frozen, enjoy your delicious frozen mango cherry popsicles!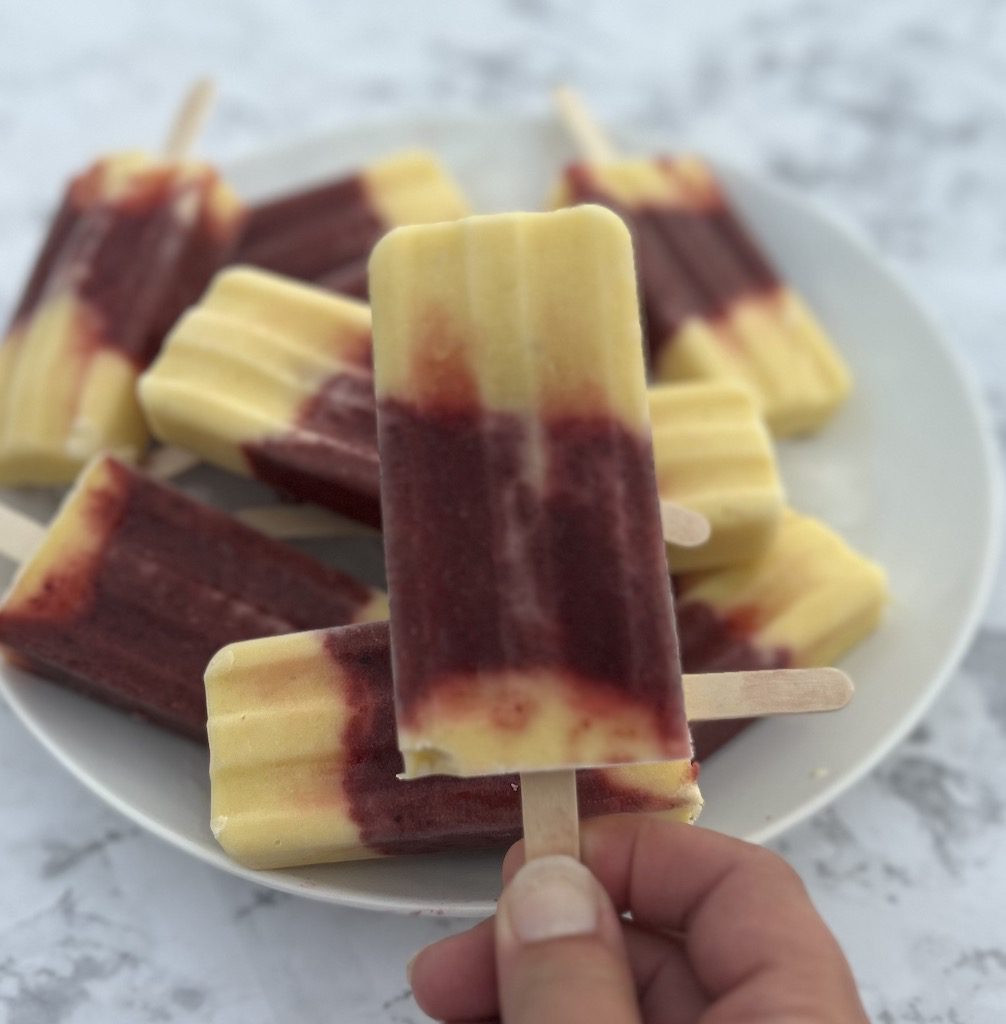 These are the perfect treat whether it's a hot summer day or you're just looking for a refreshing snack!
Yield: 8 popsicles
Mango Cherry Popsicle Recipe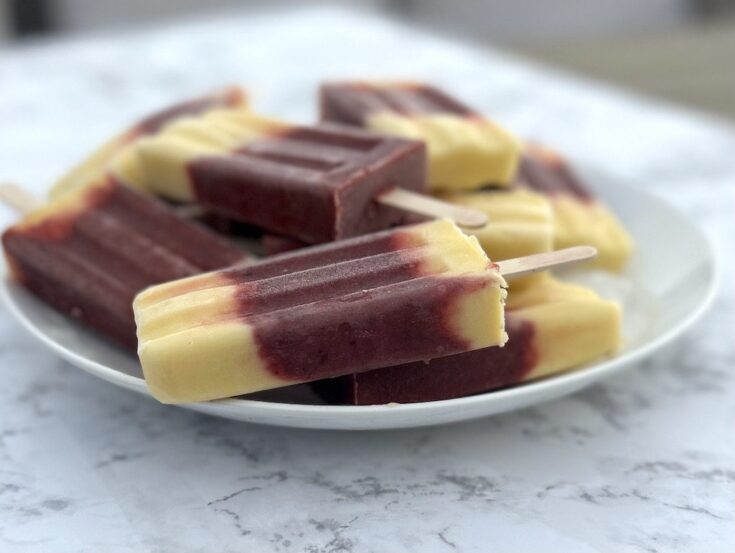 These refreshing and beautiful layered mango cherry popsicles are sure to delight kids and adults alike!
Total Time
4 hours
10 minutes
Ingredients
1 1/2 cups frozen mango cubes
1 can full-fat coconut milk
2 tablespoons lime juice
2 tablespoons honey
1 1/2 cups frozen cherries
Instructions
In a high speed blender, combine the mango, half of the can of coconut milk, 1 tablespoon of lime juice and 1 tablespoon of honey to make the mango layer of the popsicles. Blend on high speed until fully combined. Set aside.
In a high speed blender, combine the cherries and remaining coconut milk, lime juice and honey to make the cherry layer. Blend on high speed until fully combined.
Fill the popsicle mold by alternating the mango mixture and the cherry mixture to create layers.
Add the top of the popsicle mold and carefully place the popsicle sticks into the mold.
Place the popsicle mold into the freeze and freeze for at least 4 hours before serving.
Enjoy!
Notes
If you do not want to make layered popsicles, simply combine all the ingredients in the blender.
4 hours is the minimum but overnight is best when freezing popsicles.
Recommended Products
As an Amazon Associate and member of other affiliate programs, I earn from qualifying purchases.
Nutrition Information:
Yield:
8
Serving Size:
1
Amount Per Serving:
Calories:

146
Total Fat:

11g
Saturated Fat:

9g
Trans Fat:

0g
Unsaturated Fat:

1g
Cholesterol:

0mg
Sodium:

7mg
Carbohydrates:

14g
Fiber:

1g
Sugar:

11g
Protein:

2g
Chaos and Wine occasionally offers nutritional information for recipes contained on this site. This information is provided as a courtesy and is an estimate only. This Nutrition Disclaimer notifies that under no circumstances will Chaos & Wine or its owners be responsible for any loss, damage, or adverse reactions resulting from your reliance on nutritional information given by this site. By using Chaos & Wine and its content, you agree to these terms.
Final Thoughts on Mango Cherry Popsicles
These mango cherry popsicles are absolutely delicious! Their refreshing combination of tangy mango and sweet cherry flavors is sure to delight your taste buds.
Whether you're enjoying them on a hot summer day or as a sweet treat any time of the year, these popsicles are a must-try. So, grab yourself a popsicle and indulge in the delightful flavors of mango cherry. You won't be disappointed!