Skip the store-bought pumpkin pie spice and make your own at home! This homemade seasoning blend is perfect for all your fall baking needs.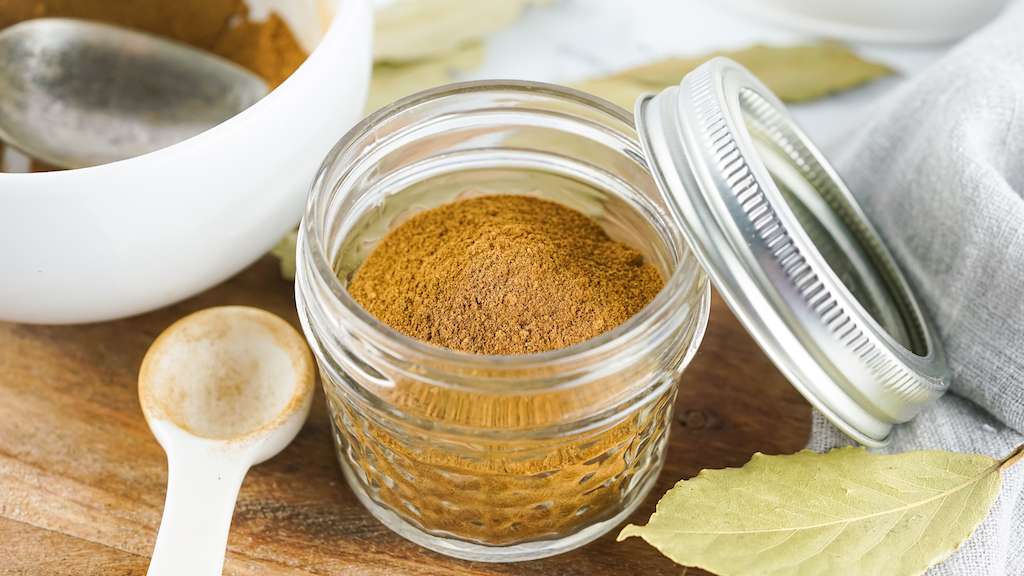 This page contains affiliate links. If you choose to purchase after clicking a link, I may receive a commission at no extra cost to you. For more information please read my full affiliate disclosure.
When the leaves begin to turn and there is a chill to the air, I start thinking about making all things' pumpkin pie spiced like this delicious pumpkin honey bun cake, sugar free pumpkin mousse, or in these delicious pumpkin cocktails! With its warm and comforting aroma and flavor, it's always a hit come Fall around my house. From delicious baked goods to warm drinks, there is always something to make using pumpkin pie spice.
For both health reasons and to save money at the grocery store, I'm striving to ditch pre-made seasoning blends and concoct my own. In fact I have a whole post about making your own spice blends and why! And today, I'm excited to share my very own pumpkin pie spice from scratch! Stocking up on basic spices and buying them in bulk enables me to effortlessly prepare homemade taco seasoning or chili seasoning anytime the craving strikes and the same applies to this homemade pumpkin pie spice mix!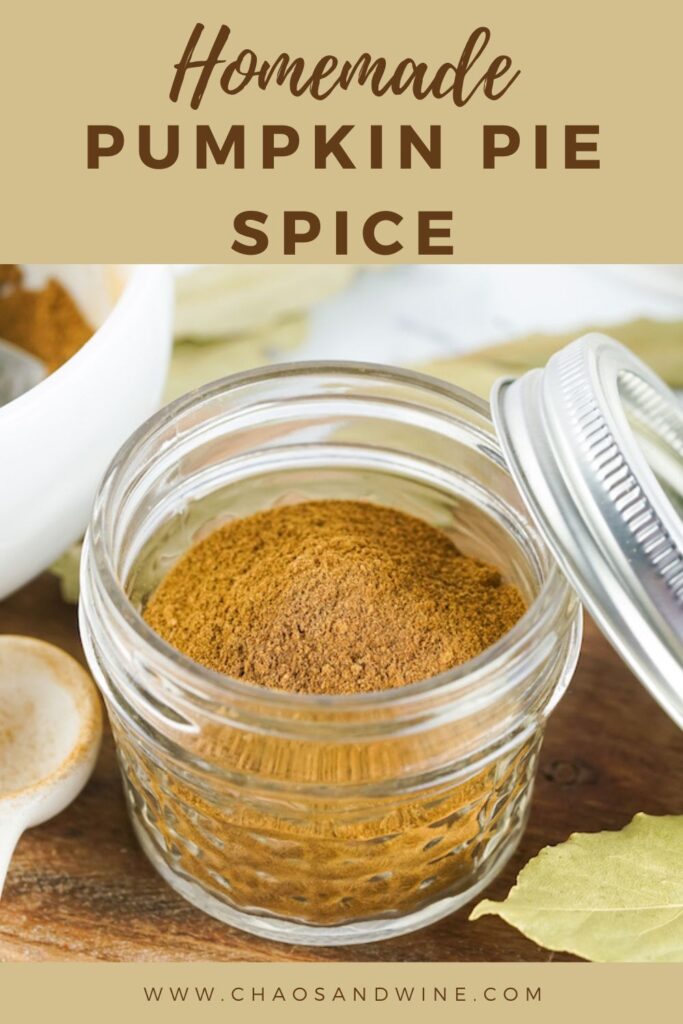 Too busy to make this right now? Pin for later to your favorite Pinterest Board!
Pumpkin Pie Spice Ingredients
There's only a few very simple basic spices in pumpkin pie spice making this one of the easiest homemade seasoning blends to make! I do recommend using quality spices for this recipe to get the best flavor.
Cinnamon – Cinnamon is a warm and aromatic seasoning that you can purchase at any grocery store. It's the perfect seasoning for Fall for a variety of delicious dishes.
Ginger – Ginger has a slightly spicy, warm flavor that many don't associate with pumpkin pie, but I promise it adds just the right touch to pumpkin pie spice.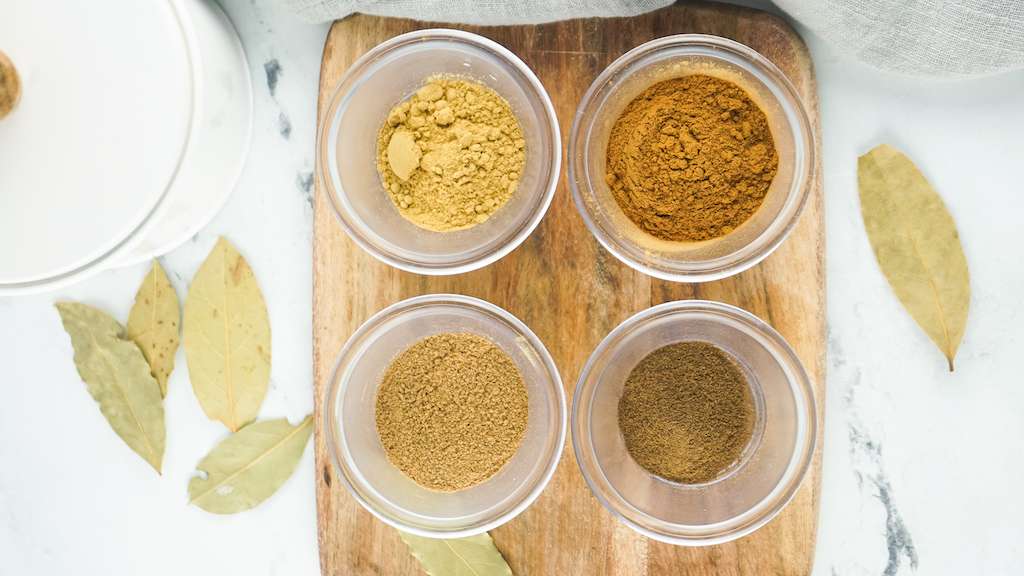 Nutmeg – Another common spice used in Fall recipes, it has a warm and nutty flavor.
Allspice – This commonly known spice boasts a warm, sweet and spicy profile that is often likened to a blend of cinnamon, nutmeg and cloves. Interestingly, this versatile spice is made from the dried, unripe berries of the Pimenta dioica plant. It's also a lovely spice to have on hand for many recipes and used in a variety of different dishes.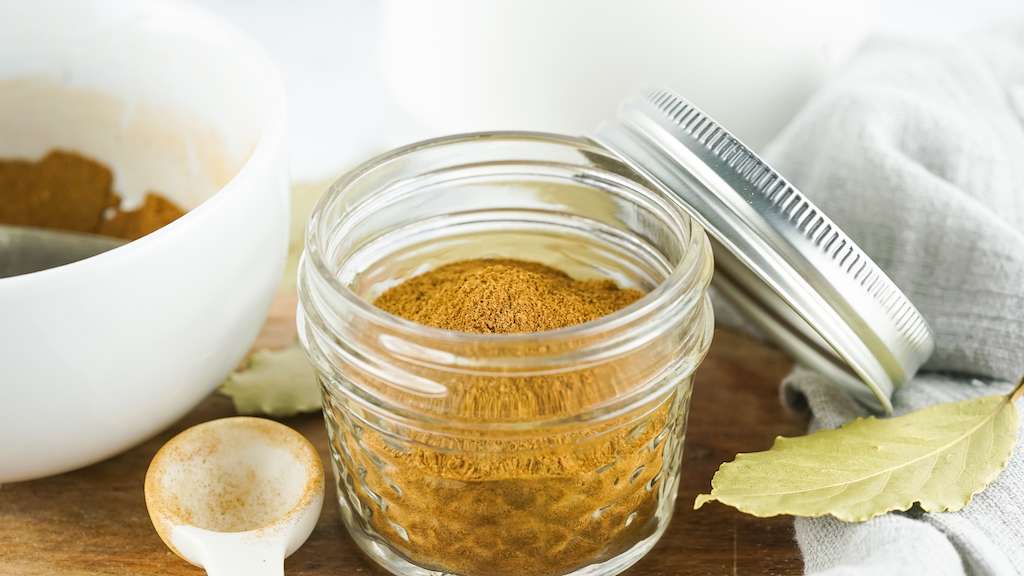 How to Make Homemade Pumpkin Pie Spice
Pumpkin pie spice, like most other seasoning blends, is super simple to make!
Gather all of your ingredients. Measure each spice and add to small bowl and mix together!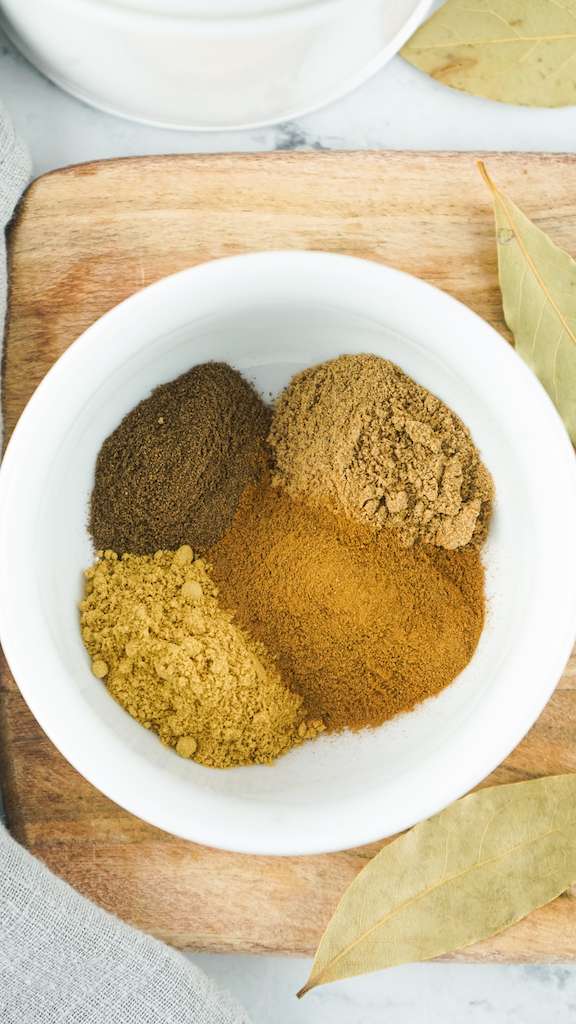 Feel free to double or triple the recipe, so you always have some on hand! It's perfect for pumpkin spice latte's and all your Fall pumpkin recipes.
Storing Seasoning Blends
To store homemade seasoning blends, I highly recommend using a mason jar and adding a label. Mason jars are perfect for storing homemade seasoning blends as they are airtight and allow you to see how much you have left. Store at room temperature with your other spices and seasoning blends for up to 2 months.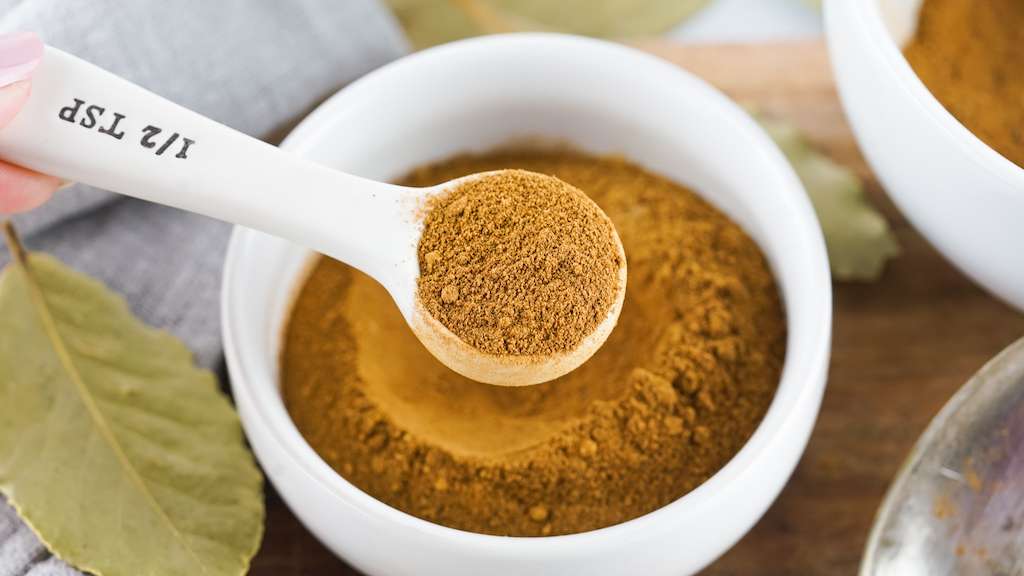 Variations
While this recipe makes a delicious and perfectly balanced pumpkin pie spice, there are a couple of ways to change it up to suit your personal preference.
If you like the flavor of cloves in your Fall inspired baked goods and recipes, feel free to add 1/2 teaspoon or so of ground cloves. However, it is not necessary if you do not care for cloves.
If you prefer a less cinnamon flavored pumpkin pie spice, feel free to reduce the amount of cinnamon to suit your individual preference as well.
Yield: 6 Tablespoons
Homemade Pumpkin Pie Spice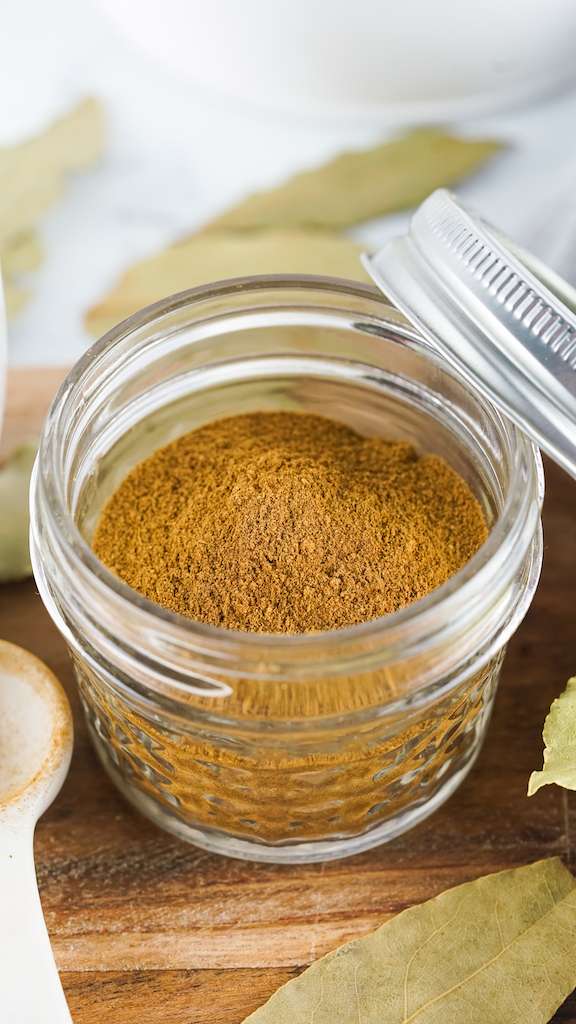 Make your own homemade pumpkin pie spice and skip the store-bought blends!
Ingredients
3 1/2 Tablespoons Cinnamon
2 1/2 teaspoons Ginger
2 1/2 teaspoons Nutmeg
1 1/2 teaspoons Allspice
Instructions
Come all of the spices in a small bowl and mix well.
Store in an airtight container for up to 2 months.
Recommended Products
As an Amazon Associate and member of other affiliate programs, I earn from qualifying purchases.
Nutrition Information:
Yield:
6
Serving Size:
1
Amount Per Serving:
Calories:

18
Total Fat:

0g
Saturated Fat:

0g
Trans Fat:

0g
Unsaturated Fat:

0g
Cholesterol:

0mg
Sodium:

1mg
Carbohydrates:

5g
Fiber:

3g
Sugar:

0g
Protein:

0g
Chaos and Wine occasionally offers nutritional information for recipes contained on this site. This information is provided as a courtesy and is an estimate only. This Nutrition Disclaimer notifies that under no circumstances will Chaos & Wine or its owners be responsible for any loss, damage, or adverse reactions resulting from your reliance on nutritional information given by this site. By using Chaos & Wine and its content, you agree to these terms.
I love making my own homemade seasoning blends! By purchasing spices in large quantities and creating my very own blend, I can not only cut costs but also ensure that my family and I are consuming a healthier option. Preparing a custom blend takes only a few minutes! Be sure to check out my recipe collection of homemade seasoning blends for more ideas!