There are so many benefits of cooking with kids! While inviting your kids into the kitchen requires patience and usually extra clean-up, the benefits outweigh the extra dishes.
I love cooking with my boys and invite them to cook with me regularly. Everything from breakfast to dinner and dessert!
This page contains affiliate links. If you choose to purchase after clicking a link, I may receive a commission at no extra cost to you. For more information please read my full affiliate disclosure.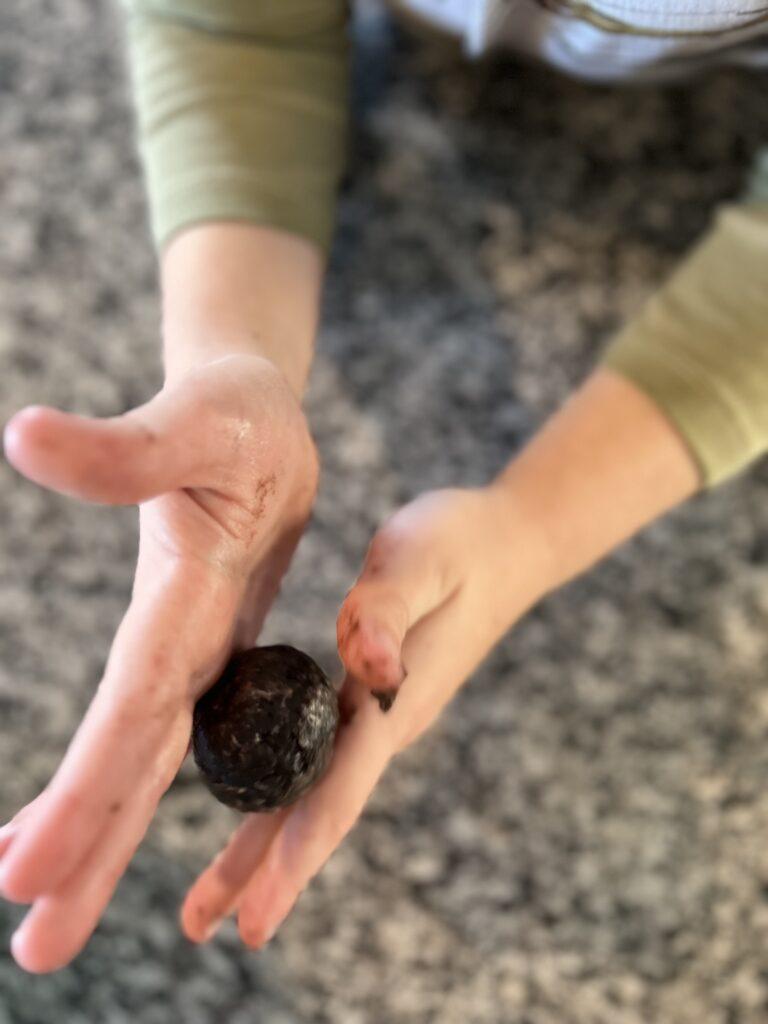 Bonding & Relationship Building
The kitchen is considered the heart of the home by many people perhaps because we spend so much time gathered together eating. This sentiment is perfectly true in my home!
I'm always looking for ways to spend more quality time with my boys. One of the easiest ways is to invite them into the kitchen!
While I love to cook, it is still a chore that needs to be done several times a day (at least in this crazy house!). Cooking with kids helps make this less of a chore and more of a family experience.
Enticing my teenagers to make cookies or help with dinner, gives them an opening to talk about their day, their feelings, or just what they've been up to lately. Getting teens to talk is not always easy but cooking seems to take the pressure off and gets them to open up.
My younger boys often chatter away as well while we're cooking together too!
You can also build family relationships by chatting about your family's favorite recipes and those handed down through the family!
Motor Skills & Hand-Eye Coordination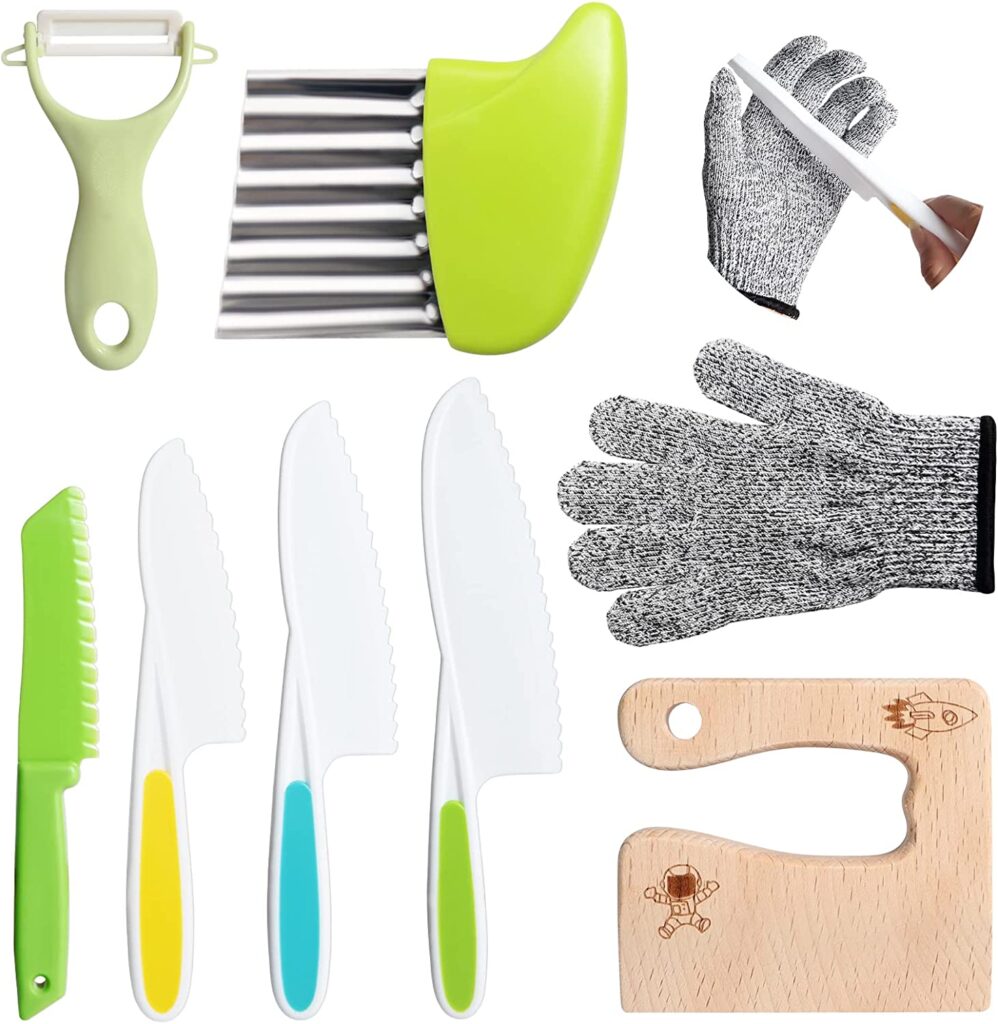 You hear and read so much about developing kids' fine and gross motor skills and cooking with kids is a great opportunity for them to work on these!
Pouring, stirring, cutting, rolling, and sorting are all excellent ways to practice their gross and fine motor skills as well as hand-eye coordination! Kids can do almost anything we do in the kitchen including cutting fruits, vegetables, and other ingredients! Just make sure they have the right tools. We have the set pictured and the twins love it.
Educational Value
As a homeschool mom, I'm always looking for ways to make learning more hands-on and fun!
I can cover so many subjects simply by cooking with my kids!
Math – fractions, adding, subtracting, measuring, and even sorting! My 7-year-old twins can double a recipe almost as fast as I can!
Science – from mixtures, to engaging the five senses to chemical reactions there is so much science happening in the kitchen! I love this book – Awesome Kitchen Science Experiments for Kids: 50 STEAM Projects You Can Eat! for edible kitchen science experiments!
Reading and Language – simply reading the ingredients and instructions of a recipe is all you need! Talk about instructional writing or have them write a recipe you've created together.
Culture and Geography – try making an Italian dish and find Italy on the map. You've just added a little culture and geography!
Health & Nutrition – talk about the benefits of eating fresh vegetables and the vitamins and minerals we get from food.
Creativity – from decorating cookies to deciding what to mix into a basic cookie dough recipe, kids get the chance to be creative and try new combinations!
Cooking with Kids Develops a Life Skill
Cooking is one of the best life skills you can give your child. My goal is to have each of my kids leave home with a few basic recipes and techniques under their belt!
Cooking with kids from a young age gives them plenty of time to become comfortable and gives them skills that will take them through adulthood.
My goal is to have all of my boys leave the house with a few good recipes under their belt plus be confident in the kitchen and have the ability to read and understand a recipe! So far they are great at making themselves breakfast like scrambled eggs, sausage, and toast, have completely mastered the air fryer, and can usually whip up something small for their dinner. I have no doubt they will continue to work on their culinary skills once they leave the nest!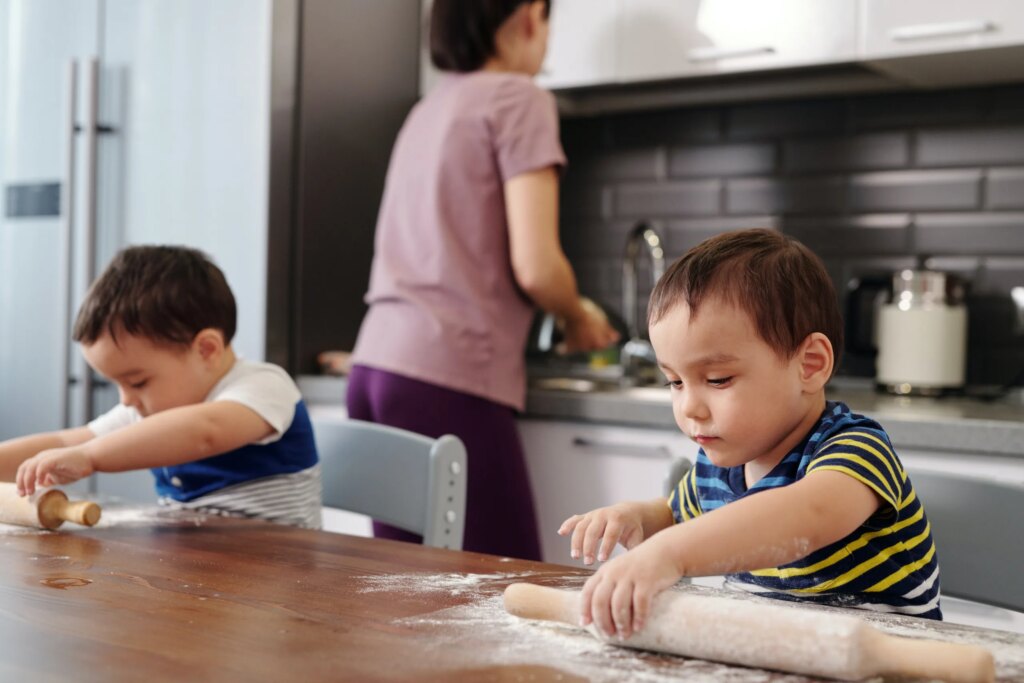 Picky Eater or Adventurous Eater
Out of 4 boys, I only have one picky eater. And I mean PICKY! The kid will eat peanut butter and jelly or buttered noodles all day if I let him. Getting him in the kitchen is easy and I've learned he's more likely to at least try something if he's helped make it.
Kids that help in the kitchen are more excited to try their creations. Cooking with kids also gives them the chance to experience the taste, texture, and/or look of foods both before and after they've been prepared.
The earlier a child is exposed to a particular food the more likely they are to try them.
Easy Recipes for Cooking with Kids
Recipes to Make with Kids
Here are a few great recipes to try with your kids today!
Photo Credit: alekasgettogether.com
This Homemade Cheesy Cheddar Popcorn is a fast and easy snack I LOVE making with my kids! Kids love hearing the corn popping and can easily help add cheese or any seasoning once it's ready!
These no-bake 2 ingredient thin mints are perfect for making with kids!
This is one of those super simple recipes that allow the kids to get messy! Plus it's no bake so great for younger kids!
Photo Credit: www.amumtomum.com
This Rice Chocolate Krispies recipe is so simple to make with kids. My kids love making and eating them!
Photo Credit: recipesfromapantry.com
This quick, easy, no-cook, and healthy Rainbow Vegetable Tortilla Wrap is packed full of colorful veggies kiddoes, big and small, will love. It is perfect for school lunches, brunches, and when you are out and about. Kids will enjoy cutting and wrapping the vegetables!
Banana bread is simple and easy to make. This recipe can also be used for banana bread muffins. It's also. a fun one to make with kids!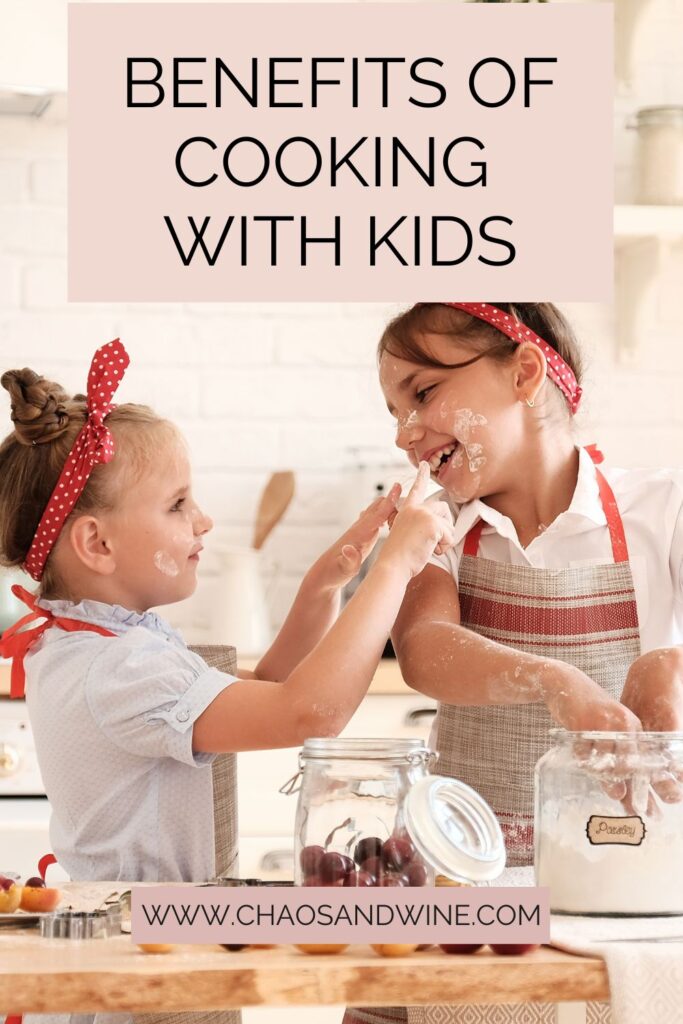 What are your favorite recipes to cook with your kids?