I love carne asada and it's one of the first things I order from a Mexican restaurant. However, making it at home is easy and so much more flavorful! Thankfully, I have a good friend from Mexico who helped me create this fantastic Carne Asada Marinade.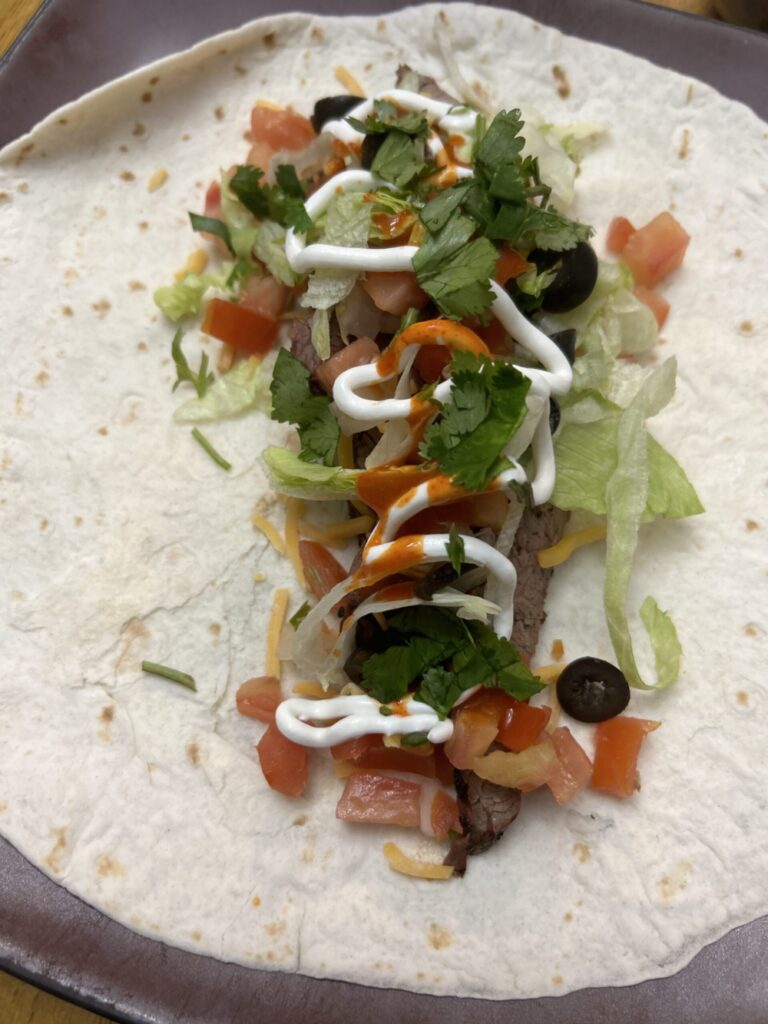 This page contains affiliate links. If you choose to purchase after clicking a link, I may receive a commission at no extra cost to you. For more information please read my full affiliate disclosure.
What is Carne Asada?
Carne asada literally means "grilled meat." It can be as simple as a steak seasoned with salt and pepper and grilled or as elaborate as you make it. My carne asada marinade calls for a variety of spices including cilantro, oregano, and cumin plus lime and orange juice to give it a smokey, tangy rich flavor perfect for carne asada tacos or simply sliced and served along with your favorite side.
Ingredients for Carne Asada Marinade
Steak – I like to use flank steak for my carne asada but other options are skirt steak or chuck steak. Finding a good flank steak can be difficult sometimes as my local grocery store meat counters don't always have it. However, Farm Foods Market has some amazing products and I love their flank steaks!
Worcestershire Sauce – This adds a depth of flavor! Bonus points if you can pronounce it!
Vinegar – Vinegar not only adds flavor but helps tenderize the meat.
Soy Sauce – Usually, you think of Asian-inspired dishes when you see soy sauce listed, however, it adds excellent flavor here as well!
Extra Virgin Olive Oil
Seasonings – Cumin, garlic powder, paprika, chili powder, oregano, cilantro, salt, and pepper.
Lime and Orange Juice – Fresh citrus juices are always best, however, I've been known to grab a bottle of orange juice from the fridge in a pinch.
You might also like…
Smoked Chili (Over the Top Chili)
Mix up the Marinade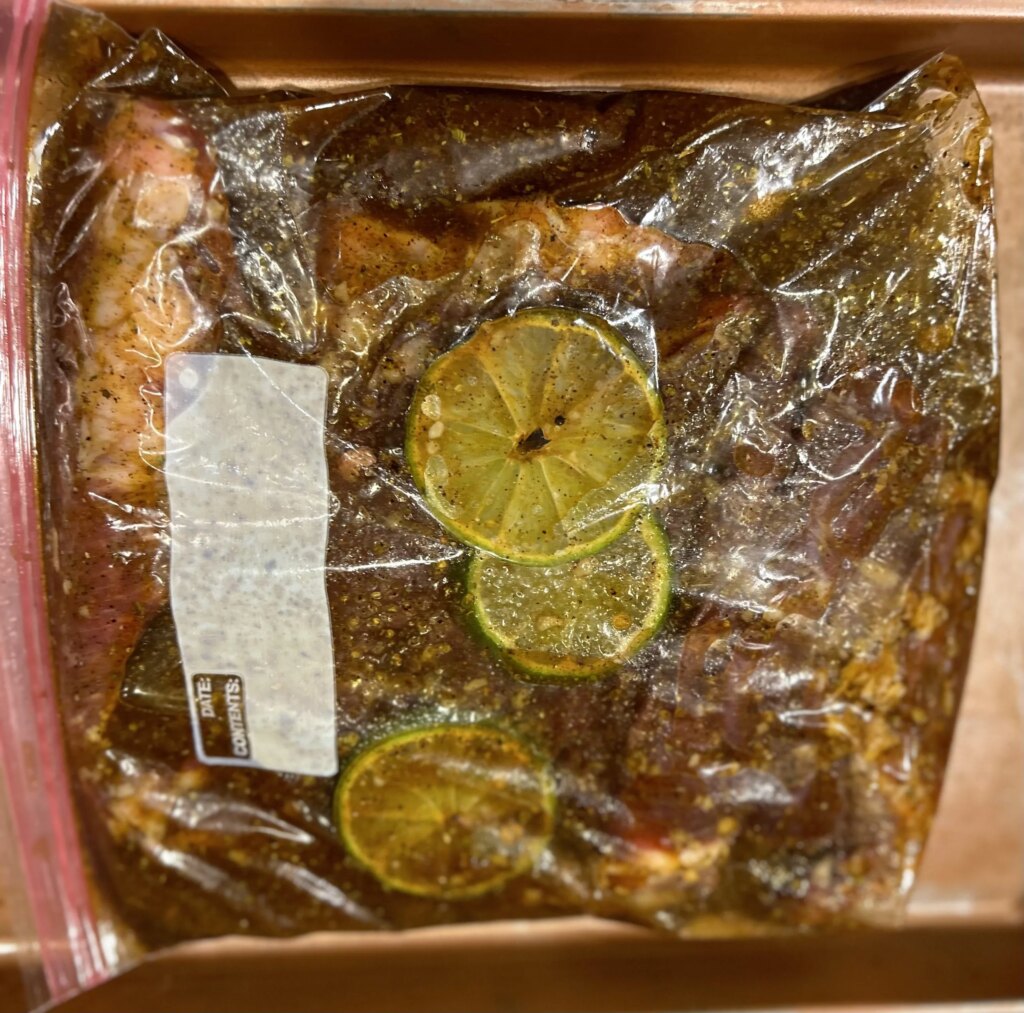 I like to use a gallon-size ziplock bag when making marinades as it's a quick and easy cleanup!
Simply add all of the carne asada marinade ingredients to the ziplock bag. Mix gently and add the meat!
I usually place my ziplock bag with the meat in the marinade on a cookie sheet before placing it in the fridge to marinade just in case it leaks. Marinade for up to 12 hours.
If you'd like to make carne asada ahead of time, feel free to freeze your flank steak in the carne asada marinade! I do this all the time for camping trips or when I see a great deal on flank steaks!
If freezing, be sure to take the carne asada marinade out the night before and allow it to defrost in the fridge.
You can also mix up the carne asada marinade ingredients the night before and simply add the meat in the morning.
Cooking & Serving Carne Asada
Carne Asada on the grill is the most flavorful way to cook it. The grill lends it a smokey flavor and adds a nice char to the outside, a feature of carne asada.
There are a few ways to serve carne asada. Slice across the grain for carne asada tacos or serve alongside your favorite Mexican side dishes! Dice it and make carne asada nachos or carne asada fries!
Top with cheese, fresh cilantro, sour cream, guacamole, and all your favorite toppings for tacos! Serve your carne asada with Mexican Street Corn (Elotes) or Mexican rice.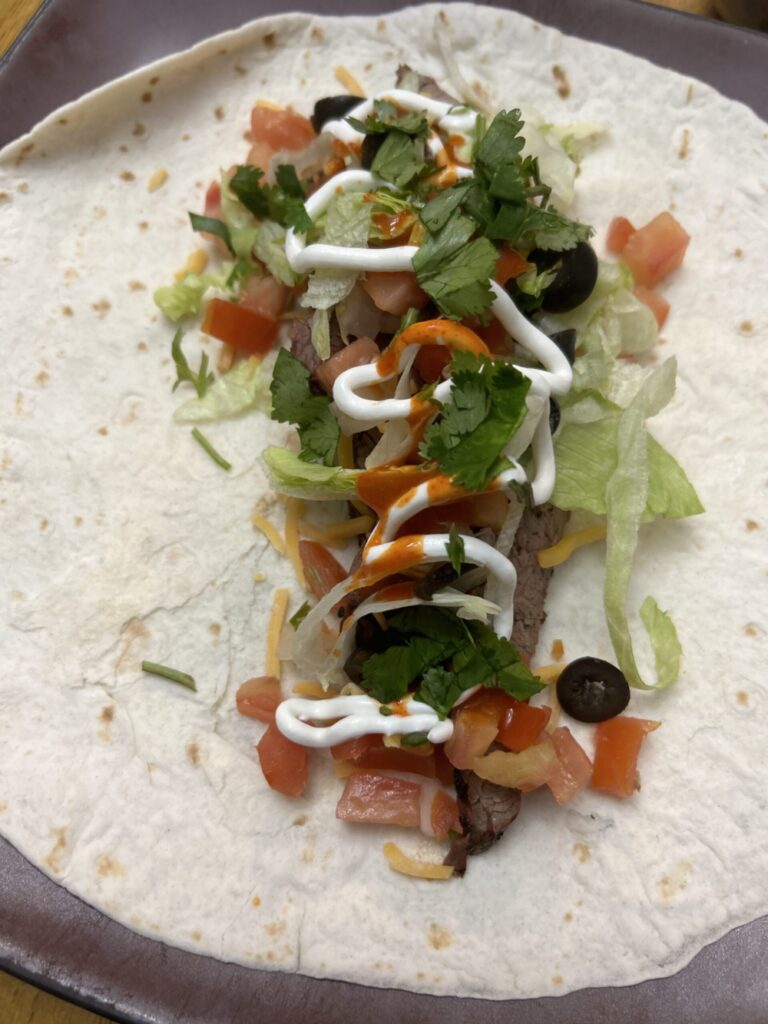 Yield: 1
Carne Asada Marinade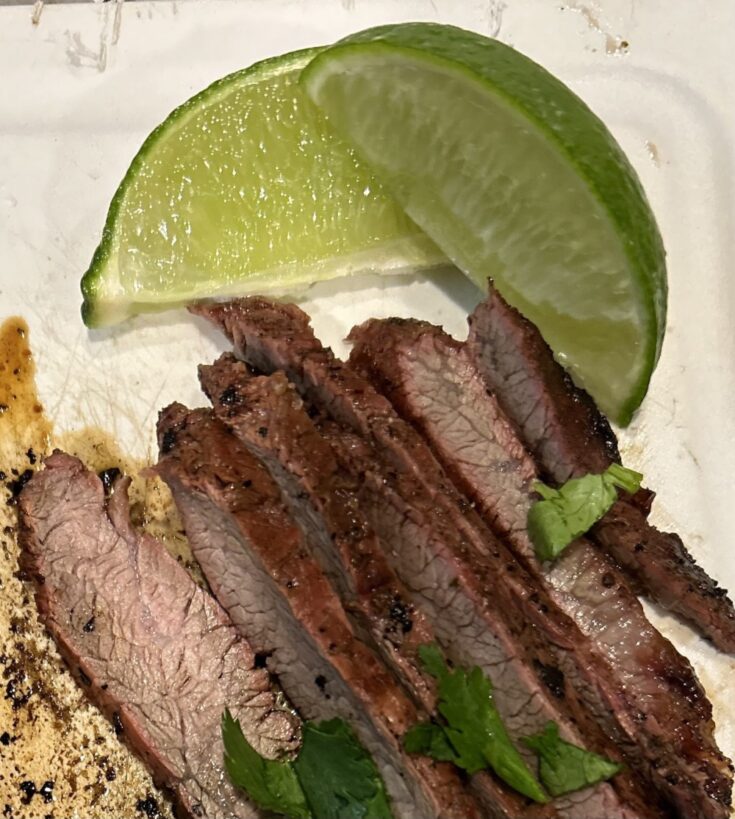 Carne Asada Marinade is simple, and flavorful and makes delicious tacos and nachos or served alongside your favorite Mexican side dishes.
Total Time
12 hours
30 minutes
Ingredients
2 pound Flank Steak
1/4 cup Worcestershire Sauce
1/3 cup Vinegar
1/2 cup Soy Sauce
1/2 Cup Extra Virgin Olive Oil
1 teas Cumin
1 teas Garlic Powder
1 teas Paprika
1 teas Oregano
1 teas Chili Powder
2 Tablespoons Chopped Fresh Cilantro
1/2 teas Salt
1/2 teas Pepper
2 Tablespoons fresh Lime Juice
4-5 Garlic Cloves chopped
1/2 cup Fresh Orange Juice
Instructions
Add all ingredients except meat to a gallon-size Ziplock bag and mix gently.
Add meat to the bag and marinade for up to 12 hours in the refrigerator.
Grill Carne Asada until the desired doneness.
Serve sliced with your favorite sides, in carne asada tacos, or on carne asada nachos!
Recommended Products
As an Amazon Associate and member of other affiliate programs, I earn from qualifying purchases.
Nutrition Information:
Yield:
6
Serving Size:
1
Amount Per Serving:
Calories:

495
Total Fat:

31g
Saturated Fat:

8g
Trans Fat:

0g
Unsaturated Fat:

21g
Cholesterol:

119mg
Sodium:

1477mg
Carbohydrates:

9g
Fiber:

1g
Sugar:

3g
Protein:

44g
Chaos & Wine occasionally offers nutritional information for recipes contained on this site. This information is provided as a courtesy and is an estimate only. This Nutrition Disclaimer notifies that under no circumstances will Chaos & Wine or its owners be responsible for any loss, damage, or adverse reactions resulting from your reliance on nutritional information given by this site. By using Chaos & Wine and its content, you agree to these terms.
FAQ's
Can I freeze carne asada marinade?
I absolutely love this recipe for freezing! If I find a great deal on Flank Steaks, I add all the steaks to gallon-size zip lock bags and freeze them in the marinade! This is great for camping too since I can just pop them in the cooler and cook over an open fire! Be sure to take the frozen meat in the marinade out the night before and place it in the fridge to defrost.
How do I store leftovers?
Store leftovers in an airtight container for up to 5 days in the fridge. I love using the leftover carne asada meat to make Carna Asada nachos for lunch the next day!
Can I make the marinade ahead of time?
Yes, mix all the marinade ingredients ahead of time and store them in an airtight container. Once you're ready simply add the meat and let it marinate for up to 12 hours.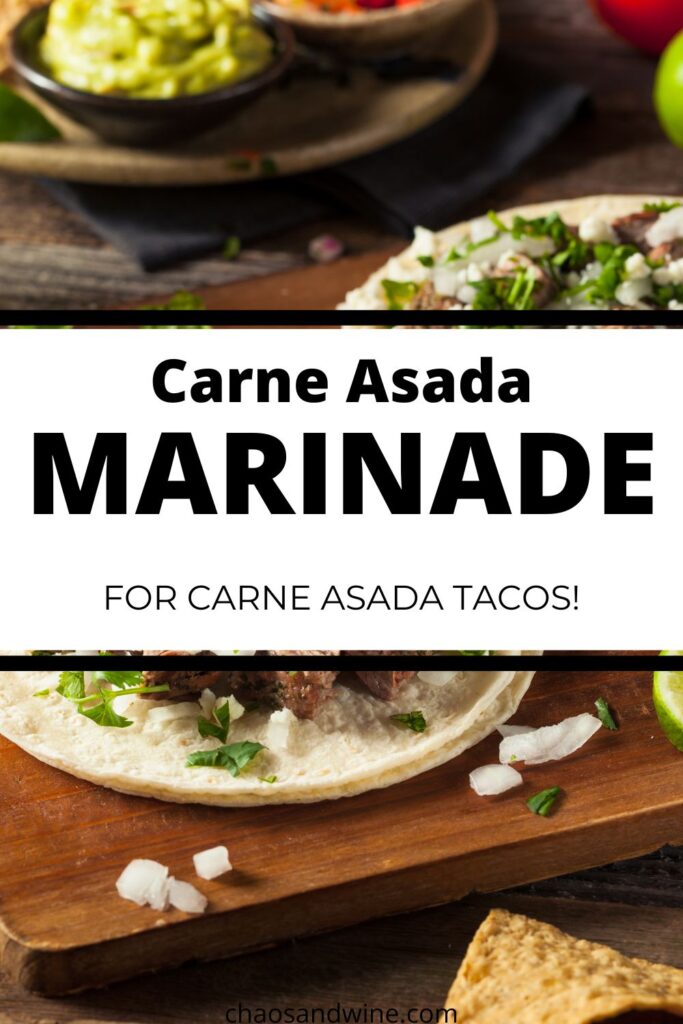 Have you tried my carne asada marinade? Let me know how you like it in the comments!