This creamy garlic Tzatziki sauce is delicious as a dip for pita chips or veggies or as a topping for your favorite Greek dishes like gyros!
You will love the garlicky creaminess of this tzatziki dip with the cool fresh flavor of cucumbers. Use it as a dip or a topping on your favorite Greek foods!
This page contains affiliate links. If you choose to purchase after clicking a link, I may receive a commission at no extra cost to you. For more information please read my full affiliate disclosure.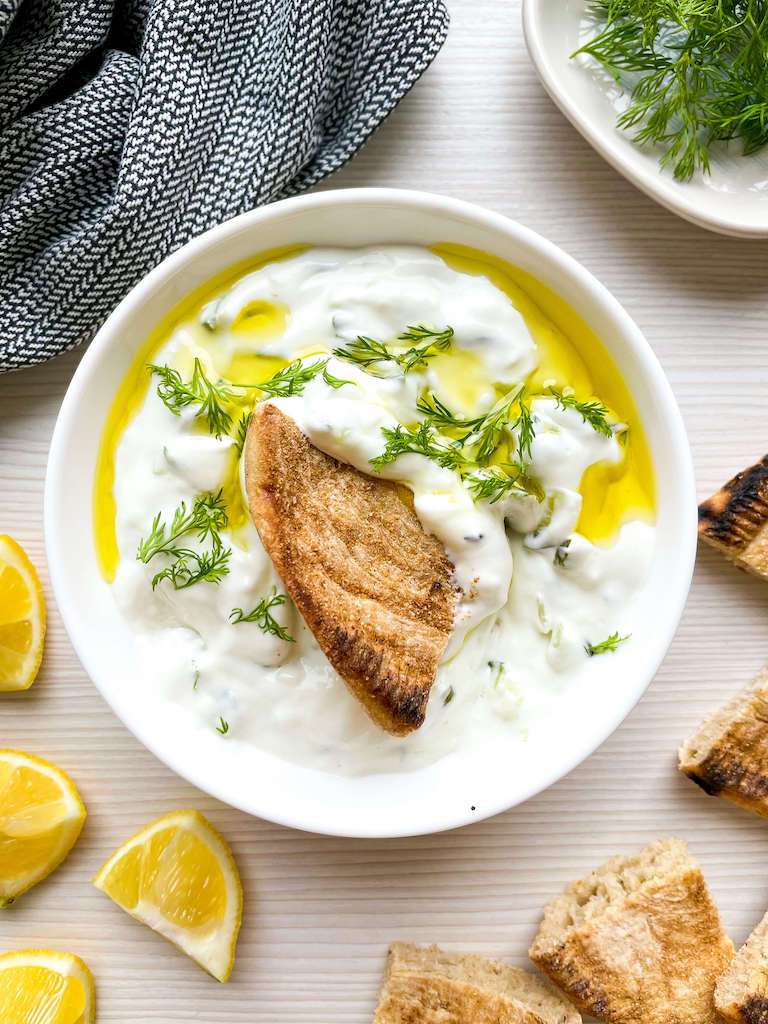 What is Tzatziki Sauce?
The creamy, tangy yogurt sauce that we all know and love. But what the heck is it actually made of? Tzatziki is a Greek dip or sauce made from Greek yogurt mixed with cucumbers, garlic, olive oil, lemon juice, and sometimes dill.
However, don't be fooled by the use of such simple ingredients – tzatziki packs a flavorful punch. The garlic gives it some serious zing while the cucumber adds a refreshing cool crunch.
Tzatziki sauce is incredibly versatile as well! You can use tzatziki as a dip for veggies or pita chips, as a spread on sandwiches or wraps, or even as a topping for grilled meats.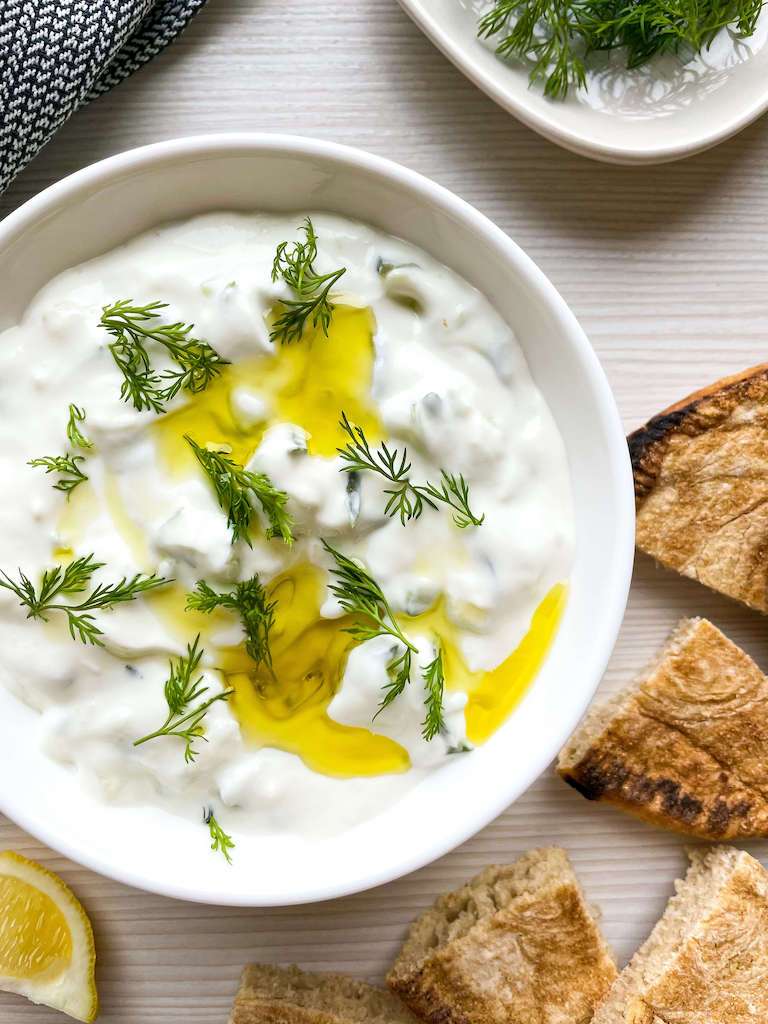 Ingredients
Tzatziki sauce is made of yogurt, cucumber, garlic, olive oil, and lemon! While individually these ingredients may not sound very flavorful when combined they are absolutely delicious!
Greek Yogurt – If you aren't familiar with Greek yogurt it is a thicker style of the yogurt than traditional yogurts which makes it ideal for this tzatziki dip! Use plain Greek yogurt!
English Cucumbers – English cucumbers can be found in most grocery store produce sections. They are slimmer than traditional cucumbers and contain less water, which is key to a thick and creamy tzatziki dip.
Sour Cream – This adds a bit of additional flavor to the dip as well as creaminess.
Fresh Lemons – Fresh lemons are essential for making tzatziki sauce as you will need both the juice and the zest!
Olive Oil – Olive oil is a key ingredient both to achieve the proper texture as well as flavor so be sure to use a high-quality olive oil for the best flavor.
Fresh Garlic – Garlic is one of the stars of this delicious tzatziki sauce recipe! Don't be shy with the garlic either!
Fresh Dill – Traditional Greek tzatziki sauce contains fresh dill.
Salt and Pepper – Just a bit to taste!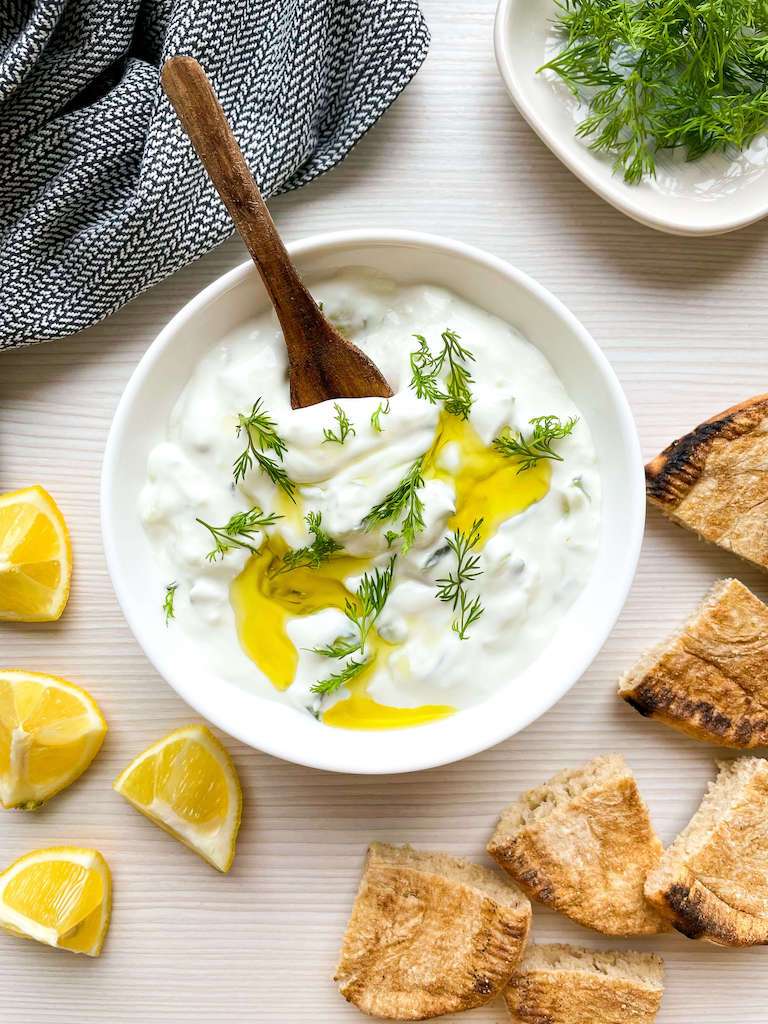 How to Make Tzatziki
There are a few steps to making tzatziki and while the preparation does not take long be sure to allow plenty of time for it to chill. Chilling allows the flavors to combine and blend.
Grate the English cucumber and place it on a clean kitchen towel and squeeze out as much water as you can. You can also use a few paper towels to squeeze out the extra water.
Place the cucumber into a medium-sized mixing bowl and add the yogurt, sour cream, lemon juice, olive oil, half of the dill, and the garlic. Stir to combine and season with salt and pepper to taste.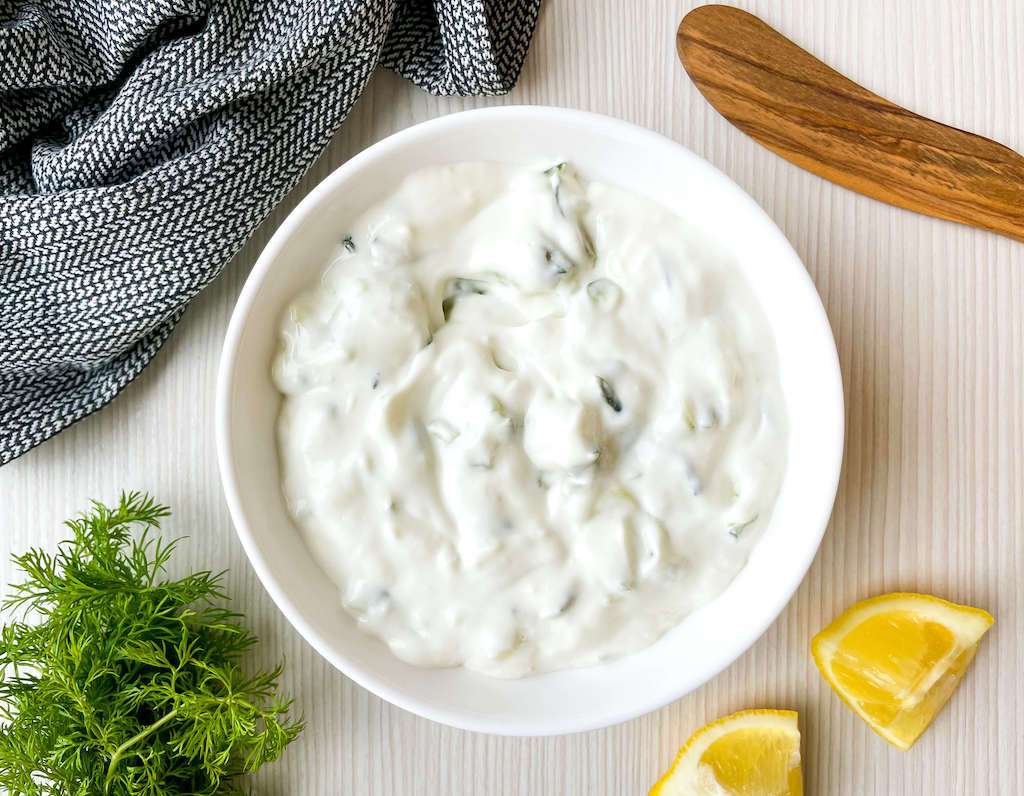 Transfer to a serving bowl. Cover and chill for at least one hour to allow the flavors to blend.
When ready to serve, top with the remaining fresh chopped dill, the zest of about half a lemon, and a drizzle of olive oil. Use tzatziki sauce as a spread in wraps or sandwiches, as a topping for grilled meats, or serve alongside pita bread or chips and veggie sticks as a dip! You could also add it to your favorite charcuterie board!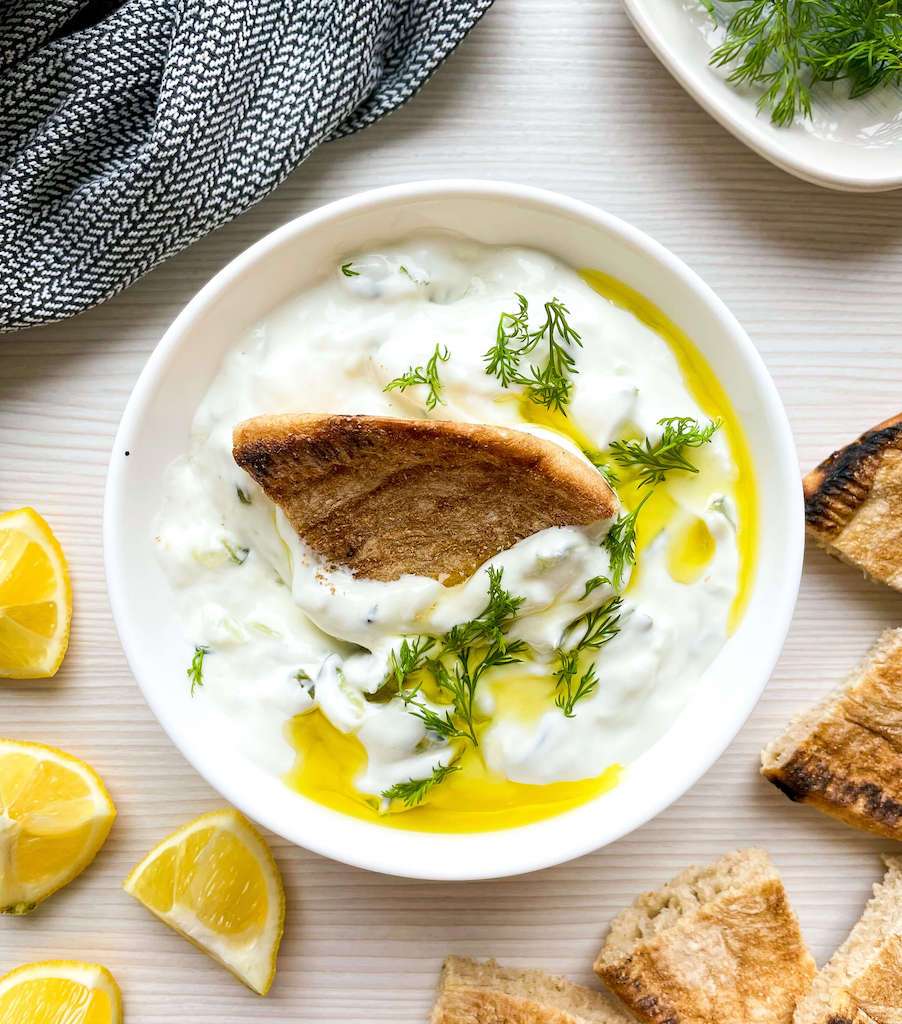 You might also like…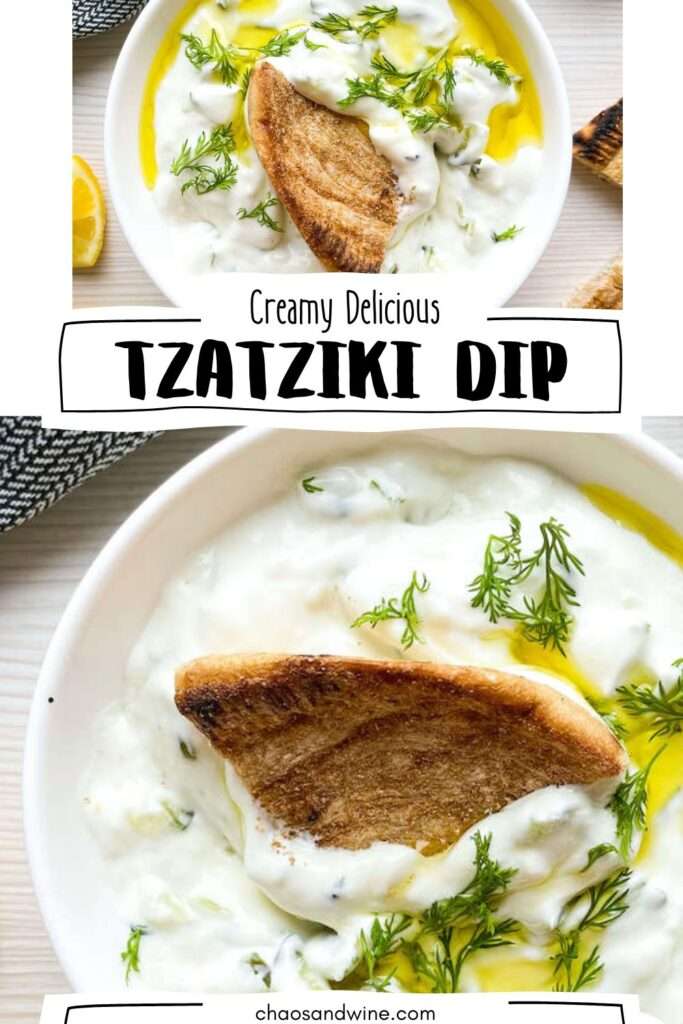 Too busy to make this right now? Pin for later to your favorite Pinterest Board!
Tzatziki Variations & Tips
While this garlic tzatziki sauce is delicious in and of itself there are a few things you can change to make it more your style.
Dill is not traditionally used in tzatziki sauce so feel free to omit the dill. Alternatively, mint is sometimes used instead of dill to create a different flavor. It really is a personal preference and how you like your tzatziki so experiment by omitting the dill altogether, replacing it with fresh mint, or doing a combination of both mint and dill!
Do not be afraid to increase the garlic if you love garlic! However, if you aren't much of a garlic fan you can decrease it but I do not recommend omitting it.
You can also chop your cucumbers instead of grating them if you prefer a chunkier-style dip. And to be honest, I chop mine most of the time as it cuts down on prep time for me! Either way, just be sure to squeeze as much water out of them as possible or your tzatziki will be watery instead of creamy.
Yield: 6 servings
Tzatziki Sauce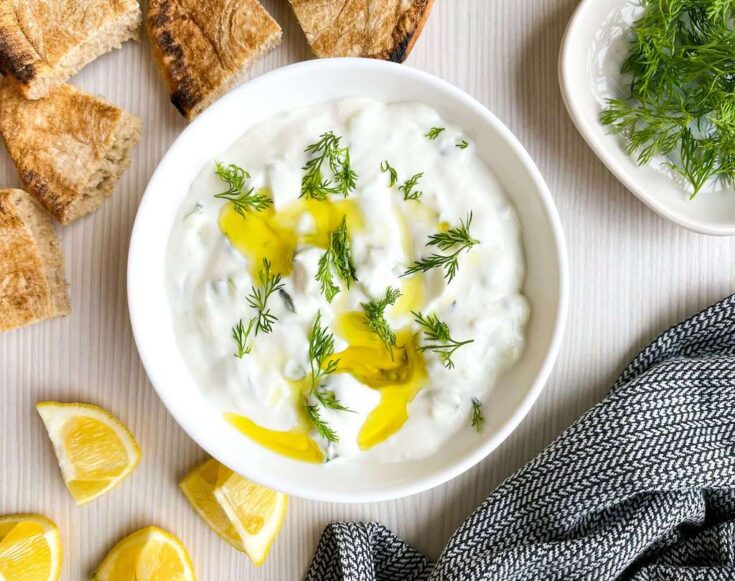 This creamy garlicky cucumber sauce is perfect as a sauce on wraps or sandwiches, as a dip with pita bread or veggies, or as a topping on grilled meats!
Total Time
1 hour
10 minutes
Ingredients
1 English cucumber, finely grated
1 cup plain Greek yogurt
1/2 cup sour cream
1 Tablespoon Lemon juice, freshly squeezed
1 tablespoon Extra Virgin Olive Oil
2 garlic cloves, finely minced
1 Tablespoon fresh dill, finely chopped
Salt & Pepper, to taste
Lemon Zest and Olive oil, for garnish
Instructions
Place the grated cucumber on a clean kitchen towel or a few layers of paper towels and squeeze as much water out as you can.
Place the cucumber in a medium-sized mixing bowl.
Add the garlic, yogurt, sour cream, lemon juice, olive oil, and half of the dill.
Stir well to combine and season with salt and pepper, to taste.
Transfer to a serving bowl and place in the fridge to chill for 1 hour. This allows the flavors to blend.
To serve, garnish with lemon zest, the remaining dill, and a drizzle of olive oil.
Serve with pita bread for dipping and/or fresh veggies.
Recommended Products
As an Amazon Associate and member of other affiliate programs, I earn from qualifying purchases.
Nutrition Information:
Yield:
6
Serving Size:
1
Amount Per Serving:
Calories:

108
Total Fat:

8g
Saturated Fat:

3g
Trans Fat:

0g
Unsaturated Fat:

5g
Cholesterol:

13mg
Sodium:

70mg
Carbohydrates:

4g
Fiber:

0g
Sugar:

3g
Protein:

5g
Chaos and Wine occasionally offers nutritional information for recipes contained on this site. This information is provided as a courtesy and is an estimate only. This Nutrition Disclaimer notifies that under no circumstances will Chaos & Wine or its owners be responsible for any loss, damage, or adverse reactions resulting from your reliance on nutritional information given by this site. By using Chaos & Wine and its content, you agree to these terms.
Creamy tzatziki sauce is not just a sauce or a dip – it's a way of life. It's versatile, delicious, and let's be honest, pretty fun to say. Whether you're using it as a topping for your gyro or slathering it on some pita bread, tzatziki sauce will surely add some zing to any dish.