Whether you're hosting a holiday gathering or a Super Bowl party, these 3 ingredients or less dips are perfect! Simple, easy, and delicious you can't go wrong serving one of these dips to your menu!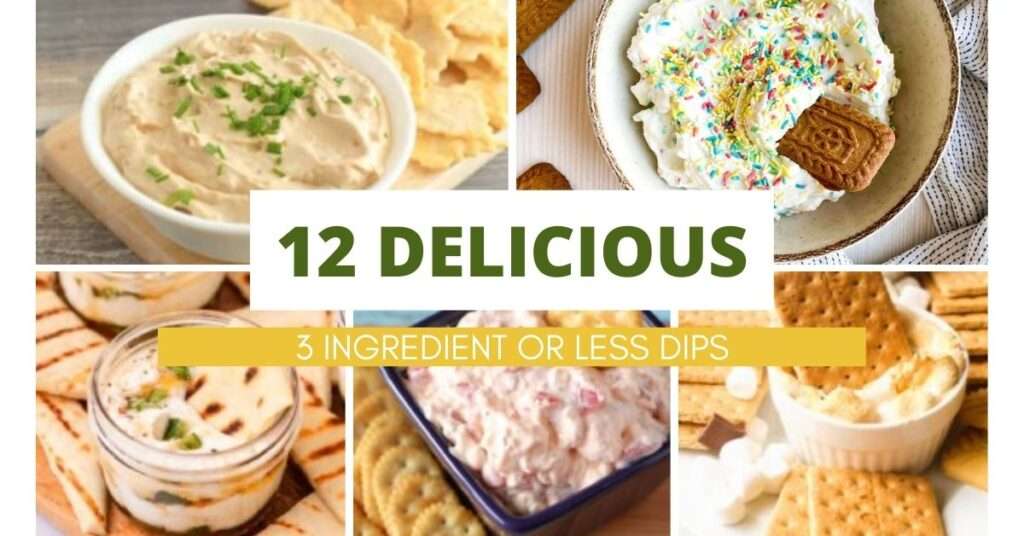 This page contains affiliate links. If you choose to purchase after clicking a link, I may receive a commission at no extra cost to you. For more information please read my full affiliate disclosure.
There is nothing better than a table full of dips and all the fun things to dip in them! From chips and queso to strawberries and a delicious fruit dip nothing says party food like a great selection of dips!
Best 3 Ingredients or Less Dips for Parties
However, nobody wants to spend hours in the kitchen before hosting a party or heading to a potluck so I've gathered some of the best 3 ingredients or less dips to add to your recipe collection!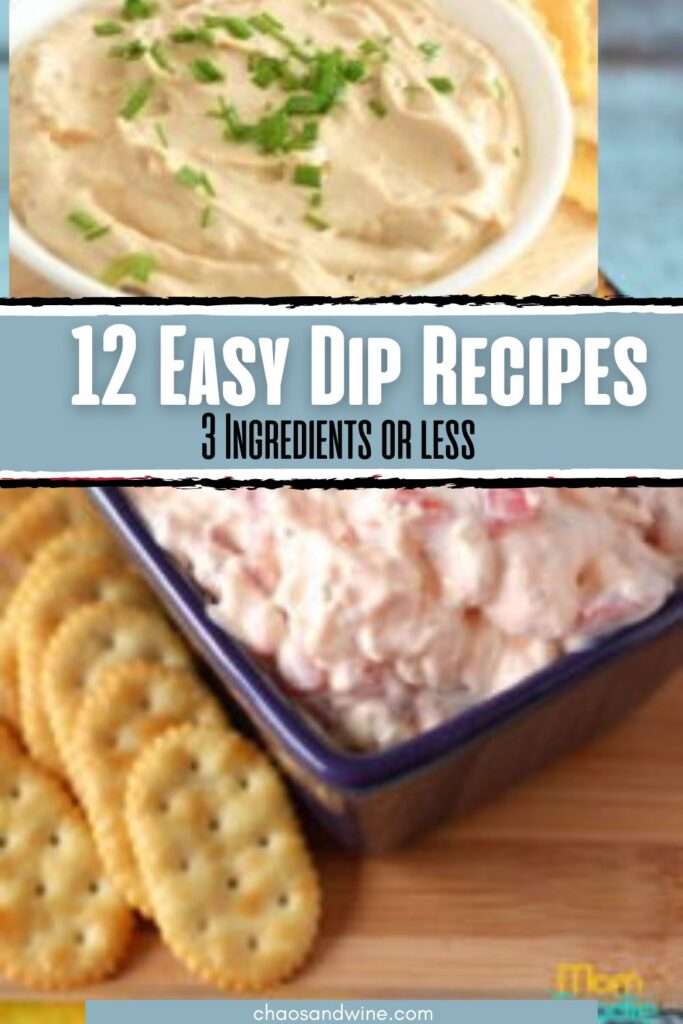 Too busy to make this right now? Pin for later to your favorite Pinterest Board!
You might also like…
3 Ingredient or Less Dips!
Whether you are entertaining or just hanging out with the family, these 3 ingredient dips are too easy and delicious not to make!
Photo Credit: alekasgettogether.com
A delicious last-minute 3 ingredient dip you'll want to make over and over again! This Spicy Greek Feta Cheese Dip also known as "Tirokafteri" is a traditional Greek spread made with feta cheese and spicy peppers.
Photo Credit: www.greedygirlgourmet.com
This easy 3 ingredient dip is done in 5 minutes and always has people asking for seconds as the olives cut through the cheese so well.
Photo Credit: alekasgettogether.com
This Ricotta and Honey Dip is the easiest dip I have on my blog! ZERO cooking is required so it's definitely a go-to appetizer when surprise company is knocking at your door.
Delicious and easy fruit dip that kids and adults alike devour!
Photo Credit: www.wholesomeyum.com
This 3-ingredient healthy fruit dip recipe is sweet, creamy, and ready in 5 minutes! It's a naturally gluten-free, sugar-free, and keto fruit dip, too
Photo Credit: recipesfromapantry.com
You only need 3 simple ingredients and a few minutes to make this easy Air Fryer S'Mores Dip that will be loved by the whole family. No campfire or fire pit is needed, so you can enjoy the delectable flavors of smores all year long!
Photo Credit: recipepocket.com
This onion soup dip is quick to make and delicious. Serve it for game nights, parties, or any time you want a tasty snack.
Photo Credit: budgetdelicious.com
Cream Cheese Fruit Dip is light, airy and so good you'll want to keep on dipping! This tasty treat is perfect for your next party, BBQ, or gathering.
Photo Credit: momfoodie.com
This Ranch seasoned roasted red pepper cream cheese dip is super easy to make and is perfect for any party. Three simple ingredients, but loads of flavor!
Photo Credit: ourlovelanguageisfood.com
This 3-ingredient ranch dip recipe is great for snacking or adding to a veggie tray for a party! This Greek yogurt ranch dip recipe is high in protein and high in flavor too.
Photo Credit: www.lovefromtheoven.com
Chocolate Fondue isn't just delicious, it's downright fun to eat! Made with just two ingredients – chocolate and cream, it's a decadent fun dessert perfect for sharing.
This delicious and easy Queso Cheese Dip with Chorizo is perfect for all your holiday and game day celebrations!
These 3 ingredient or less dips are delicious anytime you want a snack or need an appetizer. Plus they are sure to be a hit at any party or gathering!