With a name like Chaos & Wine, I had to have a round-up of some of the best wine cocktails out there! I love an evening glass of wine while I fix dinner for my crazy crew. It's sometimes the only time of day it's quiet (quiet being relative here) in my house as the kids are usually outside playing or hanging out together in the basement.
Try one of these simple wine cocktails today! Whether you like red wine or white wine, you'll be sure to find a great drink perfect for any season of the year!
This page contains affiliate links. If you choose to purchase after clicking a link, I may receive a commission at no extra cost to you. For more information please read my full affiliate disclosure.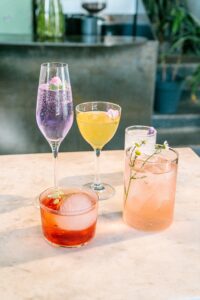 Wine Cocktails
If you like to make your own cocktails with wine, be sure to check out my post with a base wine sangria or spritzer recipe! Get creative and have fun making your own combinations and flavors!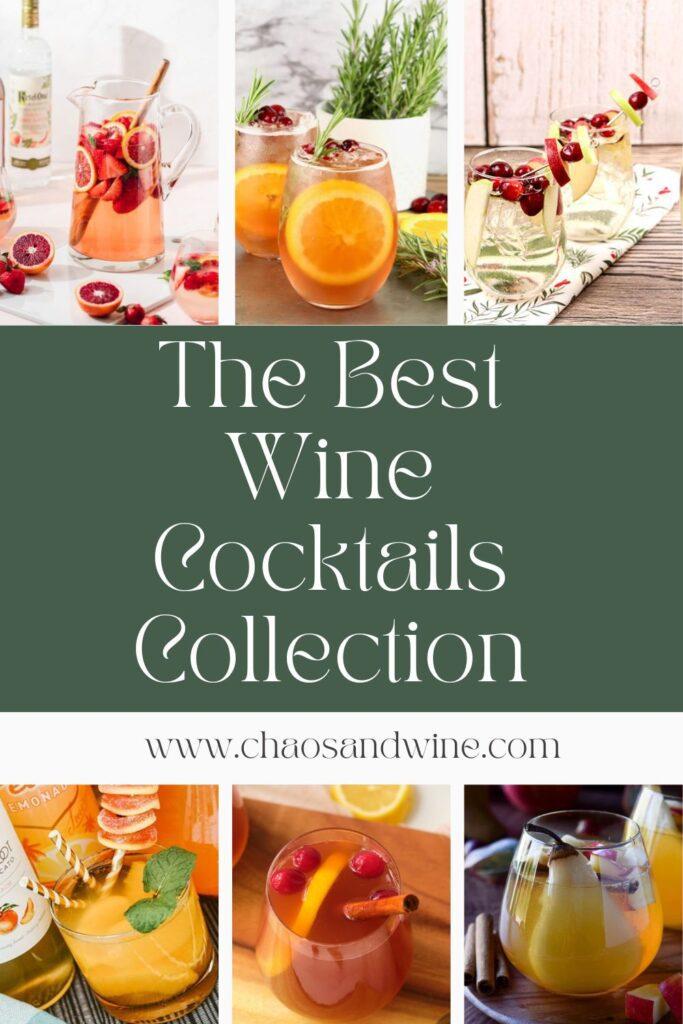 Too busy to make this right now? Pin for later to your favorite Pinterest Board!
Wine Cocktails Collection
Find your new favorite wine cocktail here!
Summer Wine Cocktails
Refreshing summer wine cocktails for poolside, beach days or summer picnics!
Photo Credit: cocktailsandappetizers.com
Peaches are perfect for summer and this Peach Sangria is amazing!
Photo Credit: www.threeolivesbranch.com
I love the Outback so this peach cocktail is perfect!
Photo Credit: www.barleyandsage.com
This pink sangria just screams summer time! It's simply refreshing and lovely!
Photo Credit: xoxobella.com
Nothing says summertime more than watermelon! Try this watermelon white wine slushie for your next summer gathering!
Fall Wine Cocktails
There's nothing better than Fall. It's my favorite season - the colors of the leaves and all the pumpkin spice, apple cinnamon drinks, and desserts!
I love the flavors of apple and cinnamon together and this is the perfect Apple Pie cocktail!
Photo Credit: www.naturaldeets.com
Apples and cranberries go hand in hand in this perfect Fall cocktail!
Photo Credit: coupleinthekitchen.com
Apple cider is the perfect drink for Fall! Try this apple cider sangria for your Fall festivities.
Photo Credit: www.flavorfuleats.com
Warm drinks are perfect for Fall as the weather turns cooler and the leaves change color! Mulled wine is amazing on a cool evening around the fire!
Photo Credit: brunchandbatter.com
Apples and pears are the perfect Fall flavor combination.
Winter Wine Cocktails
All the flavors of Winter and the holidays are in these amazing wine cocktails.
Photo Credit: www.missinthekitchen.com
Perfect for a large holiday gathering. This punch features cranberries and oranges.
Photo Credit: freshcoasteats.com
Cranberry mimosa - the perfect cocktail to serve at your holiday brunch!
Photo Credit: easypartycocktails.com
Featuring apples and cranberries, this pretty white wine sangria is perfect for holiday festivities and parties.
Photo Credit: whitekitchenredwine.com
Berries are the best winter flavor and this cocktail features them perfectly.
Effortless holiday cheer in a glass! This simple blood orange cranberry wine sangria is perfect for all your festivities.
Do you have a favorite wine cocktail? Let me know in the comments – I'd love to try it!