Do you love sweet, tangy, smokey, and slightly spicy? This Chipotle Lime Shrimp Kabob recipe has it all! The smokey slightly spicy taste of chipotle pairs deliciously with the sweet tangy flavor of lime creating the perfect marinade for shrimp kabobs.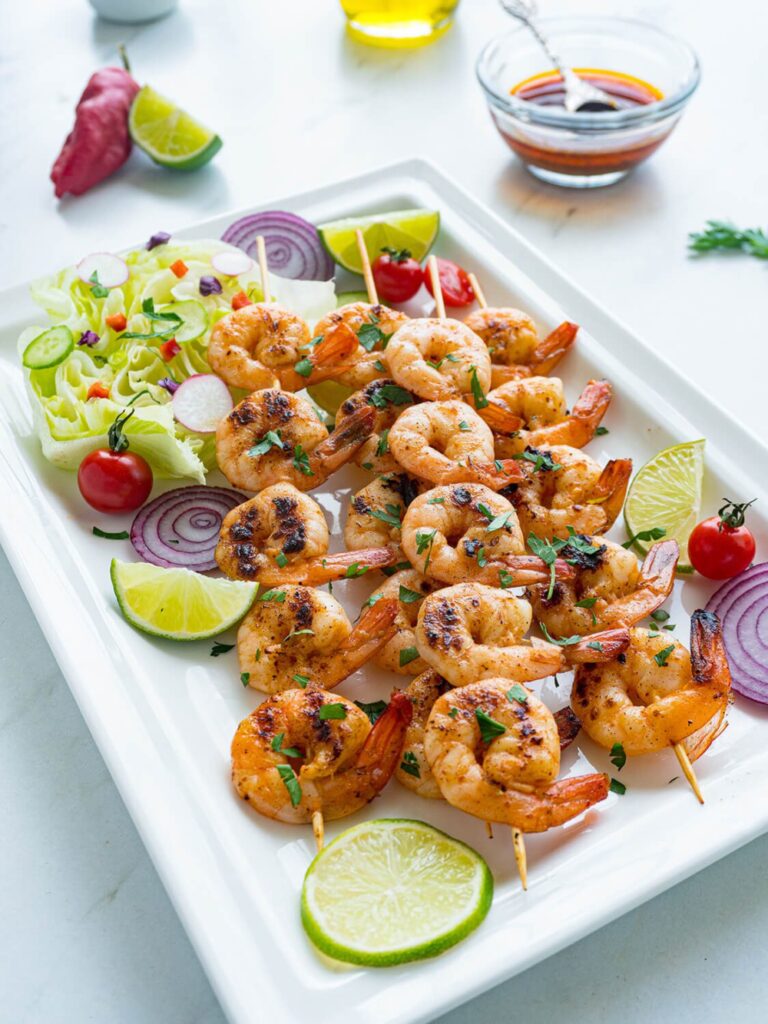 This page contains affiliate links. If you choose to purchase after clicking a link, I may receive a commission at no extra cost to you. For more information please read my full affiliate disclosure.
These delectable chipotle lime shrimp are perfect as an appetizer, for chipotle shrimp tacos, on a salad, or as a main course. Personally, I love them in a shrimp taco!
Too busy to make this right now? Pin for later to your favorite Pinterest Board!
Ingredients for Lime Shrimp Kabobs
Extra Virgin Olive Oil – This is for the marinade.
Limes – This recipe calls for both lime zest and lime juice so grab a few fresh limes!
Chipotle Chili Pepper – This adds a smokey slightly spicy flavor to the shrimp. Don't use regular chili powder here go for the Chipotle Chili pepper.
Smoked Paprika – Smoked paprika is essential for the added smokey flavor of this recipe. While you can use regular paprika, your shrimp will not have the same smokey flavor.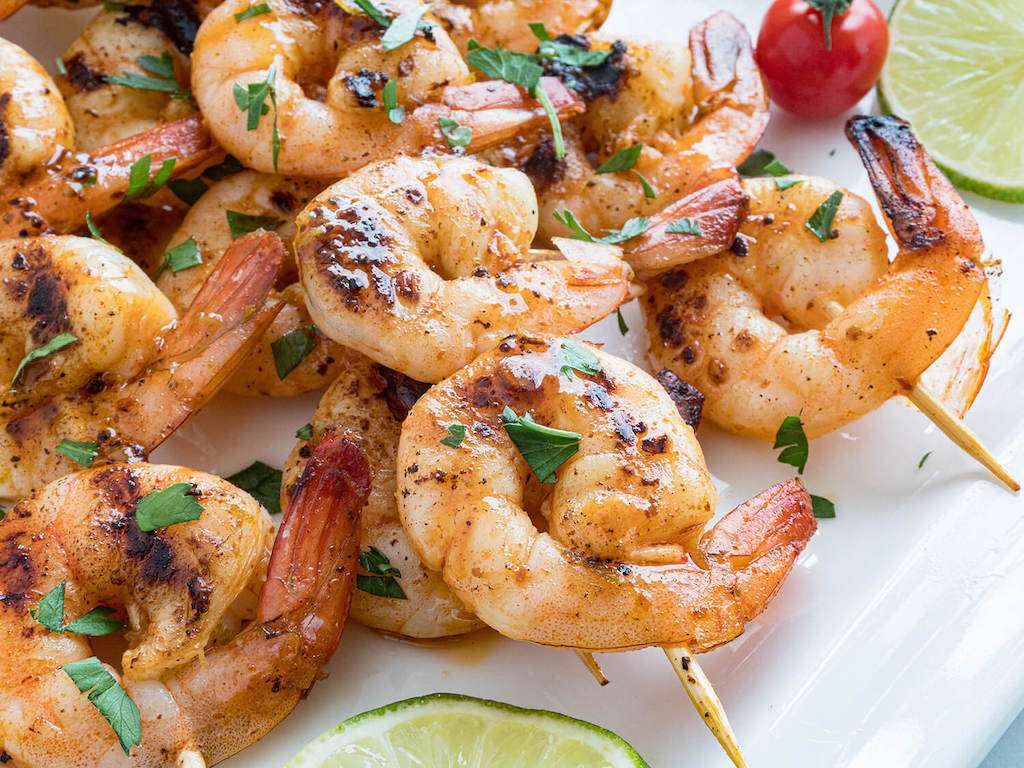 Seasonings – garlic powder, onion powder, salt, and pepper (all pantry staples in my house)
Honey – I love to use local honey every chance I get! See if you have local honey available at your local grocery store or specialty store. otherwise, check out this local honey finder website.
Shrimp – I prefer to use uncooked, peeled deveined extra-large shrimp for this recipe. Shrimp are sold at the seafood counter in most large grocery stores by the approximate number per pound. However, size designation has not been standardized. It is best to use the count per pound as a guide when buying shrimp. As a good rule of thumb, jumbo shrimp are 11-15 per pound, extra-large shrimp are 16-20 per pound, large are 21-30 per pound, medium is 31-35 per pound and small shrimp are 36-45 per pound. If you opt to use frozen shrimp, be sure to thaw, rinse and pat dry before using.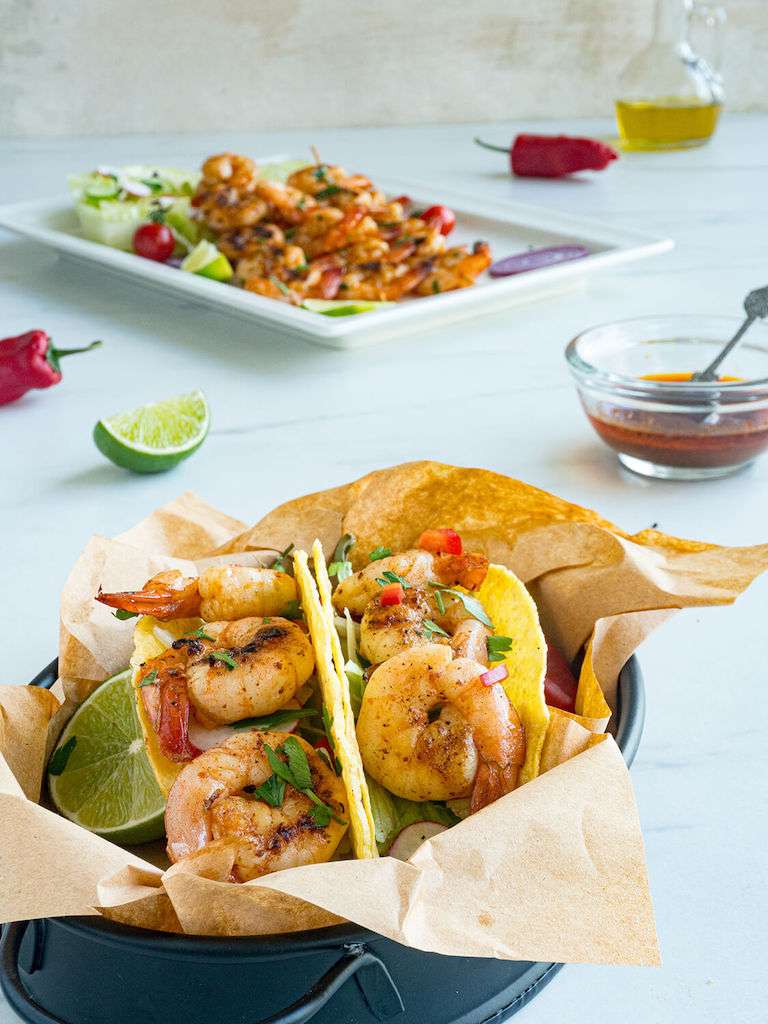 Method for Chipotle Lime Shrimp Kabobs
Chipotle Lime Shrimp is super simple to make and clean-up is a breeze as well! I love easy and definitely love no-mess recipes!
Combine your chipotle lime shrimp marinade ingredients in a gallon-size zip lock bag. I prefer to use a bag over a bowl or container for easier cleanup (did I mention I hate dishes?)!
Reserve half the chipotle shrimp marinade in a container for later. Then add your shrimp and coat gently.
Marinade for at least 15 minutes but no more than 30 minutes. Longer than 30 minutes and the lime juice will break down the shrimp making them mushy.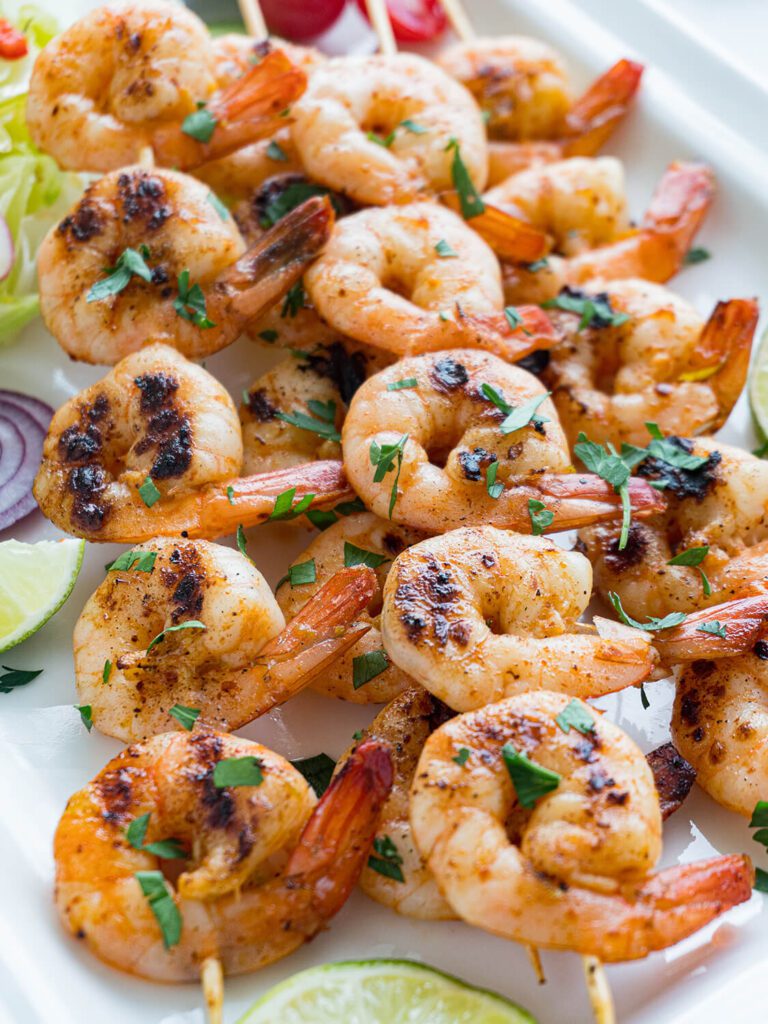 Preheat and prepare your grill while the shrimp marinades.
Once done marinading, thread the shrimp onto metal skewers like these. I recommend 12-15″ skewers for this recipe. You should be able to get 5-6 shrimp on each skewer. If you want to use wooden skewers, make sure to soak them in water for at least 30 minutes before adding the shrimp to prevent them from burning.
Grill over medium heat for about 3-4 minutes per side. Watch carefully though, as shrimp cook quickly and turn rubbery when overdone!
Remove and serve immediately! Garnish with additional lime slices and fresh parsley or cilantro. Alternatively, add them to chipotle lime shrimp tacos, make delicious chipotle lime shrimp bowl or serve on top of a salad.
You might also like…
Cranberry Orange Pork Tenderloin
Yield: 4 Servings
Chipotle Lime Shrimp Kabobs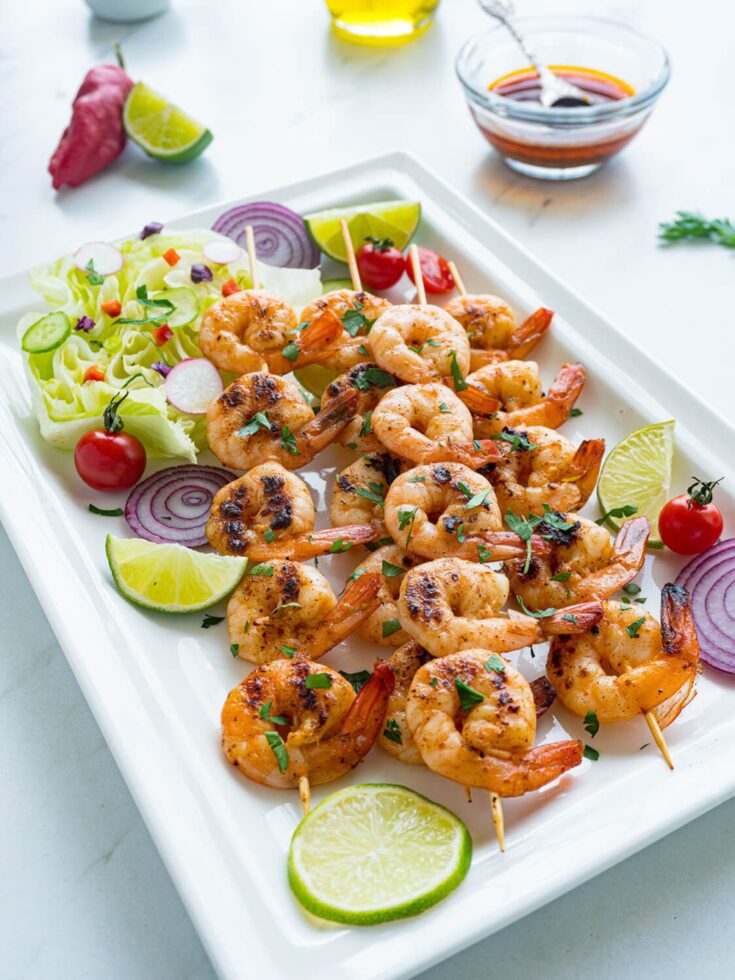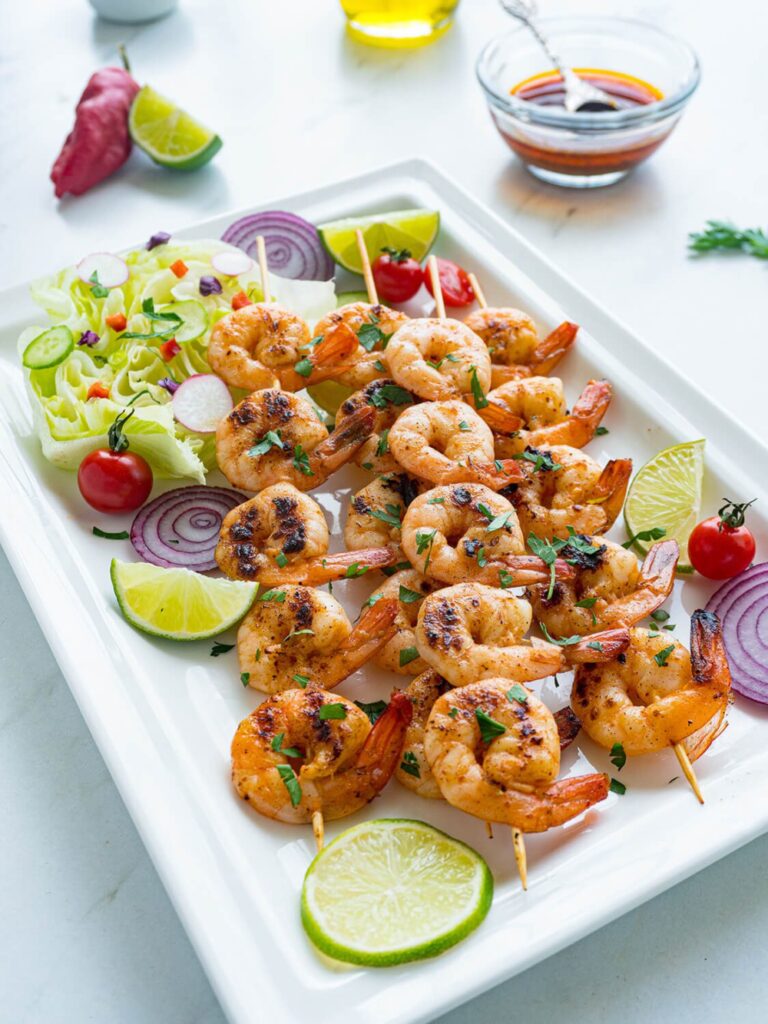 The smokey slightly spicy flavor of these Chipotle Lime Shrimp makes them perfect for an appetizer, salad or entree!
Ingredients
Marindate Ingredients
1/4 cup extra virgin olive oil
1 Tbls lime zest
1/4 cup fresh squeezed lime juice (about 2 limes)
1 teas chipotle chili pepper
1/2 teas smoked paprika
1 teas garlic powder
1 teas onion powder
1 tbls honey
salt and pepper, to taste
Remaining Ingredients
1 1/4 lbs extra large peeled deveined shrimp
1/4 cup freshly squeezed lime juice (about 2 limes)
Instructions
Whisk marinade ingredients together in a gallon-size ziplock bag.
Pour 1/2 of the marinade into a container to reserve for later.
Add shrimp to the gallon-size ziplock bag and toss to coat. Marinate for at least 15 minutes but no longer than 30 minutes.
Preheat the grill over medium-high heat. Reduce heat to medium and lightly oil the till grate.
Thread the shrimp onto skewers, about 5-6 shrimp per skewer.
Cook shrimp on the grill until no longer translucent, about 3-4 minutes per side. Watch carefully, shrimp cook very quickly and become rubbery if overcooked!
Remove from the grill and onto a serving platter. Drizzle lightly with reserved marinade.
Serve immediately garnished with fresh parsley and lime slices if desired.
Nutrition Information:
Yield:
4
Serving Size:
1
Amount Per Serving:
Calories:

294
Total Fat:

16g
Saturated Fat:

2g
Trans Fat:

0g
Unsaturated Fat:

13g
Cholesterol:

239mg
Sodium:

1152mg
Carbohydrates:

12g
Fiber:

1g
Sugar:

6g
Protein:

27g
Chaos & Wine occasionally offers nutritional information for recipes contained on this site. This information is provided as a courtesy and is an estimate only. This Nutrition Disclaimer notifies that under no circumstances will Chaos & Wine or its owners be responsible for any loss, damage, or adverse reactions resulting from your reliance on nutritional information given by this site. By using Chaos & Wine and its content, you agree to these terms.
Chipotle Lime Shrimp come together quickly so you can enjoy it without having to spend hours in the kitchen. The smoky-spice of the chipotle combined with the zesty lime creates an irresistible combination that will have your taste buds singing. Give this recipe a try and get ready for a flavor explosion!