We love french dip sandwiches in our house and they make a regular appearance on my monthly meal planner. I used to serve french dip sandwiches with regular old french fries. However, I wanted to go beyond serving plain old french fries and tried these amazing side dishes to serve with french dip sandwiches.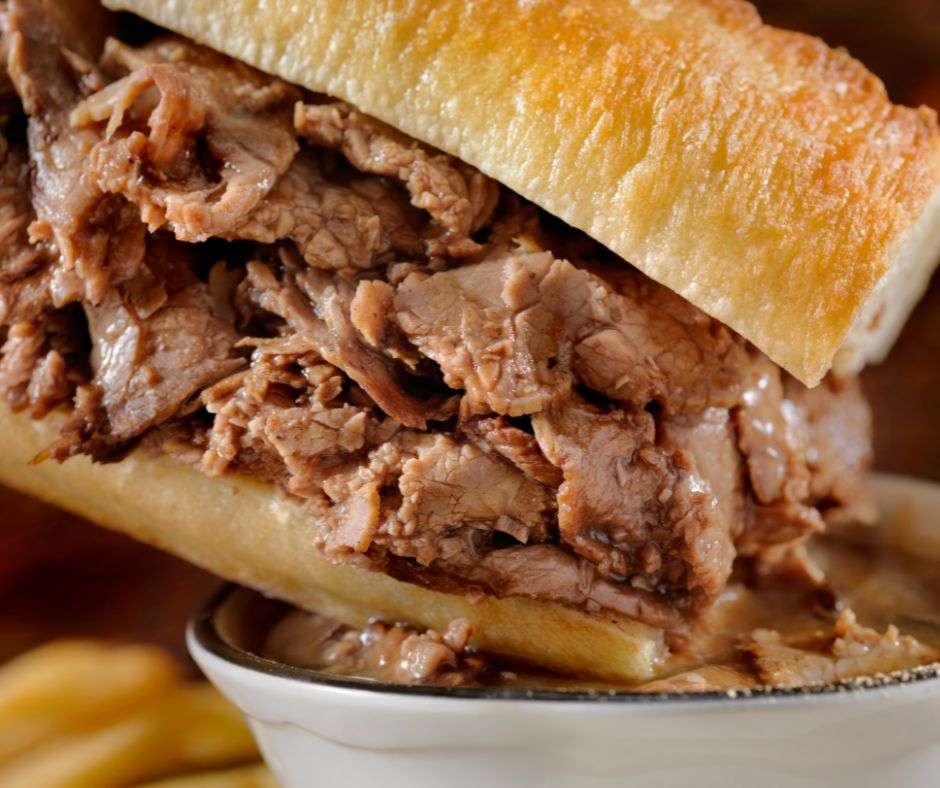 This page contains affiliate links. If you choose to purchase after clicking a link, I may receive a commission at no extra cost to you. For more information please read my full affiliate disclosure.
What is a French Dip Sandwich?
The French dip sandwich is essentially thin sliced roast beef, usually on a French roll or baguette, served with a side of hot au jus dipping sauce.
Some people add cheese or onions, but that's totally up to you. French dip sandwiches are made even better by dipping them into delectable au jus sauce, making every bite delicious!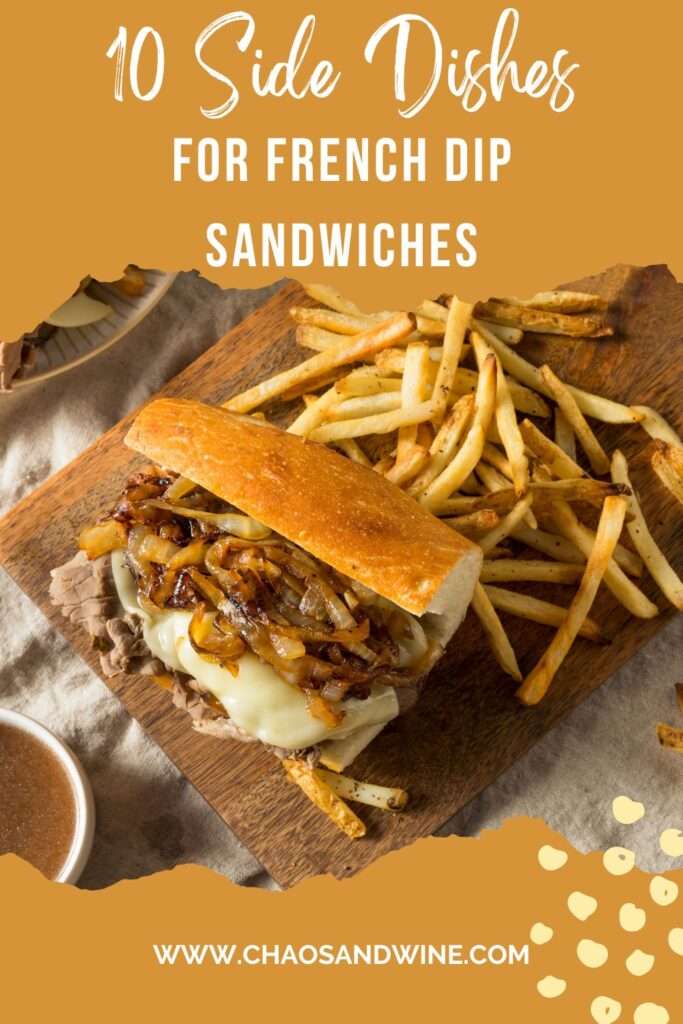 Too busy to make this right now? Pin for later to your favorite Pinterest Board!
Although it was created in Los Angeles in the early 1900s, the French Dip Sandwich has become a beloved American classic. Despite its name, which suggests French origins, the sandwich has no actual French connection.
If you're not sure how to make a French dip sandwich or are looking for a great recipe, my favorite French Dip Recipe is by Carlsbad Cravings! It's made in the crockpot making it a super easy weeknight meal! Add one of these great side dishes to serve with french dip sandwiches, and you'll have a delicious meal on the table in no time!
Why add Side Dishes to your Meal?
Side dishes play a crucial role in creating a complete meal. They not only add variety and balance to the main dish but also enhance the overall dining experience. When it comes to French dip sandwiches, the right side dish can take your meal from ordinary to extraordinary. By choosing the right combination of flavors and textures, you can create a harmonious balance that will leave your taste buds craving for more.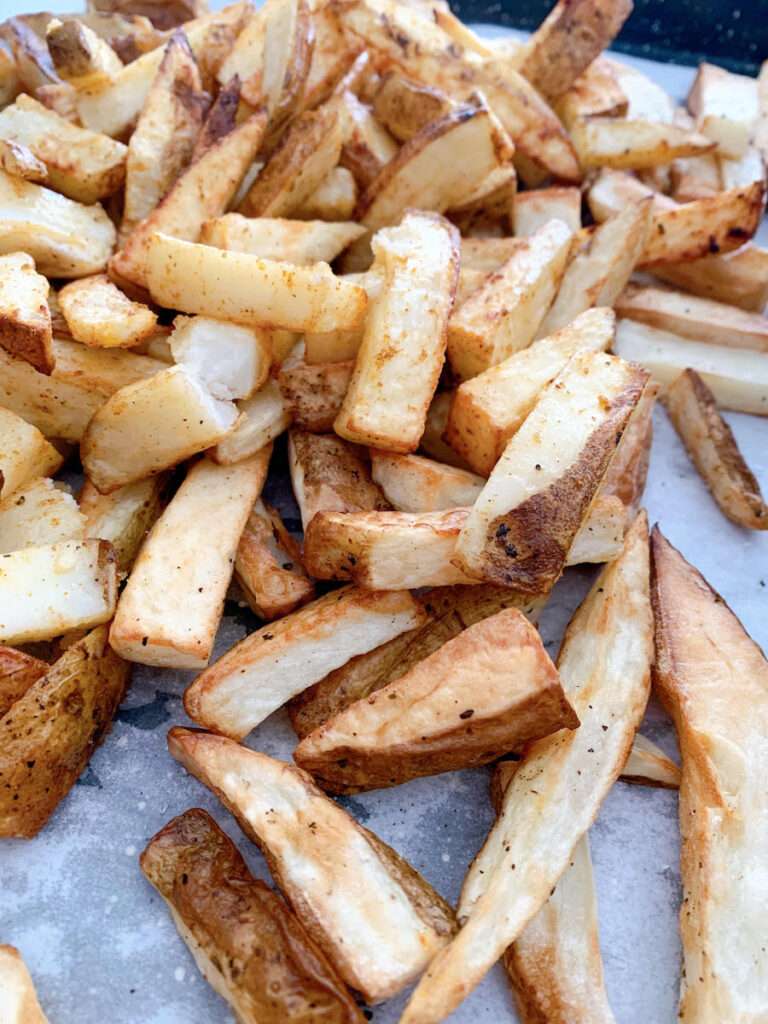 When selecting side dishes for your French dip sandwich, consider the contrasting elements that will complement the rich flavors of the meat and au jus. For example, a tangy coleslaw can provide a refreshing crunch and acidity that cuts through the savory goodness of the sandwich. On the other hand, a creamy mac and cheese can add a comforting richness that pairs perfectly with the tender beef and crusty bread. This is why french fries are a commonly served side dish for french dip sandwiches! They compliment the meal and are fantastic when dipped in the extra au jus!
To ensure a nutritious and flavorful feast, it's crucial to opt for side dishes that perfectly pair with the French dip while also delivering some nourishing punch. Incorporating vegetables, whole grains, and healthy fats into your side dishes will not only enhance the taste but also ensure a balanced and satisfying meal.
You might also like…
Top 10 Carlsbad Cravings Recipes
30 Best Charcuterie Board Ideas
Side Dishes to Serve with Chili
What to Serve with French Dip Sandwiches
If you are looking for the perfect side dish for French Dip Sandwiches, look no further! You're sure to find the perfect dish to serve with your French Dip sandwiches!
Final Thoughts on Sides for French Dip Sandwiches
French Dip sandwiches are a crowd-pleaser for sure, and now you know what to serve with french dip sandwiches! With these delicious and easy sides for french dip sandwiches, you'll have the perfect complete meal for your family.