Skip the store-bought taco seasoning packets and make your own homemade taco seasoning with this easy recipe.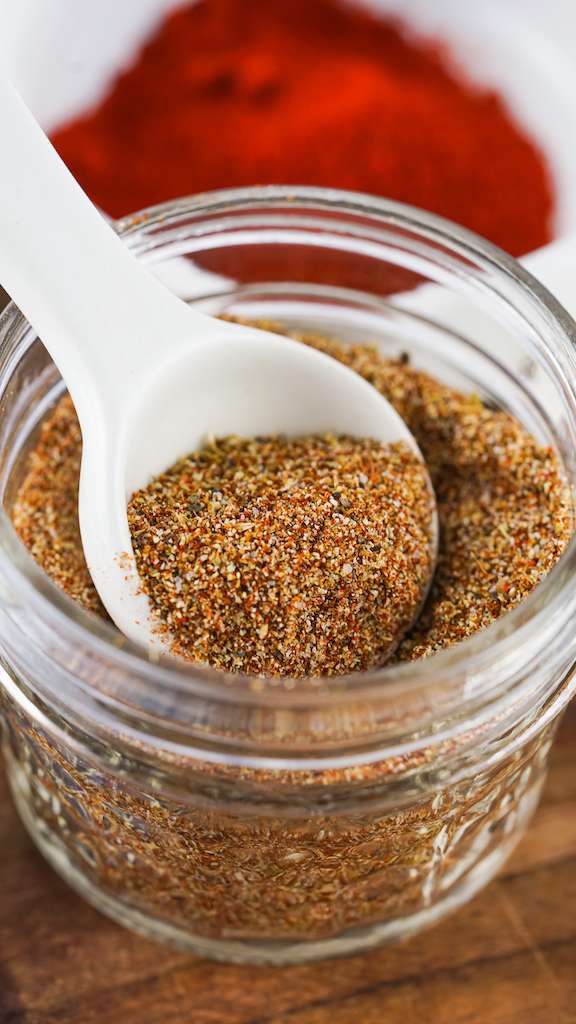 This page contains affiliate links. If you choose to purchase after clicking a link, I may receive a commission at no extra cost to you. For more information please read my full affiliate disclosure.
Tacos are a staple around here – they're quick and easy and everybody likes them! It doesn't have to be Taco Tuesday for us to have tacos for dinner! Homemade taco seasoning makes them extra delicious and I don't have to worry about added preservatives or additives!
Why Make Your Own Taco Seasoning?
I used to use store-bought taco seasoning packets and thought I loved them. Then I learned more about the preservatives and additives in pre-packaged foods and the high sodium! I'm not by any means a fully-crunchy mom here but I do try and make better more informed decisions as I learn. One way to do this was to make my own homemade taco seasoning. In fact I have a whole post about the benefits of making your own seasoning blends!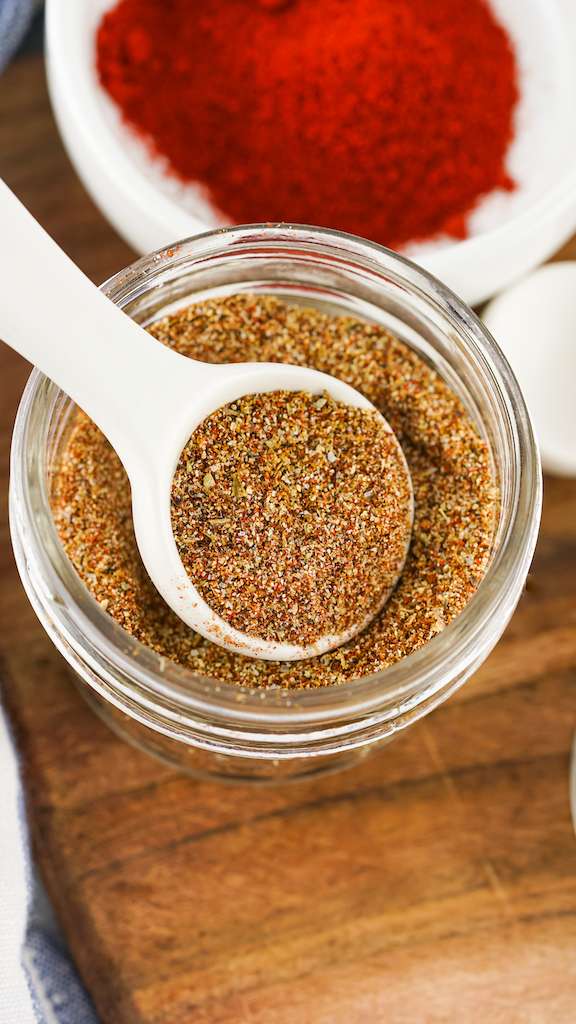 Another reason I started experimenting with my own taco seasoning recipe was that I kept running out of the packets! I'd want to make tacos and nope I'd need to make another trip to the store – which defeats the purpose of a quick and easy dinner! So I'd try my hand at making my own taco seasoning!
I'd search the internet and food blogs but never found the perfect recipe but I kept tweaking various recipes until I came up with the perfect balance of seasonings!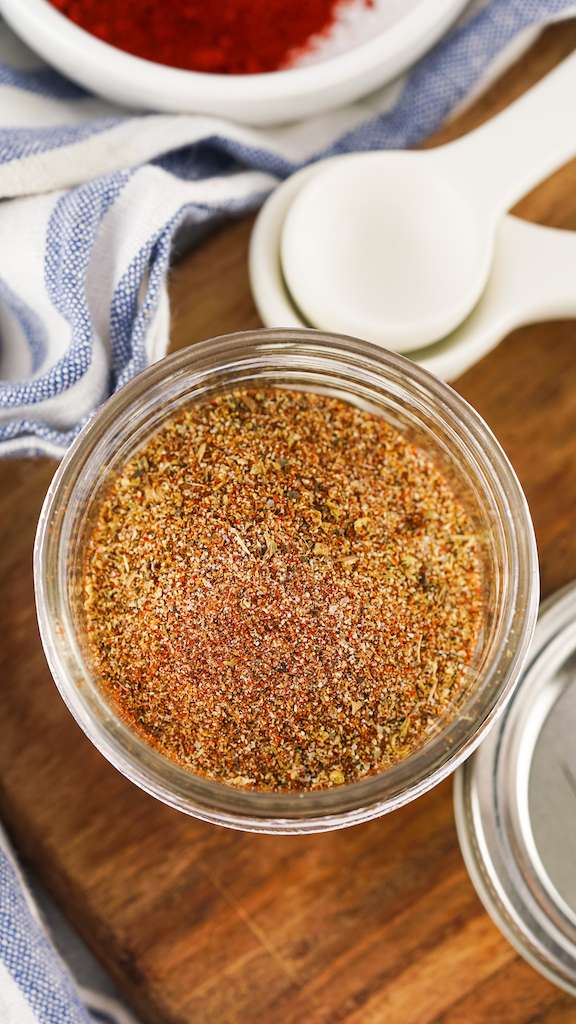 Ingredients for Homemade Taco Seasoning
Chili Powder – you can use smoked, dark, or any type of chili powder you prefer! I like Dark Chili Powder!
Paprika – regular Paprika or smoked Paprika, if you want a smokey flavor.
Onion Powder and Garlic Powder – of course! I don't think there are many recipes that don't have onion or garlic and they're two of my favorite seasonings!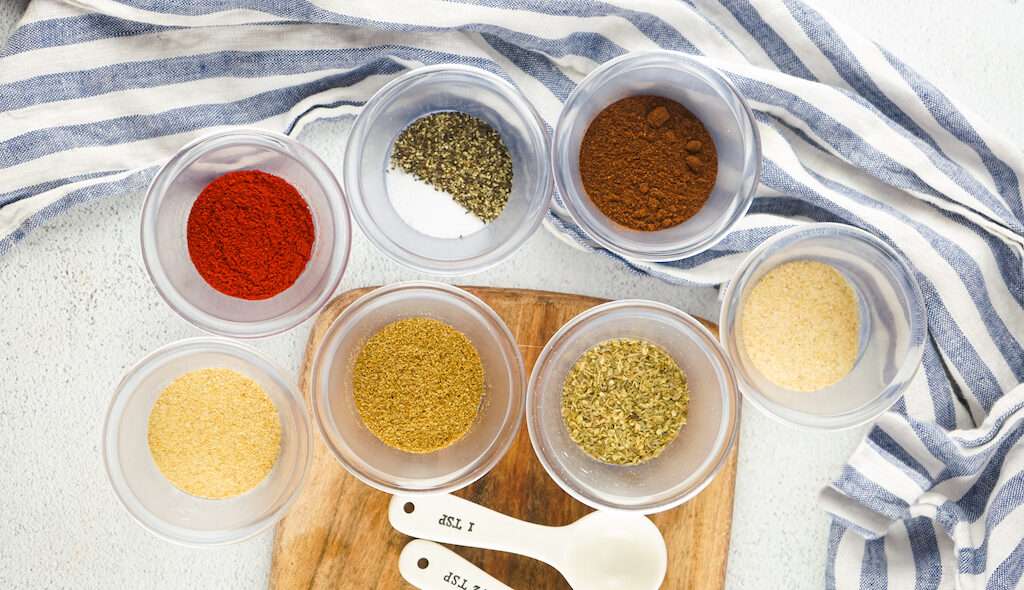 Cumin – this gives the tacos that slightly smokey flavor.
Cayenne Pepper – I use 2 tsp in my recipe personally but I have younger kids so add a bit more if you like it spicier!
Oregano – it's not just for Italian recipes! Mexican Oregano is best for taco seasoning but whatever oregano you prefer works fine!
Making the Taco Seasoning
Easy peasy!
Add all the spices and seasonings to a small mixing bowl.
Mix all the spices and seasonings together and mix well.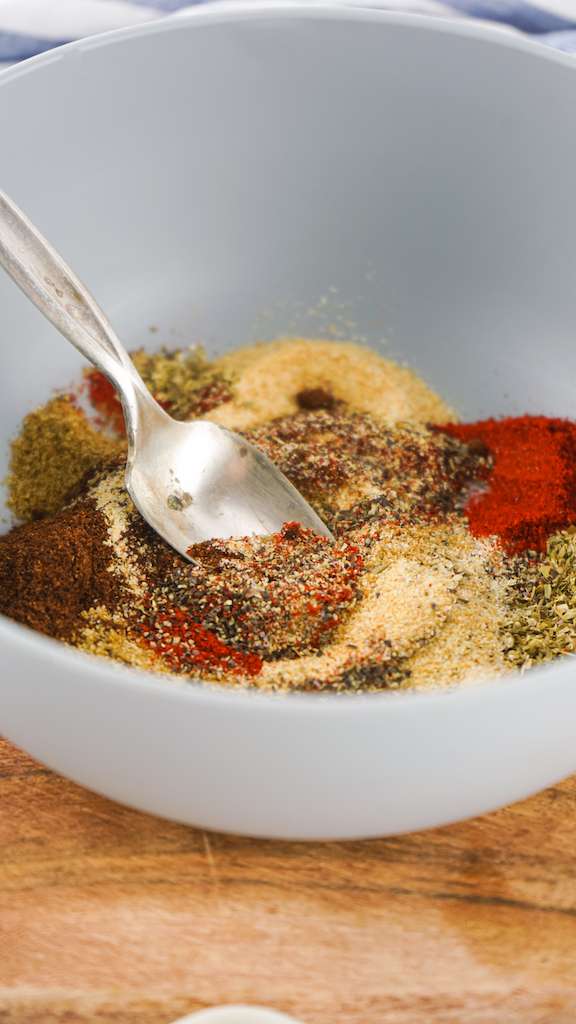 Store in a mason jar or other air-tight container! You can store this for up to 10 months in an air-tight container but I don't think my jar lasts more than a few weeks!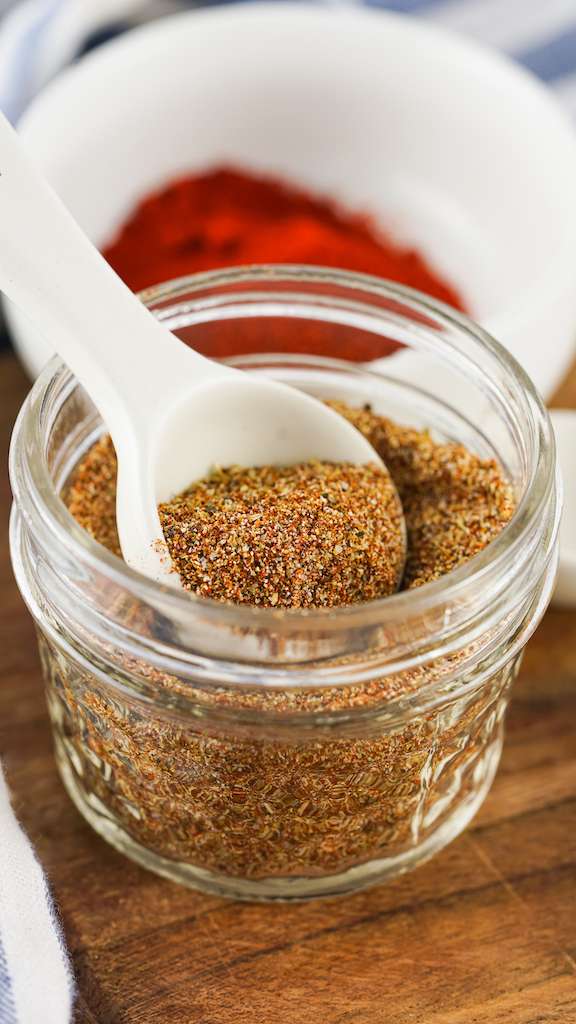 Simply use 2-3 Tbls per pound of ground beef next time you make tacos!
I can usually get 2-3 taco dinners out of one batch of homemade taco seasoning and just refill my mason jar when needed.
You might also like…
Tips and Tricks for Homemade Taco Seasoning
Add a little cornstarch to your meat when you add the seasoning to help the spices stick to the meat and increase the flavor!
Adjust the spiciness of the taco seasoning to suit your families preferences by adjusting the amount of cayenne pepper used. However, if you like it extra spicy add a bit of red pepper flakes to kick up the heat.
Do you prefer a sweeter taco seasoning? Add a little sugar to the mix.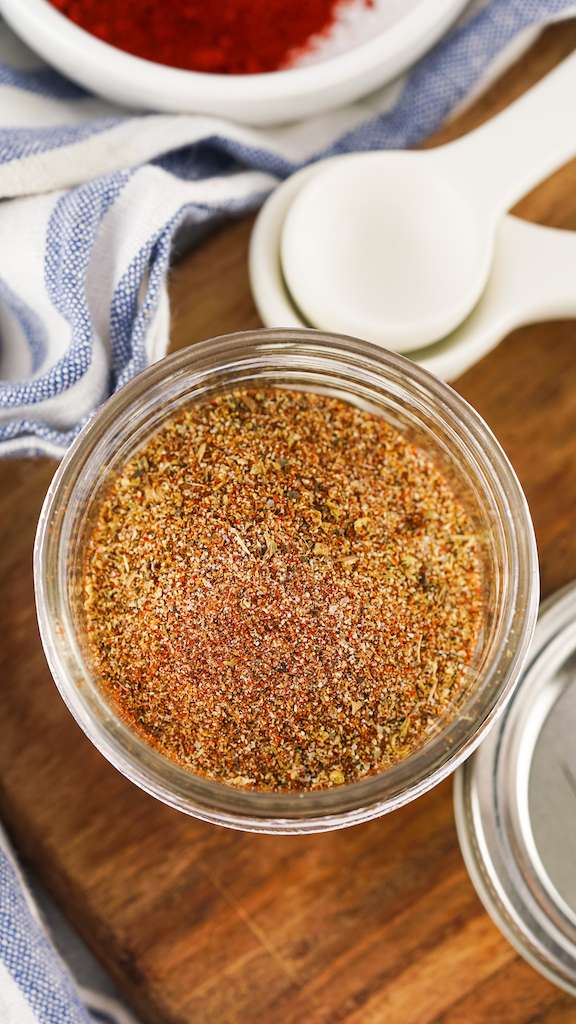 2-3 tablespoons of homemade taco seasoning equals about one packet of store-bought seasoning mix depending on the brand.
Try different chili powders for slightly different flavors. The flavor of the chili powder depends greatly on the country of origin. You can also try dark chili powder or smoked chili powder for a twist.
We tend to eat tacos a lot around here as it's an easy weeknight crowd pleasing meal. So I tend to make this quite frequently and buy my spices in bulk so I always have them on hand!
Yield: 8 servings
Homemade Taco Seasoning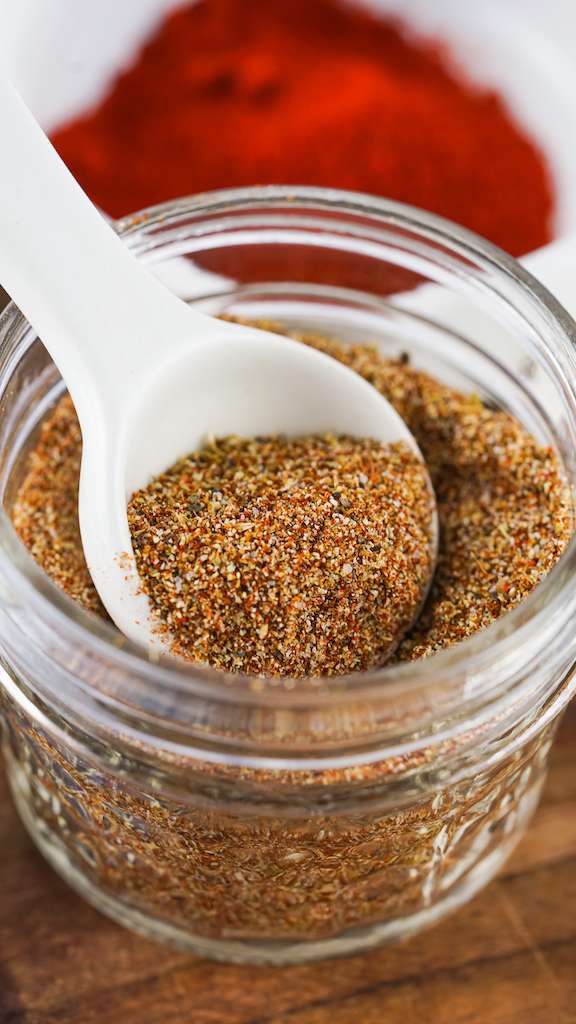 Homemade taco seasoning is so simple to make plus free of preservatives and additives.
Ingredients
4 Tablespoon Chili Powder
3 1/2 tablespoons Paprika
2 Tablespoons Cumin
1 1/2 Tablespoons Onion Powder
1 1/2 Tablespoons Garlic Powder
2-3 teaspoons Cayenne Pepper
1 tablespoon oregano
1/2 teaspoon salt
1 teaspoon black pepperr
Instructions
Mix all ingredients together.
Store in an air-tight container such as a mason jar.
Use 2-3 TBLS per pound of ground beef when making tacos.
Notes
Adjust the amount of cayenne pepper to your family's taste and preference or omit entirely.
Add a bit of cornstarch to your taco meat to help the taco seasoning stick to the meat.
3-4 tablespoons equals about 1 packet of store-bought taco seasoning.
Recommended Products
As an Amazon Associate and member of other affiliate programs, I earn from qualifying purchases.
Nutrition Information:
Yield:
8
Serving Size:
1
Amount Per Serving:
Calories:

17
Total Fat:

1g
Saturated Fat:

0g
Trans Fat:

0g
Unsaturated Fat:

0g
Cholesterol:

0mg
Sodium:

41mg
Carbohydrates:

3g
Fiber:

1g
Sugar:

0g
Protein:

1g
Chaos & Wine occasionally offers nutritional information for recipes contained on this site. This information is provided as a courtesy and is an estimate only. This Nutrition Disclaimer notifies that under no circumstances will Chaos & Wine or its owners be responsible for any loss, damage, or adverse reactions resulting from your reliance on nutritional information given by this site. By using Chaos & Wine and its content, you agree to these terms.
Conclusion
Making your own taco seasoning is so easy and so much healthier without all the added preservatives and fillers that come in those convenient but often expensive store-bought packets! Give it a try, I promise you'll never go back!