While I love a glass of wine, I also LOVE a cup of coffee – iced or hot it doesn't matter. I love whipping up a homemade Dalgona latte to satisfy a mid-morning coffee craving!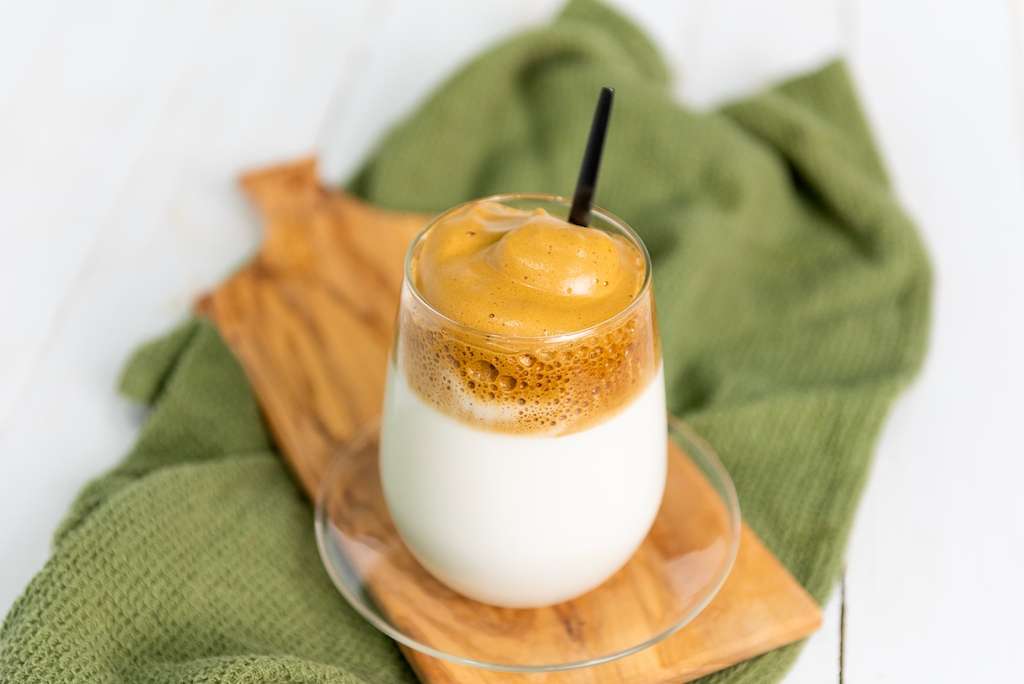 This page contains affiliate links. If you choose to purchase after clicking a link, I may receive a commission at no extra cost to you. For more information please read my full affiliate disclosure.
What is a Dalgona Latte?
A Dalgona coffee latte is basically a whipped coffee froth served over milk. It's not only delicious but super simple to make. It became popular after becoming the viral TikTok Whipped Coffee and has become a treat for many including myself!
Dalgona is a sweet Korean candy that is made with baking soda, sugar, and heat. Dalgona coffee has a similar taste and color as the Korean candy of the same name.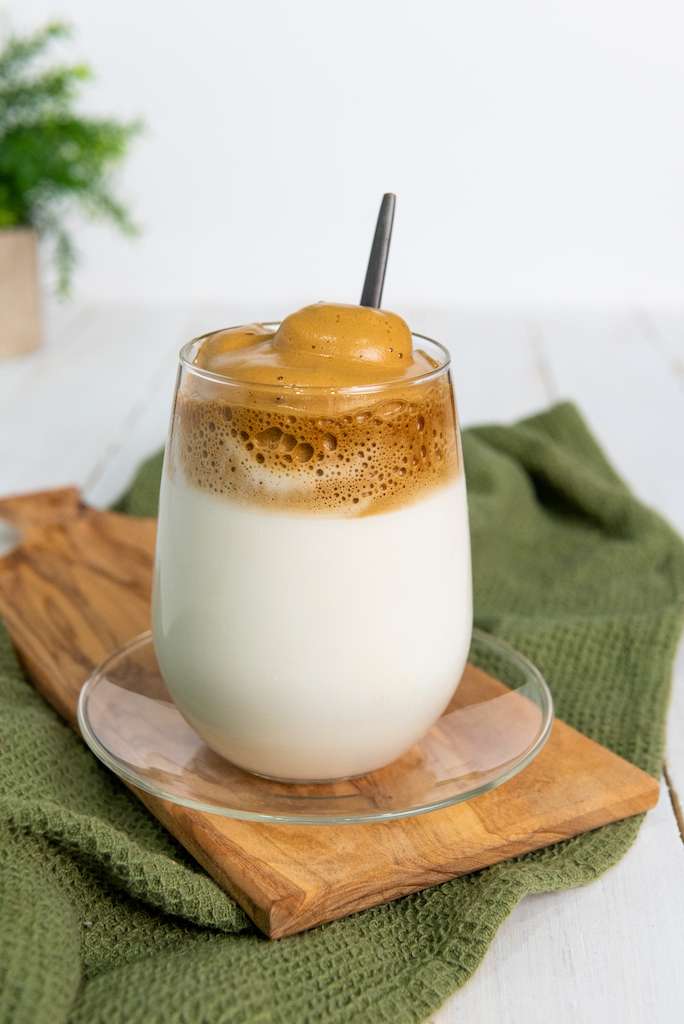 A Dalgona latte has only four ingredients and is usually hand-whipped to create a smooth sweet frothy coffee foam that is served over milk. It can be served cold or warm making it a delicious coffee treat for summer or winter! I love fancy coffee drinks but hate the price of buying them so making a quick Dalgona latte at home is easy, budget-friendly, and gives me that fancy coffee fix I occasionally crave!
How does a Dalgona Latte Taste?
Wondering what a Dalgona latte tastes like? This recipe contains coffee, water, milk and sugar, so it is a sweet coffee drink. The whipped coffee topping has a sweet flavor with a smooth texture.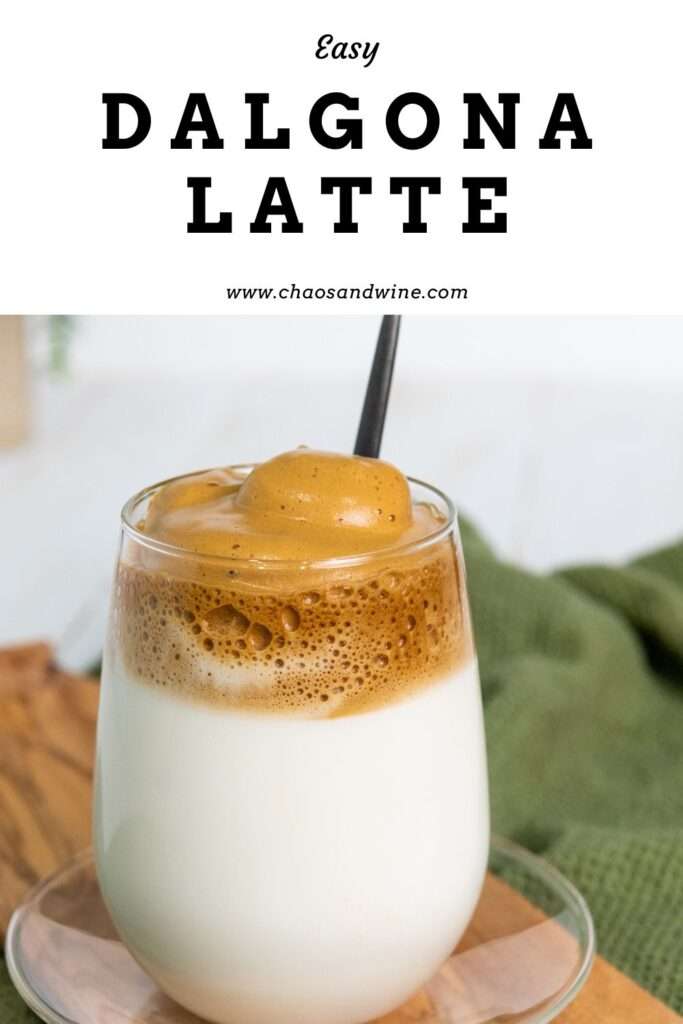 Too busy to make this right now? Pin for later to your favorite Pinterest Board!
Recipe Ingredients
There are only 4 ingredients in this delicious coffee treat and they are all either pantry-friendly or something you probably already have on hand!
Instant Coffee – While this might not be something you have on hand all the time, it is pantry-friendly and comes in handy! Be sure to use instant coffee as regular coffee will not create the delicious foam you are looking for in this Dalgona latte recipe. If you want to know more about the science behind why instant coffee foams and regular does not, you can check out this website here!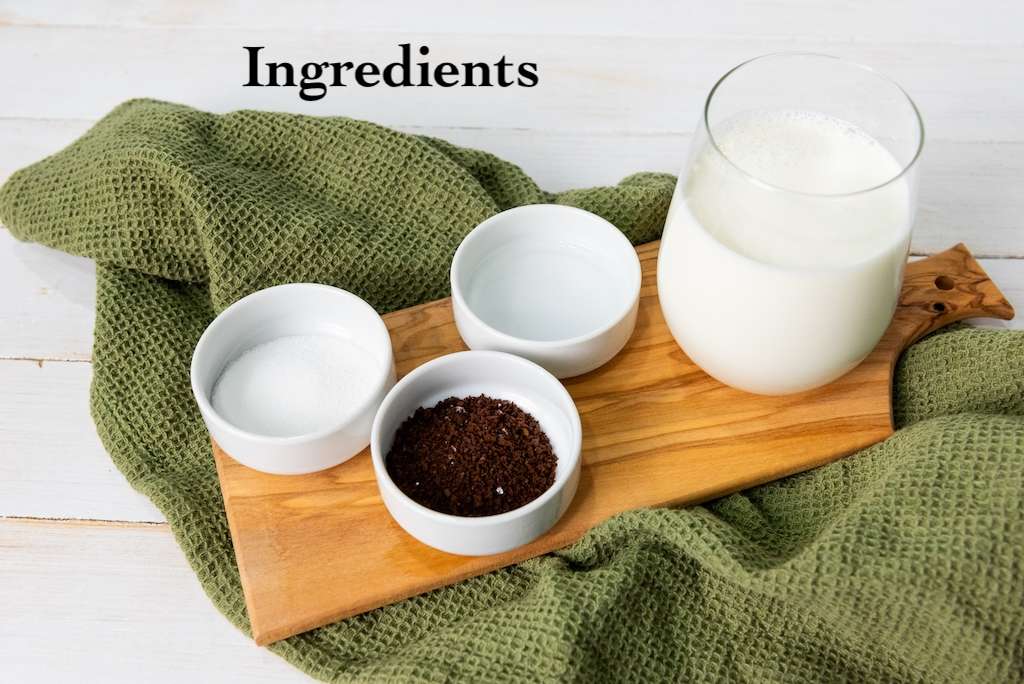 Granulated Sugar – Again a pantry-friendly ingredient that I always have on hand. You can omit the sugar in this recipe, but it will produce a more bitter taste and is only for die-hard black coffee drinkers. Personally, I like my coffee sweet with lots of coffee creamer, so I always use sugar in my whipped coffee!
Hot Water – I think it's safe to say hot water is pretty easy to grab!
Milk – You can use any kind of milk you like in this recipe! Regular milk, oat milk, almond milk – whatever you prefer! I like oat milk if I'm using a dairy free milk as it is nice and creamy. If you'd like a hot Dalgona latte use warm milk and cold milk for an iced Dalgona latte!
How to Make a Dalgona Latte
This is a super simple recipe which makes it an ideal treat anytime!
Grab a small bowl and add the instant coffee, sugar, and hot water.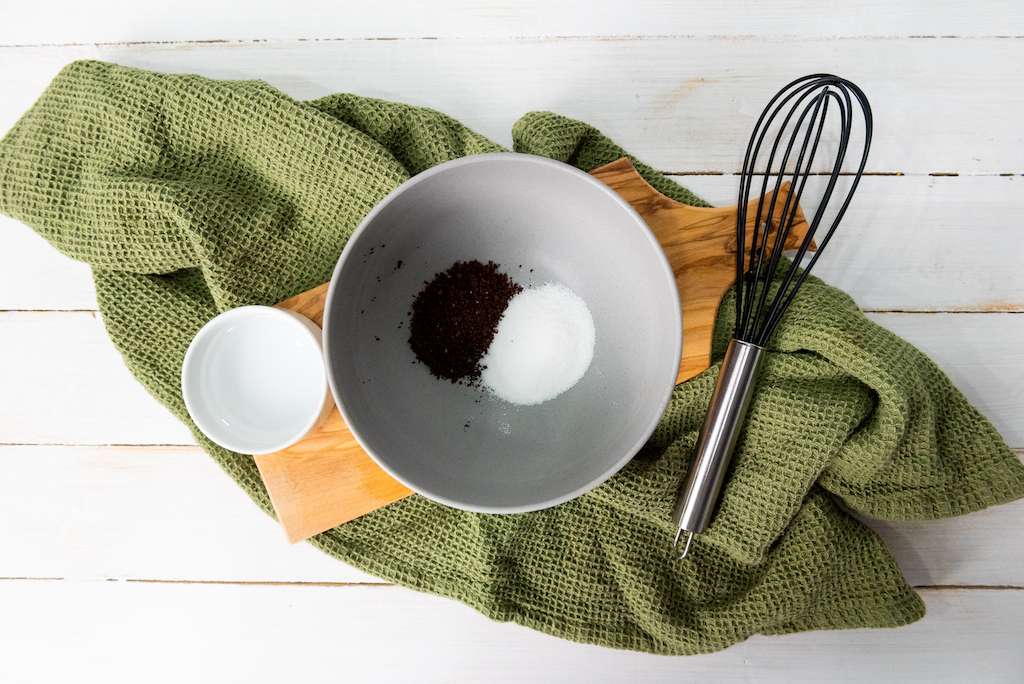 Whisk until it gets thick and foamy! You won't get stiff peaks like when whisking homemade whipped cream, but you will get a nice foam!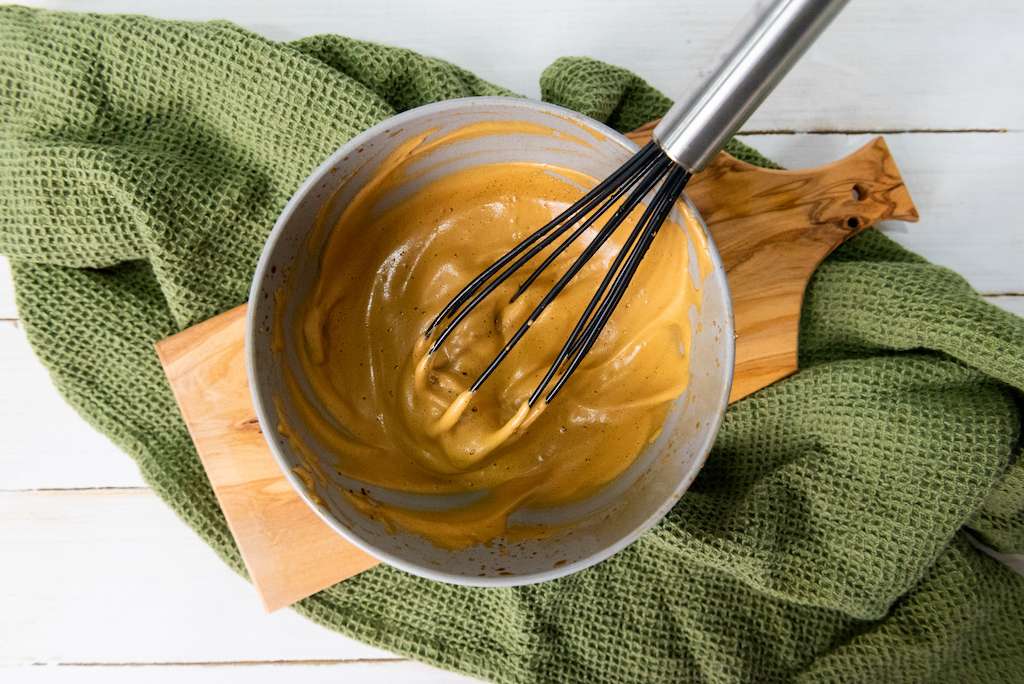 You can whisk by hand, and it should take between 8–10 minutes or use a hand mixer or my personal favorite a small drink whisk or milk frother. I use my milk frother all the time to make this as well as matcha lattes!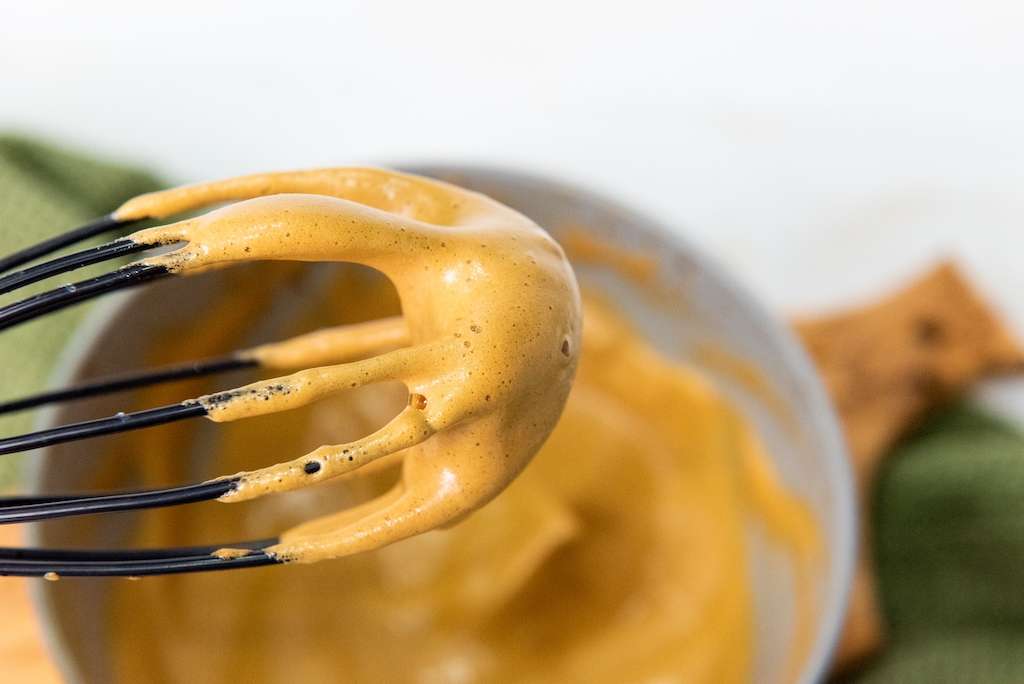 Now grab a glass and pour your milk into it. Once your coffee is all foamy and thick, top the milk with the coffee foam. Note that this recipe works best when the foam is extra thick and foamy so be patient and keep mixing!
For a bit of a different twist, try mixing a little of the coffee foam into the milk and then top with the remaining! My personal preference is half mixed into the milk and half on top.
Add a dash of cinnamon or cacao powder on top, if desired, and enjoy!
Remember you can make this with hot milk or with cold milk depending on your preference or in my case the time of year! I'm definitely not drinking an Dalgona iced latte in the middle of a Minnesota winter, but I also don't want a hot one in the middle of a hot and humid Minnesota summer either!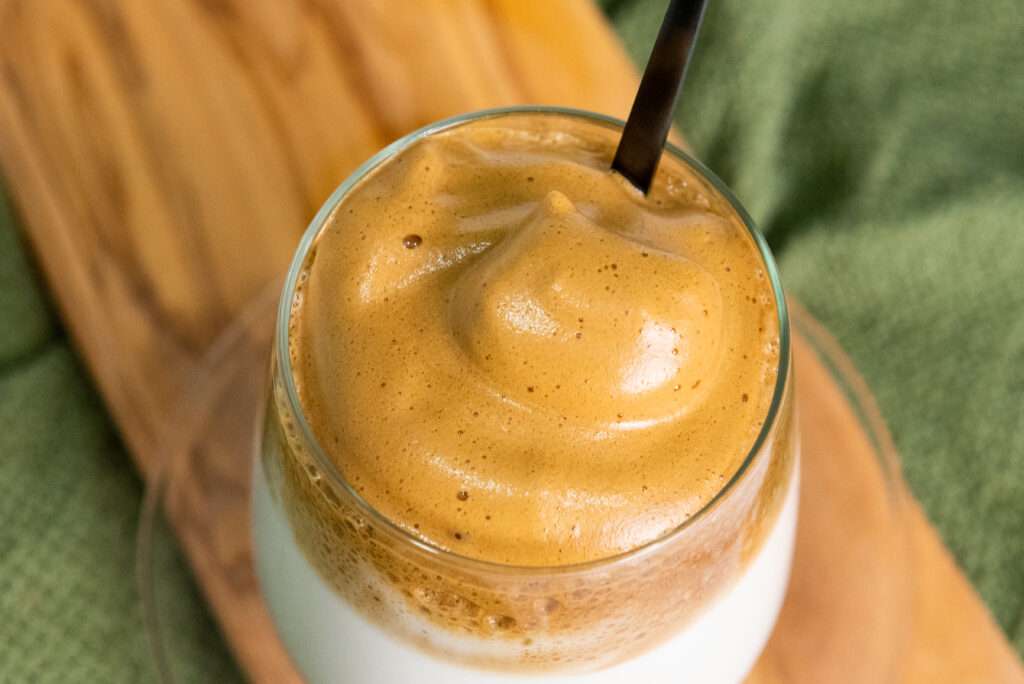 You might also like…
Strawberry Limoncello Lemonade
Ways to Jazz up Your Dalgona Latte
There are several ways to jazz up your Dalgona latte!
Spices – Add a dash or two of cinnamon, nutmeg or cocoa powder on top of your form. Alternatively, you could mix a dash or two into your Dalgona foam while you are whipping it!
Chocolate – Use chocolate milk and a bit of cocoa powder in your coffee form to create a mocha Dalgona latte.
Toppings – Add a dollop of whipped cream on top of your Dalgona foam for a touch of sweetness.
Yield: 1 serving
Dalgona Latte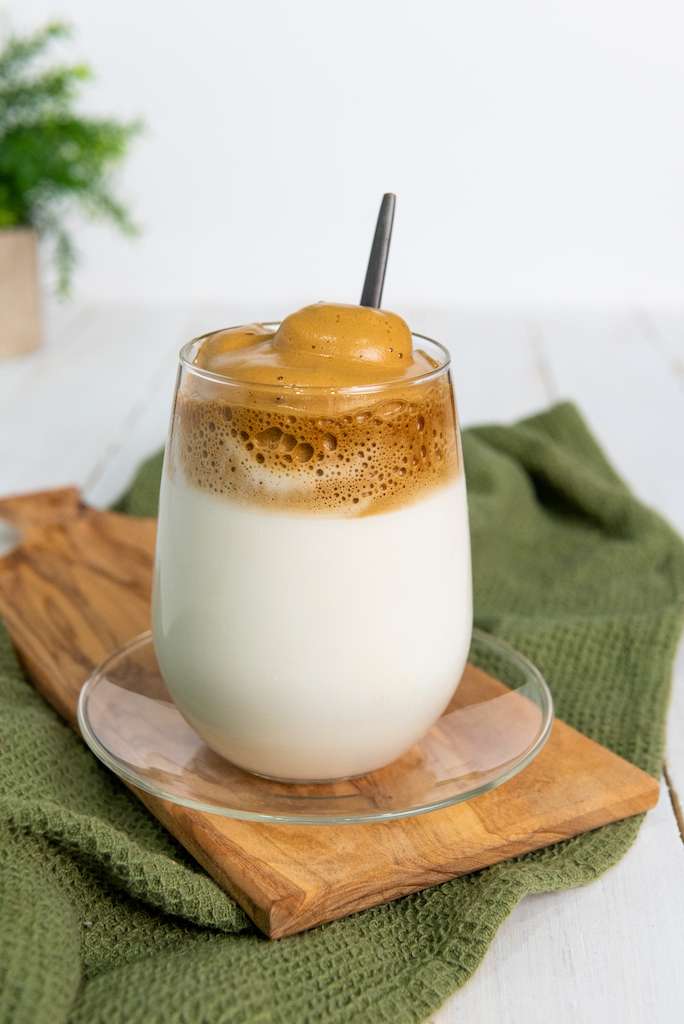 A delicious whipped coffee treat served either warm or cold!
Ingredients
1 tbsp instant coffee
1 tbsp granulated sugar
1 tbsp hot water
8 oz milk of choice, hot or cold
Instructions
In a small bowl, whisk the instant coffee, sugar, and hot water until it gets thick and foamy. With an electric mixer, it will take about 3 minutes. By hand, it will take about 8-10 minutes.
Pour warm or cold milk into a glass and add about half of the coffee foam and mix well.
Top the milk with the remaining coffee form and serve!
Recommended Products
As an Amazon Associate and member of other affiliate programs, I earn from qualifying purchases.
Nutrition Information:
Yield:
1
Serving Size:
1
Amount Per Serving:
Calories:

122
Total Fat:

5g
Saturated Fat:

3g
Trans Fat:

0g
Unsaturated Fat:

2g
Cholesterol:

20mg
Sodium:

116mg
Carbohydrates:

12g
Fiber:

0g
Sugar:

12g
Protein:

8g
Chaos and Wine occasionally offers nutritional information for recipes contained on this site. This information is provided as a courtesy and is an estimate only. This Nutrition Disclaimer notifies that under no circumstances will Chaos & Wine or its owners be responsible for any loss, damage, or adverse reactions resulting from your reliance on nutritional information given by this site. By using Chaos & Wine and its content, you agree to these terms.
FAQs
Can I use any kind of milk?
Yup, any kind of milk. Oat milk, regular milk, low-fat milk, almond milk – whatever you prefer!
Elevate your experience by opting for a decadent chocolate milk to create a luscious chocolate Dalgona latte! Garnish with a few chocolate sprinkles for an extra special treat!
Can I make a Dalgona latte ahead of time?
Yes, you can make the foam ahead of time and store it in an airtight container in the fridge for 1–2 days. You might need to whisk it a bit more when you are ready to use it as it will deflate as it sits.
Can I use a sugar substitute?
While I haven't tried using a sugar substitute, I would recommend using a granulated sugar substitute and not a liquid substitute. I have also heard people get good results by substituting the sugar with honey! If you try a sugar substitute, be sure to let me know!
Any garnish suggestions or ways to jazz up a Dalgona latte?
Garnish your Dalgona latte with a sprinkle of cacao powder or chocolate sprinkles. Add a dollop of whipped cream for extra sweetness!
Dalgona Latte Conclusion
You can indulge in a delightful whipped coffee anytime of the day right from the coziness of your own home with this effortless Dalgona latte recipe! Enjoy a hot Dalgona latte on a cold winter day or an iced Dalgona latte on a warm summer afternoon!