Get creative with your outdoor cooking and try these 13 mouth-watering pie iron recipes. Perfect for a camping trip or backyard cookout!
As a family we love to go camping as much as we love having a fire in our backyard and roasting hot dogs and smores with friends. While I'm sure the kids would be perfectly happy with hot dogs and roasted marshmallows every night, we love to change things up and use our pie irons to create fun and delicious meals and treats.
This page contains affiliate links. If you choose to purchase after clicking a link, I may receive a commission at no extra cost to you. For more information please read my full affiliate disclosure.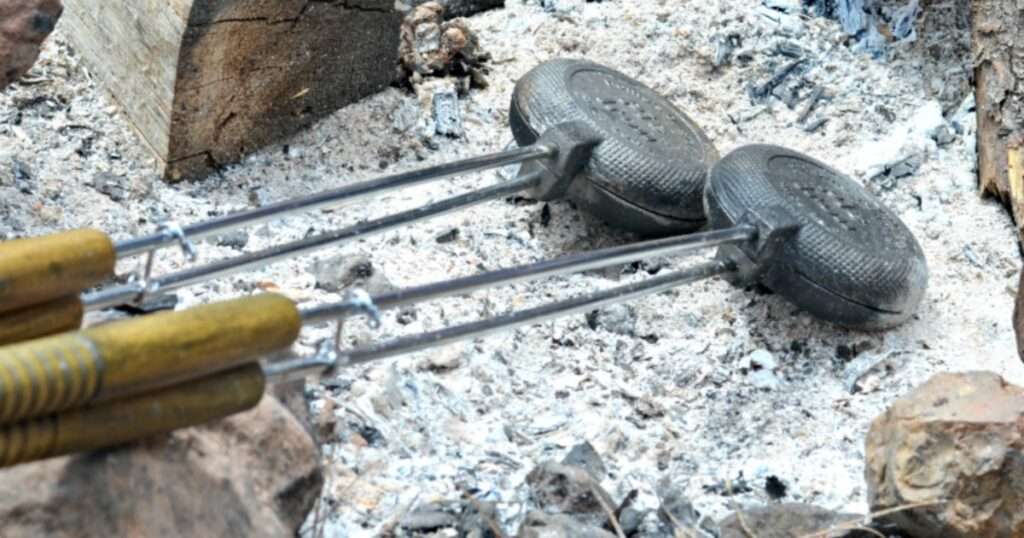 What is a Pie Iron?
A pie iron is a cooking utensil that is used to make grilled sandwiches, pies, and other snacks over a campfire or grill. It is typically made of cast iron or aluminum and has two hinged halves that are pressed together to form a pocket. The pocket is then filled with ingredients and cooked over the heat.
Pie irons are a must-have tool for any camping and outdoor enthusiast. Pie irons are a fantastic tool for camp cooks who want to make delicious meals without breaking a sweat. These versatile cooking accessories can be used to create a vast array of mouthwatering dishes, including the following pie iron recipes. They are also relatively inexpensive, making them a great option for budget-minded campers.
I grabbed my pie irons from Amazon, of course, and went with the cast iron variety as I love my cast iron pans. We have 4 pie irons for our family of 6, which works out great since it takes a bit of adult supervision to prepare and cook them. We work with the kids to get theirs done and then make our meals.
How to Use Pie Irons
Pie irons are a great way to cook delicious and easy meals while camping or having a backyard fire. They're also a lot of fun for both adults and a great way to get the kids involved in cooking.
Before you begin, ensure that you have all the required ingredients and tools, such as a pie iron, cooking oil, non-stick spray, or butter, and some bread or refrigerated dough to make the crust. With these simple ingredients, you'll be able to create mouth-watering dishes that will satisfy your cravings and impress your guests. You can also check out the pie iron recipes below for inspiration and ideas!
Too busy to make this right now? Pin for later to your favorite Pinterest Board!
Utilizing these pie irons is incredibly simple. Just heat them up over the campfire, give the inside a coat of cooking oil or butter, and then assemble your preferred ingredients. Just remember not to overfill them!
Close the pie iron and latch it closed. Then cook over the campfire for 2–3 minutes per side, or until the crust is golden brown and the filling is cooked through.
Pie irons are a versatile cooking tool that can be used to make a variety of delicious meals. They are a great way to add some variety to your camping meals, and can be a lot of fun to use. So next time you go camping, be sure to pack a pie iron!
Here are a few additional tips for using pie irons while camping:
If you are using a cast iron pie iron, be sure to season it before using it for the first time. This will help to prevent food from sticking.
If you are cooking over a campfire, be sure to keep the pie iron away from the flames and cook over hot coals. We usually place a grate over the coals to keep the pie irons out of direct fire and ash. The heat from the flames can cause the pie iron to warp or crack.
Not in the mood for a fire, feel free to use your grill to try these fantastic pie iron recipes.
Be careful when handling the pie iron after it has been cooking. The metal will be hot and can cause burns.
With a little practice, you will be able to make delicious and easy meals with your pie iron in no time!
You might also like…
Walking Recipes from Dinner to Dessert
Instant Pot Blackberry Iced Tea
Pie Irons are a fun and easy way to cook over the campfire! From savory to sweet, there are a lot of great pie iron recipes to try!
Pie Iron Recipes Conclusion
Pie Irons are a fun and easy way to change up your campfire cooking! Not only are they fun and versatile with a variety of pie iron recipes to try, but they are a great way to cook with kids!