Homemade chicken noodle soup is the ultimate feel-better recipe when you're down, whether it's feeling sick or you need a pick-me-up. It's a family favorite around here anytime but I typically make it when someone's been sick!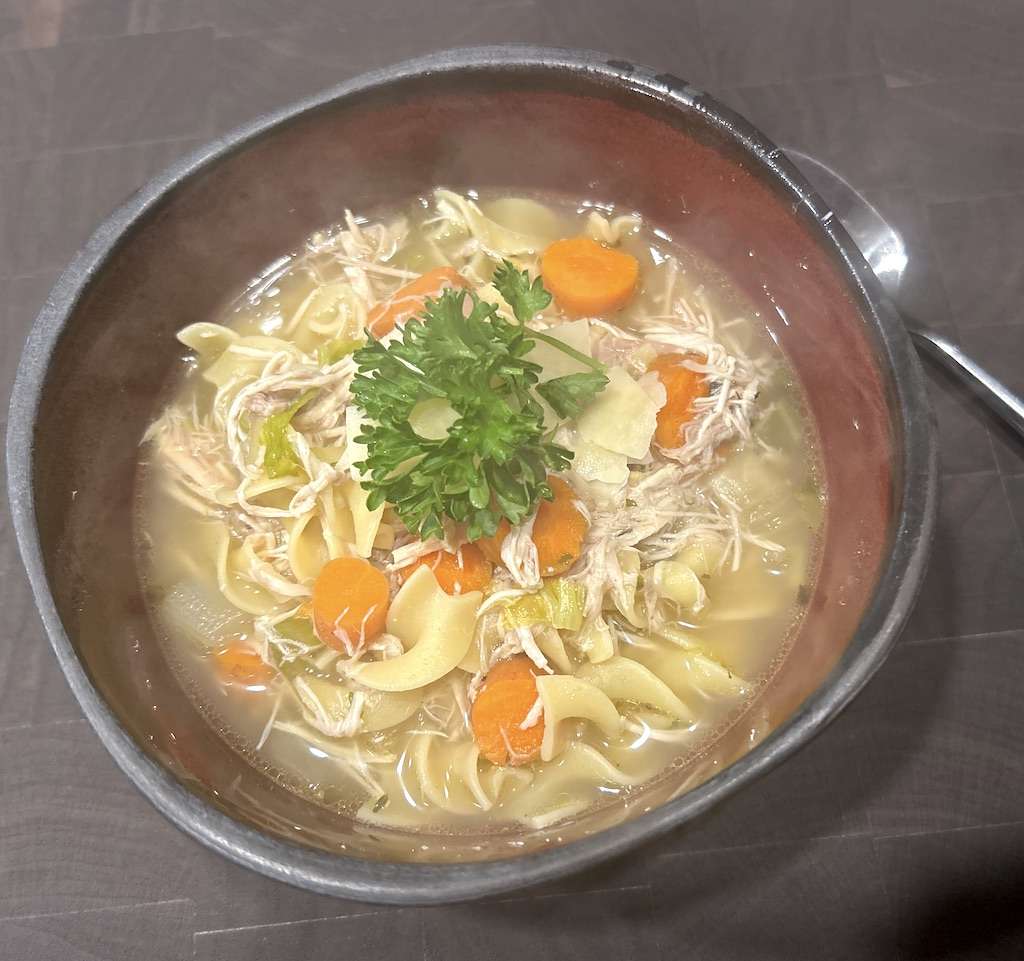 This page contains affiliate links. If you choose to purchase after clicking a link, I may receive a commission at no extra cost to you. For more information please read my full affiliate disclosure.
My boys are huge soup fans and I love making homemade soup! While homemade chicken noodle soup is their absolute favorite, they also love my healthy and easy Sausage and Lentil Soup, and my Creamy Chicken and Wild Rice Soup! I probably make soup once or twice a month for dinner!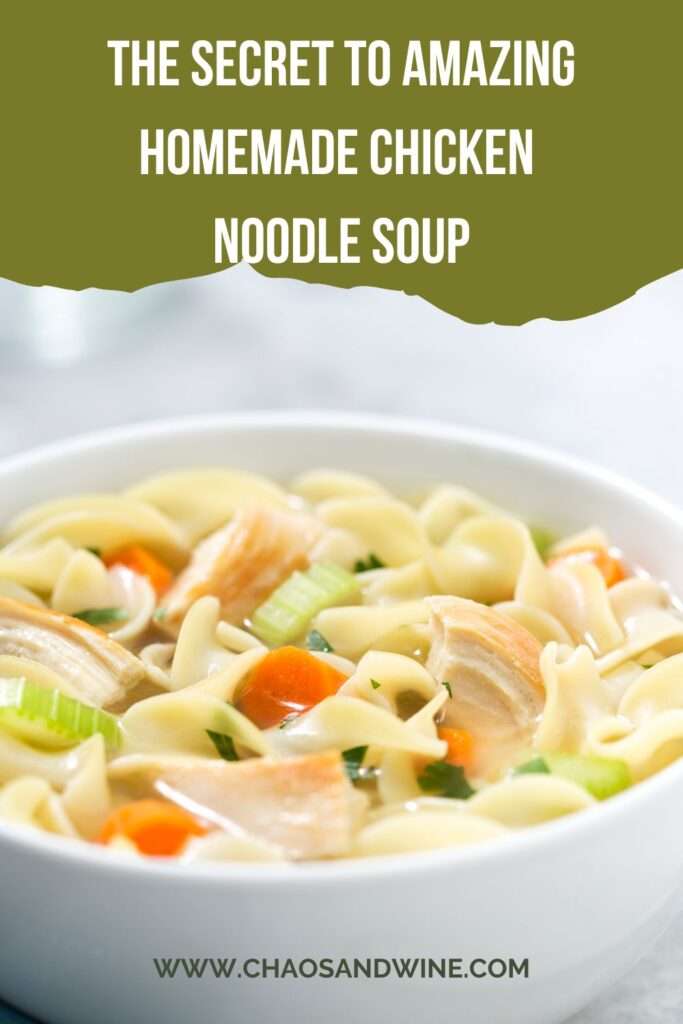 Too busy to make this right now? Pin for later to your favorite Pinterest Board!
Benefits of Chicken Noodle Soup
Chicken noodle soup is a classic comfort food with many health benefits. It is high in protein, which helps you to feel fuller for longer, and provides essential amino acids to help your body repair and build muscle.
It also contains a good amount of vitamins and minerals, including Vitamin A, which is essential for healthy vision and immune system function. Additionally, the broth can provide hydration and aid in digestion. The noodles are also a good source of carbohydrates, which can give you sustained energy throughout the day.
While any chicken soup will provide some health benefits. Homemade chicken noodle soup provides an extra boost of nutrition without any additives or preservatives. This recipe requires a quick homemade chicken bone broth and a secret ingredient that makes it simply delicious!
Ingredients for Homemade Chicken Noodle Soup
Here is a list of ingredients for this delicious and comforting chicken noodle soup including my secret seasoning for chicken noodle soup.
Whole Chicken – A whole chicken is essential to make bone broth for added nutrition!
Onions – I like yellow onions for chicken soup. The photo has a red onion because I had one on hand so I used it to make the bone broth.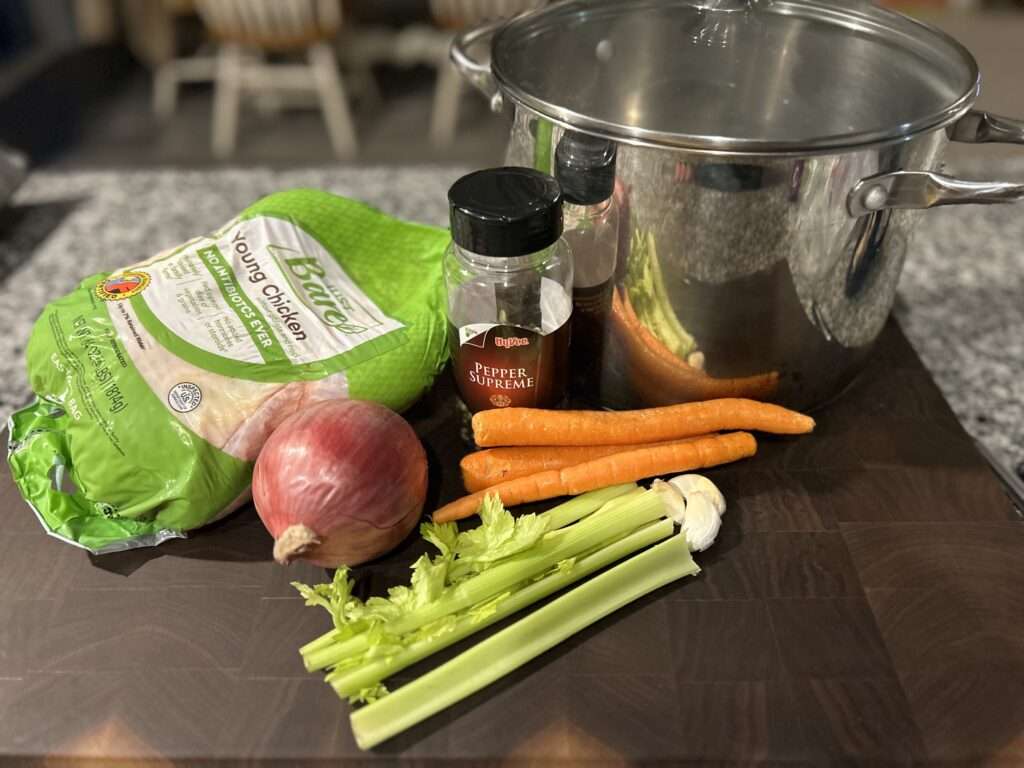 Carrots & Celery – these two vegetables are standard in almost any chicken noodle soup recipe.
Garlic – fresh garlic is excellent in the bone broth and the soup. Plus garlic has tons of health benefits!
Peppercorns – I use peppercorns to season the bone broth as it will be strained.
Bay Leaves – you will use these in both the bone broth and the soup.
Seasonings – I use a variety of seasonings in the soup including thyme, poultry seasoning, bay leaves, pepper, garlic powder, and onion powder.
Chicken Broth/Bone Broth – I start with my own bone broth but I usually add additional boxed store-bought bone broth.
Noodles – I use plain old egg noodles!
Sherry – This is the secret ingredient for chicken noodle soup! Using sherry makes the broth so much richer and more sophisticated! Don't skip the sherry!
Making the Bone Broth
Most chicken bone brother recipes call for simmering the whole chicken with additional vegetables and seasonings for at least 24 hours. While this length of time is ideal and I do that sometimes, usually I make my homemade chicken noodle soup in one day. I start my bone broth first thing in the morning and let it simmer away on the stove until later in the afternoon.
To make the bone broth, grab a large stock pot and place the rinsed chicken, rough chopped celery, carrots, and onions in the pot. Add the fresh garlic cloves, peppercorns, and a few bay leaves. Add water until the chicken is just covered. Use whatever vegetables you have on hand. As you can see here, I had some red onions so in the pot they went!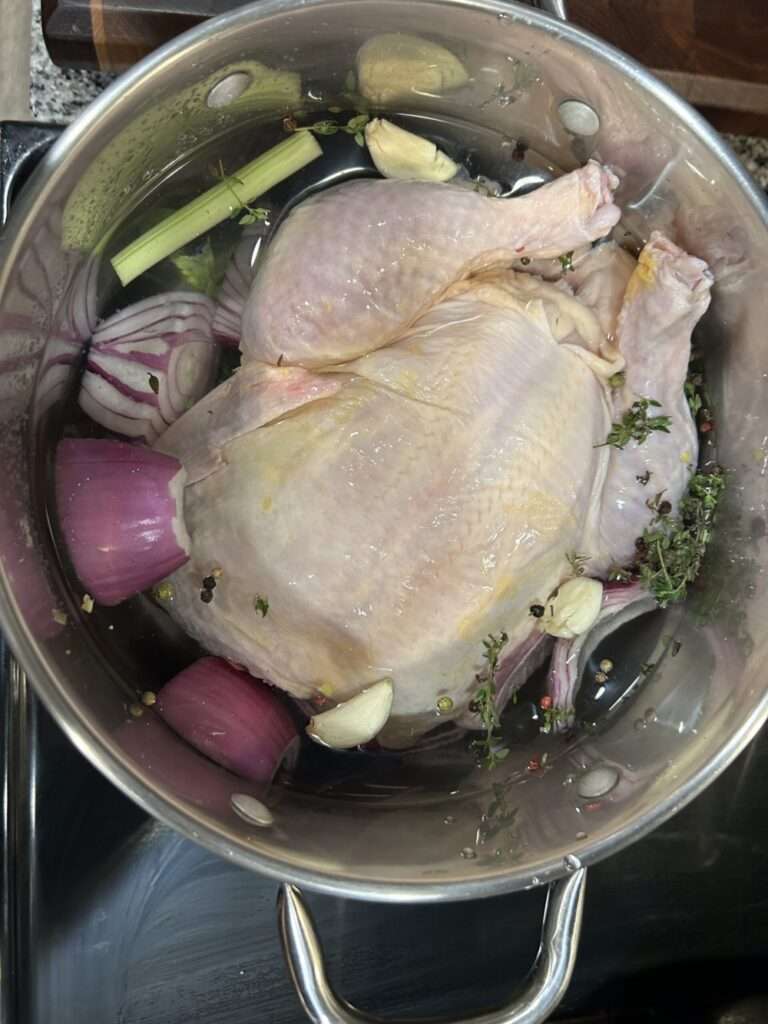 Cover and bring to a rolling boil. Turn down the heat and allow it to simmer until you are ready to start the chicken soup. This is usually 6-8 hours later for me as I'll start the soup around 3-4 pm as we like to eat around 5 pm.
I had some fresh thyme on hand so I threw that in my pot too! Don't be afraid to go with any herbs you might have on hand!
Making Homemade Chicken Noodle Soup with Sherry
Once the bone broth is finished and the chicken is falling off the bone it's time to make homemade chicken noodle soup!
Strain the bone broth into a large bowl reserving the liquid.
Allow the chicken to cool slightly, while you discard the cooked vegetables and clean your large stock pot. Return the reserved liquid you strained to the large pot.
Remove all of the meat from the chicken carcass discarding the skin and bones. Shred or chop the meat into bite-size pieces and toss it back into the large stock pot.
Chop your carrots, celery, garlic, and onions into bite-sized pieces and toss them in the pot too. Add the seasonings and give it all a stir.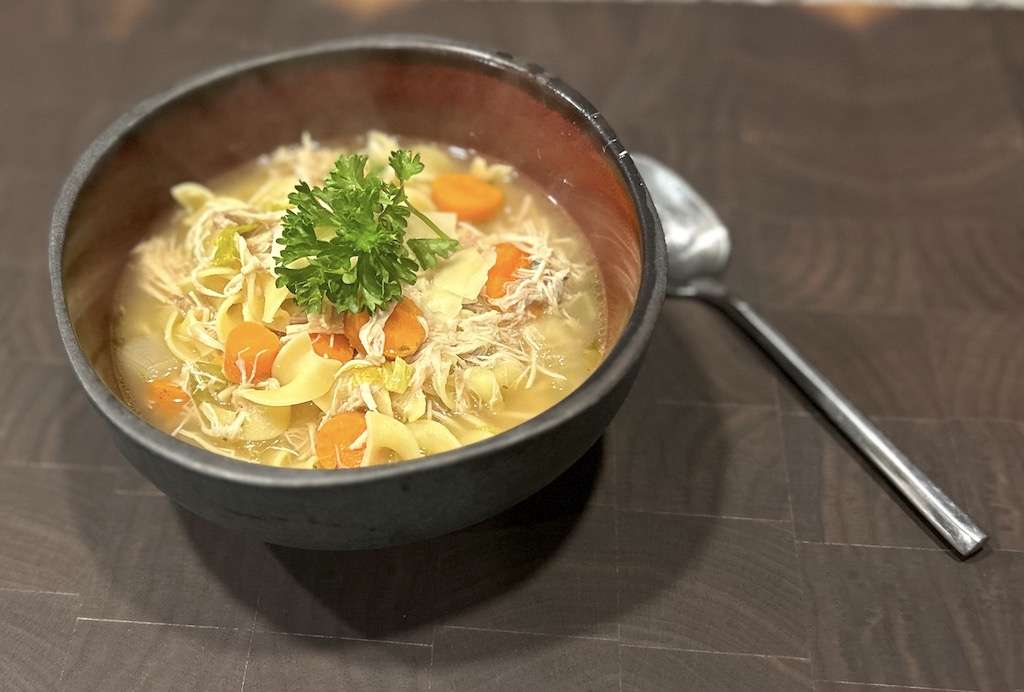 Add additional bone broth or chicken stock at this point and return to the stove to simmer on low for about 30 minutes or until vegetables are tender.
Just before adding the noodles, season with salt & pepper to taste. Then add the sherry and stir to combine.
Add the noodles and cook per the package directions.
Serve hot bowls of homemade chicken noodle soup with warm crusty bread!
Yield: 10 servings
Chicken Noodle Soup with Sherry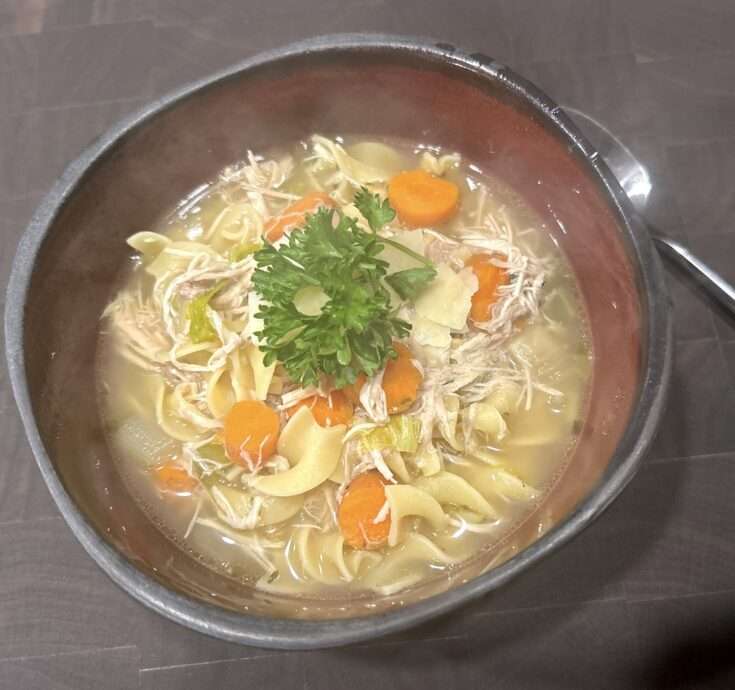 The perfect comfort food! Homemade chicken noodle soup is the best soup when you're feeling under the weather!
Total Time
8 hours
30 minutes
Ingredients
Homemade Chicken Bone Broth
1 Whole Chicken
1 large yellow onion, roughly chopped
2 bay leaves
3 cloves garlic
1 tbls peppercorns
2-3 carrots, roughly chopped
2-3 celery stalks, roughly chopped
Homemade Chicken Noodle Soup
2-3 large carrots, chopped into bite sized pieces
2-3 celery stalks, chopped into bite sized pieces
1 large onion chopped into bite sized pieces
5-6 cups additonal chicken bone broth or chicken stock
2-3 garlic cloves
1/2 tsp onion powder
1 tsp poultry seasoning
1/2 tsp garlic powder
2 bay leaves
3/4 cup sherry
8 ounces egg noodles
Salt & Pepper, to taste
Instructions
To Make the Bone Broth: add all of the bone broth ingredients to a large stock pot. Cover and simmer for 6-8 hours.
Once done, strain and reserve the liquid. Discard cooked vegetables.
Remove meat from the chicken carcass and cut it into bite-sized pieces.
Pour the reserved liquid back into the stock pot and add chicken, celery, onion, carrots, garlic, seasonings, and additional bone broth or chicken stock.
Return the large stock pot to the stove and bring it to a simmer. Cook for 30 minutes or until vegetables are tender.
Season with salt & pepper, to taste.
Add the sherry and the noodles. Give it all a good stir and cook according to the directions for the noodles.
Serve hot soup with warm crusty bread!
Recommended Products
As an Amazon Associate and member of other affiliate programs, I earn from qualifying purchases.
Nutrition Information:
Yield:
10
Serving Size:
1
Amount Per Serving:
Calories:

344
Total Fat:

10g
Saturated Fat:

3g
Trans Fat:

0g
Unsaturated Fat:

6g
Cholesterol:

67mg
Sodium:

1719mg
Carbohydrates:

16g
Fiber:

2g
Sugar:

5g
Protein:

47g
Chaos & Wine occasionally offers nutritional information for recipes contained on this site. This information is provided as a courtesy and is an estimate only. This Nutrition Disclaimer notifies that under no circumstances will Chaos & Wine or its owners be responsible for any loss, damage, or adverse reactions resulting from your reliance on nutritional information given by this site. By using Chaos & Wine and its content, you agree to these terms.
FAQ's
What about leftovers?
Leftover homemade chicken noodle soup is amazing! However, the noodles do tend to soak up the chicken broth. I like to keep extra chicken broth on hand to add when I'm re-heating leftover chicken noodle soup.
Store in an air-tight container for up to 5 days in the fridge.
Dumpings vs. Noodles?
This really isn't a competition as I love both dumplings and noodles! However, if you're not a fan of noodles feel free to make dumplings instead! Or go wild and do both – which is what my kids love the most!
What type of sherry should I use?
I like to use cream sherry in my chicken noodle soup with sherry! It adds so much richness and flavor even though you don't add much!
Do I have to make my own bone broth?
Nope. If you're short on time and need a quick method, use store-bought chicken bone broth and a rotisserie chicken to make your chicken noodle soup. You'll need a bit more chicken stock so be sure to add it to your grocery list! It's delicious and quick!
Conclusion
My secret ingredient for making the most delicious homemade chicken noodle soup is Sherry! Next time you make homemade chicken noodle soup, be sure to add a bit of sherry for a sophisticated and delicious change!