The Kamado Joe is an exceptional grill that is known for its versatility and top-notch quality. It can be used for various cooking purposes, including smoking and grilling. However, there are a few Kamado Joe accessories that can help you get the most out of your Kamado Joe and take you from a grill novice to Grill Master. In this blog post, I will discuss some of the best accessories for the Kamado Joe.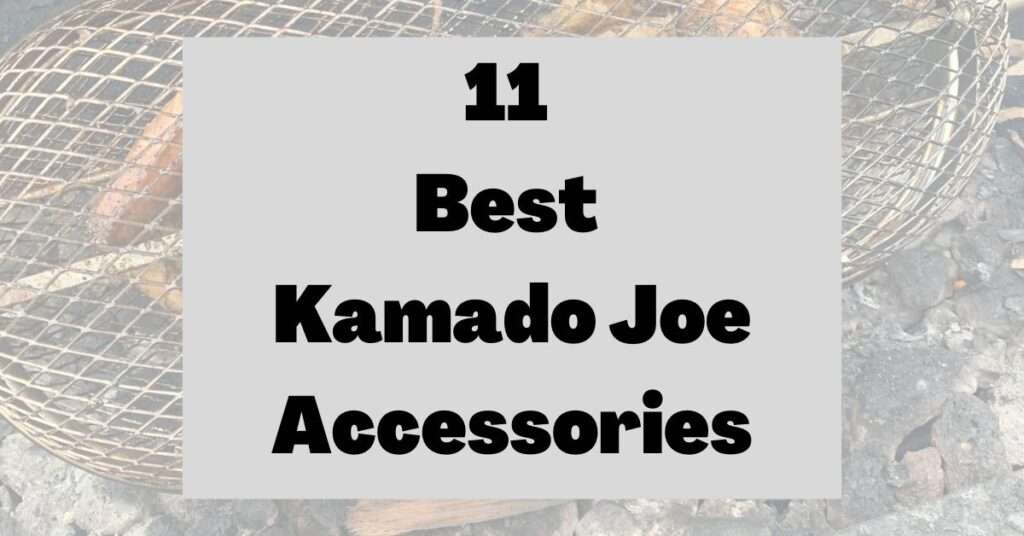 This page contains affiliate links. If you choose to purchase after clicking a link, I may receive a commission at no extra cost to you. For more information please read my full affiliate disclosure.
The Kamado Joe Grill
Are you searching for top-notch accessories to complement your Kamado Joe grill? Then, you must already be a happy owner of this high-quality grill or looking for an excellent gift for a Kamado Joe enthusiast. For those unfamiliar with Kamado Joe grills, let me give you a brief introduction.
A Kamado Joe Grill is a ceramic-style charcoal grill similar to the popular Big Green Egg. In fact, there's a slight rivalry among Big Green Egg and Kamado Joe owners over which grill is the best! While these recipes will work for any ceramic-style grill, I am definitely team Kamado Joe here!
The Kamado Joe Grill is a high-end, top-of-the-line grill that is perfect for barbecue events or backyard parties. With a Kamado Joe Grill, you'll get superior cooking performance and great-tasting food every time you grill.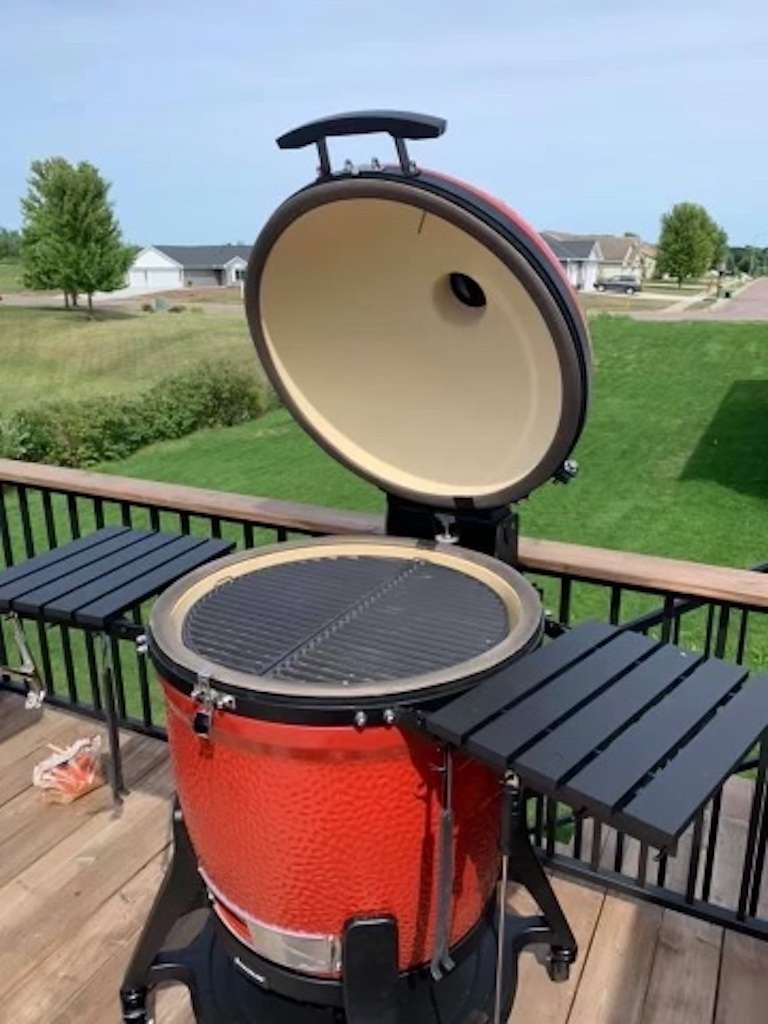 It is designed to mimic the traditional Japanese Kamado style of cooking, which involves using a large, clay pot heated by charcoal to create a unique, smoky flavor. Kamado Joe grills are made from high-quality ceramic materials and are known for their durability, heat retention, and versatility. I can definitely attest to their ability to retain heat as we grill year-round including in sub-zero temperatures!
What to Look for in Kamado Joe Accessories
Before purchasing Kamado Joe accessories, there are a few things you should look for and be aware of.
Although there are various accessory brands available for Kamado Joe, I find it better to opt for accessories that are specially designed for Kamado Joe, instead of choosing another brand. This way, I can ensure that the accessories fit perfectly and work efficiently with my Kamado Joe, providing optimal performance. This ensures the best fit for my particular size Kamado Joe. In addition, I know it was designed to work specifically with the Kamado Joe. If you decide to purchase a brand other than Kamado, be sure to check the reviews for fit in relation to your Kamado Joe.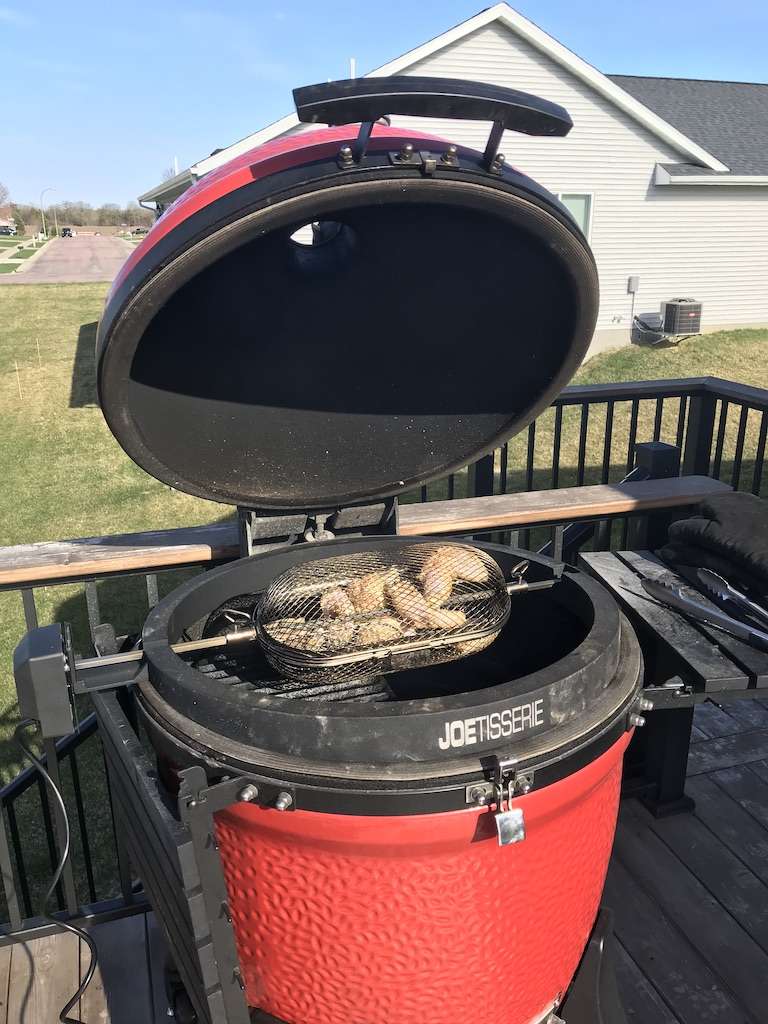 Don't go overboard buying expensive accessories! We've purchased a variety of Kamado Joe Accessories over the years, however, we didn't purchase them all at once or up front. The very first accessory we purchased was the cast iron grill grates, a must-have in my opinion if you're just starting out. Work slowly and really decide what type of grilling and smoking you plan to do! You might not need grill rack extenders if you aren't cooking for large amounts of people or have a large family like I do.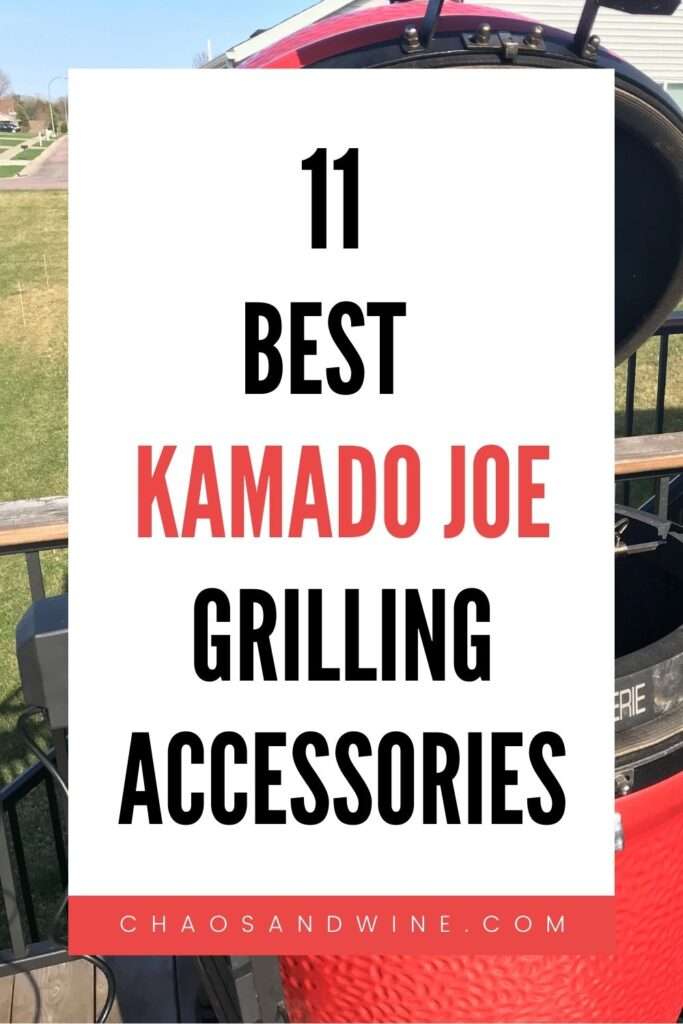 Too busy to make this right now? Pin for later to your favorite Pinterest Board!
However, when selecting Kamado Joe accessories, it's important to consider the quality, compatibility, and functionality.
The quality of the accessories will determine how long they last and how well they perform. Compatibility is also crucial, as not all accessories are designed to fit every Kamado Joe grill model. Additionally, functionality is a key consideration, as you want accessories that will add value to your grilling experience.
In addition, be sure to consider storage as your grilling accessories can take up a considerable amount of space! Of course, you can do what we do and store many of your accessories in our old gas grill that never gets used!
You might also like…
12 of the Best Kamado Joe Recipes
Coffee-Rubbed Tri-Tip with Bourbon Mushroom Sauce
I've spent a lot of time grilling on my Kamado Joe, and over the years I've discovered some accessories that make the experience even better. Whether you're new to Kamado Joe or a seasoned pro, these are the must-have accessories that will take your grilling game to the next level. So without further ado, here are the best Kamado Joe accessories on the market.
Best Accessories for the Kamado Joe Grill
Elevate your grilling to Grill Master level with these accessories for the Kamado Joe!
While this might not be a pretty or fun accessory it really does make using the Kamado Joe much easier especially if your Kamado Joe didn't come with an ash basket. Simply lift out the charcoal basket to clean your firebox! Be sure to get the one that fits your Kamado Joe!
Be sure to get the Kamado Joe accessory that fits your particular Kamado Joe size!
Want to make smash burgers, pancakes and more on your Kamado Joe? We love this cast iron griddle for making smash burgers and pancakes on the Kamado Joe!
Again be sure to get the size that fits your Kamado Joe!
This is one of my all-time favorite accessories! We love making smoked chicken wings, as well as our Thanksgiving Turkey, on the Kamado JoeTisserrie!
My husband likes to tell people he's the Master Griller and I'm the Master Smoker! I love doing long slow cooks like pulled pork, ribs, my Over the Top Chili and my families favorite Smoked Meatloaf!
To get the best smoke flavor and get the smoke really rolling, I use the Kamado Joe SloRoller!
Heat deflector plates are essential for creating a more even heat distribution within your Kamado Joe! We use these for almost all of our indirect cooks.
I love how they are half moons so you can use one to cook both indirect and direct at the same time.
While I have the Kamado Big Joe III, I also have a large family and love hosting! This rib rack ensures I can cook enough racks of ribs for the whole family and all of my guests at the same time!
I always wanted a stone pizza oven in my backyard and now I have one! Just add the Kamado Joe DoJoe Pizza Oven accessory and turn your Kamado Joe into a pizza oven! Wood fired pizza anytime without having to leave home!
Cast Iron grill grates was the first upgrade accessory we purchased for our grill. In fact, I don't think we've ever used the stainless still grill racks that came with our Kamado Joe!
A while back my mother-in-law asked me to do pulled pork for my father-in-laws retirement party. I asked how many people and she figured around 100. This grill expander allowed me to easily smoke enough large pork butts at one time!
It's also great if you're grilling meats and veggies or want to get a little more distance between your fire and food.
While this particular grilling accessory isn't just for the Kamado Joe, I do believe it's a must have! From veggies to shrimp, I love being able to toss my ingredients in and keep them together without falling through the grates!
There are a lot of different Smoker Controllers available but I recommend and use the Flame Boss! It was a gift from my husband for Christmas one year and I promise you he does extensive research when he makes a purchase like this!
I love that it maintains a nice steady temperature for long cooks such as ribs, pulled pork, chili and my smoked meatloaf. With wifi capability it also notifies me if it's out of range and when the meat is done!
I have done many over-night cooks with my FlameBoss! Be sure to read my full review on the Flame Boss as well!
Whether you're a novice home griller or a Master griller looking for something new to try, these Kamado Joe accessories will elevate your grilling to the next level and offer you a variety of new grilling and smoking opportunities! Enjoy!