It's that time of year when turkeys grace dinner tables across the country. Whether you make a turkey for Thanksgiving or Christmas or both, I wanted to share a delicious smoked turkey on the Kamado Joe. I've been using this method for several years now, and it's always been a hit with friends and family. I've tweaked the recipes I use to add more flavor and depth and instead of using the oven I use my Kamado Joe to make a smoked turkey!
This page contains affiliate links. If you choose to purchase after clicking a link, I may receive a commission at no extra cost to you. For more information please read my full affiliate disclosure.
Too busy to make this right now? Pin for later to your favorite Pinterest Board!
The Spa
The first step in my favorite smoked turkey recipe is making sure he has a fantastic day at the Spa. Now you're probably wondering why I let my turkey lounge in a spa for a day but this makes him so much more juicy and flavorful – it's a step you simply cannot skip!
Okay, so I don't actually take the turkey for a spa day, but I do like to brine my turkey. You'll need to have a food-grade brine bucket. I use this one here.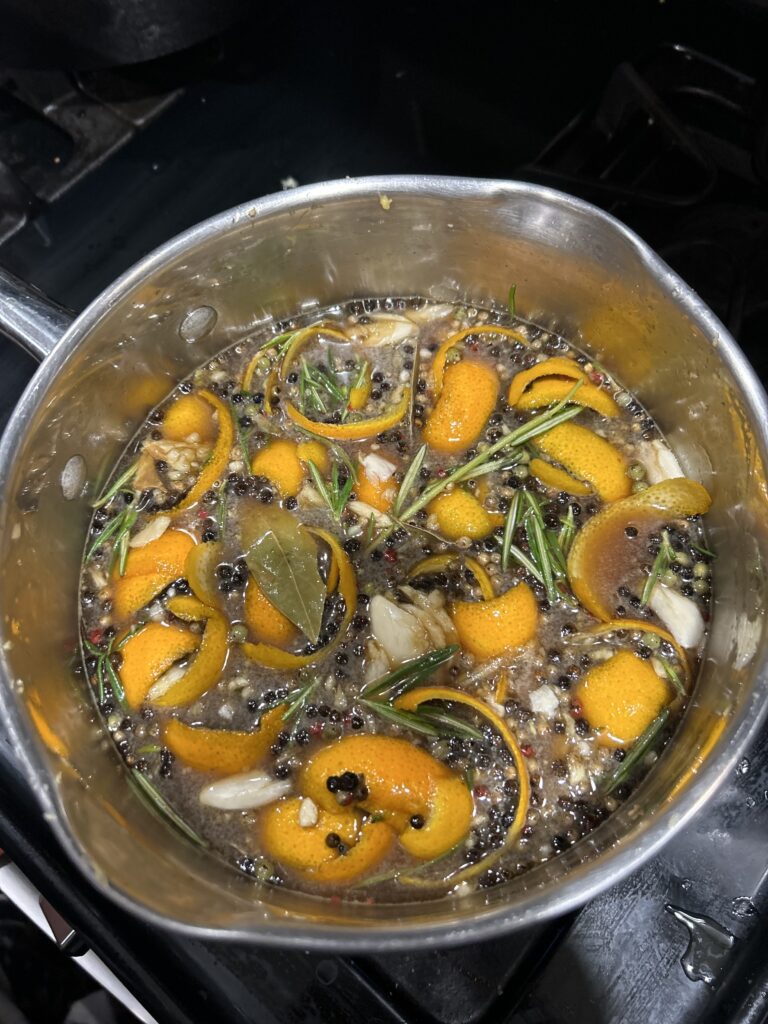 My favorite brine recipe is the Pioneer Women's – My Favorite Brine Recipe. I use the recipe exactly as she has it although after making this for so many years I mostly eyeball the amounts. The turkey will need to be brined for about 24 hours, so be sure you take your turkey is thawed in time for the brining.
The bucket, brine, and turkey are pretty heavy and need to be kept in the fridge! One memorable Thanksgiving, I had mine in my extra fridge in the laundry room. I woke up and noticed someone had left the door open and the fridge was not cool! I grabbed the turkey bucket and threw it on the front porch as it was about 6 degrees below 0 out there while the fridge came back down to temperature.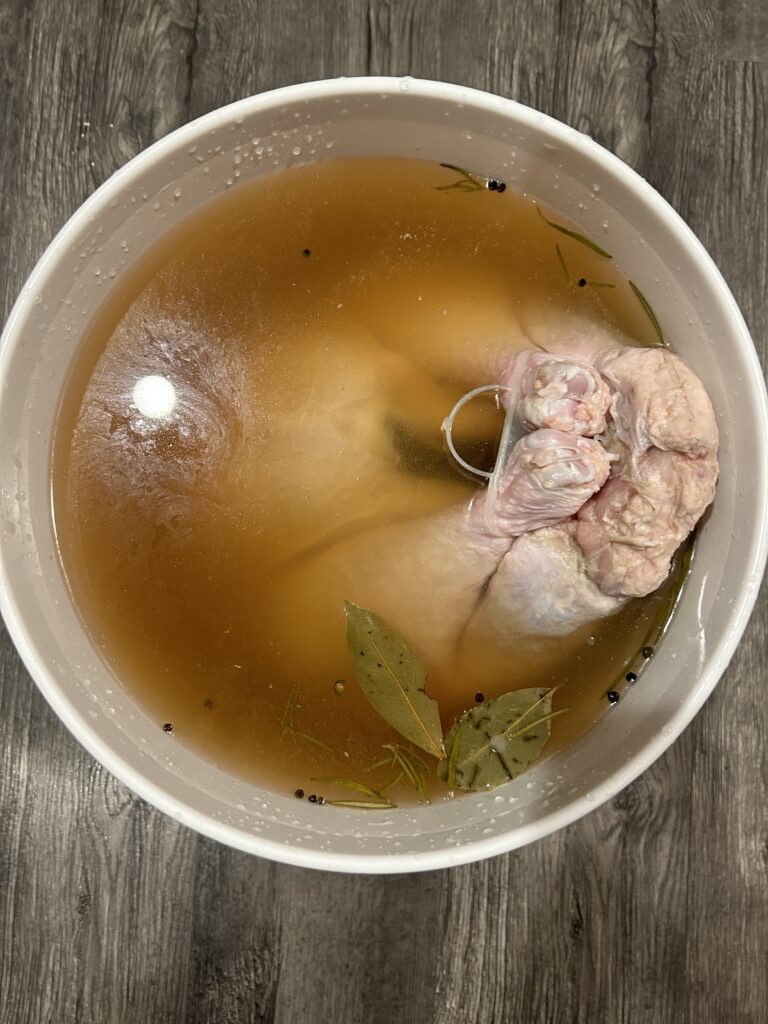 My two and half-year-old twins were happily playing in the living room and I went to do some laundry. I came back a few minutes later and found those twin devils playing in my brine in the living room! They had somehow managed to drag that bucket over the door ledge, through the foyer, and into the living room! Since I was home alone, it was one of those times when you aren't quite sure what to clean first – the kids or the house! I settled on throwing the bucket back outside, the twins in the tub, and dealing with the floor after the kids!
How to Make Smoked Turkey on the Kamado Joe
There are different methods of cooking a turkey and I think I've used this brine to make them all – oven-roasted, roaster, and grilled or smoked. If you want to oven-roast your turkey head back over to the Pioneer Woman's Roasted Turkey Recipe. When roasting my turkey, I have a few variations compared to the Pioneer Woman, however, instead of stuffing my turkey, I prefer to fill the cavity with slices of orange, onion, and a few additional sprigs of rosemary. This adds extra flavor to the meat from the inside of the bird. Don't go overboard on the orange, as you don't want orange-flavored gravy.
Cooking Stage One
I follow the recipe from the Pioneer Woman just like I would be roasting it in the oven except I fill the cavity with slices of orange, onion, and a few rosemary sprigs. Make sure you calculate the time it will take for the first stage as well as the second stage of cooking based on the size of your turkey. To smoke a turkey on the grill, set your Kamado Joe up for indirect cooking by placing the heat deflects below your grill racks and set it to the temperature for the first stage of cooking. You will increase the heat later.
During the first stage, the turkey is placed in a roasting pan with a rack and covered tightly with tin foil. For grilling purposes, I use a large foil pan from the grocery store as it makes cleanup a breeze.
Cooking Stage Two – The Massage
The Pioneer Woman's turkey recipe calls for massaging your turkey! So after spending a day in an Orange Rosemary spa, he's in for a real treat with an Orange Rosemary Butter massage! Again don't skip this step; it's critical to not only a lovely brown smoked turkey but crispy tasty skin! It's essential I tell ya!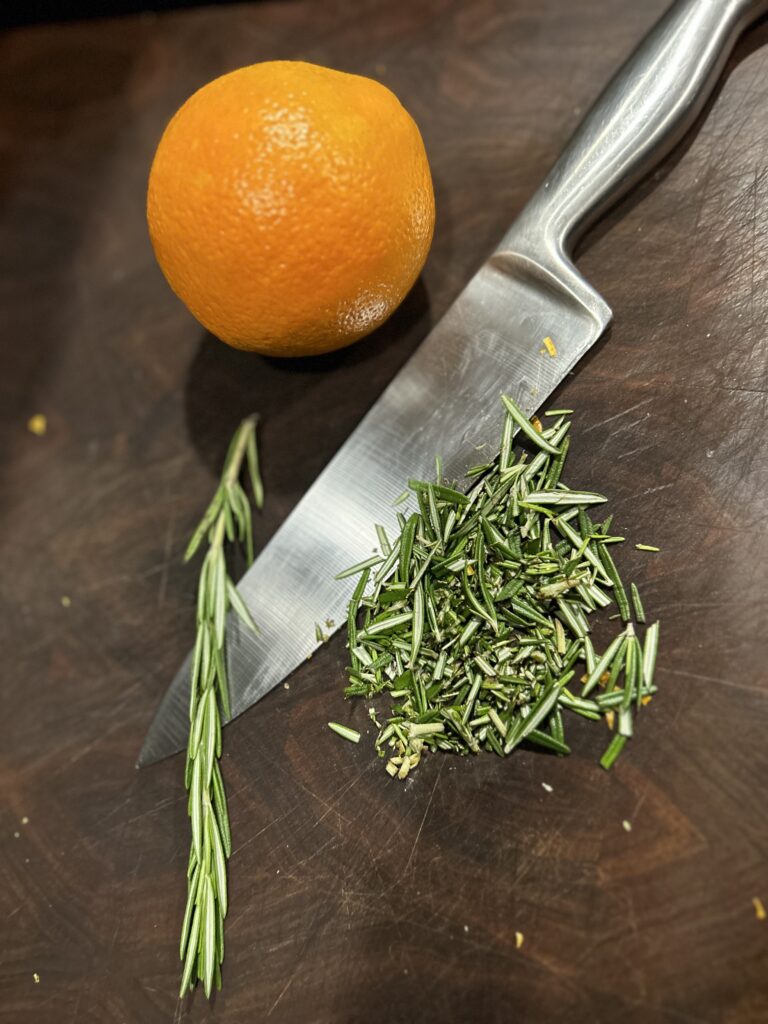 Oh and by this time you can probably grab that first glass of wine as you settle into making your favorite sides!
This time when you put your turkey back on the grill after massaging him lovingly with the orange rosemary compound butter, you won't cover him. This gives your smoked turkey a gorgeous brown color.
This is the last stage of making a delectable smoked turkey so make sure your sides are coming along nicely! Check out my Top 12 Thanksgiving Side Dishes and this Smoked Stuffing recipe, if you need some inspiration, they all pair perfectly with this smoked turkey recipe!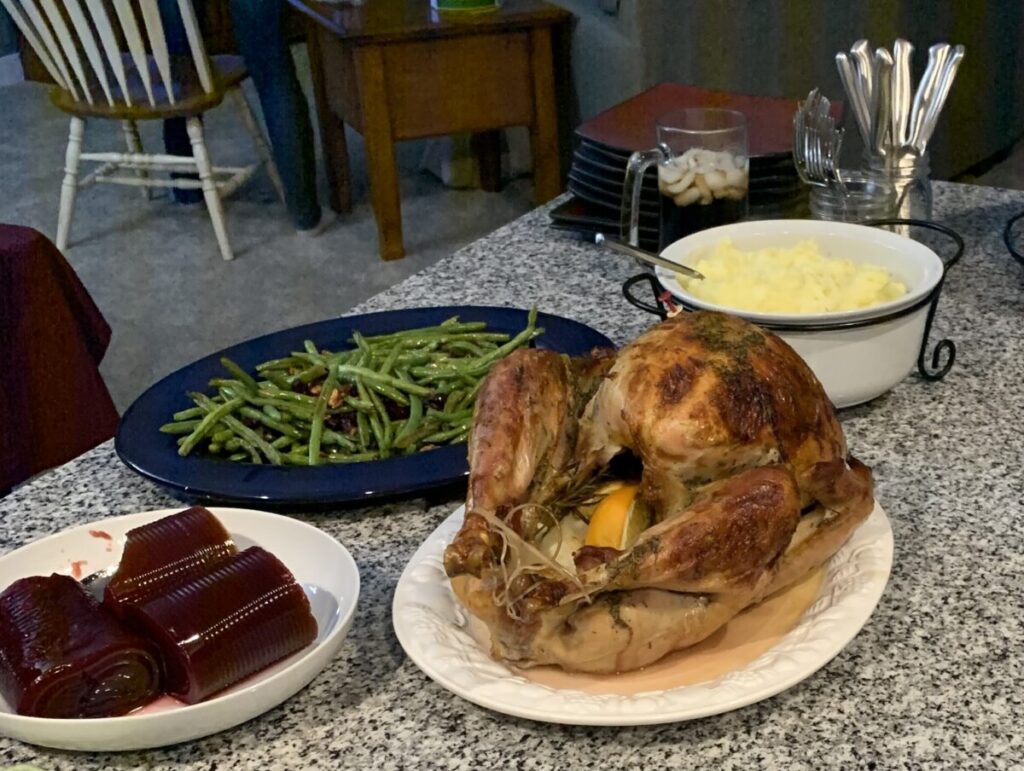 Whether you make your turkey in the oven or make a Kamado Joe smoked turkey, like I do, this recipe is absolutely perfect for all your holiday feasts! Enjoy and Happy Holidays!