Make your mornings a breeze with these quick and easy Dash Egg Cooker recipes! From omelets to poached eggs, this guide has got you covered.
I got my dash egg cooker as a Christmas gift from a good friend when I got my camper. She knows me well and knows how much I hate making breakfast but also firmly believes that breakfast is the most important meal of the day! With 4 kids that get up between 5 am and 8 am, making breakfast is not my favorite thing to do!
This page contains affiliate links. If you choose to purchase after clicking a link, I may receive a commission at no extra cost to you. For more information please read my full affiliate disclosure.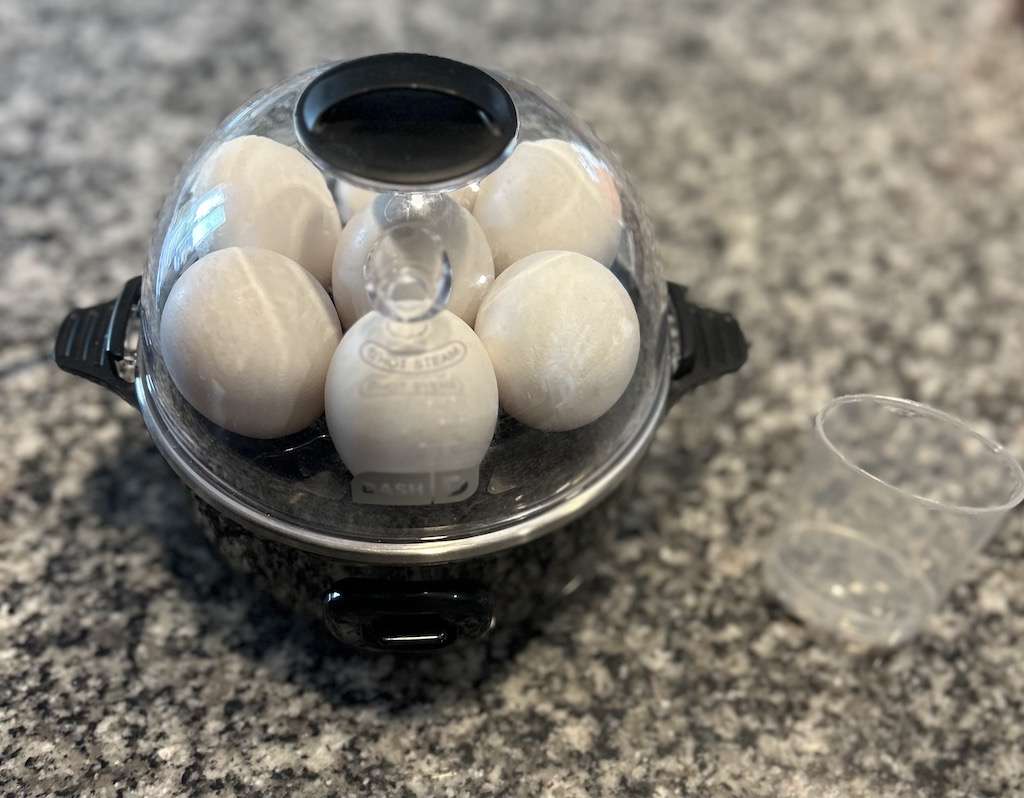 The little boys wake-up first and want to eat immediately while the teenagers like to sleep in, of course! This little kitchen appliance has made my mornings so much simpler!
It takes minutes to make custom eggs for each kiddo because you know nobody likes their eggs the same way! Clean up is a breeze, and it's tiny, so it fits easily in my cabinet at home as well as in my camper!
However, if your more of a traditional egg kind of person head over to my post on 100 ways to cook an egg for some delicious ideas and recipes!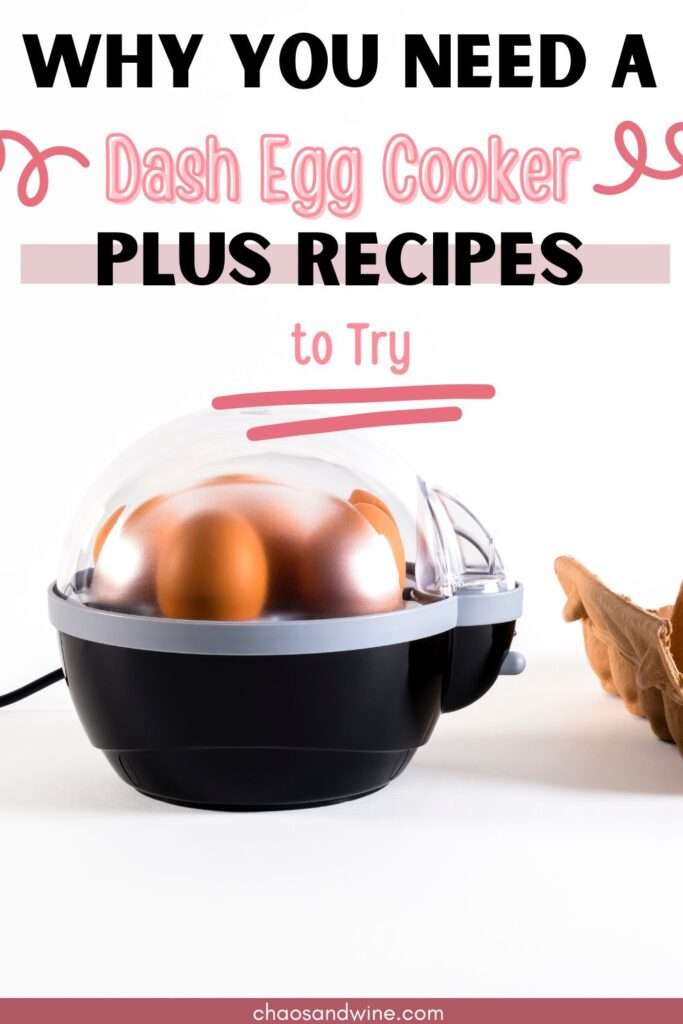 Too busy to make this right now? Pin for later to your favorite Pinterest Board!
Who needs a Dash Egg Cooker?
I've already mentioned how much I love my dash egg cooker as a busy mom and I have found so many great uses for it! If you're a busy mom, I can't tell you how much this little egg cooker has made my mornings easier!
If you love camping, you'll love having this mini egg cooker as it's small enough to tuck away in your camping gear. It does require electricity so if you won't have access to electricity it won't work, but it's great if you have a camper like we do or if you are tent camping and have electrical access.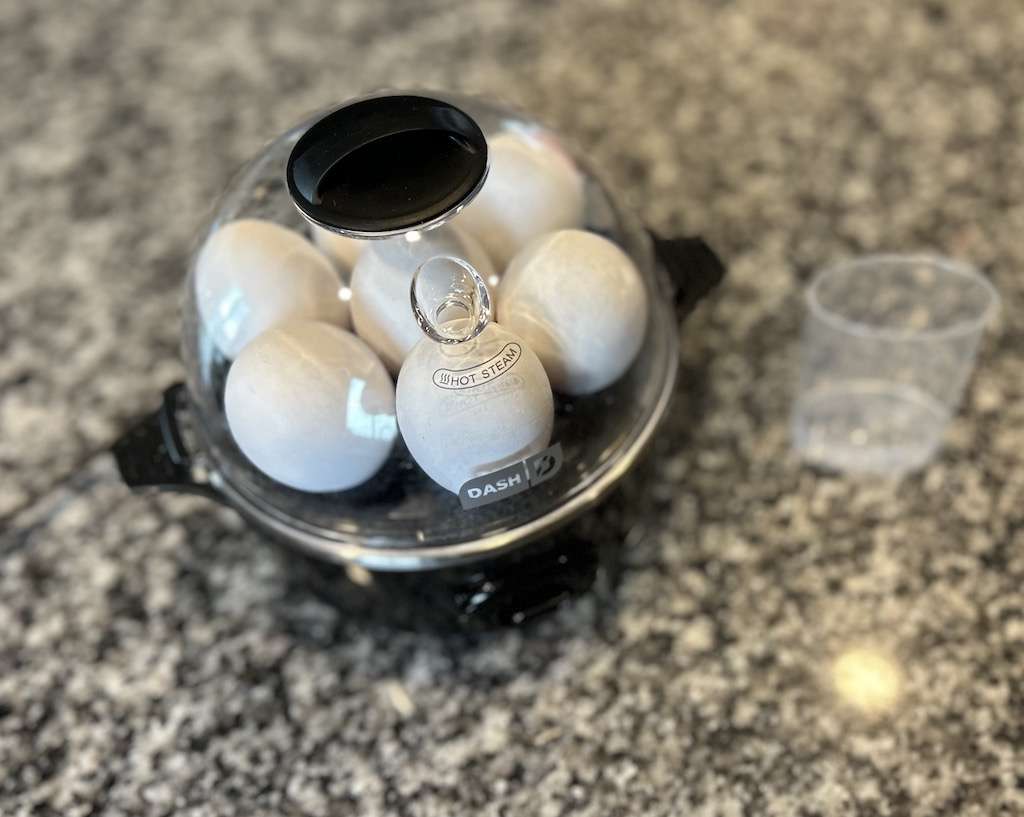 If you work in an office, and they allow small kitchen appliances in the break room, I'd highly recommend adding one! Many offices have a small toaster oven, so you easily make toast and eggs for your morning snack!
A dash egg cooker would also make a great dorm room cooking option, if allowed! Small, convenient and so versatile!
You can grab a Dash Egg Cooker on Amazon! Did I mention they come in a variety of colors too?
Dash Egg Cooker Recipes
Check out these delicious recipes for omelets, poached eggs, and more to start your day off right.
Classic Omelet Recipe
Start your morning off right with this classic omelet recipe made in the Dash Egg Cooker. Simply whisk together two eggs and your favorite fillings, such as cheese, ham, and vegetables. Pour the mixture into the egg cooker and let it cook for just a few minutes. In no time, you'll have a delicious and nutritious breakfast that will keep you fueled for the day ahead.
Perfectly Poached Eggs
Poached eggs are a healthy and delicious breakfast option, but they can be tricky to make. With the Dash Egg Cooker, however, it's a breeze. Simply fill the water to the designated line, crack an egg into the poaching tray, and let it cook for a few minutes. The result is a perfectly poached egg that pairs well with toast, avocado, or your favorite breakfast side.
Scrambled Eggs with Cheese and Spinach
Looking for a quick and easy breakfast that's also packed with protein and nutrients? Try making scrambled eggs with cheese and spinach in your Dash Egg Cooker. Simply whisk together 2–3 eggs, a few chopped spinach leaves, and a sprinkle of shredded cheese. Pour the mixture into the egg cooker and let it cook for a few minutes. The result is a delicious and healthy breakfast that will keep you full and energized all morning long.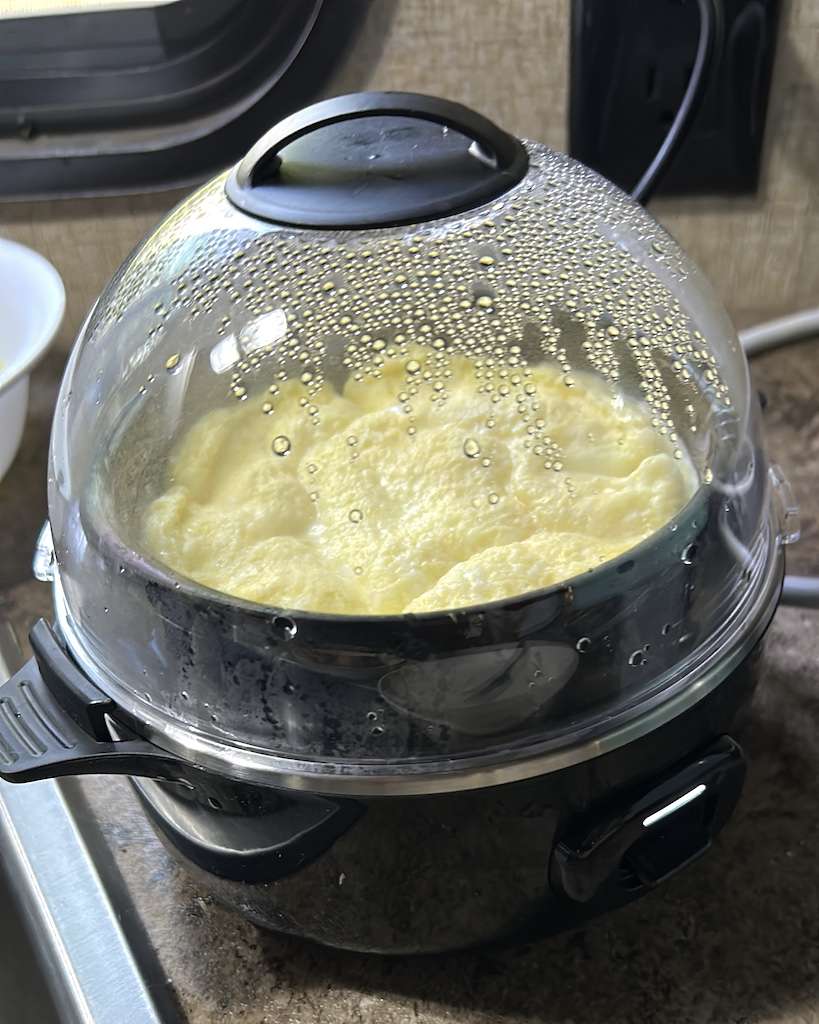 Hard-Boiled Eggs for Meal Prep
Hard-boiled eggs are a great addition to any meal prep routine. They can be eaten on their own as a snack, added to salads for extra protein, or used to make egg salad sandwiches. To make hard-boiled eggs in your Dash Egg Cooker, simply fill the water to the designated line, place the eggs in the tray, and turn on the cooker. In just a few minutes, you'll have perfectly cooked hard-boiled eggs ready to go for the week.
I'm very tempted by the double-decker egg cooker, so I can make a dozen hard-boiled eggs at once!
It also makes the perfect hard-boiled eggs for Deviled Eggs like these fun and delicious deviled egg recipes!
Egg and Veggie Breakfast Sandwich
Start your day off right with this delicious and nutritious egg and veggie breakfast sandwich made with your Dash Egg Cooker. Simply cook an egg in the cooker and toast a whole wheat English muffin. Top the egg with sliced avocado, tomato, and spinach for a filling and healthy breakfast that will keep you energized all morning. Add a sprinkle of salt and pepper to taste and enjoy!
Individual Egg White Frittatas
Personalized egg white frittatas are a breeze in the Dash Egg Cooker! Simply whisk two egg whites together in a small bowl and pour into the Omelette bowl. Add your frittata toppings such as cheese, chopped spinach and/or tomatoes, and season with salt and pepper!
Steamed Vegetables
The Dash Egg Cooker isn't just for eggs either. Feel free to add your chopped vegetables to the Omelette bowl and make the perfect healthy side dish for lunch or dinner!
Tips for Using your Dash Egg Cooker
There are a few things to keep in mind when using your Dash Egg Cooker.
Don't add too many eggs and toppings! I usually do 2 eggs and just a tablespoon of 1–2 toppings for each omlette.
Be sure your eggs are cooked to your preference! We don't like our eggs runny, so we tend to add a bit more water than it calls for when we make scrambled eggs.
Exercise caution when removing the cover! The steam is hot! I usually let it rest a few minutes before opening so some of the steam can dissipate.
Be creative! It's a mini-steamer, so don't hesitate to make steamed veggies for change or try something new!
Final Thoughts on the Dash Egg Cooker
I highly recommend the Dash Egg cooker! This device has revolutionized my busy mornings and has allowed me to prepare delicious and personalized breakfasts effortlessly. It saves me from the annoyance of a pile of dishware to clean, and it helps me maintain a healthy lifestyle. It's versatile and a great addition to my home kitchen and my camper kitchen!