There's nothing really devilish about deviled eggs, but they certainly are delicious! Here are a few deviled egg recipes to try at your next party!
A creamy egg yolk filling stuffed into a hard-boiled egg white shell, deviled eggs make the perfect side dish for Easter, barbecues, and picnics!
This page contains affiliate links. If you choose to purchase after clicking a link, I may receive a commission at no extra cost to you. For more information please read my full affiliate disclosure.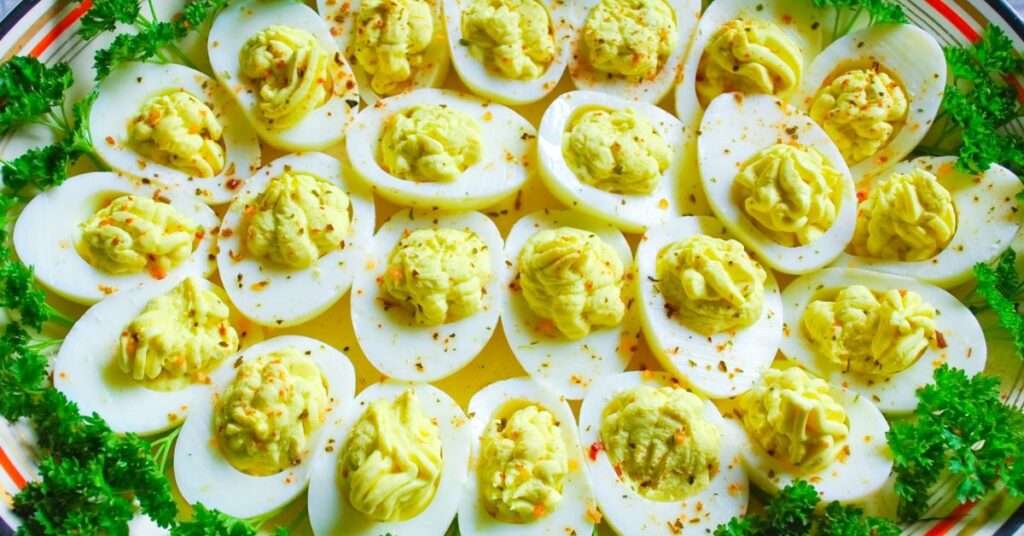 What are Deviled Eggs?
Deviled eggs are hard-boiled eggs, cut in half with their yolks removed. The yolks are mixed with a variety of ingredients, including mayonnaise, mustard, Miracle Whip, salt, pepper, and/or other seasonings. The yolk mixture is then spooned or piped back into the hollow hard-boiled egg yolk! These cream bite-sized treats are a staple at picnics and gatherings and are popular in many cultures. Using a piping bag to fill the eggs makes them look beautiful and fancy for any occasion.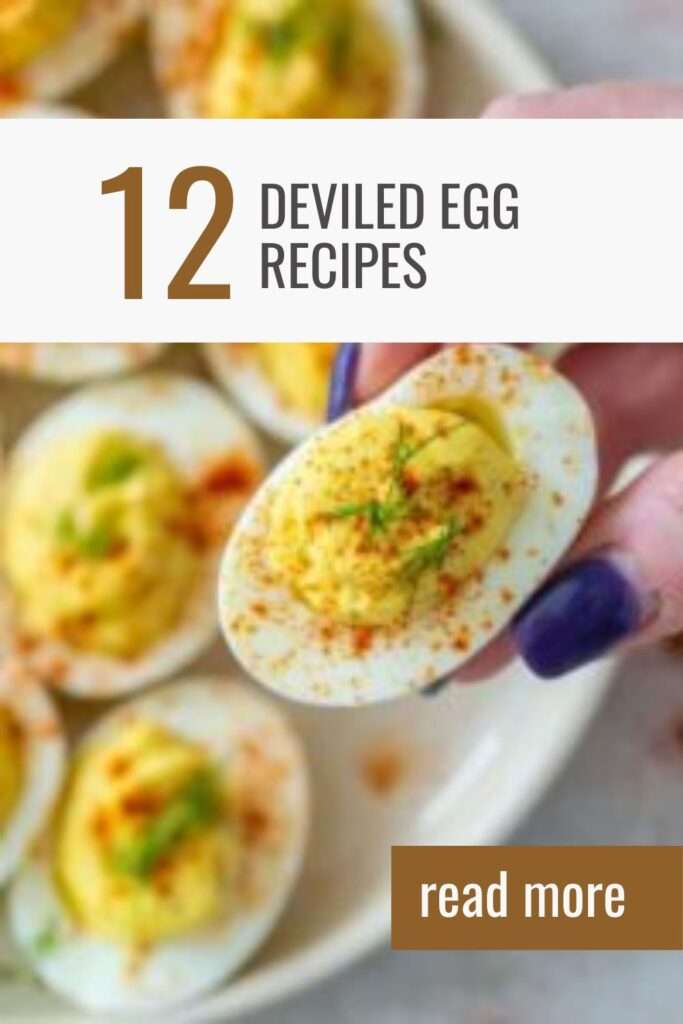 Too busy to make this right now? Pin for later to your favorite Pinterest Board!
But why are they called deviled eggs? While the origin of the name deviled eggs is unclear, it is believed to have derived from the process of deviling food, an expression once used to describe the process of adding various ingredients, such as mustard, pepper, and vinegar, to food to make it spicy or hot, similar to how food is said to have been "deviled" in the 18th and 19th centuries.
To serve deviled eggs, arrange them on a lettuce-lined plate or grab a deviled egg tray too! Garnish with olives, herbs, and parsley!
Try some of these fun and delicious twists on an old classic recipe at your next party or potluck!
You're sure to find a delicious deviled egg recipe from this collection!
FAQ's
How to hard-boil eggs?
To hard-boil eggs on the stove, simply place your eggs in a single layer in the bottom of a saucepan. Add enough water to cover the eggs by about 1 inch. Add a pinch of baking soda to make them easier to peel. Place the saucepan over high heat and bring it to a boil. Once the water is boiling, cover and remove from the heat. Let the eggs sit for 9–12 minutes and then remove the eggs to a cold water bath for a few minutes. To peel, gently tap the egg on a hard surface and remove the peel.
Personally, I love using my Dash Egg Cooker to make hard-boiled eggs!
How to hard-boil eggs in an air fryer?
To hard-boil eggs in an air fryer, place your eggs in a single layer in the air fryer basket. Set your air fryer to 400° F and the timer for 12 minutes. Once the timer goes off, transfer the eggs to a cold water bath for a few minutes. Peel gently by tapping the egg on a hard surface and gently removing the peel.
Can I make deviled eggs ahead of time?
Yes, if you have a party or potluck coming up you can make them ahead of time and store them in the fridge until ready to serve.
For more party inspiration check out these amazing 3 ingredient or less dips or this Spring Trail Mix!