The holiday season is upon us, and we're surrounded by the traditional Christmas flavors, sights and sounds. Here's a brief overview of some of the more traditional Christmas flavors and how you can incorporate them into your holiday celebrations and meals!
This page contains affiliate links. If you choose to purchase after clicking a link, I may receive a commission at no extra cost to you. For more information please read my full affiliate disclosure.
We have a lot of Christmas traditions in our house such as the Elf on the Shelf but there are certain flavors that I just associated with Christmas as well. I love to incorporate these into not only our holiday meal but throughout the Christmas season! It really makes the season not only feel like Christmas but taste like Christmas too!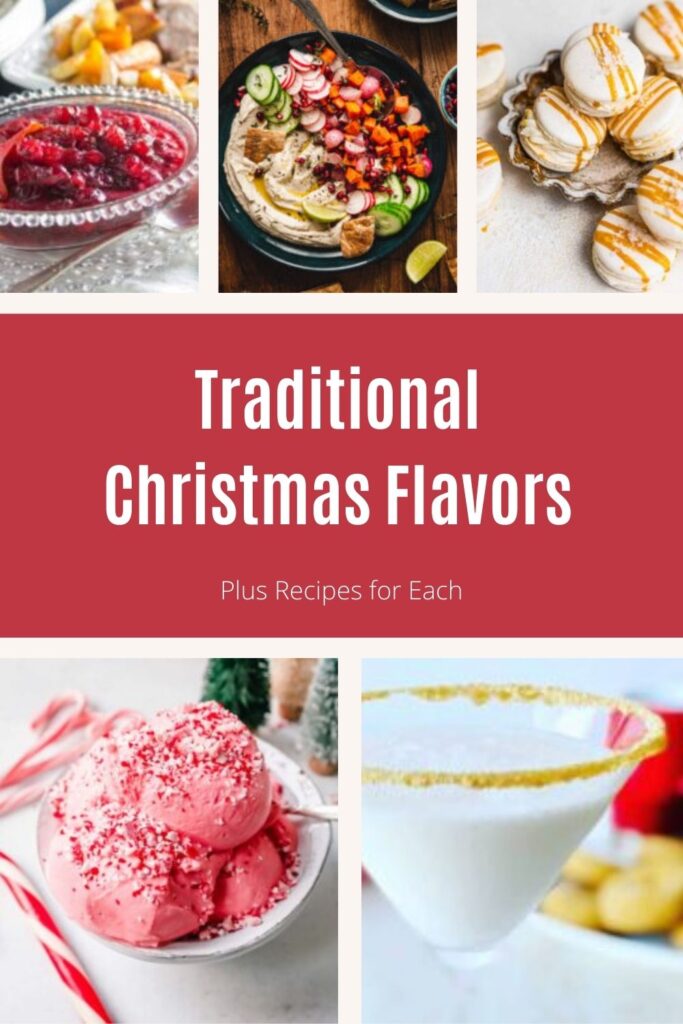 Too busy to make this right now? Pin for later to your favorite Pinterest Board!
Traditional Christmas Flavors FAQs
Are these trendy Christmas flavors suitable for both sweet and savory dishes?
Yes, the traditional Christmas flavors mentioned here can be incorporated into a variety of dishes, both sweet and savory. For example, salted caramel works well in beverages, desserts, and even savory dishes like salted caramel-glazed roasted meats. Cardamom adds an aromatic touch to both baked goods and savory dishes like stews or curries. Feel free to experiment and unleash your culinary creativity.
Can these flavors accommodate dietary restrictions?
Absolutely! Many of these traditional Christmas flavors can be adapted to accommodate various dietary restrictions. For instance, gluten-free and vegan versions of salted caramel desserts are readily available. Additionally, alternatives like almond or coconut milk can be used to create dairy-free versions of recipes that call for eggnog. With a little research and experimentation, you can enjoy these flavors while adhering to your dietary needs. You can find a wide variety of gluten-free, allergy-free and vegan recipes for cookies incorporating many of these traditional Christmas flavors here!
How can I incorporate these flavors into my Christmas festivities?
There are countless ways to incorporate these flavors into your Christmas celebrations. Consider baking festive treats like salted caramel gingerbread cookies. Host a tasting session featuring cardamom-spiced beverages, chestnut-inspired hors d'oeuvres, or cranberry and orange cocktails. Get creative with your holiday menu planning and explore new flavor combinations that reflect the spirit of the season. I've linked a variety of recipes with each traditional Christmas flavor as well!
Conclusion
Traditional Christmas flavors have evolved over the years. These flavors offer a unique take on classic holiday dishes, while adding a touch of elegance to familiar favorites. Salted caramel and eggnog create an irresistible combination, while cardamom adds a comforting spiciness and chestnut brings a luxurious taste. Together, they bring a fresh and exciting element to your festive feast.
Embrace the timeless appeal of these decadent flavors and elevate your holiday dining experience to a whole new level. Don't forget to incorporate the zesty combination of orange and cranberry for a citrusy pop. With these traditional Christmas flavors in your culinary arsenal, your Christmas festivities are bound to be a sensational treat for all your senses. Embrace the spirit of the season and savor every delicious moment.