Looking for a refreshing and alcohol-free drink to cool down this summer? Look no further than this delicious strawberry mojito mocktail recipe. With the perfect combination of sweet strawberries and refreshing mint, it's certain to be a hit at your next gathering or simply enjoyed on a hot day.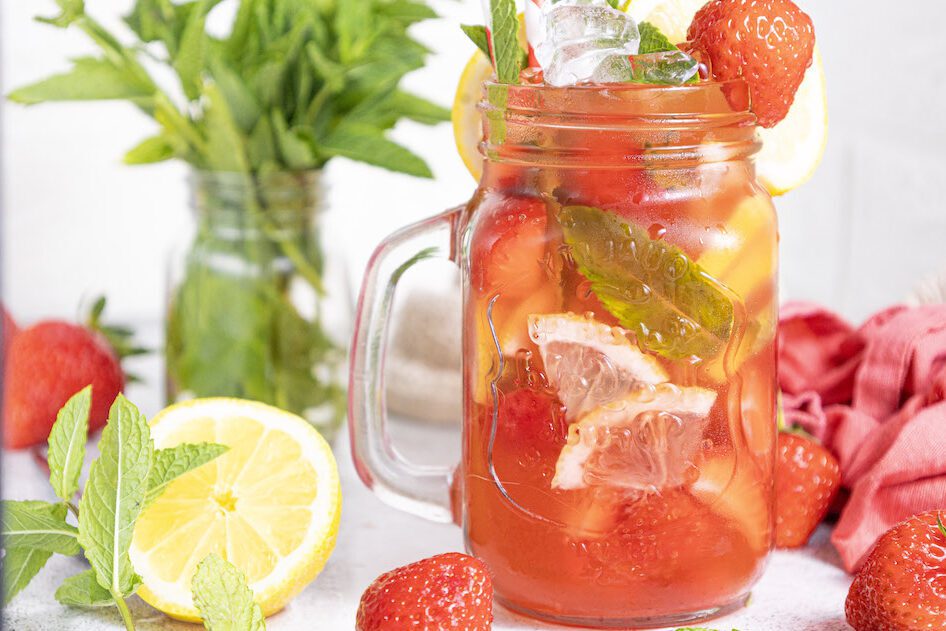 This page contains affiliate links. If you choose to purchase after clicking a link, I may receive a commission at no extra cost to you. For more information please read my full affiliate disclosure.
While I love my evening glass of wine or sipping this delicious strawberry limoncello lemonade, while fixing dinner for the family, I also enjoy a fun mocktail on a scorching summer day, especially if I've been working in the yard or out and about with the kids. This non-alcoholic strawberry mojito brings all the flavors of summer into a glass and is perfect for cooling down on those hot days! It's quick to make and relaxing to sip on while watching the kids play in the sprinkler or hose too!
This recipe is also a great way to use up fresh strawberries from the garden or if you've just been out to a pick-your-own strawberry farm! With fresh mint, it's also a good way to use up some of that extra mint you might have from the garden as well!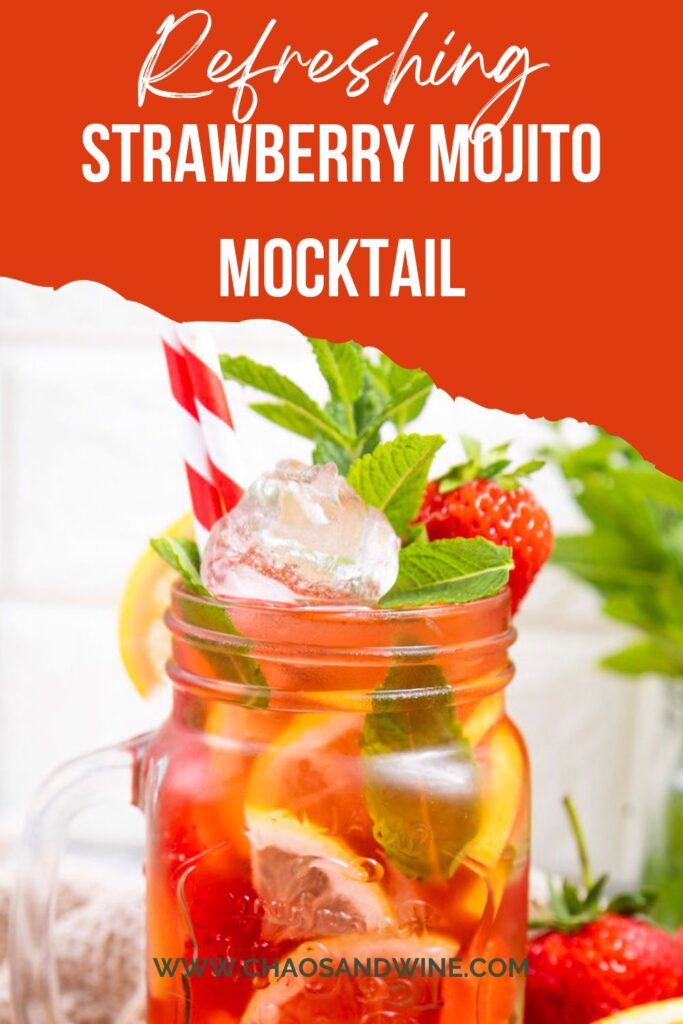 Too busy to make this right now? Pin for later to your favorite Pinterest Board!
Traditional Mojito vs Mojito Mocktails
A traditional mojitos and a virgin mojito offer distinct experiences for those looking to enjoy a refreshing summer drink. The classic mojito is a cocktail that combines the crispness of fresh mint leaves, the tanginess of lemon or lime juice, the sweetness of sugar, and the distinct kick of rum, all muddled together with ice and topped off with sparkling water. A traditional mojito creates a delightful balance of flavors combined with the kick of the rum.
On the other hand, mojito mocktails are non-alcoholic versions that capture the essence of the original drink minus the rum. The usual ingredients for a nonalcoholic mojito are mint, lime or lemon, sugar, and sparkling water. This combination creates a refreshingly zingy drink that is perfect for those who enjoy a mojito without alcohol.
Whether you opt for the traditional mojito with its spirited character or this strawberry mocktail version with its vibrant and refreshing nature, both options provide a delightful sip to quench your thirst on a sunny day.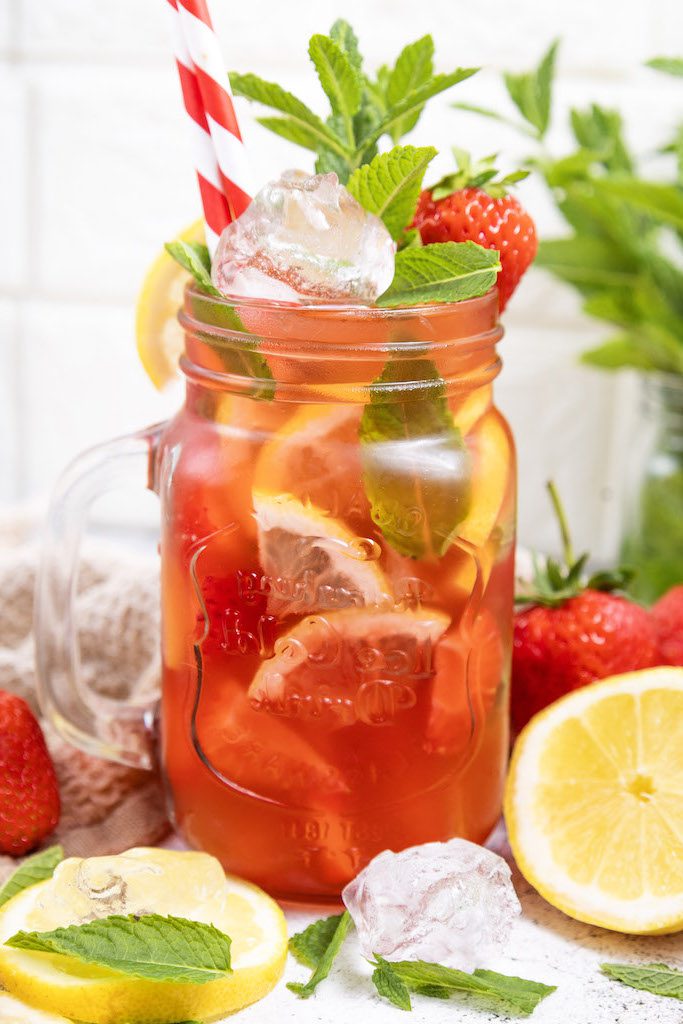 Strawberry Mojito Mocktail Ingredients
There aren't many ingredients in a traditional mojito and the same goes for this Strawberry Mojito Mocktail!
Fresh Strawberries – Fresh strawberries are essential for this recipe!
Lemons – A fresh lemon is the perfect complement to the sweetness of the strawberries. You can substitute a lime if you'd like as well!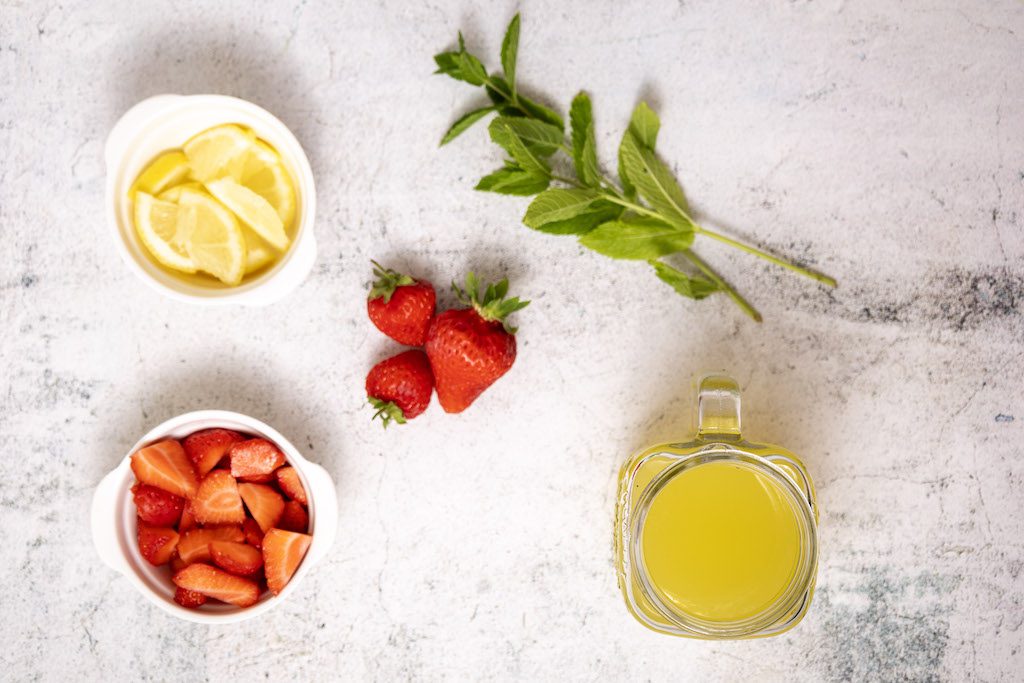 Sparkling Water or Light Colored Soda – If you'd rather not add additional sugar, use sparkling water; however, if you prefer your drink a little sweeter feel free to use Sprite or 7-Up or other light colored soda. If you decide to use sparkling water, you can enhance the natural sweetness of your strawberries by adding a small amount of honey, maple syrup, or sugar.
Fresh Mint Leaves – You will need fresh mint leaves to make a strawberry mojito mocktail. If you don't have them growing in your garden, you can usually find them in the produce section of your local grocery store.
Ice – Ice is optional but a nice addition to keep your strawberry mojito mocktail cold!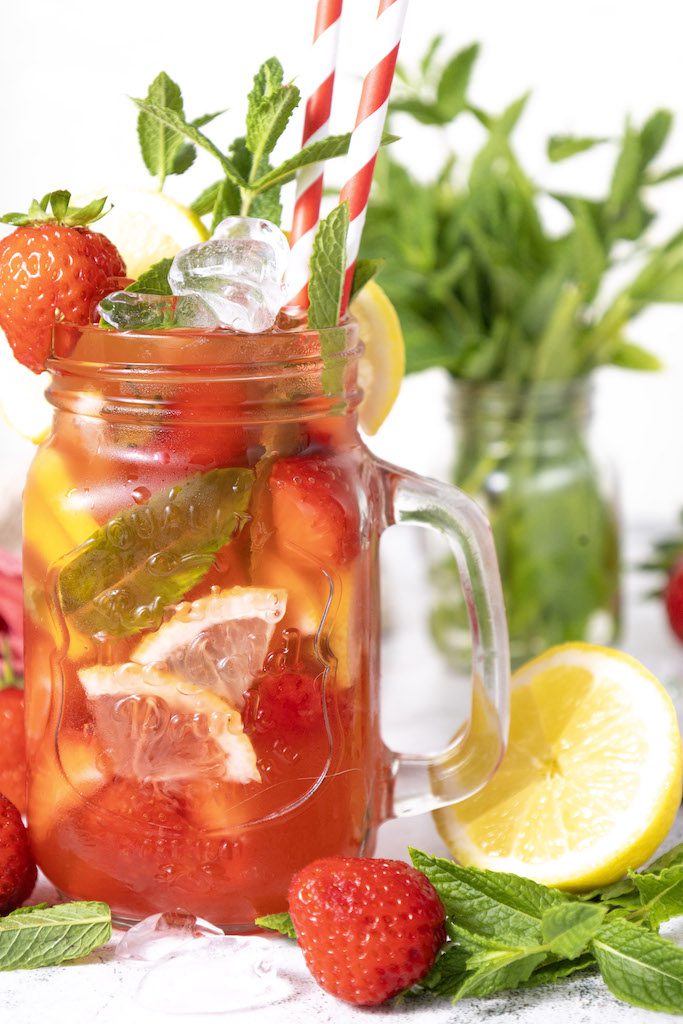 How to Make a Non Alcoholic Strawberry Mojito
This virgin strawberry mojito mocktail recipe is fairly easy and quick to whip up almost anytime! Gather your ingredients and a nice tall glass to start!
Slice your fresh strawberries and lemons.
Add the sliced strawberries, lemon slices and mint leaves to a bowl or tall glass. I like these mason jar glasses!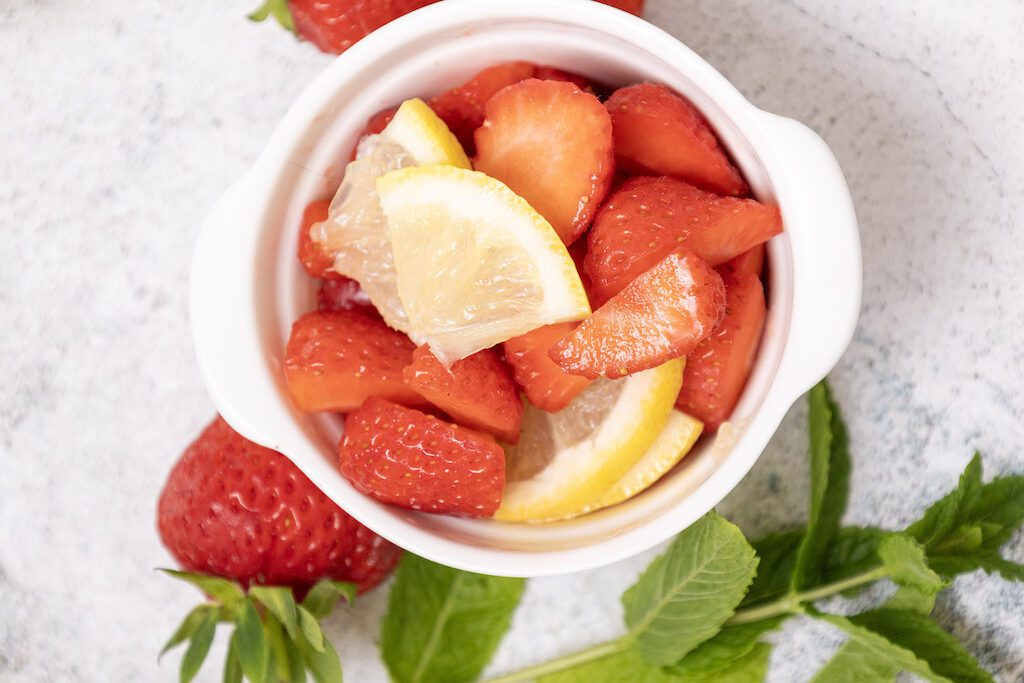 Using a muddle or the back of a wooden spoon lightly crush the strawberries and mint leaves against the side of the glass to release the flavors. This helps release some of the strawberry flavor as well as a bit of fresh lemon juice.
Pour the sparkling water or light colored soda over the muddled fruit and mint leaves and give it a stir!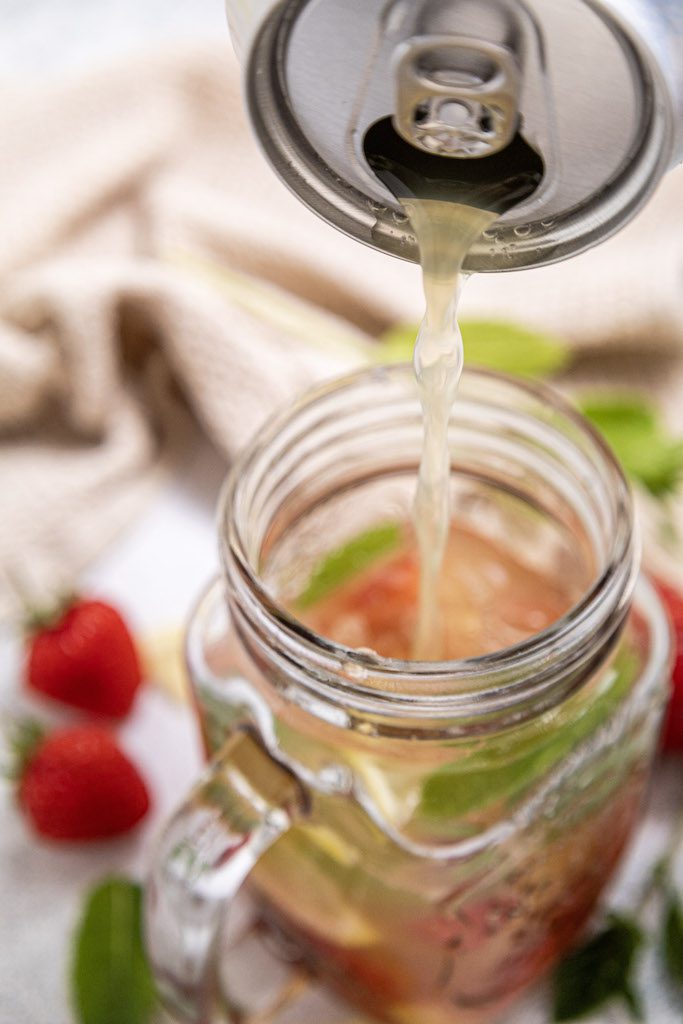 Add the ice and garnish with a fresh strawberry, a slice of lemon and a sprig of mint!
Enjoy!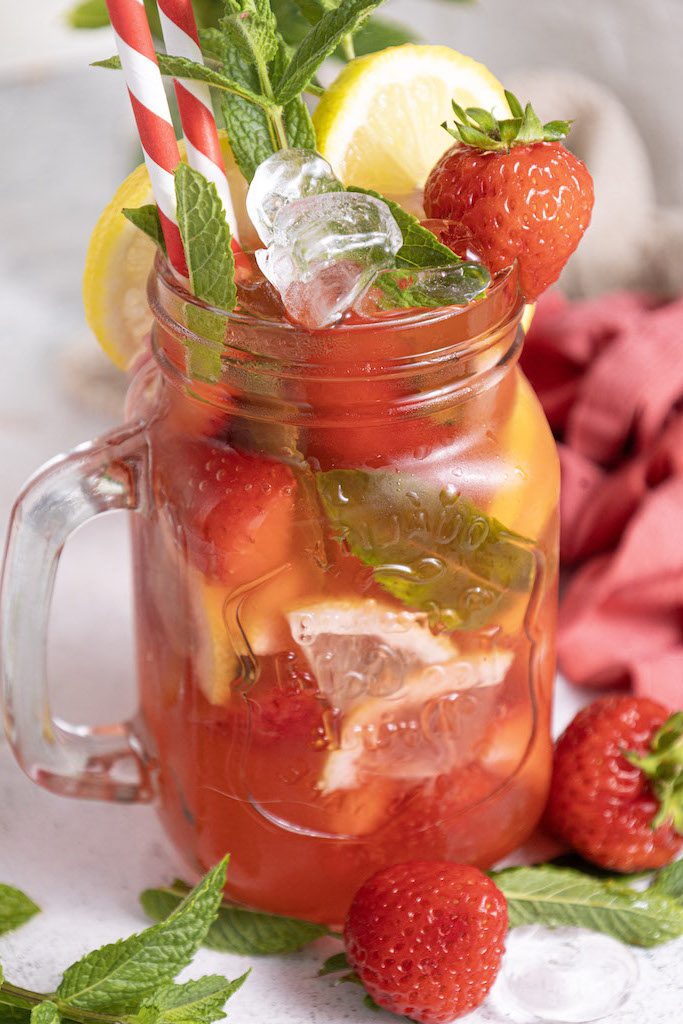 Tips & Variations for Strawberry Mocktail Mojito
Here are a few tips and variations for your easy Strawberry Mojito Mocktail:
Substitute fresh lime slices for the lemons for a delightful twist.
Add some sliced jalapeños and create a slightly spicy Strawberry Jalapeno Mojito Mocktail.
Add a few slices of cucumber to add an extra refreshing flavor!
Try using Ginger Ale instead of the sparkling water or Sprite.
Switch it up and try different fruits like raspberries or blackberries!
Double, triple or quadruple this virgin strawberry mojito and make it in a pitcher if you're serving a crowd. Be sure to add the ice to individual glasses rather than to the pitch to not dilute the flavor.
Yield: 1 Serving
Strawberry Mojito Mocktail Recipe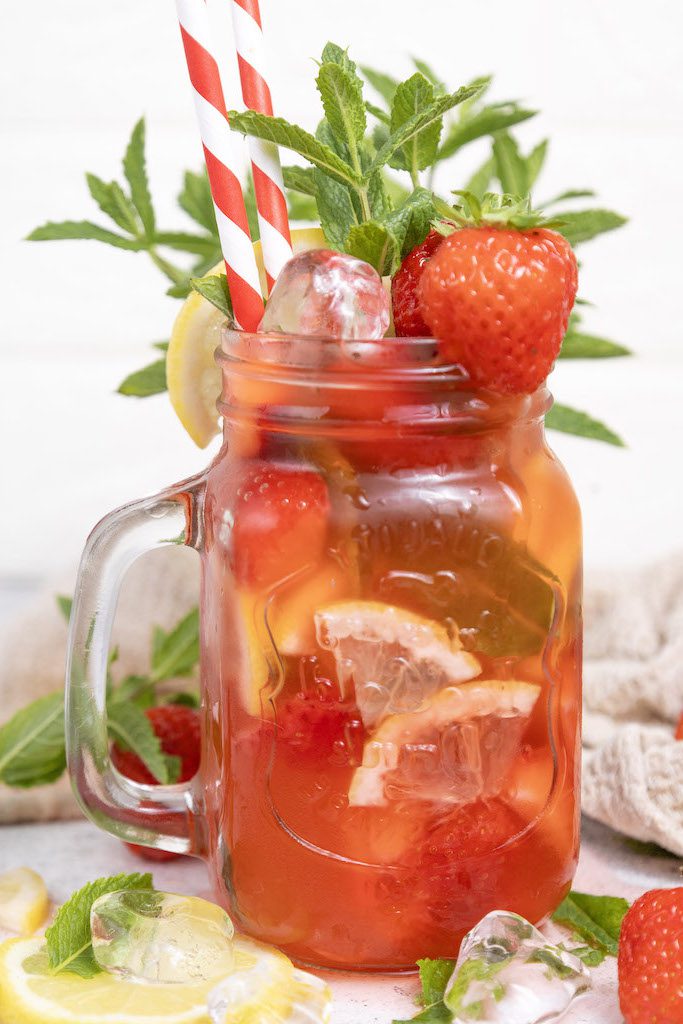 Beat the summer heat with this refreshing strawberry mojito mocktail recipe. It's the perfect blend of sweet strawberries and minty freshness!
Ingredients
3/4 cup sliced fresh strawberries, plus a few whole for garnish
1/2 lemon, sliced
1 can of sparkling water or light colored soda, of choice
5-10 fresh mint leaves
Ice, optional
Instructions
In a tall glass or small bowl, lightly muddle the sliced strawberries, lemon slices and mint leaves with a muddle or back of a wooden spoon. If using a bowl, transfer to a tall serving glass.
Pour the soda or sparkling water over the muddle fruit and mint leaves and stir together.
Add ice and garnish with a whole strawberry, slice of lemon and fresh mint leaves.
Enjoy!
Notes
Substitute the lemon for lime, if desired.
If using sparkling water, you can sweeten your beverage with a touch of honey, maple syrup, or sugar depending on the sweetness of your strawberries.
Double, triple or quadruple this recipe and make it in a pitcher if your serving a crowd. Be sure to add the ice to individual glasses rather than to the pitch so as to not dilute the flavor.
Recommended Products
As an Amazon Associate and member of other affiliate programs, I earn from qualifying purchases.
Nutrition Information:
Yield:
1
Serving Size:
1
Amount Per Serving:
Calories:

259
Total Fat:

2g
Saturated Fat:

0g
Trans Fat:

0g
Unsaturated Fat:

1g
Cholesterol:

0mg
Sodium:

51mg
Carbohydrates:

62g
Fiber:

12g
Sugar:

44g
Protein:

5g
Chaos and Wine occasionally offers nutritional information for recipes contained on this site. This information is provided as a courtesy and is an estimate only. This Nutrition Disclaimer notifies that under no circumstances will Chaos & Wine or its owners be responsible for any loss, damage, or adverse reactions resulting from your reliance on nutritional information given by this site. By using Chaos & Wine and its content, you agree to these terms.
FAQs
Can I Add Rum?
Sure, although it won't be a mocktail anymore! You can add rum to make this a delicious Strawberry Mojito Cocktail instead of a mocktail!
What is the difference between strawberry
daiquiri and mojito?
While both drink recipes contain rum, a mojito contains white rum. A mojito also includes mint giving it a more distinct flavor than the fruity daiquiri.
Conclusion
I hope you loved this virgin strawberry mojito recipe! It's a delightful and refreshing non-alcoholic beverage on a hot summer day!