This perfect Pomegranate Cosmo is a sophisticated, delicious, and refreshing cocktail that is perfect for any occasion. It is made with vodka, orange liqueur, pomegranate juice, and lime juice and then garnished with fresh lime slices!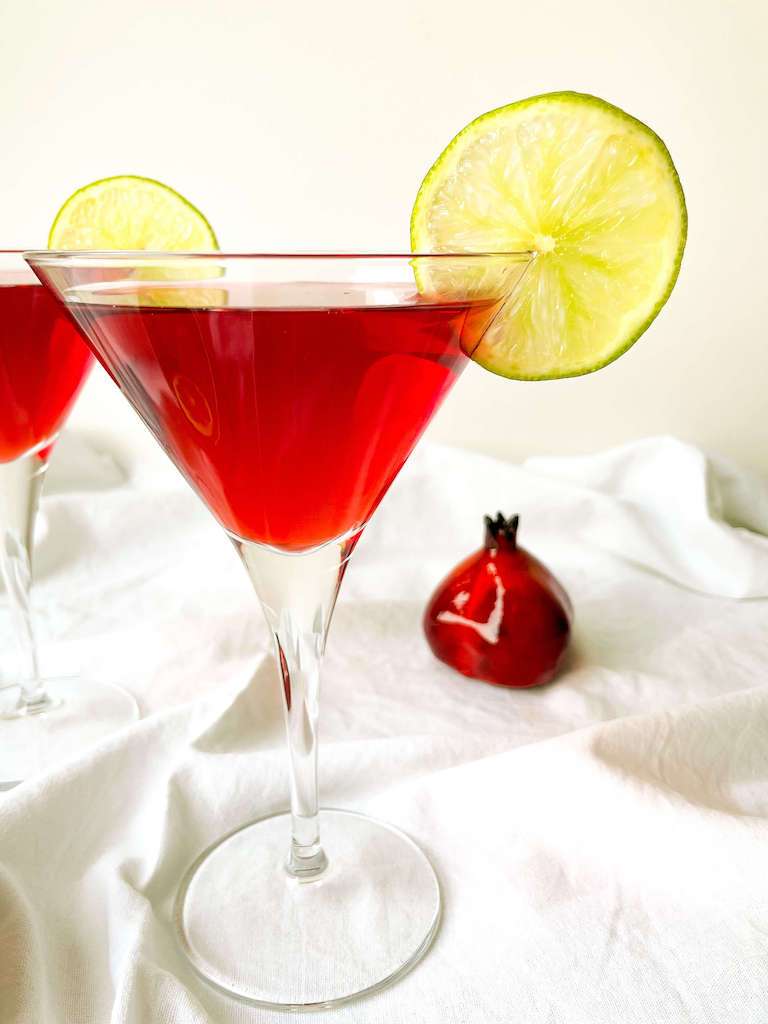 This page contains affiliate links. If you choose to purchase after clicking a link, I may receive a commission at no extra cost to you. For more information please read my full affiliate disclosure.
This pomegranate vodka cocktail is a great drink to serve at a party or special event. It is also an excellent choice for a night out with friends. The Pomegranate Cosmo is sure to be a hit with everyone!
Pomegranates
The Pomegranate Cosmo is a great way to enjoy the flavors of pomegranates. Pomegranates are native to Iran and the Himalayan region. A member of the citrus family, it is related to grapefruits and oranges. Pomegranates are a good source of vitamins C and K, as well as antioxidants.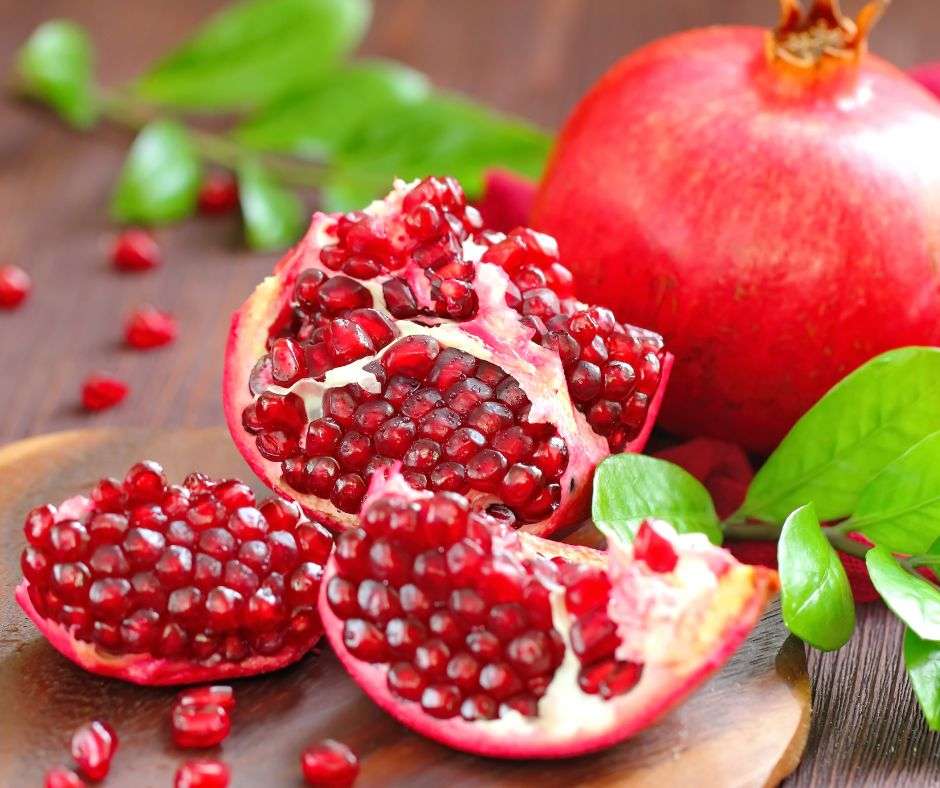 In Greek mythology, the story is that Persephone ate pomegranate seeds when she was abducted by Hades, the god of the underworld. This act of eating the pomegranate seeds bound Persephone to the underworld for six months every year. The pomegranate has a rich history steeped in mythology.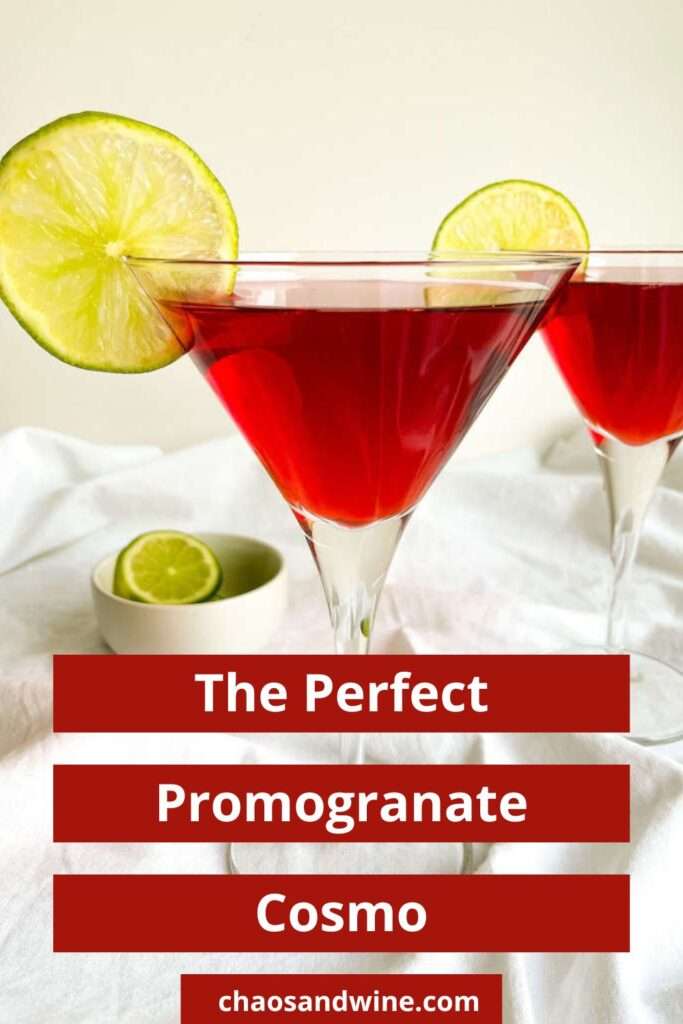 Too busy to make this right now? Pin for later to your favorite Pinterest Board!
Ingredients for the Perfect Pomegranate Cosmo
Vodka – Vodka provides the base for this delicious and sophisticated drink
Unsweetened Pomegranate Juice – You should be able to find pomegranate juice in your local grocery store in the produce section. I like the Pom Wonderful brand personally. I would recommend unsweetened but if you prefer a sweeter drink try sweetened.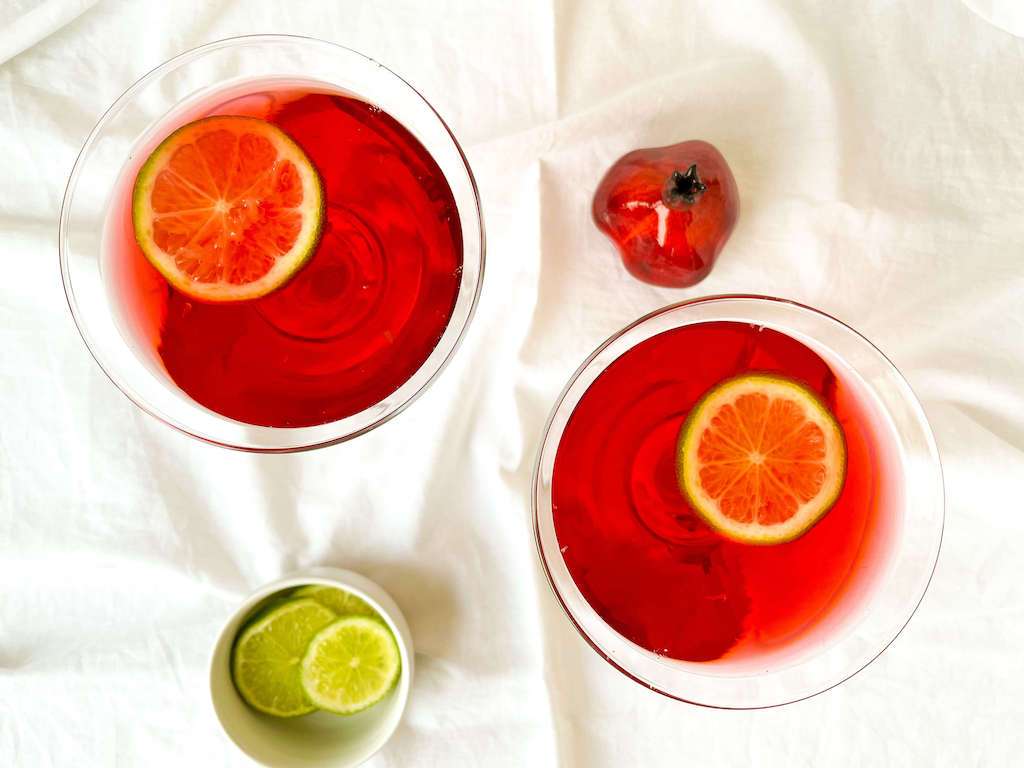 Fresh Lime – Fresh lime slices or wedges are used not only as a garnish but I add a bit of fresh squeezed lime juice to the drink as well.
Orange Liqueur – This will provide sweetness to the drink, which is why I recommend unsweetened pomegranate juice. You can use Triple Sec or Cointreau for your orange liqueur.
Ice – For shaking and mixing the pomegranate cosmo as well as chilling the drink!
How to Mix a Pomegranate Cosmo
This is such an easy drink to mix up!
Grab a cocktail shaker and fill it with ice cubes.
Add the pomegranate juice, fresh lime juice, and orange liqueur.
Give it a good shake for about 20-30 seconds or until the mixture is well chilled.
Stain your pomegranate cosmopolitan into a martini glass and garnish with a lime slice!
Serve immediately! Cheers!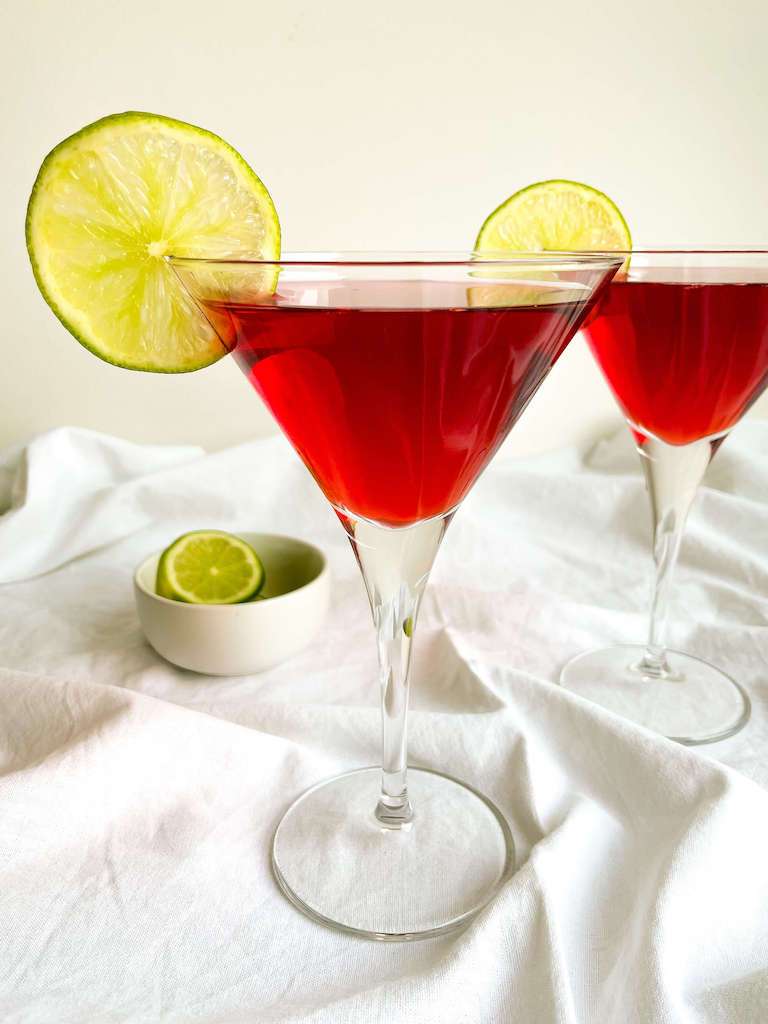 Suggestions & Tips
While this pomegranate vodka cocktail only makes one cocktail feel free to double, triple, or multiply as many times as you'd like. Expecting friends? Mix all the ingredients in a pitcher and chill in the fridge in advance!
You can also rim your martini glasses with a touch of pomegranate juice and sugar for an elegant touch!
Serve with your favorite cheeses or charcuterie board for a fun evening with friends!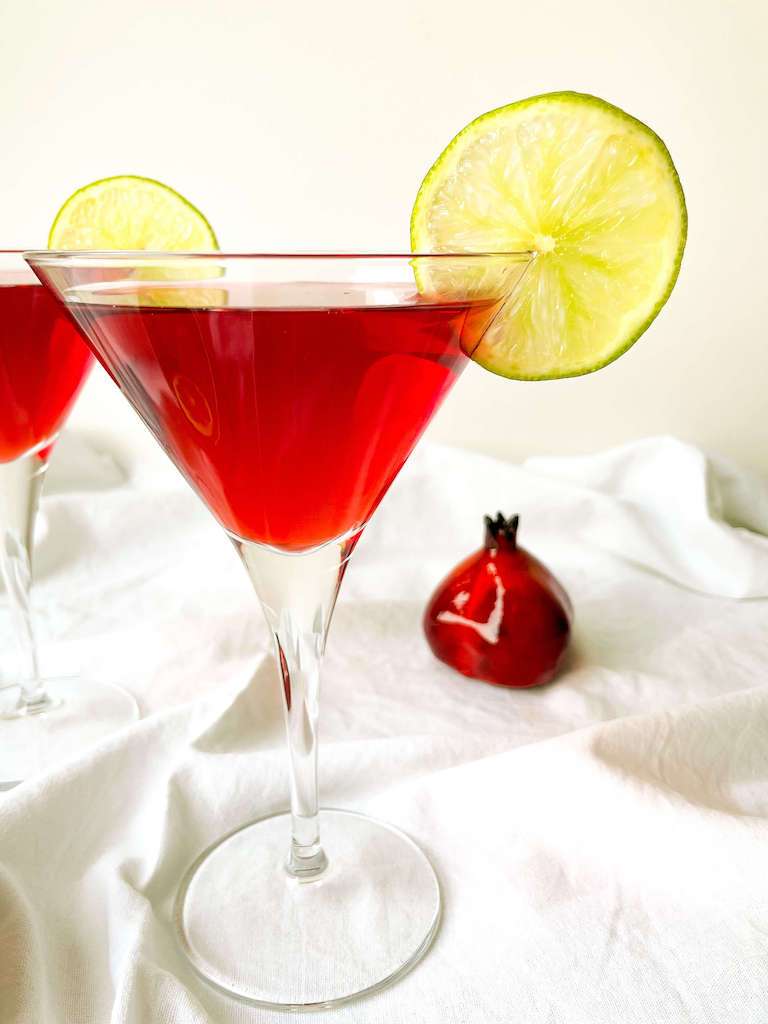 You might also like…
30 Best Charcuterie Board Ideas
Yield: 1 serving
Pomegranate Cosmo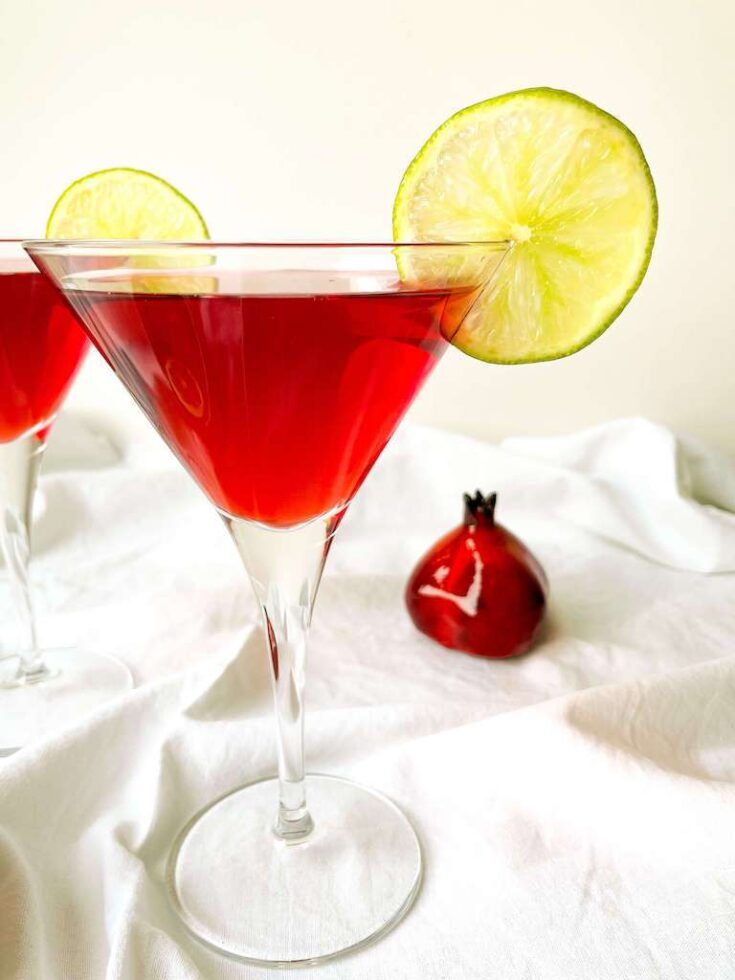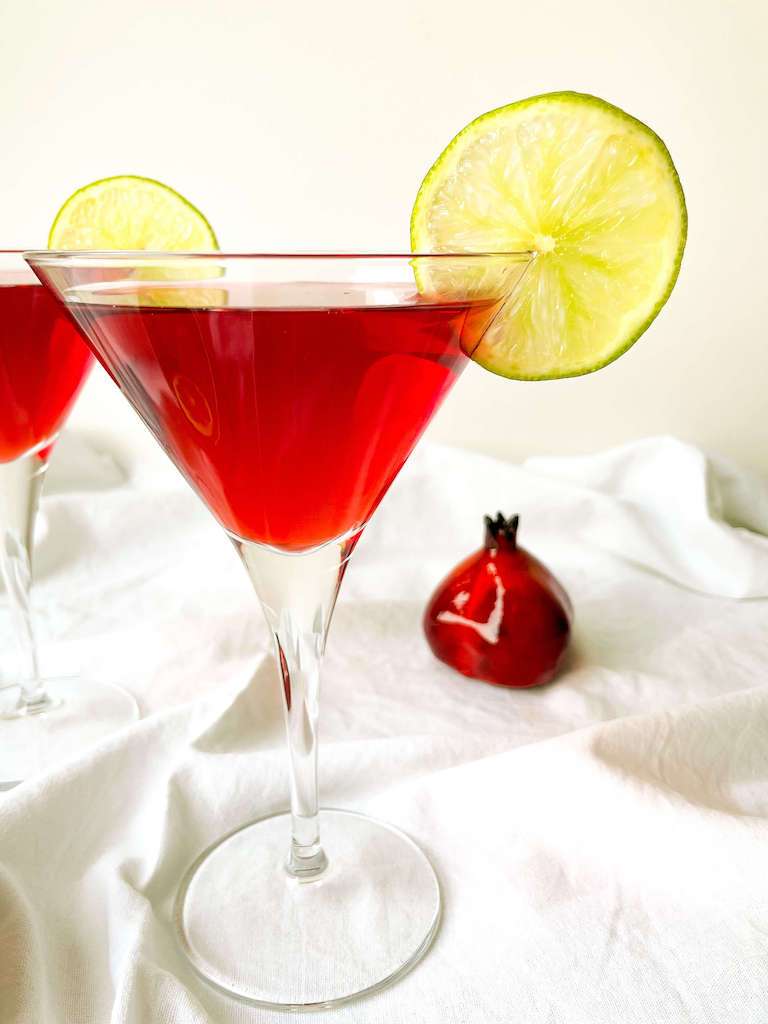 The perfect pomegranate comso is elegant, sophisticated, and delicious!
Ingredients
3 ounces vodka
3 ounces unsweetened Pomegranate juice
1 ounce freshly squeezed lime juice
1 ounce orange liqueur, such as Triple Sec or Cointreau
Fresh limes, for garnish
Instructions
Fill a cocktail shaker with ice cubes.
Add the pomegranate juice, fresh lime juice, and orange liqueur.
Shake will for about 20-30 seconds or until well-chilled.
Strain into a martini glass!
Garnish with fresh lime slices and serve!
Recommended Products
As an Amazon Associate and member of other affiliate programs, I earn from qualifying purchases.
Nutrition Information:
Yield:
1
Serving Size:
1
Amount Per Serving:
Calories:

592
Total Fat:

0g
Saturated Fat:

0g
Trans Fat:

0g
Unsaturated Fat:

0g
Cholesterol:

0mg
Sodium:

12mg
Carbohydrates:

50g
Fiber:

2g
Sugar:

42g
Protein:

1g
Chaos and Wine occasionally offers nutritional information for recipes contained on this site. This information is provided as a courtesy and is an estimate only. This Nutrition Disclaimer notifies that under no circumstances will Chaos & Wine or its owners be responsible for any loss, damage, or adverse reactions resulting from your reliance on nutritional information given by this site. By using Chaos & Wine and its content, you agree to these terms.
This perfect pomegranate cosmopolitan is a delicious and refreshing twist on the classic cosmopolitan cocktail. With its beautiful ruby color and tangy flavor, it's sure to be a hit at any party or gathering. The combination of vodka, triple sec, lime juice, and pomegranate juice creates a perfectly balanced drink that will leave you wanting more. So why not mix up some pomegranate cosmos for your next get-together? Your guests will thank you! Cheers to this fun and fruity cocktail!