Want a delectable side dish? Give our irresistible smoked stuffing a try! It's crafted with savory sausage and prepared on your choice of Kamado Joe, Traeger grill, or in the oven. This delightful variation of a traditional holiday side dish is sure to impress you and your festive visitors.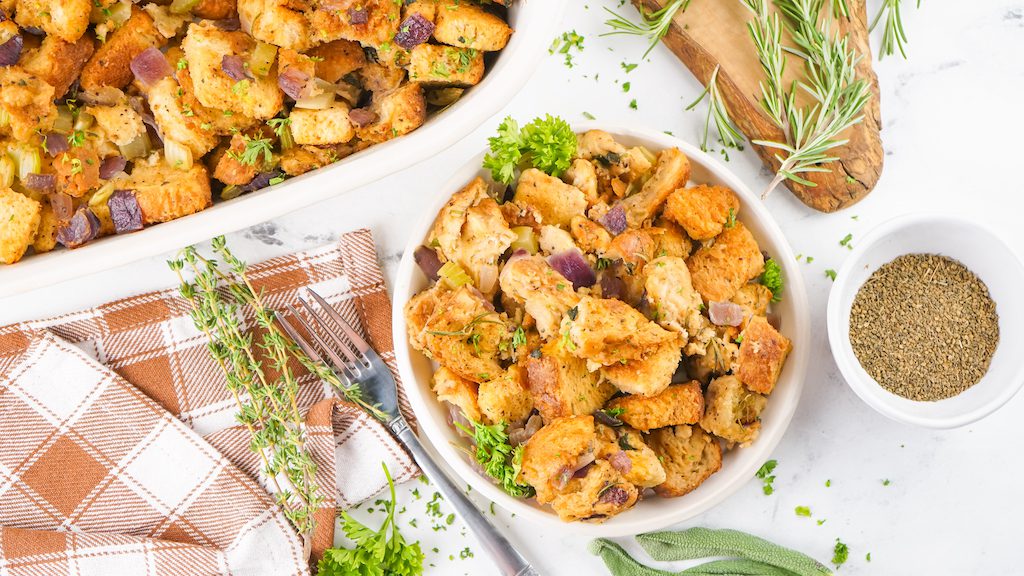 This page contains affiliate links. If you choose to purchase after clicking a link, I may receive a commission at no extra cost to you. For more information please read my full affiliate disclosure.
Besides the turkey, stuffing is probably the 2nd most popular dish at Thanksgiving and Christmas feasts. It's always a hit with my family and one of the first side dishes to be eaten quickly! While stuffing might be one of the most popular side dishes for turkey, this smoked stuffing recipe is a unique twist on a classic favorite!
Why Smoke Stuffing?
While I have used my Kamado Joe ceramic grill to make my Thanksgiving turkey for years, I was intrigued by the idea of also smoking my Thanksgiving stuffing as I do not stuff my turkey, although you certainly can if that's your preference! I began looking around and adapting things until I found the perfect combination of classic stuffing meets smoker. It's the perfect stuffing to go with smoked turkey!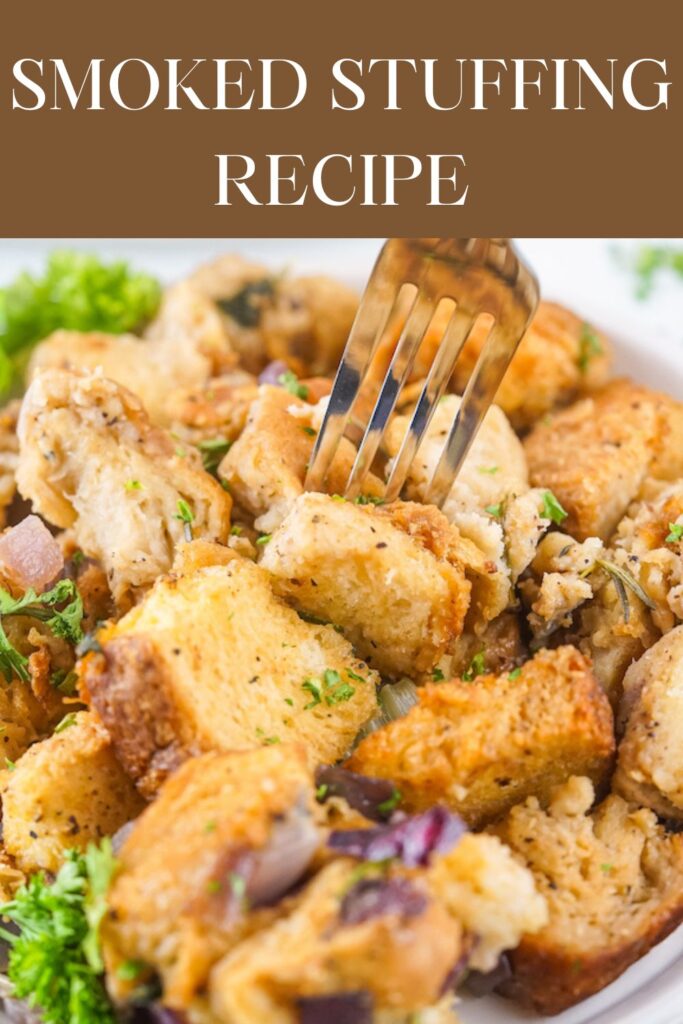 Too busy to make this right now? Pin for later to your favorite Pinterest Board!
Smoking your stuffing provides a slightly smokey flavor that will compliment many of the rich and bold flavors associated with a Thanksgiving feast such as cranberry sauce, smoked turkey as well as your other sides. It's also a lovely twist on a classic dish that elevates it to a new flavor profile you and your guests will love!
So why not skip that soggy box stuffing mix and try this delicious smoked classic stuffing recipe instead? With aromatic flavors from fresh herbs to the perfect amount of smoky flavor, this stuffing recipe will be a hit with all of your guests.
Ingredients for Smoked Stuffing
Each of these ingredients adds another level of flavor and is essential in this classic smoked stuffing recipe so don't skip any of these ingredients!
Sourdough Bread Cubes Dried – By using sourdough bread you'll add an additional level of flavor. Grab a day-old loaf from the store and cube it yourself or better yet try your hand at making your own sourdough loaf! To make dried bread cubes, simply take the loaf of sourdough bread and cut them into about 3/4 inch pieces. Spread them on a baking sheet and bake for about 45 minutes at 300° F. You can make your stuffing cubes a day ahead of time or just before making your stuffing.
Chicken Broth – This provides the moisture necessary to make the stuffing light and fluffy. Feel free to substitute turkey broth or vegetable broth for the chicken broth.
Red Onion – Red onions have a slightly sweeter profile than yellow onions and add a nice pop of color!
Eggs – Eggs will help bind the stuffing together.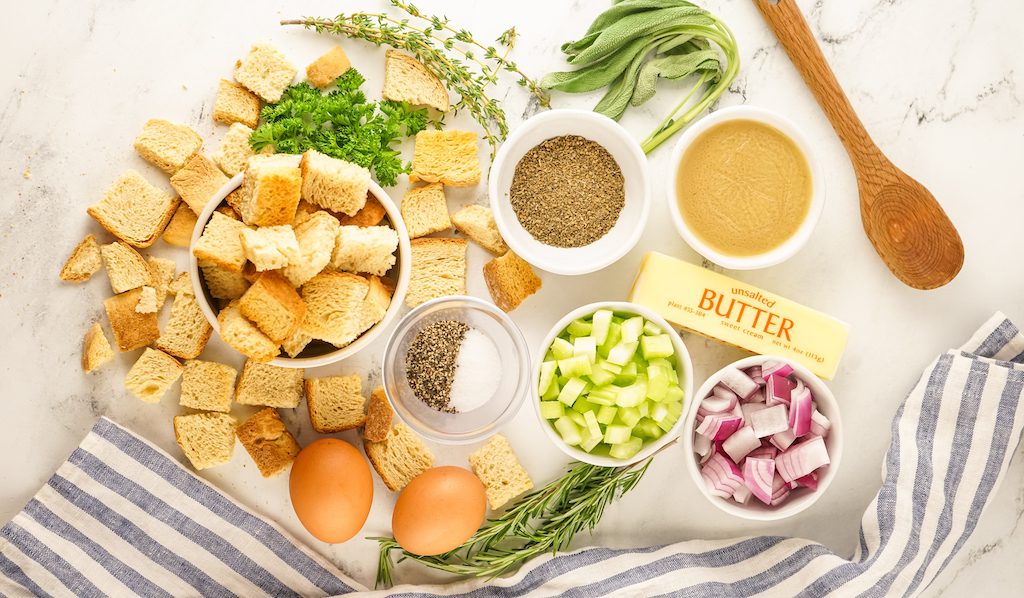 Celery – A few stalks of diced celery are in almost every stuffing recipe so of course we'll add them here as well.
Butter – To add a rich flavor
Fresh Herbs – These add aromatic flavor to the stuffing! Be sure to use fresh herbs! This recipe calls for sage, parsley, rosemary, and thyme.
Dried Herbs – For even more flavor, we'll add celery seed, black pepper, and a little salt!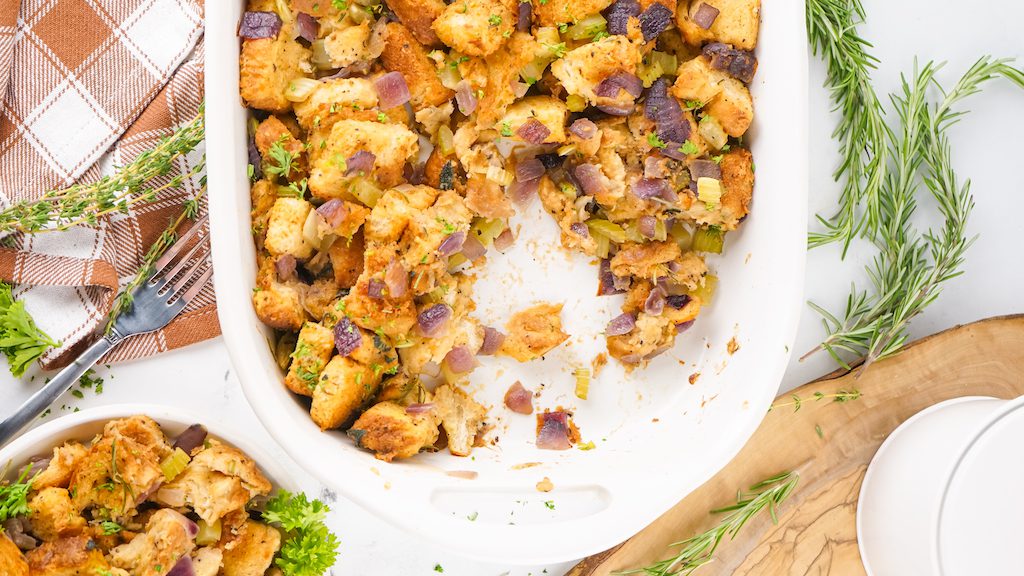 Method
Homemade stuffing may take a bit more effort than grabbing a box from the pantry but the flavor can't be beat! Here's how to make smoked stuffing, step by step, whether you're making Traeger smoked stuffing or using the Kamado Joe like I do.
Step 1
Preheat your smoker to 350° F and prepare it for indirect cooking. I like to use oak for this recipe, however, hickory or pecan would also be excellent choices.
If you're using the oven, preheat to the same temperature. Please note that you will not have the same smokey flavor if you use the oven.
Spray a 3-Quart casserole dish with cooking spray.
Step 2
In a medium-sized skillet over medium heat, melt the butter and then add the sage, rosemary, thyme, diced onion and celery, salt and pepper. Saute until the onions are translucent or about 5-7 minutes.
Step 3
In a small mixing bowl, lightly beat the two eggs.
Place the sourdough bread cubes in an extra-large mixing bowl.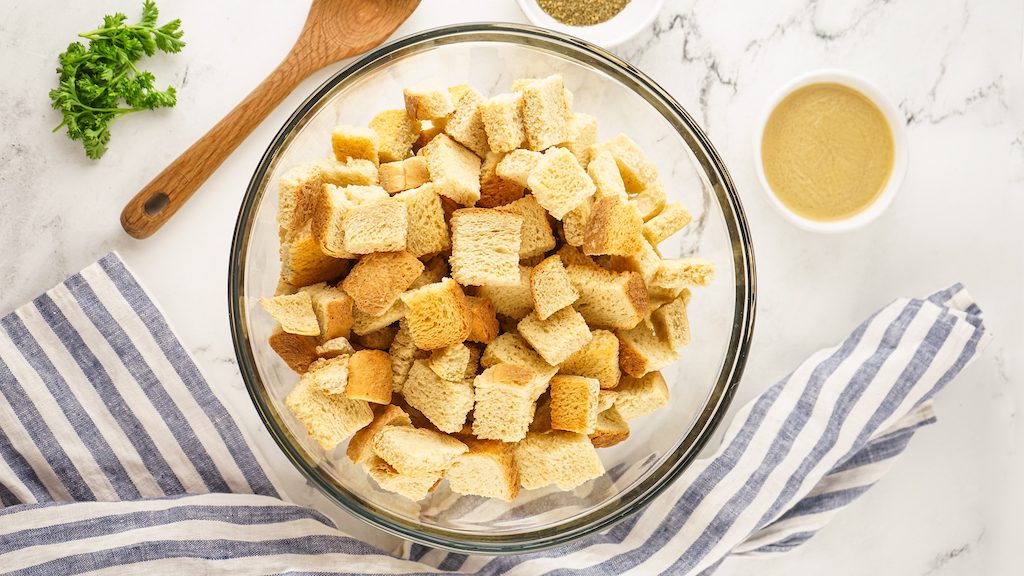 Pour the lightly beaten eggs over the top of the bread cubes.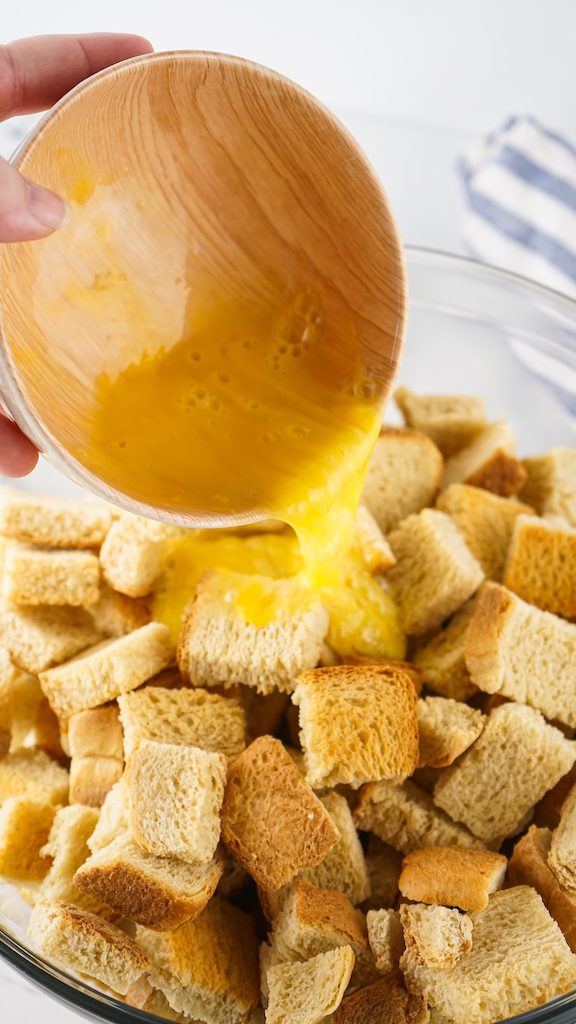 Then add the sautéed veggies and herbs, followed by the chicken broth.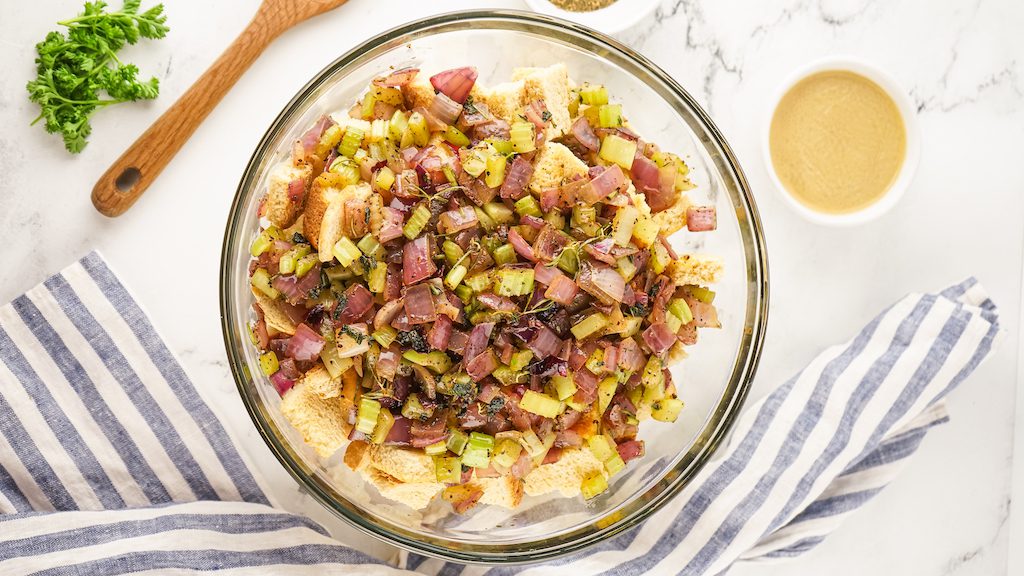 Gently, fold the ingredients until they are fully combined and the bread cubes are nicely coated. Be sure to stir gently as you don't want to mash your bread!
Step 4
Pour the stuffing mixture into the prepared casserole dish and spread evenly being careful not to smash the ingredients flat.
Sprinkle the top with freshly minced parsley.
Step 5
Place in the smoker, uncovered, and cook for 30 minutes!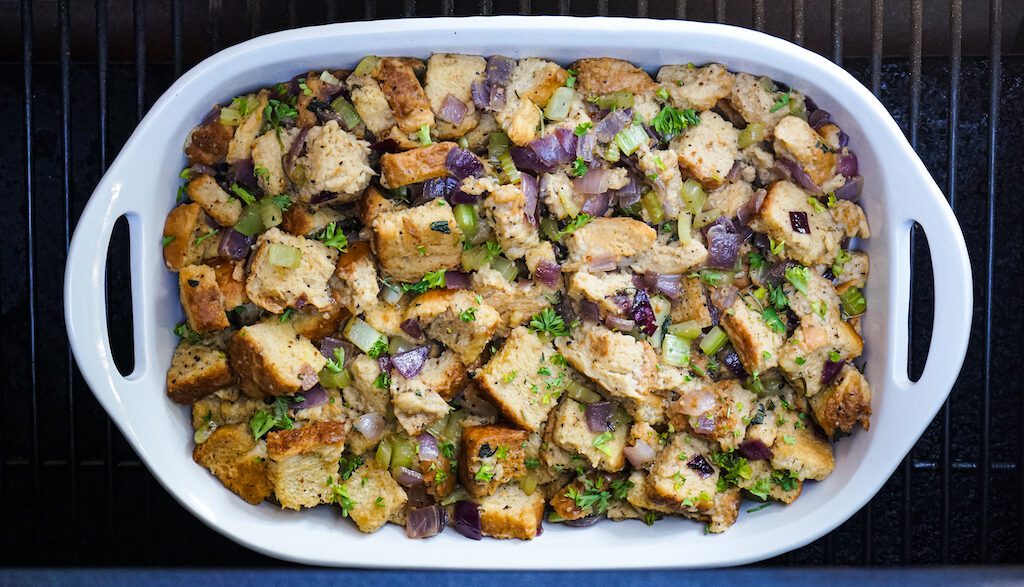 Remove from the smoker and serve immediately!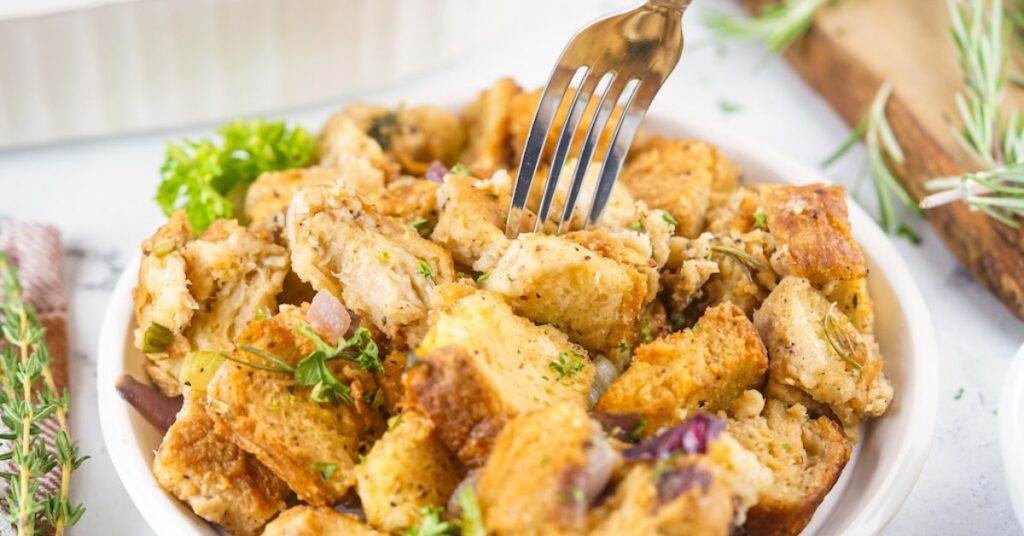 Tips & Variations for Smoked Stuffing
You can use this recipe to make stuffing on a Traeger grill, Kamado Joe, pellet grill, or even in the oven. No changes are necessary, although cooking it in the oven will not provide the same smoke flavor.
You can use any type of broth. I used chicken but turkey or vegetable broth would work perfectly as well.
While you do not have to use sourdough bread to make stuffing, it provides the perfect texture. Some bread types are more porous than sourdough and may absorb the broth faster or slower. If you do not use sourdough bread, start with about half of the broth and add a bit more at a time until you reach the right consistency.
To make your own dried bread cubes, cut a 24-ounce loaf of sourdough bread into 3/4-inch cubes. Spread them evenly without overlapping on a baking sheet. Bake for 45 minutes at 300°F. You can store them in an airtight container for up to 3 days or use them immediately to make your smoked stuffing.
If you want to make a smoked sausage stuffing recipe, simply brown your favorite sausage in the skillet before cooking your veggies. Then add the veggies and saute until done. Continue with the recipe as written.
You might also like…
Bailey's Irish Cream Cocktails
Yield: 10-12 Servings
Smoked Stuffing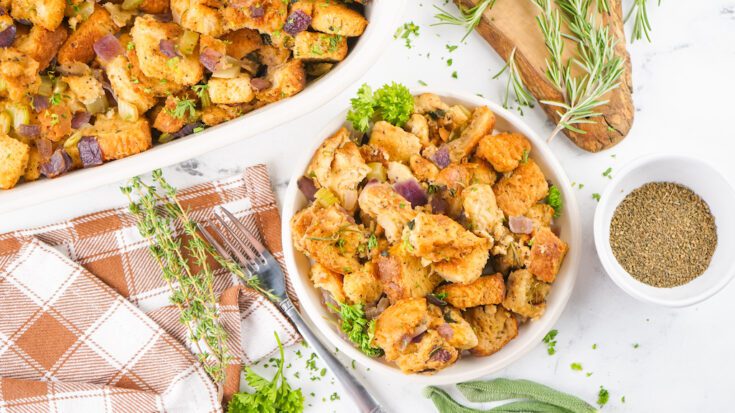 A flavorful smokey twist on the classic Thanksgiving stuffing, this smoked stuffing will delight your guests!
Ingredients
8 Cups Dried Sourdough Bread Cubes
3 Cups Chicken Broth
1 Red Onion, diced
3 Celery Stalks, diced
2 Large Eggs
4 Tablespoons Salted Butter (1/2 stick)
1 Tablespoon Fresh Sage
1 Tablespoon Fresh Parsley, minced
1 Teaspoon Fresh Rosemary
1 Teaspoon Fresh Thyme
1 Teaspoon Celery Seed
1 Teaspoon Ground Black Pepper
1 Teaspoon Salt
Instructions
Preheat your smoker to 350°F and prepare for an indirect cook. Spray a 3 quart casserole dish with cooking spray.
In a medium skillet over medium heat, melt the butter.
Saute in the onion, celery, sage, rosemary, thyme, celery seed, salt and pepper until the onions turn translucent or about 5-7 minutes.
In a small mixing bowl, lightly beat the eggs.
Place the bread cubes in a large mixing bowl and pour the lightly beaten eggs over the bread cubes.
Add the sauted veggies and herbs to the large mixing bowl followed by the chicken broth.
Gently, fold the ingredients until they are fully combined and the bread cubes are nicely coated with the mixture.
Pour the stuffing mixture into the prepared casserole dish and spread evenly being careful not to mash the bread.
Sprinkle the fresh minced parsley over top.
Place the stuffing in the smoker, uncovered, and cook for 30 minutes.
Serve immediately!
Notes
To Make in the Oven: Cook at 350°F for 30 minutes.
I used oak for this recipe but pecan or hickory are also excellent choices.
Recommended Products
As an Amazon Associate and member of other affiliate programs, I earn from qualifying purchases.
Nutrition Information:
Yield:
10
Serving Size:
1
Amount Per Serving:
Calories:

160
Total Fat:

7g
Saturated Fat:

3g
Trans Fat:

0g
Unsaturated Fat:

2g
Cholesterol:

51mg
Sodium:

755mg
Carbohydrates:

20g
Fiber:

1g
Sugar:

3g
Protein:

6g
Chaos and Wine occasionally offers nutritional information for recipes contained on this site. This information is provided as a courtesy and is an estimate only. This Nutrition Disclaimer notifies that under no circumstances will Chaos & Wine or its owners be responsible for any loss, damage, or adverse reactions resulting from your reliance on nutritional information given by this site. By using Chaos & Wine and its content, you agree to these terms.
This delicious smoked stuffing recipe pairs perfectly with your favorite turkey or my personal favorite turkey recipe! It's also a wonderful addition to your Thanksgiving or Christmas dinners! Be sure to check out these other great Thanksgiving side dishes!