Blood orange brownies are not only easy to make but delicious and a crowd-pleaser! Perfectly delicious chocolaty fudgy brownies with a subtle hint of orange flavor!!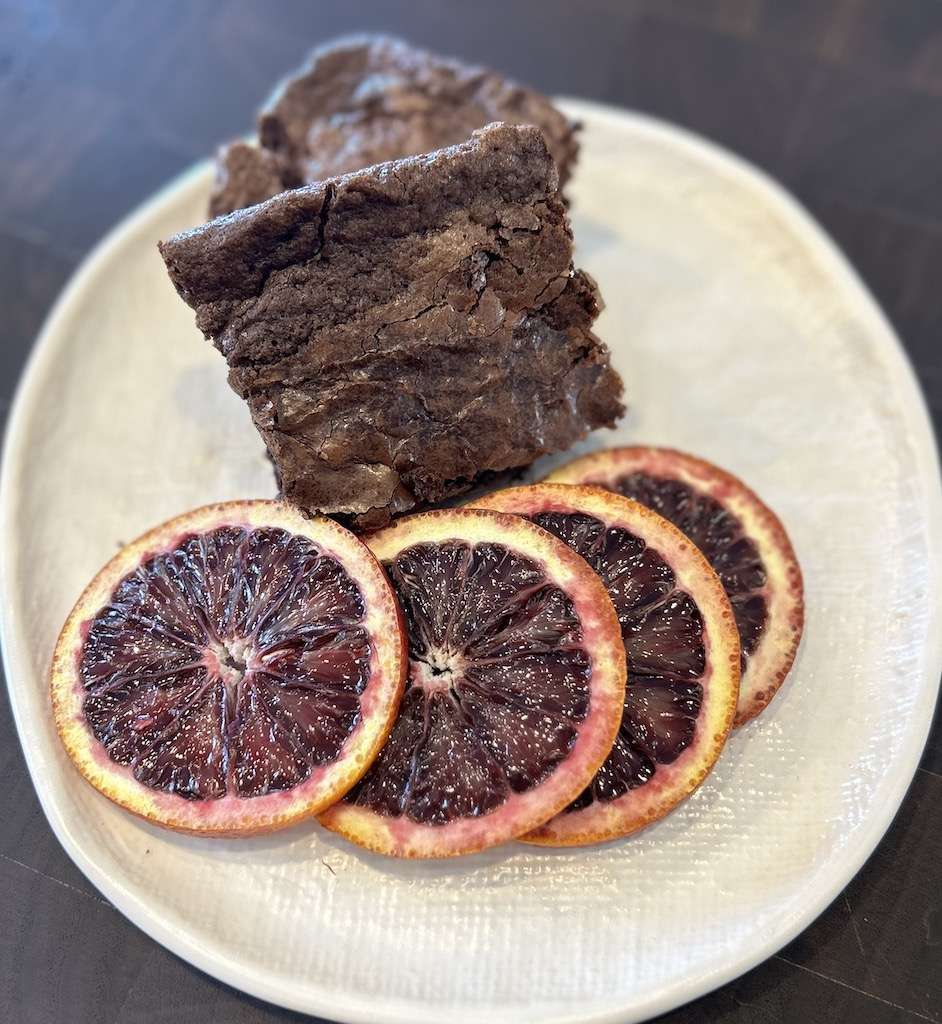 This page contains affiliate links. If you choose to purchase after clicking a link, I may receive a commission at no extra cost to you. For more information please read my full affiliate disclosure.
Whenever I'm asked to make brownies or bring a dessert, I love making blood orange brownies. Not only are these blood orange brownies incredibly easy to make but they are a delicious treat whether you top them with vanilla ice cream or eat them plain!
These delicious orange brownies are reminiscent of the chocolate oranges sold around Christmas time!
What are Blood Oranges?
Blood oranges are a type of orange that has a deep red or crimson flesh, which is why they are referred to as blood oranges. This rich bright reddish color is due to the presence of anthocyanins, a type of pigment that is also found in other red or purple fruits such as raspberries and blueberries.
Blood oranges taste similar to regular oranges, although they are often described as having a slightly more tart or bitter taste. They are also often juicier than regular oranges, making them a popular choice for making orange juice or cocktails. I use them to make my Blood Orange Cranberry Wine Sangria!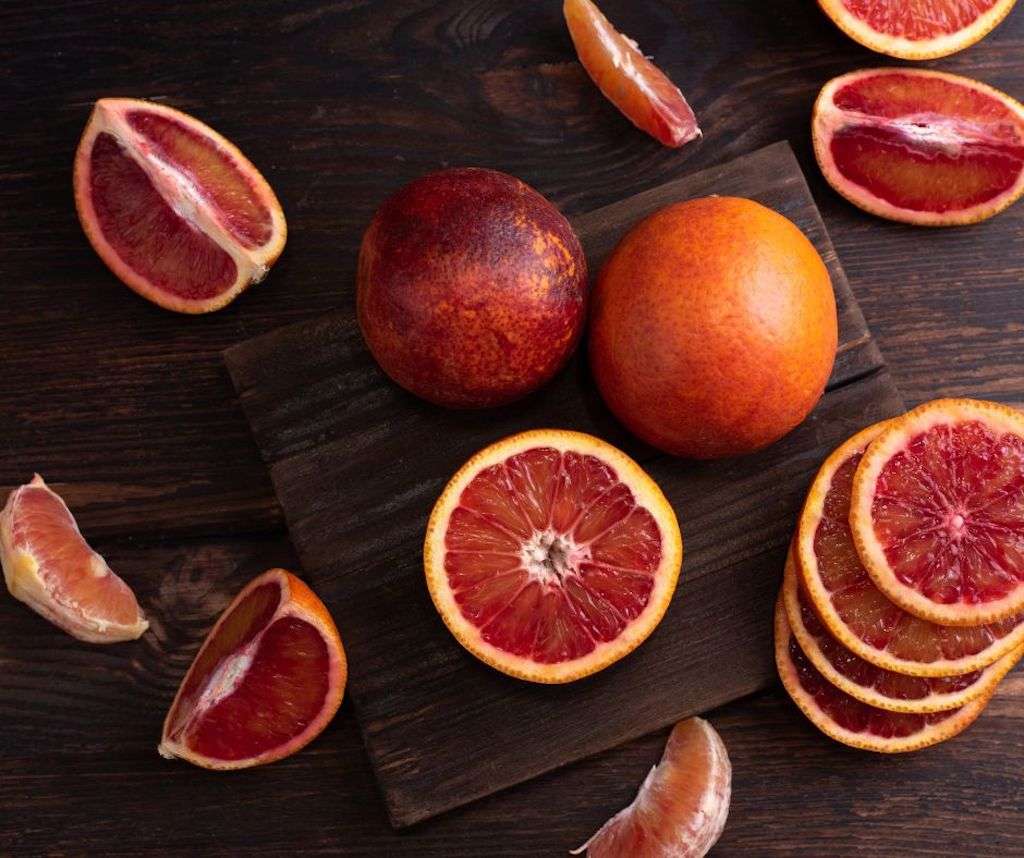 Blood oranges are in season during the winter months, typically from December to April, and are grown primarily in Mediterranean countries like Italy and Spain, as well as in California and Florida. While they are often eaten alone as a snack, they can also be found in salads, cocktails, and desserts, such as these blood orange brownies!
We won't use fresh blood oranges to make these orange brownies instead we will use blood orange-infused olive oil!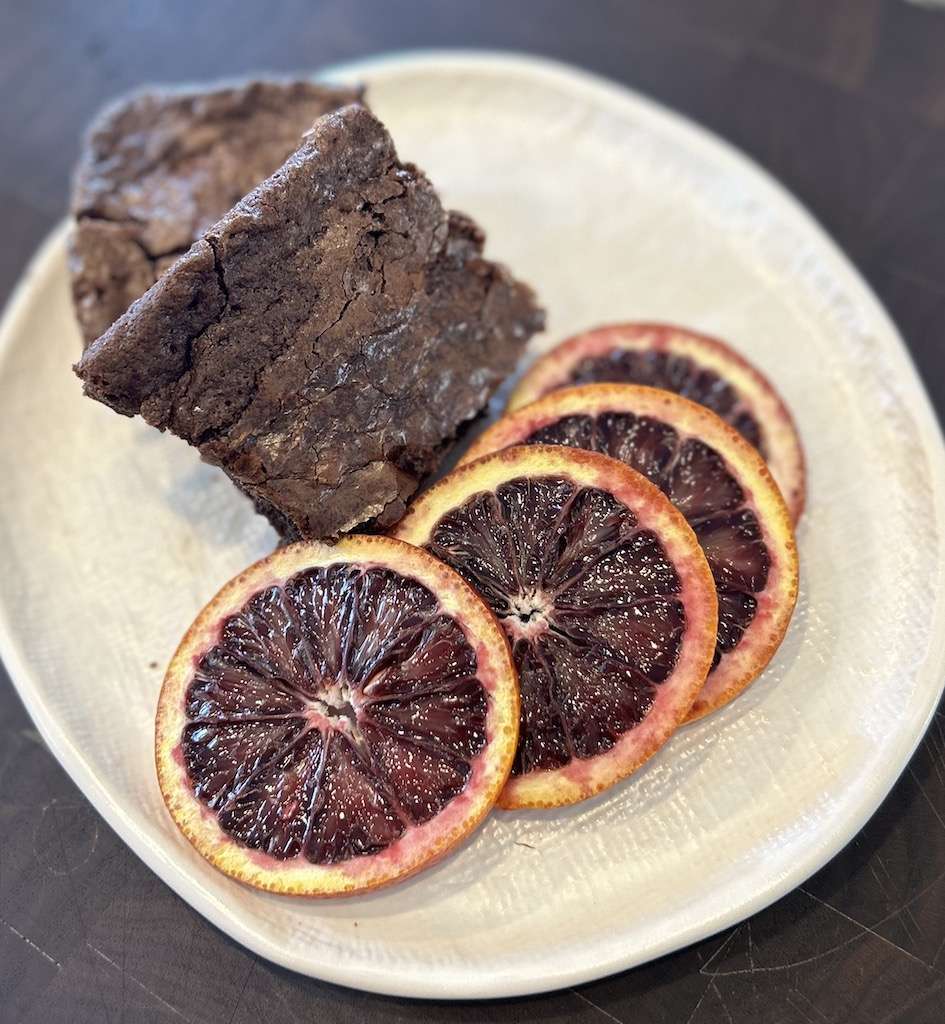 Ingredients for Blood Orange Brownies
We'll keep this list of ingredients nice and short! I do love an easy recipe and I promise this one not only delivers exceptional brownies but is super simple!
Brownie Mix – Yup, I promised simple so grab your favorite brownie mix – dark chocolate, extra fudgy, or regular brownies any boxed brownie mix will work. I like the Ghirardelli chocolate supreme brownie mix the best but it's totally up to you which brownie mix you prefer! Be sure to match the remaining ingredients to your brownie mix but I've listed the most common ingredients required.
Egg – As per the instruction on the brownie mix, you'll need an egg.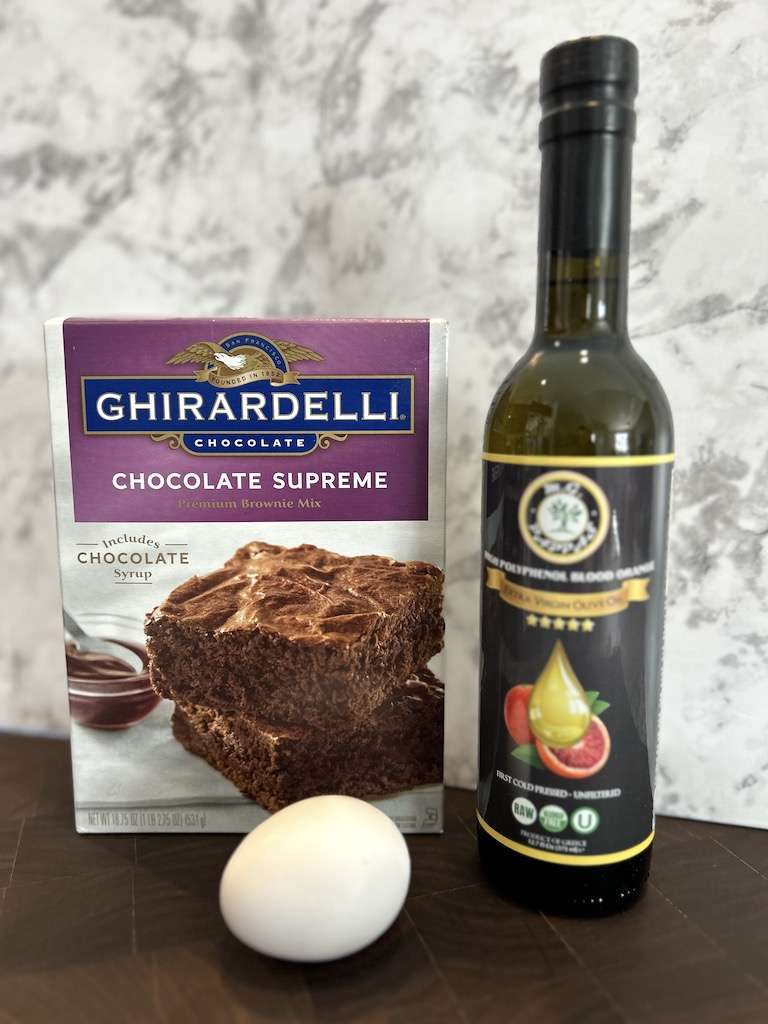 Water – Most brownie mixes call for a bit of water.
Blood Orange Olive Oil – This is where we're going to add that subtle blood orange flavor! Instead of using vegetable oil as called for on the brownie mix package, we'll swap it out for blood orange olive oil! Blood orange olive oil is a type of flavored olive oil that is infused with the essence of blood oranges.
Blood Orange Olive Oil is made by pressing fresh blood oranges together with olives, which gives the oil a bright, citrusy flavor with a subtle sweetness. If you have a local olive farm that produces its own olive oils, you can usually find infused olive oils to purchase there. Otherwise, a specialty store will usually carry it as well as Amazon, which is usually where I order my blood orange olive oil from.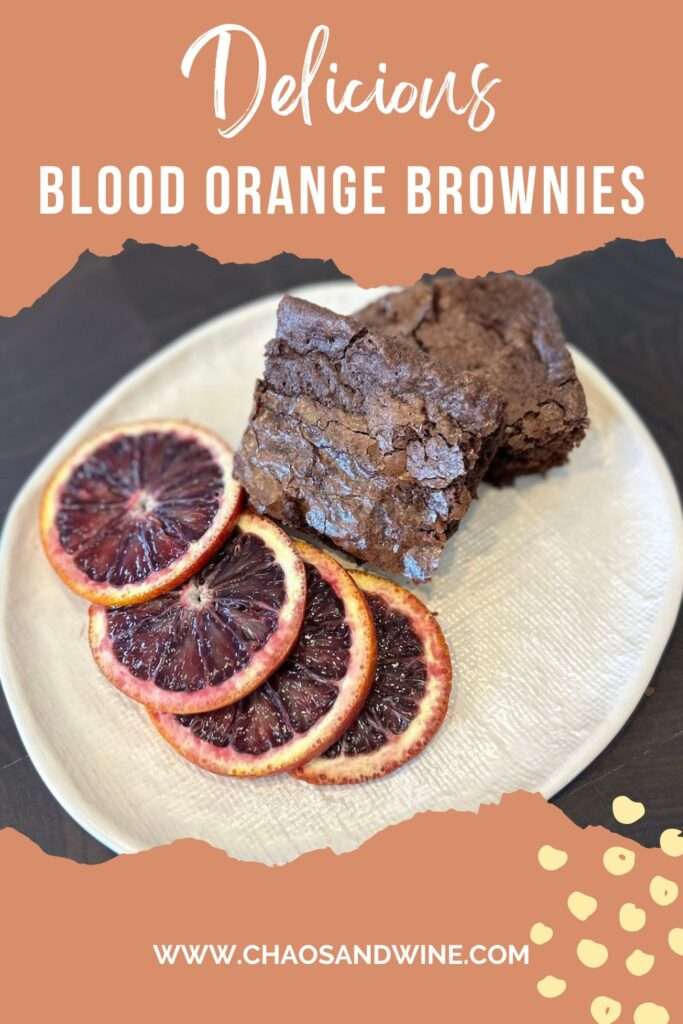 Too busy to make this right now? Pin for later to your favorite Pinterest Board!
Equipment Needed
You won't need any particularly fancy equipment to make these blood orange brownies.
8×8 Baking Pan
Spatula
Measuring Cups
How to Make Blood Orange Brownies
As promised these orange chocolate brownies are super simple yet everyone will think you slaved away making these extra fancy brownies!
Preheat your oven per the brownie mix instructions, usually around 325°F. Prepare your baking pan by spraying it with non-stick cooking spray.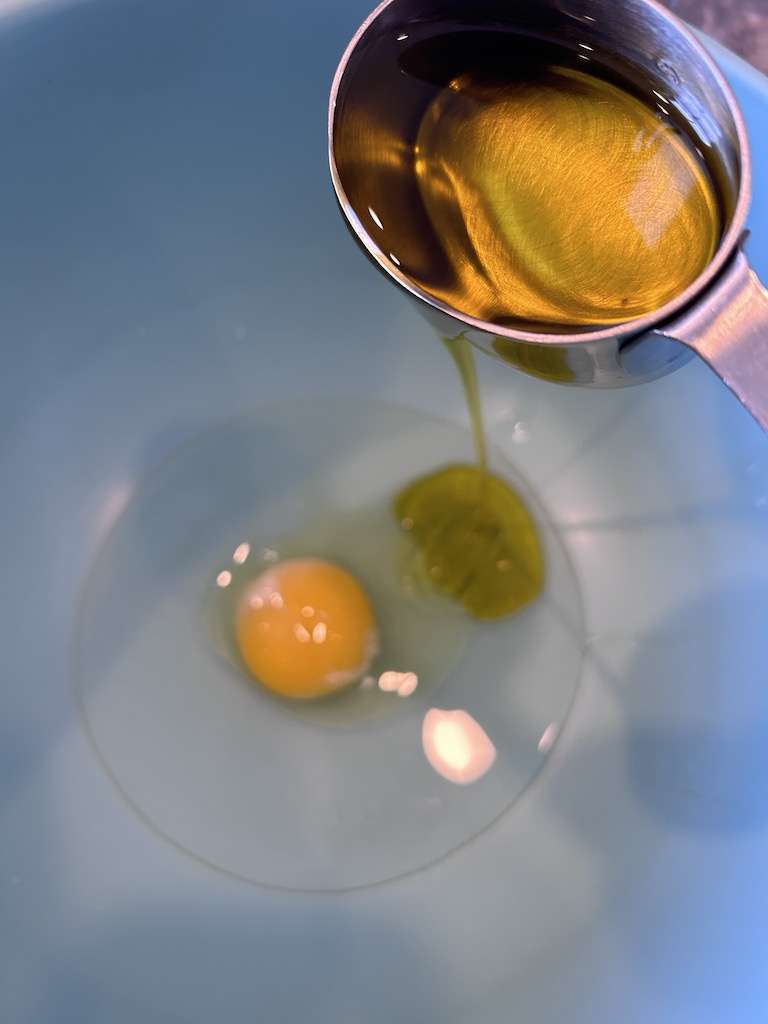 Mix the water, egg, and blood orange olive oil in a medium-sized mixing bowl until well combined. Then add the brownie mix and stir until combined.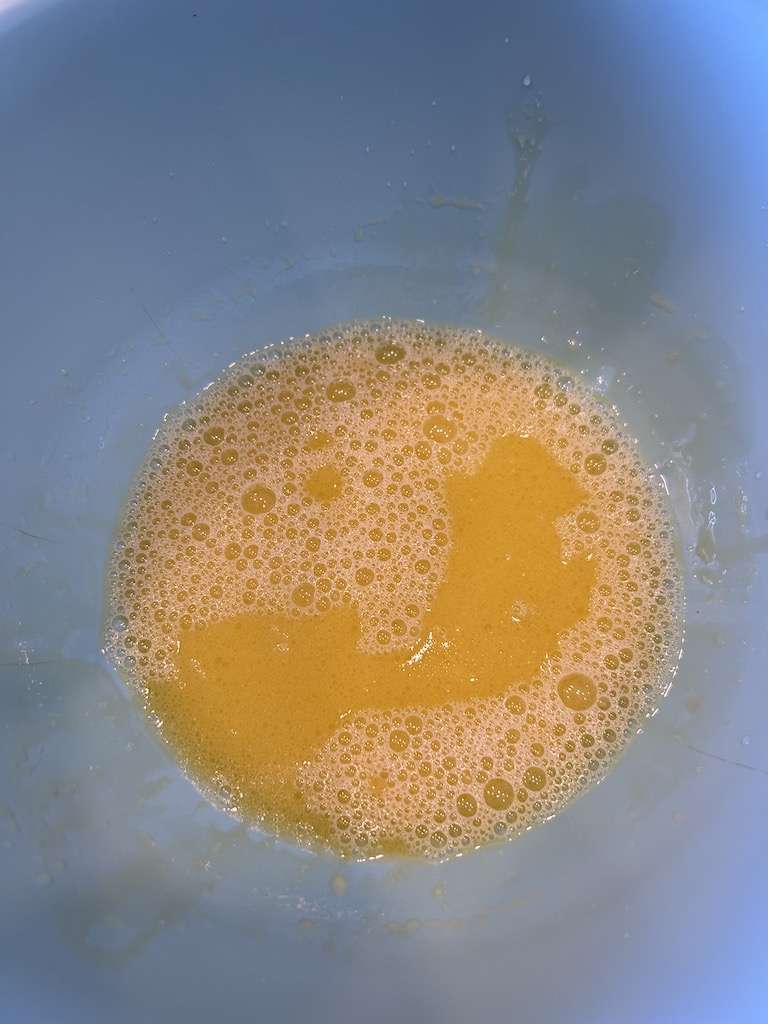 Spread the brownie batter evenly in the prepared baking pan.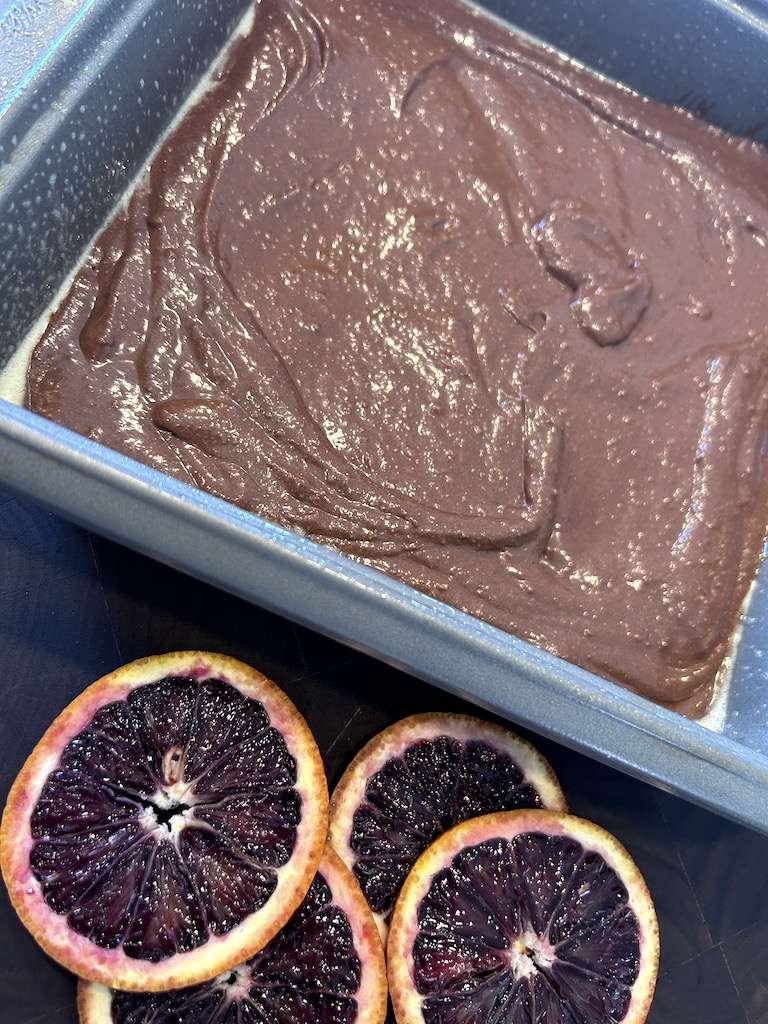 Bake as per the brownie mix instructions or for about 45 minutes. To check if the brownies are done, insert a toothpick into the middle and if it comes out clean it's done!
Cool completely in the pan before cutting or cut immediately and serve your blood orange brownies warm topped with vanilla ice cream or homemade whipped cream! I can never wait so I love them warm with vanilla bean ice cream!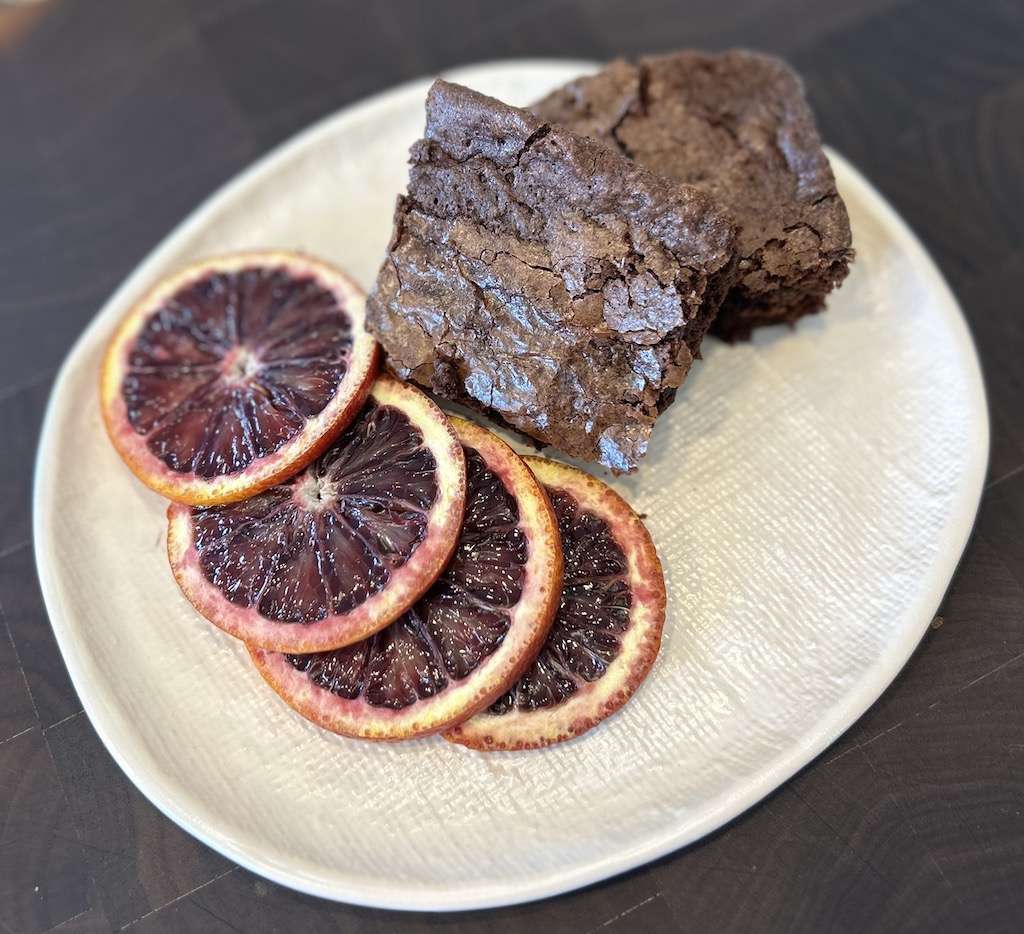 Other Dessert Recipes you might like…
Yield: 16 servings
Blood Orange Brownies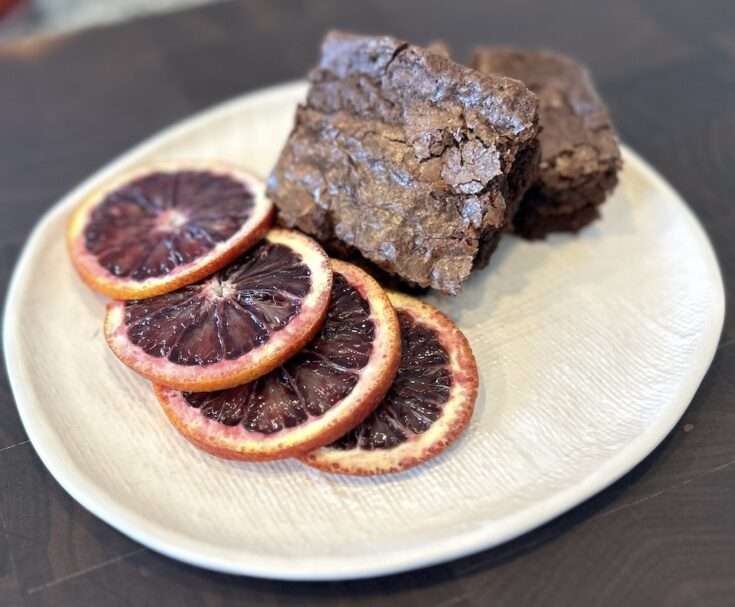 Using blood orange olive oil creates the perfect orange chocolate brownie!
Ingredients
1 Box Chocolate Brownie Mix
1 Egg
1/4 cup water
Instructions
Preheat the oven to 325°F and spray an 8x8 baking pan with non-stick cooking spray.
Mix water, blood orange olive oil, and egg in a mixing bowl until fully mixed.
Stir in the brownie mix and mix until well combined.
Bake as per the package directions, which is usually about 45 minutes or until a toothpick inserted in the center comes out clean.
Cool completely in the pan before cutting.
Serve topped with vanilla ice cream or homemade whipped cream!
Recommended Products
As an Amazon Associate and member of other affiliate programs, I earn from qualifying purchases.
Nutrition Information:
Yield:
16
Serving Size:
1
Amount Per Serving:
Calories:

28
Total Fat:

2g
Saturated Fat:

0g
Trans Fat:

0g
Unsaturated Fat:

2g
Cholesterol:

14mg
Sodium:

15mg
Carbohydrates:

2g
Fiber:

0g
Sugar:

0g
Protein:

1g
Chaos and Wine occasionally offers nutritional information for recipes contained on this site. This information is provided as a courtesy and is an estimate only. This Nutrition Disclaimer notifies that under no circumstances will Chaos & Wine or its owners be responsible for any loss, damage, or adverse reactions resulting from your reliance on nutritional information given by this site. By using Chaos & Wine and its content, you agree to these terms.
FAQs
How do I store leftover orange brownies?
In the highly unlikely case that you do end up with leftover orange brownies, you can store them in an air-tight container at room temperature for 3-4 days. If you like your brownies slightly warm, you can reheat them individually in the microwave for 45 seconds or so.
Can I use any other flavored infused olive oils?
Absolutely, feel free to experiment with different orange olive oils if you can't find blood orange specifically. You could also try raspberry-infused olive oil or vanilla as well! Both would be delicious!
What else can I use blood orange olive oil for?
You can use infused olive oils for a variety of things based on the flavor of the olive oil. They make wonderful vinaigrette dressings, use lemon-infused olive oil when cooking fish, or try brushing garlic olive oil on your steaks before grilling! Here are some more great recipes using Blood Orange Olive Oil!
Conclusion
Blood orange brownies are a must-try for anyone who loves chocolate and citrus flavors. They are easy to make, deliciously moist, and have the perfect balance of chocolate and orange. Whether you're looking for a fun dessert to impress your friends or just want to treat yourself, give these brownies a try!