Ever since I lived in Washington State, I've enjoyed making cedar-planked salmon! I used to cook our cedar-planked salmon recipe on a gas grill with a smoker box. However, I have taken it to the next level by cooking it over lump charcoal on the Kamado Joe Grill.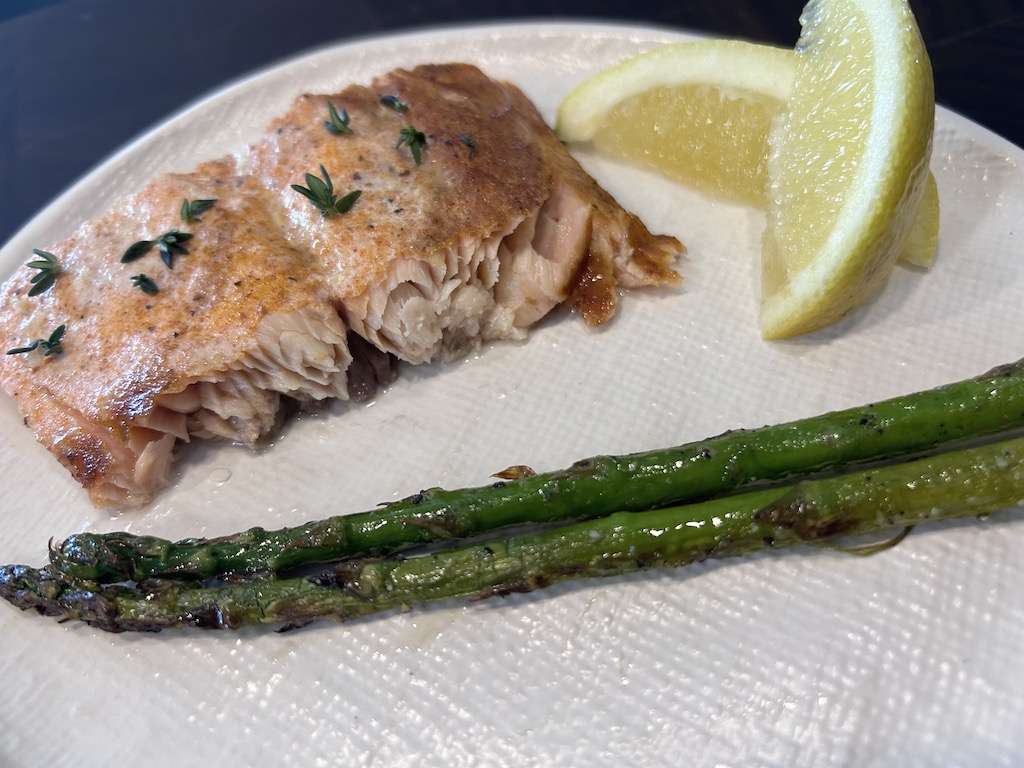 This page contains affiliate links. If you choose to purchase after clicking a link, I may receive a commission at no extra cost to you. For more information please read my full affiliate disclosure.
Living in Washington state I had access to fresh wild salmon year round, and it can't be beaten! I loved all the fresh seafood I could get and loved grilling it. While I may no longer live near the sea, I still love making salmon and especially love this cedar-planked salmon cooked on our kamado joe grill.
Different Types of Salmon
Several different types of salmon are available almost year-round throughout the US. You can usually find fresh salmon at larger grocery stores. I've used fresh Atlantic farm-raised salmon, King Salmon as well as wild Sockeye Salmon to make cedar-planked salmon. All work amazingly well and are delicious, however, each type of salmon varies not only in price but in texture and flavor.
King Salmon, also known as Chinook salmon, is the largest and usually the most expensive salmon. It has a high-fat content and rich flavor.
Sockeye Salmon or Red Salmon has a deeper red coloring and a stronger flavor than King Salmon.
Atlantic Farm Raised Salmon is raised in fish farms rather than caught in the wild. It's a popular type of salmon because it's available year-round and is generally less expensive than wild-caught salmon. Farmed Atlantic salmon is generally milder and less flavorful than wild-caught salmon but still delicious.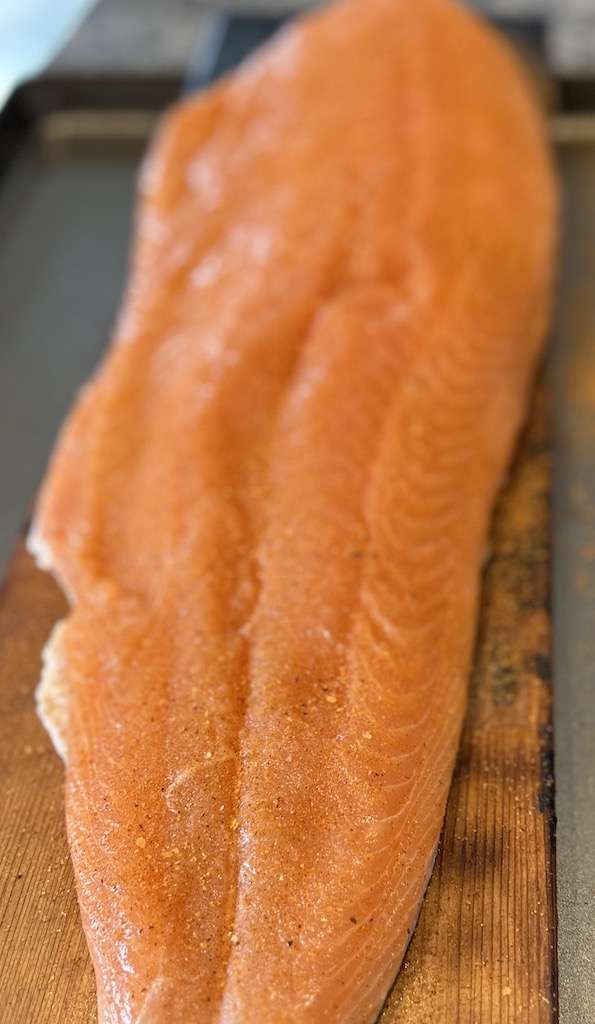 I've found that most people have a personal preference for which salmon they like best. However, availability may be different based on where you are located.
While I can often find salmon in our local grocery store, I do love to order online from Farm Foods Market as well. They have a great selection of salmon!
Equipment for Grilling Salmon
Grill – I love making cedar-planked salmon on the Kamado Joe grill, however, I used to make it on our gas grill using a smoker box. You can also make it using a Traeger pellet grill or a Big Green Egg. The technique is fairly similar, however, you will need to adapt it to your personal grill type.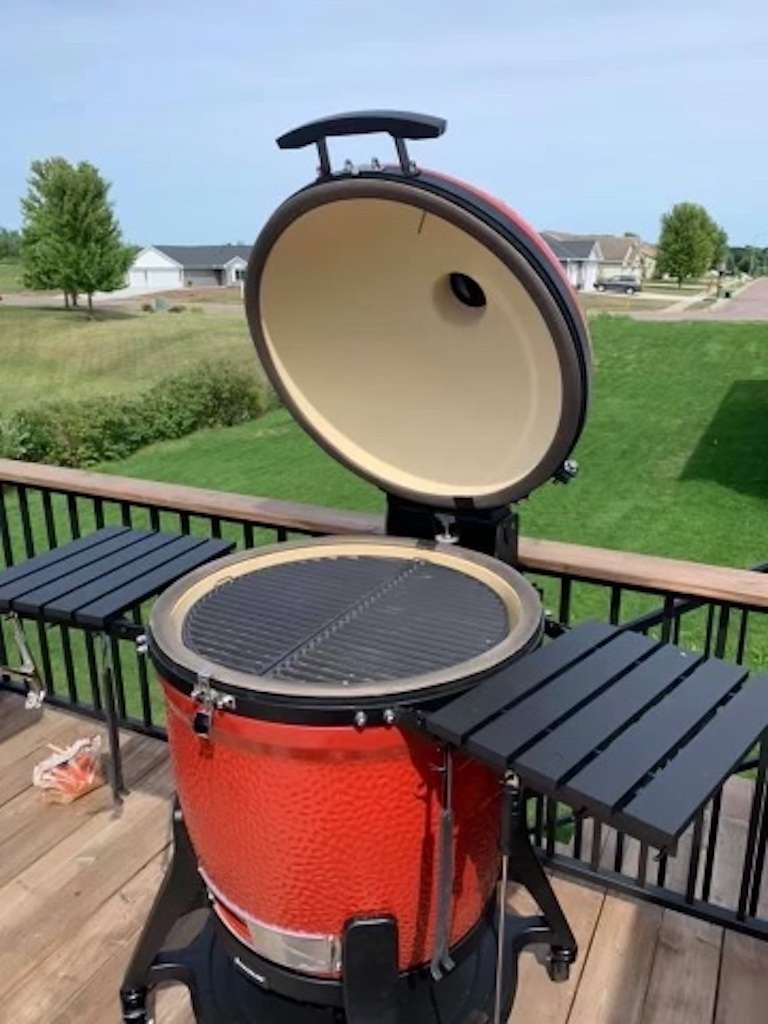 Cedar Planks – Unless you live near a lumber mill, you must purchase cedar planks to grill your salmon on. During summer, you can easily get these at nearby hardware stores like Home Depot or Lowe's in the grilling section. Sometimes, you may also find them near the charcoal section of your local grocery store.I've also found them online as well and sometimes order my cedar planks from Amazon when I can't find them locally.
Why grill salmon on a cedar plank? The cedar plank infuses the salmon with a delicious smoky flavor as well as helps it retain moisture throughout the cooking process.
Wood Chunks – I add cherry or apple to add additional smoke flavor to my cedar-planked salmon.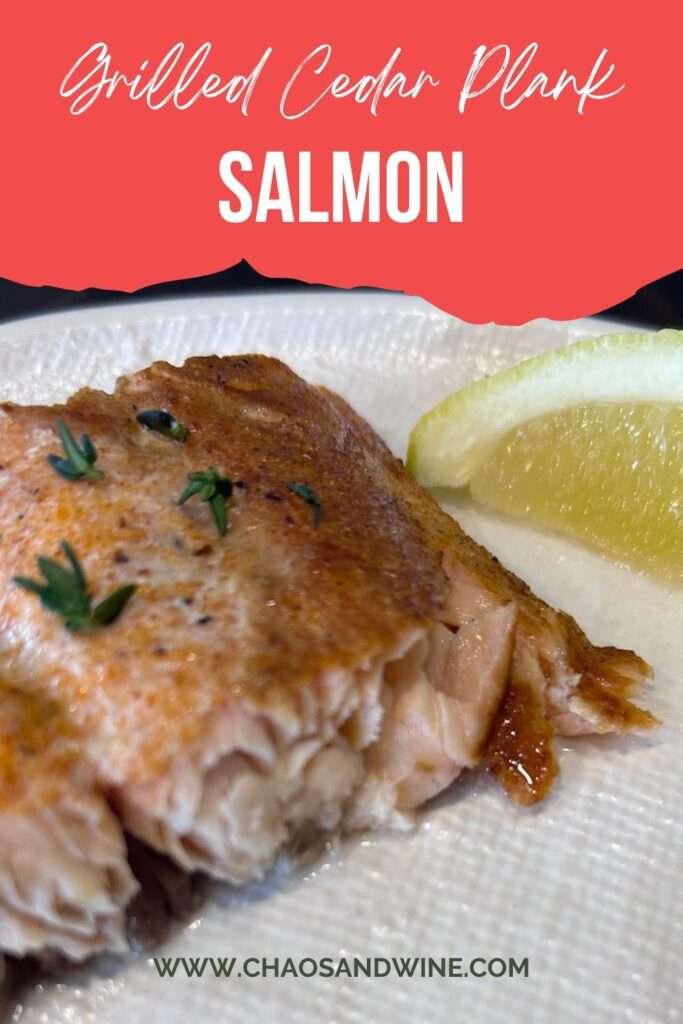 Too busy to make this right now? Pin for later to your favorite Pinterest Board!
Ingredients for Cedar-Planked Salmon
There aren't many ingredients necessary to make this delicious grilled salmon recipe.
Salmon – I use a full fillet of salmon to make cedar-planked salmon. Choose the type of salmon you prefer. You can use individual fillet portions or a full fillet for this recipe.
Lemons – You will need 3-4 fresh lemons, preferably organic as I will be cooking with the skins on.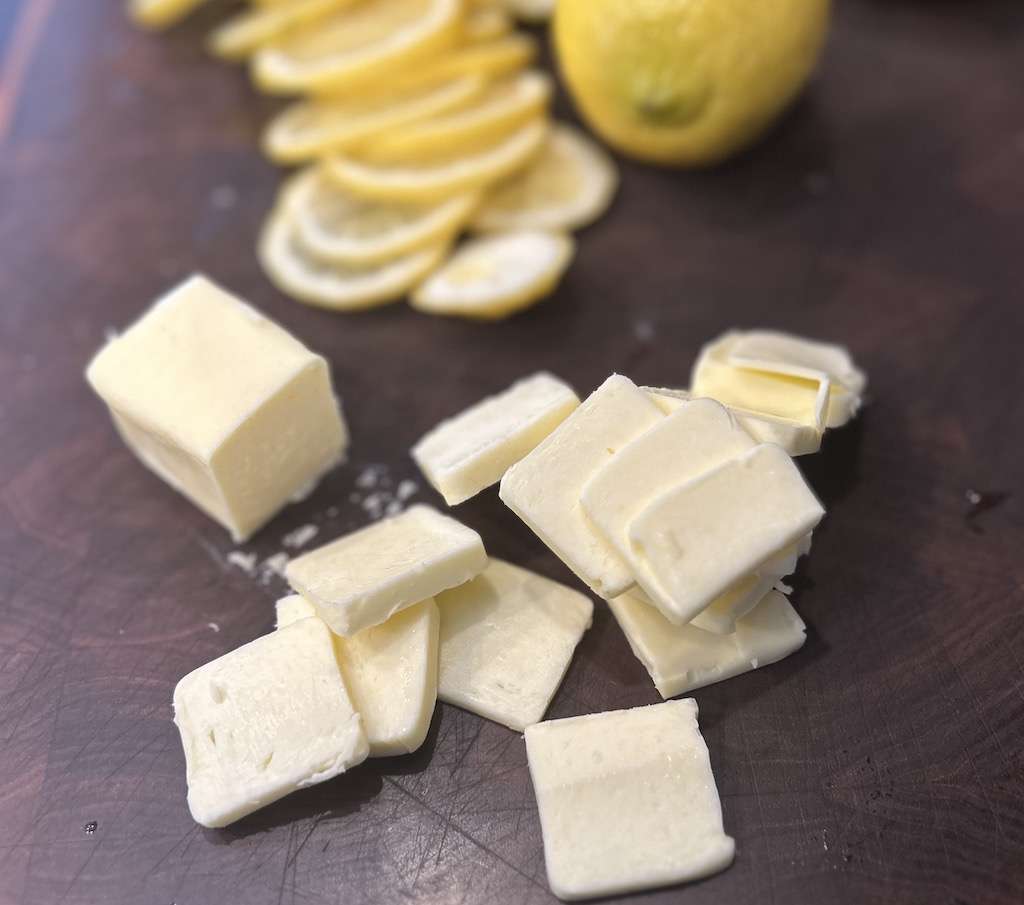 Butter – I use salted butter. The butter not only adds flavor to the cedar-planked salmon but moisture as well.
All-Purpose Seasoning – I use a general all-purpose seasoning such as Lowry's Seasoning Salt to season my salmon. You could also use simple salt, pepper, and a little garlic powder. You could also try Old Bay cedar planked salmon!
How to Make Cedar-Planked Salmon on the Kamado Joe
Prepare your grill for direct cooking and set the temperature to 400° F.
Place your cedar planks in water to soak them. This prevents them from catching fire on the grill. I usually soak them in a lasagna pan and place a glass on top to keep them submerged.
Thinly slice the lemons and cut the butter into thin slices as well. Return the butter to the fridge to keep it cold.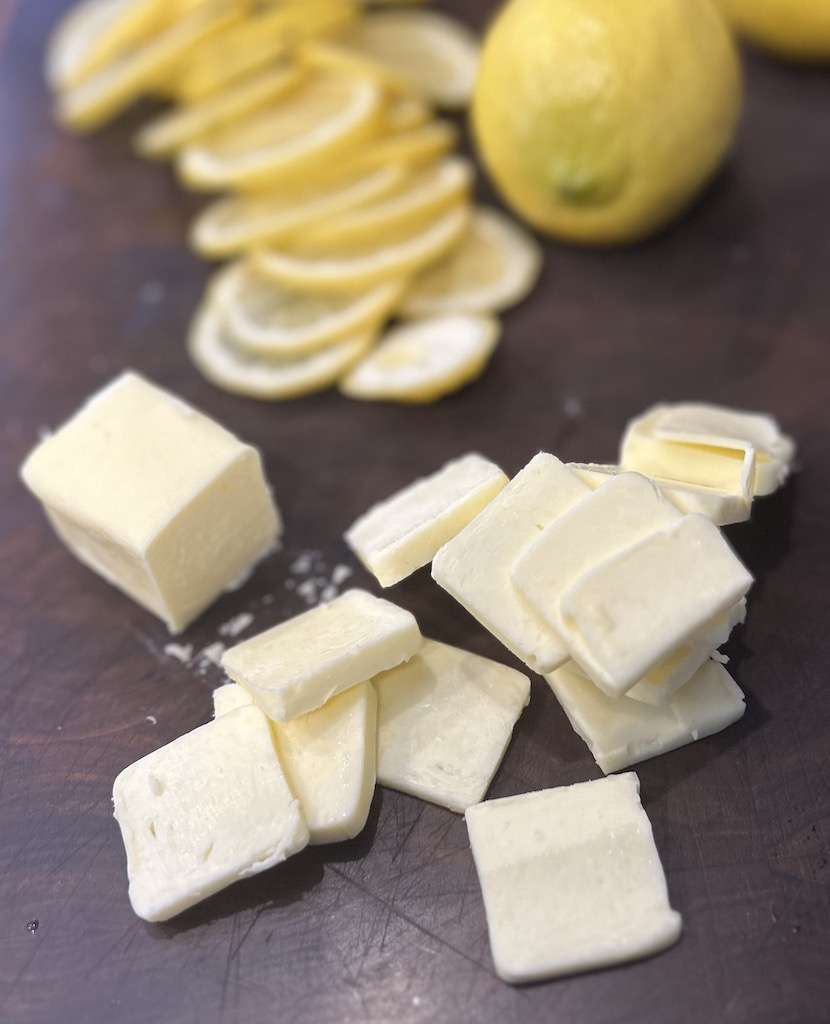 Meanwhile, place the salmon fillet on a large cookie sheet and check for any bones and remove any excess skin. Do not skin the salmon!
Once the planks have soaked for approximately 30 minutes, remove them from the water and place them on a large cookie sheet. Place the salmon fillet on the cedar planks.
Season the salmon with the all-purpose seasoning.
Once well seasoned, dot the salmon with the butter slices.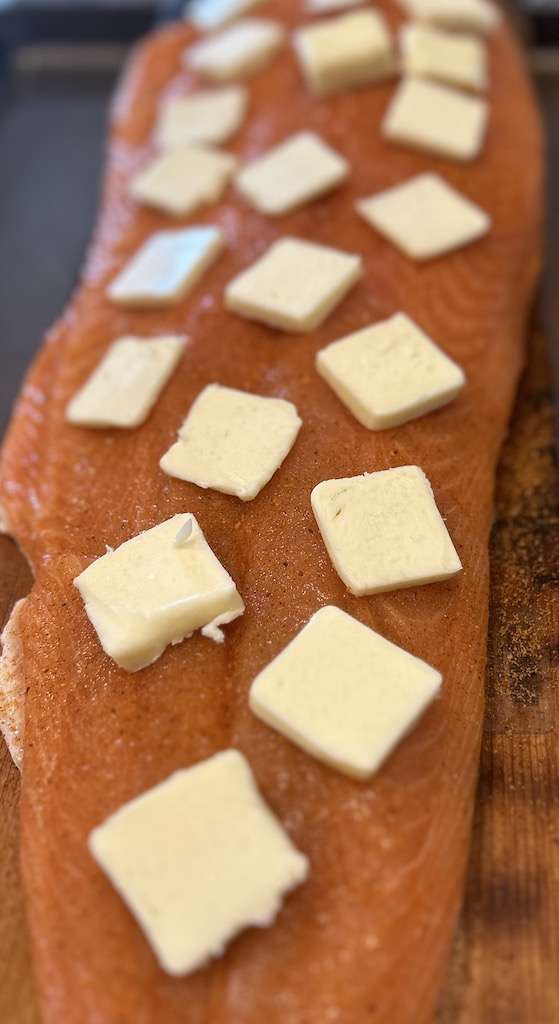 Top the butter with the thinly sliced lemons. I take the ends of the lemons and squeeze the extra juice over top as well!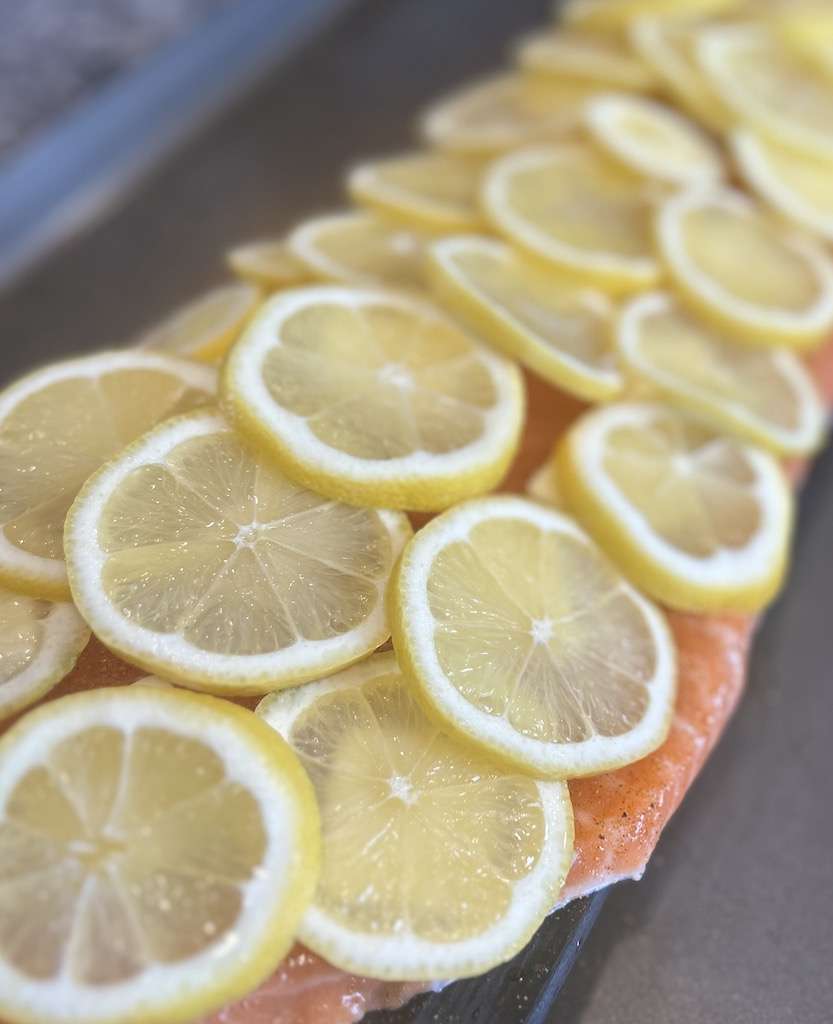 Once the grill has reached 400° F and the salmon is prepped, transfer the cedar planks with the salmon on them to the grill.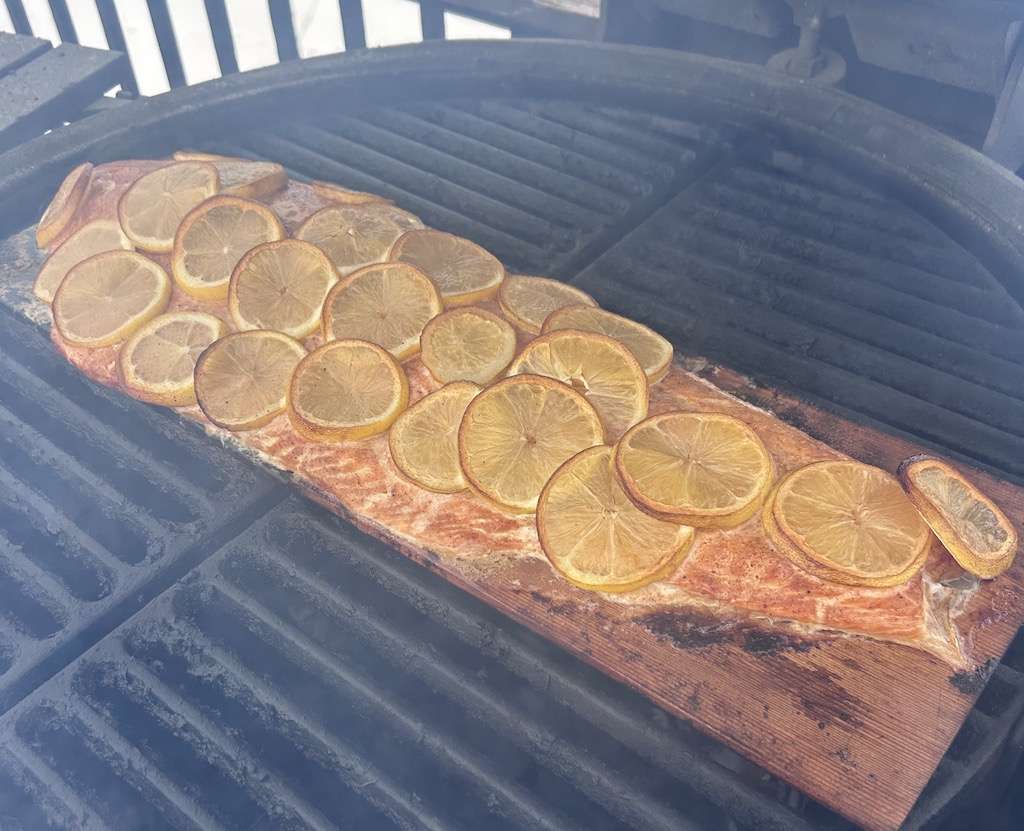 Grill the salmon at 400 °F for approximately 45 minutes or until the internal temperature reaches 145° in the thickest part of the fillet.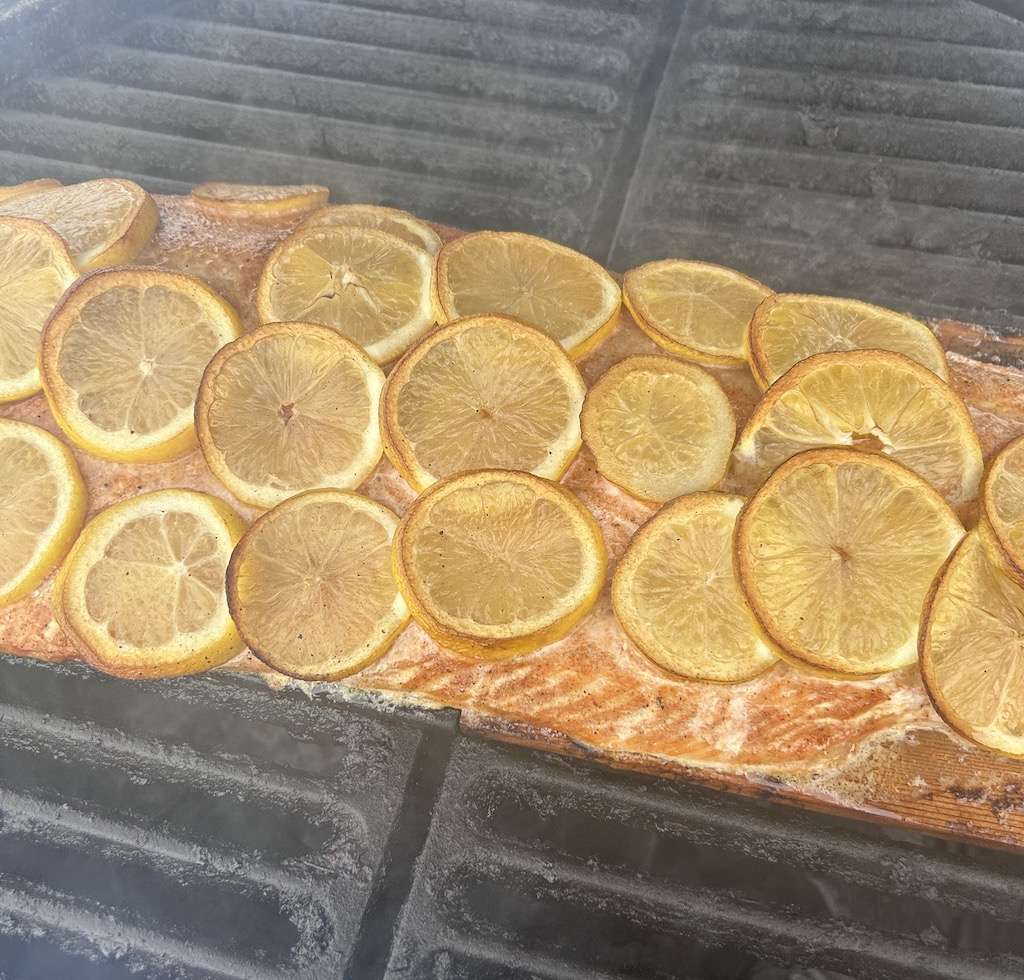 After the salmon is cooked, you can present it to each person on the wooden planks, adding a touch of elegance with lemon slices for decoration. Accompany this delightful dish with grilled or roasted asparagus, or perhaps a refreshing side salad.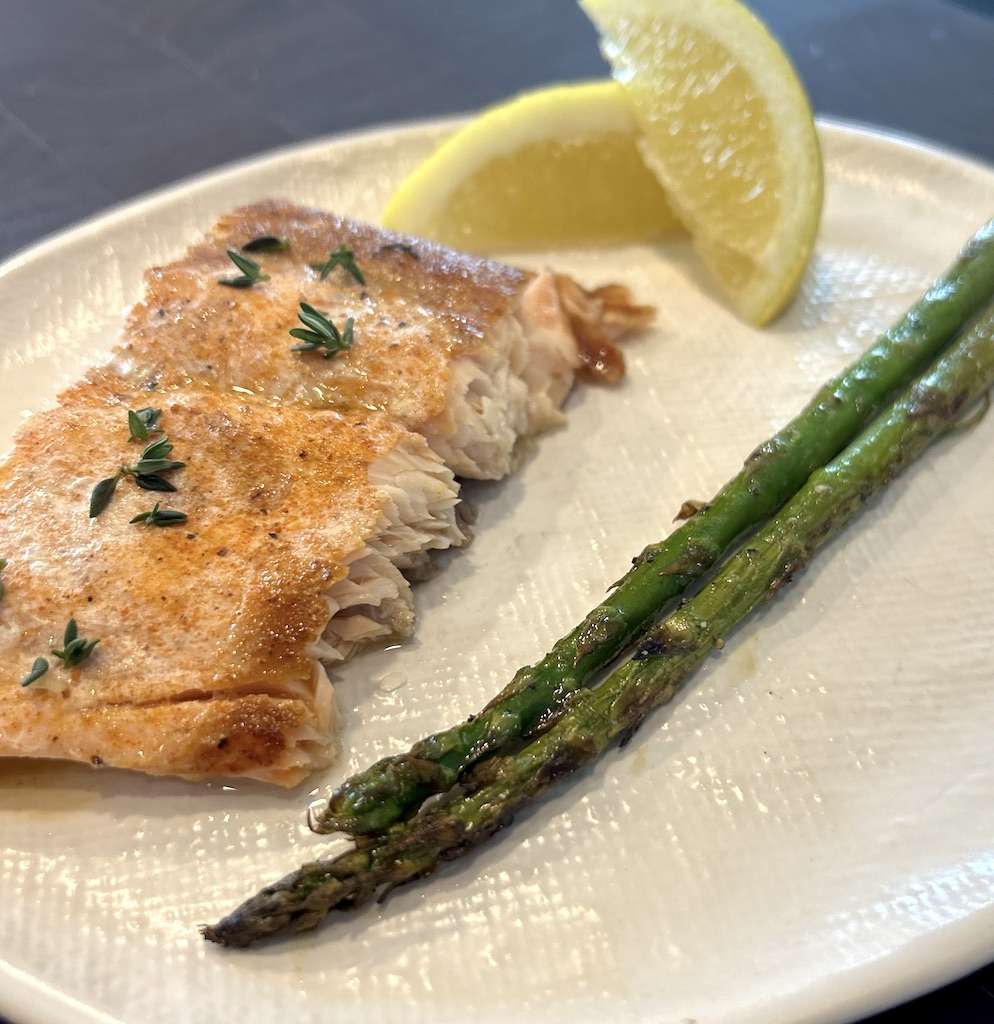 You might also like…
Coffee Rubbed Tri-Tip with Bourbon Mushroom Cream Sauce
Yield: 6 servings
Cedar Planked Salmon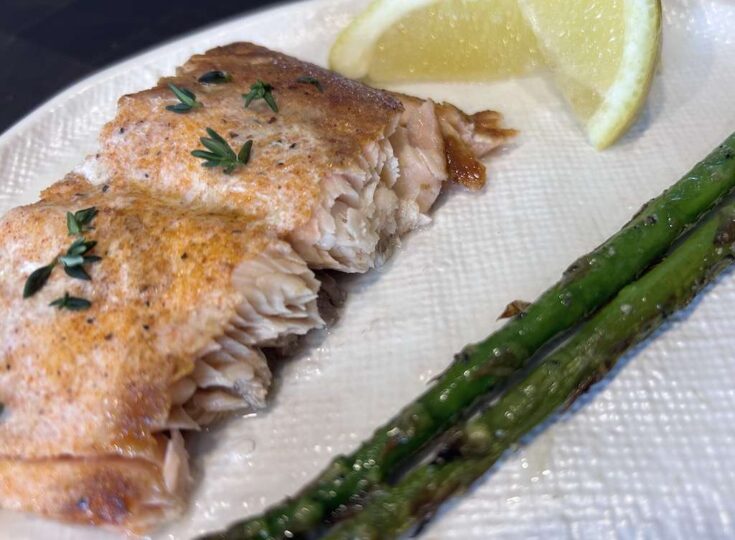 Cedar-planked salmon on the Kamado Joe is a delicious and easy way to prepare salmon!
Ingredients
4 lbs salmon fillet
3-4 lemons
1 stick of butter
1 tablespoon all-purpose seasoning
Instructions
Prepare the grill for direct grilling and preheat to 400°F.
While the grill preheats soak cedar planks in water for approximately 30 minutes.
Slice the butter into thin pats and place back in the fridge to keep cool.
Thinly slice the lemons.
Place salmon fillet on a large cookie sheet and check for any bones and trim any excess skin.
Once the cedar planks are soaked, place the cedar planks on a cookie sheet and transfer the salmon fillet to the cedar planks. You may need to cut your fillet to fit the cedar planks.
Season the salmon with the all-purpose seasoning.
Distribute the butter pats evenly across the top of the salmon fillet.
Cover the butter pats with the thinly sliced lemons.
Transfer the cedar planks with the salmon to the grill and grill at 400°F for approximately 45 minutes or until the internal temperature of the thickest part of the salmon fillet reaches 145°F.
Serve garnished with lemon wedges, grilled asparagus, or a side salad.
Notes
Note the number of lemons you will need depends on how big your salmon fillet is. I usually cut 2 to start and wait to see if I will need more.
Recommended Products
As an Amazon Associate and member of other affiliate programs, I earn from qualifying purchases.
Nutrition Information:
Yield:
6
Serving Size:
1
Amount Per Serving:
Calories:

775
Total Fat:

53g
Saturated Fat:

17g
Trans Fat:

1g
Unsaturated Fat:

31g
Cholesterol:

231mg
Sodium:

1067mg
Carbohydrates:

6g
Fiber:

2g
Sugar:

1g
Protein:

68g
Chaos and Wine occasionally offers nutritional information for recipes contained on this site. This information is provided as a courtesy and is an estimate only. This Nutrition Disclaimer notifies that under no circumstances will Chaos & Wine or its owners be responsible for any loss, damage, or adverse reactions resulting from your reliance on nutritional information given by this site. By using Chaos & Wine and its content, you agree to these terms.
FAQs
How do I make cedar-planked salmon in the oven?
To make cedar-planked salmon in the oven, simply use a cookie sheet with a rack or a bacon rack. Place the cedar planks with the salmon on them on the rack on the cookie sheet. If using a full fillet of salmon, bake at 400 °F for 45 mins or until an internal temperature of 145 °F has reached in the thickest part of the salmon.
Can I reuse cedar planks for grilling salmon?
While it is not recommended to re-use cedar planks, if you choose to do so please be sure to only re-use them with the same type of meat. To clean cedar planks, scrape any food and residue off and rinse well with water. Do not wash with soap as the wood will soak up the soap, and you do not want your next meal tasting like soap!
How do I store leftover cedar-planked salmon?
Why cook salmon on a cedar plank?
Cooking salmon on a cedar plank adds a subtle smokey flavor to the salmon and helps the salmon retain moisture during the grilling process.
What should I serve with cedar planked salmon?
Whether you make cedar planked salmon on the Kamado Joe or your preferred grill, this simple yet elegant recipe is sure to impress your guests! It's our favorite way to make salmon not only due to it's delicious flavor but the simplicity of the recipe.