This spring trail mix recipe is perfect for snacking, packing in lunches, or taking on hikes! Plus it's fun to make with kids to celebrate Spring!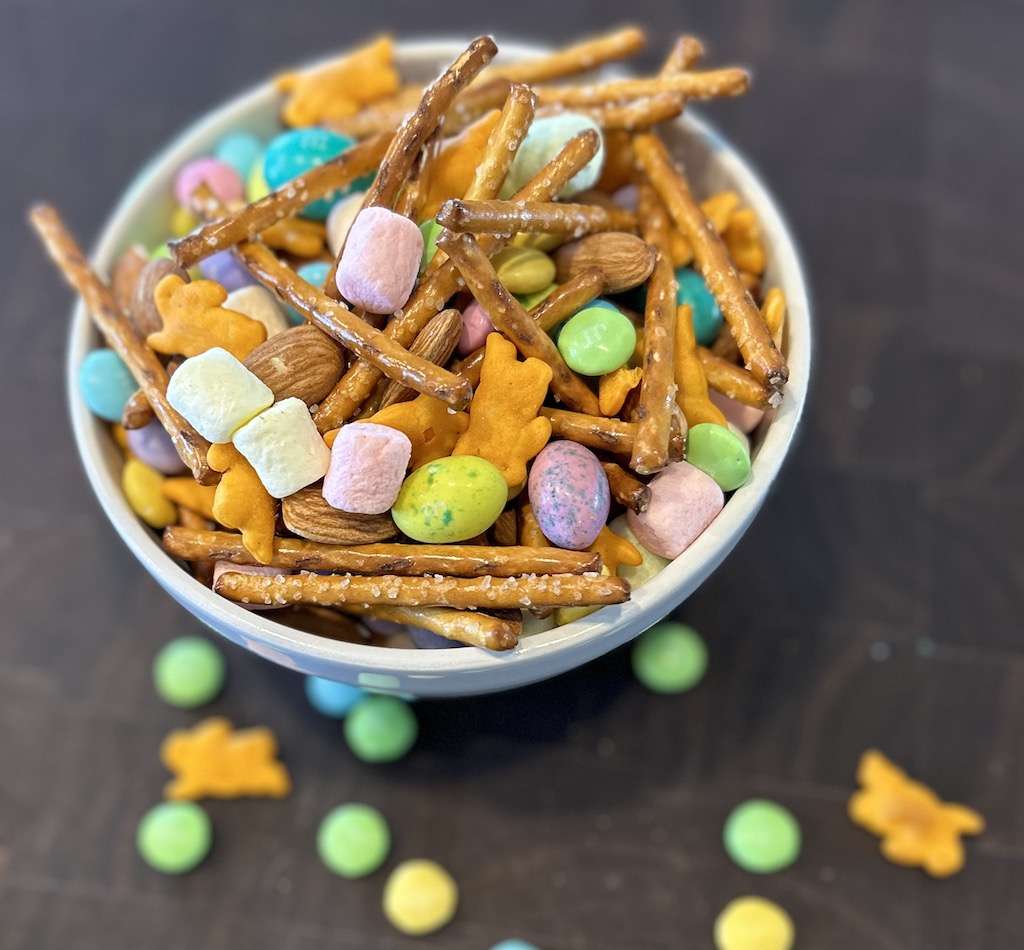 This page contains affiliate links. If you choose to purchase after clicking a link, I may receive a commission at no extra cost to you. For more information please read my full affiliate disclosure.
My kids love helping me in the kitchen and trail mix is probably one of the easiest things to make with kids. We were heading to the grocery store to get the stuff to make a batch of trail mix and they suggested we make a Spring trail mix since Easter was coming! I let them pick and choose the ingredients and made a few suggestions here and there, however, they did an excellent job coming up with this Spring trail mix!
Spring Trail Mix Ingredients
Trail mix can be made with a wide variety of ingredients but I usually try and do something sweet and something salty to create a delicious sweet and salty mix. Here's what the boys picked:
Pretzels – While I really wanted twists or round pretzels, they thought stick pretzels were perfect since one of their favorite activities is collecting sticks. Yes, I have a stick collection in my garage!
Marshmallows – They wanted to add marshmallows to their Spring trail mix and we found the perfect Spring colored marshmallows!
M&M's – We used pastel-colored M&M's to add a touch of Spring color to the trail mix.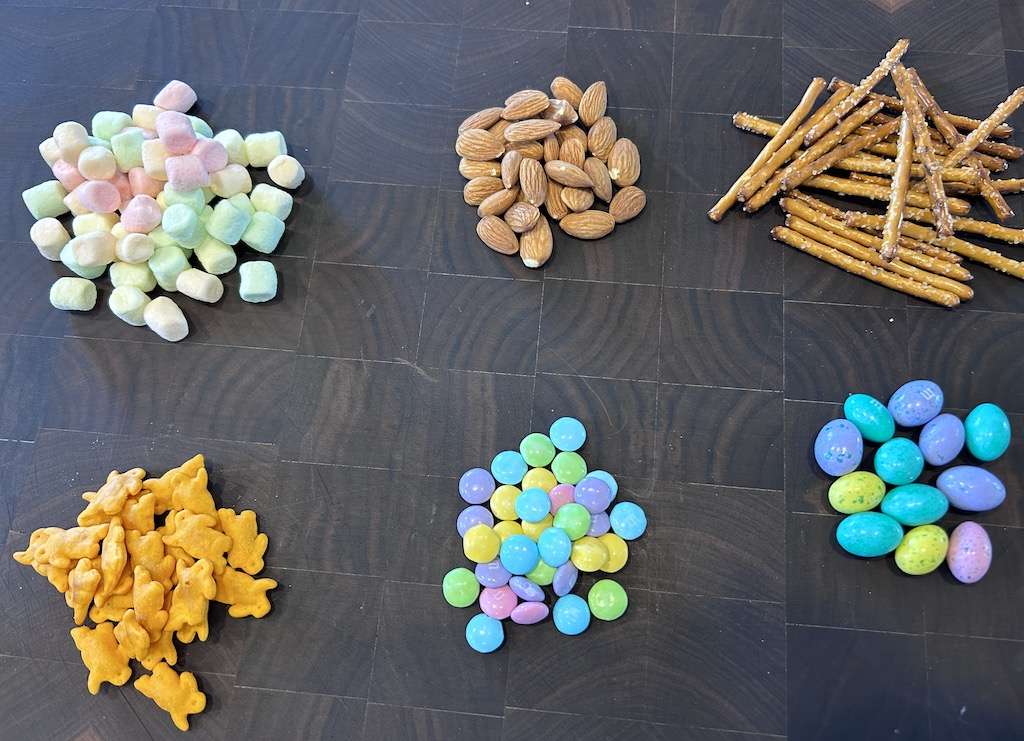 Egg-Shaped M&M's – They found some great egg-shaped M&M's and had to have them in their trail mix so it would be the perfect Easter snack mix!
Nuts – I always add nuts to our trail mix since they are a good source of protein. They choose almonds for this since they are kind of shaped like eggs but you can use whatever your favorite nut is.
Cheddar Bunnies – Since this was a Spring or Easter trail mix they wanted some cheddar bunnies since the Easter bunny comes in the Spring too!
Method
Making trail mix is incredibly easy which is one of the reasons it's so fun to make with kids!
Simply add all your ingredients to a large mixing bowl and gently stir together!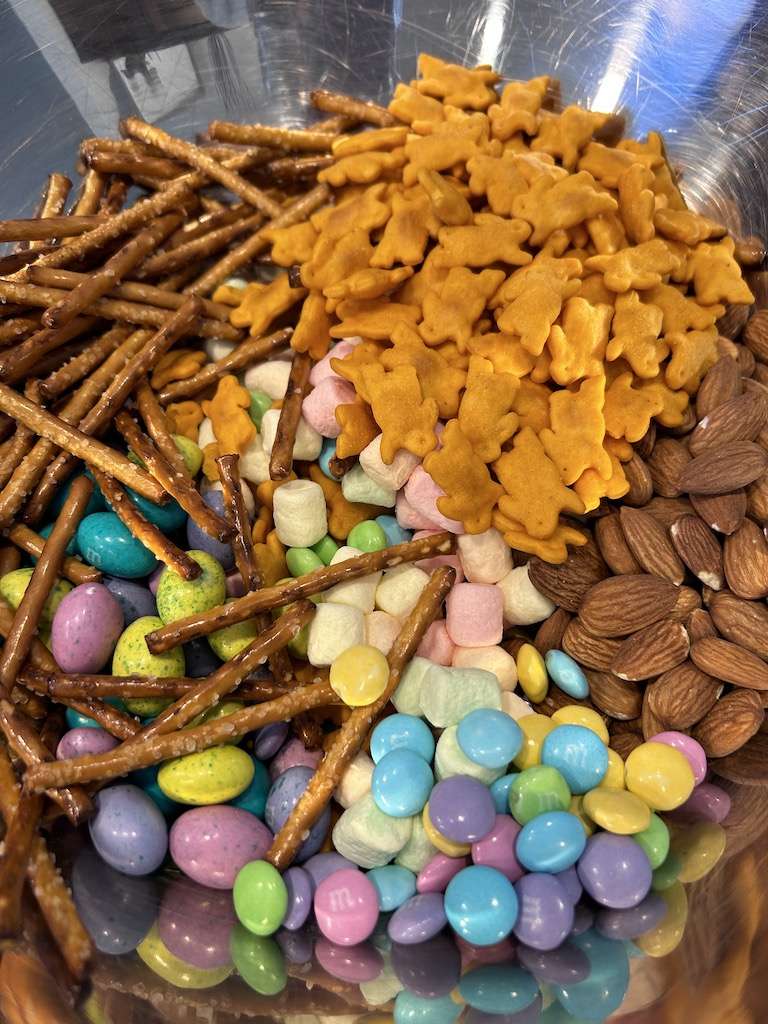 Storing Spring Trail Mix
Store your trail mix in an air-tight container or if you like to pack it in lunches, create little snack bags of trail mix for a quick and easy grab-and-go snack!
I love these little square ziplock bags for creating individual snack portions of trail mix! I keep a basket of quick snacks for the boys and these bags of Spring trail mix are the perfect addition to our snack basket!
Trail Mix Variations
Feel free to mix up the ingredients any way you like!
Change the shape of the pretzels or add different nuts such as cashews or peanuts.
Add some dried fruit. I think dried bananas would be the perfect addition to this Spring Trail Mix!
You can also change up the amounts of each to make it saltier or sweeter depending on your preference. Trail mix is something easy to make but also easy to adjust!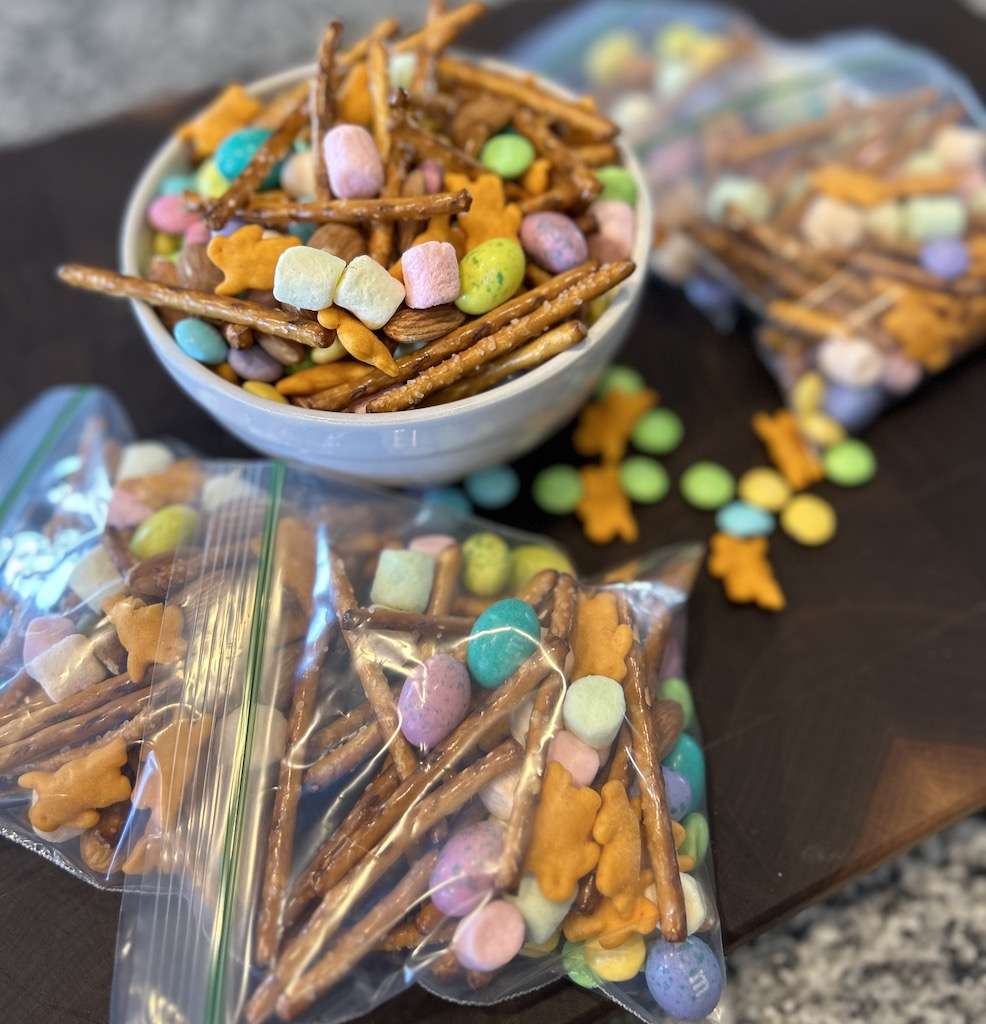 You might also like…
The Benefits of Cooking with Kids
Yield: 8 servings
Spring Trail Mix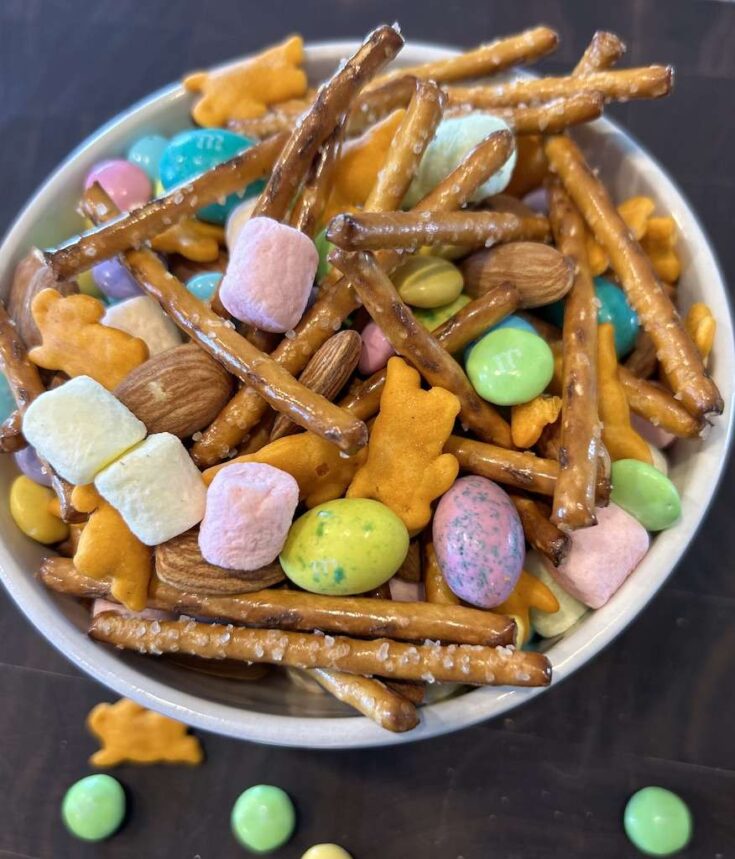 This Spring trail mix recipe is perfect for snacking, packing in lunches or taking on hikes!
Ingredients
1 cup pretzels
1/3 cup M&M's
1/3 cup Egg shaped M&M's
1/3 cup mini marshmallows
1/2 cup almonds or other nut of your choice
Instructions
Add all ingredients to a large mixing bowl.
Gently mix ingredients together.
Serve and enjoy!
Notes
You can store Spring trail mix in an air tight container for 3-5 days or portion into small ziplock bags for easy grab and go snacks.
Recommended Products
As an Amazon Associate and member of other affiliate programs, I earn from qualifying purchases.
Nutrition Information:
Yield:
8
Serving Size:
1
Amount Per Serving:
Calories:

221
Total Fat:

13g
Saturated Fat:

4g
Trans Fat:

0g
Unsaturated Fat:

8g
Cholesterol:

47mg
Sodium:

205mg
Carbohydrates:

20g
Fiber:

2g
Sugar:

11g
Protein:

7g
Chaos and Wine occasionally offers nutritional information for recipes contained on this site. This information is provided as a courtesy and is an estimate only. This Nutrition Disclaimer notifies that under no circumstances will Chaos & Wine or its owners be responsible for any loss, damage, or adverse reactions resulting from your reliance on nutritional information given by this site. By using Chaos & Wine and its content, you agree to these terms.
Spring Trail Mix is the perfect snack to welcome in the new season. With its combination of sweet and salty flavors, it will satisfy any craving you have while providing a healthy boost of energy for your outdoor adventures. Plus, with its colorful ingredients like pastel candies, nuts, and pretzels, it's sure to make your taste buds and eyes happy! So next time you're planning a hike or a picnic in the park, don't forget to pack some Spring Trail Mix for a delicious and fun treat that everyone can enjoy.