I recently whipped up a batch of some amazing cowboy candy and I have to say I love it and I've found so many delicious recipes using cowboy candy in!
When I first started canning, Cowboy Candy and Christmas jam were two of the first things I tried. They are both simple and delicious recipes perfect for beginning canners. So if you find yourself with an abundance of jalapeños, give Cowboy Candy a try!
This page contains affiliate links. If you choose to purchase after clicking a link, I may receive a commission at no extra cost to you. For more information please read my full affiliate disclosure.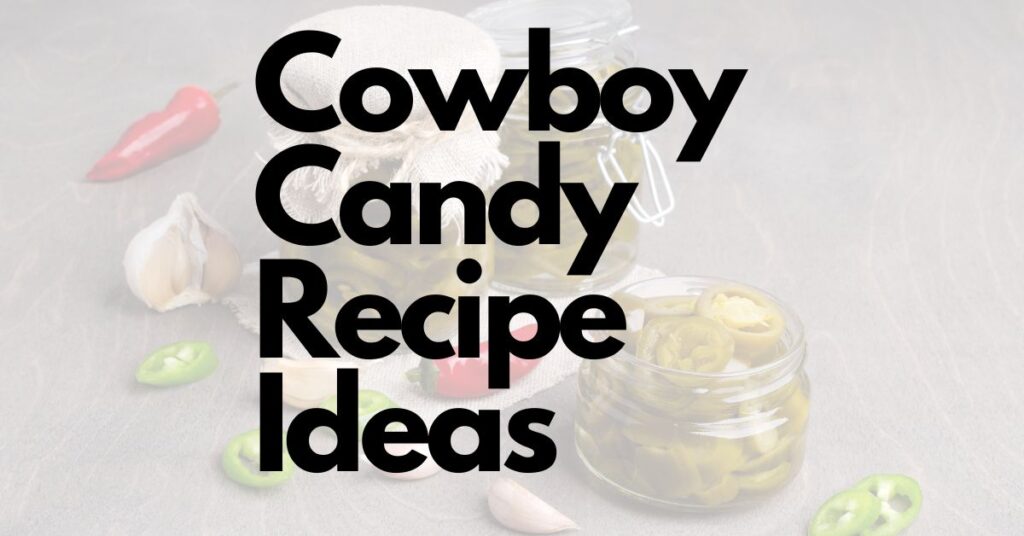 What is Cowboy Candy?
Cowboy candy is a delightful and slightly spicy treat that's perfect for those who enjoy a sweet and savory flavor combination. It's essentially candied jalapeños, and it gets its "cowboy" name because it's a favorite among folks who appreciate a touch of heat in their food.
To make cowboy candy, you start with fresh jalapeño peppers, which are sliced into rings or chunks. The jalapeños are then simmered in a sweet and tangy syrup made from ingredients like sugar, vinegar, and various spices. This process transforms the initially spicy jalapeños into a mouthwatering balance of sweet and spicy flavors. The result is a zesty, sticky, and delicious treat that's great for snacking or as a condiment to add some pizzazz to your dishes.
Cowboy candy is versatile and can be used in a variety of ways. Some people love to eat it straight out of the jar (me, this is me), while others enjoy it as a topping for burgers, hot dogs, or nachos. It can even be used in cooking to add a sweet and spicy kick to your favorite recipes.
I've found some great ways to use both Cowboy Candy and the leftover cowboy candy syrup in delicious recipes my whole family love. Here's a great recipe for cowboy candy!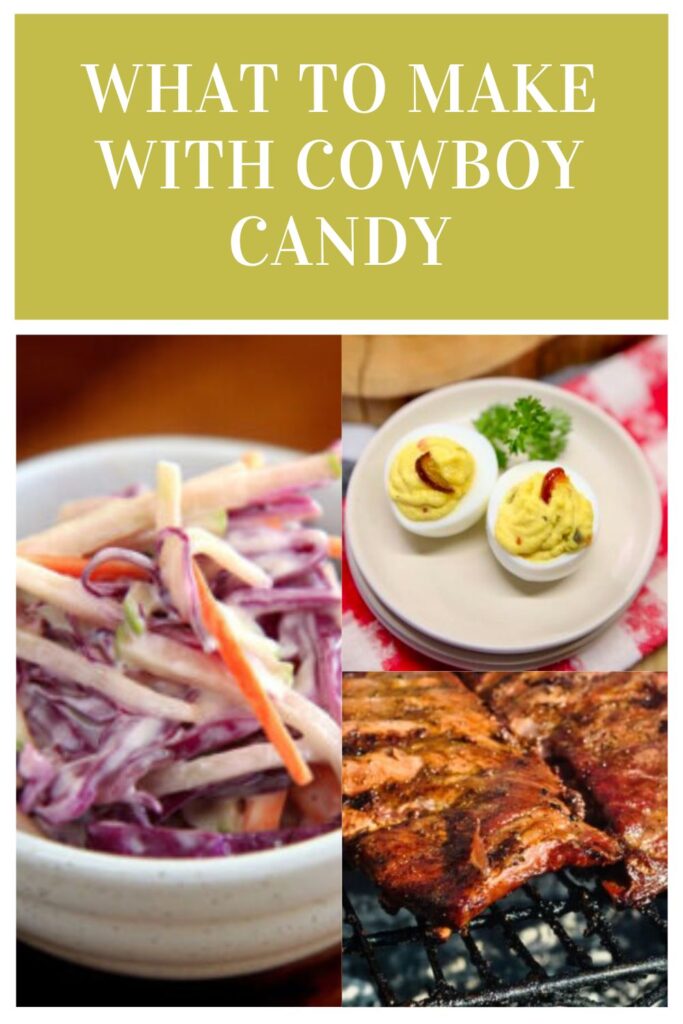 Too busy to make this right now? Pin for later to your favorite Pinterest Board!
Use Cowboy Candy as a Topping
Using Cowboy Candy as a topping is perhaps the easiest way to serve it up! Here are a few quick recipes using Cowboy Candy as a topping:
Pour some cowboy candy and syrup over a block of cream cheese and serve with crackers.
On a hamburger
On a hot dog
On to of nachos
On top of grilled chicken or a grilled chicken salad
On pulled pork
On pizza
What to Mix Cowboy Candy In
You can also mix Cowboy Candy into a variety of recipes for a little added zing.
Cornbread
Mix them into your hamburgers
Recipes that Use Cowboy Candy or Cowboy Candy Syrup
Here are a few amazing recipes for using Cowboy Candy and Cowboy Candy Syrup!
Photo Credit: www.missinthekitchen.com
Jalapeño Deviled Eggs are a tasty appetizer for any occasion. Made with candied jalapenos for the most flavorful deviled eggs that everyone loves.
Photo Credit: pepperscale.com
Cowboy candy BBQ sauce is some of the best BBQ sauce I've ever had. I make a batch every time I make cowboy candy so I'm sure to have some on hand!
Photo Credit: ourlittlehomestead.org
You've got some ribs made up with the delicious Cowboy Candy BBQ sauce so serve some spicy coleslaw with them and you've got the perfect Cowboy Candy meal!
Conclusion on Recipes Using Cowboy Candy
Don't let these recipes using Cowboy Candy limit your creativity, any recipes using jalapenos can easily be adjusted to use Cowboy Candy! While I may still eat it from the jar straight from the fridge, I love these unique and delicious recipes using Cowboy Candy as a topping, mix-in or a fun addition to a classic recipe.