Meatloaf is the ultimate comfort food and my family has always enjoyed it! However, after I started making smoked meatloaf it's now a family favorite!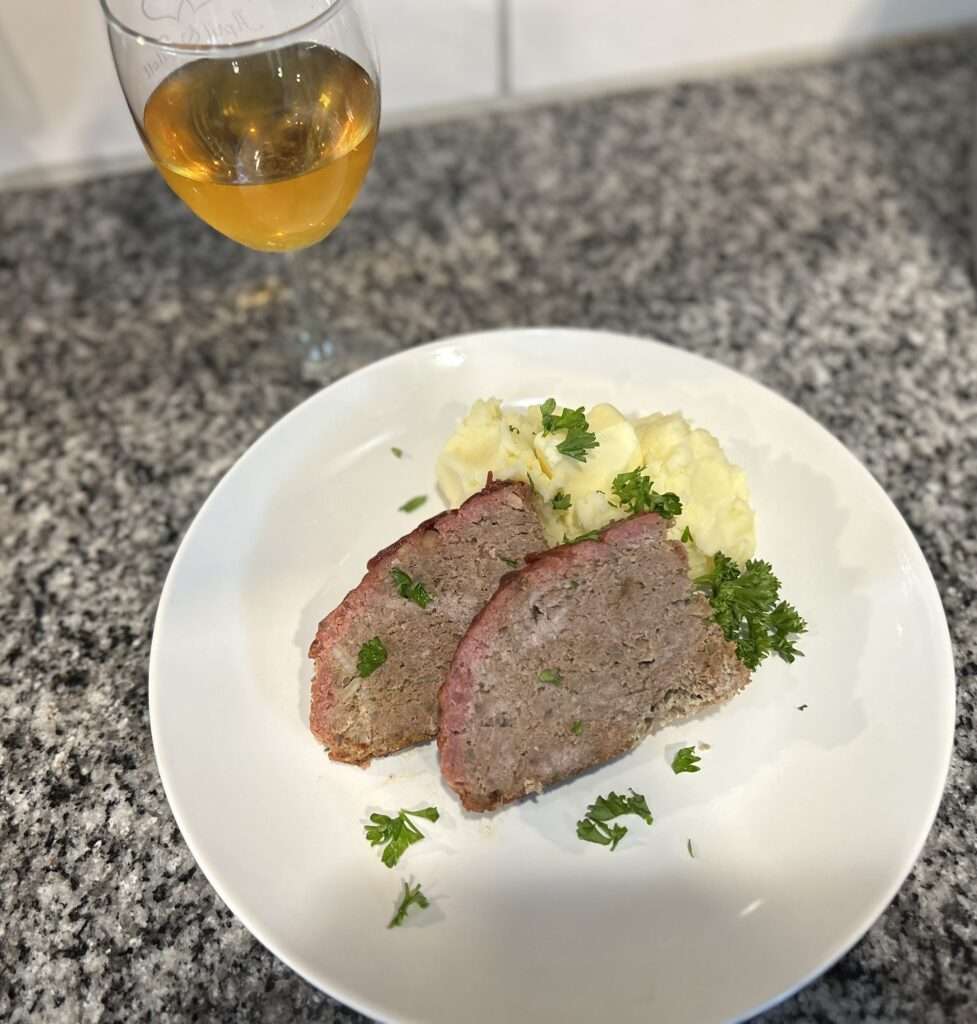 This page contains affiliate links. If you choose to purchase after clicking a link, I may receive a commission at no extra cost to you. For more information please read my full affiliate disclosure.
Classic Meatloaf
Meatloaf is a classic dish that usually consists of ground beef or other ground meats mixed with eggs, bread crumbs, onions, and seasonings, and then baked in a loaf pan or shaped into a loaf and baked. It's the ultimate comfort food for many families, and we particularly like to make it in the Fall and Winter when a warm, filling meal just sounds good.
However, it's now become a year-round favorite since we started using our Kamado Joe grill to make this delicious smoked meatloaf! We love serving it with homemade mashed potatoes and corn!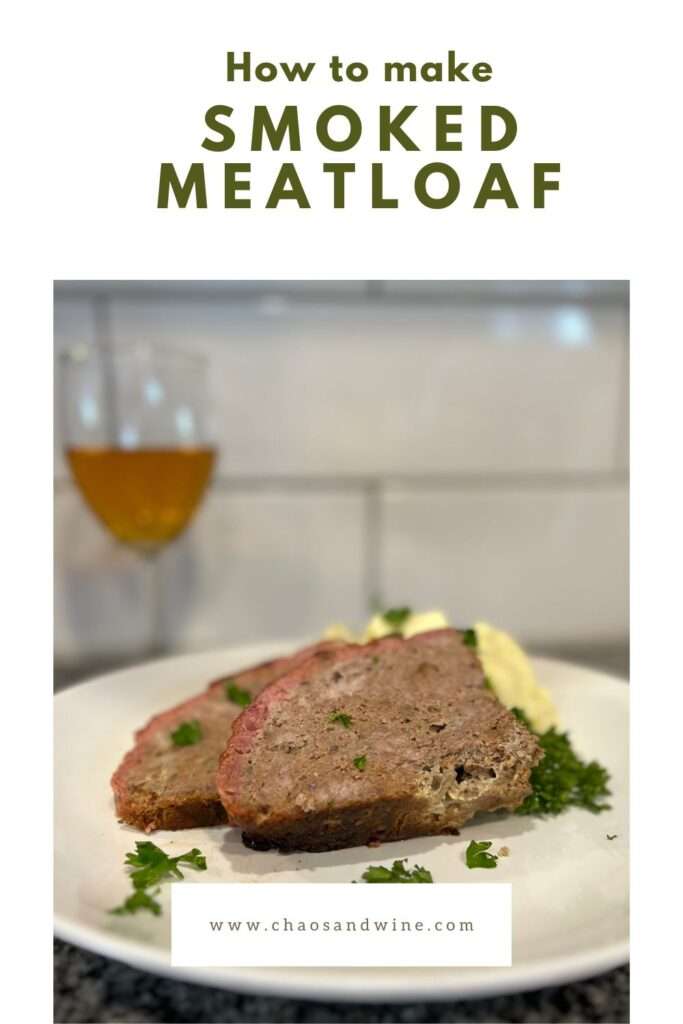 Too busy to make this right now? Pin for later to your favorite Pinterest Board!
Ingredients for Smoked Meatloaf
Meatloaf recipes vary from household to household and everyone has a particular favorite. While you can certainly use your favorite meatloaf recipe and follow the instructions below to smoke your meatloaf, I wanted to provide my recipe as well.
Ground Beef – We purchase all of our ground beef from a local farm, and it's simply the best! Use 85-90% ground beef for meatloaf.
Ketchup – this adds moisture and flavor to your meatloaf.
Dry Onion Soup Mix – this is my secret ingredient, and it adds so much flavor to the meatloaf!
Breadcrumbs – I like to use Italian breadcrumbs for extra seasoning.
Garlic & Onion Powder – Seasonings! It's all about the seasoning!
Onion – fresh diced onion for even more flavor!
Eggs – Eggs help bind the meatloaf together, so it doesn't fall apart.
Parmesan Cheese – this adds another level of flavor!
How to Smoke a Meatloaf
I love my Kamado Joe grill, however, you can use a charcoal grill, gas grill, or pellet grill to make smoked meatloaf. Just be sure to use a smoke box, if you are using a gas grill.
Prepare your grill for indirect cooking and set the temperature to 350°. I rely on the Flameboss to maintain a consistent temperature throughout longer cooking sessions and to monitor the meat's temperature without the need to continuously open and close the grill.
Line a cookie sheet with heavy-duty tin foil and spray with non-stick cooking spray.
Mix all ingredients in a large mixing bowl, being careful not to over-mix your meat! Shape your meat mixture into a loaf shape and place it on the tin foil-lined cookie sheet.
There are two ways to put your meatloaf on the grill. You can transfer the meatloaf on the heavy-duty tin foil to the grates, or you can place the cookie sheet directly on the grill. I have a few older cookie sheets specifically for grilling and smoking, so I typically just add the cookie sheet.
Please note the massive meatloaf in the picture is a 6-pound meatloaf! I was serving 10 people that night! The recipe below is for a 3-pound meatloaf!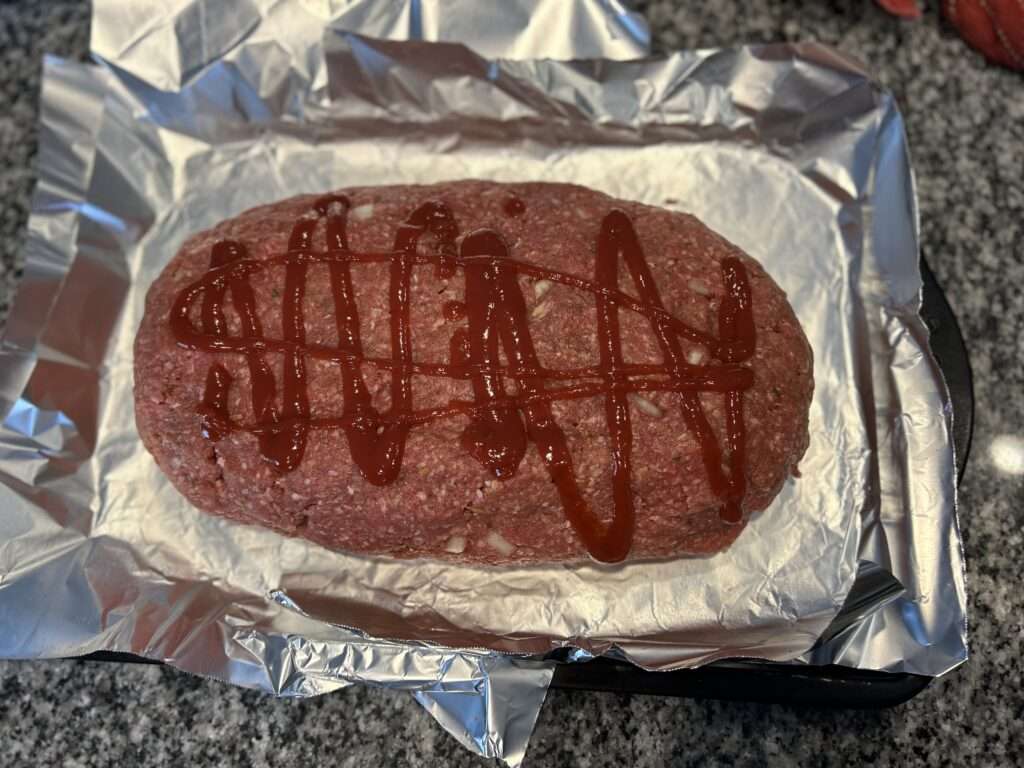 This is what my meatloaf looks like just before I'm ready to put it on the grill!
Smoke the meatloaf on the grill at 350° for about 1 hour to 1 1/2 hours or until you reach an internal temperature of 165°. How long you smoke meatloaf greatly depends on how big your meatloaf is!
Remove from the grill, cover with tin foil, and allow to rest for 10 minutes before slicing. When slicing, check out the gorgeous smoke ring around the edge of your slices!
Serve with homemade mashed potatoes and corn!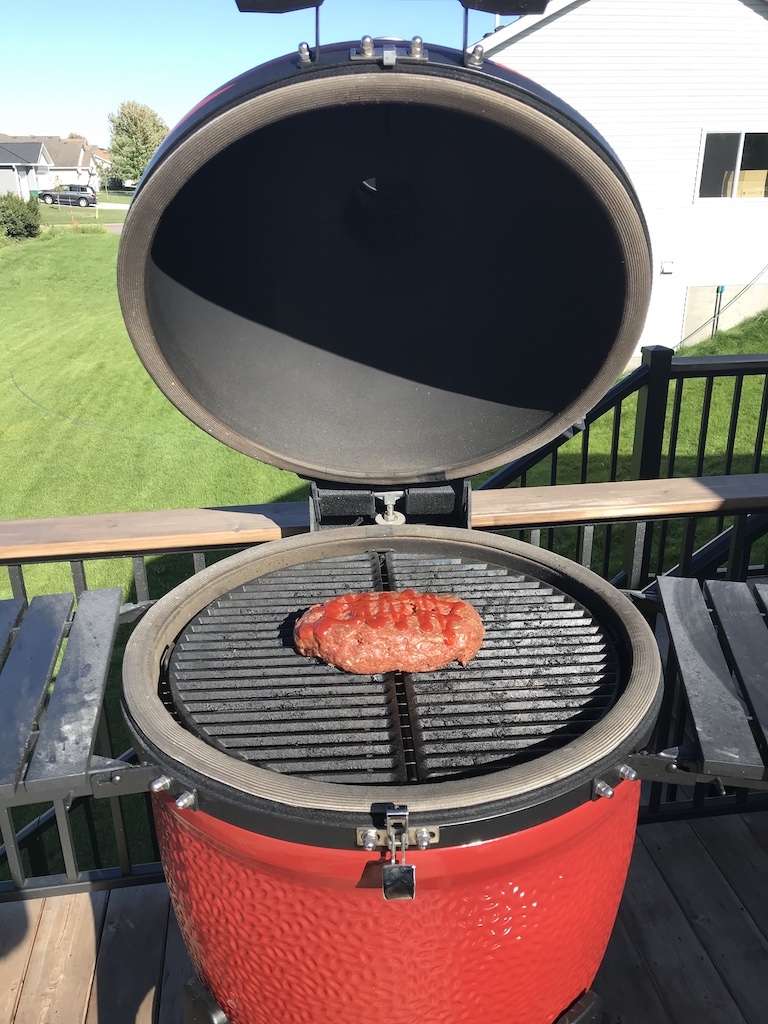 Yield: 6 servings
The Best Smoked Meatloaf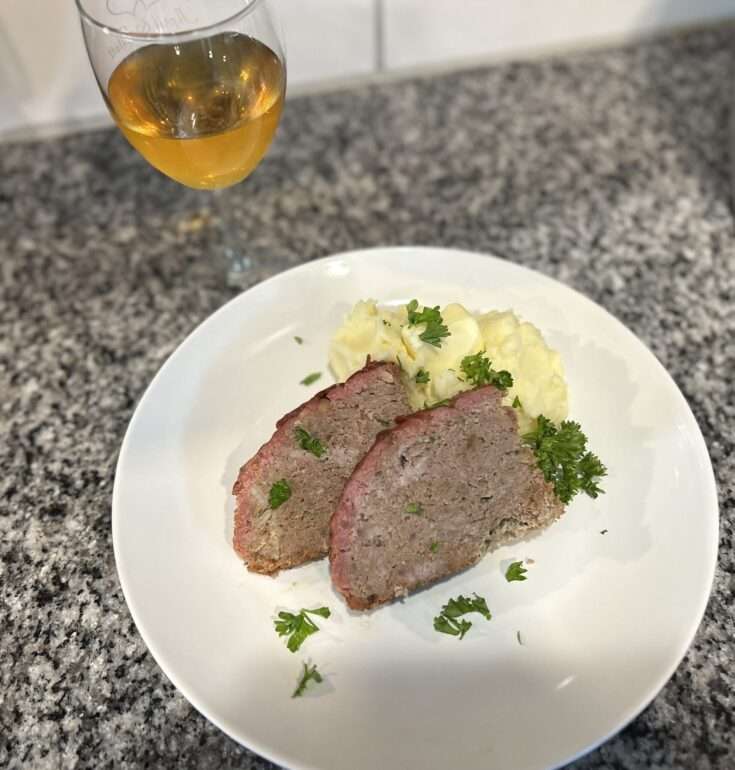 Meatloaf is the ultimate comfort food! Elevate the everyday meatloaf by making a smoked meatloaf!
Cook Time
1 hour
30 minutes
Total Time
1 hour
45 minutes
Ingredients
3 lbs ground beef
2 packets dry onion soup mix
1/2 cup ketchup
1/2 cup breadcrumbs
3 large eggs
1 tsp garlic powder
1 small onion diced
1/2 tsp dried parsley
1/2 cup grated parmesan cheese
Instructions
Prepare the grill for indirect cook and set the temperature to 350°.
Mix all ingredients until well combined.
Line a cookie sheet with heavy-duty tin foil and spray with non-stick cooking spray.
Shape the meat mixture into a large loaf and place it on the heavy-duty tin foil.
Transfer the meatloaf on the tin foil to the grill or you can place the cookie sheet on the grill with the meatloaf.
Cook for approximately 1 hour to 1 1/2 hours or until internal temperature reaches 165°.
Remove from the grill and cover with tin foil. Let rest for 10 minutes before slicing.
Serve with mashed potatoes and corn!
Recommended Products
As an Amazon Associate and member of other affiliate programs, I earn from qualifying purchases.
Nutrition Information:
Yield:
8
Serving Size:
1
Amount Per Serving:
Calories:

591
Total Fat:

33g
Saturated Fat:

13g
Trans Fat:

1g
Unsaturated Fat:

16g
Cholesterol:

227mg
Sodium:

1263mg
Carbohydrates:

17g
Fiber:

1g
Sugar:

4g
Protein:

52g
Chaos & Wine occasionally offers nutritional information for recipes contained on this site. This information is provided as a courtesy and is an estimate only. This Nutrition Disclaimer notifies that under no circumstances will Chaos & Wine or its owners be responsible for any loss, damage, or adverse reactions resulting from your reliance on nutritional information given by this site. By using Chaos & Wine and its content, you agree to these terms.
Variations
There are several variations you can make to this smoked meatloaf recipe!
Bacon-Wrapped Smoked Meatloaf – Wrap your meatloaf in bacon and create a delicious smoked bacon-wrapped meatloaf! This is similar to how I make my Over the Top Chili.
BBQ Smoked Meatloaf – Use barbecue sauce instead of ketchup to add a different flavor.
Smoked Stuffed Meatloaf – Add a layer of cheese in the middle of your meatloaf for extra cheesiness. I would use cheddar myself but use any type of cheese you like!
FAQs
Can I use my own meatloaf recipe?
Of course! You can use this recipe for smoked meatloaf or whatever your favorite meatloaf recipe is!
Can I make smoked meatloaf if I only have a charcoal or gas grill?
Yes, I highly recommend using a smoker box if you are going to use a charcoal, pellet grill, or gas grill.
What kind of wood do you use for smoking meatloaf?
I like to use hickory or mesquite wood for making smoked meatloaf.
How do I store leftover smoked meatloaf?
If you end up with leftover smoked meatloaf, you can store it in an airtight container in the fridge for 4–5 days. Please refer to the USDA guidelines for storing leftovers.
To reheat your leftovers, you can fry slices in a pan with a little butter (my personal favorite) or reheat them in the microwave or air fryer.
Can I freeze smoked meatloaf?
Yes, you can freeze smoked meatloaf after it's been cooked. Allow slices to cool completely before wrapping them in plastic wrap and then foil. Freeze for up to 4 months.
Allow the smoked meatloaf to defrost in the fridge overnight and then reheat either in the microwave, air fryer, or my personal favorite, fry the slices in a pan with a bit of butter.
Whether you use the best smoked meatloaf recipe I provided here, or you use your own personal meatloaf recipe, making a smoked meatloaf elevates a classic dish and is sure to impress family and friends!
Looking for additional grilling recipes? Try Over the Top Chili (Smoked Chili) or Coffee Rubbed Tri-tip with Bourbon Mushroom Cream Sauce!