Imagine walking into a cozy winter wonderland, filled with the warm aroma of rich and velvety hot chocolate. Your eyes are immediately drawn to a beautifully set-up hot chocolate bar, overflowing with an array of toppings and mix-ins. It's a sight that will delight both you and your children! Plus it's easy and fun to set up a hot chocolate bar!
Setting up a hot chocolate bar is not only a delightful treat for your guests, but also an opportunity to showcase your creativity and innovation. With endless possibilities for customization, you can create a truly unique experience that will leave both young and old in awe.
This page contains affiliate links. If you choose to purchase after clicking a link, I may receive a commission at no extra cost to you. For more information please read my full affiliate disclosure.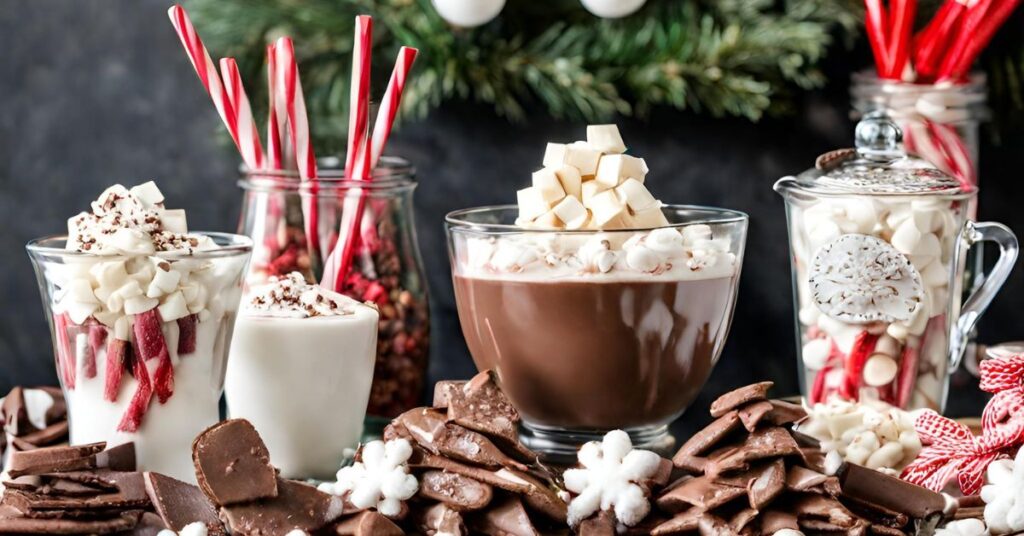 In this article, we will explore exciting ideas on how to set up the perfect hot chocolate bar. From selecting the perfect base to offering non-dairy and sugar-free options, we'll guide you through every step of the process.
Get ready to indulge in decadent flavors and create unforgettable moments as you transform your gathering into an extraordinary celebration of all things chocolaty!
Select the Perfect Hot Chocolate Base
Now, let's talk about how you can choose the perfect hot chocolate base for your hot chocolate bar. Have you ever tried using a rich and creamy Belgian chocolate as the base? The velvety smoothness will make your taste buds dance with joy!
When it comes to creating a unique and innovative hot chocolate bar, selecting the right base is crucial. Belgian chocolate is renowned for its high-quality cocoa beans and exquisite flavor profile. By using this luxurious ingredient as your base, you'll elevate your hot chocolate experience to new heights.
Here's a link to my favorite Belgium hot chocolate recipe. It's only for one cup but you can easily double, triple or whatever you need to make enough for your hot chocolate bar.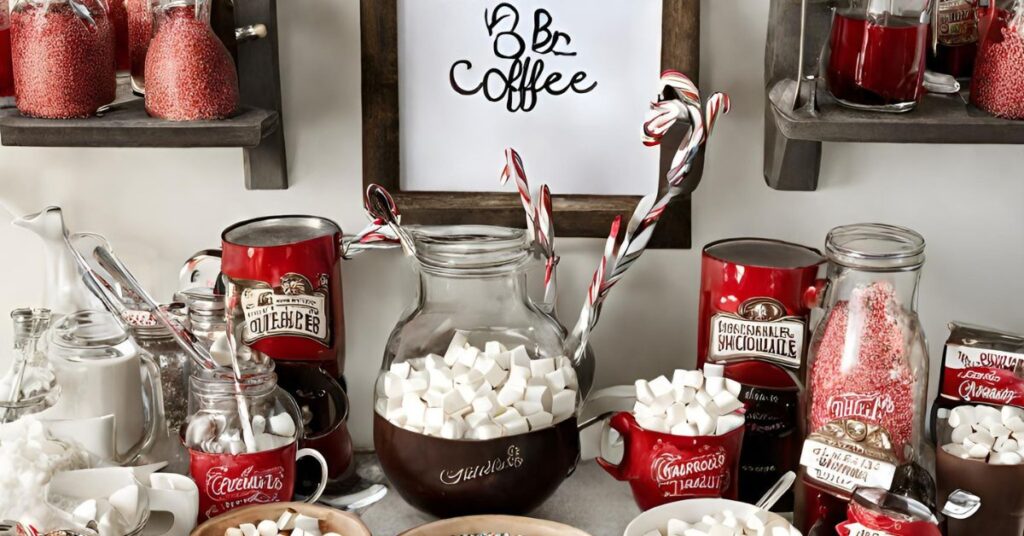 On the other hand, you can also provide a variety of hot chocolate ideas so guests can sample just one or maybe even two or three! Here are a few additional hot chocolate recipes to get you started:
Spicy Orange Cinnamon Hot Chocolate
Another exciting idea is to provide guests with the opportunity to customize their own hot chocolate by offering a variety of toppings and mix-ins that complement the rich Belgian chocolate base. From marshmallows and whipped cream to crushed cookies or flavored syrups, these additions will take your hot cocoa creations from ordinary to extraordinary.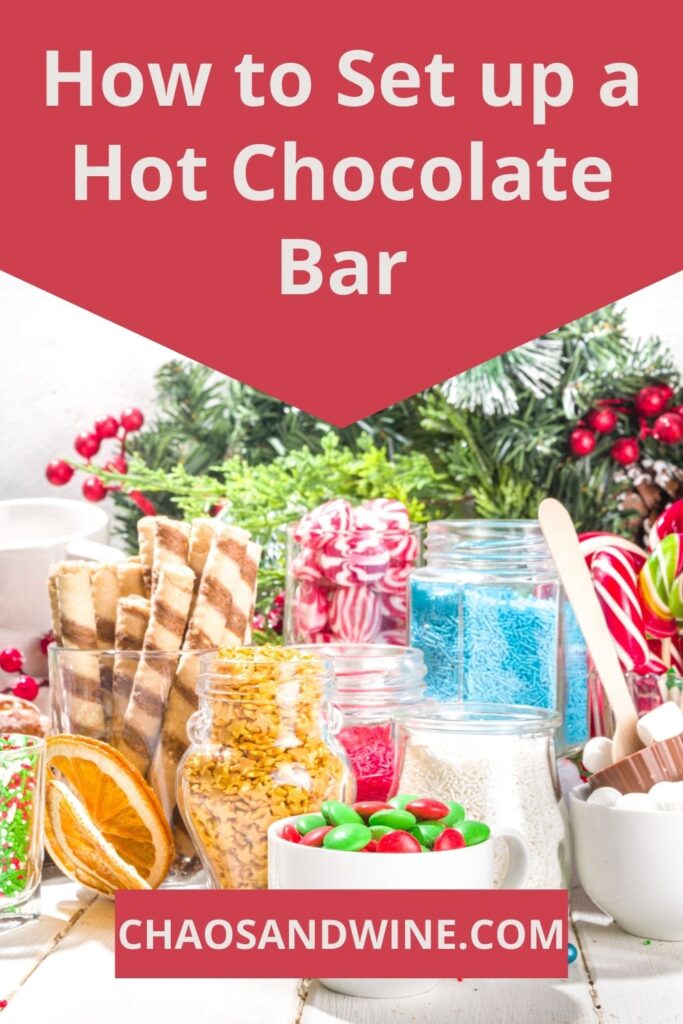 Too busy to make this right now? Pin for later to your favorite Pinterest Board!
Hot Chocolate Bar Toppings and Mix-ins
To create a delightful hot chocolate experience, imagine yourself exploring a world of delectable toppings and mix-ins that'll elevate your cozy drink to new heights. At your hot chocolate bar, you've got the power to experiment with an array of exciting options.
Here are some ideas to get you started:
Whipped Cream: Take your hot chocolate to the next level by adding a generous dollop of fluffy whipped cream on top. It adds a creamy richness and melts perfectly into the warm beverage.
Marshmallows: Classic but always delicious, marshmallows are a must-have topping for any hot chocolate lover. Go for traditional mini marshmallows or try something different like flavored or jumbo marshmallows.
Chocolate Shavings: Sprinkle some finely grated chocolate over your hot chocolate for an extra touch of indulgence. Whether it's dark, milk, or white chocolate, it'll melt beautifully and add a burst of flavor.
Caramel Sauce: Drizzle some gooey caramel sauce over your hot chocolate for a sweet and decadent twist. The combination of rich cocoa with the smooth caramel is simply divine.
Peppermint Sticks or Candy Canes – I love offering peppermint sticks or candy canes for a holiday themed hot chocolate bar. They not only provide a gorgeous decoration when presented in a glass mason jar but add flavor when stirred into a cup of hot cocoa.
By offering a variety of toppings at your hot chocolate bar, you'll provide your guests with endless possibilities to customize their drinks and create unique flavor combinations.
Don't forget to stock up on all the necessary supplies such as festive mugs, spoons, napkins, and stirrers to make sure everyone's got everything they need for their ultimate hot chocolate experience! I like to choose a variety of shapes and sizes for mugs to provide everyone with the perfect option but more on that in a bit.
Hot Chocolate Bar Displays
Imagine transforming a simple corner of your space into a stunning display area that captivates your guests and draws them in to indulge in the irresistible allure of a hot chocolate bar experience like no other.
Creating a decorative display area for your hot chocolate bar is essential to create an atmosphere that showcases the decadence and excitement of hot cocoa!
Start by selecting a theme that reflects your personal style or the occasion. Whether it's rustic, modern, or whimsical, choose decorations that complement the theme and enhance the overall aesthetic. Hang fairy lights or paper lanterns overhead to add a touch of magic. Use tablecloths, runners, or placemats in coordinating colors or patterns to tie everything together. If you're doing a holiday theme such as Christmas or Winter, work with colors that suit the holiday and it's style!
Next, consider adding eye-catching signage to highlight different sections of your hot chocolate bar. Use chalkboard signs with creative messages like "Warm up with our signature flavors" or "Create your own masterpiece." This not only adds visual interest but also helps guide your guests through their hot chocolate journey. You can also snag some amazing hot chocolate bar signs on Amazon!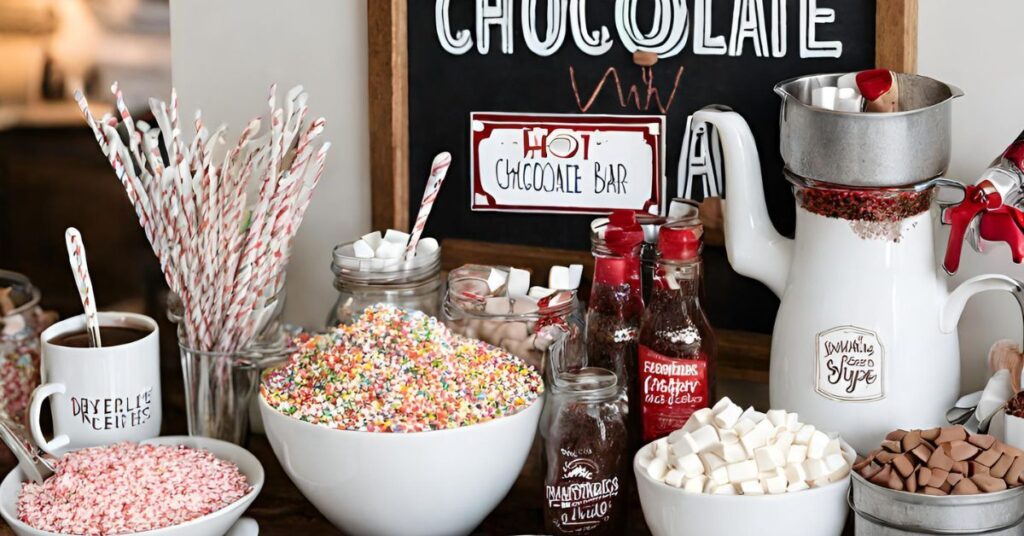 Don't forget about the little details! Display toppings and mix-ins in elegant glass jars or bowls for an added touch of sophistication. Add fresh flowers or greenery as natural accents throughout the display area. And remember to provide plenty of mugs and stirring spoons for guests to use while they customize their perfect cup.
By setting up a decorative display area for your hot chocolate bar, you'll create an ambiance that elevates this cozy beverage into an unforgettable experience for all who partake. So go ahead and let your creativity flow as you design a captivating space that will leave everyone craving another cup of deliciousness.
Providing Different Types of Mugs and Cups
Transport your guests to a world of indulgence with an array of enchanting mugs and cups, each one a vessel for their dreams to sip from. When it comes to setting up your hot chocolate bar, providing different types of mugs and cups is essential in creating a unique and innovative experience for your guests.
Firstly, consider offering a variety of sizes. Some guests may prefer a small cup for a quick warm-up, while others may crave the warmth that comes from sipping slowly out of a large mug. By offering different sizes, you cater to everyone's preferences.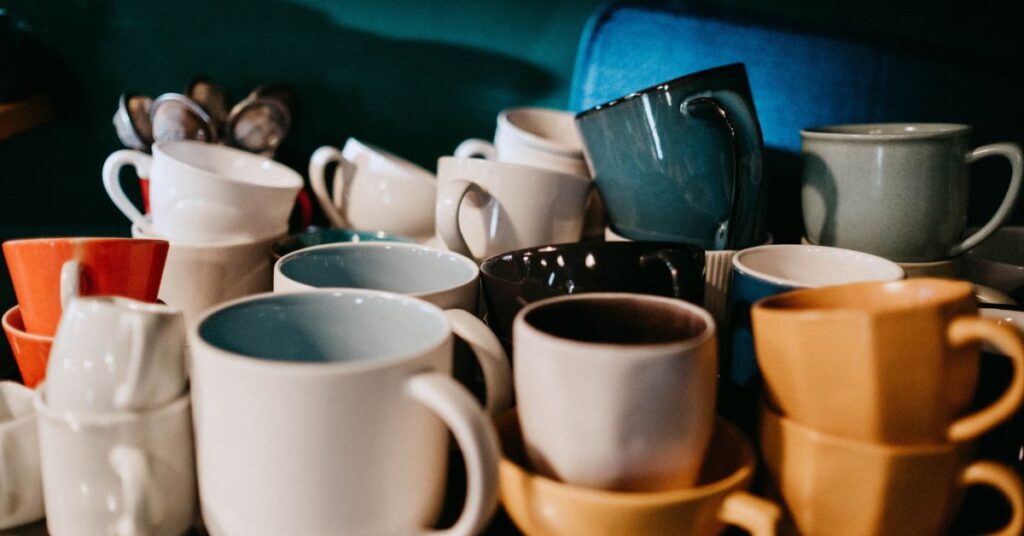 Next, think about incorporating themed mugs or cups. Have fun with it! Use mugs adorned with snowflakes or cozy winter scenes to add some seasonal charm. You could even offer personalized mugs where guests can write their names or draw their own designs using markers specifically made for ceramics.
In addition to size and theme, consider providing different materials such as ceramic, glass, or even insulated stainless steel travel mugs for those on-the-go moments. This will allow your guests to choose the type of cup they most enjoy using while enjoying their delicious hot chocolate creations.
By offering an assortment of enticing mugs and cups at your hot chocolate bar, you create an atmosphere that sparks curiosity and excitement. So go ahead and let your imagination run wild when selecting the vessels for this delightful beverage adventure!
Offer Non-Dairy and Sugar-Free Options
Indulge your guests with a world of flavor, offering non-dairy and sugar-free options that'll leave their taste buds dancing with delight. When it comes to creating a hot chocolate bar that caters to everyone's preferences, providing non-dairy and sugar-free alternatives is essential.
Here are some innovative ideas to incorporate these options into your hot chocolate bar:
Coconut milk: Offer creamy and delicious coconut milk as an alternative to dairy. Its rich flavor adds a tropical twist to the classic hot chocolate.
Almond milk: Provide almond milk for those who prefer a nutty flavor. This dairy-free option brings a subtle sweetness that pairs perfectly with the rich cocoa taste.
Stevia sweetener: Add stevia sweetener packets alongside traditional sugar for those looking for a guilt-free indulgence. Stevia's natural, calorie-free, and provides just the right amount of sweetness.
Dark chocolate powder: Use dark chocolate powder instead of regular cocoa mix. Dark chocolate has less sugar but still delivers an intense chocolaty experience.
Sugar Free Toppings: Don't forget to offer a selection of sugar-free toppings such as this maple whipped cream and sugar-free sprinkles.
Oat Milk Hot Cocoa – Try this oat milk hot chocolate recipe to serve!
By offering these non-dairy and sugar-free options, you're ensuring that every guest can enjoy their cup of hot chocolate without compromising on taste or dietary needs. Your innovative approach will impress even the most discerning palates, making your hot chocolate bar stand out from the rest.
So go ahead and create a delightful experience for all of your guests filled with flavorful choices!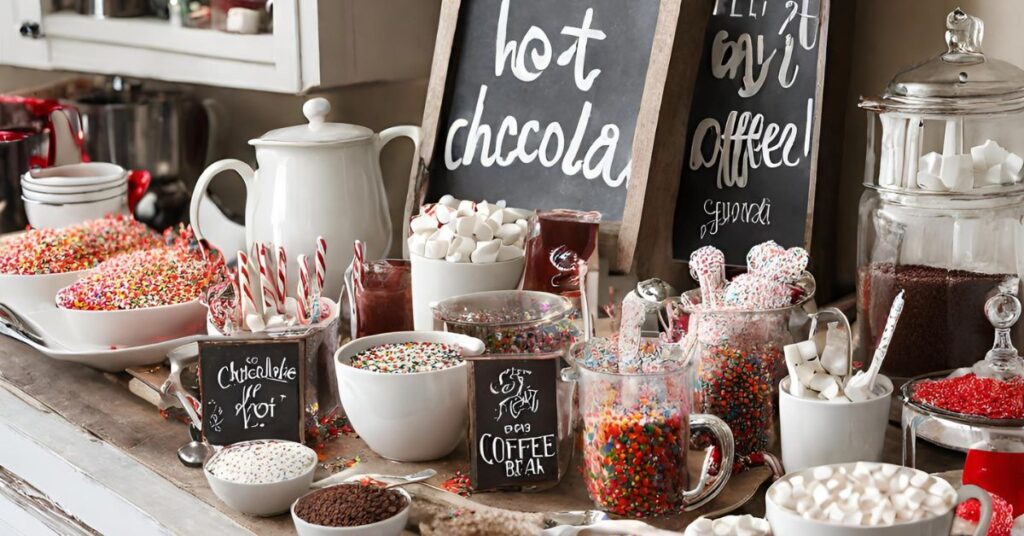 Create a DIY Whipped Cream Station
Get ready to elevate your hot chocolate experience by creating your very own DIY whipped cream station at your DIY hot chocolate bar. This innovative addition will allow you to customize and top off your delicious cup of cocoa with a fluffy cloud of whipped goodness.
To set up your DIY whipped cream station, start by providing a variety of flavored syrups that can be added to the whipped cream. Think outside the box with options like caramel, peppermint, or even hazelnut. These unique flavors will add an extra layer of excitement to your hot chocolate creations. You can check out my post on whipped cream dispenser recipes with over 10 different flavor ideas!
Next, offer different types of toppings for guests to sprinkle on their whipped cream. Consider options like crushed candy canes, mini marshmallows, or even grated chocolate. These toppings will not only add visual appeal but also provide additional flavor and texture.
Make sure you have plenty of fresh whipped cream available in easy-to-use dispensers or bowls. Encourage guests to experiment with different combinations and create their own signature hot chocolate masterpiece.
By incorporating a DIY whipped cream station into your DIY hot chocolate bar, you're giving your guests the opportunity to take their hot cocoa experience to new heights. So go ahead and indulge in the creamy decadence that only a homemade whipped cream topping can provide!
Add a Touch of Adult Flair with Boozy Additions
Enhance your hot cocoa experience with a touch of adult sophistication by incorporating boozy additions to your DIY whipped cream station. Take your hot cocoa bar to the next level with these innovative and exciting options:
Liquor Infused Whipped Cream: Elevate your whipped cream game by adding a splash of your favorite liquor, such as Baileys Irish Cream, Rum Chata, Peppermint Schnapps, or Kahlua. The smooth and creamy texture of the whipped cream combined with the rich flavors of the alcohol will create a decadent and indulgent treat.
Flavored Liqueur Syrups: Amp up the flavor profile of your hot chocolate by offering a variety of flavored liqueur syrups for guests to drizzle over their whipped cream. From classic choices like peppermint schnapps or Irish whiskey to more unique options like hazelnut liqueur or spiced rum, there is sure to be something that'll satisfy everyone's taste buds.
Boozy Hot Chocolate Shots: For those looking for an extra kick, offer mini shot glasses filled with warm spiked hot chocolate alongside the whipped cream station. Guests can add a dollop of boozy whipped cream on top for a delightful combination that'll warm them from the inside out.
By incorporating these boozy additions into your DIY whipped cream station, you'll create an unforgettable hot cocoa experience that'll keep your guests coming back for more at your next gathering or party. Adults will be thrilled to find that hot cocoa isn't just for kids!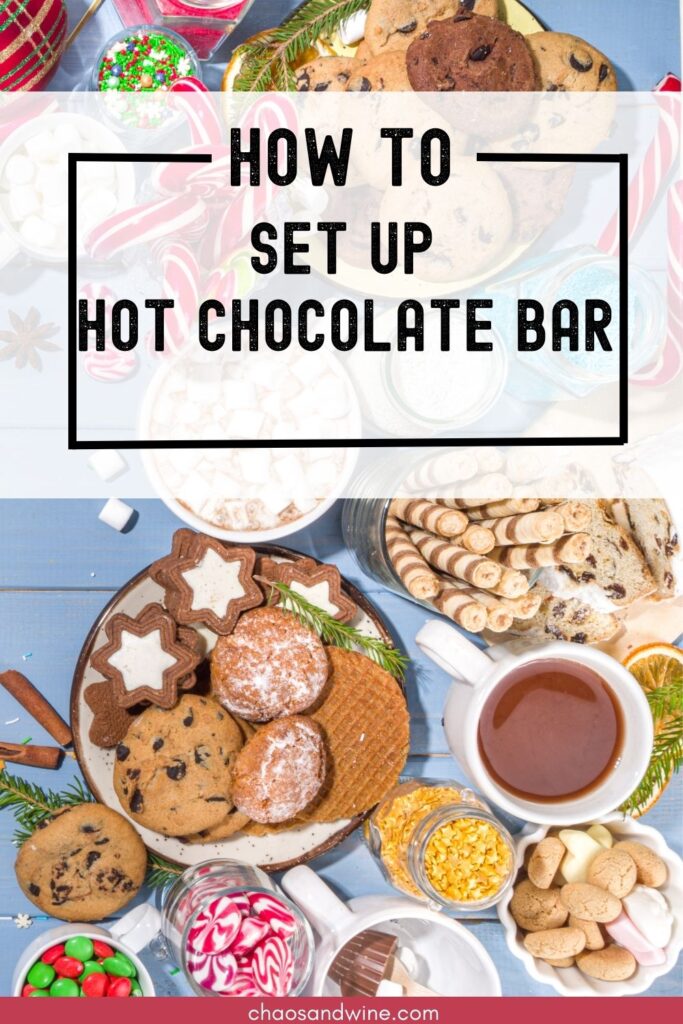 Conclusion
I hope this guide on setting up the perfect hot chocolate bar inspires you to grab some hot cocoa and get friends and family together to delight in this classic winter treat!
From selecting the perfect hot chocolate base to providing a variety of toppings and mix-ins, every detail counts. So why settle for ordinary when you can create an extraordinary hot chocolate experience?
Now go ahead and indulge in a warm cup of cocoa, and let the cozy ambiance transport you to winter wonderland.