Satisfy your Cuban sandwich craving with a twist – our Cuban Sandwich Quesadillas. Loaded with roast pork, Swiss cheese, and tangy pickles, they're a delicious and quick meal option.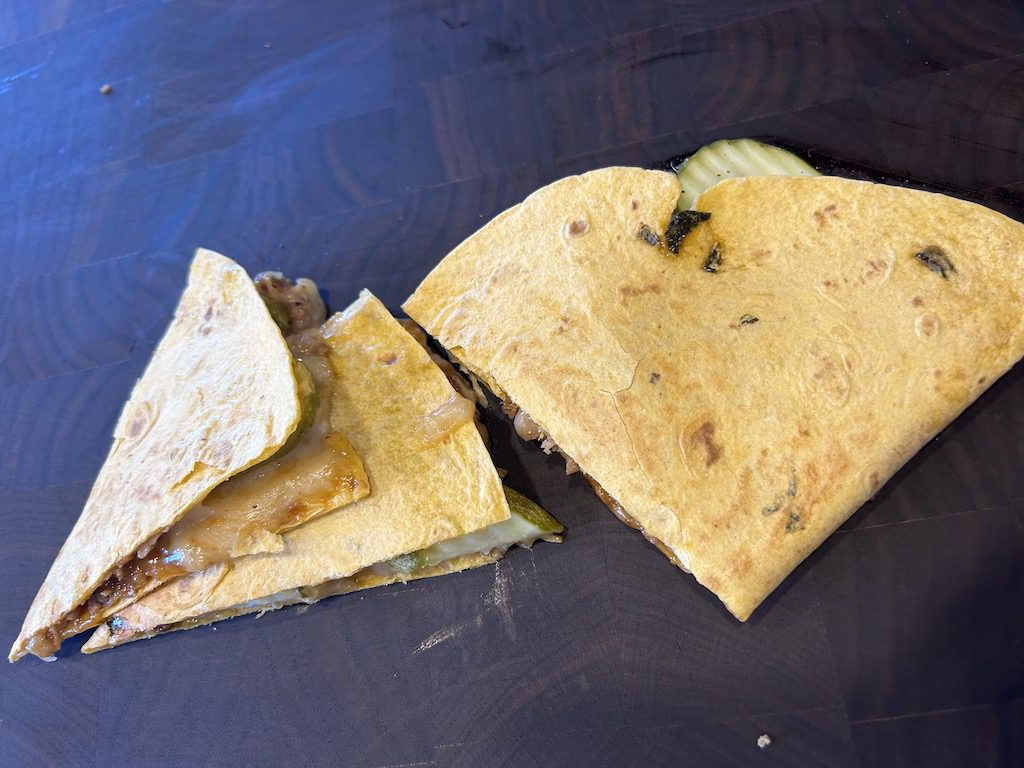 This page contains affiliate links. If you choose to purchase after clicking a link, I may receive a commission at no extra cost to you. For more information please read my full affiliate disclosure.
I've always loved the unique flavor of a Cuban Sandwich, and I was first introduced to this delicious Cuban quesadilla version at a local restaurant. It was on the appetizer menu, but I would and still do get it as a meal!
It's delicious with the gooey Swiss cheese, shredded barbecue pork, tangy pickles and garlic aioli all folded into a delicious tortilla. While the ingredients for this cuban quesadilla are similar to a traditional Cuban sandwich, there are a few slight differences.
What is a Cuban Sandwich?
A Cuban sandwich, also known as a Cubano, is a delicious sandwich that originated in Cuba and has become popular in many parts of the world, especially in the United States.
The sandwich typically consists of sliced roast pork, ham, Swiss cheese, pickles, and mustard, all pressed between two pieces of Cuban bread. The bread is usually toasted or grilled, giving the sandwich a crispy and crunchy exterior, while the inside remains warm and full of flavor.
The combination of the savory meats, tangy pickles, melted cheese, and tangy mustard creates a perfect balance of flavors, making the Cuban sandwich a favorite among sandwich lovers.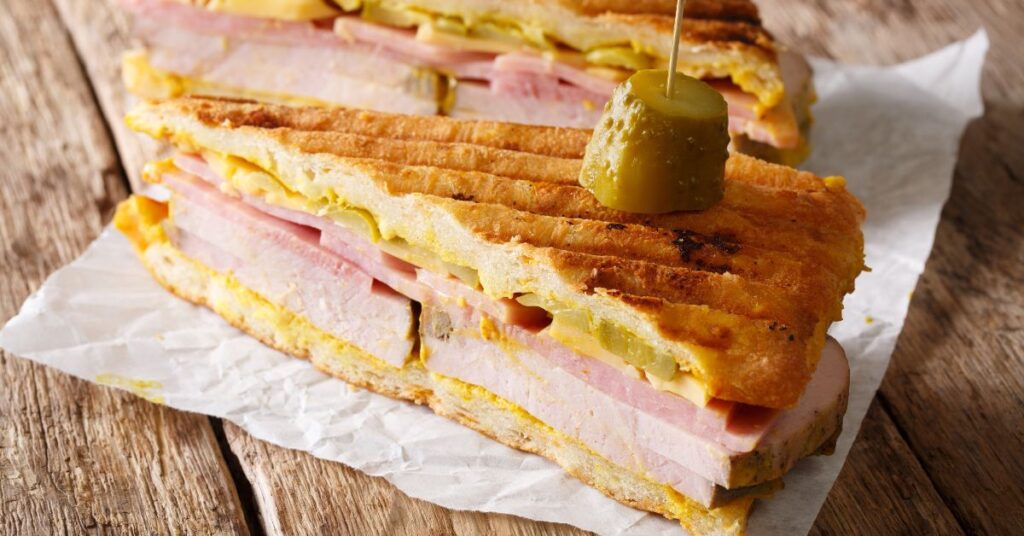 It is often served as a quick meal or as a hearty lunch option. Whether enjoyed on a sunny day in Havana, at a local restaurant, or at home, the classic Cuban sandwich is sure to satisfy any craving for savory and delicious flavors.
If you're looking for a traditional Cuban Sandwich recipe, I highly recommend this one! However, this delicious Cuban Sandwich Quesadilla recipe brings these traditional flavors into an easy-to-make quesadilla!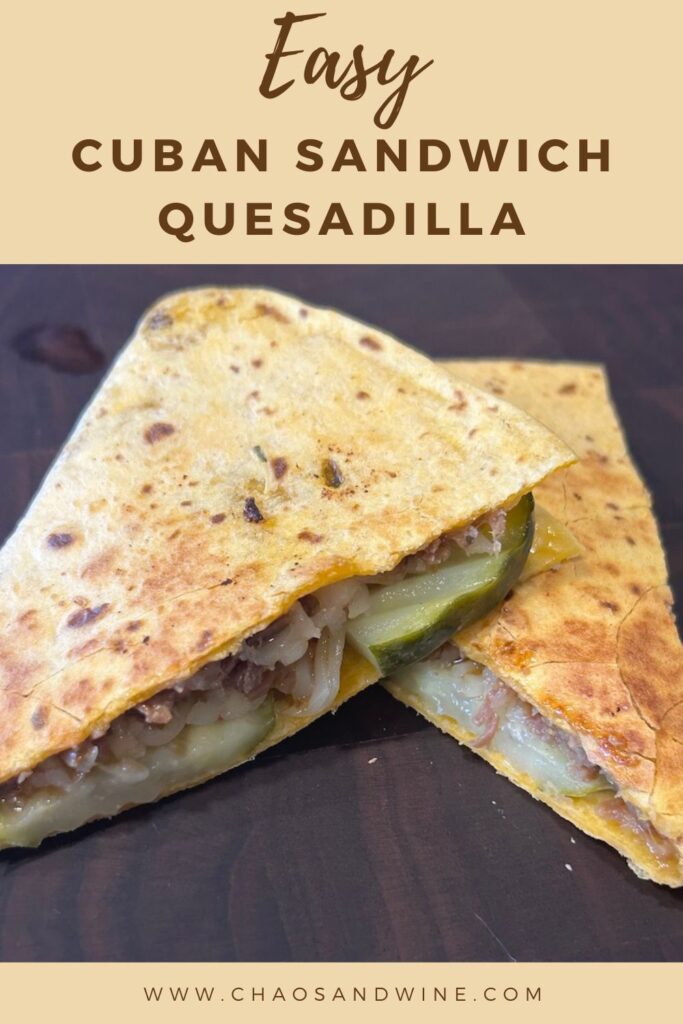 Too busy to make this right now? Pin for later to your favorite Pinterest Board!
Cuban Sandwich Quesadilla Ingredients
There are only a few ingredients needed to make this Cuban inspired quesadilla recipe.
Pulled Pork – I love using my leftover smoked pulled pork in this recipe. It's delicious and a great way to use up leftovers! However, you can easily grab a container of pulled pork from the grocery store if you don't have any leftovers available.
Jalenpeno Cheddar Quesadillas – Grab a package of Jalenpeno cheddar quesadillas or wraps from the grocery store. These are easier to find at larger grocery stores so if you can't find this particular flavor a regular tortilla will work as well.
Shredded Swiss Cheese – Swiss cheese is the traditional cheese used in a Cuban sandwich. I use freshly grated Swiss cheese as it melts so much better than pre-shredded.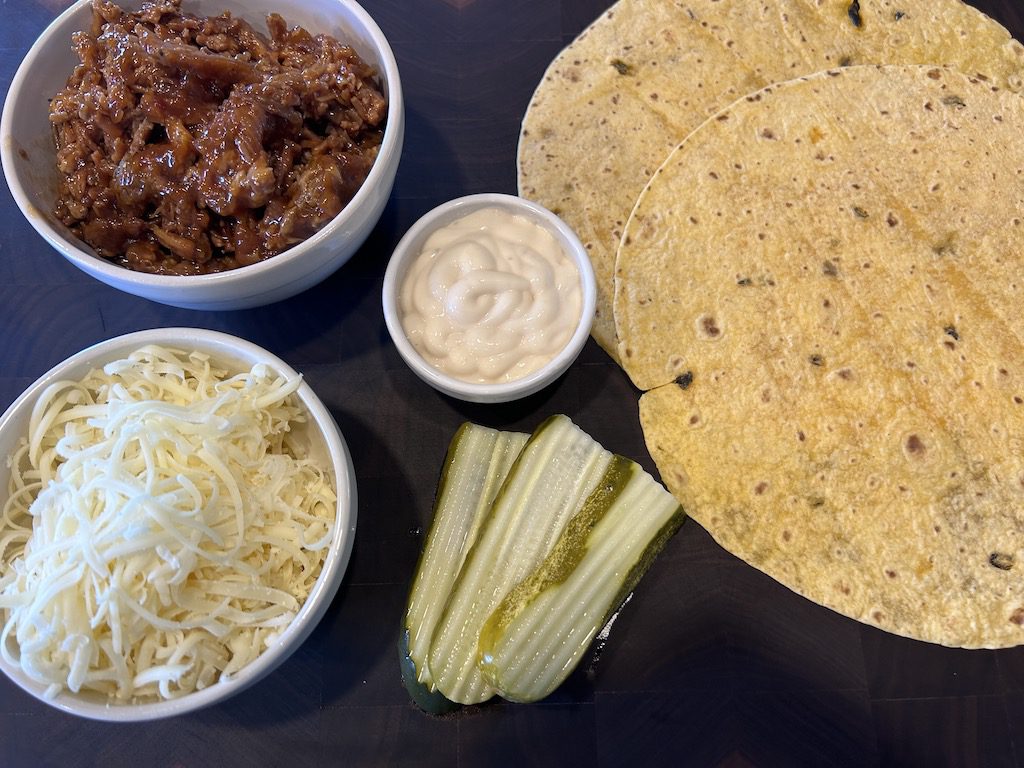 Barbeque Sauce – I prefer to use a slightly tangy less sweet Barbeque sauce for these quesadillas.
Garlic Aioli – You can make your favorite garlic aioli recipe or grab a bottle from the condiment aisle of the grocery store. Either way will work perfectly!
Dill Pickle Slices – Grab a jar of dill pickle slices to add to your cuban quesadilla! These add a delicious tangy flavor and are an essential ingredient in a Cuban Sandwich. Do not use sweet pickles for this recipe!
How to Make Cuban Sandwich Quesadillas
These Cuban inspired quesadillas are easy enough for a weeknight meal or a mid-afternoon snack!
Step 1
First mix your shredded pork in Barbeque sauce, if it's not already mixed. Don't go overboard with the Barbeque sauce, you don't want this to be the only flavor in the quesadilla. Pre-heat the shredded Barbeque pork in the microwave for a minute or two.
Step 2
Meanwhile, heat a non-stick skillet over medium-low heat until hot. I love using my cast iron skillet for this recipe, but any large skillet will work.
Make sure all your ingredients are handy as you will need to put these together quickly.
Step 3
Spread the garlic aioli on one half of a jalapeño cheddar tortilla and place the tortilla in the pre-heated skillet.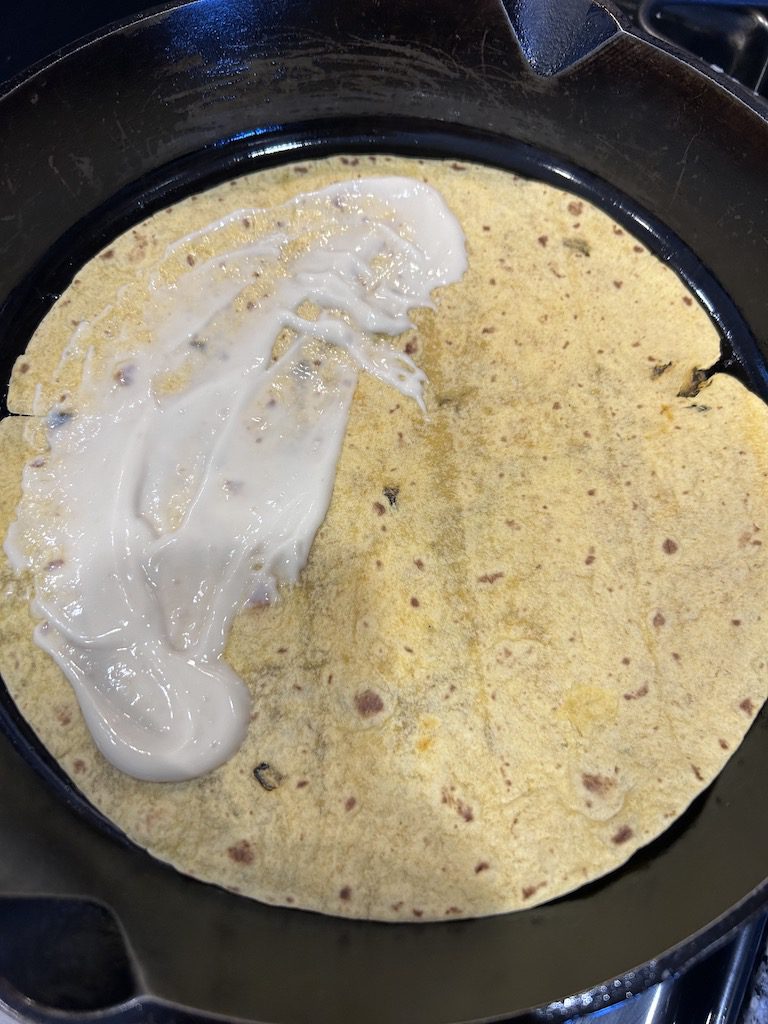 Step 4
Top the tortilla in the skillet with the Barbeque shredded pork.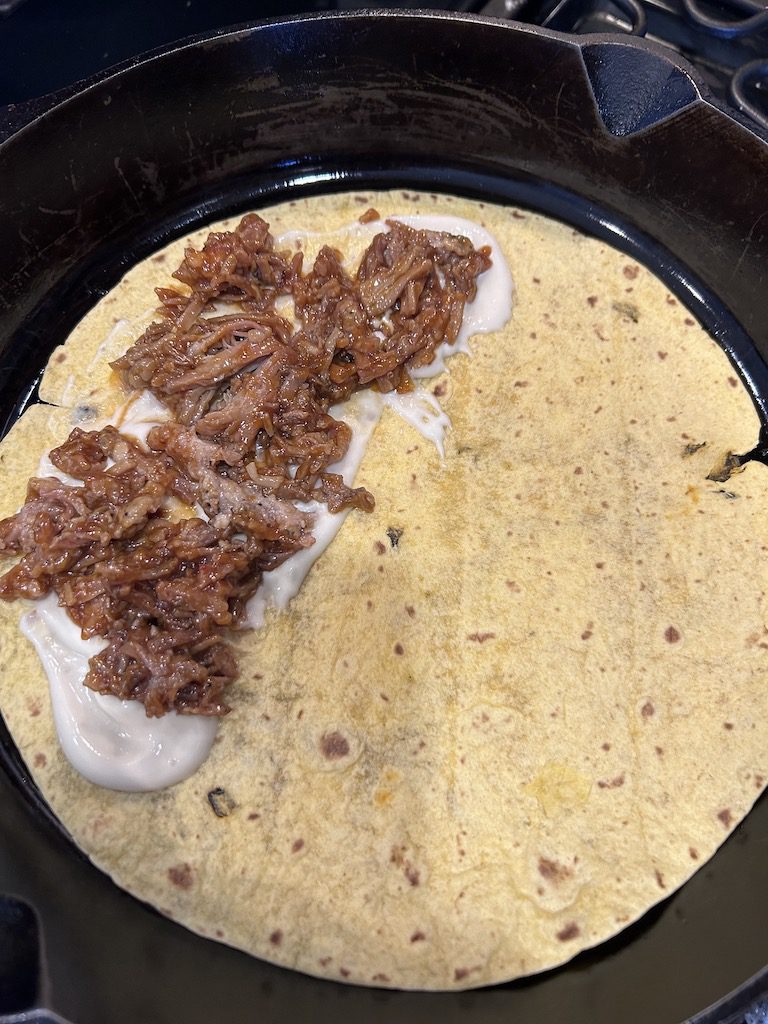 Step 5
Top the shredded pork with the Swiss Cheese.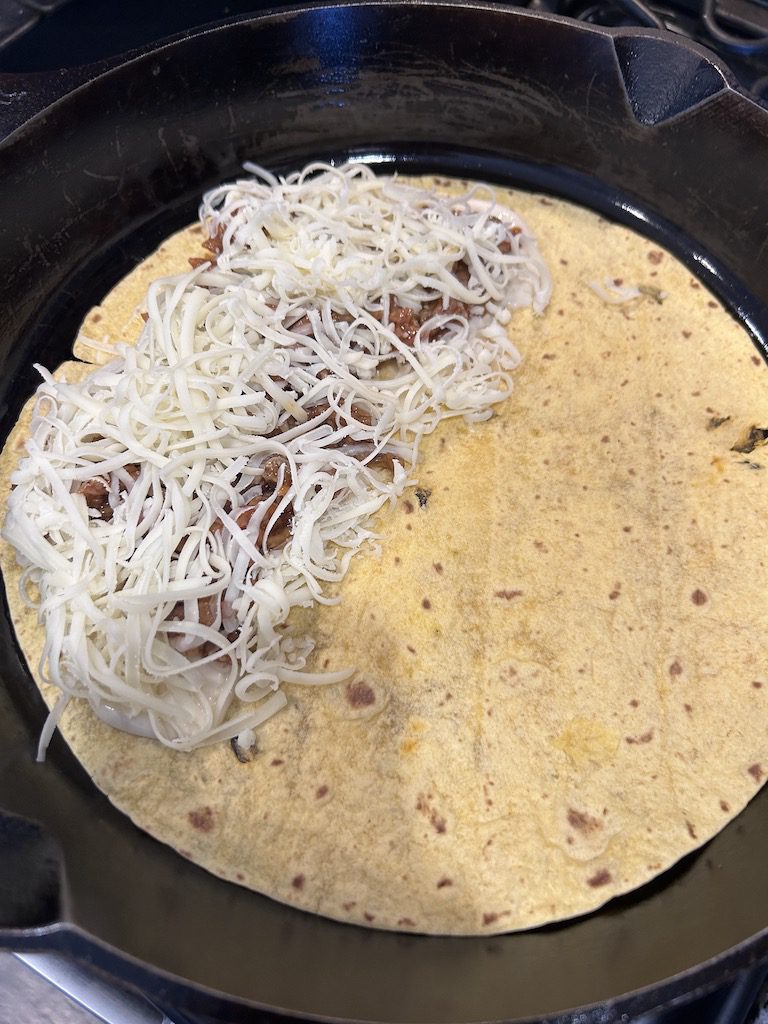 Step 6
Then add the Dill pickle slices on top of the cheese.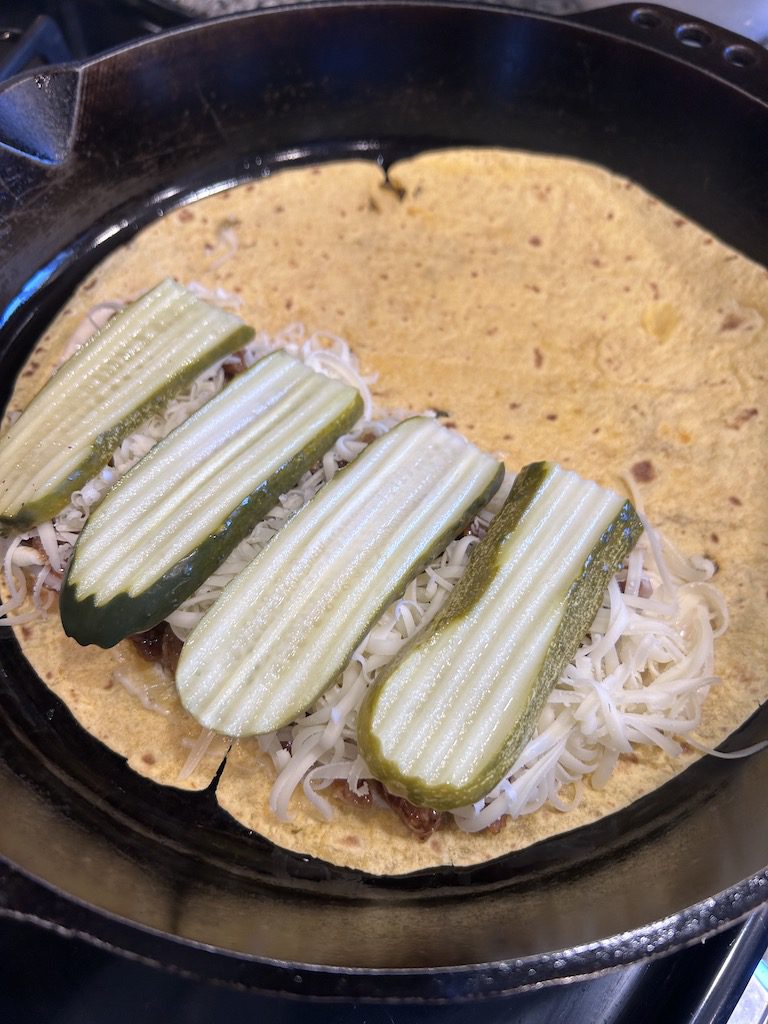 Step 7
Carefully, with a spatula flip the empty side of the tortilla over the side with the filling and slide the quesadilla to the center of the skillet.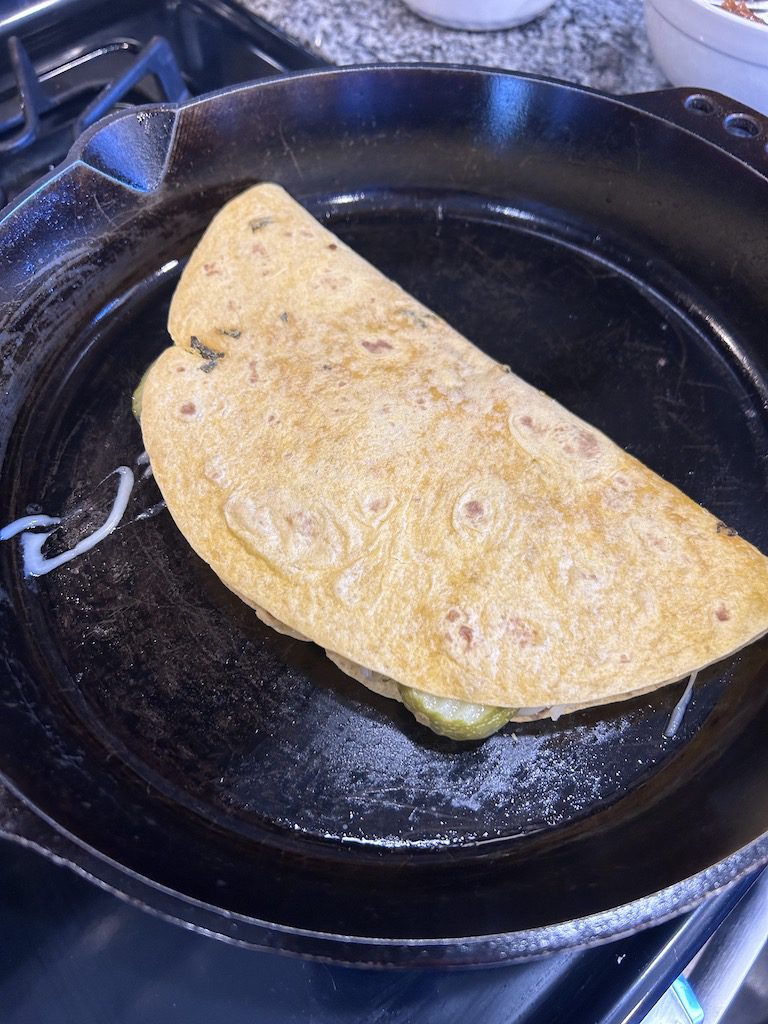 Step 8
Brown the tortilla over medium-low heat until crispy on each side flipping as needed. It should be about 5–7 minutes per side. Don't be tempted to turn up the heat as that will crisp the outside but not melt the cheese on the inside of the Cuban Sandwich quesadilla!
Serve your Cuban quesadillas with a side of garlic aioli or Barbeque sauce for dipping, if desired!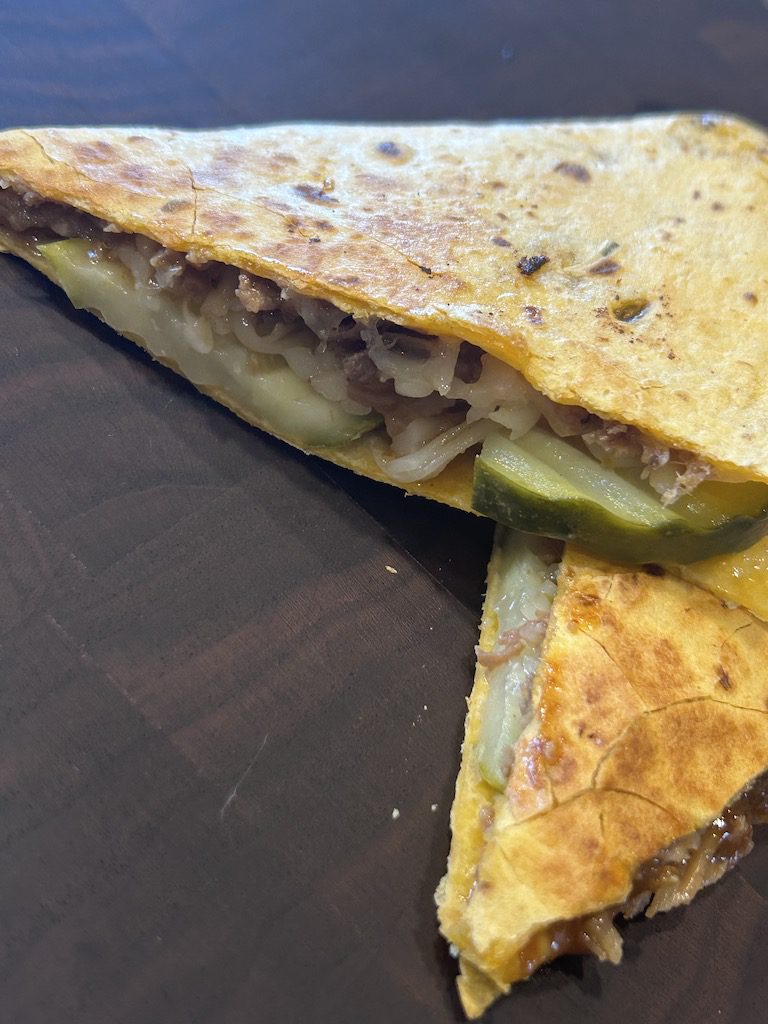 Variations
If you'd like to make this a bit more traditional, you can omit the Barbeque sauce and garlic aioli and replace them with mustard. You can also add slices of ham to make it a more traditional Cuban Sandwich filling.
If you have leftover shredded chicken or turkey, try swapping them for the shredded pork! I'm all about using up leftovers like these delicious ways to use leftover chili!
Yield: 1 Serving
Cuban Sandwich Quesadilla Recipe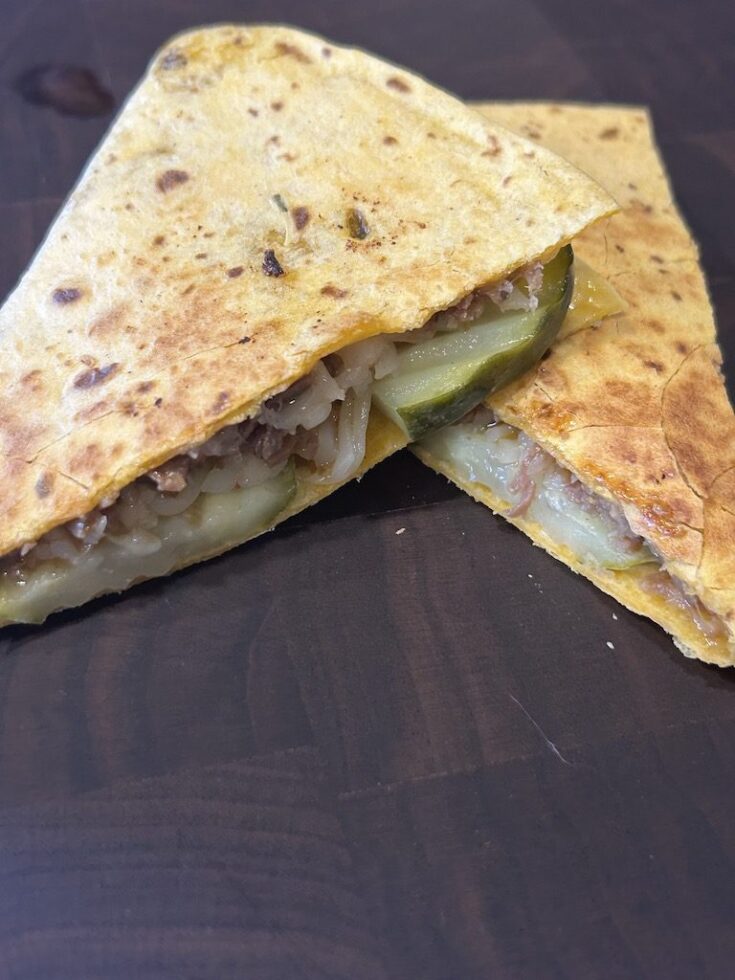 Loaded with roast pork, Swiss cheese, and tangy pickles, these Cuban inspired quesadillas a delicious and quick meal option.
Ingredients
2 Tablespoons Garlic Aioli
4 Dill Pickle Slices
1/2 cup Barbeque shredded pulled pork
1/2 cup Shredded Swiss Cheese
Instructions
Pre-heat a non-stick or cast iron skillet over medium-low heat.
Spread one half of a Jalapeno cheddar tortilla with the garlic aioli.
Place the tortilla in the pre-heated non-stick skillet or cast iron pan.
Quickly top the side with the garlic aioli with the shredded pork, Swiss cheese, and dill pickle slices.
Gently, fold the empty half of the tortilla over the filling and center the tortilla in the pan.
Toast over medium-low heat until lightly browned and crispy, then carefully flip the quesadilla and repeat on the other side. It should take about 5–7 minutes on each side.
Serve with a side of garlic aioli or barbecue sauce for dipping, if desired!
Recommended Products
As an Amazon Associate and member of other affiliate programs, I earn from qualifying purchases.
Nutrition Information:
Yield:
1
Serving Size:
1
Amount Per Serving:
Calories:

1305
Total Fat:

66g
Saturated Fat:

24g
Trans Fat:

0g
Unsaturated Fat:

37g
Cholesterol:

244mg
Sodium:

3258mg
Carbohydrates:

102g
Fiber:

6g
Sugar:

58g
Protein:

75g
Chaos and Wine occasionally offers nutritional information for recipes contained on this site. This information is provided as a courtesy and is an estimate only. This Nutrition Disclaimer notifies that under no circumstances will Chaos & Wine or its owners be responsible for any loss, damage, or adverse reactions resulting from your reliance on nutritional information given by this site. By using Chaos & Wine and its content, you agree to these terms.
FAQs
What is the difference between a Cuban sandwich and a Cuban quesadilla?
The main difference between a Cuban sandwich and a Cuban quesadilla is the choice of bread. A Cuban sandwich is traditionally made with Cuban bread, while a Cuban quesadilla is made with a tortilla. The other ingredients, such as ham, roast pork, Swiss cheese, pickles, and mustard, are typically the same, although this particular recipe is a bit different.
Can I use roast pork instead of roast pork in a Cuban sandwich?
Yes, you can use roast pork instead of pulled pork in a Cuban sandwich. Pulled pork adds a delicious and tender texture to the sandwich.
Can You Make Cuban Sandwich Quesadillas Ahead?
Yes, you can make them ahead of time, although they come together quickly, so I don't usually find it necessary. To make them ahead of time, make as directed but do not slice them as they store and reheat better when left whole. Store in the fridge. I would recommend using an air fryer to reheat the cuban quesadillas to ensure they stay crispy.
Whether you've got a craving for a Cuban sandwich or leftover pulled pork you neeed to use, these Cuban Sandwich Quesadillas are the perfect quick lunch or dinner! They're delicious and so easy to make!