Create the perfect and delicious leprechaun bait for your leprechaun trap or for a tasty treat for a school snack or family Saint Patrick's Day Celebration!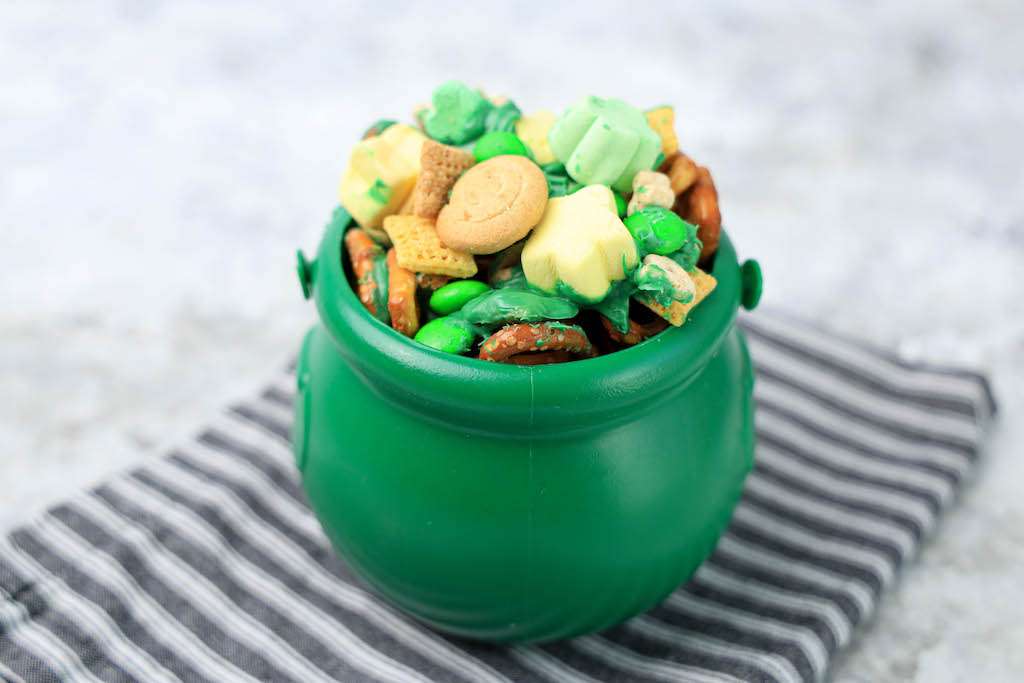 This page contains affiliate links. If you choose to purchase after clicking a link, I may receive a commission at no extra cost to you. For more information please read my full affiliate disclosure.
Whether you are in charge of Saint Patrick's Day snacks for your child's school or looking for fun bait for your Leprechaun Trap at home, this delicious and quick Saint Patrick's Day snack will be the perfect solution! Or maybe you want to make some Leprechaun food and feed your Leprechauns!
A Little Bit About Leprechauns
Leprechauns are tricky little creatures often depicted as small, mischievous, and solitary fairies or sprites that take the form of an old man, dressed in green clothing and a hat. Legend has it that if you catch a leprechaun he will grant you 3 wishes if you set him free!
So what do Leprechauns eat? Leprechauns eat a wide variety of foods and are partial to traditional Irish foods. They're also known to enjoy their sweets and cakes such as this leprechaun bait recipe.
While I won't promise you'll catch a leprechaun and get your 3 wishes with this leprechaun bait, you and your kids will not only enjoy making it but have fun trying and eating what the leprechaun doesn't!
Leprechaun Bait Ingredients
There are only 6 ingredients required for this quick and easy leprechaun bait!
Honey Nut Chex Mix – This is not a cereal but a snack mix and is usually found in the snack aisle of grocery stores.
Pretzels – I use the regular-shaped pretzels but feel free to change it up and use the rounds or sticks!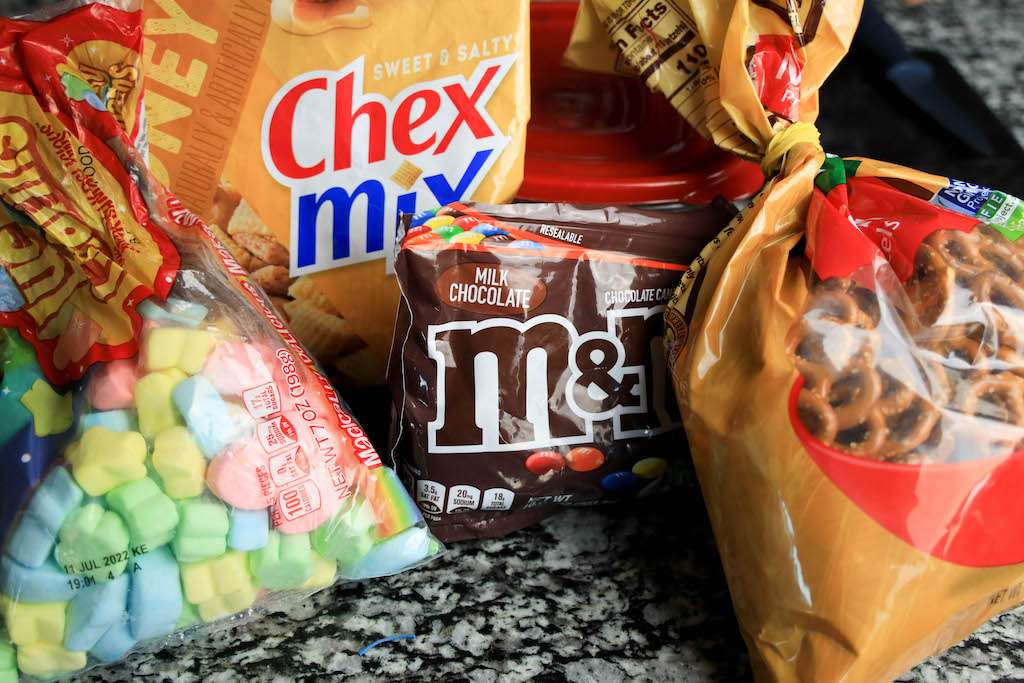 Green M&M's – I love cooking with my kids and separating the M&M's by color is a great preschool or toddler activity!
Green Candy Melts – These are usually available around Saint Patrick's Day and in the baking area. However, if you can't find them you can use white almond bark and a little green food coloring.
Lucky Charms Marshmallows – Another great sorting activity for your preschooler or toddler! You'll need the 4 leaf clovers from a box of Lucky Charms!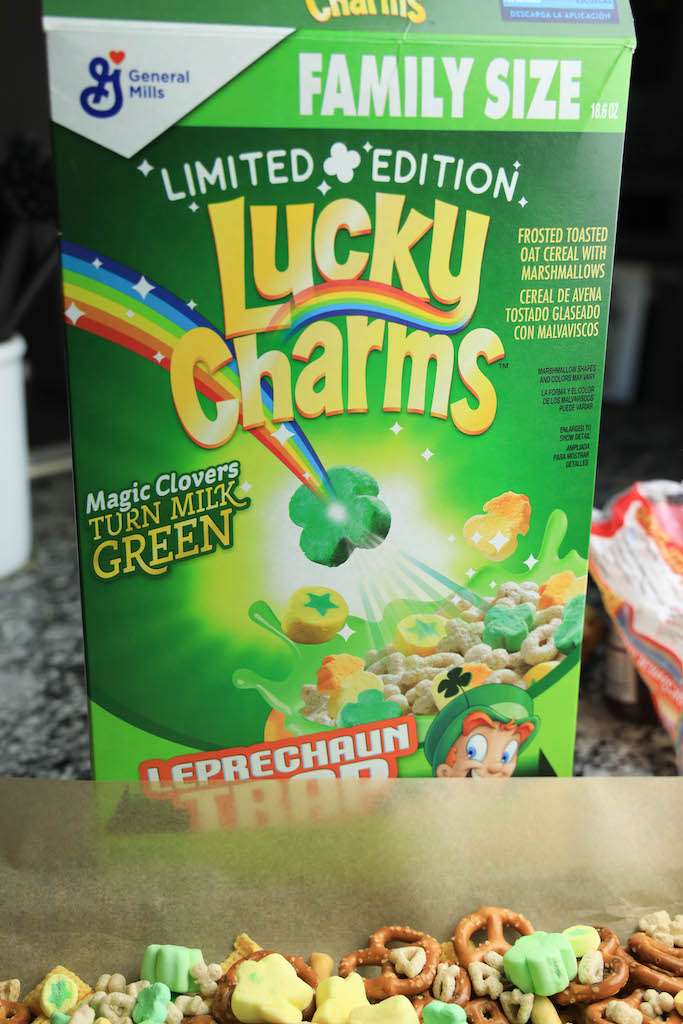 How to Make Leprechaun Bait
Line a cookie sheet with parchment paper and spread the Chex mix across the cookie sheet. Add the pretzels, green M&M's, and Lucky Charms marshmallows, and sprinkle in a bit of the Lucky Charm cereal.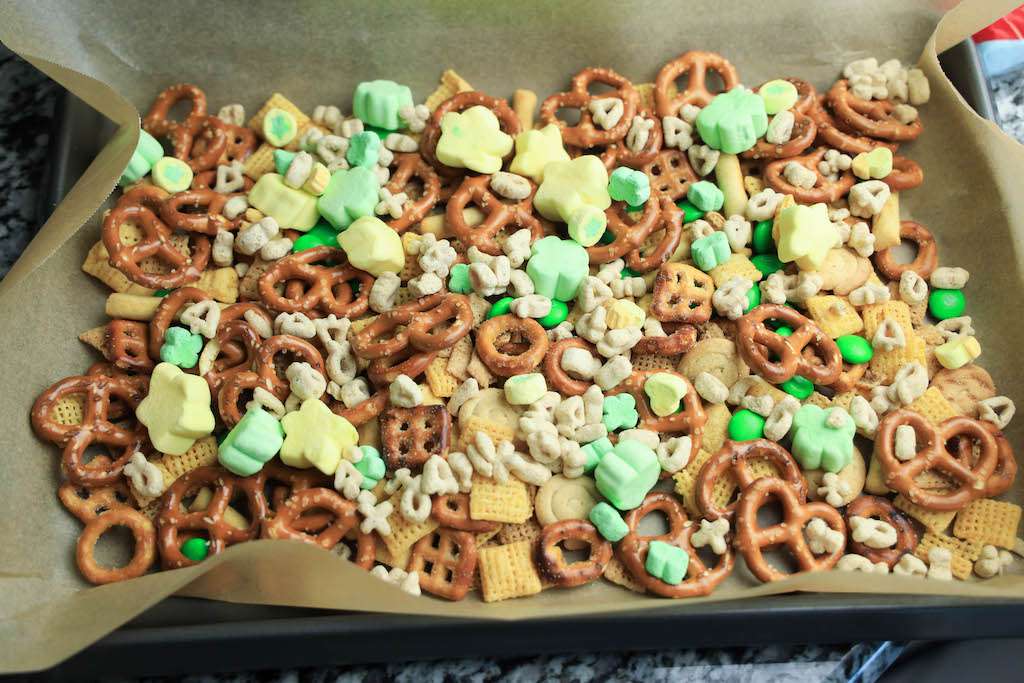 Melt the green candies per the package instructions.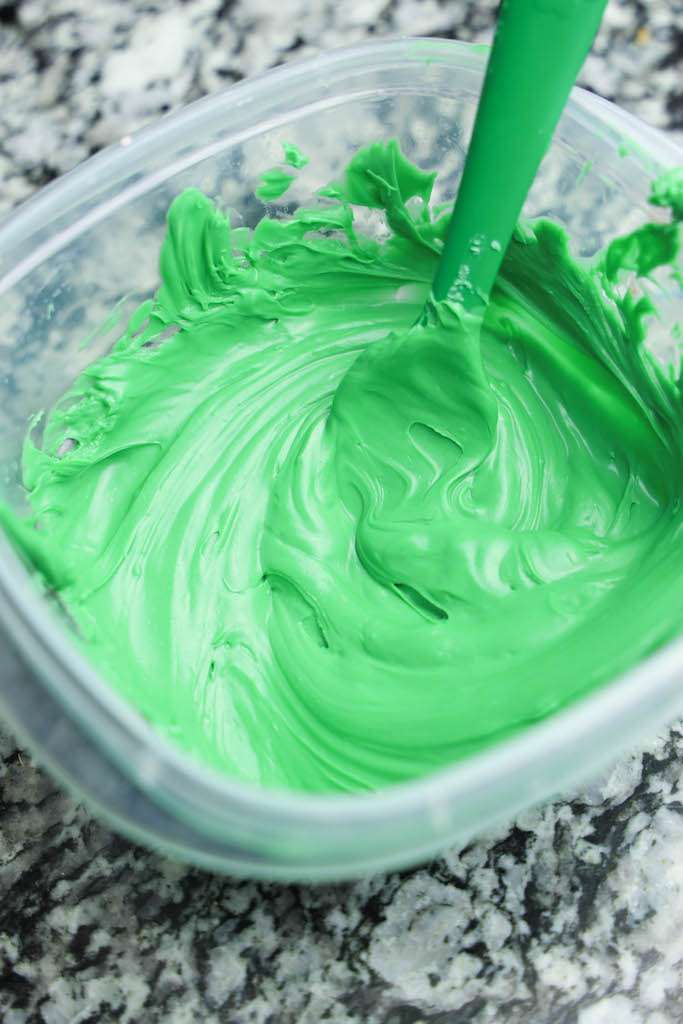 Drizzle the melted green candy over the top of the mix on the cookie sheet. Let the melted green candies dry.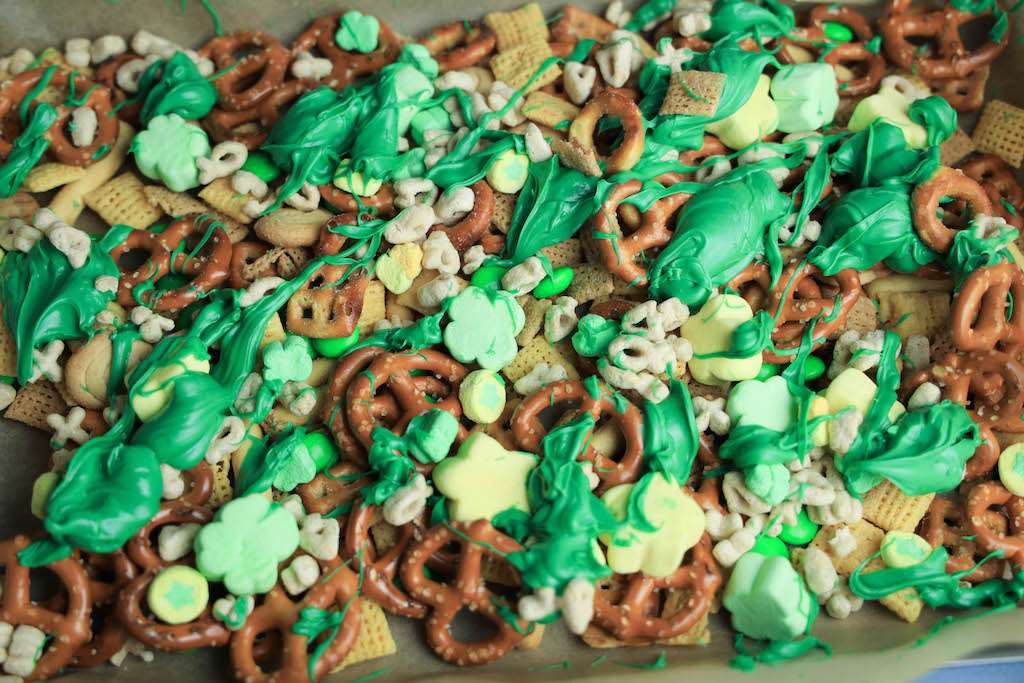 Break the bait up a bit and serve it in an adorable green cauldron or use it to bait your leprechaun trap!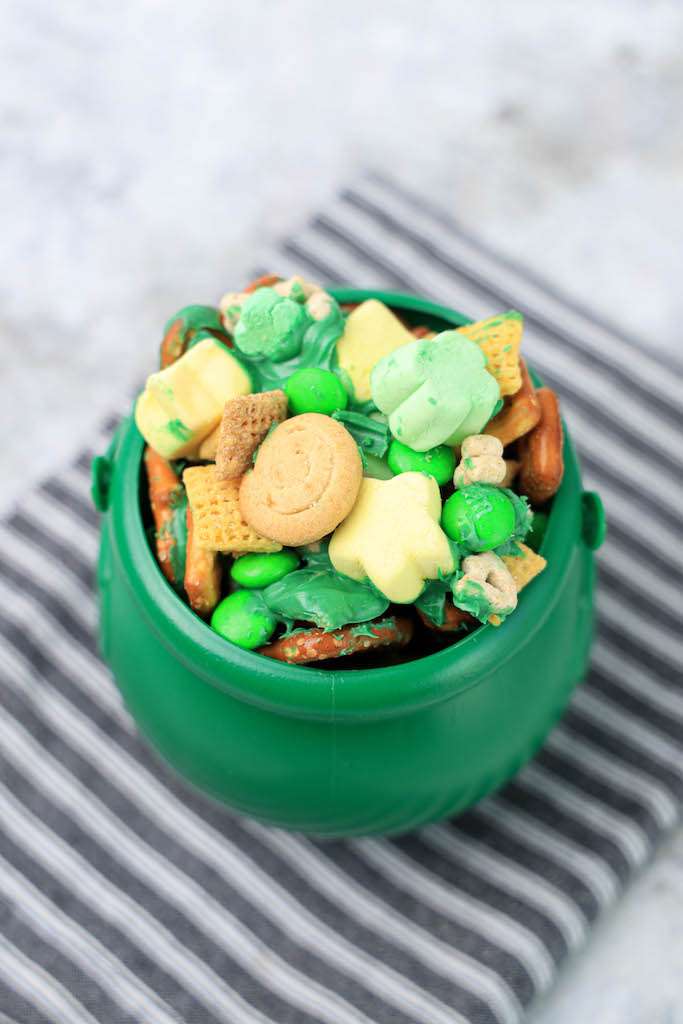 I got my little green cauldrons from Amazon; they are the perfect Saint Patrick's Day accessory for snacks!
I also love these little leprechaun bait tags!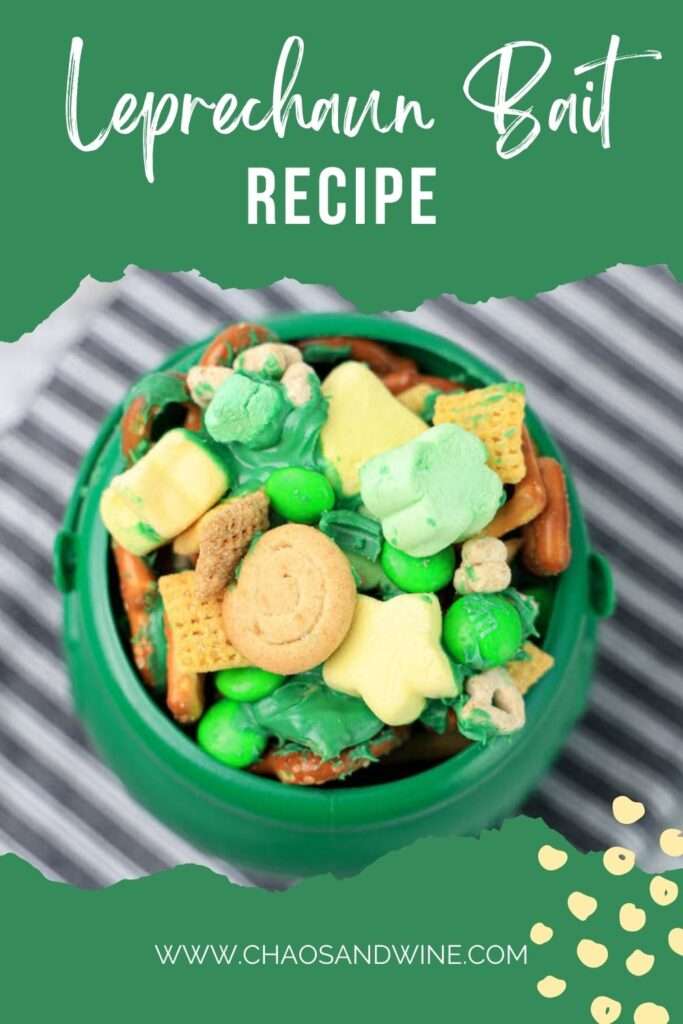 Too busy to make this right now? Pin for later to your favorite Pinterest Board!
Yield: 4 servings
Leprechaun Bait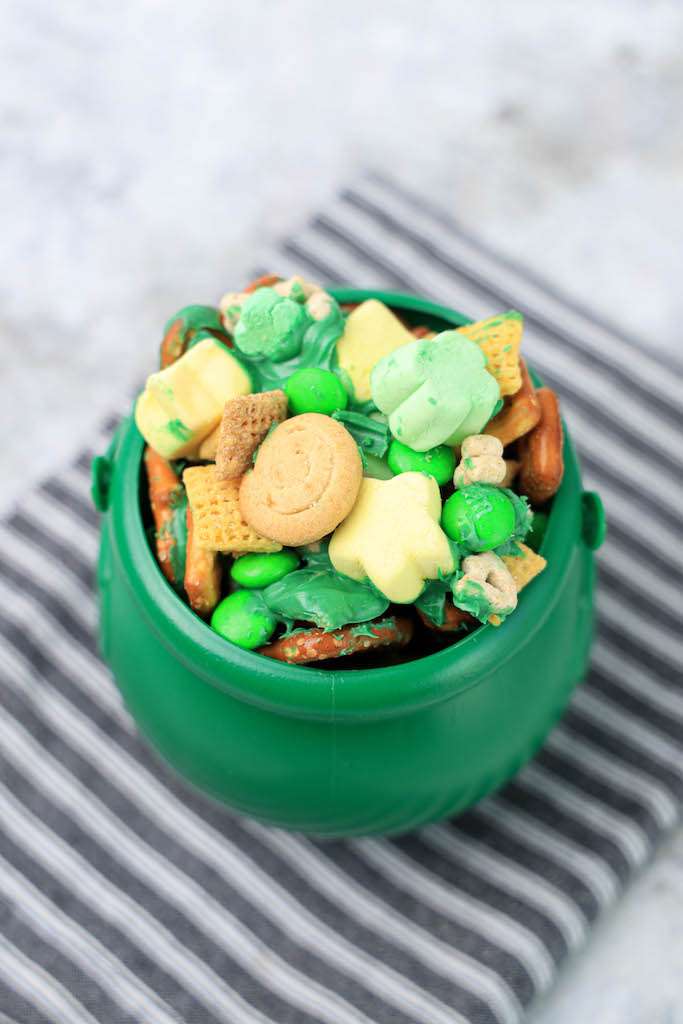 This quick and easy Leprechaun Bait is perfect for a family or school Saint Patrick's Day Party or baiting your leprechaun trap!
Ingredients
2 cups Honey Chex Mix
1 cup pretzels
20 green M&M's
6 oz. green candy melts
1 cup Lucky Charm's Cereal
15 Green Lucky Charm 4 Leaf CloverMarshmallows
Instructions
Line a cookie sheet with parchment paper and spread the Chex Mix, pretzels, green M&M's, marshmallows, and cereal.
Mix gently and spread it out in a thin layer.
Melt the green candies per the package instructions and drizzle over the mix on the cookie sheet.
Allow to set.
Break apart and serve in a green cauldron.
Notes
1. If you can't find green candy melts, use 6 oz of white almond bark and a little green food coloring.
Recommended Products
As an Amazon Associate and member of other affiliate programs, I earn from qualifying purchases.
Nutrition Information:
Yield:
4
Serving Size:
1
Amount Per Serving:
Calories:

2489
Total Fat:

59g
Saturated Fat:

33g
Trans Fat:

0g
Unsaturated Fat:

20g
Cholesterol:

34mg
Sodium:

1324mg
Carbohydrates:

484g
Fiber:

15g
Sugar:

372g
Protein:

24g
Chaos and Wine occasionally offers nutritional information for recipes contained on this site. This information is provided as a courtesy and is an estimate only. This Nutrition Disclaimer notifies that under no circumstances will Chaos & Wine or its owners be responsible for any loss, damage, or adverse reactions resulting from your reliance on nutritional information given by this site. By using Chaos & Wine and its content, you agree to these terms.
FAQs
What if I can't find green candy melts?
Feel free to use 6 ounces of white almond bark and a little green food coloring, if you can't find green candy melts.
What kind of pretzels should I use?
Use circles, sticks or pretzel shape it's entirely up to you! Try using edible gold paint and spraying your circle pretzels gold for a little pop of gold in your leprechaun bait!
Can I double this recipe?
Double, triple, or more! The more leprechaun food you make perhaps the more leprechauns you'll catch!
How do I store my Leprechaun Bait?
Good Luck!
I hope this delicious and easy leprechaun food recipe will help you and your children catch a leprechaun this year! Baiting your leprechaun trap with something delicious is sure to be the key to success!