We are using Notgrass Our 50 States as part of our 2nd-grade homeschool curriculum! Since we love food in this house, we decided to match iconic recipes to each state and try as many as we could! Below is our Notgrass Our 50 States recipe collection.
Notgrass Our 50 States
This page contains affiliate links. If you choose to purchase after clicking a link, I may receive a commission at no extra cost to you. For more information please read my full affiliate disclosure.
Notgrass is a homeschool curriculum that covers history from a Christian perspective. We've used a few of their curriculum packages and love them all!
For the twin's 2nd-grade year, I choose to cover the 50 states as we'd be traveling a lot and could reference our textbook and learn about the states we were visiting!
The curriculum divides the states into regions and I have the recipe collection below divided the same way. However, if you're looking for a particular state you can use the Table of Contents at the top of the page to find it more quickly.
Another great resource we found for learning about the states and the foods associated with them was the show State Plate, which is currently free on Prime Video.
Our 50 States Recipe Collection
As indicated, the Our 50 States Recipe Collection is divided by regions as per the textbook. However, you can easily reference the Table of Contents to find a particular state, and can be useful to anyone studying United States geography.
Please note I have not tried every recipe here but have tried quite a few and some are even my own recipes!
I also created a list on Amazon of some of the items that I purchased to try from different states and regions. You can find this list here!
New England
The New England region covers the states of Maine, New Hampshire, Vermont, Massachusetts, Rhode Island, and Connecticut.
Maine
Maine grows more potatoes than any other state and is also famous for its wild blueberries! Lobsters are also an iconic food for people living in Maine!
Notgrass provides a recipe for Blueberry Muffins at the end of the two chapters on Maine and I highly recommend it! They were delicious!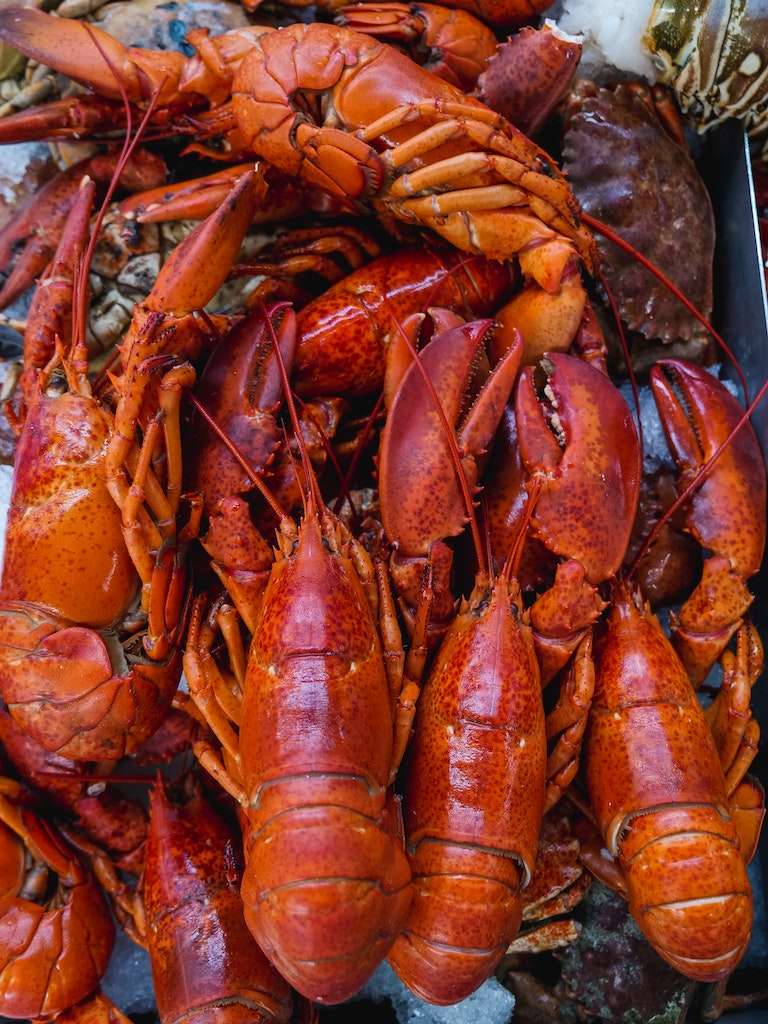 Here are a few fun recipes or ideas for Maine:
Steamed Maine Lobster – Lobster can be expensive, to say the least, but grabbing one and learning a bit more about them is a great way to go deeper into your study of Maine.
Lobster Rolls – these are downright delicious and since I'm a huge lobster fan I can't resist a good lobster roll!
Potato Recipes from Maine – there is a whole website for potato recipes from the people of Maine! Check it out and I'm sure you'll find one to love!
Whoopie Pies – A traditional New England dessert! If you haven't tried whoopie pies you are missing out!
New Hampshire
This one was a little tricky as the Our 50 States didn't cover any agriculture or food-related topics so I did a little digging! New Hampshire's history is very intertwined with the original 13 colonies so its food is quite similar to its neighbors.
However, I was able to find a few recipe ideas for you to try!
New England Boiled Dinner – a traditional corned beef, cabbage, and potatoes dinner that was typical throughout New England but particularly in New Hampshire
Apple Cider Donuts – New Hampshire, while small, boasts some of the most gorgeous small apple orchards and is well known for its apple cider donuts!
Clam Chowder – New England Clam Chowder is a hearty, cream-based soup that's chock full of clams, potatoes, and just a little bit of bacon. This from-scratch recipe is easy to prepare and full of flavor.
Vermont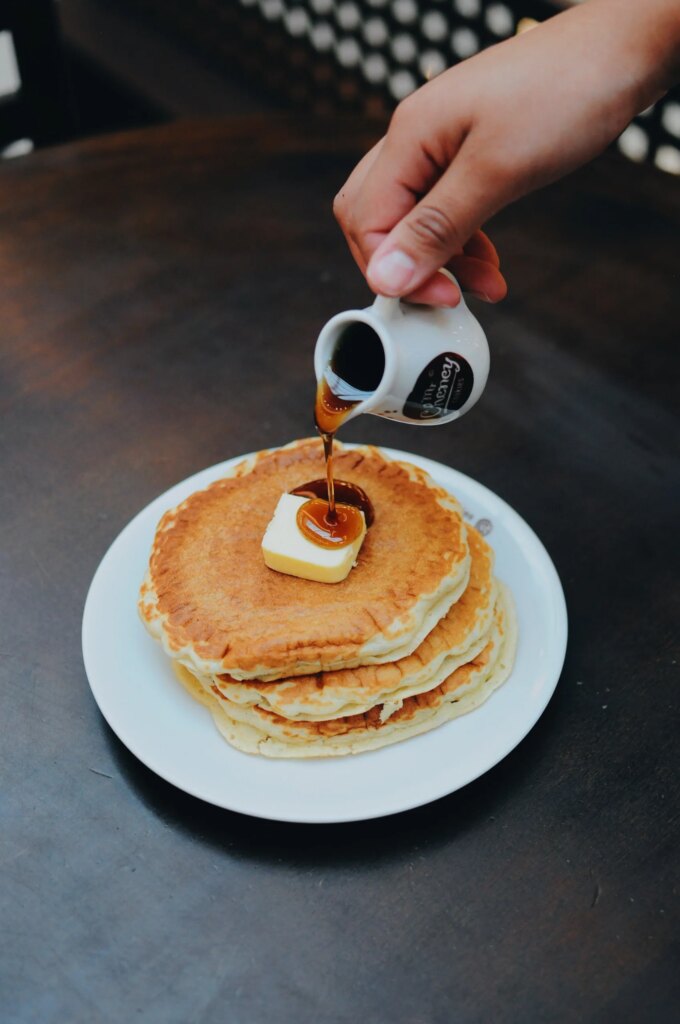 Vermont is known for its fabulous maple trees and maple syrup plus the famous Cabot Creamery!
Vermont is easy for recipes! Grab your favorite pancake recipe and some real maple syrup and make a delicious breakfast everyone will love!
Check and see if your local grocery store carries Cabot Creamery cheese and set up a cheese board to snack on while working on your read-aloud!
Ben & Jerry's Ice Cream started in a renovated gas station in 1978 in Burlington, Vermont! Grab a pint of this delicious ice cream! This iconic ice cream can be found at most grocery stores!
Massachusetts
Massachusetts features some of the state's largest cranberry bogs so naturally, a recipe that features cranberries is an absolute must when studying Massachusetts!
Cranberry Squares – these cranberry squares are so good and great for breakfast while studying Massachusetts!
Cranberry Orange Pork Tenderloin – this easy weeknight meal features cranberries so it's perfect for Massachusetts! (Pictured)
Boston Baked Beans – what Massachusetts-themed meal would be complete without some Boston Baked Beans?
Boston Cream Pie – Of course, I had to add a recipe for the official Massachusetts state dessert!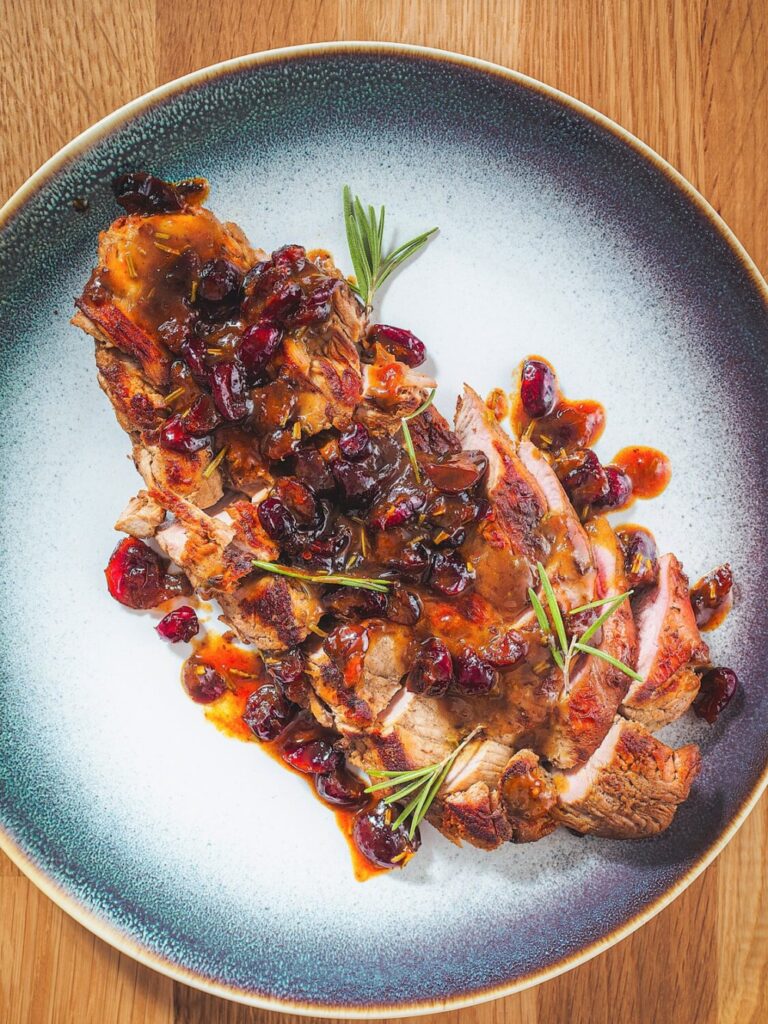 Rhode Island
Rhode Island the smallest state still has some unique dishes to feature!
Coffee Milk – This drink is popular in Rhode Island, and it's easy to make at home. All you need is milk and coffee simple syrup to make a creamy coffee-flavored drink that makes a perfect morning beverage or afternoon pick-me-up.
Johnny Cakes – johnny cakes are a type of pancake made with all corn and a traditional Rhode Island dish!
Connecticut
Connecticut I found a bit tricky but did find a few recipes!
Louis' Lunch Burger – Louis' Lunch a restaurant in New Haven, Connecticut created this iconic burger. Try this copycat recipe!
Mid-Atlantic
The Mid-Atlantic states cover New York, Pennsylvania, New Jersey, Delaware, Maryland, and Washington D.C. These 5 states and our capital city feature some delicious recipes to try!
New York
New York is famous for its New York-style pizza and if you're lucky enough to live there and grab a slice send one my way please! But don't worry there are plenty of recipes to make at home if you can't get your hands on the perfect slice of pizza!
New York Cheese Cake – I love cheesecake and making it at home can actually be easier than you think!
Buffalo Chicken Wings – These fried and sauce-covered wings were first created in Buffalo, NY, and have become a staple at Super Bowl parties across the country. Read more about the history of Buffalo Chicken Wings and go deeper into your New York Study!
Pennsylvania
Pennsylvania has some amazing foods from Hershey's chocolate to shoofly pie to Philly cheesesteak sandwiches! They have some truly iconic recipes to try!
Philly Cheese Steak Sandwiches – thinly sliced beef, peppers, onions, and mushrooms – these sandwiches are amazing and a favorite in our house!
Shoofly Pie – A traditional Pennsylvania Dutch dessert featuring a molasses fudge-like pie feeling and a crumbly crust.
New Jersey
The New Jersey Boardwalk has some great dishes to serve up as you stroll along the seaside!
Disco Fries – Disco Fries are french fries smothered in melted cheese and covered with gravy! Try this Air Fryer recipe for Disco Fries!
Salt Water Taffy – while this may seem like a fun activity to do with the kids, I'll caution you that the syrup does get VERY hot and the stretching and pulling can be tiresome!
Delaware
Strawberries are the official fruit of Delaware so Strawberry Shortcake is a must-have dessert when studying this particular state!
Strawberry Shortcake – layers of angel food cake, covered in sugary strawberries topped with whip cream! There is also a recipe for Strawberry Shortcake in the textbook for Our 50 States as well!
Bobbie Sandwich – Created by Capriotti's restaurant, which was officially founded in Wilmington, Delaware, this sandwich is like Thanksgiving in a bun – turkey, stuffing, and cranberry sauce!
Maryland
Maryland is famous for its crab dishes and seafood! Luckily, I found a place to find all the best recipes from Maryland – Maryland's Best Agriculture! I'll link and add a few from other places as well!
Crab Cakes – This easy recipe for Maryland Jumbo Lump Crab Cakes is seasoned with Old Bay, has barely any filler, and can be made in less than 45 minutes!
Chesapeake Crab Dip – crab lump meat, Old Bay seasoning, and cheese baked together into a fabulous dip!
Washington D.C.
While not a state, Washington D.C. is the capital of the United States and deserves it's own delicious recipes! I couldn't find any particular food that our great capital is known for specifically but I did find some fun resources!
Check out this website featuring historical recipes from our past presidents and first ladies from Our White House.
Or check out all the President, past and present, Famous foods!
South
Southern cooking is a thing all on its own. From fried chicken, okra, hush puppies, and grits, Southern food has something for everyone and simply can't be beaten.
Many of the southern states are known for the various types of barbecue sauces! We had a blast trying the different BBQ sauces from each region and state. However, I didn't necessarily want to buy each type of sauce either. Luckily, I found this great option!
Virginia
Peanut Soup – I'll admit this one has me – peanut soup!?! First made popular in Williamsburg, Virginia it is also a traditional African dish.
Virginia Ham Biscuits – Virginia is famous for its country ham and putting a good slice of ham between some homemade biscuits makes the perfect lunch, dinner, or snack!
West Virginia
West Virginia has a lot to offer as far as food goes especially comfort foods!
Pepperoni Rolls – think Stromboli only pepperoni and cheese! These are famous throughout West Virginia and are a great lunch for kids! They pack well and were originally an easily portable food for the coal miners of West Virginia! Note there is a recipe for Pepperoni Rolls in the textbook as well!
Biscuits & Gravy – this is a favorite breakfast dish in my house and across the South. Definitely put it on your menu when you learn about West Virginia!
Kentucky
Kentucky is known for the Kentucky Derby of course and many of its most famous dishes are directly related! Kentucky's tourism website also features all of its famous recipes!
Kentucky Hot Brown Sandwich – turkey, bacon, and Mornay sauce, this famous sandwich was first created in the 1920s at The Brown Hotel in Louisville Kentucky!
Spoonbread – creamy and pudding-like this decadent dessert is made with cornmeal!
Kentucky Fried Chicken – while it's probably easier to swing through the drive-thru on this one! Here's a copycat recipe for Kentucky Fried Chicken if you feel like cooking!
Tennessee
Tennessee, home of Nashville and Memphis, has some iconic food that simply must be tried!
Homemade GooGoo Clusters – these famous candy treats were created by Howel Campbell Sr. at the Standard Candy Company in Nashville and are a delicious blend of caramel, peanuts, chocolate, and marshmallow. If you can't find them locally, try this homemade recipe!
Memphis Style Baby Back Ribs – while baby back ribs are made all over the country, each state has its own particular way of making them and Tennessee is no different!
Moon Pies – moon pies feature two graham cracker cookies filled with marshmallow filling and dipped in chocolate! Read more about the history of moon pies as well!
North Carolina
North Carolina is famous for its sweet potatoes since they grow more than any other state! In fact, I found a whole website dedicated to North Carolina sweet potatoes that features sweet potato recipes!
Sweet Potato Fries – you've probably seen these at local restaurants and they're amazing! I often substitute regular fries for these sweet-tasting fries!
Sweet Potato Pie – feeling like dessert? Try sweet potato pie!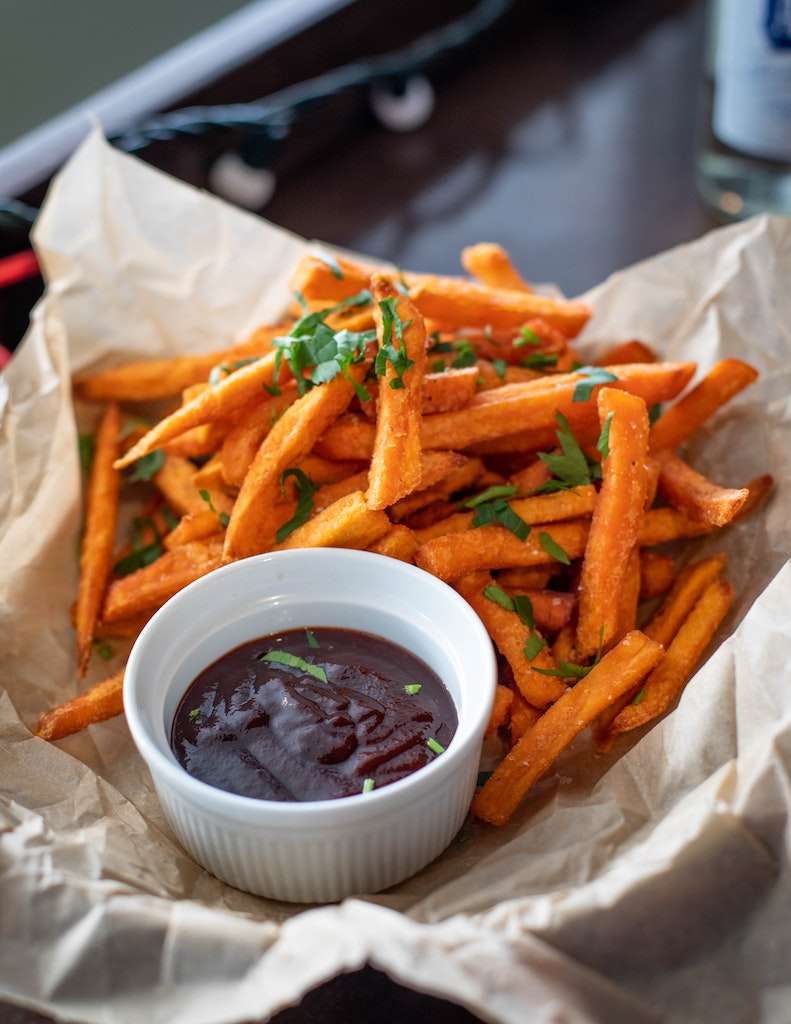 South Carolina
South Carolina is home to some amazing southern dishes including barbecue and grits!
Golden BBQ Sauce – This mustard-based Carolina Gold BBQ Sauce, also known as Golden BBQ Sauce, is a tangy, spicy, slightly sweet punch of flavor.
Hushpuppies – A traditional southern side dish served with well just about everything, these fried cornmeal balls are simply amazing and can be made a variety of ways!
Shrimp & Grits – Knock out two southern specialties with one dish with this Shrimp and Grits recipe! Grits are a traditional southern dish made of corn and served for breakfast, lunch, or dinner. Topped with Shrimp is one of my favorite ways to eat grits (and yes, I grew up in the south and love grits!).
Georgia
Peaches and peanuts are what Georgia is most well-known for! Celebrate both with these amazing recipes.
Pecan Log – You can't go anywhere in the Peach state without seeing these! Make your own Georgia Pecan Log candy at home as a crunchy sweet treat.
Custard Peach Pie – Georgia peaches are the star of this delicious dessert!
Boiled Peanuts – try this famous Georgia snack at home with this recipe for boiled peanuts!
Alabama
Alabama has some delicious treats that are absolutely to die for!
White BBQ Sauce – like most states Alabama has its own twist on BBQ with a White BBQ Sauce! Instead of ketchup-based, it is mayonnaise based!
Alabama Lane Cake – Featuring a bourbon layer cake with coconut pecan icing this cake is the perfect dessert to finish your Alabama-themed supper!
Fried Green Tomatoes – Probably made famous outside of the South from the movie by the same name, this classic southern side dish is exactly what it says – delicious slices of green tomatoes battered and fried to a crispy golden brown.
Steamed Mussels – This is exactly how my mom taught me to make steamed mussels with white wine, garlic, shallots, and lots of mussels! Even my boys love when I splurge and grab some mussels to steam!
Mississippi
Mississippi is famous for so many different things including its mud cake!
Mississippi Mud Cake – My boys asked if there really was mud in this cake and I had to sadly tell them no just chocolate cake, pudding, marshmallows, and a whipped cream topping!
Fried Catfish – Try fried catfish on a po'boy sandwich!
Arkansas
Arkansas is famous for cheese, pickles, and chocolate – an interesting combination to be sure!
Cheese Dip – You can dip just about anything from vegetables to crackers in this amazing cheese dip!
Fried Pickles – You've probably seen them on restaurant menus but try these homemade fried pickles!
Chocolate Gravy – The chocolate gravy is perfect over a few southern biscuits!
Louisana
Louisiana, home of New Orleans and Mardi Gras, features some unique flavors you won't find in other Southern states. Founded by the French, this state is known for its Cajun and Creole flavors!
The Hurricane Drink – We'll start off with a recipe just for the mamas! Louisiana is famous for the Hurricane cocktail! This Copycat Pat O'Briens Hurricane Recipe is the best way to celebrate Mardi Gras at home.
King Cake – Carnival season in New Orleans means it's time to bake up a King Cake for Mardi Gras! This Gluten-Free King Cake recipe is vegan, allergy-free, lightened up, and low in sugar! A rich brioche-style cake ring with a sweet, buttery filling, decorated with icing and bold-colored sugar crystals! A classic Fat Tuesday dessert everyone will love!
BBQ Shrimp – New Orleans BBQ Shrimp is a classic Cajun shrimp dish that's buttery, flavorful, and takes just 20 minutes to prepare. Shrimp get sautéed in a flavorful sauce made with garlic, lemon, beer, Worcestershire, Creole spices, and plenty of butter. It's a delicious, crowd-pleasing recipe that's perfect for Mardi Gras!
Gumbo – Authentic Chicken and Smoked Sausage Gumbo is a delicious New Orleans Cajun or Creole stew recipe. The soup is made with traditional gumbo flavors and a dark roux for lots of flavor. It's all about the roux here folks!
Beignets – Beignets are soft pillow-like French donuts dusted in powdered sugar! These are special breakfast treats!
Florida
Now I grew up in Florida so I know a little about Florida's amazing food from fried gator to Key Lime Pie and all the fresh seafood I could eat! Here are a few favorites!
Key Lime Pie – It was actually hard to find a true recipe for Key Lime Pie! It should only have 3 ingredients (maybe 4) – Key Limes, Sweetened Condensed Milk, and Eggs with the zest of the limes being the 4th I'll allow! Be sure to use Key Limes as they have a distinct flavor that regular limes do not!
The Cubano – Also known as a Cuban Sandwich, this recipe was created by Cuban immigrants in Florida for an easy-to-carry lunch! Made of juicy pork, pickles, mustard, and swiss cheese, this sandwich has a few variations depending on where in Florida you try one!
Fried Mahi Mahi – Mahi Mahi is a white fish that I frequently fished for growing up in South Florida and one my mother deep fried whenever we returned with it in hand!
Kumquat Marmalade – Kumquats grow all over Florida and I remember eating them straight from the tree! Try these easy 2 ingredient kumquat marmalade recipe!
Midwest
The Midwest may not be as well-known for its food as the South but I'm sure you've tasted some of these midwestern favorites!
Michigan
Michigan was actually a tough one to find recipes for but here are a few gems!
Coney Dogs – Contrary to popular belief these did not start on Coney Island but in Michigan!
Mackinac Island Fudge – Unless you are lucky enough to be close enough to Mackinac Island, you'll have to settle for making your own famous fudge at home!
Michigan Beef Pasties – Beef wrapped in a flaky crust, these delicious pockets are perfect for lunch or dinner!
Ohio
Ohio is home to the Buckeyes and some very delicious treats!
Buckeyes – Of course, they have a dessert named after their mascot and their state tree! These delicious little treats are filled with peanut butter and chocolate!
Cincinnati Chili – This isn't your traditional chili recipe! This is a Cincinnati-style chili that is so unique and to be truly authentic serve it over spaghetti!
Pierogis – I love pierogis! Soft dough stuffed with cabbage, pork, and a number of other combinations! Try these traditional Polish Pierogis!
Indiana
Hoosier Pie and Popcorn are two iconic foods from Indiana!
Hoosier Pie – This creamy custard Indiana sugar cream pie is the official pie of the Hoosier state. The rich velvety pie filling is a cross between a creme brûlée and a snickerdoodle for a fantastic recipe worthy of state pride!
Popcorn – Farmers in Indiana raise millions of pounds of popcorn so grab some popcorn and get popping! Since this is such a popular snack food, I don't think a recipe is required here! Or try the popcorn ball recipe in the Our 50 States textbook!
Illinois
From pizza to Italian beef sandwiches, Illinois has some amazing recipes!
Chicago Style Deep Dish Pizza – Move over New York Pizza! Chicago has its own famous pizza – Deep Dish Pizza!
Italian Beef Sandwiches – If you've been to Chicago you know how amazing these Italian Beef Sandwiches taste! Bring the taste of Chicago home with this recipe!
Wisconsin
Nobody can think of Wisconsin without thinking of dairy and cheese curds!
Deep Fried Cheese Curds – While you can get these at many restaurants, why not try making them at home?
Wisconsin Kringle – a buttery flaky crust filled with delicious fillings such as this recipe with an almond filling!
Cherry Muffins – With cherries being a major agricultural product of Wisconsin I had to include at least one cherry recipe!
Minnesota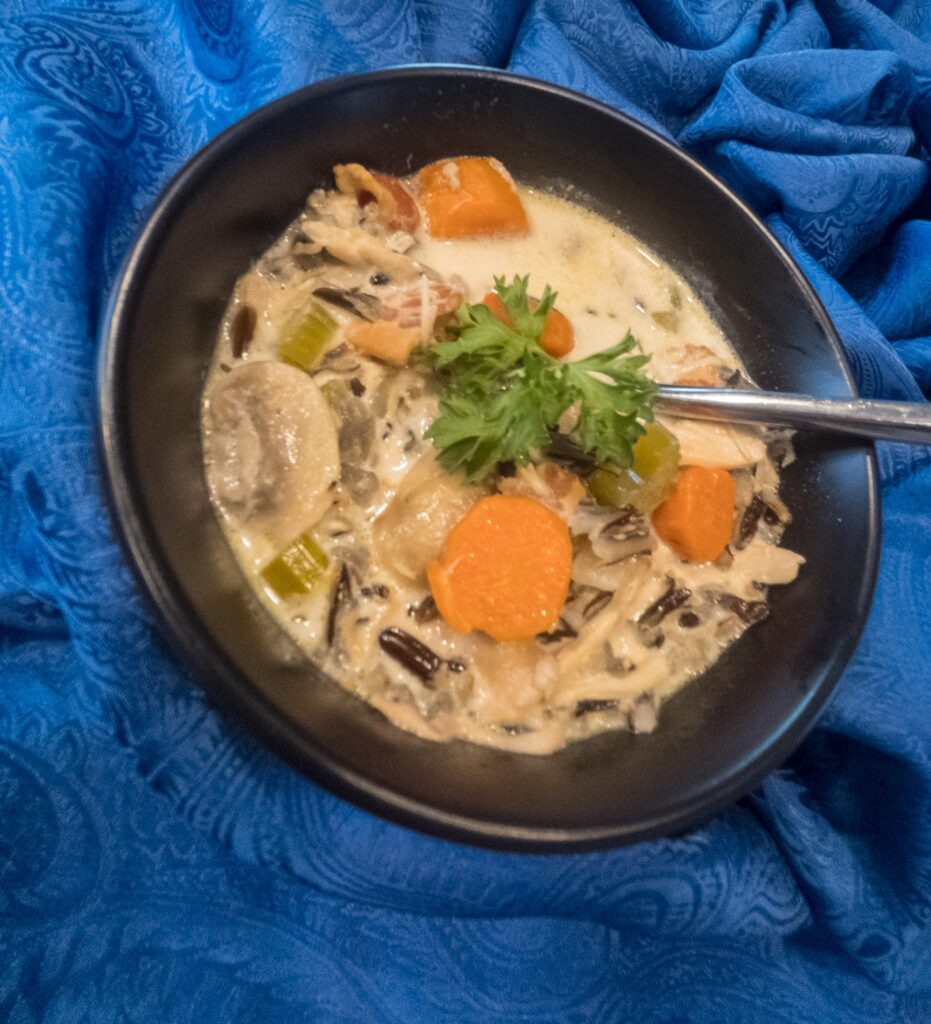 I currently live in Minnesota so I'm very familiar with some of our state's most famous dishes!
Hot Dish – When I moved here, I was confused isn't a hot dish just a casserole? Yes, it is but don't you dare call it a casserole here! Almost any casserole is considered a hot dish and this recipe is perhaps the most common – Tater Tot Hot Dish!
Creamy Chicken & Wild Rice Soup – Wild rice is a staple here in Minnesota and I love my creamy chicken and wild rice soup!
Juicy Lucy Burger – We take a regular old burger and make it something extra by stuffing them with cheese!
Iowa
Iowa is often overlooked but it's a pretty state that I've had the pleasure of visiting often. In fact, one of my absolute favorite wineries is located there – Ackerman Winery located in Amana!
Loose Meat Sandwiches or Maid Rites – Crumbled ground beef and finely diced onions are cooked in a special sauce and piled high onto a warm, soft bun. Born in 1926 in Muscatine, Iowa, Maid-Rite loose meat sandwiches are a Midwestern classic!
Fried Pork Tenderloin – This is exactly like it sounds a delicious pork tenderloin breaded and fried!
Steak De Burgo – Specific to the Des Moines area, you won't find this much outside of Iowa. A perfectly cooked steak topped with a wine sauce!
Missouri
You may have heard of St. Louis-style ribs but Missouri has more than just ribs!
St. Louis Style Ribs – These are finger-licking good ribs that just fall off the bone!
Gooey Butter Cake – Our 50 States conveniently has a delicious recipe for this iconic Missouri food at the end of the unit!
Toasted Ravioli – Ravioli is breaded and toasted and dipped in marina sauce. The perfect appetizer!
Kansas
Kansas City Barbecue is the first thing that jumps to my mind when I hear Kansas!
Kansas City Style BBQ Sauce – Grill up some chicken and slather it with this Kansas City Style BBQ sauce!
Kansas City Dirt Cake – Nobody really knows where this recipe came from but Kansas City Dirt Cake is delicious!
Sunflower Cookies – The Sunflower State and its famous Sunflower Cookies!
Nebraska
I lived in the Cornhusker state for almost 10 years and you simply can't beat their corn-fed beef!
Cheese Frenchee – A delicious deep-fried grilled cheese! They make a delicious snack or a fun lunch for the kids!
Runza – Runza is a fast food chain that serves up this iconic Nebraska dish also known as bierocks. A Runza is basically a meat and cheese-filled bread pocket! They are simply delicious!
Popcorn Balls – A simple yet fun treat celebrating the great state of Nebraska and its main agricultural product – corn!
South Dakota
This state is closely related to its neighbors food-wise – corn, beef, and a few special dishes!
Wojabi Sauce – Traditionally this South Dakota berry sauce is served over cornbread, fry bread, or ice cream but it would make a fabulous topping to pancakes as well!
Fry Bread – Fry Bread is a Native American type of soft bread deep-fried and served plain or with toppings. There are variations to the recipes based on the tribe and geographical location.
Kuchen – Kuchen means cake in German and with South Dakota's rich German culture Kuchen is a staple dessert and a delicious one!
North Dakota
Again, North Dakota shares many similar foods with its neighbors and a strong German and Norweigan influence!
Knoephla Soup – This is a German dumpling soup that is rich, creamy, and delicious!
Krumkake – A delicious Norweigan dessert that is half cookie, half-waffle, and simply delectable!
Cheese Buttons – Okay so they're more like cheese-filled ravioli but the locals call them cheese buttons!
Rocky Mountain States
The Rocky Mountain states include Montana, Idaho, Wyoming, Colorado, Utah, and Nevada! The food is reminiscent of the Wild West!
Montana
Big flavors come from Big Sky country so be sure to check out these Montana recipes!
Huckleberry Ice Cream – It may be hard to find Huckleberries in your local grocery store but be sure to ask the produce manager or try a store that carries more specialty produce but if you haven't tried huckleberry ice cream you're in for a real treat!
Meat Pasty – A half-moon pastry stuffed with chopped meat and sliced vegetables! These have a long history in Montana so be sure to check it out and give these delicious pockets a try!
Idaho
Idaho is home to potatoes, beef cattle, and huckleberries!
Finger Steaks – Think chicken fingers only made with steak! These are a great dinner, game day snack or appetizer!
Idaho Baked French Fries – Make it a meal add whip up some homemade Idaho baked french fries!
Huckleberry Pie – If you don't live in Idaho or Montana fresh huckleberries can be hard to find! This recipe calls for Huckleberry jam to make a delicious pie!
Wyoming
Wyoming is home to cowboys and so much more! A wild state with beautiful mountains, we spend time here nearly every summer!
Beef Jerky Dip – Wyoming has some of the best beef jerky you can buy and I've sampled quite a bit of it during my time there! I'd highly recommend grabbing some genuine Wyoming beef jerky if you can but if you can't here's a recipe for Beef Jerky Dip to try for a little something different!
Wyoming Cowboy Cookies – These cookies are full of just about everything – coconut, pecans, oats, and chocolate chips! Serve them with a cool glass of milk for dipping!
Colorado
Colorado is a picturesque state with food to match! The food has a slight southwest flavor with a tribute to the Wild West! Oh, and they love their native green chiles!
Colorado Style Green Chile (Chili) – Green chile in Colorado? I thought was a New Mexico food. However, Pueblo green chiles are native to Colorado. They make the sauce stew-like and rich with a tomato base. Give it a try and see why Coloradans put green chile on just about everything!
Hatch Pork Green Chili – Hatch Pork Green Chili is a savory pork stew featuring Hatch green chile peppers. A spicy soup that is popular in Colorado. Serve in a bowl or smothered on Mexican food.
Utah
Utah is known for its fry sauce, which my son loves, funeral potatoes, and jello! Here are a few recipes to try!
Lime Jello Salad – Reminiscent of the 60s and 70's try this lime jello salad with pecans and crushed pineapple!
Funeral Potatoes – These go by different names based on where you live but Funeral potatoes are an iconic Utah potluck dish! Oh and they're delicious too!
Fry Sauce – While you can buy fry sauce in most grocery stores, whipping up a homemade batch isn't all that hard! Give this awesome recipe a try!
Nevada
Most people think of Las Vegas when they think of Nevada and the huge food buffets located there! But there is so much more to Nevada than the lights and casinos!
Prime Rib – This amazing cut of beef is amazing but expensive. It's a staple at the casino buffets so merits being listed here. I've linked to my favorite way to make prime rib.
Shrimp Cocktail – Another staple on the casino buffets, the shrimp cocktail was originally used to lure customers into the casinos!
Chocolate Fondue – What buffet wouldn't be complete with a chocolate fondue fountain? Your kids will love dipping fruits and pieces of pound cake in this delicious chocolate fondue!
Southwest
The southwest has some big flavors! From Texas barbecue to chimichangas, there's something here for everyone!
Oklahoma
Chicken Fried Steak – This iconic dish is served with a pile of mashed potatoes and gravy!
Fried Pies – What's better than pie? A pie you can carry as you eat it! Try these delicious fried pies a specialty of Oklahoma!
Texas
Everything is big in Texas and so are the flavors!
Brisket – Texas-style smoked brisket is juicy, tender, and full of flavor. It's cooked low and slow in a wood pellet grill with simple ingredients. Try this recipe to smoke brisket like a Texan!
Texas Style Chili – There's one big difference in the way Texas makes its chili…don't you dare add beans!
Texas Sheet Cake – Texas is big and so are they're sheet cakes! I've personally made this sheet cake over and over and it's amazing!
New Mexico
New Mexico has some great foods to try! And you guessed it another variation on chili!
Biscochitos – The official state cookie is a delicious cinnamon and anise-flavored concoction.
Carne Adovada – Another chili recipe in the Southwest, only this time using New Mexico red chilis and pork!
Pinon Brittle – You've heard of peanut brittle right? Pinon Brittle is a New Mexican twist using a native nut grown in New Mexico.
Arizona
I also lived in Arizona for a while and I definitely miss the amazing food!
Fry Bread – I've mentioned Fry Bread before and its Native American background. This recipe is for Navajo Fry Bread. I can promise you nothing tastes better than a Navajo Taco (there's a recipe for fry bread and Navajo tacos in the text as well).
Chimichangas – It's like a burrito only you fry it and everything is better fried right?
Sopaipillas – Delicious crispy fried dough dusted with cinnamon and sugar!
Pacific
With beautiful beaches and stunning mountains, the Pacific region is filled with seafood dishes, drinks, and fresh fruits!
California
California is one of the largest states in the Pacific region and is known for it's fresh flavors!
Meyer Lemon Cake – Meyer lemons are a hybrid mandarin lemon and originate from California. They have a distinct flavor and are a requirement for Meyer Lemon Cake.
California Style Guacamole – Guacamole is one of those things you either love or hate. Personally, I love it and would make it all the time if the majority of my family loved it as well but alas they do not!
Cioppino – Cioppino is a comforting California seafood stew filled with shrimp, clams, mussels, white fish, and crab legs all simmered in a rich broth made from tomatoes, white wine, and fish stock. Enjoy this easy and delicious one-pot seafood stew as a special weeknight or holiday meal.
Oregon
Oregon is a stunning state with stunning mountains and ever more gorgeous beaches! Oh, and they love marionberries!
Marionberry Jam – This marionberry jam without pectin features an ingredient that's an Oregon favorite. Have you ever tried marionberries?
Marionberry Pie – Marionberries look similar to a blackberry but are more of a cross between two different types of blackberries and taste like a blackberry with a hint of raspberry.
Washington
I lived in Washington for about 3 years and absolutely loved it! There was nothing better than driving to work and seeing Mt. Rainier on a rare sunny day! Pike's Place Market is an amazing experience especially if you're a foodie!
Deep Fried Halibut – You might have to find a specialty seafood market to find halibut but some larger grocery stores do carry it! I love deep-fried halibut and so does my whole family! Halibut is a mild white fish and delicious fried!
Washington Apple Pie – Washington is known for its amazing apple orchards so apple pie is a must on this list for Washington!
Coffee – I don't think a recipe is necessary here but if you're like me nothing is better than that first sip of hot coffee in the morning (and if you're like me the first sip is the only hot sip you get!). Washington is home to the first Starbucks so a cup of coffee is a definite must on this list.
Alaska
I've been to almost all 50 states, some I've lived in and others just visited, and I'm happy to say Alaska is on the list of states I've visited. Despite the cold, I visited in early March, it was absolutely stunning and the food was amazing!
King Crab Legs – This is about as Alaskan as it gets so grab a couple if you can and try your hand at making them. Don't be intimidated by cooking crab at home – I promise it's worth it!
Cedar-Planked Salmon -We love making Cedar-Planked Salmon on our Kamado Joe Grill. It's absolutely delicious!
Ginger Molasses Cookies – No trip to Alaska is complete without a stop at the Talkeetna Roadhouse for soft ginger molasses cookies! Skip the long flight and make your own with this copycat recipe.
Hawaii
This is the only state I haven't visited yet but it's high on my list!
Loco Moco – This dish features layers of rice, a hamburger patty, and an egg all smothered in gravy! This is a pantry-friendly meal too!
Pineapple Upside Cake – I had to feature a dish with Pineapple since they grow in Hawaii! Pineapple Upside Down cake is amazing!
Final Thoughts and A Request
Wow, this is quite a list and if you made it this far I'm so glad!
I also made a page on Amazon that contains a few items from this list that I purchased rather than try and make at home. You can find it here!
While this list was made specifically to go with the Notgrass Our 50 States homeschool curriculum, anyone can use it to find great recipes for a particular state.
Last but not least, if you live in a particular state and have a recipe to add to the list please comment below and let me know!