It's been 18 years since my oldest son was born and my experience with Restless Leg Syndrome began during my first pregnancy. Over the years, I've researched and tried various methods to manage my Restless Leg Syndrome (RLS) and wanted to share my tips and tricks on how I successfully manage my RLS.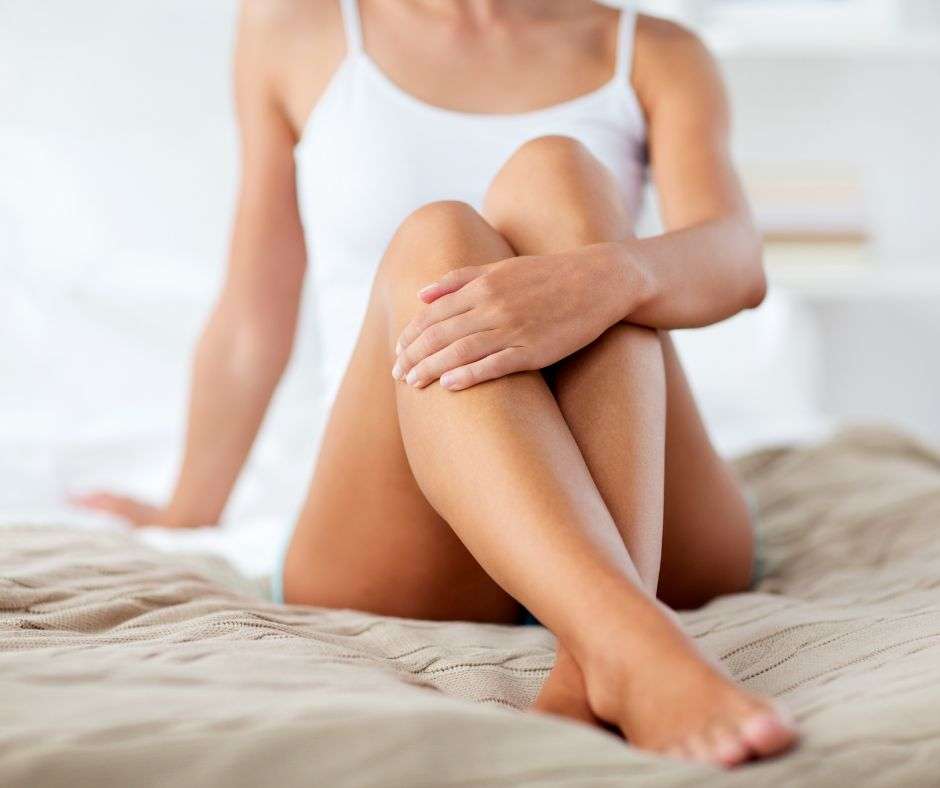 This page contains affiliate links. If you choose to purchase after clicking a link, I may receive a commission at no extra cost to you. For more information please read my full affiliate disclosure.
What is Restless Leg Syndrome?
Restless Leg Syndrome (RLS), also known as Willis-Ekbom disease, is a condition that presents with an uncontrollable urge to move one's legs because of an uncomfortable sensation (Mayo Clinic). It can begin at any age and typically worsens as a person ages.
RLS usually occurs in the evening, at night, or when one is in a restful state such as lying on the couch. This makes it particularly tiresome for moms as we need all the sleep and rest we can get, right?
People with restless leg syndrome typically describe the sensations they feel as crawling, creeping, pulling, throbbing, itching, or aching of the legs. For me, it's aching of sorts, although it's not painful, just irritating, and I need to move my legs to make the sensation go away.
Restless Leg Syndrome During Pregnancy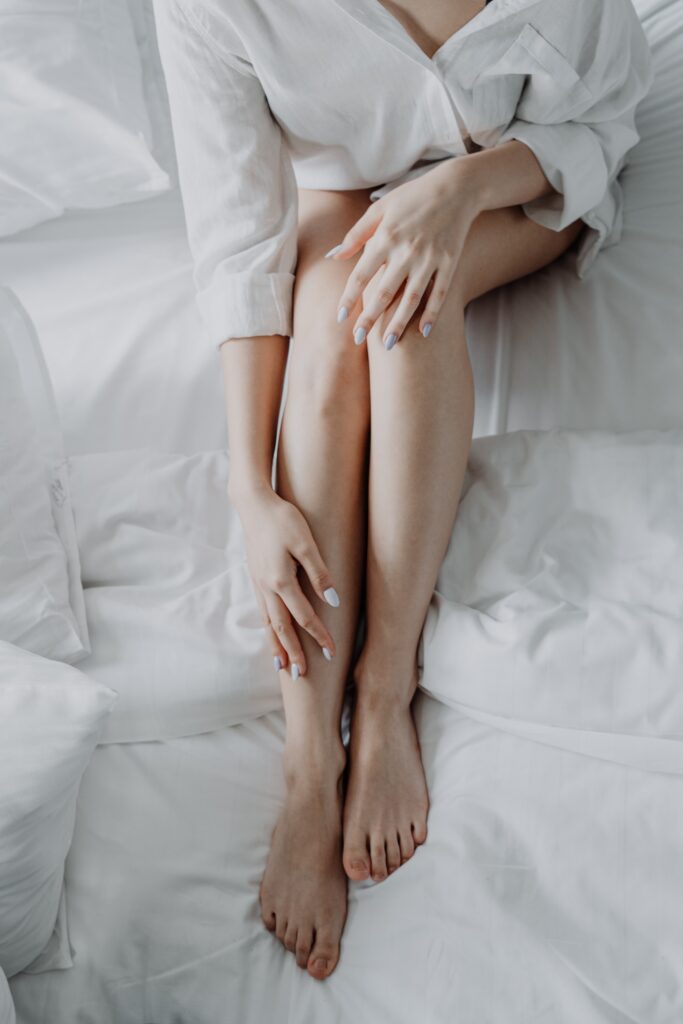 In addition, restless leg syndrome occurs in approximately 20% of pregnant women, usually in the third trimester. This is how it started for me! During my first pregnancy, I began to experience restless leg syndrome during the third trimester.
Fortunately for most women, RLS will go away after giving birth. However, they are more likely to experience it again later or during subsequent pregnancies.
Sadly, my RLS did not go away after I had my first son and only worsened as I got older and had more children. However, I have learned over the years through extensive research and trial and error to successfully manage my restless leg syndrome.
Many of the tips and tricks I suggest will help with restless leg syndrome during pregnancy as well. Just be sure to check with your doctor first, please!
Tips & Tricks to Manage Restless Leg Syndrome
There are many suggestions for managing Restless Leg Syndrome, such as:
Reducing caffeine, alcohol, and/or nicotine before bedtime
Reducing stress
Exercising daily
Maintaining a good bedtime routine
Avoiding daytime naps
Soaking your legs in warm water before bed
Check your Iron levels and medications with your doctor.
Massaging the legs
Unfortunately, I attempted all of these suggestions but was unable to find much relief. Although being aware of these things and implementing them is helpful, don't discredit these suggestions during your journey with RLS.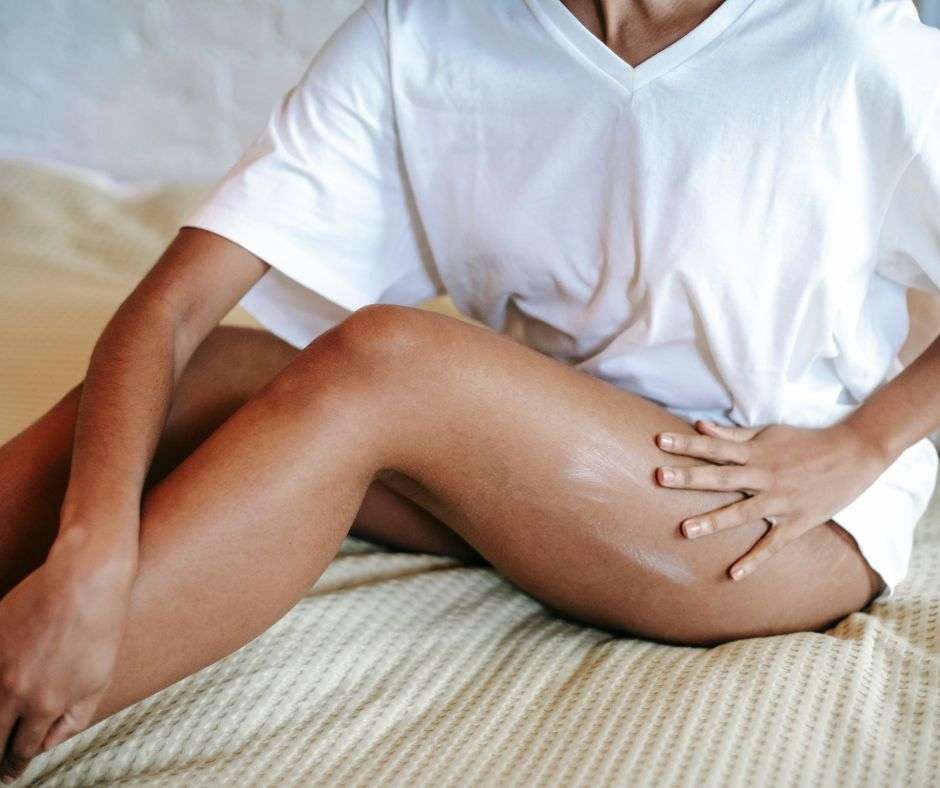 Visiting Your Doctor for RLS
I spoke with my doctors over the years regarding treatments and medications for managing my RLS. After researching prescriptions for RLS, we opted to pursue medication as most had side effects that were often reported to be worse than RLS itself. I didn't want to trade one bothersome condition for another!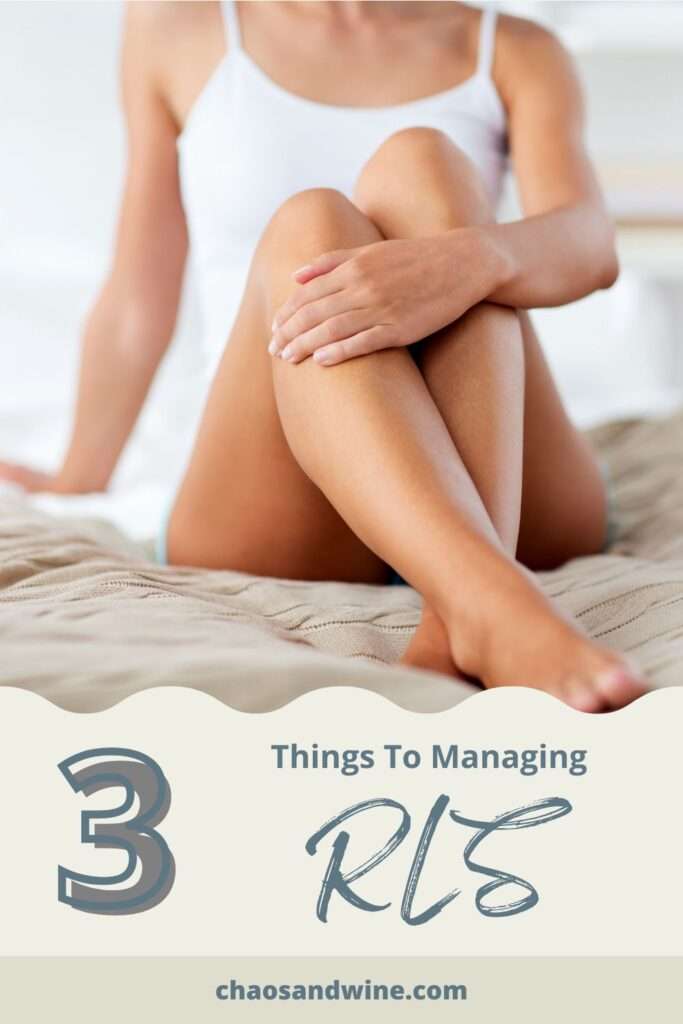 How I Manage My RLS
I've never been able to completely eliminate my RLS, but I have learned how to successfully manage my symptoms. This has led to much better rest and sleep for me and subsequently a happier mom! I want to share what works for me in hopes that I can help other moms and women like you!
The Soap Trick and Restless Leg Syndrome
This was the first and probably the craziest sounding thing I tried for managing my RLS! It's easy to implement, cheap, and weirdly it works!
Simply take a bar of soap, any brand or scent will work, and place it at the foot of your bed between your sheets. I usually place mine between my fitted sheet and mattress cover.
I have no idea why this works medically speaking! I think it might be psychological since your feet or legs can touch or feel the soap, and it distracts you from the RLS sensations.
Extra advice – make sure you find and remove the soap bar before you throw the sheets in the wash!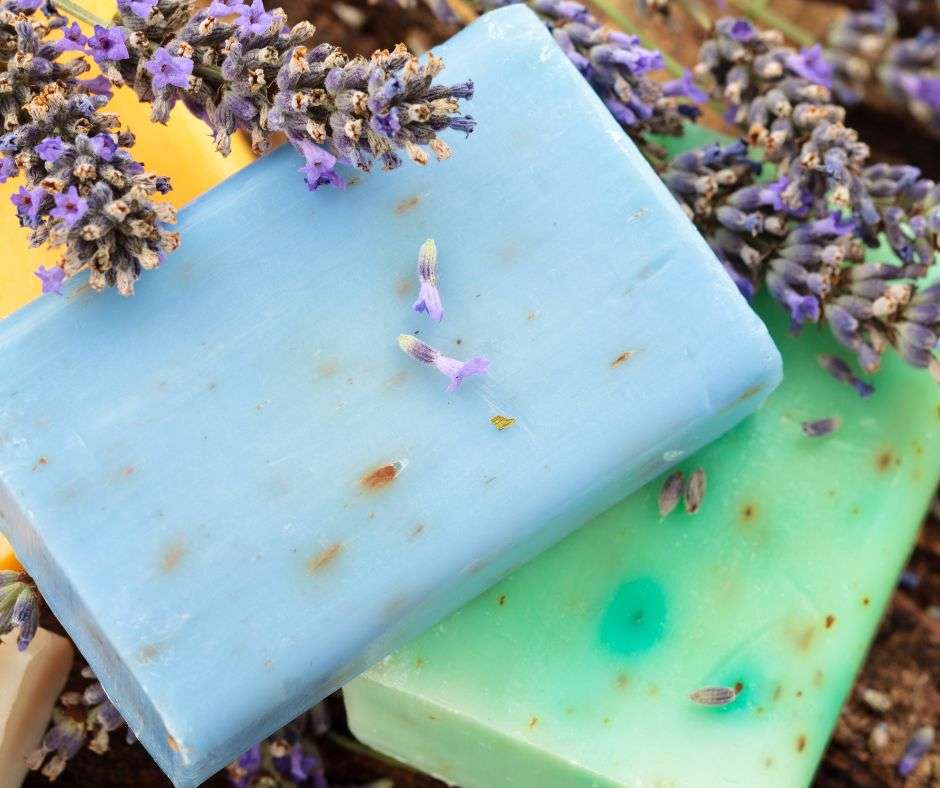 Iron Levels Restless Leg Syndrome
I had my iron levels checked by my doctor, and they were slightly low. Increasing my iron levels was a natural path to explore, and I was happy to do so. I immediately looked for a natural option to increase my iron levels without the side effects of regular iron supplements.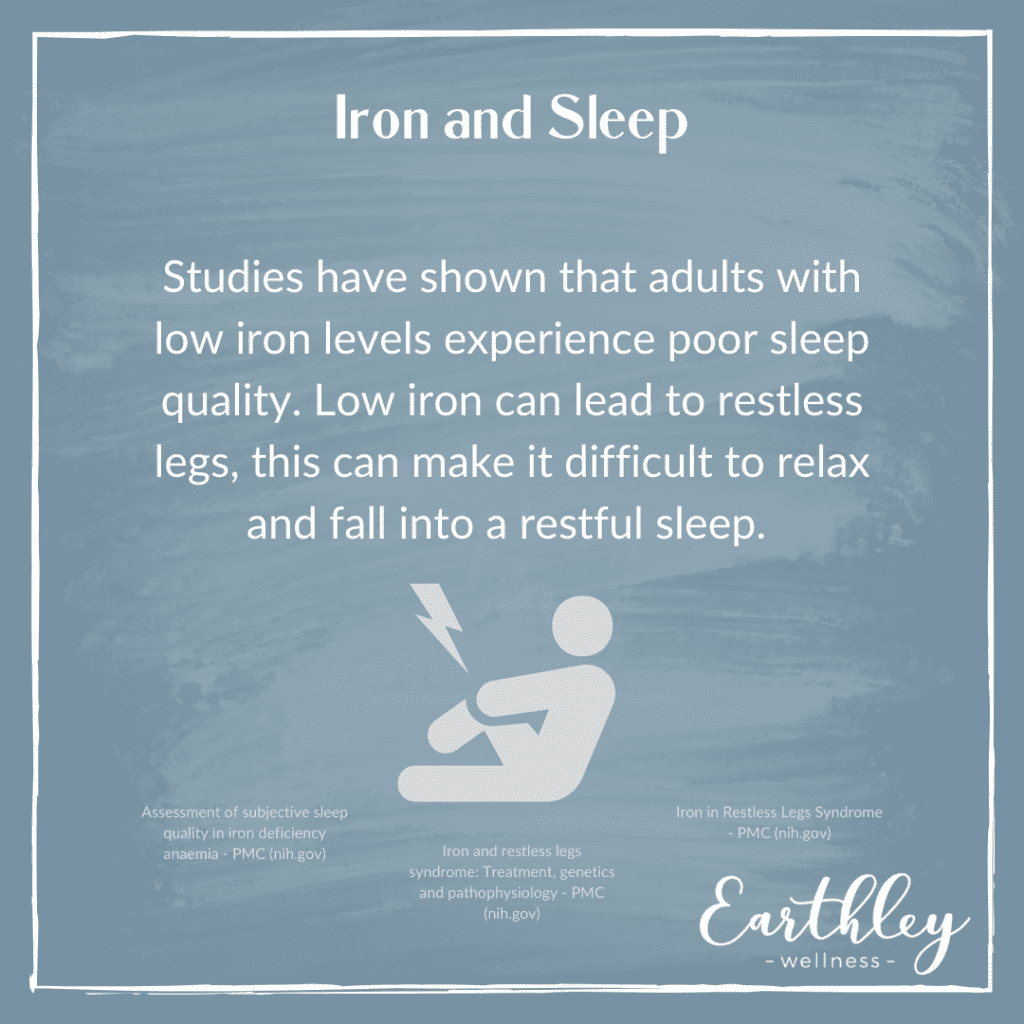 One way to increase iron levels is to include more iron-rich foods in your diet. Iron-rich foods include red meat, spinach, pumpkin seeds, and many more.
I wanted a natural supplement aside from increasing my intake of iron-rich foods that wouldn't cause additional symptoms. I'm a huge believer in natural remedies and prefer them over more traditional options, if at all possible. This isn't to say I don't believe in modern medicine; I just feel there's room for both.
I found an all-natural plant-based supplement to help increase my iron levels called Energy Plus by Earthley Wellness. This was an easy solution – it did not require a prescription, was reasonably priced, and was simple to take! And it worked!
I started using the herbal iron supplement and shortly after my Restless Leg Syndrome was much better.
Magnesium Lotion
During my extensive reading about RLS, I learned that magnesium levels can also cause restless leg syndrome. While I tried over-the-counter oral magnesium supplements, they didn't seem to do the trick for me.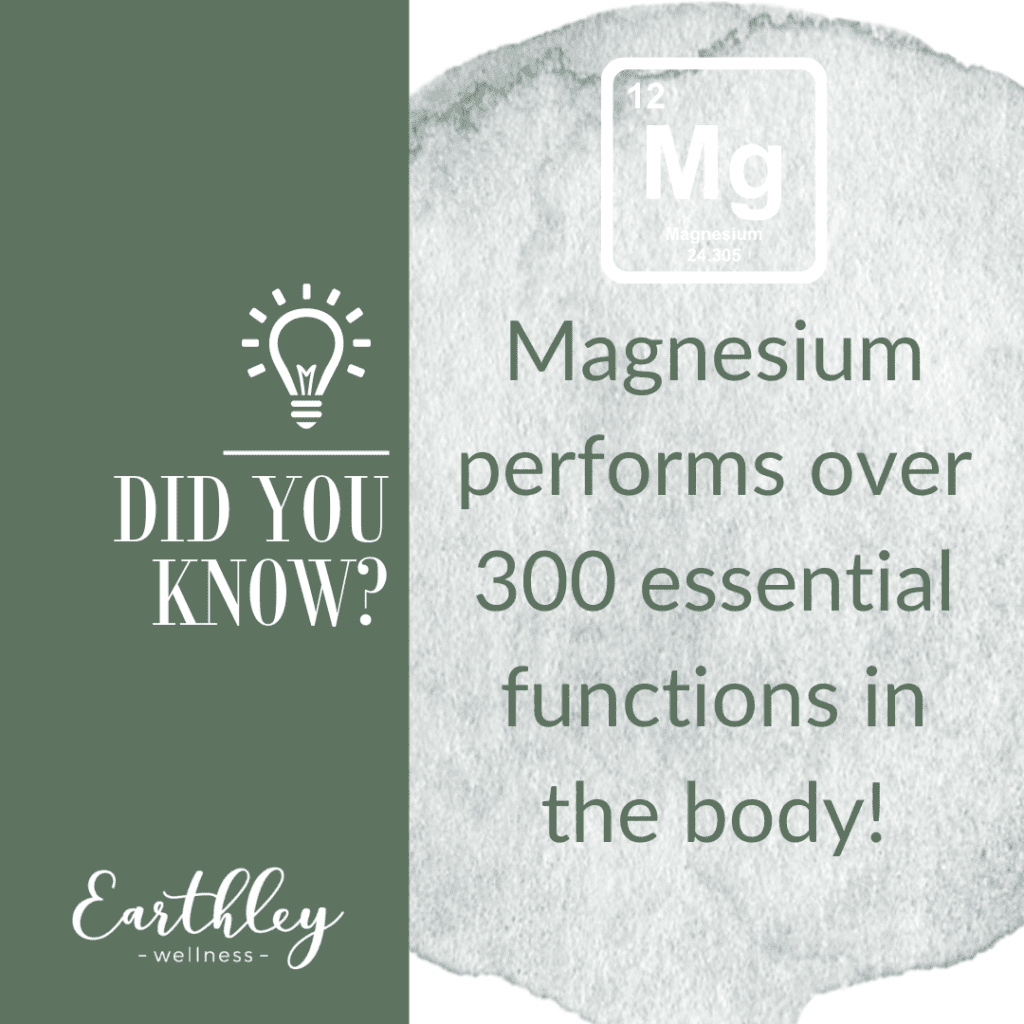 Then I read about magnesium lotion and the benefits associated with absorbing magnesium through the skin. I tried a few types of magnesium lotion, but many left my skin dry and itchy – not particularly helpful when I'm trying to make my legs feel better.
Finally, I found Earthly Wellness's Good Night Magnesium Lotion. I haven't looked back. This was the final step in learning to manage my restless leg syndrome.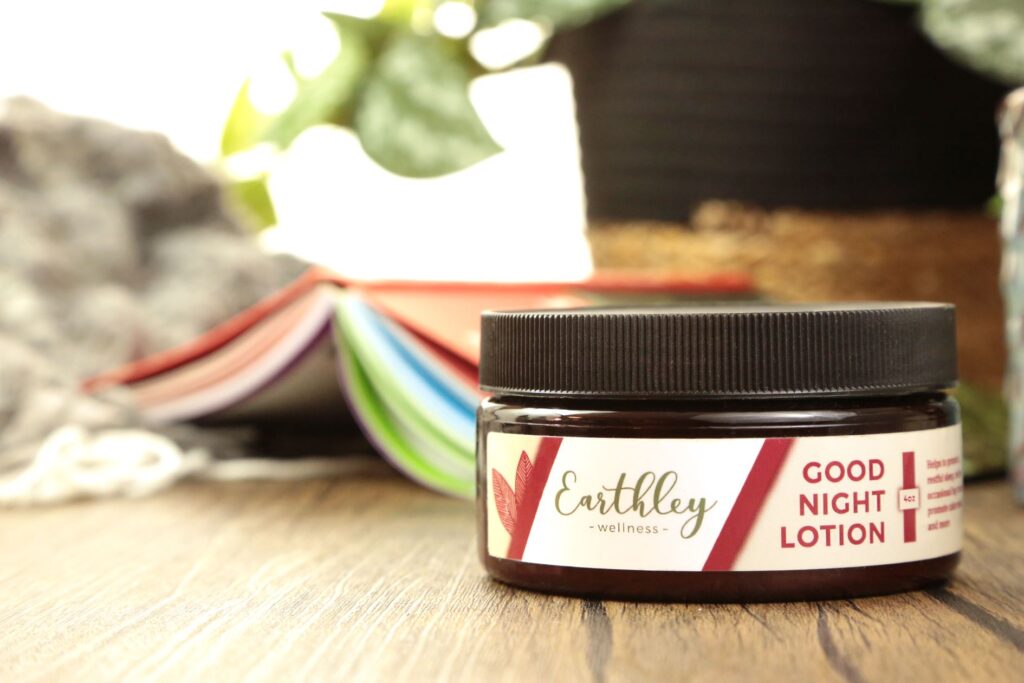 The first night I used it, instead of having restless legs…my legs felt like logs! It was the strangest feeling to NOT have my legs feel restless! However, I had a terrific night's sleep.
It doesn't make my legs feel itchy at all! I love the lavender-scented version, but there is also one for sensitive skin that has no scent. I've gifted Good Night Lotion to many of my friends and family, and they all love it too!
I've used Good Night Magnesium Lotion almost every night since that first night and I love it! It's also a great way to naturally help kids sleep better at night!
Recap and Final Thoughts on Managing RLS
While I haven't cured my RLS, and it still flairs up, particularly when I'm stressed or overtired, I have learned to alleviate my symptoms and improve my sleep. All of this allows me to be a happier and more productive mom during my very busy and chaotic days!
I still use all three of these simple tricks to manage my RLS – the soap trick, iron supplements, and the magnesium lotion. This combination has allowed me to be better rested and a better mom.
This magnesium lotion is hands down the best I've tried! No itchy legs or RLS!
I've tried other iron supplements, but this one does not cause any of the awful side effects!
Don't forget to grab a bar of soap! It's the easiest and oddest remedy that helped me with my RLS!
There are nights when my RLS is worse than others but usually, I can pinpoint the cause – stress, an extra glass of wine, or over-tired and work to remedy that for the next night.
I do encourage you to visit your doctor before starting any supplements.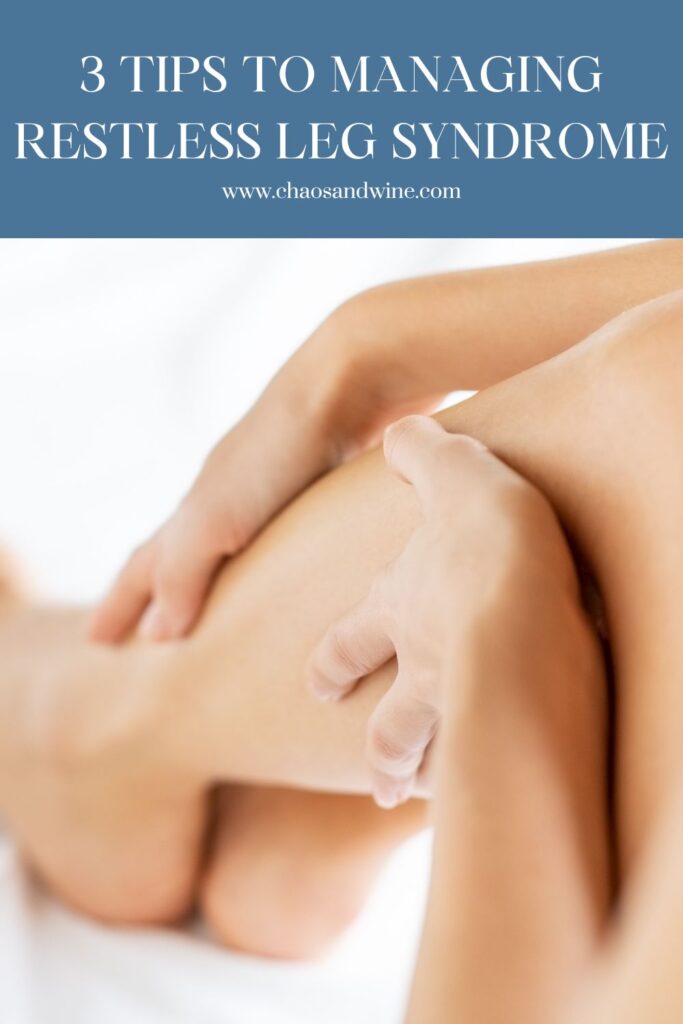 I hope you'll find some relief using these tips and tricks! Let me know in the comments if you try them!
You might also like my review of Earthley Wellness Feel Better Fast or how I use natural remedies to help my kids sleep!