I first found the Earthley Wellness company when searching for a solution to manage my restless leg syndrome. Since that fateful yet successful search, I've come to love Earthley Wellness and have been extremely happy with all the products I've tried. One of the first products I tried after the Good Night Lotion was Feel Better Fast!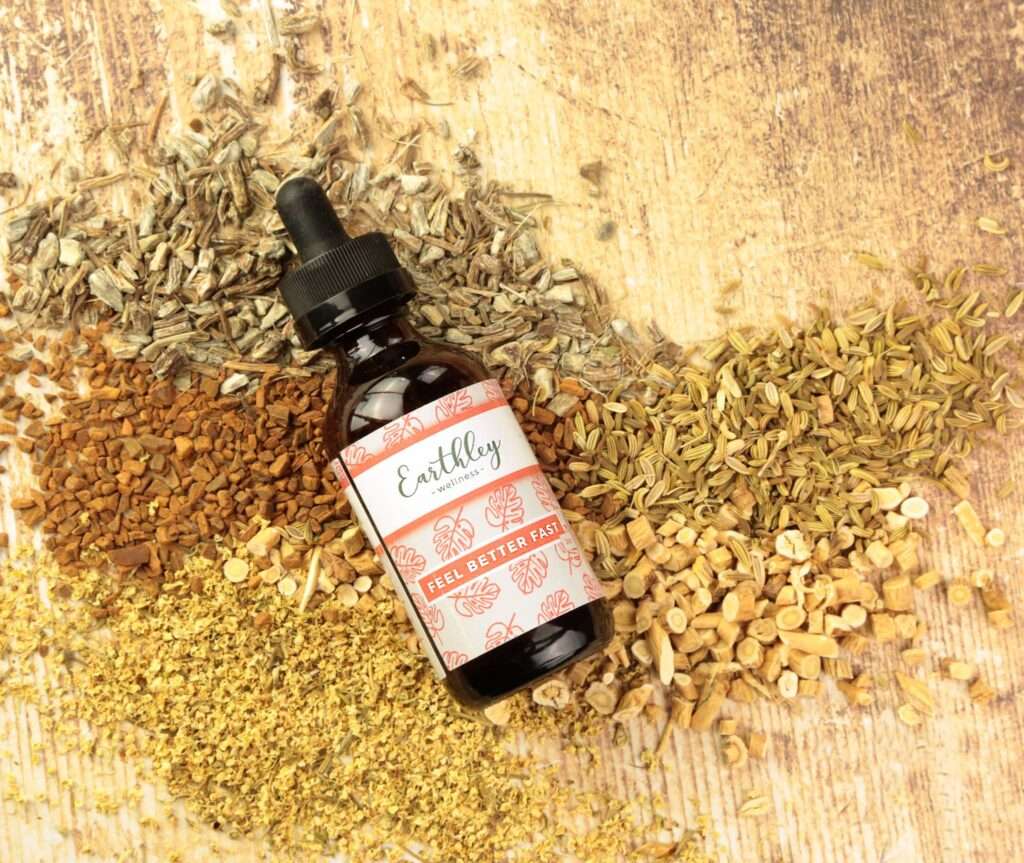 This page contains affiliate links. If you choose to purchase after clicking a link, I may receive a commission at no extra cost to you. For more information please read my full affiliate disclosure.
What is Earthley Wellness?
Earthley Wellness is a natural wellness company founded in 2016 and provides all-natural products. They are committed to 100% natural products for the whole family – from cleaning supplies to herbal tinctures there is something to help you on your journey to natural wellness.
A few things to know:
100% made in the USA
Woman Owned
Low Prices
Excellent Customer Service (there is a real person on the chat!)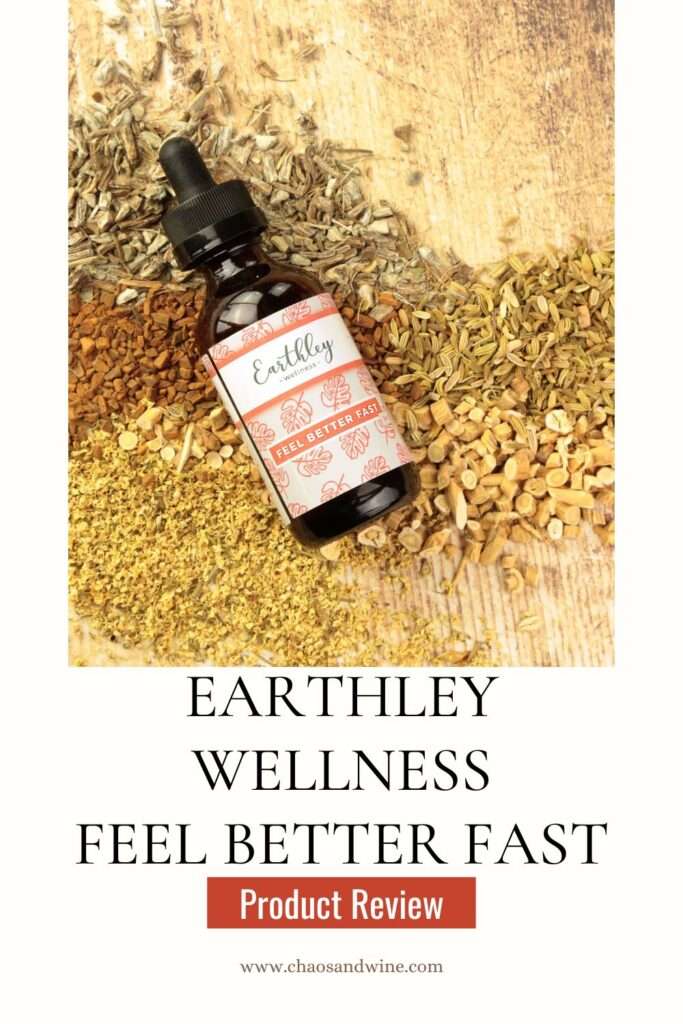 Too busy to make this right now? Pin for later to your favorite Pinterest Board!
You might also like…
How I Manage my Restless Leg Syndrome Naturally
Natural Sleep Remedies for Toddlers and Kids
What is Feel Better Fast?
Feel Better Fast is my go-to for all illnesses or potential illnesses in my house! I never run out of this stuff…ever!
It works on just about anything from upset tummies, fevers, coughs, sniffles, and just the general crud you get when you've got kids running around. If one of my kids says their tummy hurts – I give them a few drops of Feel Better Fast and they are back to cause more chaos!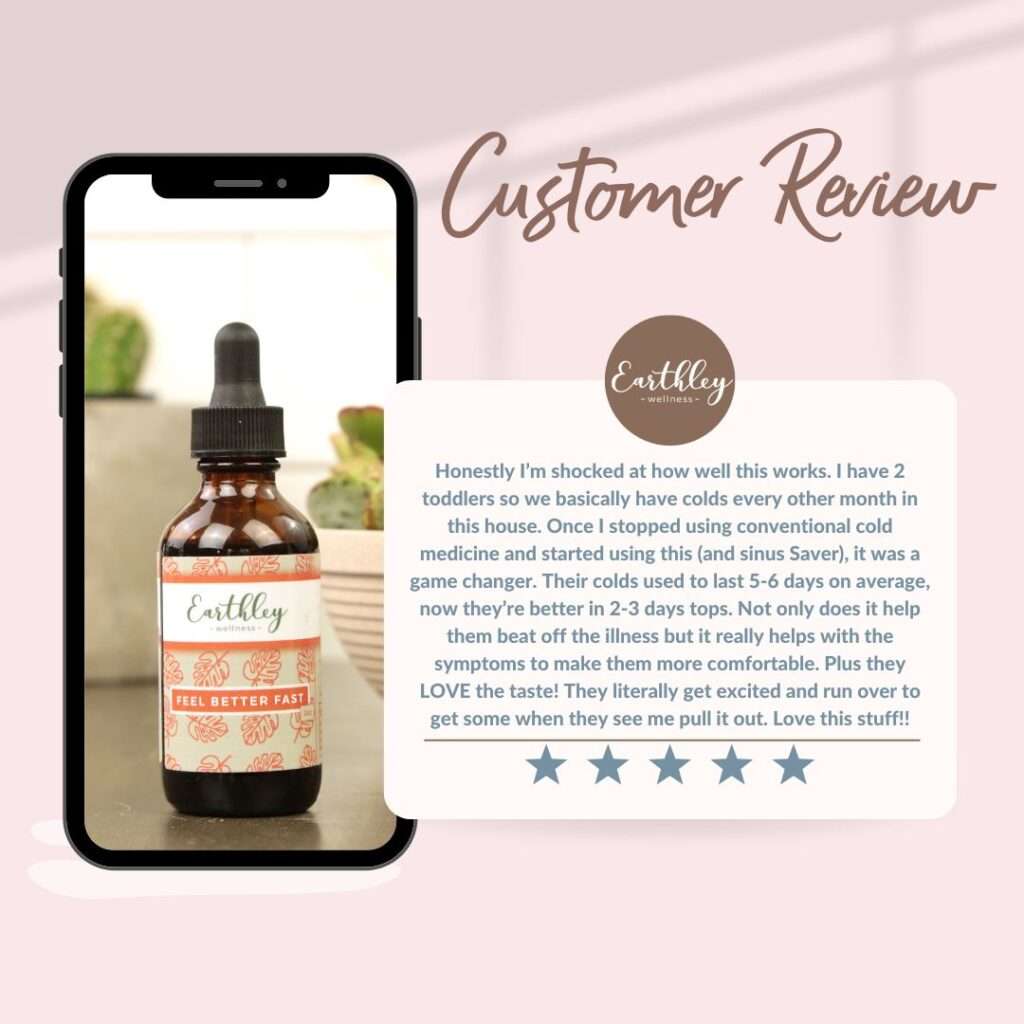 Instead of turning to over-the-counter medications that mask symptoms, Feel Better Fast was created to ease symptoms and support the body in healing naturally.
The three main benefits of Feel Better Fast are that it naturally supports fevers, promotes immune health, soothes upset tummies, and supports respiratory health.
Feel Better Fast also tastes good so my kids have no issues taking it straight either! This is always a challenge especially when you have a picky eater!
What's in Feel Better Fast?
First, let's talk about what's NOT in Feel Better Fast! There are no artificial flavors, colors, allergens, or preservatives! As I work towards cleaner more natural products for my family, this is incredibly good to know!
So what is in it?
Elderflower – an immune-supporting herb that also helps fight fevers naturally and supports the respiratory system.
Cinnamon – an anti-inflammatory ingredient that also helps relieve pain
Astragalus Root – a great herb for supporting the immune system
Fennel Seed – an excellent herb for soothing upset tummies, gas, bloating, and other digestive issues. It also helps ease congestion and fevers.
Echinacea – a well-known herb that helps boost the immune system.
Elder Flower – another great herb for supporting respiratory health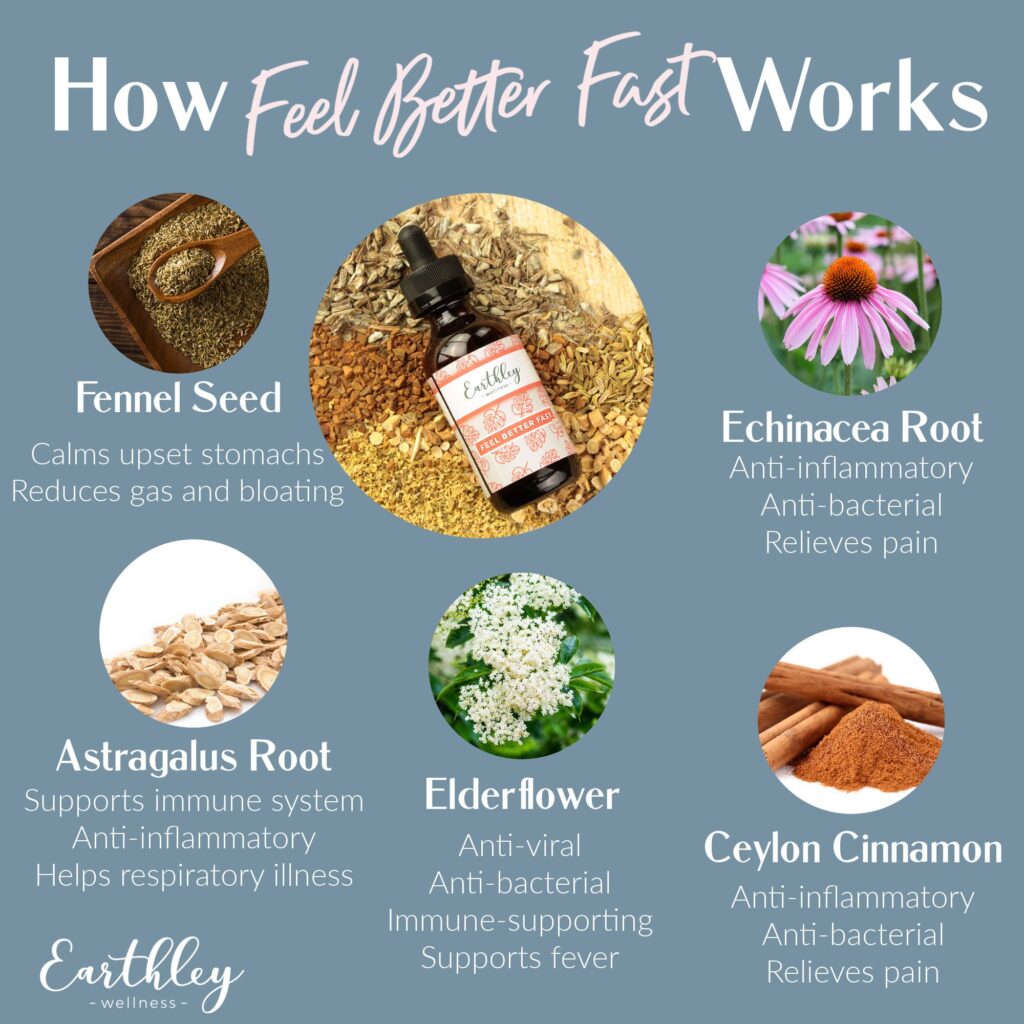 That's it! That's the whole ingredient list except for filtered water and organic vegetable glycerin. In addition, the herbs are certified organic and sustainably sourced.
In addition, Earthley links to studies from the National Library of Medicine for most of the herbs so you can research the benefits yourself if you're still unsure.
Who's it for & How do I Use It?
Feel Better Fast is an excellent herbal tincture for the whole family, which is one of the primary reasons I love it so much!
It can be taken from 6 months up safely. I wish I had known about it back when the twins were little for their upset tummies! It would have been amazing to help ease those gas pains they sometimes had instead of reaching for an OTC product!
The dosage is fairly simple:
6 months to 6 years: 2-5 drops
Age 7-12 years: 5-10 drops
12 years and up: 10-20 drops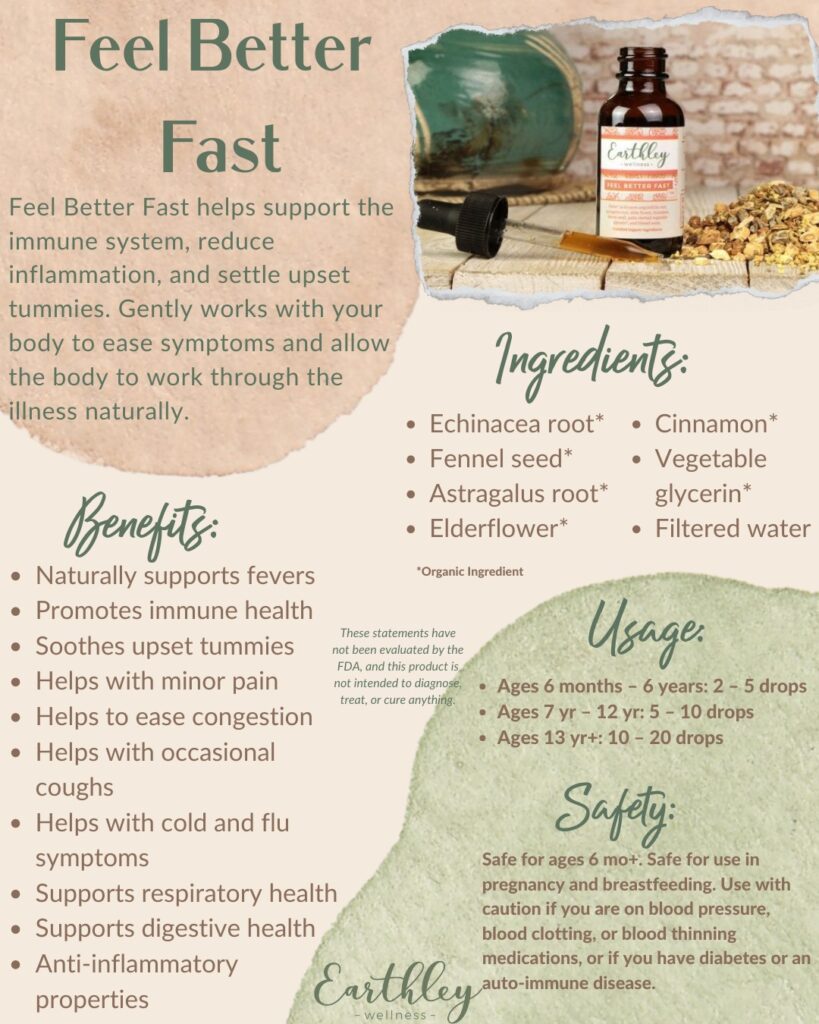 When one of the kids is sick, I give Feel Better Fast every 4 hours or 3 times a day (breakfast, lunch, and dinner times). For tummy troubles, I'll give a dose when they tell me their tummy doesn't feel well – usually, one dose does the trick but you can give it every 15-20 minutes if needed.
My middle son was recently sick with the flu, I gave him Feel Better Fast 3 times a day and he was up out of bed in about 3 days. I also gave him Immune Biotic once a day to further support his immune system (this one doesn't taste too good so I don't usually give it to the kids or if I do I hide it in a little juice).
Again, even my twins will take this straight and I don't need to hide it in juice. However, if you do have a picky one or are struggling to get them to take their medicines try putting it in a little juice.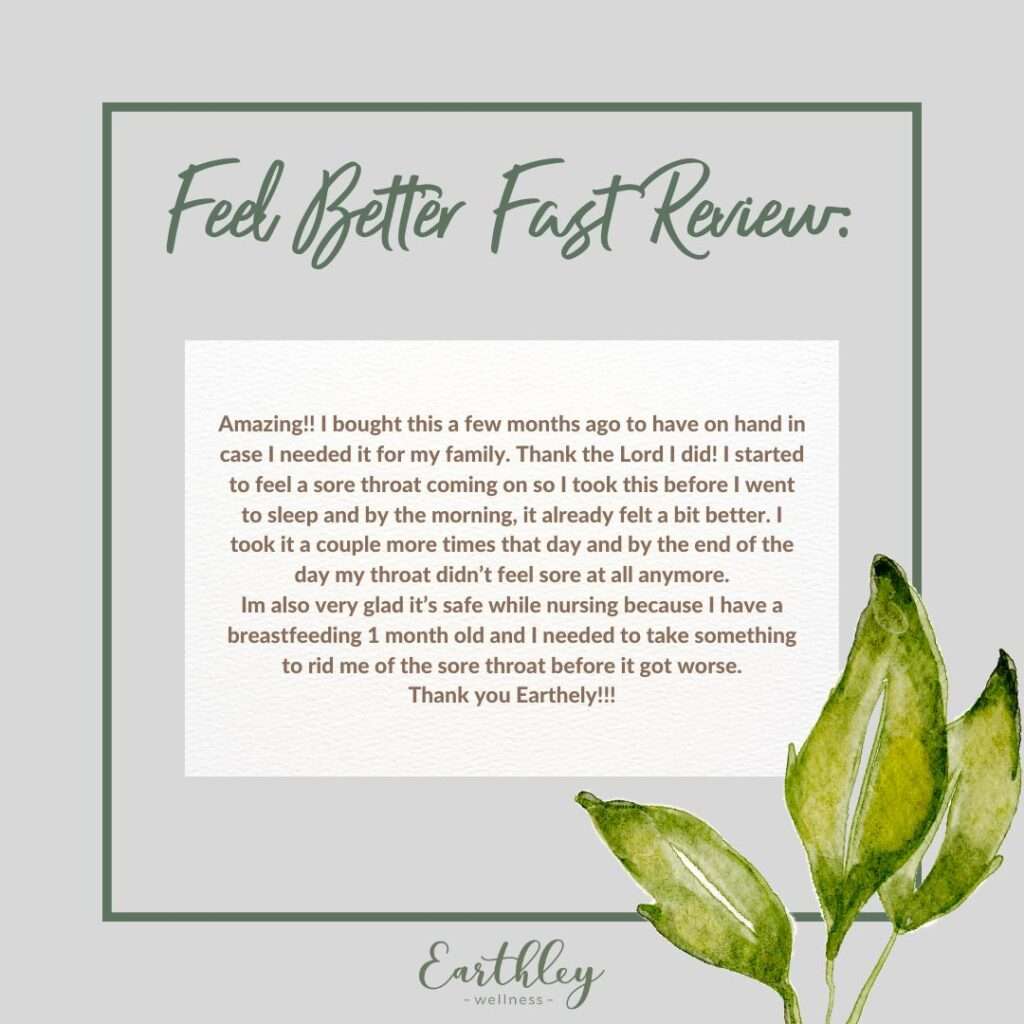 Don't Just Take it From Me!
Don't just take it from me though, check out the over 300 reviews giving Feel Better Fast a 5-star review on their website!
I promise I'm not the only mom who loves this stuff!
Have you tried Earthley products? Let me know!