Nebraska is famous for its corn-fed beef and sweet corn but the Cheese Frenchee is an iconic Nebraska appetizer few have heard of outside of the Cornhusker state!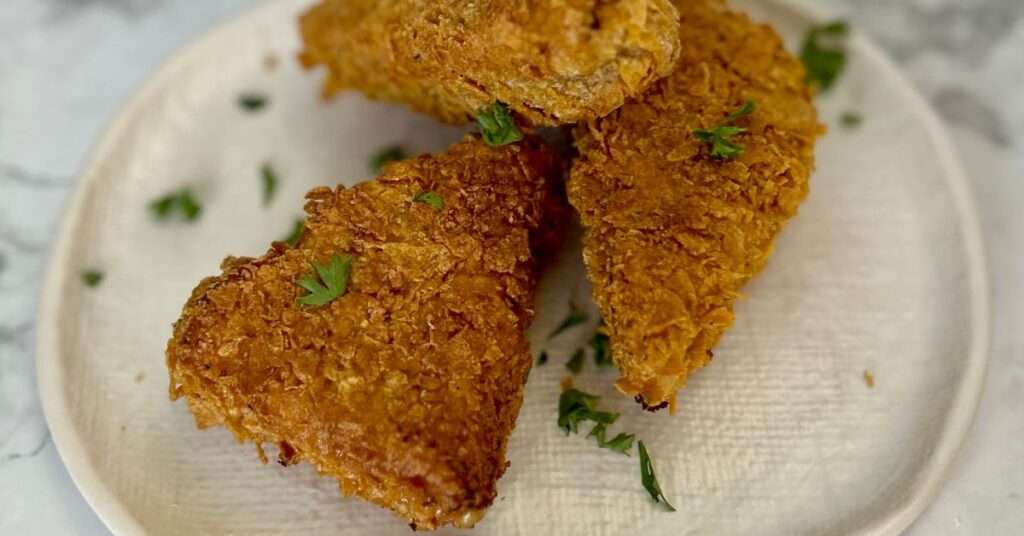 This page contains affiliate links. If you choose to purchase after clicking a link, I may receive a commission at no extra cost to you. For more information please read my full affiliate disclosure.
The famous cheese Frenchee is basically a deep-fried grilled cheese sandwich!
History of the Cheese Frenchee
Cheese Frenchees were created by the King's Food Host, a fast food restaurant headquartered in Nebraska during the 1960s and 1970s. With drive-in restaurants located throughout the Midwest, they were a local icon throughout the region until they began a steady financial decline and were ultimately bought out in the late 1970s.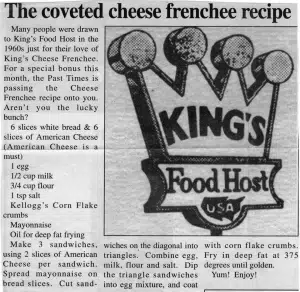 The Cheese Frenchee is similar to the Croquet Monsieur sandwich of France,,e which may be where the Frenchee part of the name came from. The iconic fried cheese sandwich was extremely popular and at various points came in different flavors such as pizza, tuna, and more!
This nostalgic recipe is made in homes throughout Nebraska and even served on a few local menus!
Cheese Frenchee Ingredients
There aren't a lot of ingredients required for a Cheese Frenchee and most are pantry friendly! IAll I needed to do was pick up a box of corn flakes cereal from the grocery store when the children chose this recipe for our Nebraska study.
Eggs – to coat the sandwiches in
Bread – to make the sandwiches
Mayonnaise – for a little moisture in the sandwiches. I made them with and without mayonnaise, as I have one son that is opposed to mayonnaise on his sandwiches.
Milk – for the coating for the sandwiches
Corn Flakes – For the crunchy outside
Flour – added to the egg mixture to coat the sandwiches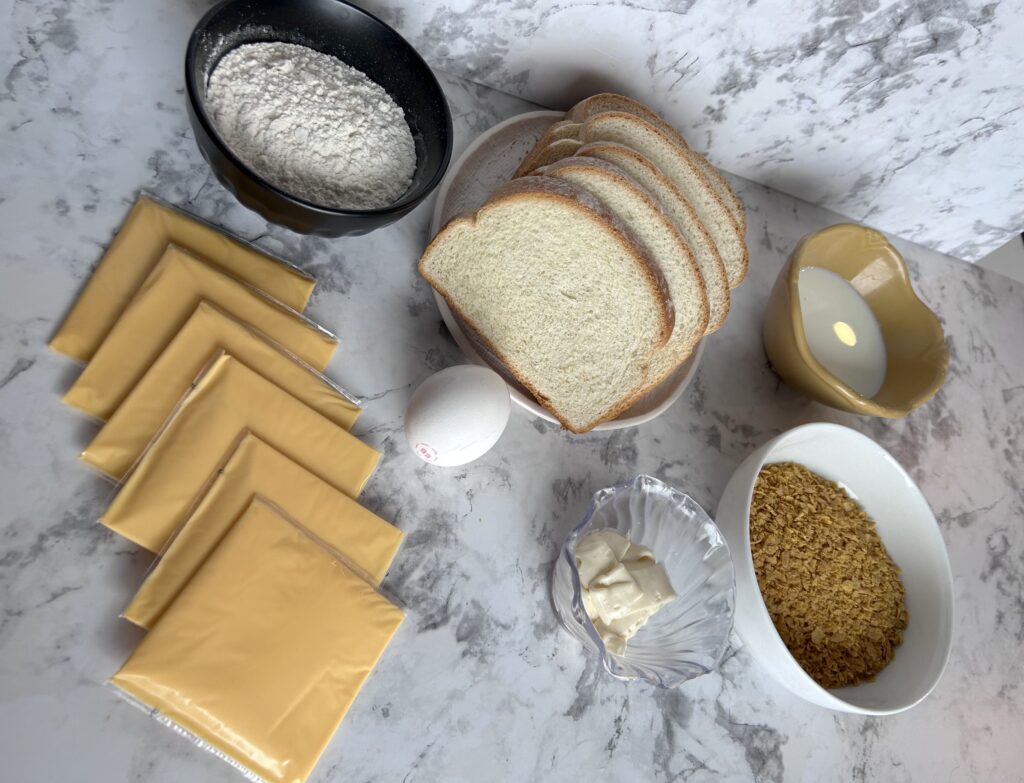 American Cheese – I used American cheese but feel free to use whatever sliced cheese you have on hand.
Bread – for making the sandwiches
Oil for Frying – For this recipe, I used canola oil to fry.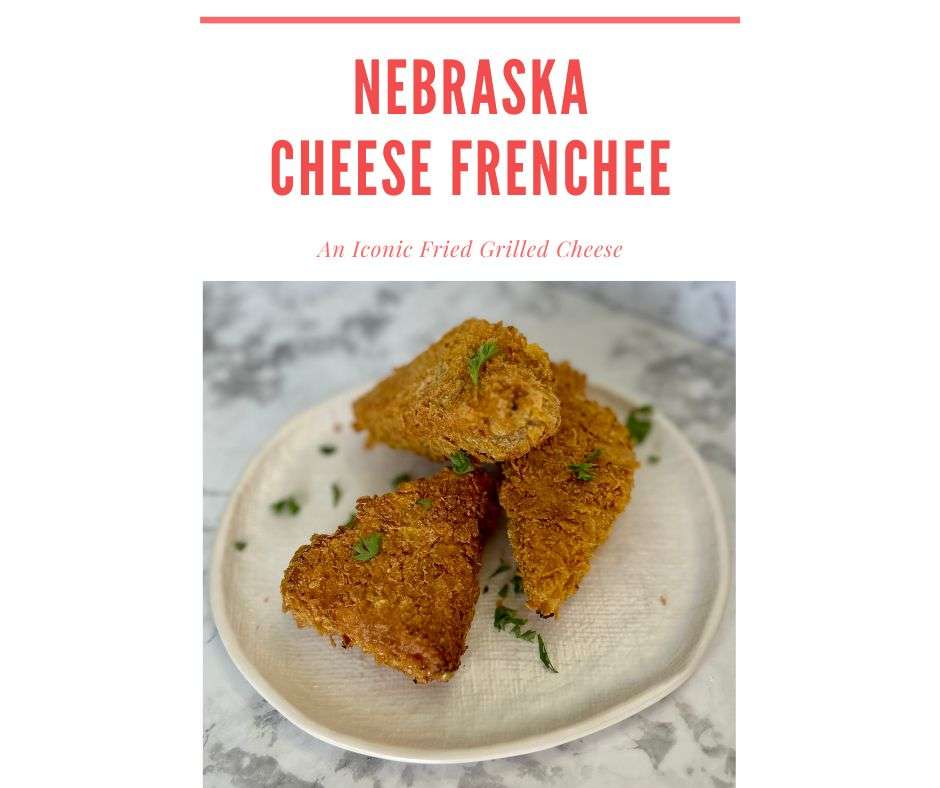 Too busy to make this right now? Pin for later to your favorite Pinterest Board!
How to Make Cheese Frenchee's
The recipe is very simple other than the frying. I love cooking with the kids, and they helped me put together the sandwiches and batter them. I handled the frying of course!
Spread a thin layer of mayonnaise on each slice of bread and top 6 of them with 2 slices of American cheese.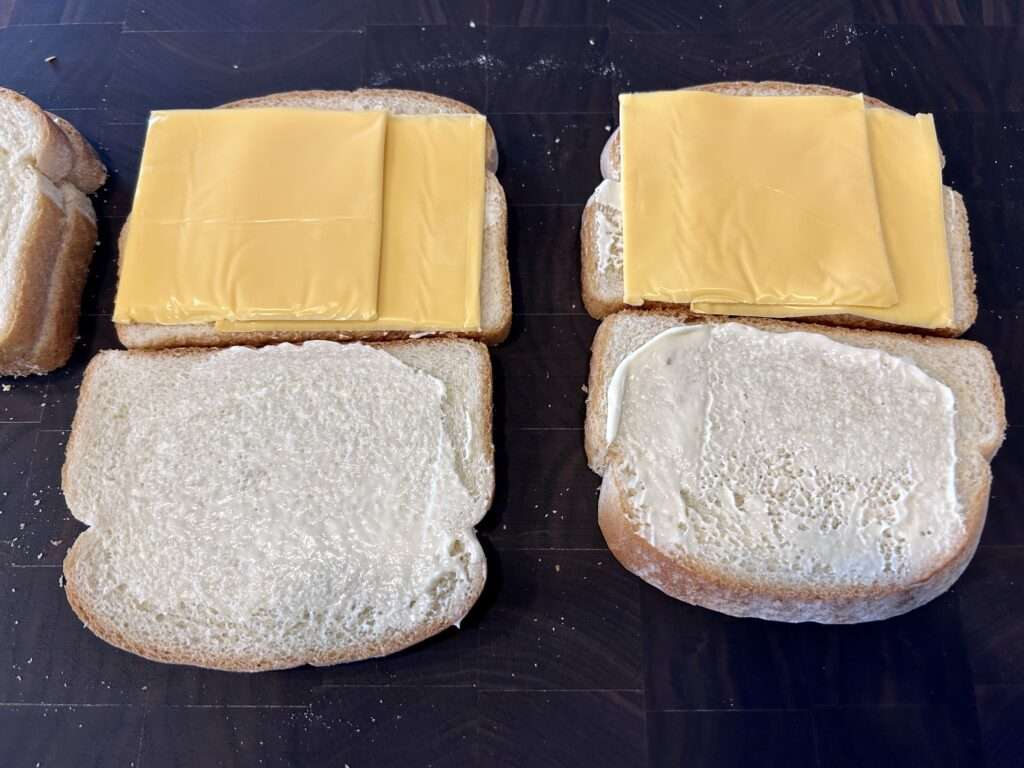 Put the sandwiches together and cut into quarters diagonally.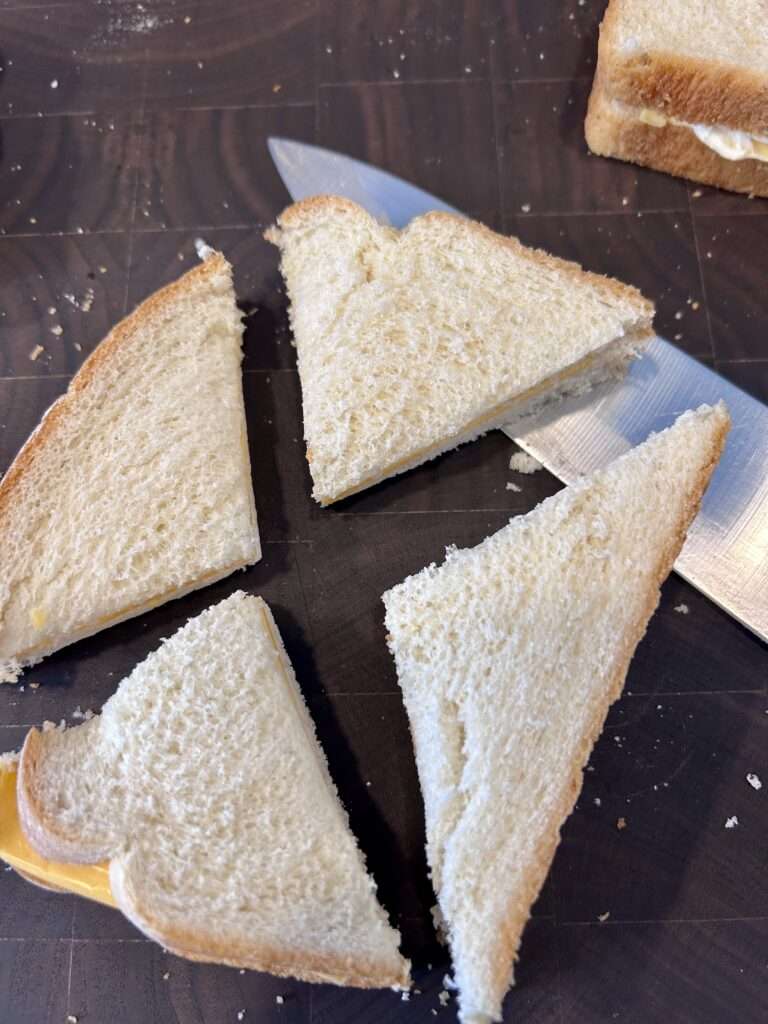 Mix together the egg, flour, salt, and milk in a shallow bowl or pan. Crush the cornflakes – the kids love this part – in a plastic bag using a rolling pin. Pour the crushed cornflakes into a shallow pan or bowl.
Heat your oil to about 350° in a skillet on the stove. You can use a deep fryer, but I choose to use about an inch of oil in my cast iron skillet.
While the oil heats, dip the sandwiches in the egg mixture being sure to coat all sides.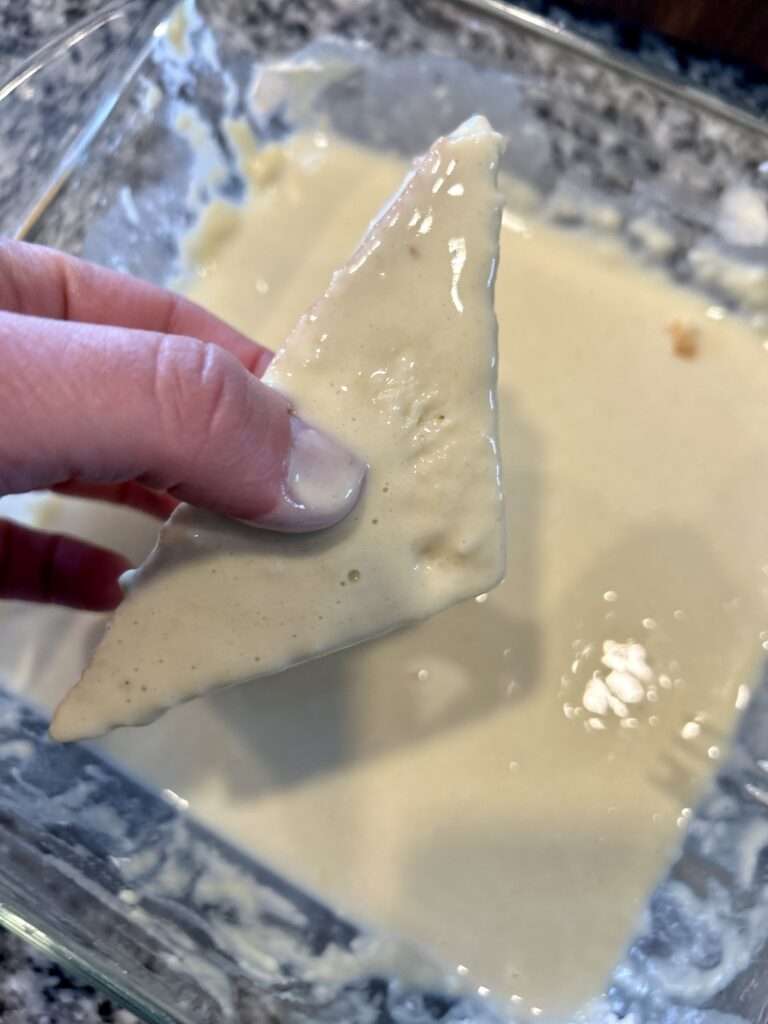 Then transfer to the crushed cornflakes and coat well. The boys helped with this part too!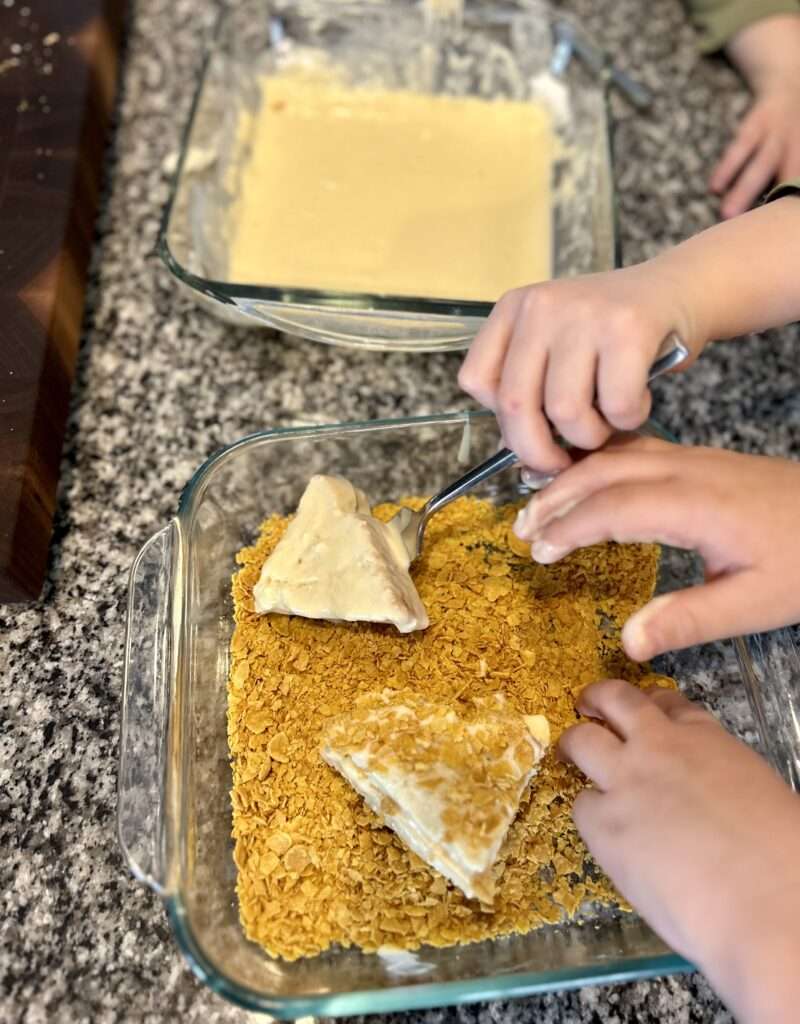 These cook fast so be ready! Fry each Cheese Frenchee for approximately 30 seconds on each side or until golden brown!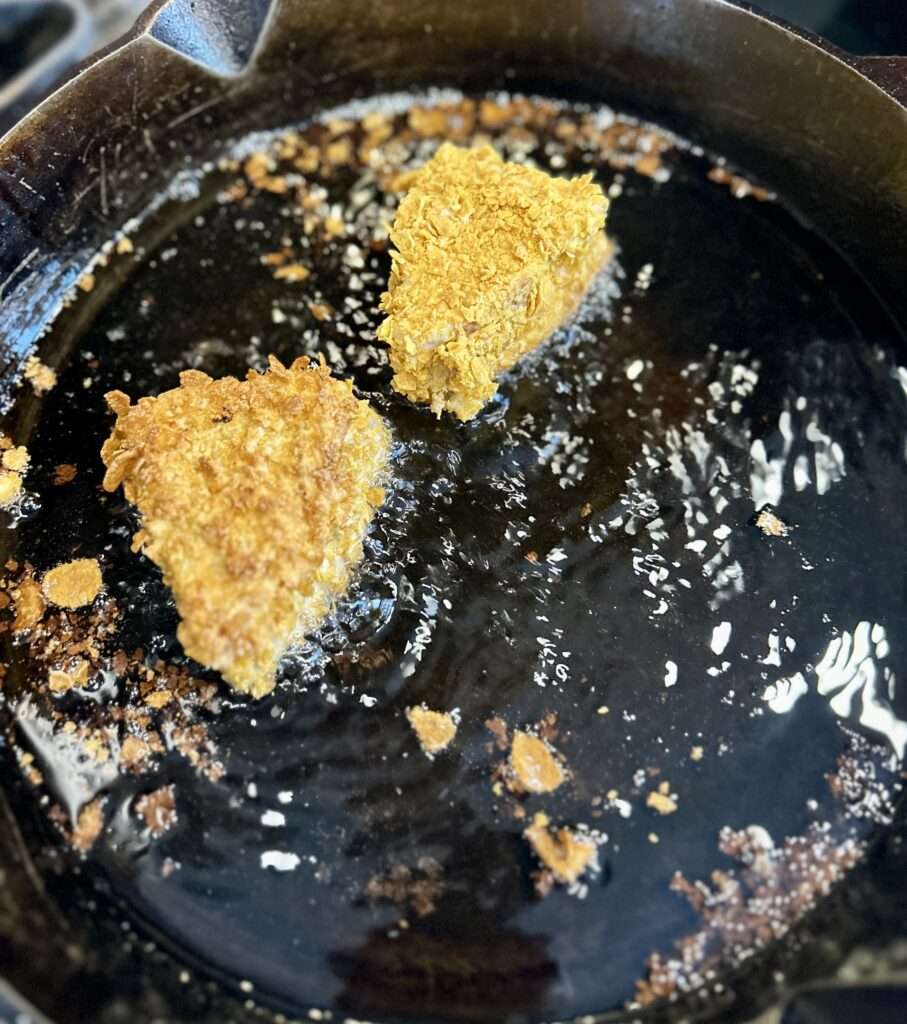 Serve as an appetizer or snack!
Yield: 4 servings
Nebraska Cheese Frenchee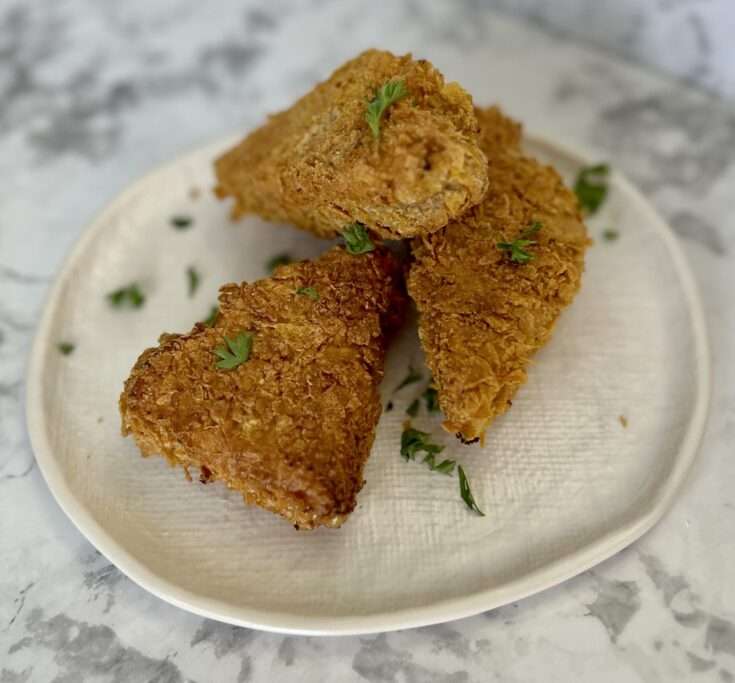 The Cheese Frenchee is similar to the Croque Monsieur sandwich of France which may be where the Frenchee part of the name came from.
Ingredients
6 slices bread
6 slices American Cheese
3/4 cup milk
3/4 cup all-purpose flour
1 tsp salt
1 egg
Crushed Corn Flakes
6 Tbls Mayonnaise
Oil for Frying
Instructions
Spread a thin layer of mayonnaise on each slice of bread.
Place two slices of American cheese on 3 of the slices of bread and assemble the cheese sandwiches.
Cut the sandwiches into quarters diagonally.
Mix the eggs, flour, milk, and salt in a shallow pan suitable for dipping the sandwiches.
Heat the oil to approximately 350° in a cast iron skillet.
Pour the crushed cornflakes into a shallow pan suitable for dipping the sandwiches.
Dip the quartered sandwiches into the egg mixture until fully coated.
After coating with the egg mixture, coat the sandwich quarters in the crushed cornflakes.
Fry in the hot oil for about 30 seconds per side until golden brown!
Serve hot!
Nutrition Information:
Yield:
4
Serving Size:
1
Amount Per Serving:
Calories:

533
Total Fat:

30g
Saturated Fat:

8g
Trans Fat:

0g
Unsaturated Fat:

20g
Cholesterol:

81mg
Sodium:

1417mg
Carbohydrates:

51g
Fiber:

2g
Sugar:

7g
Protein:

15g
Chaos & Wine occasionally offers nutritional information for recipes contained on this site. This information is provided as a courtesy and is an estimate only. This Nutrition Disclaimer notifies that under no circumstances will Chaos & Wine or its owners be responsible for any loss, damage, or adverse reactions resulting from your reliance on nutritional information given by this site. By using Chaos & Wine and its content, you agree to these terms.
FAQs
How do I store leftovers?
Store leftovers in an airtight container for up to 3–4 days. I reheated mine in the Air Fryer, and it worked great for a quick snack.
Do I have to use American Cheese?
Nope, use whatever cheese you'd like. Traditionally, these are made with American cheese, but they were served with a variety of fillings over the years!
This iconic Nebraska cheese frenchee recipe is not only fun to make but a delicious snack or lunch but your kids will love! A unique twist on the favorite grilled cheese!