Kumquat marmalade is very similar to orange marmalade but a little less sweet. It's delicious spread on toast, bagels or anywhere else you love to use marmalade! This super simple kumquat recipe is a small batch, made in the microwave, and is made without pectin.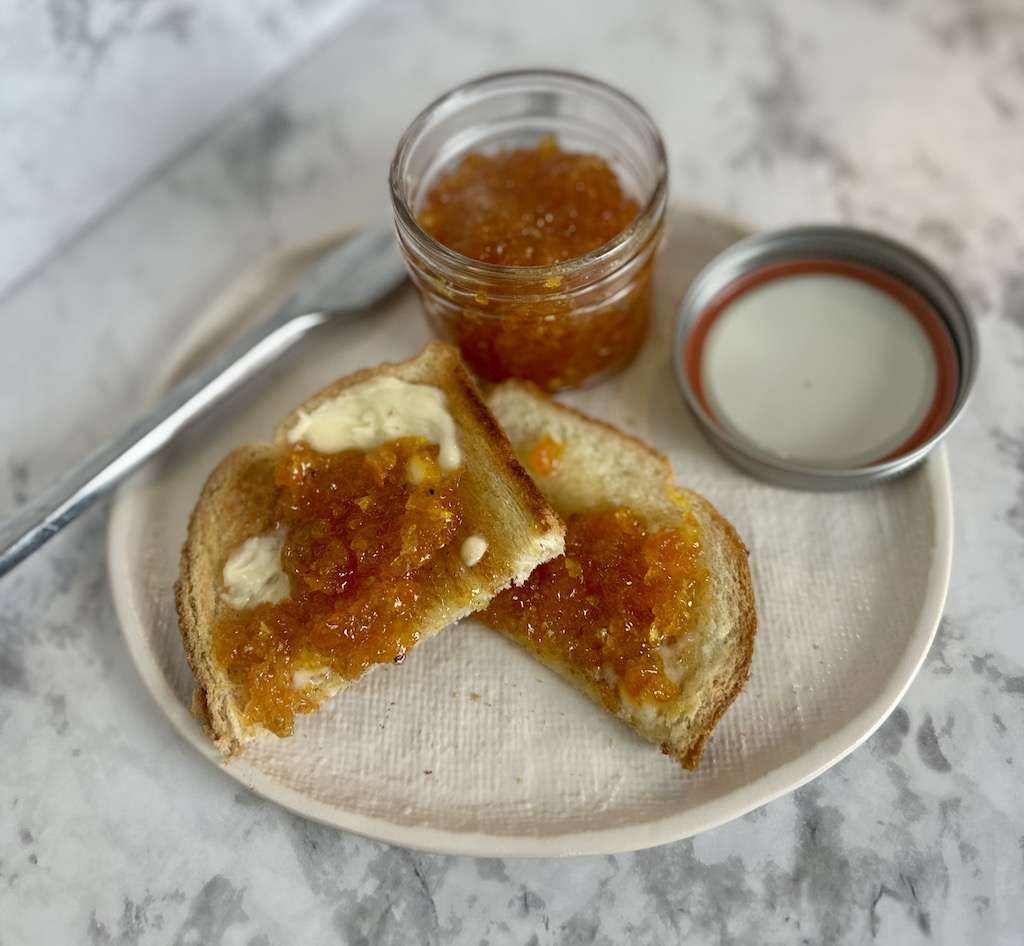 This page contains affiliate links. If you choose to purchase after clicking a link, I may receive a commission at no extra cost to you. For more information please read my full affiliate disclosure.
For our social studies curriculum this year, we're using Notgrass Our 50 States and watching the show State Plate on Amazon Prime. Now my boys want to try all the different foods from different states. When I happened to spot some kumquats in the grocery store, I snagged them to add to our lesson! They weren't fond of them whole or just the peels, but they loved this small batch kumquat marmalade recipe!
What is a kumquat?
I grew up eating kumquats right off my grandma's tree in south Florida and loved them! After moving to the midwest as a teenager, I slowly realized most people didn't even know what a kumquat was, let alone tried one!
A kumquat, known as "the little gold gems of the citrus family," looks similar to an orange but is much smaller and usually oval. They are native to China but grow commonly in Florida, which is the state we were studying when we decided to try making a small batch of kumquat marmalade.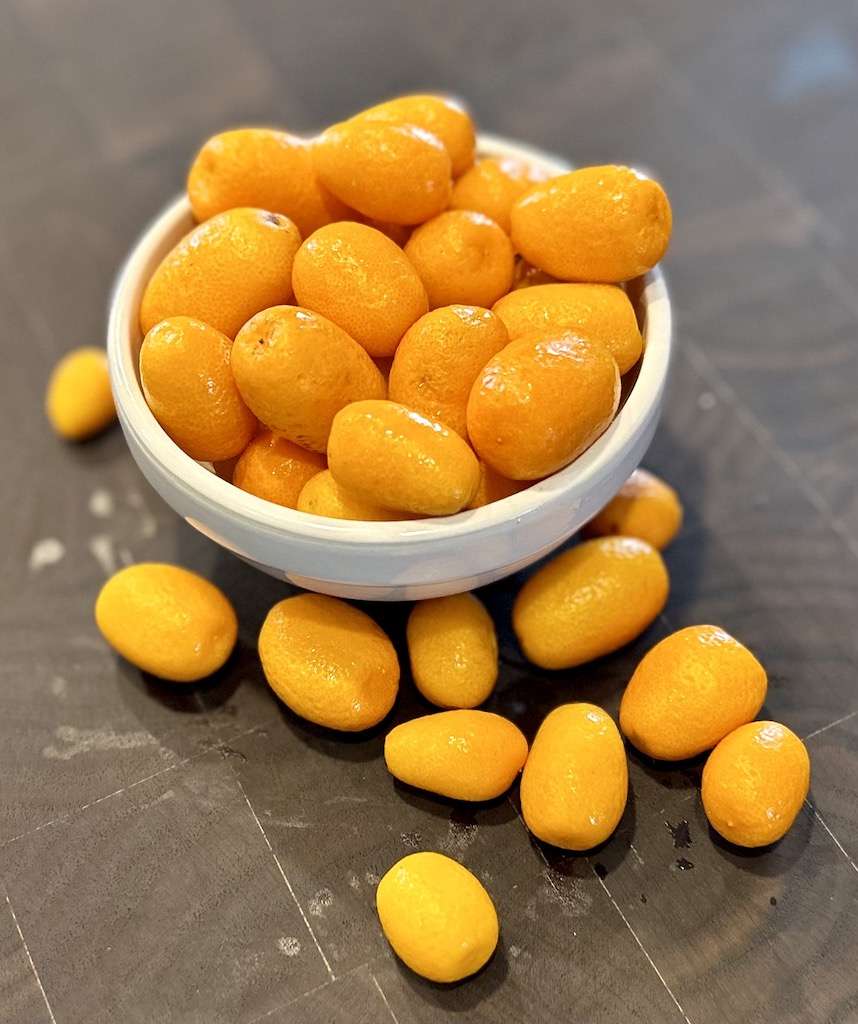 Unlike an orange with its bitter peel and sweet inside, a kumquat has a sweet peel and a bitter or sour interior! I loved eating the peels as a kid, but now I prefer to eat both the inside and peel of the kumquats to get a sweet and sour flavor!
Ingredients for Kumquat Marmalade
This is a super simple small-batch recipe made in the microwave so of course there are only two ingredients! Plus this is a kumquat marmalade recipe without pectin.
Kumquats – I can find these occasionally at my local grocery store. You may need to find a store that specializes in exotic fruits or a larger store. If you can't find them, ask the produce manager as they may be able to get some in for you. They can be a bit pricey if they are out of season or if you live in the midwest like I do, which is one reason I wanted to make a small batch recipe.
Sugar – just plain old white granulated sugar here folks, nothing special!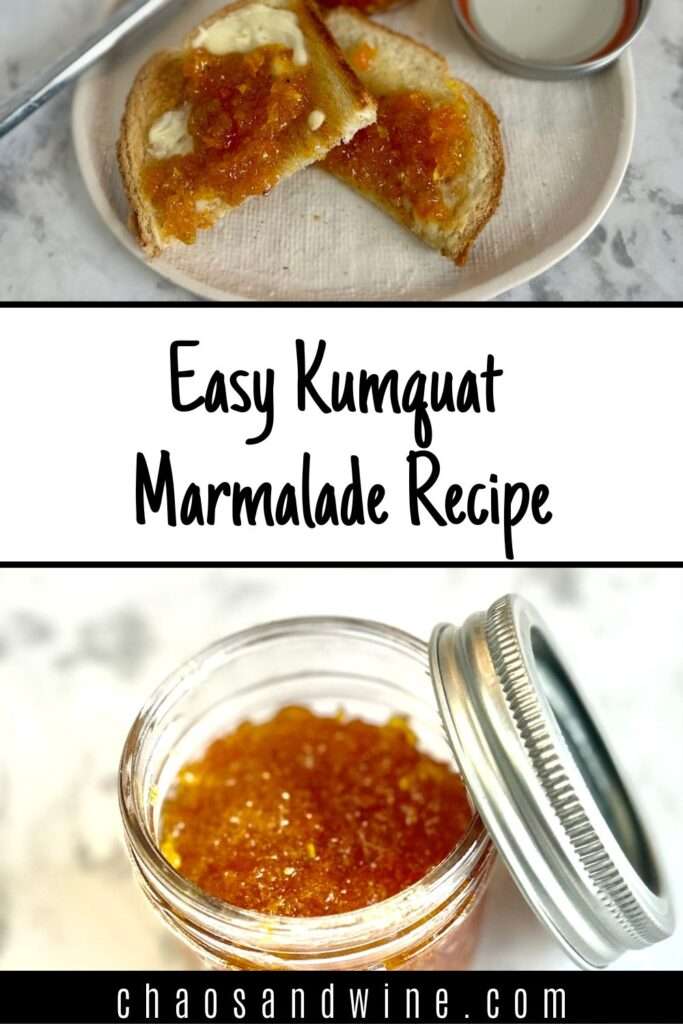 Too busy to make this right now? Pin for later to your favorite Pinterest Board!
How to Make Kumquat Marmalade
This is a fairly easy recipe and my kids helped me make it after they'd tried a few kumquats!
Wash your kumquats well removing any stems. Pat them dry.
There are two ways to chop your kumquats. You can roughly chop them by hand removing any large seeds. Kumquats can be eaten whole, and the seeds are edible and usually small. Otherwise, you can be lazy like me and throw the kumquats whole into the food processor and give them a whirl (my kids love pushing the button and watching things get chopped up in the food processor, so this is a win for me). Then pull out any large seeds you find.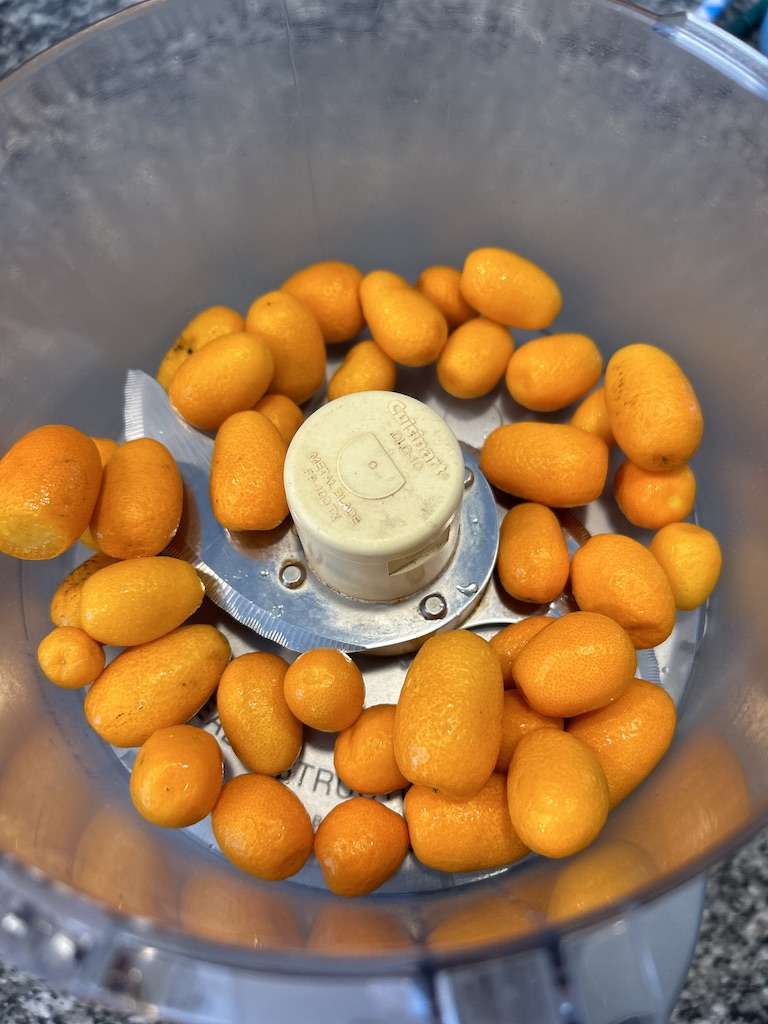 In a large microwave-safe mixing bowl, stir the chopped-up kumquats with the sugar. Microwave on high for 2 minutes.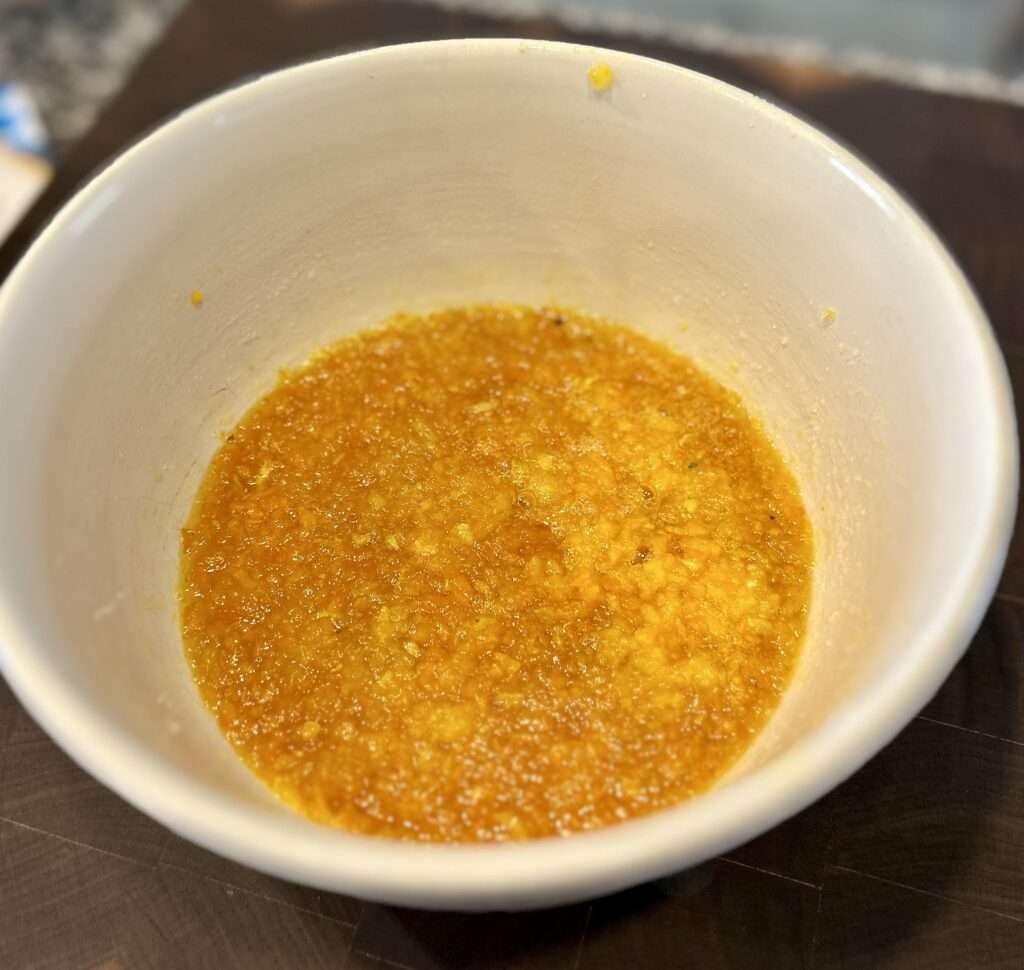 Stir well and microwave for another 2 minutes. Mine took a total of 6 minutes and was fairly thick like we wanted.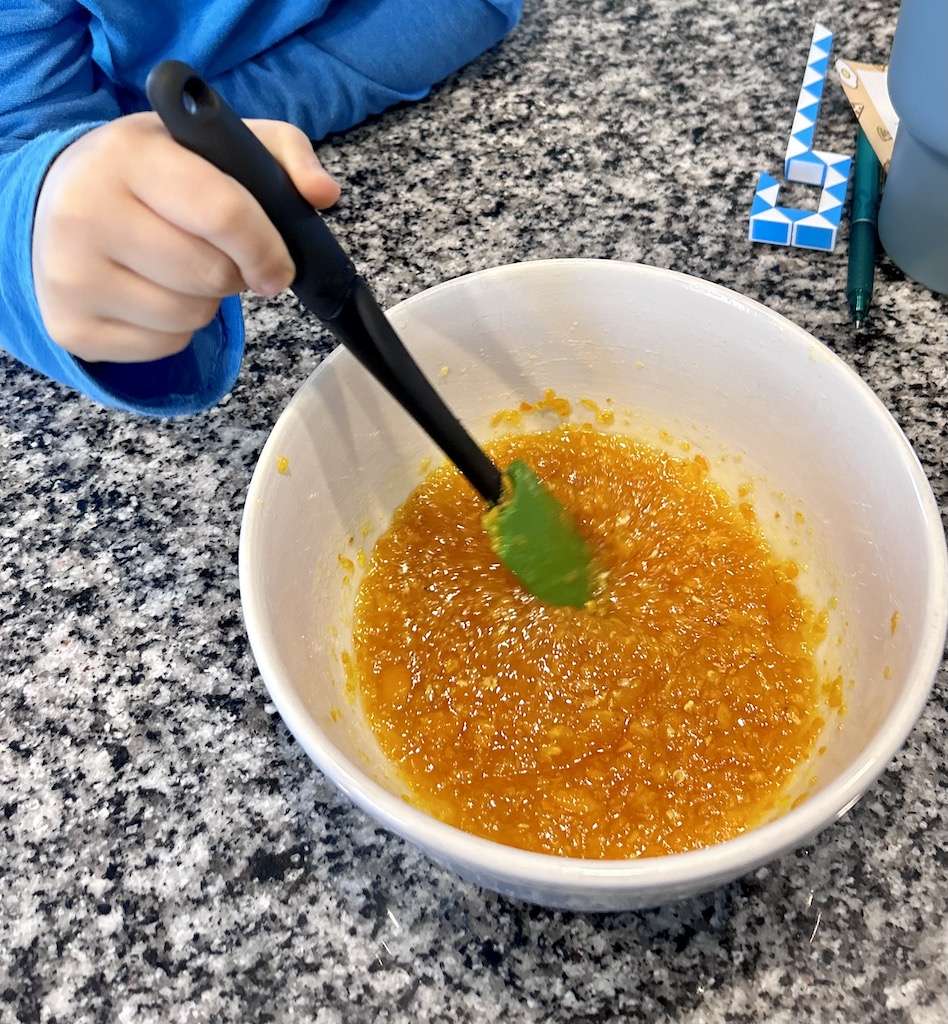 Transfer to a mason jar or a couple of small mason jars and allow to cool. Serve on butter toast or bagels! Alternatively, use it to top French toast or pancakes!
Store your kumquat jam in a mason jar or other airtight container for 4–5 days in the fridge. Since this is a small batch, a water bath process is unnecessary.
Yield: 8 ounces
Easy Kumquat Marmalade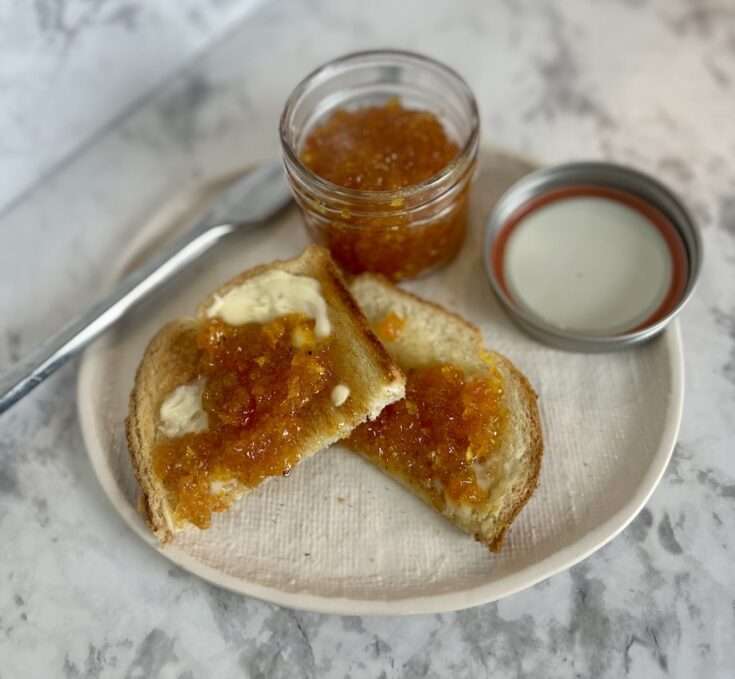 This easy microwave kumquat marmalade is super simple and amazingly delicious!
Ingredients
8 ounces Kumquats
3/4 cup granulated Sugar
Instructions
Thoroughly wash the kumquats discarding any stems.
Roughly chop the kumquats either by hand or in a food processor removing any large seeds.
Combine the sugar and the kumquats in a large microwavable safe mixing bowl.
Microwave for about 6 minutes, stirring after every 2 minutes.
Transfer to a mason jar and allow to cool.
Serve on toast, bagals or use to top french toast or pancakes!
Recommended Products
As an Amazon Associate and member of other affiliate programs, I earn from qualifying purchases.
Nutrition Information:
Yield:
8
Serving Size:
1
Amount Per Serving:
Calories:

93
Total Fat:

0g
Saturated Fat:

0g
Trans Fat:

0g
Unsaturated Fat:

0g
Cholesterol:

0mg
Sodium:

3mg
Carbohydrates:

23g
Fiber:

2g
Sugar:

21g
Protein:

1g
Chaos and Wine occasionally offers nutritional information for recipes contained on this site. This information is provided as a courtesy and is an estimate only. This Nutrition Disclaimer notifies that under no circumstances will Chaos & Wine or its owners be responsible for any loss, damage, or adverse reactions resulting from your reliance on nutritional information given by this site. By using Chaos & Wine and its content, you agree to these terms.
FAQ's
Do I need to use a water bath after I put my kumquat marmalade in the mason jar?
If you plan to store your marmalade for any length of time then you should can it properly. However, since this is a small batch I keep it in the fridge, and it doesn't last more than a few days around here.
Can I use a sugar alternative?
I wouldn't as the sugar in this recipe is what helps thicken the marmalade. If you try it, or you've had success canning with a sugar alternative, do let me know though!
How to store kumquat marmalade?
Keep it in an airtight container in the fridge and use it within 4–5 days.
If you're looking for more iconic state recipes, please check out Notgrass Our 50 States Recipe Collection!
I hope you love this small-batch kumquat marmalade recipe! It was so quick and easy!