That darn Elf…I'm sure you know exactly what I'm talking about. You climb into bed after a long day and suddenly remember….you forgot to move that darn Elf on Shelf. You might even use a more colorful term than darn! It's a struggle, and Pinterest with all its pins on Elf antics makes you feel…well inadequate when it comes to managing your Elf. Now, imagine you had a ready-made supply of Elf activities AKA an Elf Kit!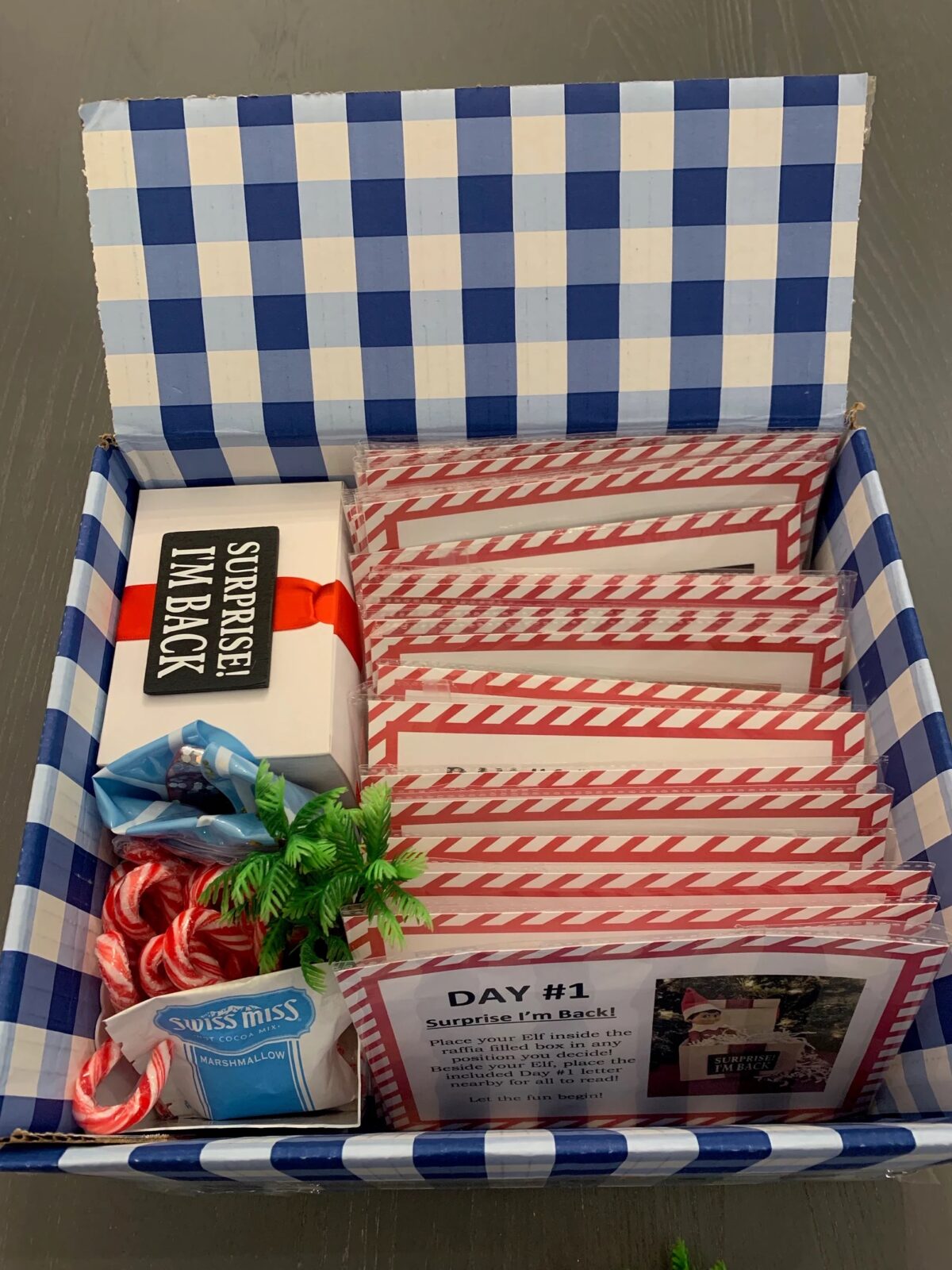 This page contains affiliate links. If you choose to purchase after clicking a link, I may receive a commission at no extra cost to you. For more information please read my full affiliate disclosure.
We've had our Elf for YEARS now! Since my oldest was about 5 and since he's a Senior in high school now, that's a long time and many many nights of coming up with crazy adventures for our Elf. My boys named him JT, short for Jack Thor, and it's stuck through all 4 kids. Thankfully, the twins didn't change his name the first year they found him out about him and his watchful eye.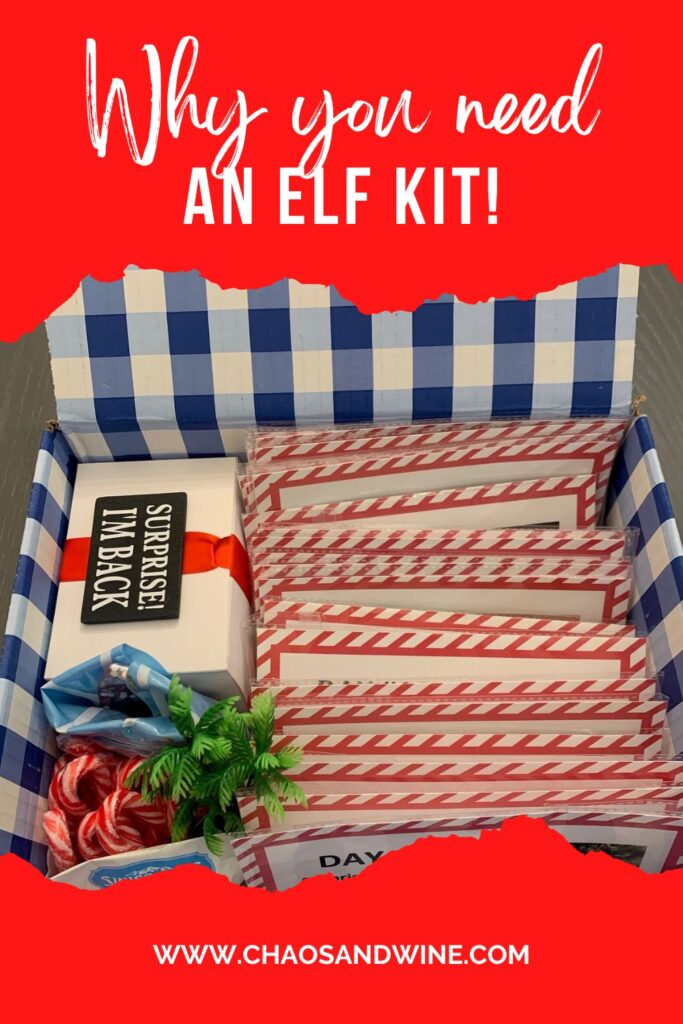 Too busy to make this right now? Pin for later to your favorite Pinterest Board!
Don't Have an Elf Yet?
Don't have an Elf yet? Grab one here and join us on our Elf adventures! Elves come in a variety of styles – boys, girls, brown-eyed, blue-eyed so there's an Elf for every family!
What is an Elf Kit?
An Elf kit is basically a kit of daily activities for your Elf to perform each night. These activities usually include all the items you will need to set your Elf up in a fun and creative way. Most kits include the items not commonly found in your house.
Why is this helpful? OMG! This way I'm not sitting on Pinterest at 9 o'clock at night trying to find the best activity for my Elf and hope I have all the items I need to put together this cool activity. Nope, I grab the bag for the day, read the instructions, and set my elf up! Way less stressful!
My Favorite Elf Kit
Now, this is where an Elf Kit comes in handy! I'm not going to promise you won't still have to jump out of bed and move him/her, however, it will provide some great, fun, and Pinterest-worthy antics ideas for you! I bought my first Elf Kit last year and it was a lifesaver. Even better, it was so simple I assigned the task to my oldest and told him it was training for when he had to buy his kids an Elf (which will be YEARS from now as I'm just not quite not ready for that yet!).
This year I purchased a new Elf Kit and I LOVE it even more than last year's! Its high-quality items, fun set-ups, and customization make it so easy! I purchased this Elf Kit by The Sterling Sisters.
There are 24 days of activities and adventures for your Elf to participate in and the Elf kit includes absolutely everything you need to set up each night (unless it's something very common in households). Don't worry if you have more than 1 kid, just send a message and the seller will add a few extra things you might need to the box at no extra charge!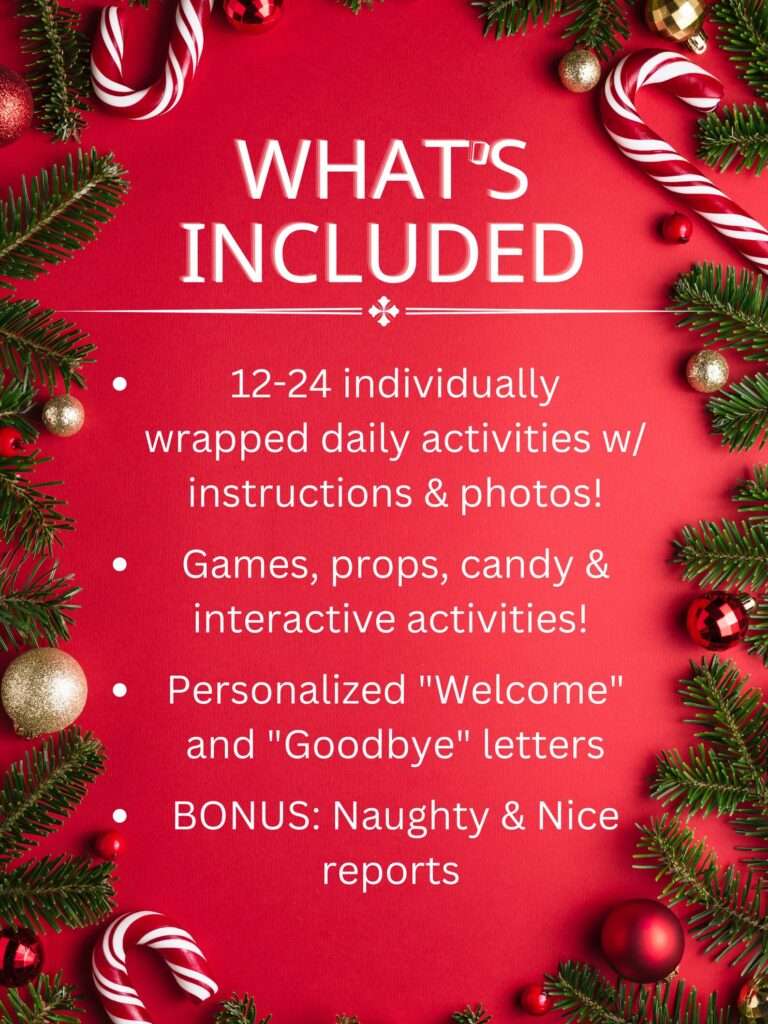 Another favorite I love about this particular Elf Kit is that she sends reusable signs made from wood. This isn't an inexpensive paper sign these are solid wood and can be used year after year! Check out JT below hanging out in his ball pit! That blue "ball pit" sign is wooden, and I'll be saving it for next year!
The Sterling Sisters offers two different types of Elf kits too! A Plan Ahead Parent 24-day Kit and the Last Minute (Judgement Free) 12-day Emergency Kit! I like the idea of a 12-day kit (I have the 24-day kit already and love it!) as you can mix and match with your ideas or if you're just running out of ideas mid-way through the season and need some backup!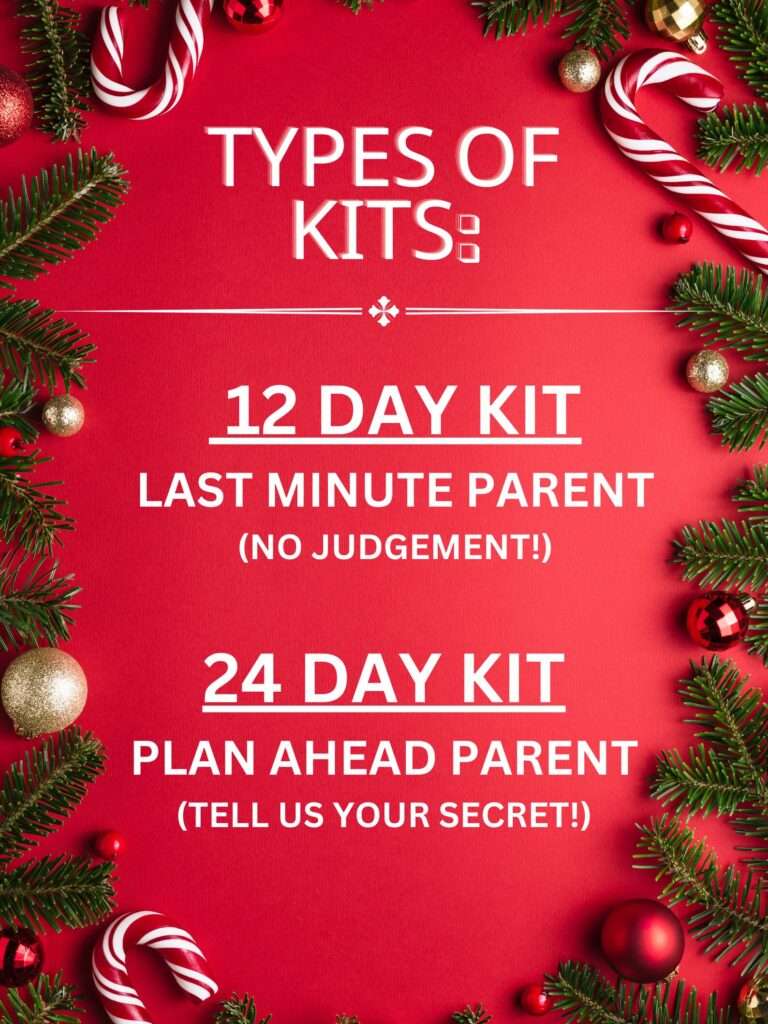 Shipping is fast and The Sterling Sisters are extremely helpful and responsive – naturally, I had a few since I have more than 1 kid in this chaotic house!
Now head over to the Sterling Sister Shop and grab yourself an Elf Kit so next time you head to bed you're not stomping back to the living room trying to figure out what in the world you're going to do with your DARN ELF! Give yourself the ultimate break this holiday season and save your sanity with an elf kit!
I'm always looking for new ideas for JT, our Elf, so let me know what your Elf's name is and what they've been up to!