I used to buy jarred marinara sauce at the grocery store until I discovered this quick and easy way to make a homemade marinara sauce that is healthier and more budget-friendly!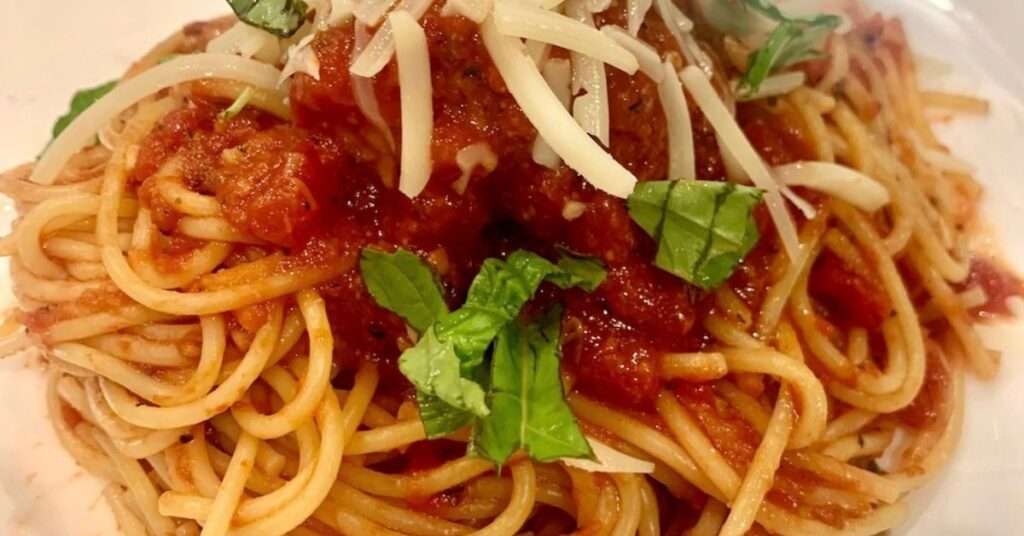 This page contains affiliate links. If you choose to purchase after clicking a link, I may receive a commission at no extra cost to you. For more information please read my full affiliate disclosure.
By making my own marinara sauce at home, I can avoid the preservatives and unwanted ingredients that are often present in jarred sauces. Additionally, purchasing a good brand of marinara sauce can cost at least $5, while making it at home is a cheaper alternative.
Marinara Sauce vs. Spaghetti Sauce
So what's the difference between marinara and spaghetti sauce you ask? Both are Italian sauces served typically used in pasta dishes.
The main difference between marinara sauce and spaghetti sauce is the ingredients that go into making each one. Marinara is typically made with tomatoes, garlic, olive oil, herbs like basil or oregano, salt, and pepper.
Spaghetti sauce usually contains more ingredients such as onions, celery, carrots, mushrooms, and sometimes meat or cheese. This makes it thicker than marinara and gives it a richer flavor.
Also, the texture of each type of sauce also varies; marinara tends to be thinner while spaghetti sauce has a thicker consistency due to its extra ingredients.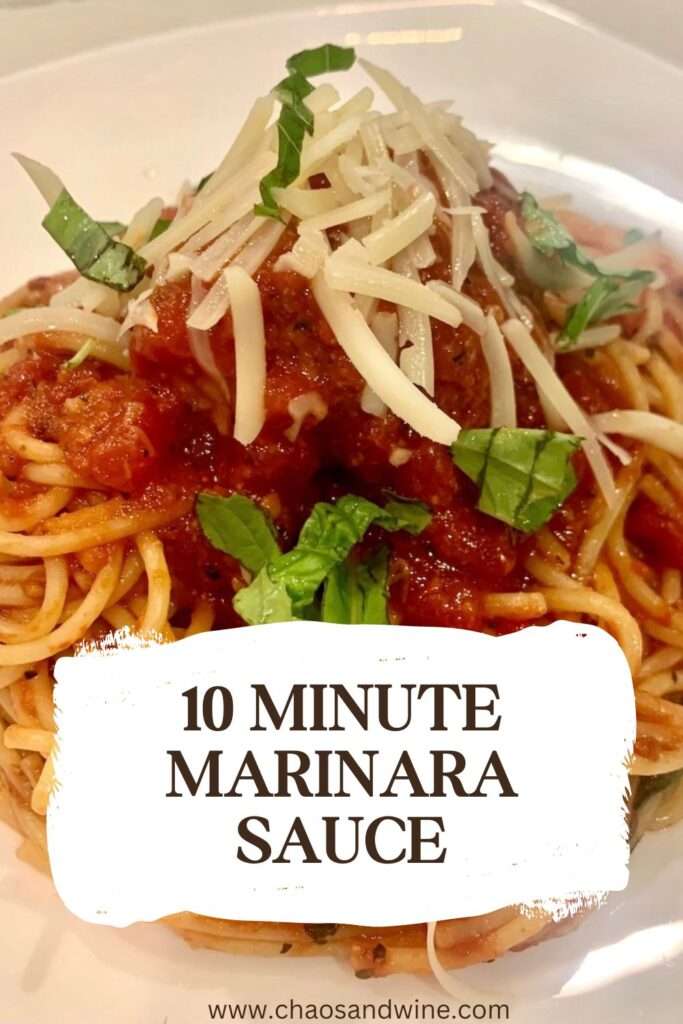 Too busy to make this right now? Pin for later to your favorite Pinterest Board!
Ingredients
This is a very pantry-friendly marinara recipe and I usually have everything on hand!
Crushed Tomatoes – The secret to a delicious homemade marinara sauce is the quality of the tomatoes used to make the sauce. I highly recommend using high-quality crushed tomatoes for this recipe as it makes a huge difference in the flavor of the sauce, so don't skimp here get the good crushed tomatoes! I prefer the Cento brand for my crushed tomatoes.
Diced Tomatoes – I use a can of diced tomatoes to create a slightly chunky marinara sauce.
Sugar – Since tomatoes are very acidic, we add some sugar to cut the acidity. The amount of sugar will vary based on the acidity of the tomatoes, so you will need to taste and adjust as needed.
Seasonings – The 2nd secret to a good homemade marinara sauce is the seasonings! We'll use garlic powder, onion powder, dried basil, dried oregano, bay leaf, dried thyme, salt, and pepper! I also add a little crushed red pepper, but it's totally optional.
How to Make 10 Minute Marinara Sauce
I promised this was an easy marinara sauce recipe so here are the quick and easy instructions!
Add all ingredients to a large sauce pot reserving 2 tablespoons of sugar for later and simmer over low heat for approximately 10 minutes, stirring occasionally.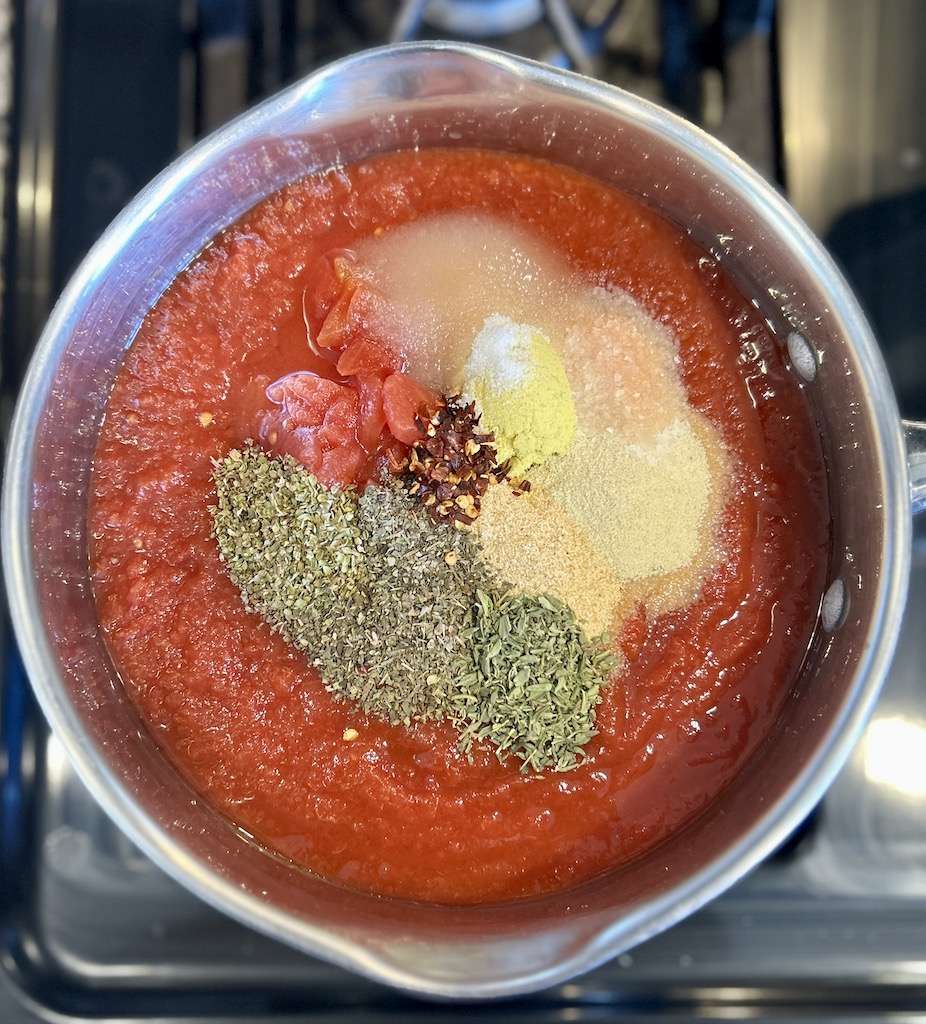 Taste the sauce and add a little of the reserved sugar. Stir and continue to taste and add sugar until you reach the desired flavor. Don't forget that adding sugar can help reduce the acidity of the tomatoes. The acidity may vary depending on the brand and even the can itself, depending on the origin and harvest time of the tomatoes. This is also a personal preference as some like their sauce sweeter than others.
Now cook your favorite pasta, toss it with the marinara sauce, and serve with garlic bread and a side salad! Or try it with my Mozzarella Stuffed Meatballs!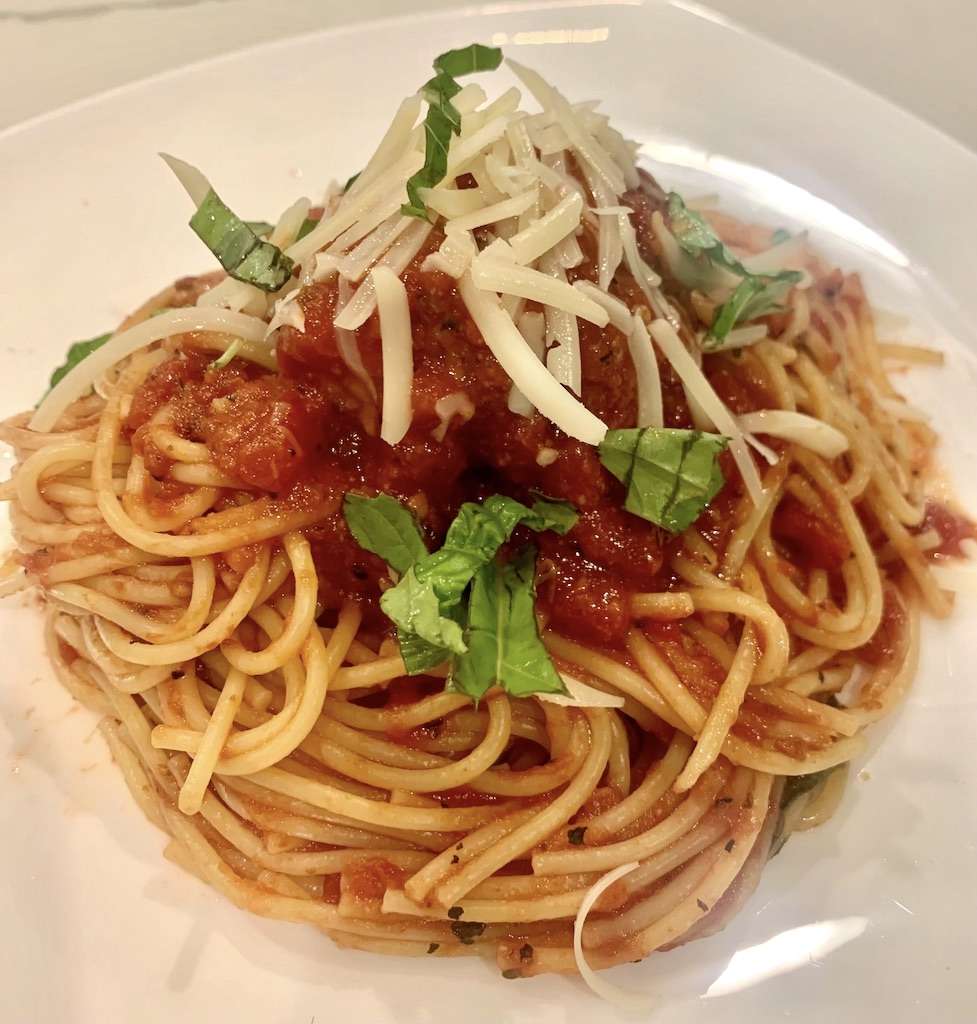 Yield: 8 servings
10 Minute Marinara Sauce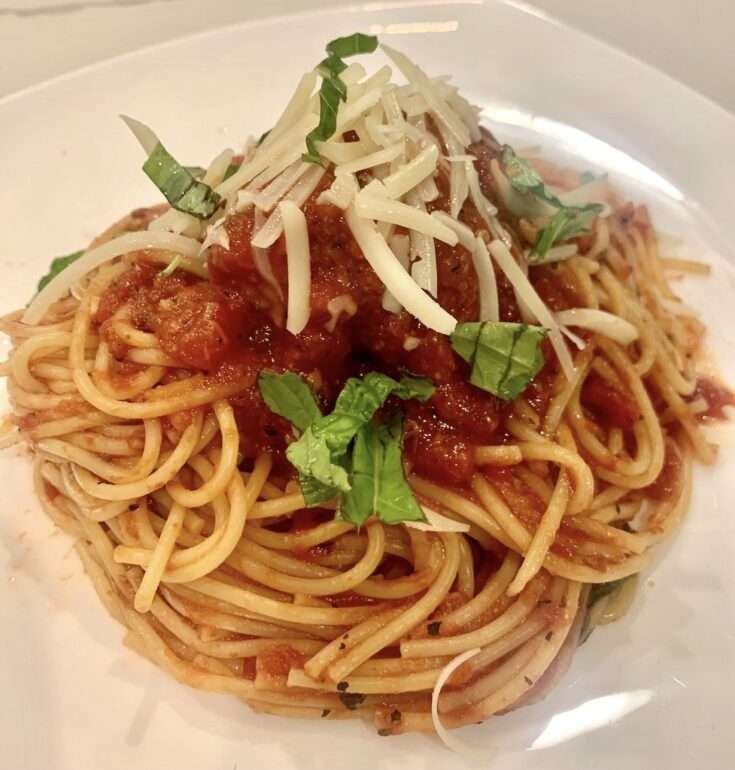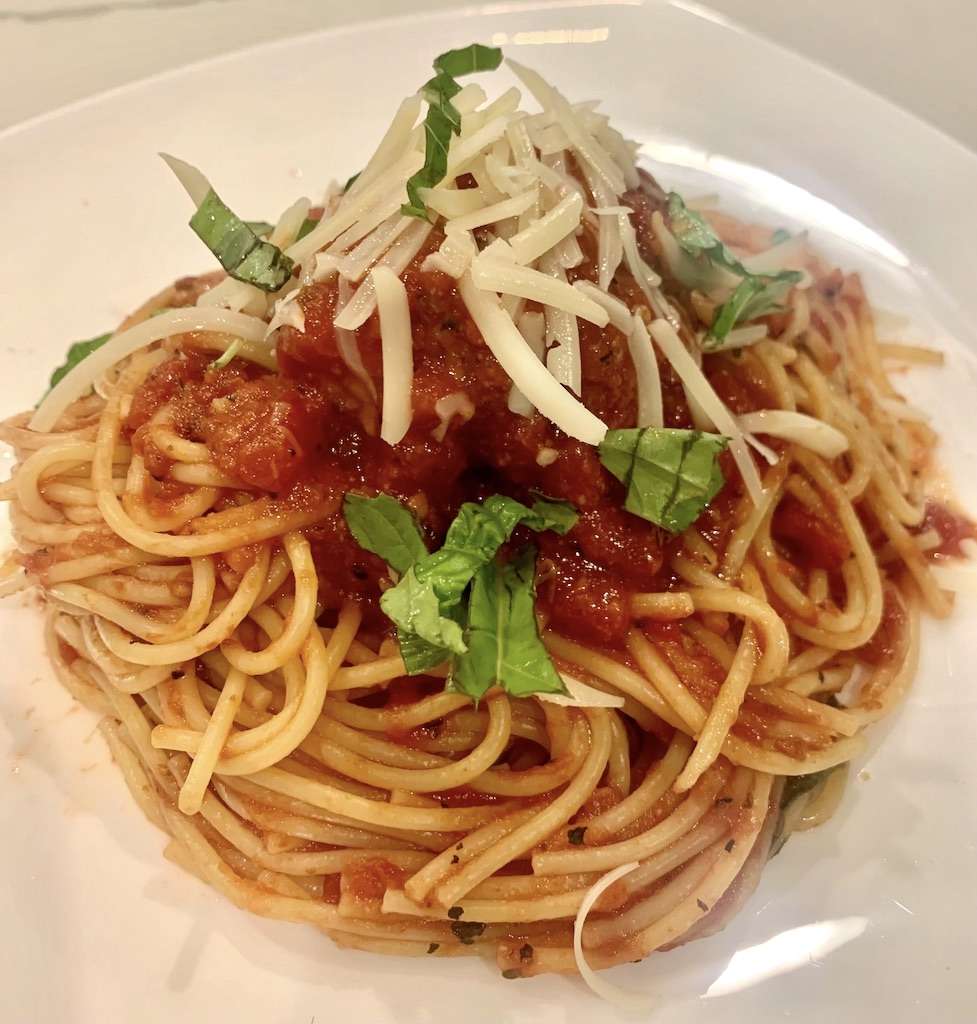 This quick homemade 10-minute. marinara sauce is not only delicious but healthier and more budget-friendly than a store-bought jar!
Ingredients
2 28 oz cans crushed tomatoes
1 14 oz can diced tomatoes
1 Tbls chicken bouillon
2 tsp garlic poweder
2 tsp onion powder
2 tsp dried basil
1 tsp dried oregano
1 tsp dried thyme
1 tsp salt
1/2 tsp pepper
2-3 Tbls sugar to taste
1 bay leaf
1/2 tsp crushed red pepper flakes (optional)
Instructions
Add all ingredients reserving 2 tablespoons of sugar for later to a large pot and simmer over low heat, stirring occasionally.
Simmer for 10 minutes and then taste. Since the acidity of the tomato sauce can vary, add a little bit of sugar to reach the desired flavor.
Serve over your favorite pasta or use it to make my mozzarella-stuffed meatballs!
Notes
1. Sugar is key to cutting the acidity of the tomato sauce. Since the acidity can vary by the type of tomato sauce used, you will need to adjust it according to your taste preferences.
Recommended Products
As an Amazon Associate and member of other affiliate programs, I earn from qualifying purchases.
Nutrition Information:
Yield:
8
Serving Size:
1
Amount Per Serving:
Calories:

84
Total Fat:

1g
Saturated Fat:

0g
Trans Fat:

0g
Unsaturated Fat:

0g
Cholesterol:

0mg
Sodium:

778mg
Carbohydrates:

19g
Fiber:

5g
Sugar:

12g
Protein:

4g
Chaos and Wine occasionally offers nutritional information for recipes contained on this site. This information is provided as a courtesy and is an estimate only. This Nutrition Disclaimer notifies that under no circumstances will Chaos & Wine or its owners be responsible for any loss, damage, or adverse reactions resulting from your reliance on nutritional information given by this site. By using Chaos & Wine and its content, you agree to these terms.
FAQs
Can I freeze this easy marinara sauce?
Yup! Be sure to cool completely, and store in an airtight container for up to 4 months. To use, defrost in the fridge overnight and reheat in a saucepan, stirring occasionally!
Can I make the marinara sauce ahead of time?
Yes, you can make the marinara ahead of time. If you're using it to make my mozzarella stuffed meatballs, store it in an airtight container in the fridge and reheat it in a saucepan stirring occasionally just before you are ready to serve.
This 10 minute marinara sauce is the perfect weeknight meal when you're in a hurry; however it's excellent on my Stuffed Meatballs as well.