There is nothing more comforting than pasta and homemade bolognese sauce. I love a good dish of spaghetti with this bolognese sauce! I also use it in my homemade lasagna recipe, which is to die for!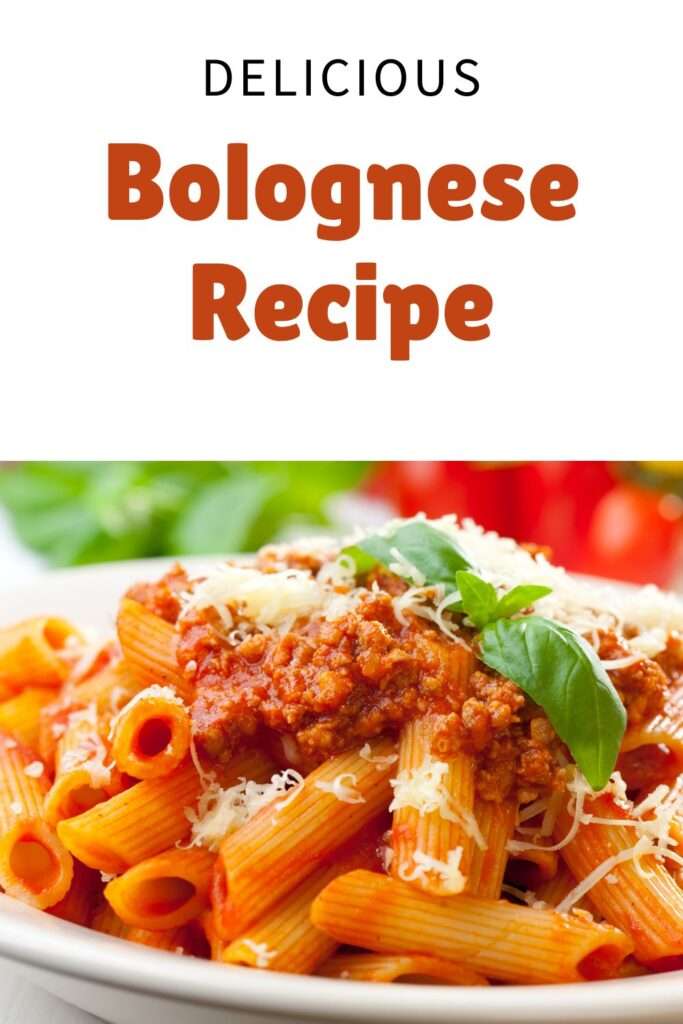 This page contains affiliate links. If you choose to purchase after clicking a link, I may receive a commission at no extra cost to you. For more information please read my full affiliate disclosure.
Too busy to make this right now? Pin for later to your favorite Pinterest Board!
What is Bolognese Sauce?
Bolognese sauce is a bit different than your typical spaghetti sauce but it is totally worth the time to make it from scratch. Your family will be in heaven once they've tried this recipe! But if you aren't sure exactly what Bolognese sauce is I'll give you a bit of info.
Bolognese is a classic Italian red sauce originating from the Bologna region of Italy. It is typically thicker and creamier than your regular spaghetti sauce or marinara sauce.
Pronounced "bow-luh-nez," it is a combination of onions, carrots, celery, garlic, and beef or pork. Typical spaghetti sauce contains just tomatoes and garlic. The added vegetables may sound a bit different but they are key to a rich and flavorful bolognese!
Ingredients
Onion – I use a yellow onion but white would work as well.
Carrots – regular carrots here nothing special
Celery – again nothing special just a few ribs of celery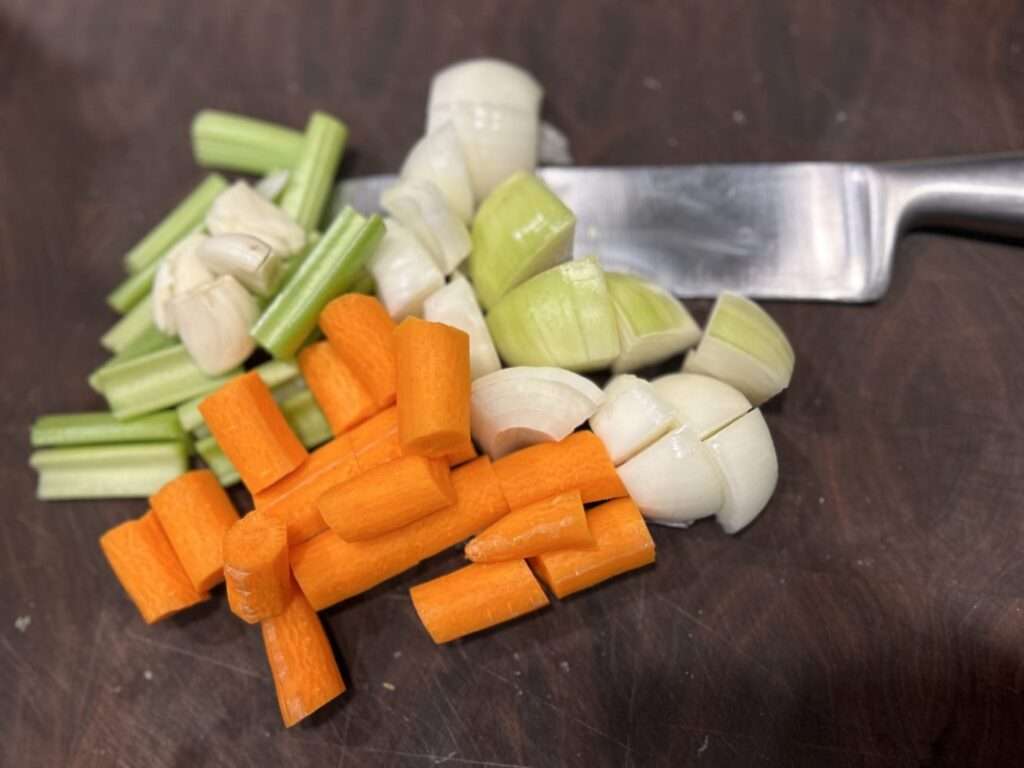 Garlic – fresh garlic is best for this recipe. Also, make sure you have decent-sized cloves!
Extra Virgin Olive Oil – getting a good brand of olive oil is amazing – try it I'm sure you'll see a difference and never go back to the generic brands again!
Kosher Salt – this is so much better than table salt when you cook so please be sure to grab a box!
Ground Beef – we buy our beef from a local farmer and it's so much better but whatever ground beef you're happy with is perfectly fine. I like to stick with 85-90%.
Italian Sausage – I like to get my Italian sausage from the meat counter for the best flavor. If you want a more intense Italian sausage flavor go for 2 lbs of sausage and 1 lb of ground beef or you can skip the sausage altogether and use all ground beef – I've done both ways!
Tomato Paste – you'll need a good size can or a few of the smaller cans of tomato paste
Red Wine – do not use sweet red wine here even if you only like sweet reds! Use a Merlot or Cabernet. If you aren't sure ask your local wine store what they recommend for a hearty red wine that is good for cooking.
Bay Leaves – dried Bay leaves are fine. I always have some on hand as I make soups and sauces frequently.
Fresh Thyme – you should be able to find this in the produce section. One bunch is about a container. I use kitchen twine to tie it up in a bundle so I don't lose all the stems in the sauce!
Making Bolognese Sauce
It's not an overly difficult recipe to make despite its long cook time! Most of it is just waiting for it to simmer long enough that all the flavors blend!
First, use a food processor to puree onion, garlic, carrots, and celery into a thick coarse paste. Then, over medium-high heat in a well-oiled pot brown the vegetables until well-browned seasoning with salt. This step will take about 15-20 minutes so be patient.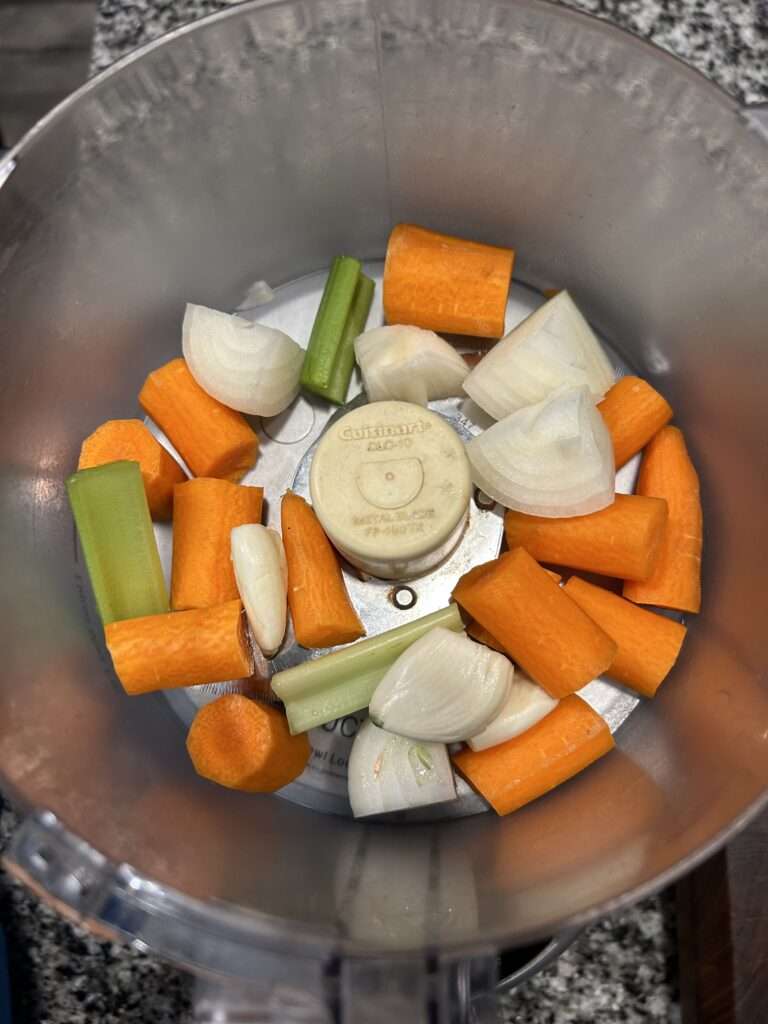 Add the ground beef and sausage, season with salt, and continue until the meats are well browned. Again, be patient this will take about 15-20 minutes.
Add tomato paste and again brown. This time it will only take about 5 minutes.
Add the red wine and reduce it by half. Pour yourself a glass of the wine at this point and enjoy, you're almost to the simmer for a few hours part!
Add water to the pot until it is about 1 inch above the meat. Then add your thyme and bay leaves, stirring until well combined.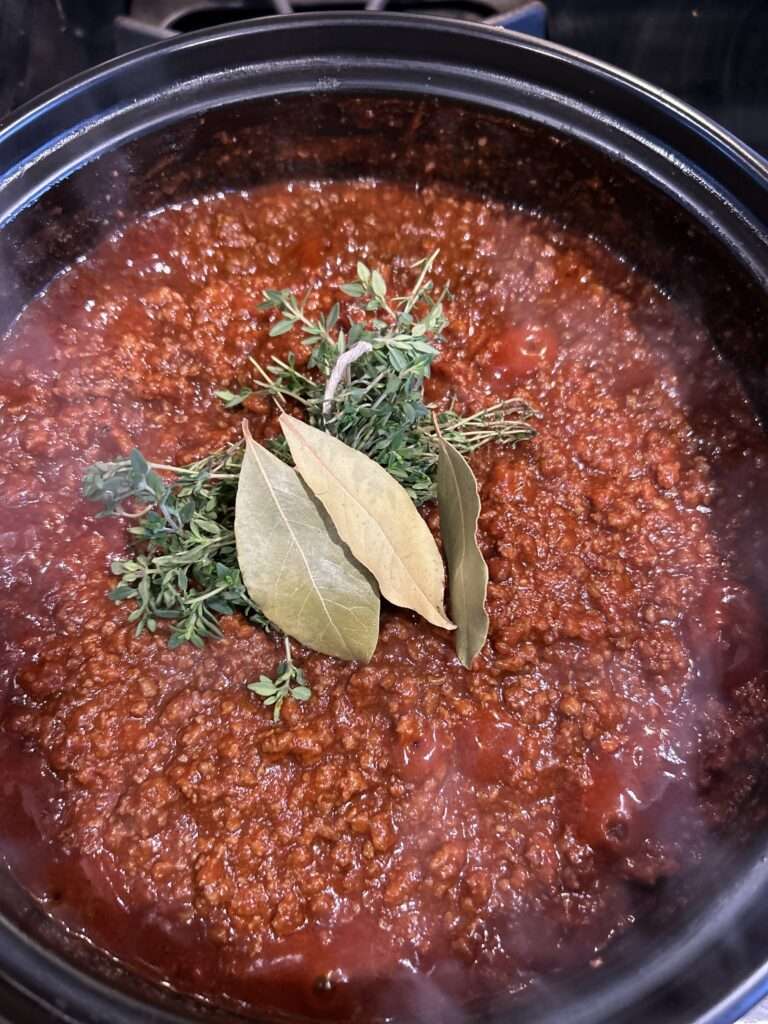 Simmer for 3 to 4 hours adding water if necessary. Do not add all the water in the beginning.
Serve bolognese sauce over your favorite pasta or use it to make your favorite pasta dish like my lasagna! It's great with garlic bread and a salad!
Yield: 6-8 Servings
Homemade Bolognese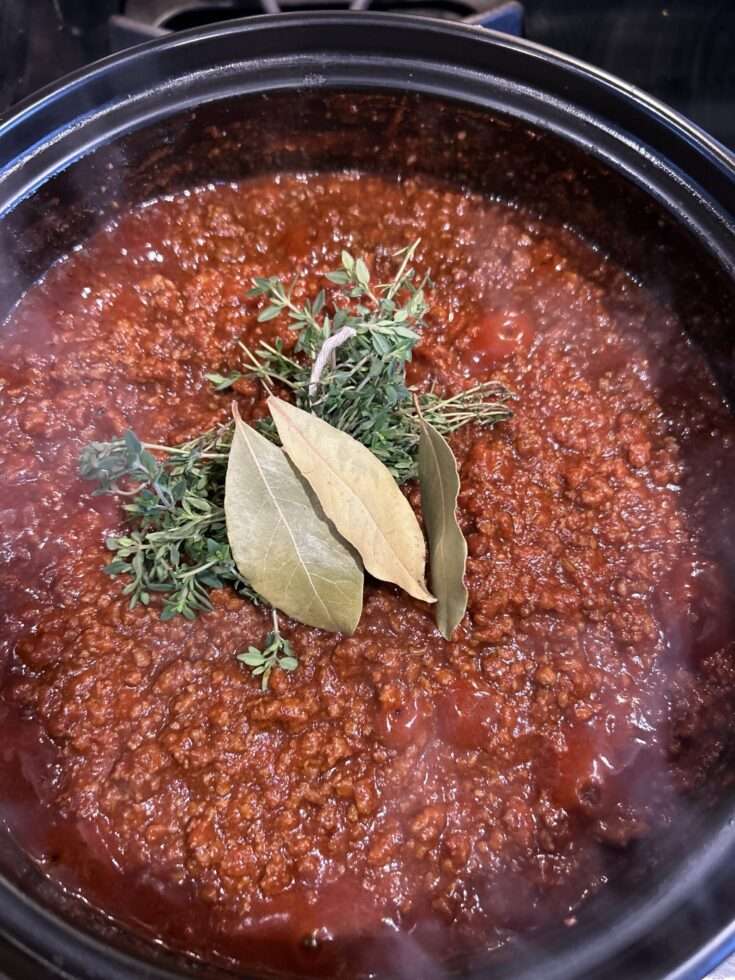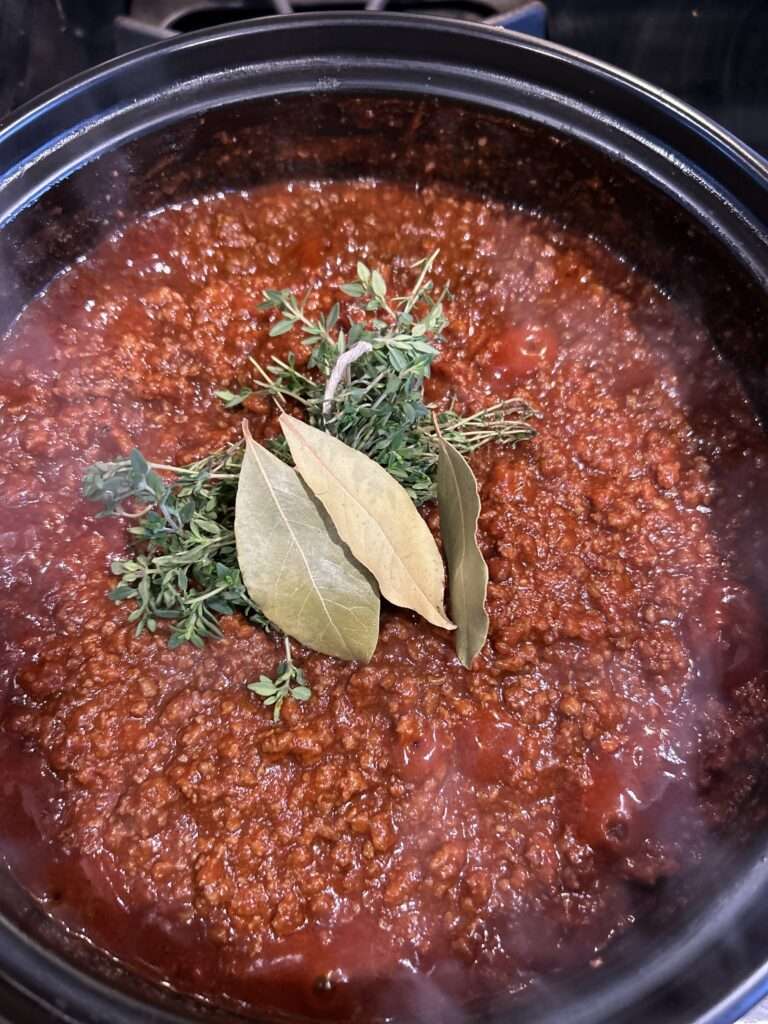 Bolognese sauce is a classic Italian sauce for pasta. I love using it in my lasagna!
Cook Time
4 hours
30 minutes
Total Time
5 hours
15 minutes
Ingredients
1 large onion
2 large carrots
3 ribs celery
4 cloves garlic
2 pounds ground beef
1 pound Italian Sausage
2 cups Tomato Paste
3 cups red wine - merlot, cabernet, etc.
3 Bay Leaves
1 bunch fresh Thyme
Extra Virgin Olive Oil
Water
Kosher Salt
Instructions
In a food processor, puree onion, carrots, garlic, and celery into a coarse paste.
In a large pot over medium heat, add enough oil to coat the pan.
Add pureed vegetables and season with salt.
Cook until all the water has evaporated and the vegetables are nicely brown. Stirring frequently. This should take about 15-20 minutes.
Add the ground beef and sausage to the same pot and again season with salt.
Brown the meat until well browned, stirring frequently. Again, this will take about 15-20 minutes.
Add the tomato paste and brown again. Stir frequently. About 5 minutes.
Stir in the red wine and cook until reduced by half.
Add enough water to the pot to cover the meat by about 1 inch.
Add the bay leaves and thyme bunch and stir to combine.
Simmer for 3-4 hours, adding water as needed. (Do not add all the water in the beginning).
Serve over pasta of your choice or use to make lasagna!
Recommended Products
As an Amazon Associate and member of other affiliate programs, I earn from qualifying purchases.
Nutrition Information:
Yield:
6
Serving Size:
1
Amount Per Serving:
Calories:

925
Total Fat:

50g
Saturated Fat:

18g
Trans Fat:

1g
Unsaturated Fat:

30g
Cholesterol:

178mg
Sodium:

838mg
Carbohydrates:

29g
Fiber:

5g
Sugar:

15g
Protein:

60g
Chaos & Wine occasionally offers nutritional information for recipes contained on this site. This information is provided as a courtesy and is an estimate only. This Nutrition Disclaimer notifies that under no circumstances will Chaos & Wine or its owners be responsible for any loss, damage, or adverse reactions resulting from your reliance on nutritional information given by this site. By using Chaos & Wine and its content, you agree to these terms.
FAQ's
Can you freeze Bolognese Sauce?
Absolutely! I usually make a batch to make lasagna and then freeze the leftover bolognese for a spaghetti dinner later! I freeze the bolognese sauce in large soup freezer containers and label them with the date. Freeze for up to 3 months.
What can I make with Bolognese Sauce?
You can use it anywhere regular spaghetti sauce is used! It will make your dish a bit heartier in flavor than your regular pasta sauce. I love it in lasagna!
Can I make this ahead of time?
Of course! Just put the finished and cooled sauce in a container and refrigerate until ready to use. Be sure to use it within 5 days.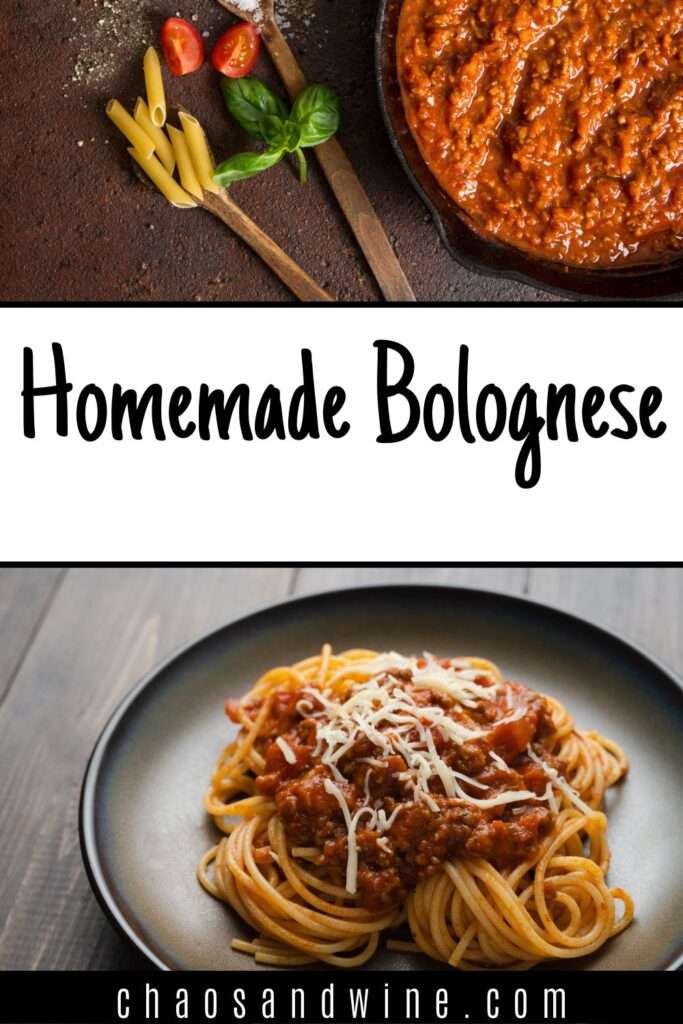 Conclusion
In conclusion, this homemade bolognese sauce recipe is simply the best. Its rich flavors, perfect blend of ingredients, and hearty texture make it a true culinary delight. Whether you're a seasoned chef or a novice in the kitchen, this recipe is sure to impress your taste buds and leave you craving for more. So go ahead, give it a try and indulge in the ultimate homemade bolognese sauce experience. Your friends and family will thank you for it! Happy cooking!