With the rise in homeschooling and being a homeschool family ourselves, I thought I would share some of my favorite homeschool blogs you should be following!
I can spend all of my free time, which sadly isn't much, reading blogs about homeschooling methods, tips, tricks, and all the things! I get inspiration, advice, and encouragement, and absolutely love reading curriculum reviews.
This page contains affiliate links. If you choose to purchase after clicking a link, I may receive a commission at no extra cost to you. For more information please read my full affiliate disclosure.
Why Read Homeschool Blogs?
There are so many free resources available through these fabulous bloggers from printables to planners to unit studies and humor! Not to mention it's a great way to keep up with all the different ways to homeschool, new curriculums, and methods!
So if you're looking for some insight, a new printable, or just some light reading – read on for my favorite homeschool blogs to follow! However, if you prefer a book to read head over and check out my Best Homeschool Books for Mom. You can also read more about what we use for our 2nd grade homeschool year!
My Favorite Homeschool Blogs to Follow
Here is a list of my favorite homeschool blogs to follow!
Photo Credit: hiphomeschoolmoms.com
One of my favorites for resources, ideas, and just general homeschool info!
Photo Credit: readaloudrevival.com
While not specific to homeschooling, the Read Aloud Revival site offers so much insight into reading aloud to your children that I had to include it. She offers great book lists and tips for reading aloud! I've even included her book on my list of Best Books for Homeschool Moms and love listening to her podcast!
Photo Credit: www.thewaldockway.com
I love the Waldock Way for finding morning basket ideas as well as her great book lists. She has a variety of items in her shop as well as a few free items. Sign up for her email list and get resources directly in your inbox!
Photo Credit: www.homeschoolroadmap.org
If you are researching a new curriculum to try, I highly recommend checking out the Homeschool Resource Roadmap! So much great information on over 5,000 curriculum choices!
Photo Credit: www.homeschoolof1.com
This is another of my favorites for free printables, activities, and general homeschool information!
Photo Credit: www.confessionsofahomeschooler.com
This is another great homeschool blog for curriculum reviews, lesson plans and printables!
Photo Credit: tinasdynamichomeschoolplus.com
She has an amazing homeschool planner plus classes on how to homeschool!
Photo Credit: hifalutinhomeschooler.com
This is probably one of my favorites for her humor and light-hearted, honest posts about homeschooling!
Photo Credit: www.yearroundhomeschooling.com
Misty offers a lot of everything from printables and planners, to subject help and ideas! She is a must to follow!
Photo Credit: www.icanteachmychild.com
A former teacher and now homeschool mom, she offers advice, resources and guidance for homeschool families.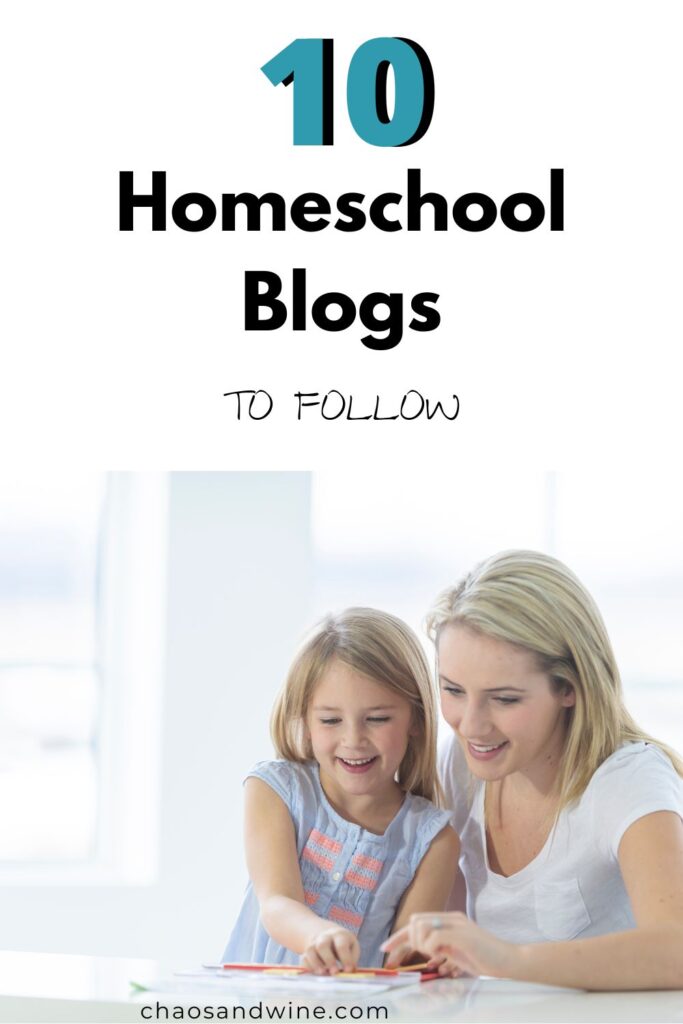 Do you have a favorite homeschool blog? Let me know in the comments so I can check it out!
And if you need a little inspiration and encouragement read 20 quotes for homeschool moms!
Be sure to follow my Homeschool board on Pinterest too!