If you've ever wondered how to make homemade Oreo thin mints, this is the recipe for you! These 2 Ingredient homemade thin mints are the perfect Girl Scout Thin Mint copycat recipe!
Girl Scout Thin Mints are my favorite Girl Scout cookies! Unfortunately, you can only get them for a limited time each year so having this super simple 2 ingredient homemade thin mints recipe is a must!
This page contains affiliate links. If you choose to purchase after clicking a link, I may receive a commission at no extra cost to you. For more information please read my full affiliate disclosure.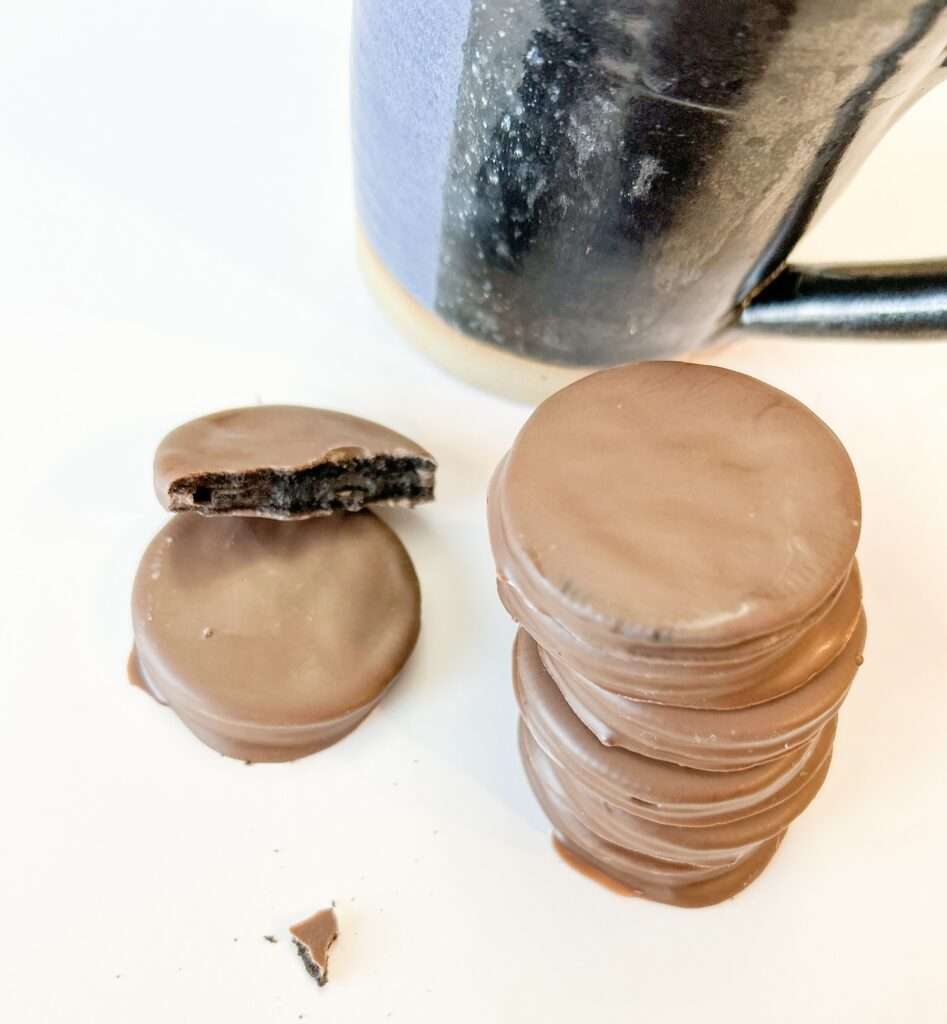 These homemade thin mints are seriously just like the real thing! You won't miss the Girl Scout box of thin mints when you can whip these up at home anytime you crave those delicious mint chocolate cookies! These Oreo thin mint cookies have the perfect balance of crisp chocolate cookie and delicious mint flavor!
Chocolate and mint go together as perfectly as peanut butter and chocolate like in my no-bake peanut butter cookies or my peanut butter chocolate lasagna! I love the combination of mint and chocolate in these crisp little cookies.
A Brief History of Thin Mint Cookies
According to the Girls Scouts website, Girl Scouts first began selling cookies as a fundraiser in 1917. During the next few decades, Girl Scouts not only sold their cookies but baked them themselves as well!
It wasn't until the 1930s that the first Girl Scout Council sold commercially baked cookies! By 1951, Girl Scout Cookies included sandwich cookies, a shortbread cookie, and the ever-popular Chocolate Mints, now known as Thin Mints! These famous chocolate mint cookies have been around for 50 years!
Thin Mint cookies remain one of the most popular Girl Scout cookies sold each year!
Ingredients for Homemade Thin Mints
As promised there are only 2 pantry-friendly ingredients in these homemade thin mints!
Thin Oreo Cookies – Make sure you get the Thin Oreos, not the regular or double stuffed ones. I use the dark chocolate stuffed ones for extra chocolate goodness.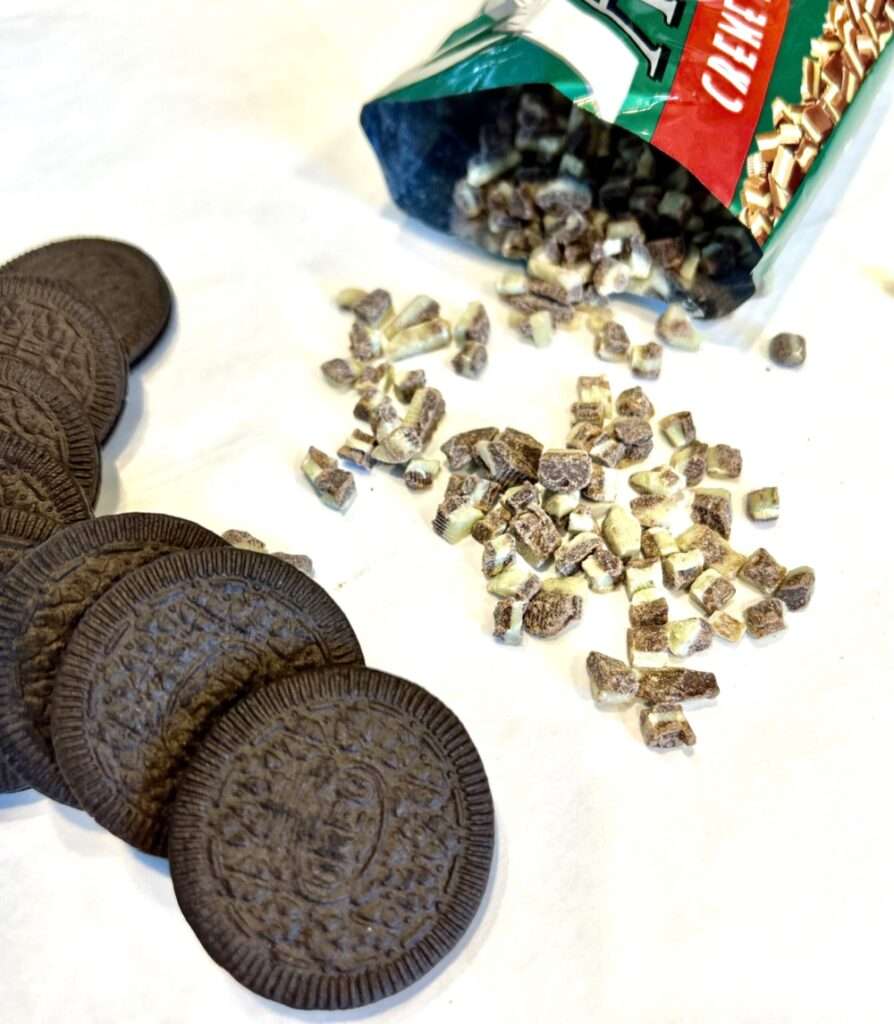 Andres Creme de Menthe Baking Chips – These can be found in most grocery store baking aisles by the chocolate chips. Make sure to get the Creme de Menthe Baking Chips
One package of baking chips will almost work for a package of Thin Mints. I usually buy two packages of baking chips to make a whole package of Thin Oreos because why not!
Making Oreo Thin Mints
Again, 2 ingredients and super simple!
One package of Andes Mints should cover almost a full box of Thin Oreos, however, if the kids are helping you might want to grab a 2nd bag as mine tend to double and triple dunk their cookies!
Melt the Andes baking chips in a small bowl in the microwave for 15-second intervals, stirring well every 15 seconds, until fully melted.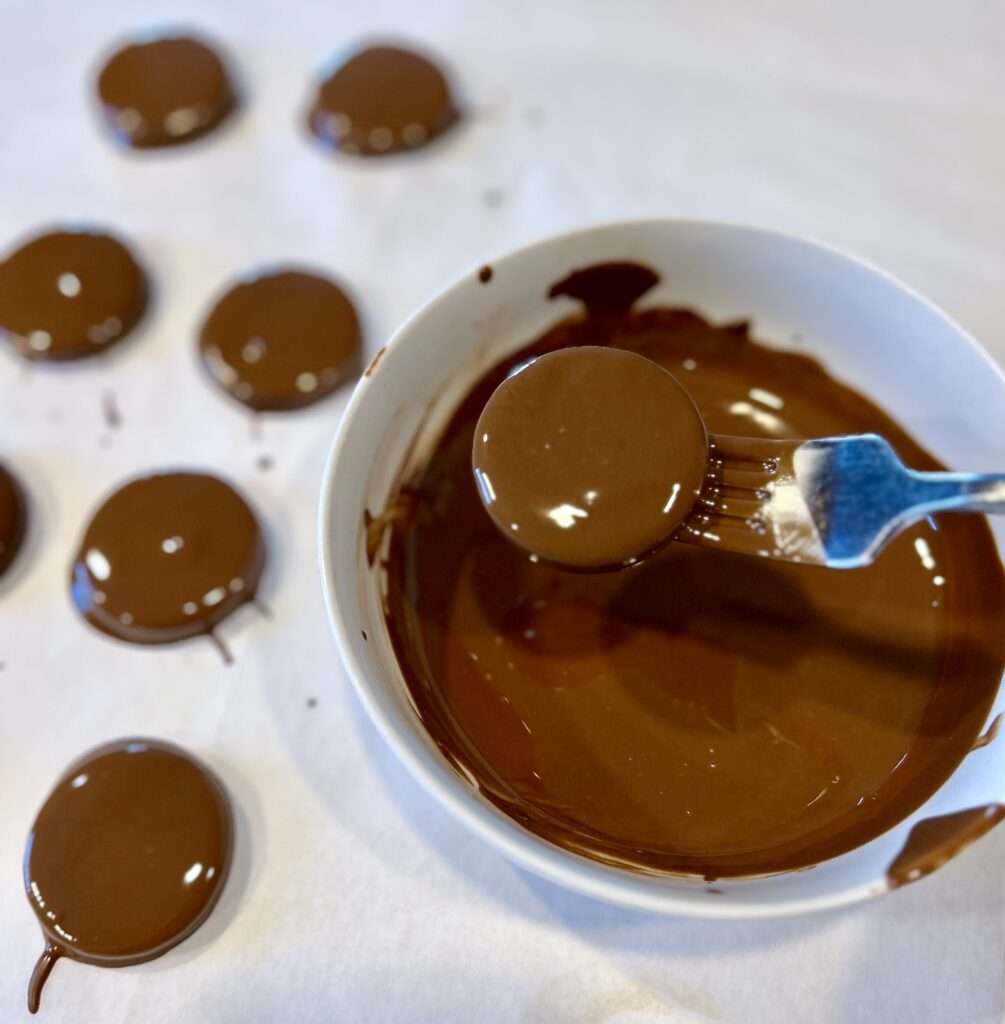 Using a fork dip the Thin Oreo cookies into the melted chocolate and remove to a piece of parchment paper to harden.
They should harden in about 10-15 minutes. If your kids don't eat them as fast as your making them, store them in an air-tight container at room temperature. Be sure not to let them get too warm or the chocolate will melt again.
You might also like…
Peanut Butter Chocolate Cookies
Yield: 2 dozen
Homemade Thin Mints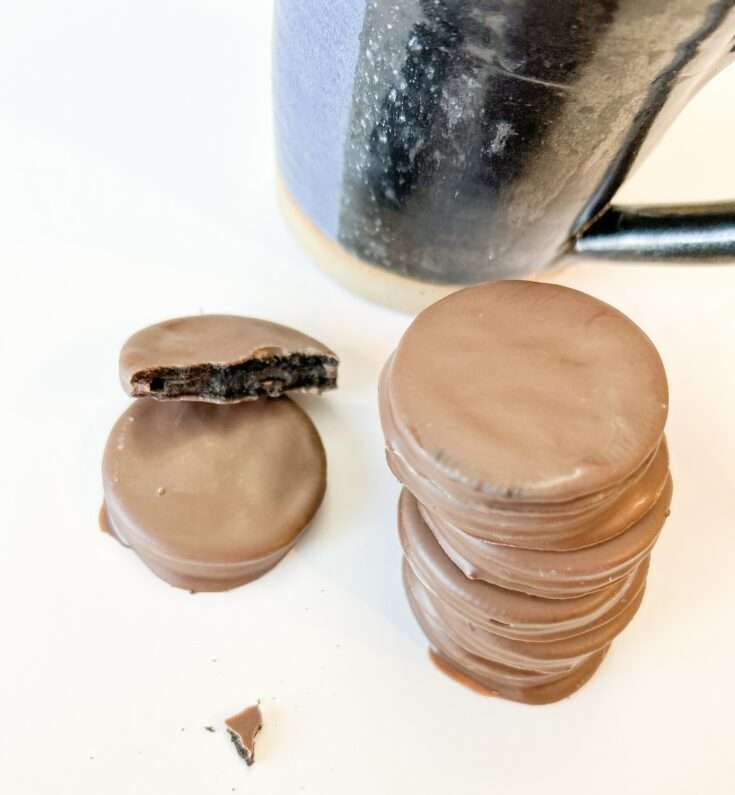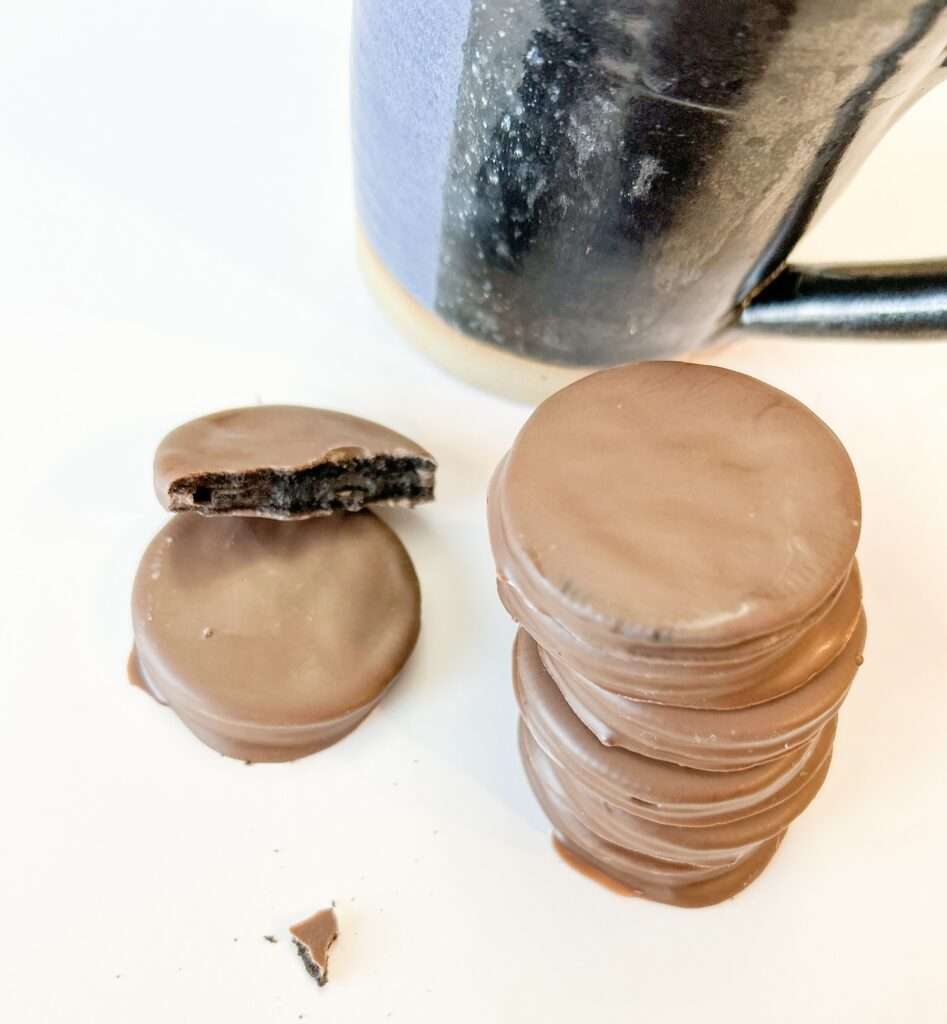 These super simple homemade thin mints are the perfect balance of chocolate and mint!
Ingredients
1 package Thin Oreos
1 10 oz bag Andes Creme De Menthe Baking Chips
Instructions
Pour half of the Andes baking chips into a small bowl and heat for 15 seconds. Stir and repeat until the chips are fully melted.
Dip individual Thin Oreos into the melted baking chips and transfer to a parchment-lined baking sheet and allow chocolate to set.
Store in an air-tight container.
Notes
1. One package of baking chips will almost work for a package of Thin Mints. I usually buy two packages of baking chips to make a whole package of Thin Oreos. It also depends on how much help you have in the kitchen as my kids love making these and tend to double and triple-dunk them!
Recommended Products
As an Amazon Associate and member of other affiliate programs, I earn from qualifying purchases.
Nutrition Information:
Yield:
12
Serving Size:
1
Amount Per Serving:
Calories:

121
Total Fat:

1g
Saturated Fat:

0g
Trans Fat:

0g
Unsaturated Fat:

1g
Cholesterol:

0mg
Sodium:

18mg
Carbohydrates:

14g
Fiber:

0g
Sugar:

12g
Protein:

0g
Chaos & Wine occasionally offers nutritional information for recipes contained on this site. This information is provided as a courtesy and is an estimate only. This Nutrition Disclaimer notifies that under no circumstances will Chaos & Wine or its owners be responsible for any loss, damage, or adverse reactions resulting from your reliance on nutritional information given by this site. By using Chaos & Wine and its content, you agree to these terms.
FAQ's
Can I freeze homemade thin mints?
Yes, feel free to freeze them if you make more than you can eat within 4-5 days. Freeze in an airtight container or gallon-zip lock bag for up to 2 months.
How do I store homemade thin mints?
Store in an airtight container at room temperature or in the fridge for up to 4-5 days. Just be sure your Oreo Thin Mints don't get to warm or they will melt.
This is a great recipe to make with your kids so grab some baking chips and Thin Oreos and get cooking with your kiddos!
What's your favorite Girl Scout Cookie?