When chili season arrives, I love making various different types chili and this smoked green chili recipe is one of my absolute favorites!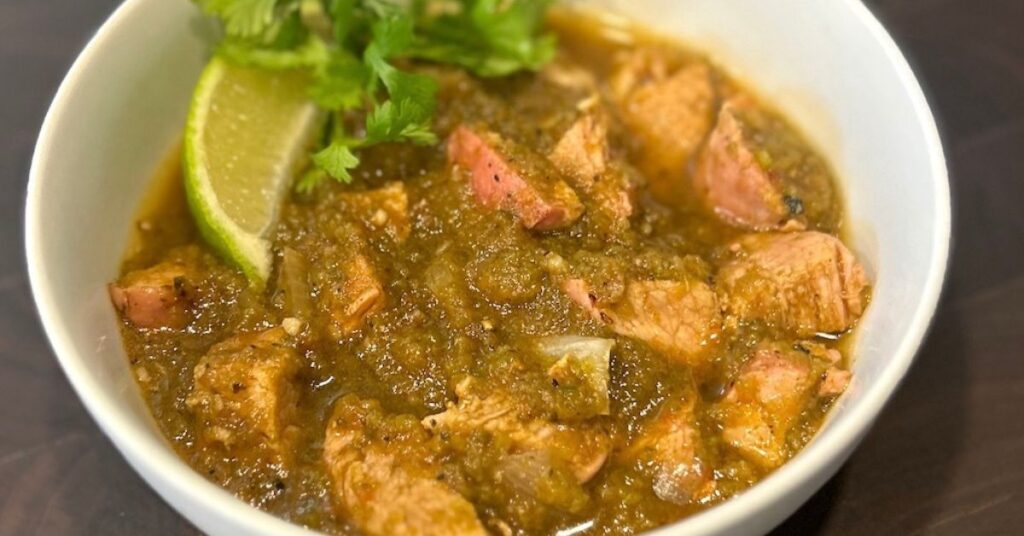 This page contains affiliate links. If you choose to purchase after clicking a link, I may receive a commission at no extra cost to you. For more information please read my full affiliate disclosure.
I got the basic green chili recipe from a dear friend of ours that loves to cook. However, after learning how to make smoked chili, I had to try and make smoked green chili!
What is green chili?
Green chili is a basically a chili that is green in color. Also called chili verde, as verde means green in Spanish.
Green chili gets it's color from the many green peppers such as Anaheim, poblano and jalapeño peppers used to make the base of the chili as well as provide the distinct flavor of green chili. Green chili can contain a variety of peppers depending on the recipe used, one's preference and how spicy one likes their chili. This is a great resource that covers the various spice level of peppers!
I use a combination of Anaheim peppers and poblano peppers in this smoked green chili recipe.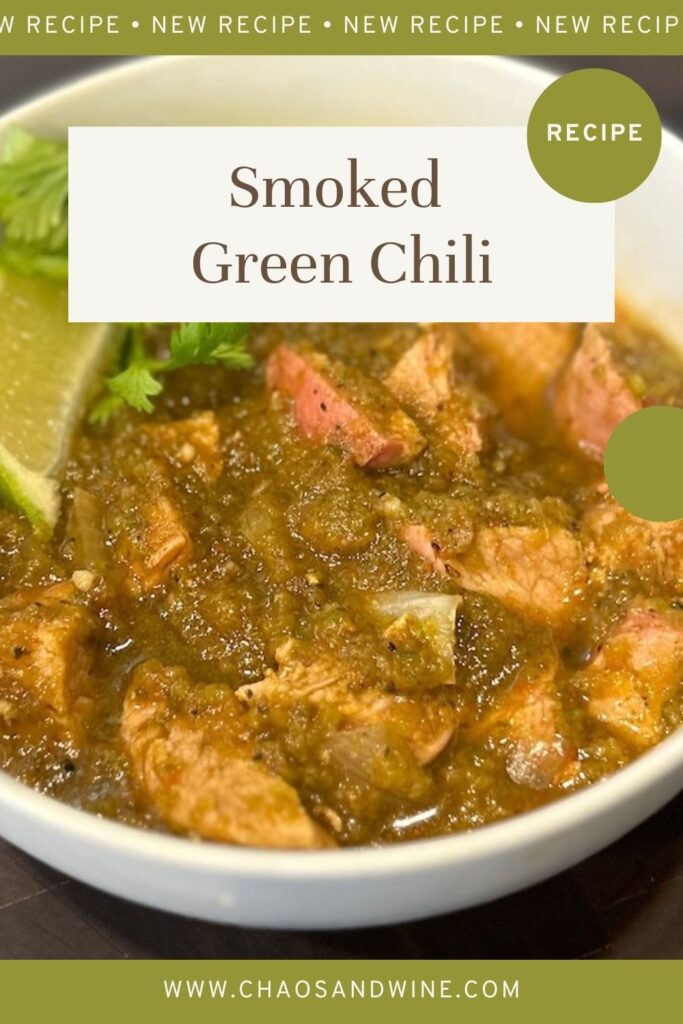 Too busy to make this right now? Pin for later to your favorite Pinterest Board!
Smoked Green Chili Ingredients
The ingredients in this smoked green chili recipe are simple yet combined make a distinct and delicious flavor you'll love.
Pork Tenderloins – Pork is usually chosen for green chili as it compliments the flavor of the peppers so well. I use pork tenderloins as they smoke quickly and are super tender. Although this recipe does take a bit of time to make, pork tenderloins are a great option for weeknight dinners such as this cranberry orange pork tenderloin!
Roasted Peppers – You can use a variety of peppers to make your green chili and I highly recommend taking into consideration how spicy different peppers are and how spicy you and your family like your chili! For this recipe, I used a combination of Anaheim and poblano peppers. Anaheim peppers tend to be a bit spicier than poblano and jalapeños so only use a few Anaheim peppers. Roasting the peppers gives them a distinct and delicious smokey flavor.
Onion – Onion is just a go to for flavor it just about every recipe including chili recipes.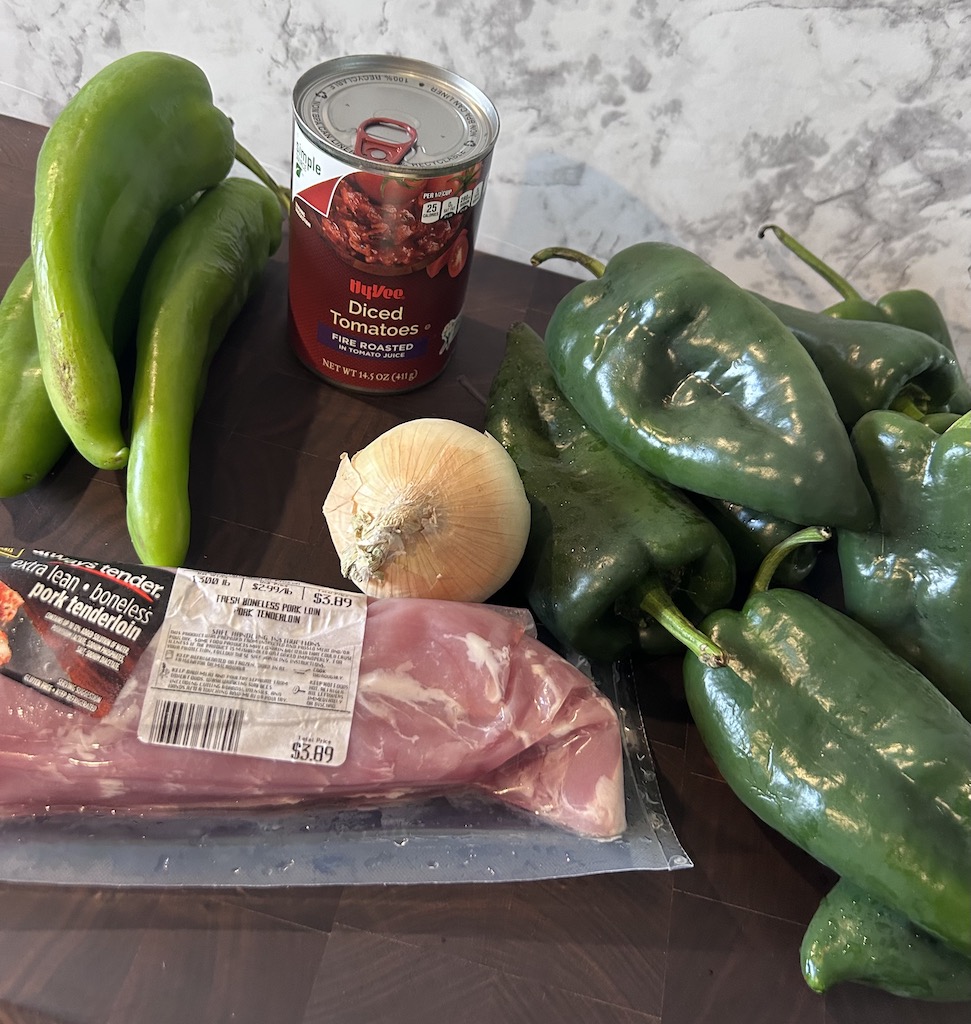 Fire Roasted Tomatoes – A can of tomatoes adds richness to the smoked green chili.
Chicken Broth – This will provide the base for the green chili sauce combined with the peppers.
Seasonings – The seasonings are simple – salt, black pepper, garlic powder and chicken boullion.
Garlic – Again garlic is a staple in most of my recipes and this one is no different!
Method
I use my Kamado Joe smoker to make my smoked green chili, however, you can use any grill or smoker you prefer, although the instructions here will be given for the Kamado Joe.
Step 1 – Roasting the Peppers
Pre-heat the grill to 400° F and put your grill grates on the lowest setting in order to roast the peppers.
Wash your peppers but leave them whole. Once The grill is preheated, place the peppers whole on the grill. As the peppers start to blacken, turn them to ensure all sides get roasted and blackened. Keep close watch as this can happen fast!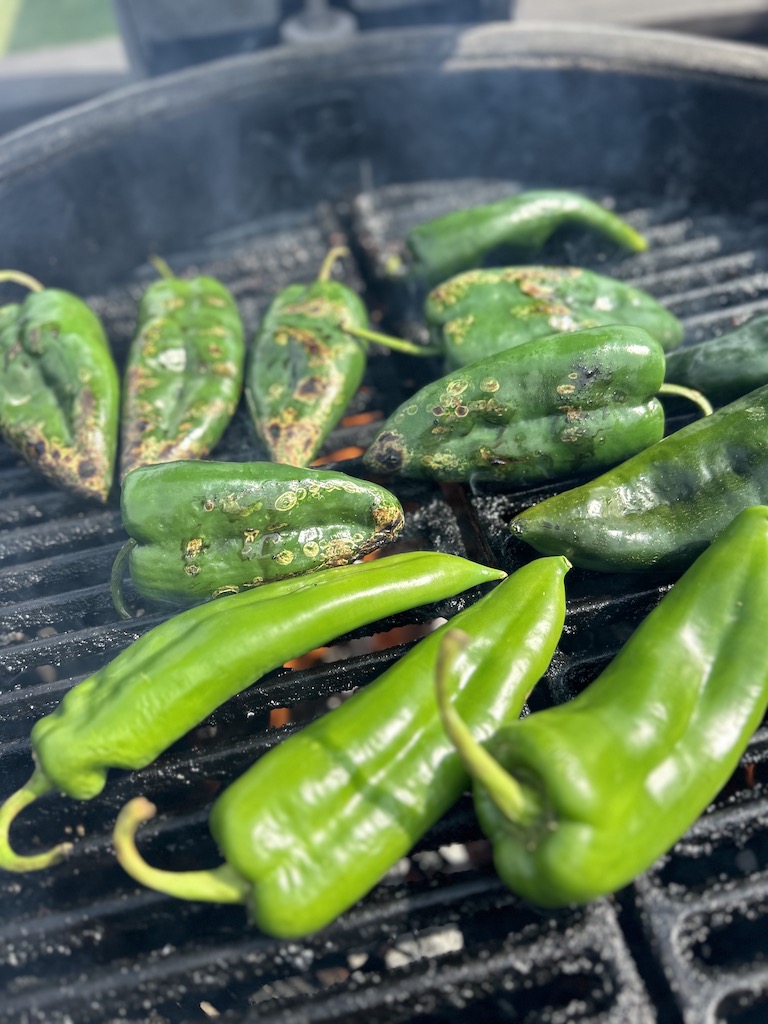 As the peppers finish, transfer them to gallon size zip lock bags and wrap them in a large clean towel. They will continue to steam and soften in the bag.
Reduce the heat of the grill to 250° F, add the deflector plates, and raise the grates to the top position.
Step 2 – Making the Chili Verde Sauce
Once the peppers have cooled to the touch, remove the skins! I highly recommend wearing gloves during this process!!!
As you remove the skins from the roasted peppers, slice off the tops and remove the seeds. Once the skin and seeds are removed, place the peppers in a food processor. You might need to work in batches here depending on how large your food processor is.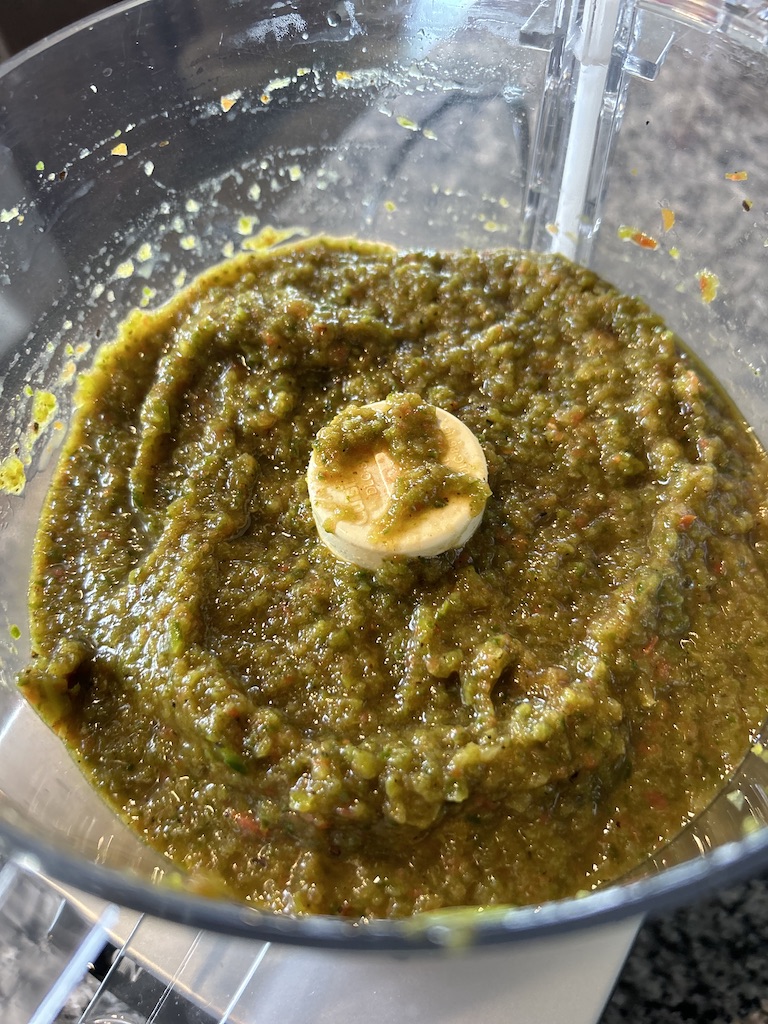 Add the can of fire-roasted tomatoes to the food processor and give it all a whirl until it's well blended.
Transfer the sauce to a large dutch oven and add the chicken broth, chicken boullion, diced onion and garlic. Give it all a stir so it's nicely combined. Set aside.
Step 3 – Smoke the Pork Tenderloins
Season the pork tenderloins with salt, pepper, and garlic powder.
Once the grill is down to 250-300°F, place the tenderloins on the grill and smoke until they reach an internal temperature of about 120°.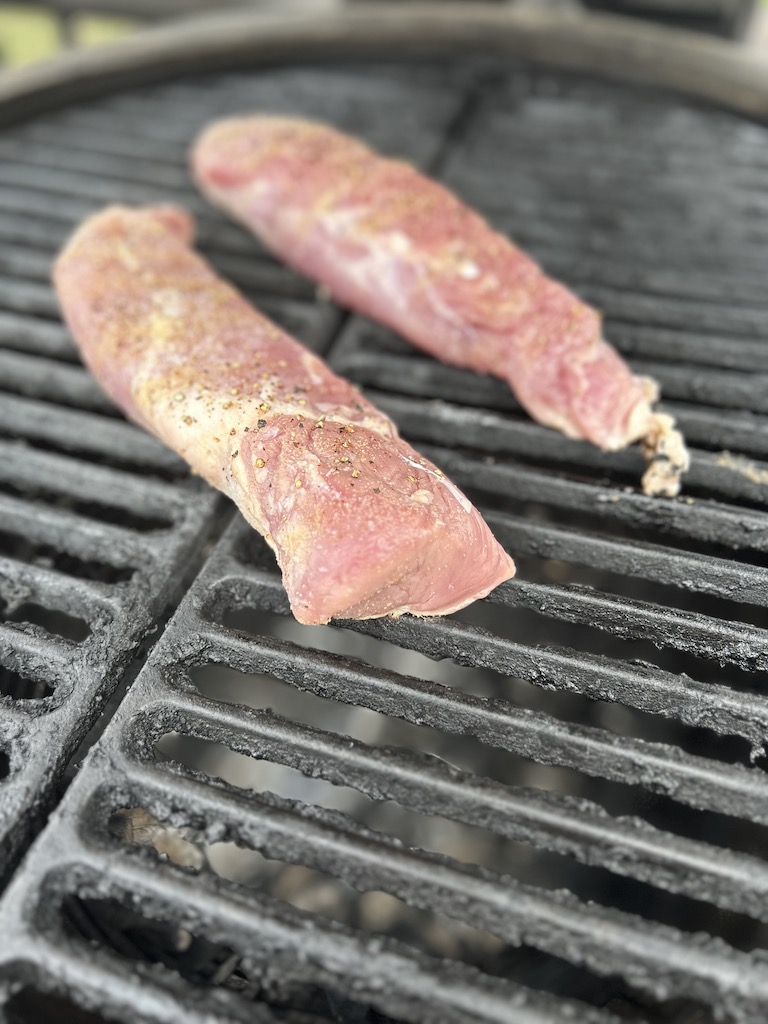 Remove the pork tenderloins from the grill and cut into bite sized cubes. Increase the grill temp to 350° F and add the deflector plates.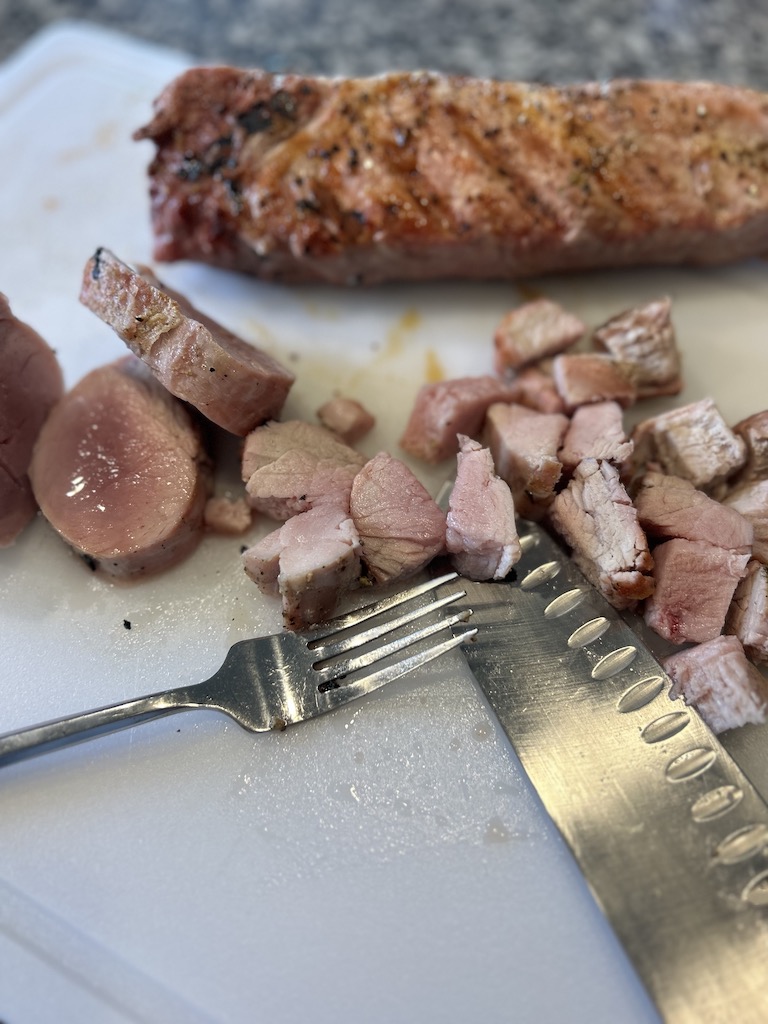 Add the pork to the dutch oven with the green chili sauce and stir it all together.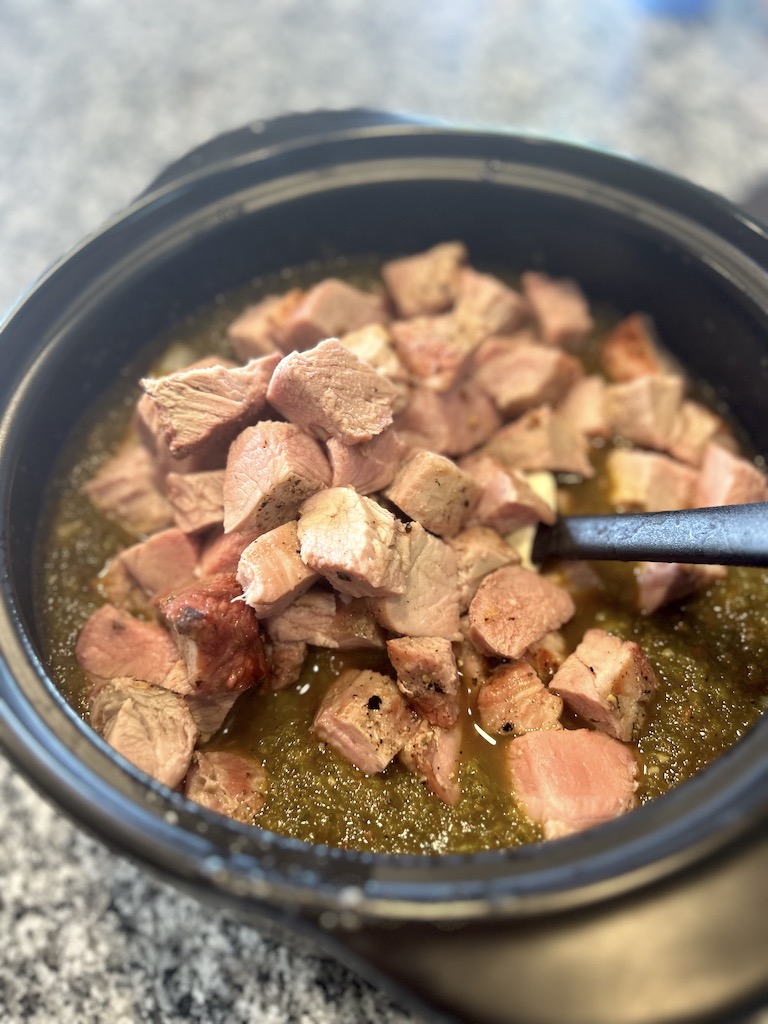 Step 4 – Smoke the Green Chili
With the grill at 350° F, add the large dutch oven back on to the grill making sure the deflector plates are in place and the grates are in the top position. Allow the chili to smoke for about 1 hour.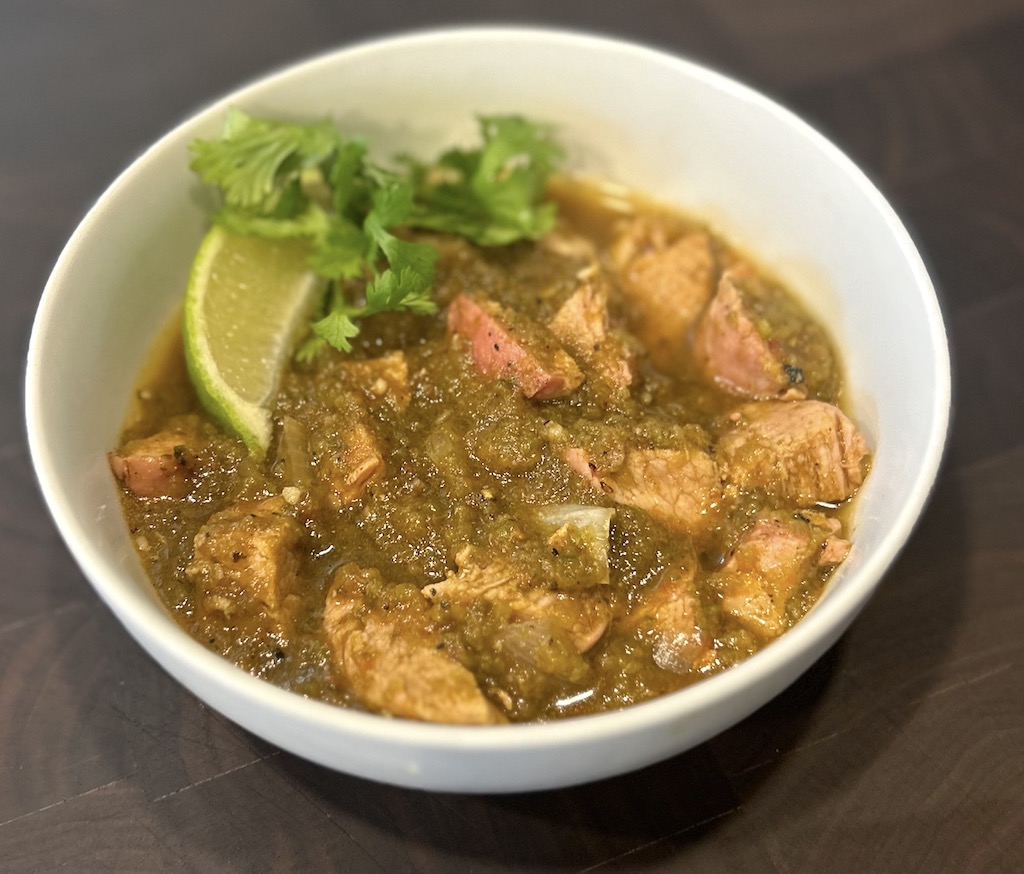 Remove from the heat and serve your smoked green chili with tortilla chips, cilantro and fresh lime for garnish or try any of these great dishes to serve with chili!
Yield: 8 servings
Smoked Green Chili Recipe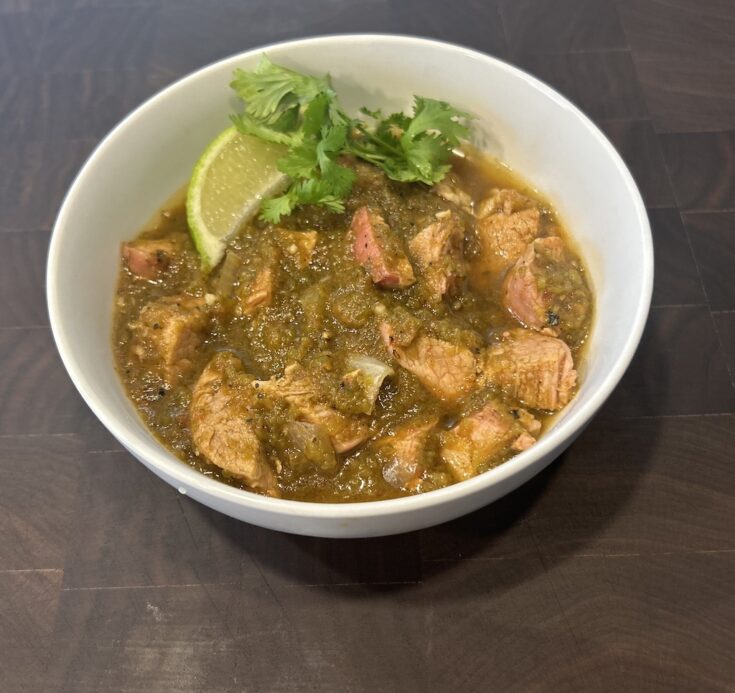 This delicious smoked green chili is an excellent variation on your favorite chili recipe!
Total Time
2 hours
30 minutes
Ingredients
3 Anaheim Peppers (see notes)
9 Poblano Peppers (see notes)
1 large yellow onion
2 pork tenderloins
1 can fire roasted diced tomatoes
1 cup chicken broth
3 chicken boullion cubes
3 cloves garlic
Salt, black pepper and garlic salt
Instructions
Pre-heat the grill to 400°F and set the grates at the lowest level.
Wash and thoroughly dry the Anaheim and poblano peppers.
Roast the peppers on the pre-heated grill, watching carefully as this can happen fast.
Transfer the roasted peppers to a paper or plastic bag and set aside to cool.
Reduce the grill heat to 250°, add the deflector plates and raise the grill grates.
Once the peppers are cool enough to handle, while wearing gloves carefully remove the skins from the peppers.
Remove the seeds from the peppers and transfer to a food processor working in batches, if necessary.
Add the van of fire roasted diced tomatoes to the food processor with the peppers and blend until smooth.
Transfer the peppers and tomatoes sauce to a large dutch oven.
Add the diced onion and garlic cloves to the pot and stir until well combined.
Season the pork tenderloins with salt, black pepper, and garlic salt.
Once the grill has reached 250°F, smoke the pork tenderloins until an internal temperature of 120°F (about 30 minutes).
Remove the pork tenderloins from the grill and cut into bite sized cubes.
Increase the grill to 350° F and make sure the deflector plates are in place.
Add the cubed pork to the large dutch oven with the blended peppers and tomatoes.
Place the dutch oven on the grill and smoke for about 1 hour.
Remove from the grill and serve with tortilla chips, fresh chopped cilantro and fresh lime wedges as a garnish.
Notes
You can use any combination of peppers you would like, the amounts provided above are the perfect spice level for my family! However, if your family prefers spicier add more Anaheim peppers or go wild and add a few hatch chilis.
Recommended Products
As an Amazon Associate and member of other affiliate programs, I earn from qualifying purchases.
Nutrition Information:
Yield:
8
Serving Size:
1
Amount Per Serving:
Calories:

137
Total Fat:

5g
Saturated Fat:

2g
Trans Fat:

0g
Unsaturated Fat:

3g
Cholesterol:

46mg
Sodium:

363mg
Carbohydrates:

8g
Fiber:

2g
Sugar:

4g
Protein:

15g
Chaos and Wine occasionally offers nutritional information for recipes contained on this site. This information is provided as a courtesy and is an estimate only. This Nutrition Disclaimer notifies that under no circumstances will Chaos & Wine or its owners be responsible for any loss, damage, or adverse reactions resulting from your reliance on nutritional information given by this site. By using Chaos & Wine and its content, you agree to these terms.
Conclusion
While I love making my over-the-top smoked chili, this smoked green chili is just as delicious and an amazing change from traditional chili recipes! Give it a try – I promise you and your guests won't be disappointed!