I love doing unit studies with my twin 7-year-old boys as part of our homeschool routine. I usually let them alternate picking themes and this time was Pirates! Arghhh!!!! Here's how I set up our Pirate Unit Study!
When I got out the materials for our Pirate Unit Study it was a Friday afternoon when we were taking a long weekend, they had had Thursday and Friday off from homeschool and we were happily playing with friends in our playroom/schoolroom. I started setting things up and they immediately wanted to dig in! I told them it wasn't a school day but they insisted. A proud mom-teacher moment…you know you've hit a winner when they want to do school on a no-school day!
This page contains affiliate links. If you choose to purchase after clicking a link, I may receive a commission at no extra cost to you. For more information please read my full affiliate disclosure.
The first thing I do when I'm setting up a unit study is look around my house and my mother-in-law's (she has a great supply of toys, games, and books for the kids when they're over there for the afternoon). After all, I'm always looking to make things less expensive and save a few dollars here and there. She had the pirate eye patches and hats and I already had the old Jake and the Neverland Pirates play ship from their toddler days. I snagged them and added them to the pile.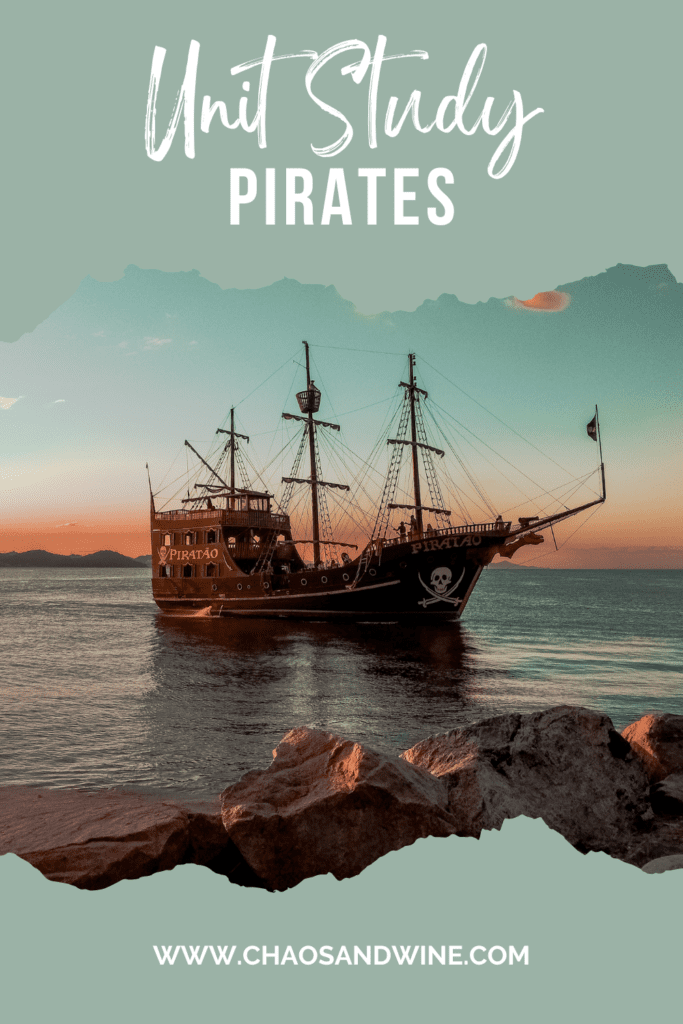 Too Busy to Make this right now? Pin for later to your favorite Pinterest Board!
There are a few main things I like to include in my unit studies – hands-on activities, books (lots of books), and games. Here's a list of the items I have in this particular unit study.
Pirate Unit Study Resources
I love setting up unit studies and sharing what resources we loved! Here's what we used to study Pirates this year!
---
Pirate Unit Study Conclusion
We love unit studies and work with them all the time! Keep an eye out as I add some of our new ones like this dinosaur unit study or skeleton unit study!